Disclaimer: Please note that some of the links below in this post are affiliate links and I will earn a commission if you purchase through those links. I regularly use and recommend all of the products listed below because I find them to be of great quality and use! All proceeds go back into maintaining and creating for this site. Thank you! XO
Last Updated on
This super easy, healthy and delicious vegetarian chili recipe is packed with acorn squash, pinto beans and the perfect blend of spices for a most hearty and comforting autumn-inspired Instant Pot pressure cooker dish! Plus, stovetop instructions!
This super scrumptious, hearty, and comforting vegan chili is packed with both an amazing flavor and texture! It is rich, creamy with both sweet and salty notes, the perfect touch of slight nuttiness from the acorn squash, and has a superb combo of spices to take it to a whole other level! It will not disappoint! This chili is wonderful enough to be enjoyed on it own or with any variety of toppings of your choosing.
This Instant Pot Vegetarian Chili is
Super hearty, filling and comforting.

Packed with loads of flavor.

Texturally delightful.

Versatile and can be enjoyed a variety of ways.

Easy to make. Can be made in the Instant Pot or stovetop!

Made with only a handful of wholesome, healthy ingredients.

Rich in fiber and protein.

Gluten-free, dairy-free, vegan, vegetarian, nut-free, soy-free, and refined sugar-free.
Ingredients Needed to Make Instant Pot Acorn Squash Chili
Pinto beans.

Acorn squash.

Garlic.

Oil.

Tomatoes.

Spices.

Vinegar.

Coconut sugar.
How to Make Acorn Squash Chili
Soak pinto beans for 3 hours.

Saute garlic in oil; add squash.

Stir in tomatoes and bay leaves.

Add spices.

Add beans.

Add water/broth. Cook on manual high pressure for 30 minutes for Instant Pot, 1 hour for stovetop.

Release pressure. Stir in salt, sugar and vinegar. Enjoy!
Step by step process photos below:
Top Tips for Making Instant Pot Vegetarian Chili
Soaked beans produce the best results, in my opinion, but you can make this in the Instant Pot with un-soaked dried beans, if necessary. Simply cook on manual high pressure for 40 minutes instead of 30 for the no soak version!

If you do not have a can of fire roasted diced tomatoes, any canned tomatoes will work OR 2 fresh tomatoes, diced.

Any sweetener can be used in place of coconut sugar — honey, maple syrup, cane sugar or for a sugar-free version, we like this sweetener.

Frozen squash can be used in place of fresh, if necessary. It will be around 4 cups, cubed.

In a pinch, lime or lemon juice can be used in place of vinegar.

Salt to suit your preferences! We find around 2-3 teaspoons of salt to be sufficient with this chili.

This recipe makes a lot of chili. You can halve the recipe for very similar results if necessary. This chili also freezes beautifully for future enjoyment!

Store in airtight containers in the refrigerator for up to one week. To reheat, simply place in a pot over medium-low heat until warmed throughout or in the Instant Pot on saute function until warm.
Ways to Enjoy Instant Pot Vegan Chili
On its own.

With your favorite choice of toppings. We like: pumpkin seeds, dairy or non-dairy cheddar cheese, dairy or non-dairy sour cream, salsa, sriracha, crushed tortilla chips and/or fresh chopped cilantro.

Wrapped in tortillas to make burritos.

On top of nachos.

Alongside rice, millet or quinoa.

In taco shells with a variety of toppings.
More Vegan Instant Pot Recipes
Instant Pot Chipotle Peruano Beans (a.k.a. Canary or Mayocoba Beans)
Instant Pot Vegan Split Pea Soup with Za'atar
Instant Pot Cajun Spiced Chickpea Soup (Vegan)
Instant Pot Three Sisters Soup Recipe (Vegan + Gluten-Free)
Instant Pot Sticky Maple Ginger Rice Noodles (Gluten-Free, Vegan)
Instant Pot Red Lentil & Potato Curry (Vegan, Gluten-Free)
Spicy Coconut Red Lentil Dal (Instant Pot + Stovetop)
More Vegetarian Chili Recipes
Instant Pot Millet + Pinto Bean Vegan Chili
Instant Pot Chocolate Chipotle Chili (Vegan)
Lentil and Butternut Squash Vegetarian Chili with Spicy Chickpea Quinoa Crackers (Gluten-Free, Vegan)
If you try this recipe please let me know! Leave a comment, rate it, share this post, use Pinterest's "tried it" feature, or take a photo, & tag me on Instagram and I'll share it! Thank you so much! <3
Instant Pot Acorn Squash Vegetarian Chili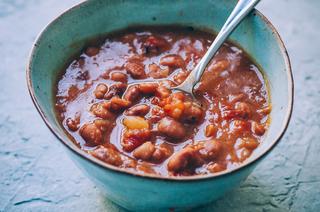 For stovetop instructions see below this recipe card.
Author: Kristen Wood | 8-7-2019
prep time: 10 minutes
cook time: 35 minutes
total time: 55 minutes (to account for coming to and releasing pressure)
Yields: 10 servings
---
Ingredients:
---
Instructions:
Soak pinto beans for at least 3 hours prior.
Press the saute button on the Instant Pot. Add oil and garlic. Saute for 2 minutes.
With the saute function still on, add squash. Stir well.
Add tomatoes and bay leaves. Stir well.
Add cumin, garlic, oregano and chili powder. Stir well.
Turn the saute function off. Add soaked beans and broth or water.
Stir, and put the lid on. Make sure vent is sealed.
Cook on manual high pressure for 30 minutes.
Quick release pressure after 5 minutes.
Stir in sugar and vinegar. Salt to taste.
Enjoy!
---
Nutrition:
Serving: 1 bowl
Fat: 2.4 grams
Calories: 247
Carbs: 42 grams
Fiber: 11 grams
NOTE: Please see 'Tips' above in the blog post for suitable substitutions, storage advice and more!
Acorn Squash Vegan Chili Stovetop Instructions
In a large pot over medium heat, add oil and garlic. Saute a few minutes.

Add remaining ingredients (squash through broth/water).

Turn heat to high, bring to a boil, cover then reduce heat to medium-low or until at a medium simmer.

Let simmer for 1 hour or until beans are tender, adding more water or broth as necessary to ensure all is covered throughout cook time. Once bean are tender you can simmer and reduce further until desired consistency is achieved.

Stir in vinegar and sugar. Salt to taste.

Enjoy!
Shop This Recipe
Pin it for Later