Disclaimer: Please note that some of the links below in this post are affiliate links and I will earn a commission if you purchase through those links. I regularly use and recommend all of the products listed below because I find them to be of great quality and use! All proceeds go back into maintaining and creating for this site. Thank you!
Last Updated on
This Instant Pot Split Pea soup with za'atar seasoning is a filling and comforting vegan soup that is healthy, filled with loads of flavor and super easy to make! It is slightly spicy + slightly zesty and refreshing thanks to the addition of lemon! It is truly one delicious yellow split pea soup that is also gluten-free, dairy-free, soy-free, nut-free , refined sugar-free and perfect any time of year!
I could not be more in love with my Instant Pot. It truly is a lifesaver when it comes to healthy, easy, delicious and quick meals! And, this pressure cooker split pea soup fits the bill, and more!
This Vegan Split Pea Soup is:
Filling and comforting.

Quick and easy to make.

Filled with LOADS of beautiful, complex flavors. Slightly spicy, slightly zesty. DELICIOUS.

High in fiber & protein.

Great enjoyed right away or served as leftovers/used in meal prepping.

Super silky and creamy.

Vegan, gluten-free, dairy-free, soy-free, nut-free, refined sugar-free.
What is Zaatar?
Za'atar is a spice mix commonly used in the Middle East. The ingredients can vary from location to location, but it often consists of these ingredients: oregano, thyme, hyssop, sumac, salt, and sesame seeds. Sometimes it contains: cumin, coriander, fennel seeds, marjoram or black pepper. It is good on everything from roasted vegetables, soups, toast, pasta, hummus, dips, dressings, salads and more.
Where To Buy Za'atar?
I've seen Zaatar for sale in stores such as Whole Foods, Sprouts and World Market.
You can also find it in local Middle Eastern specialty stores, sometimes even in bulk.
I like to buy mine online from Amazon. These are some of my favorites: The Spice Way, Tyme Foods, and Teeny Tiny Spice Co. of Vermont.
You can also make your own! Here's a fab recipe from Bon Appétit.
Yellow Split Peas Nutrition Facts:
High in fiber and protein.

Low in fat.

High in vitamins B1 + K.

A good source of potassium, iron, magnesium, folate and manganese.
Tips for Making Instant Pot Split Pea Soup:
Any oil or butter can substitute the olive oil. For an oil-free version, simply use water to saute.

Any color bell pepper can be used. Alternatively you can use 4 mini sweet bell peppers, too.

The chili powder in this recipe refers to a chili powder mix, not the kind of chili powder that is strictly one kind of chile dried and ground.

I created this recipe with the slight sweetness of yellow split peas in mind, but green split peas can be used as substitute with changing any proportions or time.

Alternatively, 1 cup canned diced tomatoes can be used in place of the fresh tomatoes.

Fresh lemon tastes best, but in a pinch this is my favorite pre-prepared lemon juice that works great, too.

Any granulated sweetener will work in place of the coconut sugar.

For a sugar-free version, omit the coconut sugar or use a sugar-free sweetener such as this one.

When salting the soup, keep in mind that most za'atar herb blends contain salt, so you may prefer to keep it a little under-salted and then garnish with lots of za'atar for that bit of saltiness.

This split pea soup makes for some fantastic leftovers! Store in the refrigerator in airtight containers for up to 10 days. Re-heat using the saute function of the Instant Pot, stirring until warmed throughout or on the stove top over medium-low heat.
This is truly one of favorite soup creations! This easy and delicious IP split pea soup is so perfectly flavorful and makes a fun way to use Za'atar herb spice blends! I so hope you love it, too! xo.
If you try this recipe please let me know! Leave a comment, rate it, share this post, use Pinterest's "tried it" feature, or take a photo, & tag me on Instagram and I'll share it! Thank you so much! <3
Instant Pot Vegan Split Pea Soup with Za'atar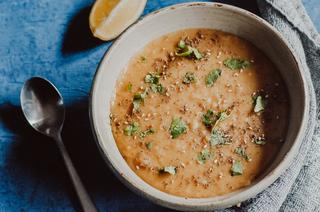 Author: Kristen Wood | 5-19-2019
prep time: 10 minutes
cook time: 15 minutes
total time: 45 minutes (to account for coming to and releasing of pressure)
**Yields: 6 servings
---
Ingredients:
2 tablespoons olive oil
1 bell pepper, chopped
1/2 onion, chopped
2 garlic cloves, minced
1 1/2 teaspoons chili powder
1 bay leaf
1/2 teaspoon za'atar seasoning, plus more for garnishing
1/2 teaspoon ground turmeric
1/4 teaspoon red chili flakes
6 cups vegetable broth or water
2 cups yellow split peas
2 tomatoes, diced
juice of 1/2 lemon (or 1 tablespoon lemon juice), plus extra for garnishing
1 teaspoon coconut sugar
sea salt, to taste
fresh cilantro, for garnishing
---
Instructions:
Set your pressure cooker to saute function.
Add oil, bell pepper, onion, and garlic. Saute for 5 minutes, stirring frequently.
Stir in spices (chili powder through chili flakes). Saute 1 minute longer.
Press 'Cancel'.
Add broth/water, split peas and tomatoes.
Set to manual high-pressure for 15 minutes.
Let the pressure naturally release for 10 minutes before opening the vent and removing the lid.
Stir in lemon juice, sugar and salt to taste.
Garnish with generous amounts of lemon, za'atar seasoning and freshly chopped cilantro before serving.
Enjoy!
---
Nutrition:
Serving: 1 serving (bowl)
Fat: 7 gram
Calories: 324
Carbs: 39 grams
NOTE: Please see 'Tips' above in the blog post for suitable substitutions, storage advice and more!
Shop This Recipe:
Pin it: