Easy Spicy Golden Sauerkraut
This post may contain affiliate links, and we receive an affiliate commission for any purchases made by you using these links. We appreciate your support!
This probiotic rich Spicy Sauerkraut recipe with turmeric, red chili flakes, and black peppercorns is bursting with flavor and anti-inflammatory + gut health benefits! Easy, healthy, vegan, gluten-free and DELICIOUS! Learn all about how to make sauerkraut, health benefits, and more in this informative recipe post!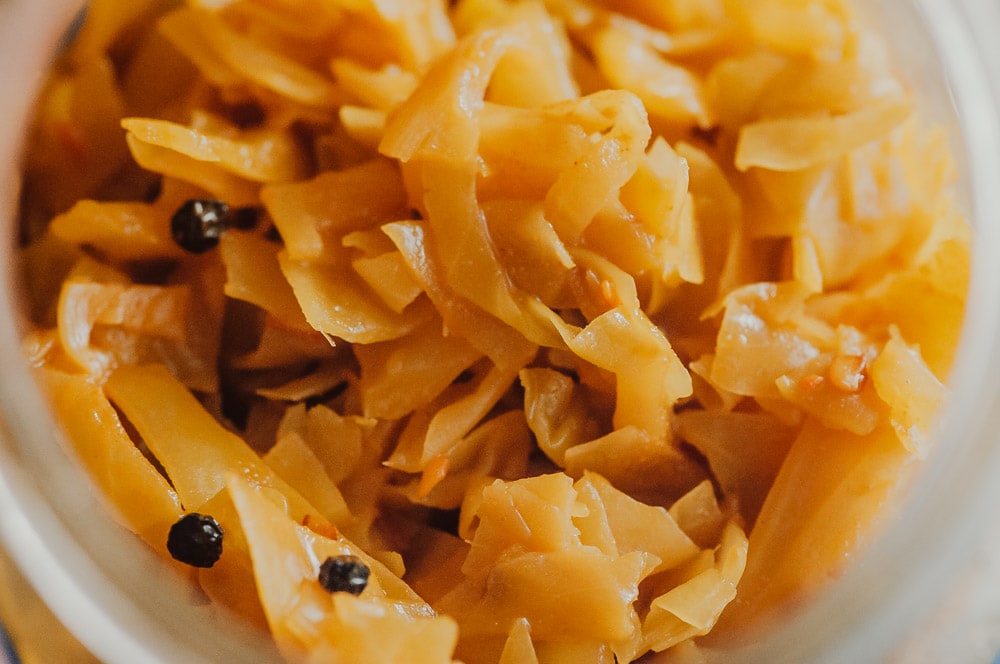 Whether you're a seasoned sauerkraut maker or completely new to making your own, this Spicy Golden Sauerkraut is certain to win your heart with its perfect texture and strong, yet complementary flavors full of nutritional benefits!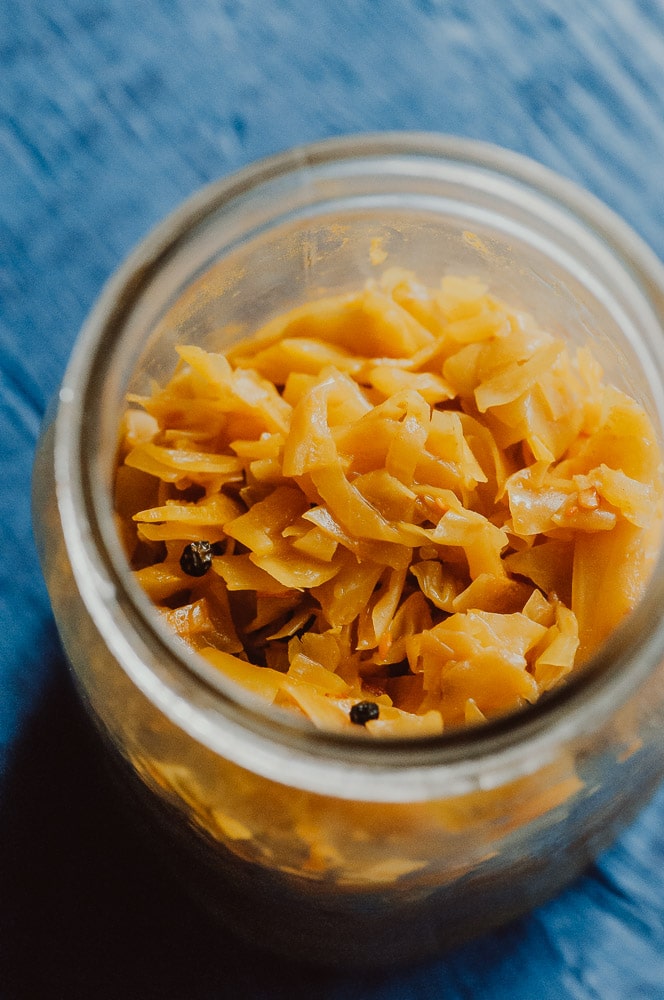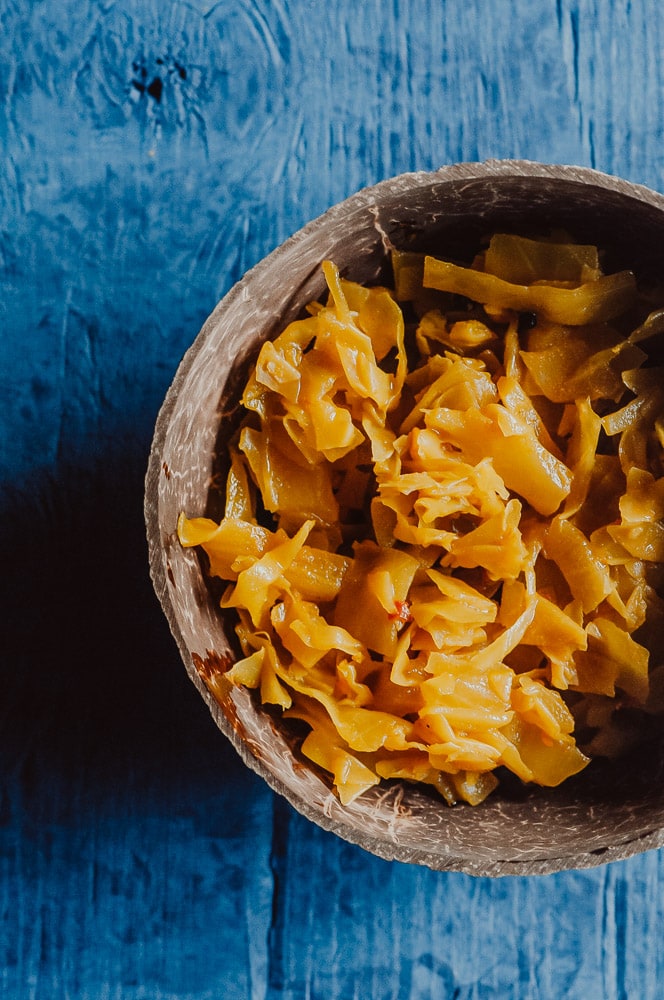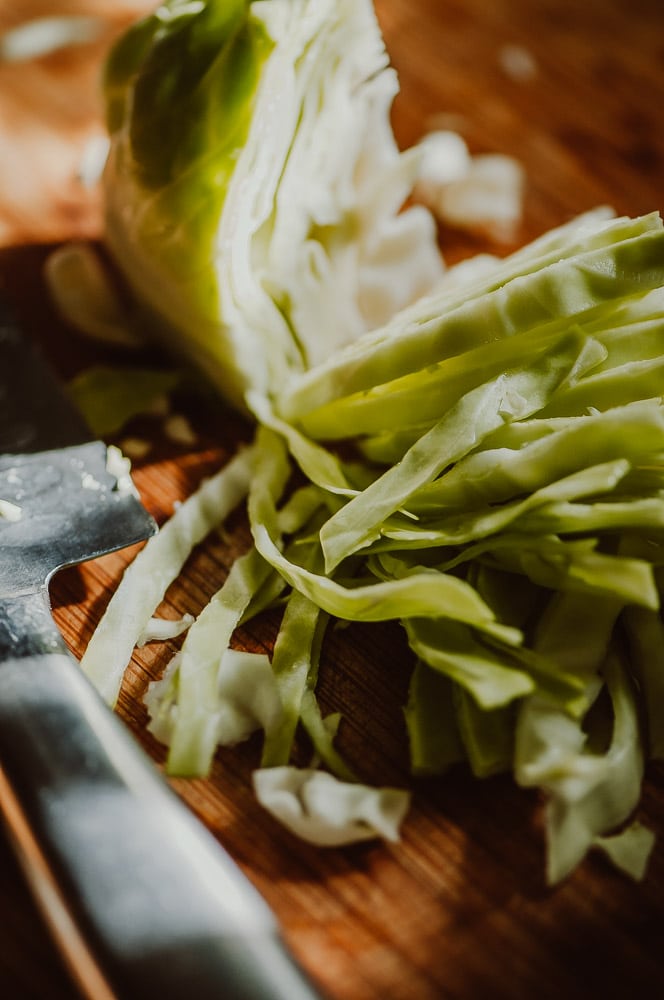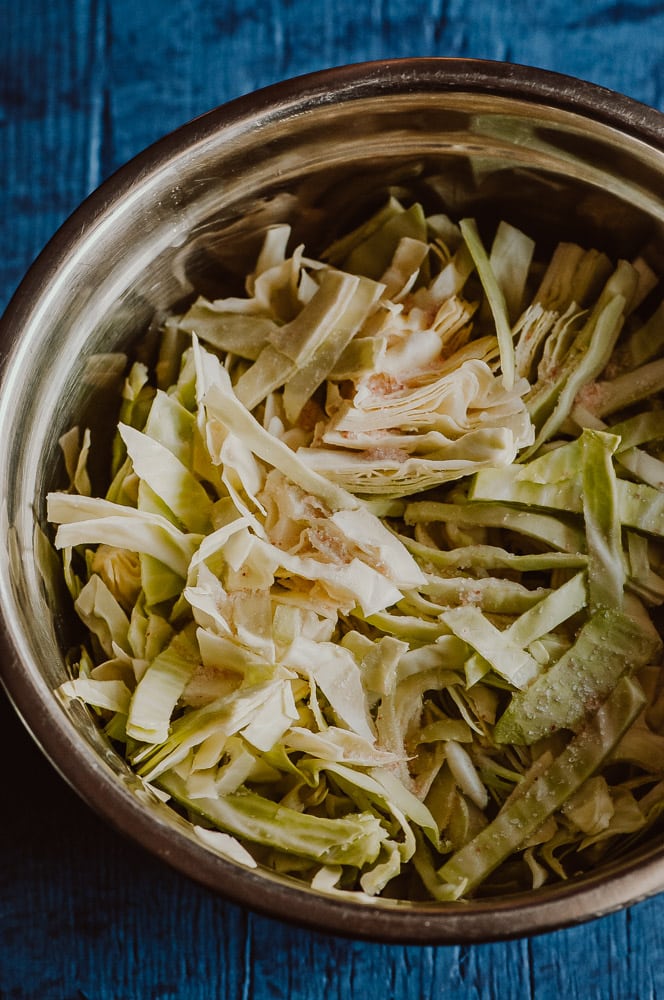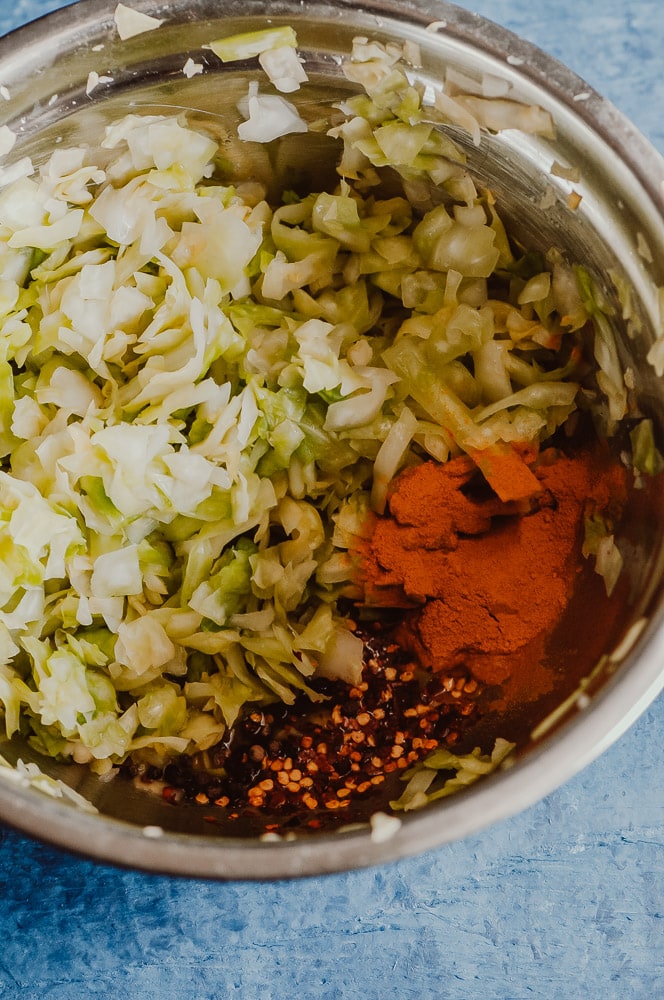 How to Make Sauerkraut:
Thinly slice cabbage. Place into a large bowl.
Sprinkle with salt

.

Massage thoroughly with your hands until the cabbage starts to break down, release liquid and shrink in volume. This process usually takes about 10 minutes, give or take.
Place into a clean, sterilized jar, pressing down firmly until the brine covers the cabbage.
Seal tightly with a lid, or simply cover with a cheesecloth

+ rubber band.

Let sit at room temperature, out of direct sunlight, for 2 weeks or until desired texture and taste is achieved.
Unscrew/remove the lid/cover once a day and ensure the cabbage remains below the brine by pressing down with clean hands or a clean wooden or plastic (no metal) utensil.
After the culturing process is completely. Screw on a lid and place into the refrigerator for up to 6 months.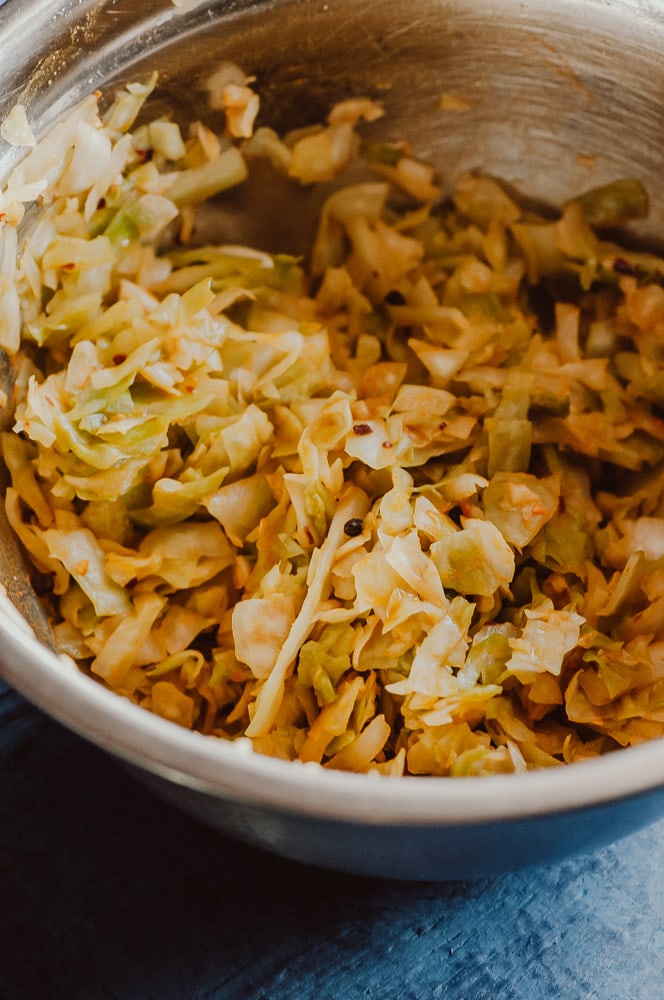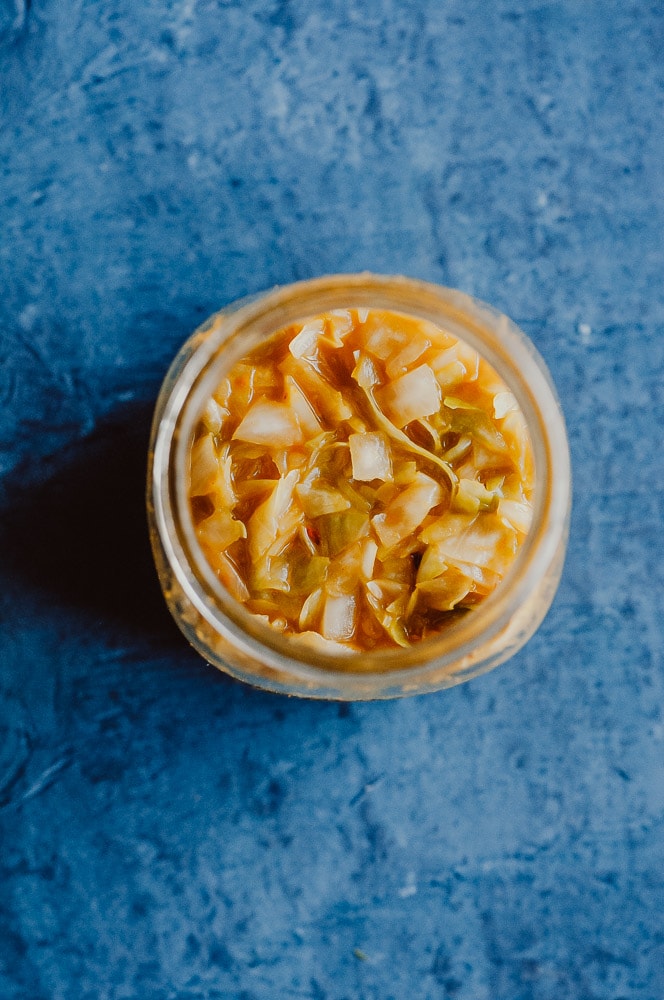 What to Serve Sauerkraut with:
Salads.
Or, all on its own!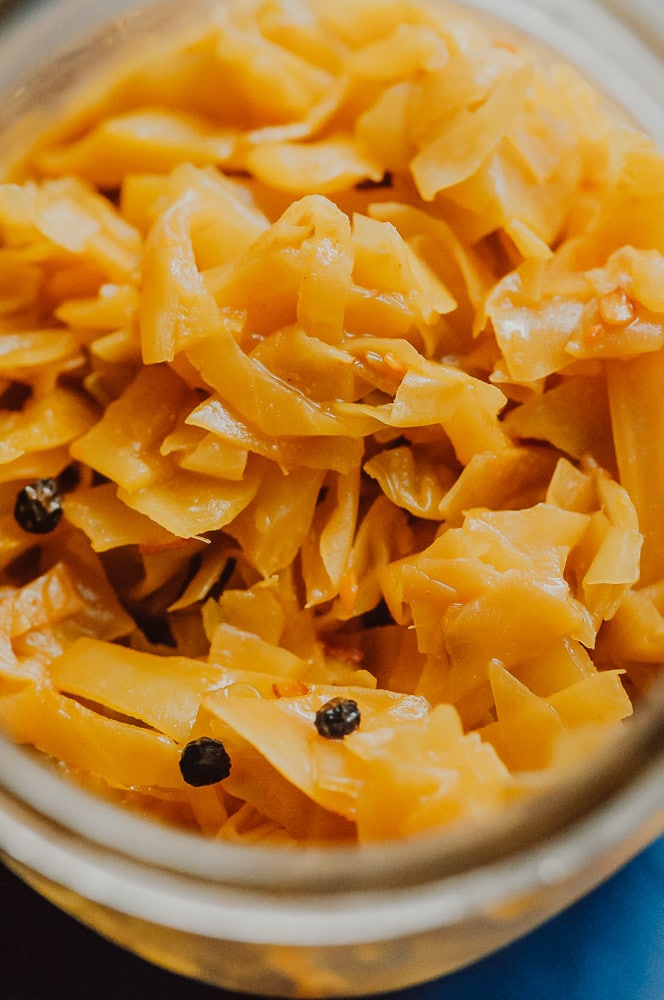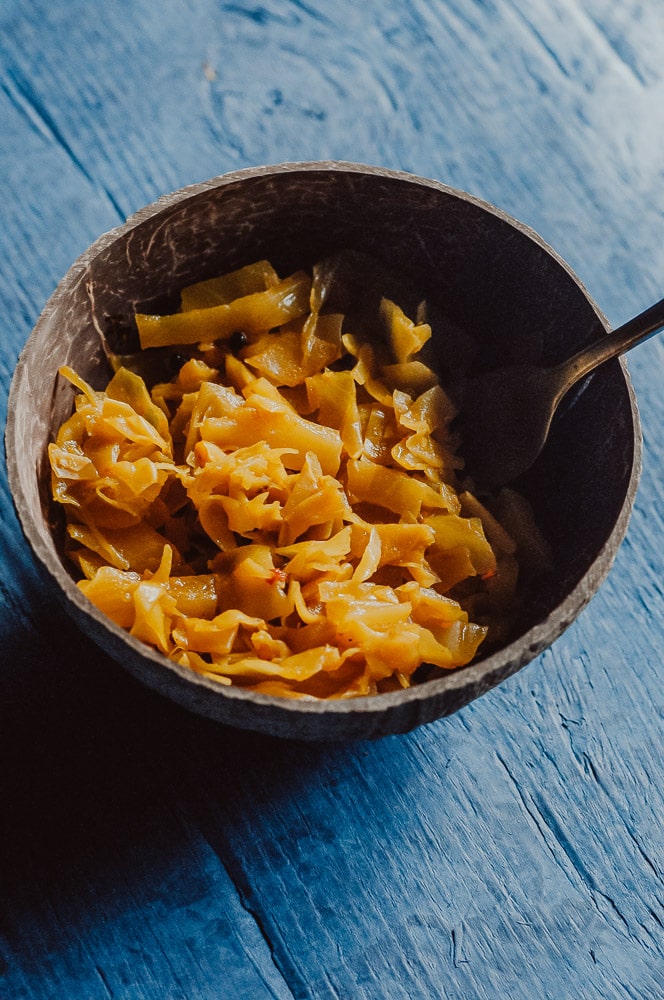 Sauerkraut Health Benefits:
It is packed with beneficial probiotics making it a great contender for improving or maintaining gut health. And in turn, improve both physical and mental health.
Sauerkraut has anti-inflammatory properties.
Sauerkraut is immune system strengthening.
It is high in fiber, iron, vitamin K and vitamin C.
Has been shown to reduce the risk of cancer and even destroy precancerous cells.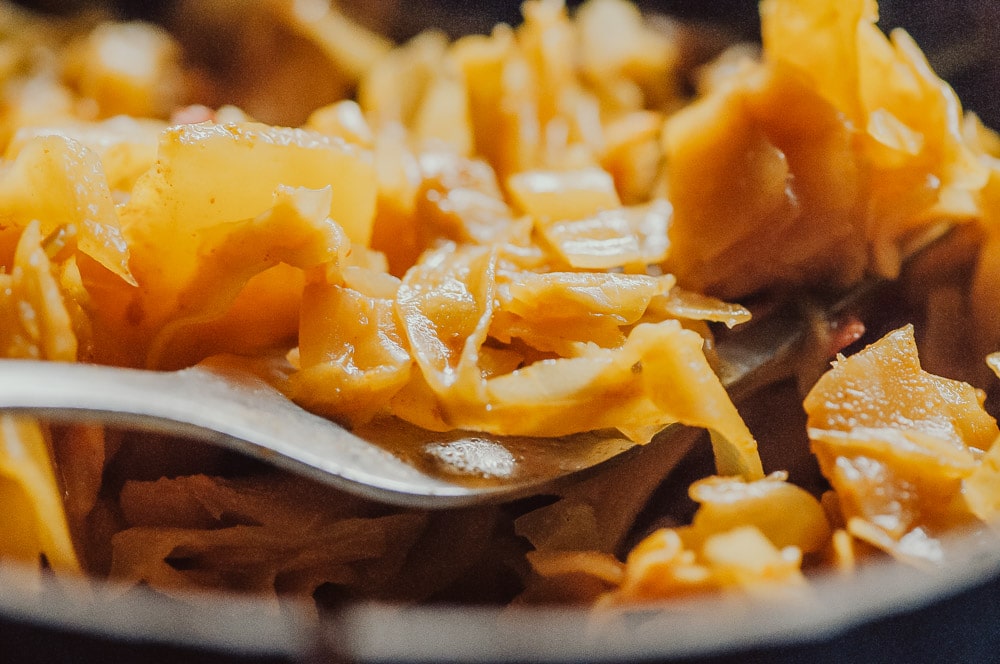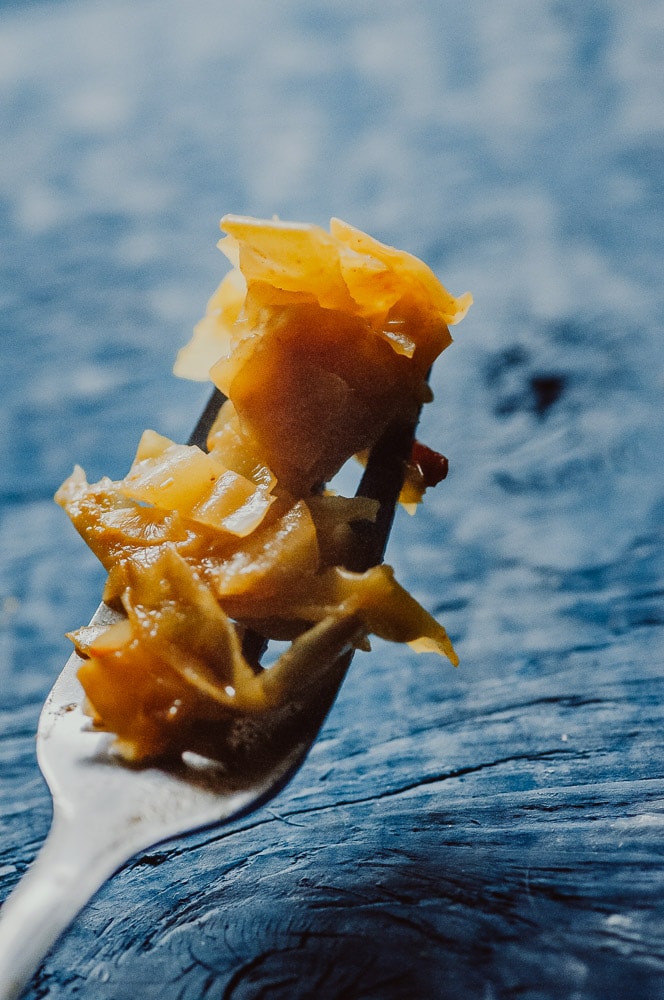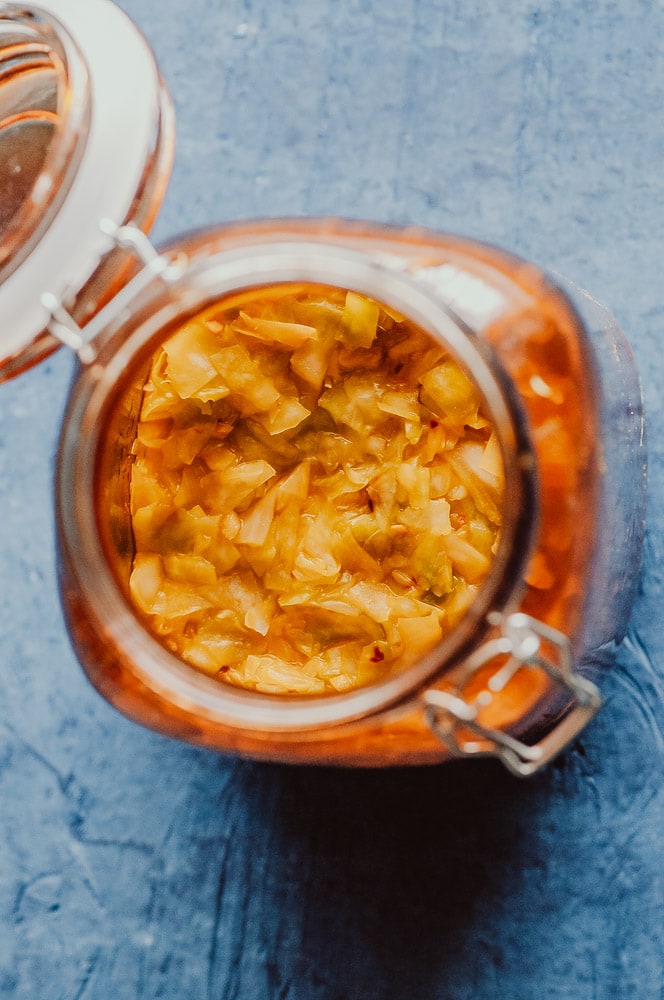 This Spicy Black Pepper + Red Chili + Turmeric Sauerkraut is:
Super easy to make.
Filled with gut healing

probiotics and anti-inflammatory (thanks to the

turmeric + black pepper combo

!) health benefits.

Perfectly salted and spiced.
Accompanies a variety of dishes and cuisines.
A beautiful, vibrant color that enhances any dish it is served with.
Gluten-free, vegan, dairy-free, soy-free, nut-free and sugar-free.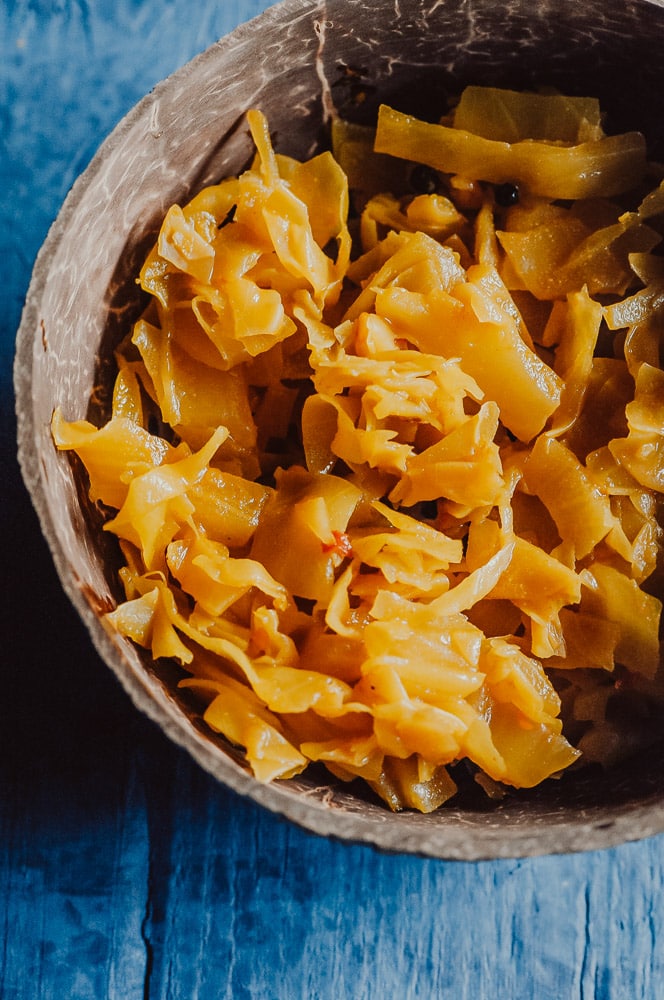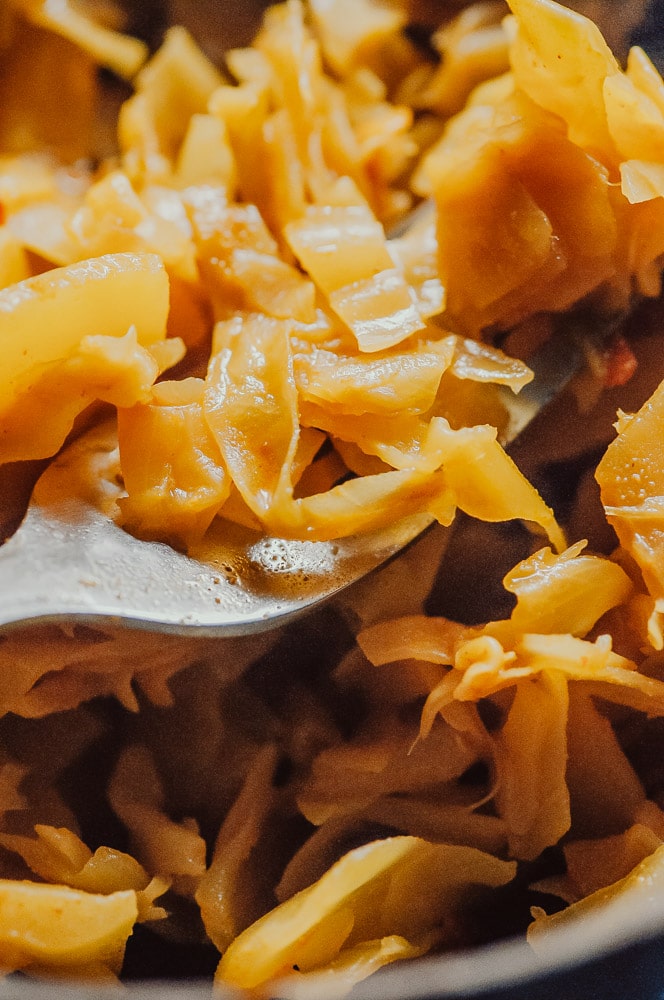 Tips for Making Spicy Sauerkraut:
Alternatively, you can use red cabbage instead of green. From my experience, red cabbage requires a bit more massaging to release liquid and also results in a slightly crunchier textured sauerkraut. Visit Sabrina Currie's blog for an excellent red cabbage sauerkraut recipe.
You can slice it as thinly or as thickly as you prefer. My personal preference is to have a little of both in each batch for a variety of textures.
To sterilize your jar(s) before hand, simply pour boiling water over them in a sink and then let dry completely before using.
To ensure best results, DO NOT use any metal utensils or containers and DO NOT use iodized salt

. These will create an unfavorable reaction when used alongside fermented foods.

If you massage the cabbage well enough, there should be more than enough brine to cover the cabbage completely, but every once in while you will find yourself running short. In this case, it is okay to pour just enough filtered water into the jar to ensure the cabbage is covered completely.
You might wonder about the peppercorns and if they are edible and the answer is YES! They soften and mellow in flavor during fermentation and are absolutely delicious and fun to eat — I promise!
During healthy fermentation, it is normal to see: bubbles and bubbling, white substance forming on the bottom of the jar (you can always give a good shake or stir before submerging again if you would prefer), white foam on top, the sauerkraut rising to the top of the jar.
It is not a good sign if you see anything that looks like pink or green mold, you should throw away and start fresh in this case, as something was most likely contaminated.
I like my sauerkraut right around the 2 week mark. The flavor will have really developed, with a slight tang and fizz, less saltiness and big flavor from the spices. The texture should be soft, but still with a slight bite to it.
With proper cold storage, sauerkraut will usually last at least 6 months in the refrigerator. There is no real guide to it apart from testing for taste and texture. Of course, if you ever see any signs of mold or smell a rotten food smell/decomposition, then toss it!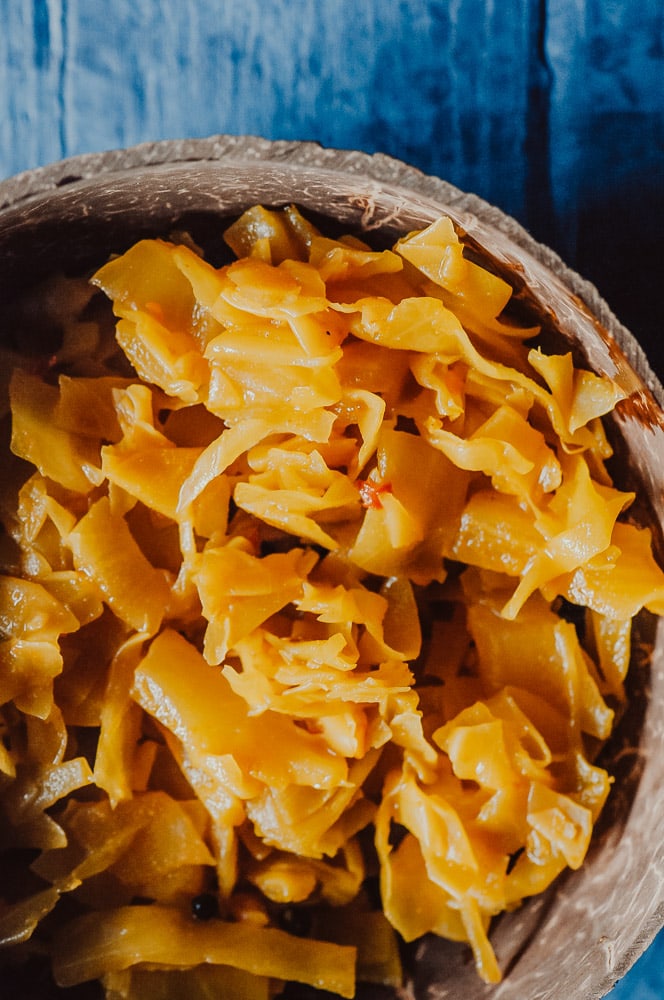 What do I need to make Spicy Sauerkraut?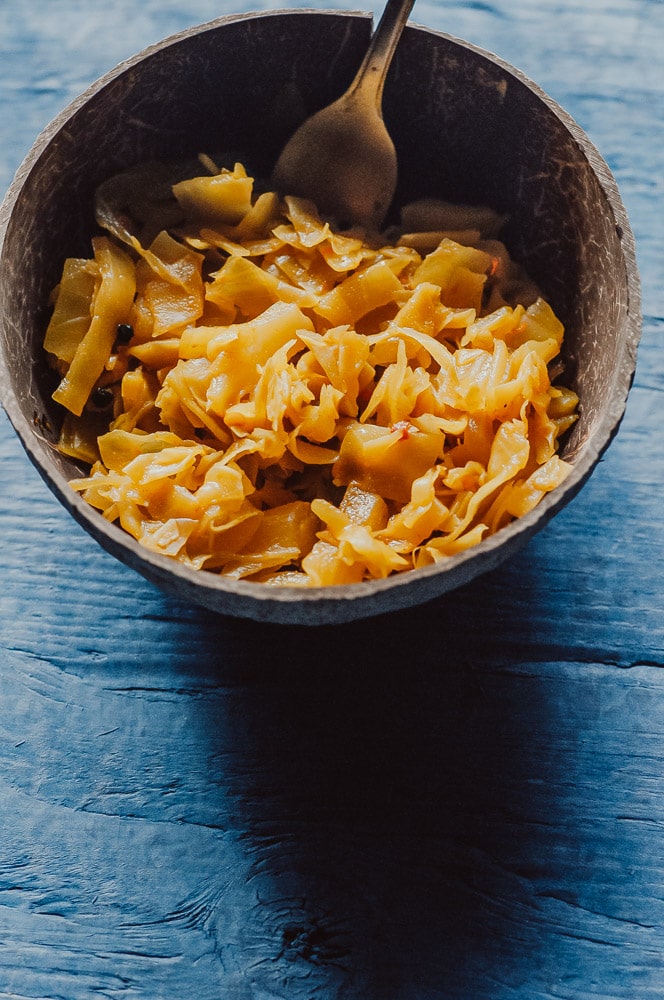 More Gut Healing Recipes:
How To Make Water Kefir + Camu Camu Water Kefir Recipe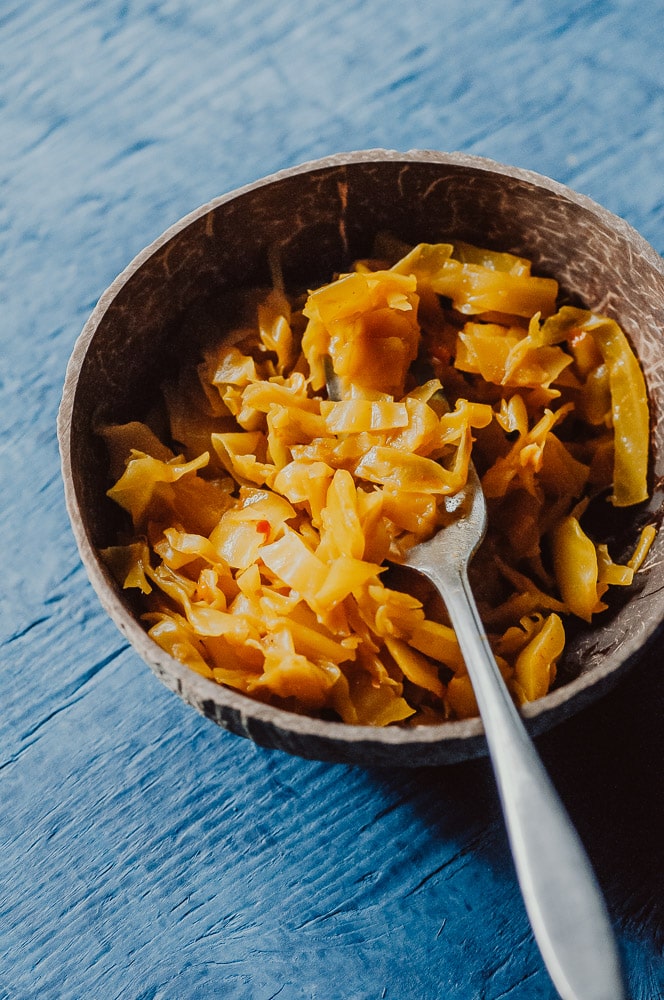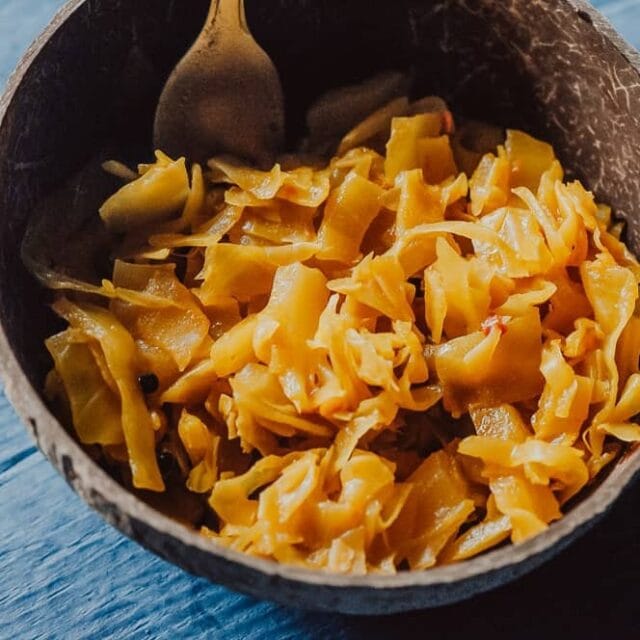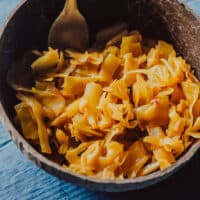 Easy Spicy Sauerkraut with Turmeric
This probiotic rich Spicy Sauerkraut recipe with turmeric, red chili flakes, and black peppercorns is bursting with flavor and anti-inflammatory + gut health benefits! Easy, healthy, vegan, gluten-free and DELICIOUS! Learn all about how to make sauerkraut, health benefits, and more in this informative recipe post!
Print
Pin
Rate
Ingredients
1

head of green cabbage

1 1/4

teaspoon

sea salt or pink salt

1

tablespoon

ground turmeric

1/2

teaspoon

red chili flakes

1/2

teaspoon

black peppercorns
Instructions
Rinse and thinly slice cabbage.

Place in a large non-reactive bowl (stainless steel, plastic, wood, silcone) with salt.

Firmly massage with your hands, for about 5 minutes, or until all starts to reduce in size and begins to release liquid.

Add spices.

Continue to firmly massage, about 5 to 10 minutes longer until all has considerably reduced in size, become soft and quite a bit of liquid has been released (see pictures above in post).

Place the cabbage and the liquid (brine), into a sterilized (see 'Tips' above in post)jar. Pack and press down firmly with clean hands or a wooden/plastic utensil until the cabbage is securely placed and all is covered with the natural brine.

Cover with a lid or cheesecloth.

Place in a warm (not too cold) location away from direct sunlight for 2-3 weeks or until desired taste and texure is achieved.

If using a lid, open and release any pressure build up once a day and whether using a lid or cheesecloth, check every day to ensure all stays below the brine. You will need to press all down below the brine every few days, as it will naturally rise up during the fermentation process.

Begin tasting the sauerkraut around 2 weeks to test for taste and texture. Ferment for up to 4 weeks until desired taste and texture is achieved.

When you are happy with your sauerkraut, screw on a lid tightly and place in the refrigerator for up to 6 months.

Enjoy!
Nutrition
Serving:
1
/2 cup
|
Calories:
27
kcal
|
Carbohydrates:
6
g
|
Protein:
1
g
|
Sodium:
277
mg
|
Fiber:
2
g
|
Sugar:
3
g
Have you tried this recipe?
Please Rate + Comment Below!
Watch Our Latest Videos
Follow us on YouTube!