Disclaimer: Please note that some of the links below in this post are affiliate links and I will earn a commission if you purchase through those links. I regularly use and recommend all of the products listed below because I find them to be of great quality and use! All proceeds go back into maintaining and creating for this site. Thank you! XO
Last Updated on
A super healthy, easy and flavorful Smashed Chickpea Salad Sandwich filled with garbanzo beans, chopped pickles , walnuts, onion, lemon juice, sriracha, mustard and the PERFECT blend of spices. This makes for one high-protein + high-fiber meal that is gluten-free, dairy-free, vegan, refined sugar-free, soy-free and DELICIOUS!
I am a huge chickpea fan. What is not to love? Chickpeas are a super versatile legume that can be used in both sweet and savory dishes, and pack quite a delightful protein punch!
This Zesty Smashed Chickpea Salad Sandwich is sweet, tangy, zippy, zesty, spicy and salty ALL in one. It is truly one delightfully healthy gluten-free vegan sandwich that makes a fine lunch, dinner or portable meal for the trail or a picnic.
This Smashed Chickpea Salad Sandwich is:
Filled with healthy good-for-you ingredients that are high in protein, fiber and nutrients.

Easy to make – you simply need a bowl and a fork!

PACKED with loads of flavor.

Fun to make and fun to eat!

Gluten-free, vegan, dairy-free, soy-free, refined sugar-free.
Tips for making Zesty Smashed Chickpea Salad:
I like to use my homemade pickles in this recipe, but any pickles of your choice will work.

Out of lemon juice? Apple cider vinegar will work well in a pinch.

You can replace the chopped cilantro with fresh parsley for comparable results.

I think brown mustard greatly enriches the other flavors in this dish, but any mustard that you like will serve as a good substitute here.

On a nut-free diet? Replace the walnuts with pumpkin or sunflower seeds for similar results.

On a sugar-free diet? This sugar-free sweetener is my favorite maple syrup substitute!

This chickpea salad stores well in an air-tight container in the refrigerator for up to one week.
Other ways to use Smashed Chickpea Salad:
On it's own as a quick protein-rich salad.

As a soft or hard shell taco filling.

Mixed and mashed with avocado for a fun spin on guacamole.

As a great wrap filling.

As a quesadilla filling.

As a green salad topper.

As a nachos topping.
This Smashed Chickpea Salad Sandwich pairs well with:
Baked Garlic Pepper Polenta Fries (Gluten-Free, Vegan)
Easy Spicy Refrigerator Pickles Recipe
Spicy Spiralized Turmeric Tahini Cucumber Noodles (Gluten-Free, Vegan)
This Smashed Chickpea Salad Sandwich is truly a quick, easy, healthy and delicious delight! I SO hope you enjoy it, too. XO.
If you try this recipe please let me know! Leave a comment, rate it, share this post, use Pinterest's "tried it" feature, or take a photo, & tag me on Instagram and I'll share it! Thank you so much! <3
Zesty Smashed Chickpea Salad Sandwich (Gluten-Free, Vegan)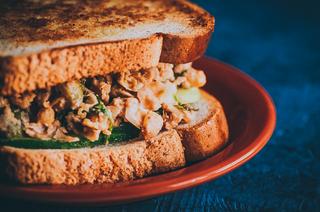 Author: Kristen Wood | 4-22-2019
prep time: 10 minutes
cook time: 0 minutes
total time: 10 minutes
Yields: approx. 3 sandwiches (3 cups chickpea salad)
---
Ingredients:
1 1/2 cups cooked chickpeas (freshly cooked or canned, rinsed and drained
1/2 onion, chopped
1/4 cup chopped pickles
1/4 cup raw walnuts, coarsely ground or chopped (I like to use a mortar + pestle)
1/4 cup freshly chopped cilantro
1/2 lemon, juiced (approx. 1 tablespoon lemon juice)
1 tablespoon maple syrup
2 teaspoons sriracha
1 teaspoon brown mustard
1/4 teaspoon celery seed
1/4 teaspoon ground black pepper
sea salt, to taste
Desired sandwich toppers (optional)
---
Instructions:
In a large bowl combine all of the above ingredients. Mix and mash with a fork or potato masher until the desired consistency is achieved.
Salt to taste.
Serve on fresh or toasted bread with desired toppings or as is. I like it best with avocado & cucumber!
Enjoy.
---
Nutrition:
Serving: 1 sandwich
Fat: 15 grams
Calories: 644
Carbs: 64 grams
NOTE: Please see 'Tips' above in the blog post for suitable substitutions, storage advice and more!
Shop This Recipe:
Pin it: