These easy and delicious no bake bars are made with cacao powder, coconut flour, beet powder and fresh foraged dandelions for a fun and healthy springtime treat! Gluten-free, vegan, raw, + refined sugar-free.
I was recently gifted with Sari Food's amazing Beet Powder, so I set off to have some fun! This beautiful powder is made from whole organic beets, maintaining their amazing health properties while creating a fun, bright and vibrant powder perfect for coloring creations and/or adding a nutritional boost!
These Raw Chocolate Bars with Beets & Dandelions are:
Super quick and easy to make.

No-bake, no-cook - simply blend, pour and freeze to set!

Filled with nutrient-dense high-protein, high-fiber ingredients.

Vibrant and beautiful.

Great for a first time foraging project!

Filled the detoxing and purifying properties of dandelions and beets.

Deliciously fudgy and chocolate-y.

A wonderful healthy treat to have on hand (they keep well in the freezer for up to one month)!

Gluten-free, vegan, soy-free, refined sugar-free, raw.
Envision this: a nutty, seedy chocolate crust with a fluffy and creamy coconut flour beet filling! These vegan freezer bars have got it all and then some!
Tips for making Chocolate Beet Dandelion Bars:
Learn more about health benefits + foraging for and preparing dandelions HERE.
Uncomfortable with foraging for dandelions? You can omit or simply dump the contents of one dandelion root tea bag instead.
On a sugar-free diet? Replace the maple syrup with this sugar-free sweetener instead.
On a nut-free diet? Replace the walnuts with more seeds.
If you do not like or have access to golden raisins, you can replace them with any dried fruit of your choice.
Due to the unique nature of coconut flour, I do not recommend replacing it with anything else.
These bars taste great straight out of the freezer! Store in airtight containers in the freezer for up to one month.
More Healthy Treat Recipes You Might Enjoy:
Mint Cacao Adaptogenic Freezer Candy (Raw, Vegan, Gluten-Free, Sugar-Free)
Naturally Sweetened Coconut Flour Banana Chocolate Chip Cookies (Gluten-Free, Dairy-Free, Keto Option)
No Bake Super Seed Cinnamon Maca Energy Squares
Vegan Mango Nice Cream Bars (Gluten-Free)
Healthy Vegan Coconut Bliss Balls (Nut-Free, Keto)
Easy No Bake Chocolate Peanut Butter Protein Cookies With Peanut Butter Glaze (Gluten-Free, Vegan)
If you try this recipe please let me know! Leave a comment, rate it, share this post, use Pinterest's "tried it" feature, or take a photo, & tag me on Instagram and I'll share it! Thank you so much! <3
No-Bake Dandelion Beet Chocolate Bars (Gluten-Free, Raw, Vegan, Refined Sugar-Free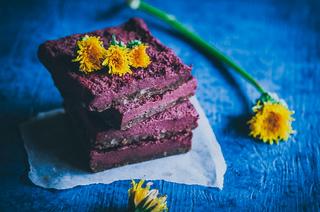 Author: Kristen Wood | 4-28-2019
prep time: 15 minutes
cook time: 0 minutes
total time: 3 hours 15 minutes (to account for freezing time)
**Yields: 9 bars
---
Ingredients:
---
Instructions:
Line an 8 x 8 baking pan with parchment paper. Set aside.
In a high-speed blender or food processor add all chocolate base ingredients. Blend until mostly smooth.
Press chocolate base into your prepared baking pan until you have an even layer. Place into the freezer while you complete the next step.
To your high-speed food processor or blender add beet filling ingredients and blend until fluffy and smooth.
Remove pan from freezer and spread beet filling until the chocolate base is evenly covered.
Place into the freezer for at least 3 hours before slicing and serving. Keep stored in an airtight container in the freezer for up to one month.
Enjoy!
---
Nutrition:
Serving: 1 bar
Fat: 16 grams
Calories: 295
Carbs: 33 grams
NOTE: Please see 'Tips' above in the blog post for suitable substitutions, storage advice and more!
Shop This Recipe:
Pin it: