Disclaimer: Please note that some of the links below in this post are affiliate links and I will earn a commission if you purchase through those links. I regularly use and recommend all of the products listed below because I find them to be of great quality and use! All proceeds go back into maintaining and creating for this site. Thank you!
Last Updated on
These quick and easy refrigerator pickles are super simple to make, healthy and satisfying, and filled to the brim with rich, spicy flavors! Gluten-free, vegan, refined sugar-free, too!
These spicy refrigerator pickles could not be EASIER to make! You simply slice some cucumbers, pack them in jar, heat up a flavorful brine, pour over the cucumbers, and throw in the fridge. Easy peasy! And, DELICIOUS.
These Spicy Pickles are:
Super simple, quick, and easy to make!

Much better tasting than store bought pickles!

Made WITHOUT Dill – and not one ounce less flavorsome for doing so!

Filled with loads of flavor. Tangy, zippy, spicy, tart, sweet, garlicky, salty and everything in-between. They are simply put: yummy!

Nutritious and filled with, vitamin K, prebiotics (fiber that feeds the good bacteria in your gut!! and healthy acids that promote gut health.

Vegan, dairy-free, gluten-free, soy-free, nut-free, refined sugar-free.
What to serve Refrigerator Pickles with:
BBQ Chickpea Walnut Burgers (Vegan, Gluten-Free)
Chickpea & Avocado Salad With A Spiced Orange Vinaigrette Dressing (Gluten-Free, Vegan Option)
White Cheddar Quinoa Bites With Hot & Spicy Buffalo Sriracha Sauce (Gluten-Free)
Sunny Rice & Lentil Veggie Burgers (Gluten-Free, Vegan Option)
Spicy Spiralized Turmeric Tahini Cucumber Noodles (Gluten-Free, Vegan)
Healthy Baked Carrot Walnut Falafel (Gluten-Free, Vegan)
Baked Spring Pea & Dill Fritters With Lemon Tahini Sauce (Vegan, Gluten-Free)
What's needed to make Easy Refrigerator Pickles?
A pint sized jar with a tight fitting lid.
Apple cider vinegar, water, coconut sugar, good quality salt (non-iodized), pickling cucumbers, and red chili flakes.
If you try this recipe please let me know! Leave a comment, rate it, share this post, use Pinterest's "tried it" feature, or take a photo, & tag me on Instagram and I'll share it! Thank you so much! <3
Easy Spicy Refrigerator Pickles (Vegan, Refined Sugar-Free)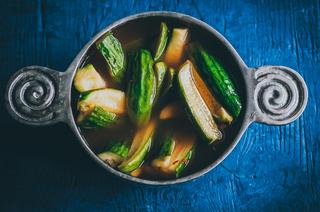 Author: Kristen Wood | 4-3-2019
prep time: 10 minutes
cook time: 5 minutes
total time: 1 day (to account for pickling time in the refrigerator)
Yields: approx. 12 pickle spears
---
Ingredients:
---
Instructions:
Slice the cucumbers and smash the garlic.
Place the garlic in the bottom of a pint-sized jar.
Pack the cucumbers (vertically) into the jar on top of the garlic. You want to place them so they are snugly fit and will not rise when brine is added.
Sprinkle chili flakes into the jar.
In a sauce pan over low heat combine water, vinegar, salt and sugar.
Heat, while stirring, just until salt and sugar are dissolved.
Pour this brine over your packed cucumbers in the jar until they are just covered.
Let sit uncovered for 10-15 minutes, or until jar is only slightly warm to touch.
Screw a lid on tightly and place in the refrigerator for at least 24 hours before serving.
Enjoy!
I find these pickles can be enjoyed for up to 2 months, so long as there are no signs of spoilage present (mushiness, discoloration, etc.)!
---
Nutrition:
Serving: 1 spear
Fat: 0 grams
Calories: 16
Carbs: 3 grams
NOTE: Please see 'Tips' above in the blog post for suitable substitutions, storage advice and more!
Shop This Recipe:
Pin it: