Disclaimer: Please note that some of the links below in this post are affiliate links and I will earn a commission if you purchase through those links. I regularly use and recommend all of the products listed below because I find them to be of great quality and use! All proceeds go back into maintaining and creating for this site. Thank you!
Last Updated on
This easy vegan Instant Pot chili recipe is filled with spicy and smoky chipotle peppers, pinto beans and unsweetened chocolate lending this vegetarian chili a unique and flavorful twist.
At first glance you might think "chocolate and chipotle??!!". Yes, chocolate and chipotle. If you've never paired smoky and spicy chipotle peppers with the richness that is chocolate before, boy are you in for a treat! This Instant Pot Vegetarian Chili is filled with complex, yet super delicious flavors all with the ease of pressure cooking!
I think we can all agree that chili makes for some ultimate comfort food; and this IP chili is no exception.
This Instant Pot Vegan Chili with Pinto Beans, Chocolate, and Chipotle Peppers is:
Vegetarian, Vegan, Dairy-Free, Soy-Free, Nut-Free, and Gluten-Free.

Made with fiber and protein-rich dry pinto beans that have only been soaked a short period of time.

Super flavorful with the use of chipotle peppers, unsweetened 100% chocolate, and the perfect blend of chili spices!

Healthy & filling.

Easy to make.

Unique and exciting to the taste buds!
Tips for making Instant Pot Vegetarian Chili with Pinto Beans, Chipotle Peppers & Chocolate:
If you like your food extra spicy, add 1-2 extra chipotle peppers to this dish.

I highly recommend these 100% chocolate chips for the best flavor profile. BUT, if you do not have 100% dark chocolate, any dark chocolate chips or chopped dark chocolate will do in a pinch.

Soaking the pinto beans for three hours prior produces the best results, but this recipe will work with dry pinto beans that haven't been soaked (without adjusting the time). Just taste test for tenderness when done. If needed, place the lid back on and high pressure cook for 5 minute increments until desired tenderness is achieved. Keep in my that the tenderness of beans has a lot to do with the age of the beans. Use fresh dried beans for the best and quickest results.

If desired, the tomato can be omitted altogether or you can sub the fresh tomato with 1/2 cup canned diced tomatoes instead.

Dependent upon what kind of chocolate chips you use, the sweetness level may need to be adjusted a bit to suit your tastes. You can add more or less of maple syrup or honey at the end to please your taste buds. The trick is to add just enough to enhance all of the flavors. The touch of sweetness truly ties together all of the flavors in this Instant Pot Chili.

Are you on a keto or sugar-free diet? This vegetarian chili will work well with a sugar-free syrup like this one (my favorite).

Do you want a thicker chili? Keep in mind that this particular chili thickens as it cools. But, if you want to make it even thicker, simply press the 'Saute' button your pressure cooker and saute without the lid while stirring until it reaches desired consistency.
More Vegan Chili Recipes you might enjoy:
Instant Pot Millet & Pinto Bean Chili (Gluten-Free, Vegan)
Lentil And Butternut Squash Vegetarian Chili With Spicy Chickpea Quinoa Crackers (Gluten-Free, Vegan)
If you try this recipe please let me know! Leave a comment, rate it, share this post, use Pinterest's "tried it" feature, or take a photo, & tag me on Instagram and I'll share it! Thank you so much! <3
Instant Pot Chocolate Chipotle Vegan Chili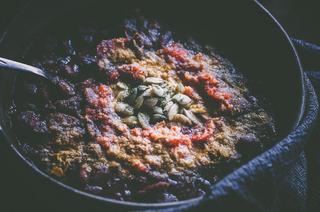 Author: Kristen Wood | 2-20-2019
prep time: 10 minutes
cook time: 35 minutes
total time: 1 hour (this is to account for the pressure cooker coming to and releasing pressure)
Yields: 8 servings
---
Ingredients:
1 tablespoon olive, coconut, or avocado oil
1/2 onion, diced
1 bell pepper, diced
2 garlic cloves, minced
2 chipotle peppers in adobo sauce, chopped
1 tomato, diced
1 bay leaf
1 teaspoon red chile powder (not to be confused with chili powder), see suggestion below under 'Shop This Recipe'
1/2 teaspoon cumin seed
1/2 teaspoon ground coriander
1/2 ground chipotle powder
1/2 teaspoon ground cinnamon
1/4 teaspoon paprika
2 cups dry pinto beans, soaked for 3 hours prior
5 cups vegetable broth or water
1/4 cup unsweetened 100% chocolate chips
2 tablespoons maple syrup or honey
sea salt, to taste
Optional, to garnish: pumpkin seeds, salsa, nutritional yeast or cheese
---
Instructions:
Press the 'Saute' button on your Instant Pot. Add oil, onion, pepper, garlic. Saute for 5 minutes, stirring frequently.
Stir in chipotle peppers, tomato, and spices. Saute for 1 minute longer.
Press 'Cancel'. Stir in broth/water, pinto beans and chocolate.
Cook on manual high pressure for 35 minutes.
Let the pressure release naturally for 10 minutes before opening the vent.
Stir in maple syrup/honey, and salt to taste.
Optionally, garnish with pumpkin seeds, salsa, nutritional yeast or cheese.
Enjoy!
---
Nutrition:
Serving: 1 serving
Fat: 4.9 grams
Calories: 230
Carbs: 34 grams
NOTE: Please see 'Tips' above in the blog post for suitable substitutions, storage advice and more!
Shop This Recipe:
Pin it: