Disclaimer: Please note that some of the links below in this post are affiliate links and I will earn a commission if you purchase through those links. I regularly use and recommend all of the products listed below because I find them to be of great quality and use! All proceeds go back into maintaining and creating for this site. Thank you! XO
Last Updated on
This Vegan Green Lentil Curry recipe can be in an Instant Pot pressure cooker or on the stovetop for one quick, easy, healthy and delicious Indian inspired dish!
A good curry is my kind of comfort food, and my go-to when I do not feel like cooking very much. Throw a few flavorful ingredients together, and you can have one healthy and delicious meal ready to enjoy right away or have on hand to enjoy throughout the week. It's a win all around, and this delightful green lentil coconut curry is no exception.
Green Lentil Curry
This Vegan Green Lentil Curry for Instant Pot or Stovetop is:
Super easy to make.

Bursting with big flavors, and delightful textures.

Packed with protein and fiber.

Great enjoyed right away, or meal prepped for some excellent leftovers.

Gluten-free, vegan, dairy-free, soy-free, nut-free, refined sugar-free.
What Ingredients are Needed to Make Green Lentil Curry?
Oil.

Onion.

A special spice blend.

Green lentils.

Coconut milk.

Coconut sugar.

Apple cider vinegar.
How-to Make Instant Pot Lentil Curry – Step by Step
Saute onion in oil.
2. Stir in spice blend.
3. Saute spice blend with onion for a few minutes.
4. Add lentils.
5. Add coconut milk.
6. Stir.
7. Add water.
8. Place lid on, seal valve, cook on manual high pressure for 10 minutes. Natural release pressure for 10 minutes. Stir in vinegar + salt.
9. Serve & enjoy!
Top Tips for Making Green Lentil Curry
Can I use brown lentils instead of green lentils?

Yes. No further adjustments necessary.
The coconut sugar can be replaced with any sweetener of your choosing.

For a sugar-free lentil curry, we love this sugar-free sweetener.

Thrive Market makes my absolute favorite canned coconut milk.

Vinegar can be replaced with lemon juice if you would prefer.

If you prefer a creamier and wetter curry (more like a dal), stir in 1/2 cup-1 cup more of coconut milk at the very end right before serving.
How Do I Serve Green Lentil Curry?
More Lentil Recipes
Instant Pot Red Lentil & Potato Curry (Vegan, Gluten-Free)
Red Lentil Flatbread Pizza Crust (Gluten-Free, Vegan)
Spicy Southwestern Vegan Corn Chowder with Quinoa, Potatoes + Red Lentils
Spicy Coconut Red Lentil Dal (Instant Pot + Stovetop)
If you try this recipe please let me know! Leave a comment, rate it, share this post, use Pinterest's "tried it" feature, or take a photo, & tag me on Instagram and I'll share it! Thank you so much! <3
Instant Pot Vegan Green Lentil Curry (+Stovetop)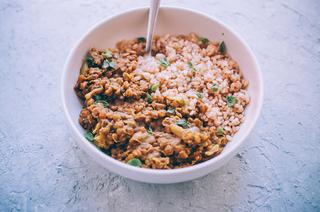 Author: Kristen Wood | 9-4-2019
prep time: 10 minutes
cook time: 10 minutes
total time: 35 minutes (to account for the coming to and realeasing of pressure)
Yields: 4 servings
---
Ingredients:
1 tablespoon coconut oil
1 red onion, chopped
1 tablespoon yellow curry powder
1 tablespoon coconut sugar
2 teaspoons ground ginger
1 teaspoon garlic powder
1 teaspoon cumin seeds
1 teaspoon ground turmeric
1/4 teaspoon red chili flakes
1 1/2 cups green lentils(300 grams)
1 13.5 oz can full-fat coconut milk (+optional extra; see 'Tips' above)
1 1/4 cup water (375 ml)
1 tablespoon apple cider vinegar
sea salt or pink salt, to taste
---
Instructions:
Set your Instant Pot to saute mode. Add oil and chopped onion. Saute for 5 minutes.
Add spices (curry through red chili flakes). Stir. Let saute for 2 minutes.
Add lentils and coconut milk. Stir.
Add water. Stir.
Place lid on, set valve to sealing. Cook on manual high pressure for 10 minutes.
Let pressure release naturally for 10 minutes.
Press cancel, release steam and remove lid.
Stir in vinegar. Salt to taste.
Optionally (see 'Tips' section above in post), stir in extra ooconut milk.
Serve and enjoy!
---
Nutrition:
Serving: 1 serving/bowl
Fat: 22 grams
Calories: 348
Carbs: 29 grams
Fiber: 11 grams
NOTE: Please see 'Tips' above in the blog post for suitable substitutions, storage advice and more!
Stovetop Instructions
In a large pot over medium heat, add oil and onion. Saute for five minutes.

Add spices (curry through red chili flakes). Stir and let cook for 2 minutes.

Add lentils, milk and 2 ½ cups of water.

Bring to a boil, cover, turn heat down to a simmer. Let simmer for 45 minutes or until lentils are tender and most of the liquid has been reduced.

Stir in vinegar. Salt to taste. Optionally, stir in extra coconut milk (see 'Tips' section above in post).

Serve and enjoy!
Shop This Recipe
Pin it For Later