15 Best Decaf Starbucks Drinks 
This post may contain affiliate links, and we receive an affiliate commission for any purchases made by you using these links. We appreciate your support!
A collection of the best decaf Starbucks drinks. These caffeine-free Starbucks drinks are delicious options for your next visit!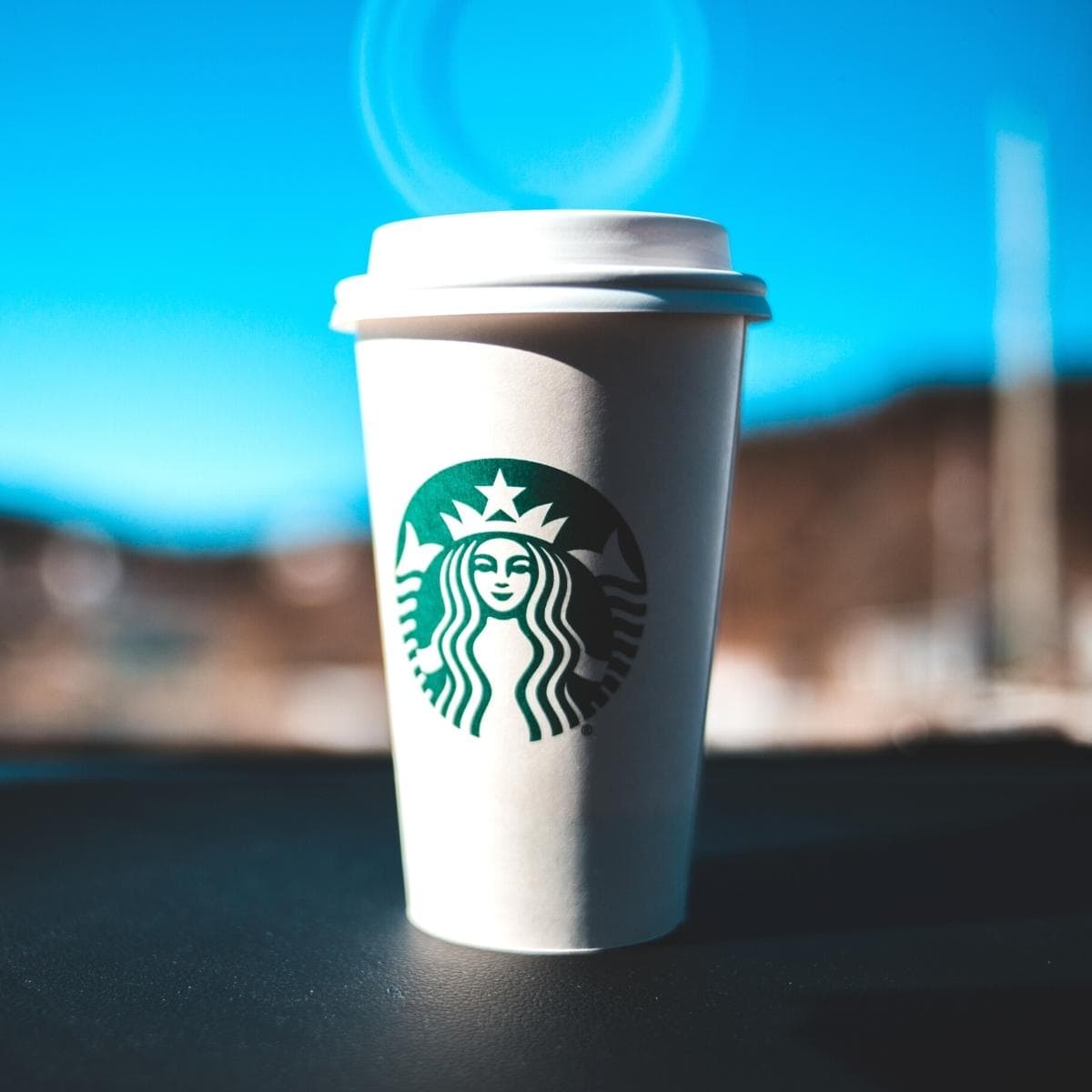 If you love coffee but don't like the caffeine thing, this post is for you. Starbucks is often thought of as the holy grail for coffee lovers, but did you know that the chain also offers all its espressos, frappuccinos, and brewed and iced coffees as decaf drinks?
All you need to do is ask, so your barista can use decaf coffee beans instead of regular ones. But a little word of caution here, decaf Starbucks drinks all contain small amounts of caffeine. That means they are not 100% free of caffeine.
Our specially curated list includes a delicious mix of hot and cold decaf and caffeine-free drinks for your next Starbucks visit.
15 Decaf Starbucks Drinks
1. Decaf Espresso Roast
The Decaf Espresso Roast is an excellent choice for anyone looking for a rich dark coffee without the kick of caffeine. This is a rich espresso with strong notes of caramel and molasses. To order, ask your barista for a decaffeinated drink so they can use decaf beans instead of regular espresso beans. Decaf espresso is used to make many decaf coffee drinks, both hot and cold.
2. Iced Decaf Americano
If you enjoy the hot Americano at Starbucks, you will love its iced avatar. A decaffeinated Americano will give you a Starbucks espresso's rich, bold flavor minus the crazy caffeine. This cool decaffeinated coffee drink is made by topping decaf espresso shots with cold water, then pouring it over a bed of ice. You can always go crazy with the sweetening syrups if you like your drinks that way. We recommend the sugar-free vanilla syrup for those looking for a sugar-free decaffeinated drink.
3. Decaf Iced Pour Over
If you have a few minutes to spare, ask your barista to make you a decaf iced pour-over. How is this different from regular decaf iced coffees? The secret lies in the pour-over method, where the decaf coffee beans are first ground, and then hot water is poured over them, allowing the filtered coffee to fall over a bed of ice. A pour-over can only be made one cup at a time, so don't be surprised if your barista offers to make you a decaf iced Americano instead!
4. Decaf Latte (Hot or Iced)
An excellent choice for decaf coffee lovers, this beverage consists of steamed milk with a shot of decaf espresso and milk foam on top. For a more robust coffee flavor, ask for a double espresso shot. This espresso drink can be enjoyed hot or iced with a pump or two of Starbucks's many sweet syrups like vanilla or caramel for added flavor.
5. Iced Flat White
You might not always find this classic drink on a Starbucks menu, but you can order this drink at any outlet. Just ask your barista for an Iced Flat White. A stronger version of the decaf latte, the iced flat latte comes without the milk foam on top. That means you get a stronger cuppa coffee with espresso shots and steamed milk. This drink is somewhat reminiscent of an Americano rather than a creamy latte and is perfect for someone that likes their espresso with a splash or two of milk. You can sweeten the drink as desired.
6. Decaf Cappuccino
If the decaf latte is too gentle for your coffee-loving taste buds, give the decaf cappuccino a go. This one uses half the amount of steamed milk as a latte and has more coffee than a decaf flat white. Foam lovers can also rejoice—the decaf cappuccino comes with a healthy dose of milk foam, so you don't miss out on the fun of making coffee foam mustaches! If you like your cappuccinos flavored, ask for a few pumps of mocha, caramel, or vanilla syrups.
7. Iced Decaf Caramel Macchiato
Luckily, this incredibly delicious non-caffeinated drink is not out of bounds if you are looking to go easy on the caffeine. Decaf coffee beans make a rich, full-bodied espresso shot, which is then mixed with milk, vanilla syrup, and ice. A generous drizzle of caramel sauce gives this five-star drink its characteristic caramel flavor.
8. Decaf White Chocolate Mocha
Possibly one of the best decaf drinks at Starbucks, this one combines a shot of decaf espresso, steamed 2% milk, and four pumps of white chocolate mocha sauce. A generous swirl of whipped cream completes this delicious drink. The drink can be easily customized to make it healthy in addition to being decaf. Just skip the whipped cream or go easy on the sweet syrup.
9. Decaf Coffee Frappuccino
This drink is perfect for someone who wants the taste of coffee minus the caffeine in a luscious Starbucks Frappuccino. Your barista will modify the original coffee Frappuccino by swapping the caffeinated coffee syrup with decaf espresso shots. The result is a slightly thinned-out version of the original coffee Frappuccino, but it is a delicious drink nonetheless.
10. Cinnamon Roll Frappuccino
Coffee and cinnamon are a match made in heaven, and the delicious cinnamon roll Frappuccino brings these two ingredients in a caffeine-free concoction that you will surely love. The base of this beverage is a vanilla bean Frappuccino, which is flavored with cinnamon dolce syrup and white mocha syrups. A sprinkle of cinnamon dolce sprinkles finishes this drink. This one has no caffeine, but it's like having breakfast for dessert!
11. Caramel Ribbon Crunch Crème Frappuccino
This divine Frappuccino is a decaf take on the original Caramel Ribbon Crunch, which contains coffee and a caramel drizzle. This sweet drink may not give you a caffeine kick, but it will undoubtedly cause a sugar spike in your body. It is incredibly delicious and a favorite among the kids too. The extra crunch adds a nice texture to this drink. Order this if you are looking for an 'almost-dessert' drink!
12. Peppermint White Hot Chocolate
This one is for chocolate lovers. Starbucks white chocolate drinks are completely caffeine-free and perfect for the cold winter months. It is made by blending a rich white chocolate sauce with steamed milk. The peppermint-flavored syrup gives this drink its characteristic minty favor. The beverage is topped generously with whipped cream and dark chocolate curls.
13. White Chocolate Crème Frappuccino
Yet another winner from the Starbucks crème Frappuccino range with zero caffeine. This one is a mix of luscious white chocolate sauce, milk, creme Frappuccino syrup, and ice. The whipped cream on top is pure indulgence. Skip this one if you are on a diet!
14. Iced Guava Passionfruit Drink
This dairy-free tropical delight is yet another pink drink from the Starbucks summertime collection. It is a fruity blend of guava, passion fruit, and pineapple juices mixed with coconut milk and poured over a bed of ice. The creamy texture of this beverage comes from the luscious coconut milk and is reminiscent of lazy afternoons spent on hammocks in faraway lands.
15. Iced Passion Tango Tea
Tea lovers, take note. A popular summer herbal tea at Starbucks, the Iced Passion Tango Tea is a blend of bold fruity favors in a gorgeous red color. It is made with a mix of tropical hibiscus and lemongrass, apples, and a hint of cinnamon. All herbal teas at Starbucks are naturally caffeine-free.
You Might Also Like
Best Starbucks Drinks for Kids
Copycat Starbucks Dragon Drink