Disclaimer: Please note that some of the links below in this post are affiliate links and I will earn a commission if you purchase through those links. I regularly use and recommend all of the products listed below because I find them to be of great quality and use! All proceeds go back into maintaining and creating for this site. Thank you! XO
Last Updated on
Note: This post is sponsored by Wallaby Organic Greek Yogurt and Kefir. All opinions expressed are my own.
This Creamy Banana Tahini Kefir Ice Cream uses only 5 simple ingredients and no refined sugars to create an absolutely decadent, probiotic-rich, healthy treat perfect for any time of day!
I recently took a trip to my local Whole Foods here in Flagstaff, Arizona to purchase Wallaby Yogurt's amazing Organic Aussie Style Whole Milk Kefir . . .
I've been a long time fan of Wallaby Yogurt's rich and creamyAussie Style Greek Yogurt, so I was ridiculously excited to try their kefir for the first time.
All of Wallaby Yogurt's products:
Use the highest quality organic ingredients
Are slow-crafted using Australian-inspired recipes
Are created with a unique slow-culturing process that results in a super creamy tart-free product
Have a delightfully mellow and fulfilling flavor and texture
Inspire you to savor the moment!
What's not to love? Now, that kefir . . .
To say that this Organic Aussie Style Kefir is good would be an understatement. It was truly knock-your-socks-delicious! I had trouble not drinking the whole bottle before creating this recipe (it was that gooood). And this recipe? Holy moly. I think I'll only now be eating Kefir ice cream for the rest of my days.
This Creamy Banana Tahini Kefir Ice Cream is:
Super rich and creamy
Easy to make
Made with only 5 simple, whole ingredients
Ridiculously healthy and probiotic-rich (thanks to Wallaby!)
Packed with a great balance of banana and tahini flavors
Has a great texture straight out of your ice cream maker or frozen & enjoyed later
Gluten-free & refined sugar-free
DELICIOUS!
I would not be exaggerating to say that Wallaby's Organic Aussie Style Yogurt and Kefir products have changed my life. There truly  is no other kefir or yogurt product out there that stands up to the quality, texture and flavor of their amazing products and their ability to transform any recipe you incorporate them into for the better!
I hope you find yourself able to slow down and savor this bit of bliss yourself!
Enjoy. xo.
P.S. – Do you want to find Wallaby's products near you? Check HERE.
If you try this recipe please let me know! Leave a comment, rate it, share this post, use Pinterest's "tried it" feature, or take a photo, & tag me on Instagram and I'll share it! Thank you so much! <3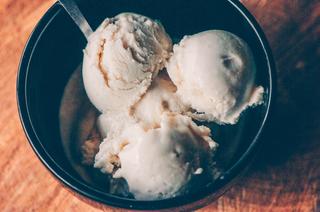 Creamy Banana Tahini Kefir Ice Cream (Gluten-Free, Refined Sugar-Free)
Easy, creamy, healthy, and delicious probiotic-rich Banana Tahini Kefir Ice Cream made with 5 simple, wholesome ingredients!
Ingredients
2 cups

Wallaby Organic Aussie Style Whole Milk Kefir, Plain flavor

1

frozen banana

1/4 cup

maple syrup

3 tablespoons

tahini (unsalted)

2 tablespoons

unrefined liquid coconut oil
Instructions
To a food processor or high speed blender add all of the above ingredients.
Blend until smooth and foamy on top.
Immediately pour into your ice cream maker and churn (according to manufacturer's instructions).
Enjoy right away for a super silky, creamy soft serve-like ice cream or scoop into a loaf tin, cover and freeze to enjoy a harder (but still super creamy ice cream) later!
Enjoy!
Details
Prep time:


Cook time:


Total time:


Yield:
2-4 servings

Do you want to give Wallaby products a try for yourself? HERE is a coupon for $1.00 off!
Pin it: