The Best Gluten-Free Focaccia (Vegan)
This post may contain affiliate links, and we receive an affiliate commission for any purchases made by you using these links. We appreciate your support!
This Gluten-Free Focaccia Bread has the perfect focaccia texture! You would never suspect that it is gluten-free. Naturally vegan and xanthan gum free!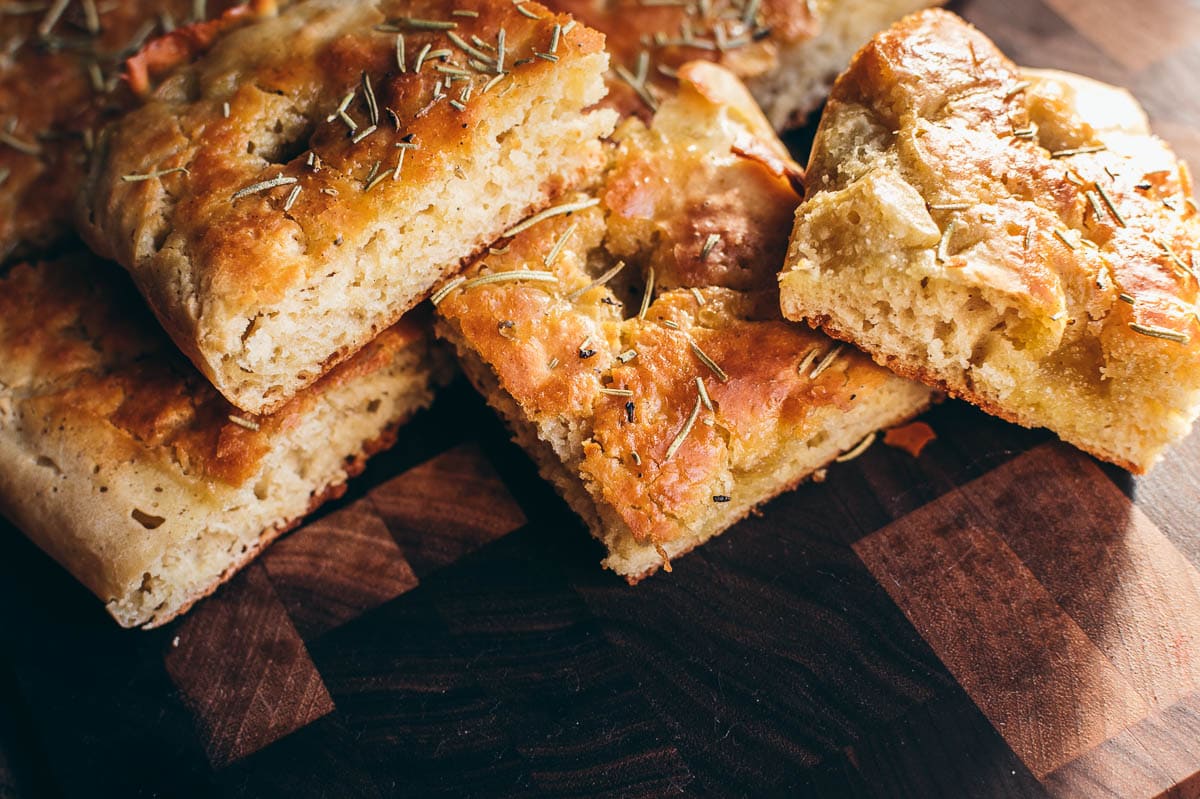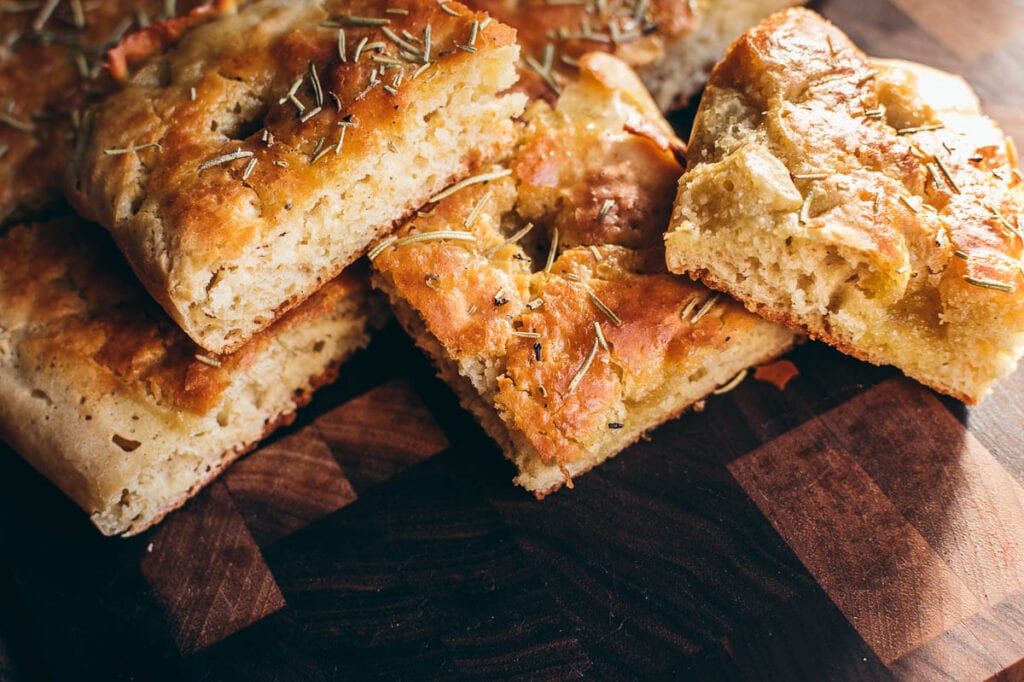 Here's a recipe I worked nearly a year on! I went through much trial and error to finally achieve the texture and flavors I was after in a gluten-free focaccia bread and I'm thrilled to finally be sharing this recipe with you! I so hope you love it as much as we do!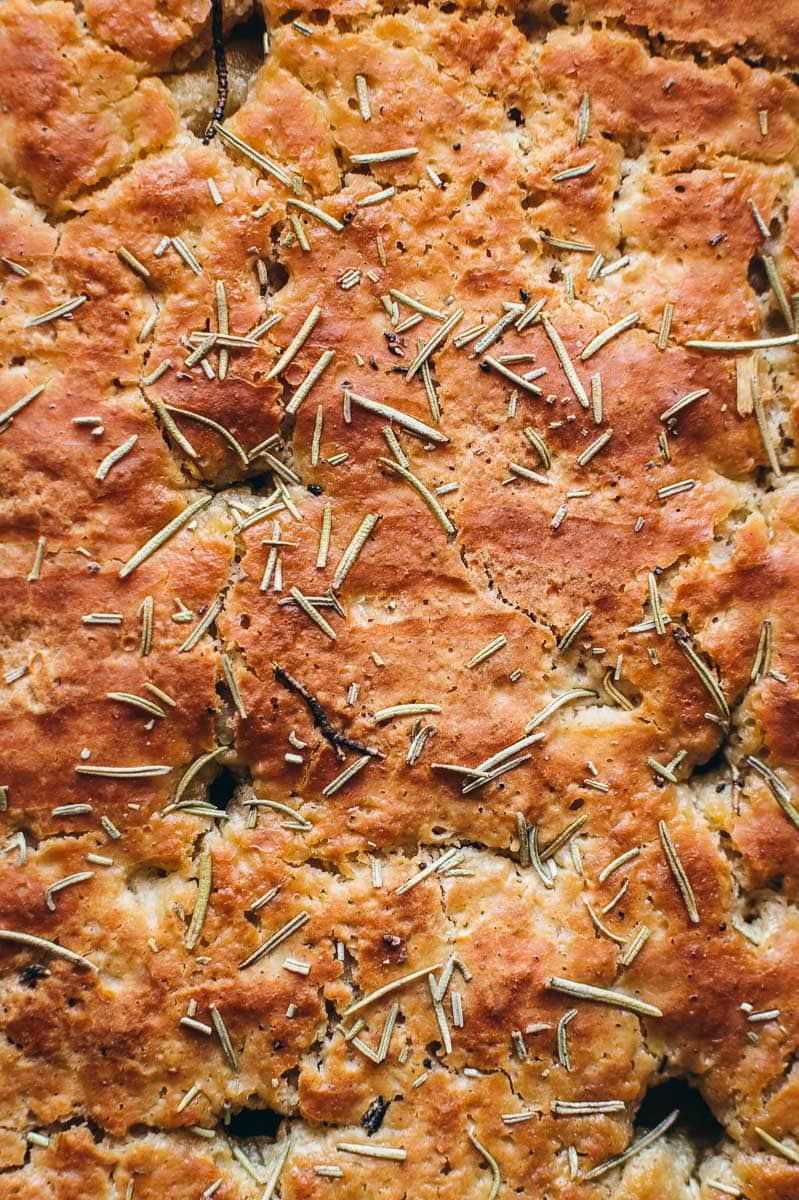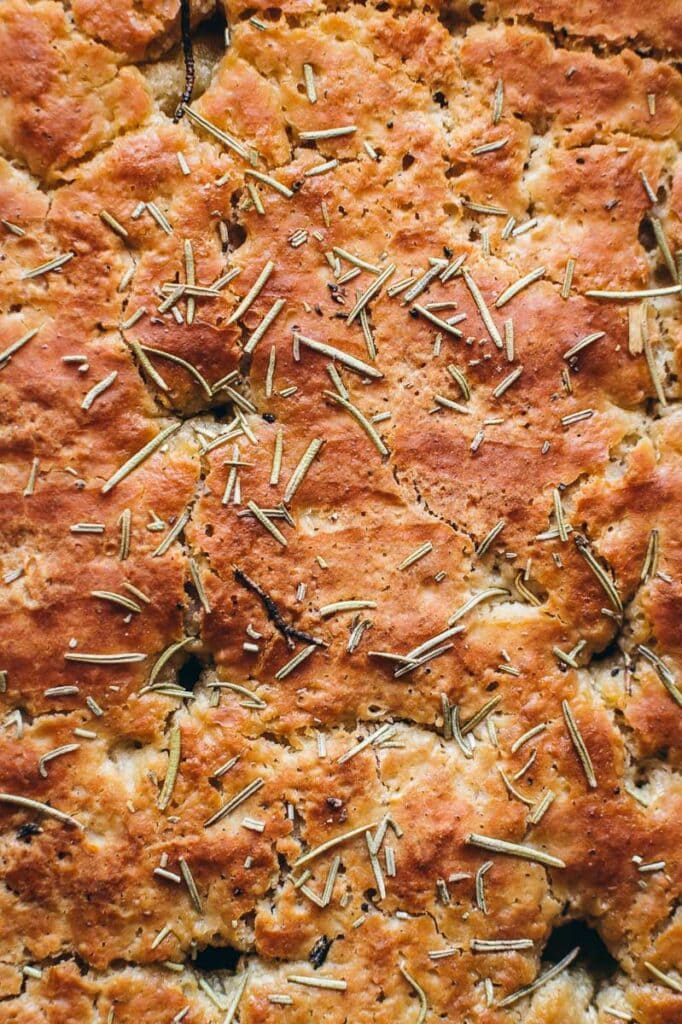 📖 Features
Super simple ingredients and method. Very easy to make!
Reminiscent of conventional gluten-filled focaccia bread.
Packed with beautiful flavors and textures.
Gluten-free, dairy-free, nut-free, soy-free, vegan.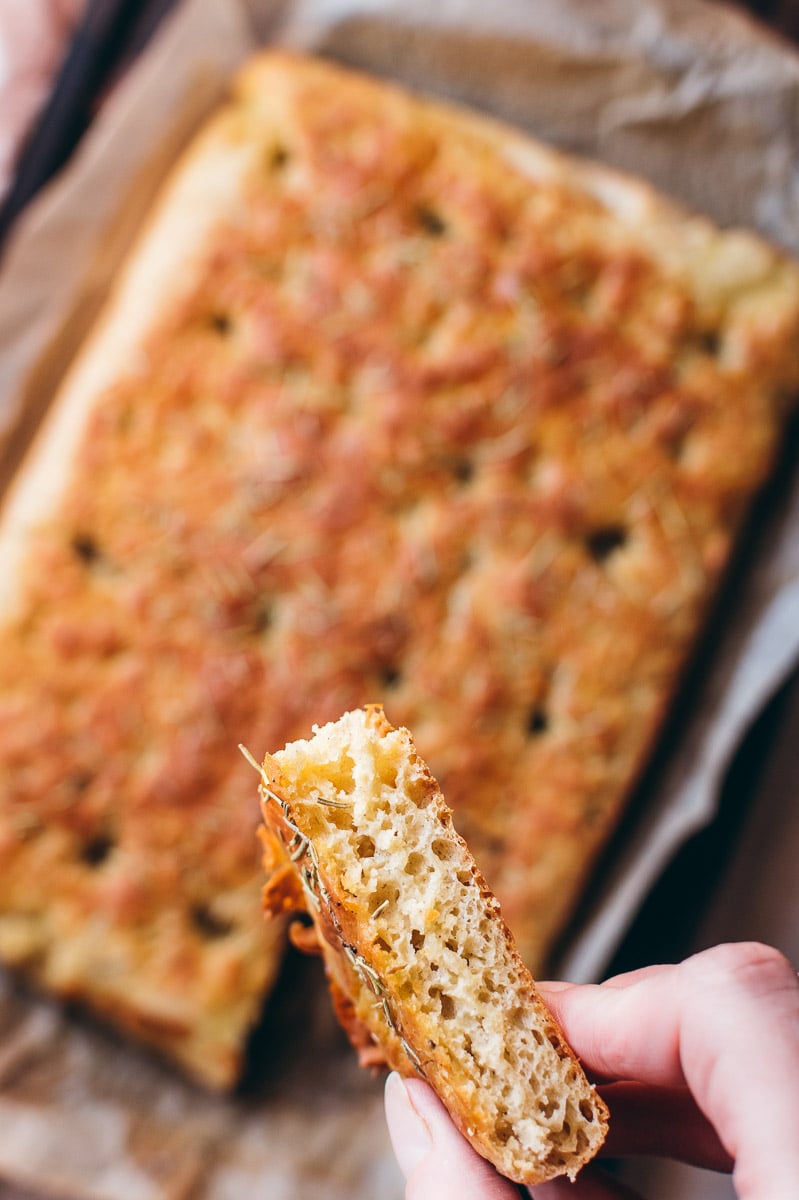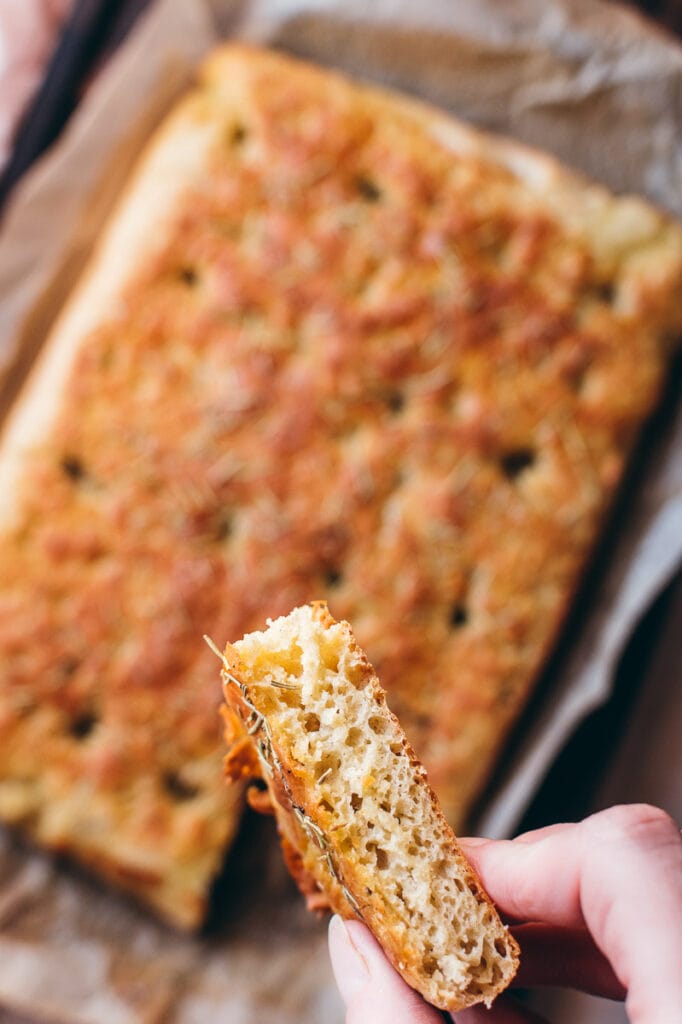 🥖 Ingredient Notes (+ 1 Secret Ingredient!)
Gluten-free flour: The trick to this perfect focaccia is using a gluten-free all purpose flour blend without xanthan gum. I tested many different store-bought and homemade blends and while I was able to create some tasty breads, none of the tests using blends with xanthan gum came even close to the texture you would come to expect from a true focaccia. I'll share some of my favorite flour blends in the recipe card toward the bottom of the post!
Yeast + sweetener: This is mandatory for a nice risen focaccia dough!
Olive oil: No focaccia would be complete without a little olive oil thrown into the mix! This adds both flavor and a nice golden, crispy exterior.
Baking powder: This adds a little extra lift and browning power.
Salt + Rosemary: This simple combo adds a lot of flavor!
For full ingredients list and instructions, refer to the recipe card toward the bottom of this post.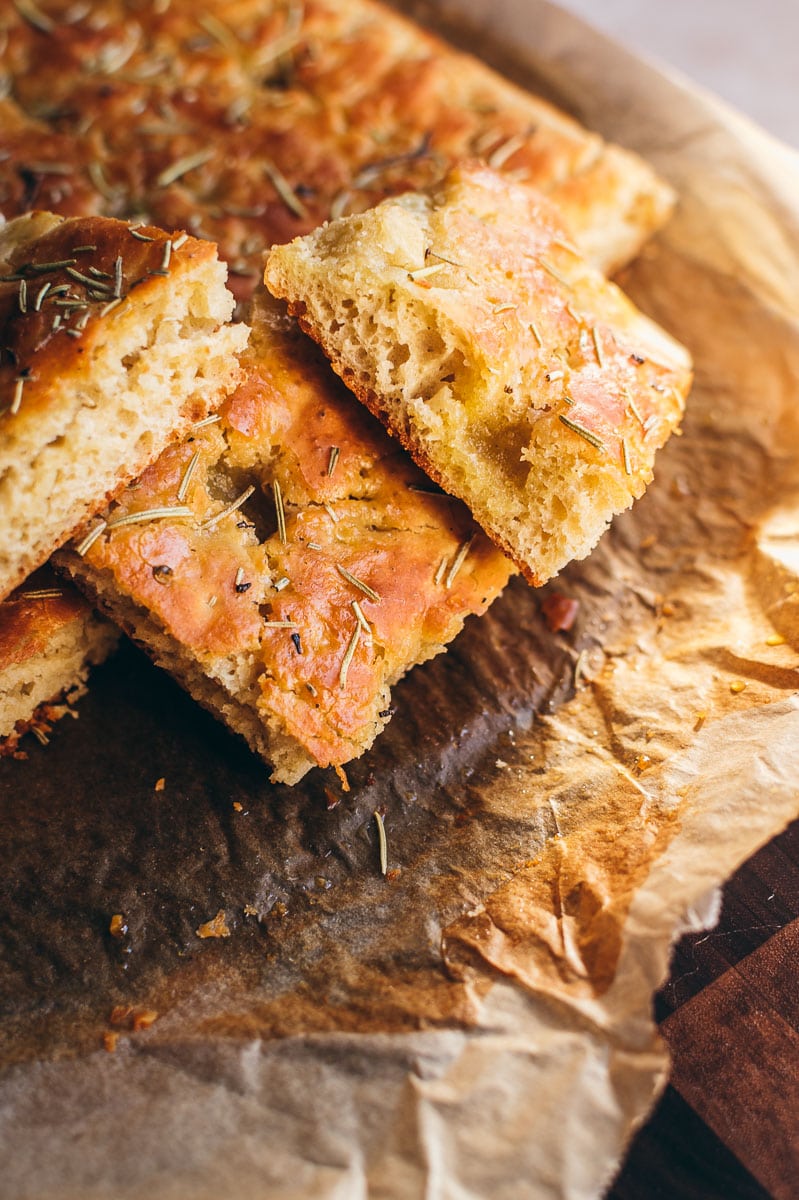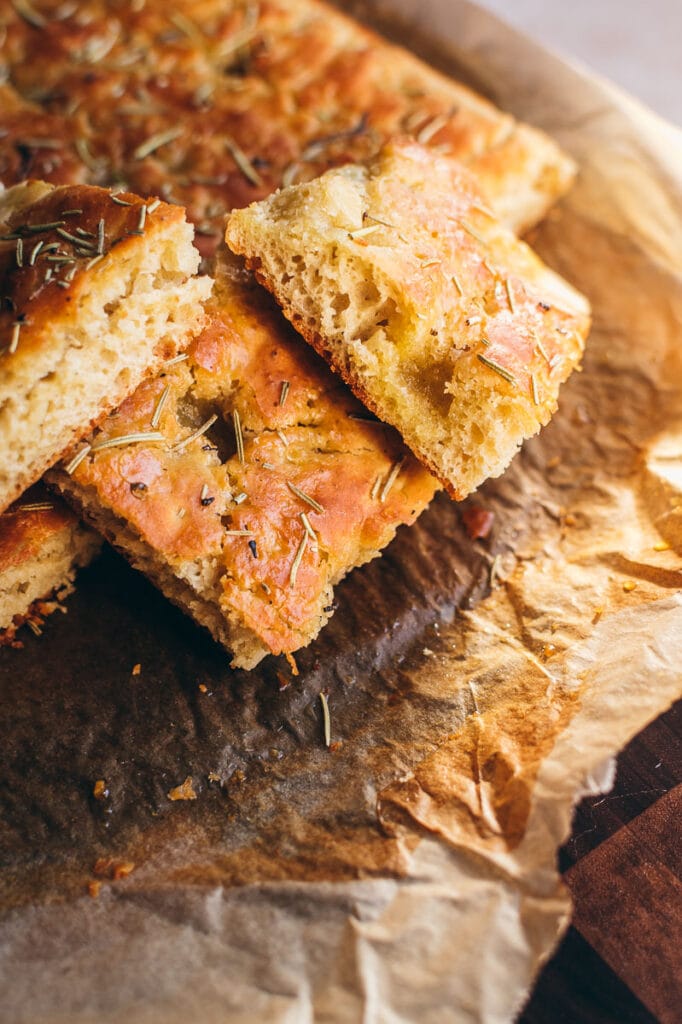 🥣 How-to Make
Step 1: Combine water, yeast and sweetener. Let sit to 'bloom' for 5 minutes.
Step 2: Add flour, salt, baking powder and oil. Mix well.
Step 3: Cover and let rise until doubled in size.
Step 4: Pour into prepared baking pan. Let rise for 30 minutes longer.
Step 5: Make holes in the dough, drizzle with oil, sprinkle with rosemary and bake.
Step 6: Enjoy!
💭 FAQ and Top Tips
Use the Right Flour Blend
In case you missed it further up in the post or in the recipe card, it is imperative you use a gluten-free flour blend without xanthan gum for best results. I tested with xanthan gum numerous times and while I was able to create tasty bread, it did not produce the lovely texture you would come to expect from focaccia. I recommend some of my favorite store-bought blends as well as a DIY blend in the recipe card at the bottom of this post.
Yeast
Letting the yeast/water/sweetener mixture sit for 5 minutes and get foamy is indicative of the yeast being healthy and active. If your yeast mixture does not begin to bubble or get foamy, then you may want to start again with a newly purchased batch of yeast for to ensure your dough rises as intended.
Let it Rise
Rising times can vary due to brands used, altitude, temperature, etc. Just make sure it doubles in size during both rising times, regardless of how long it takes. Patience serves you well here! If it does not rise for some reason, you either used a blend with xanthan gum (which is not advised!), you did not wait long enough for it to rise, the ambient temperature is not warm enough (move to a warmer location), or your yeast is mostly like old or inactive for some reason and you should start again with new yeast.
Toppings
Simple dried rosemary, olive oil and flaked salt makes for a divine combo, but you can certainly top your focaccia off however you would prefer! Some other ideas:
Sliced onions.
Sliced cherry tomatoes.
Fresh or dried thyme.
Fresh or dried basil.
Fresh or dried oregano.
Sliced olives.
Roasted red peppers.
Sun-dried tomatoes.
How do I store and reheat this Gluten-Free Focaccia?
This focaccia tastes best fresh from the oven but it does keep well lightly covered at room temperature for up to about 24 hours. Otherwise, I recommend freezing it over refrigerating it, if storing. To freeze, store in freezer safe containers for up to one month. To reheat, whether kept at room temperature or the freezer, place the bread into a 400F oven and heat until crisp and warmed throughout.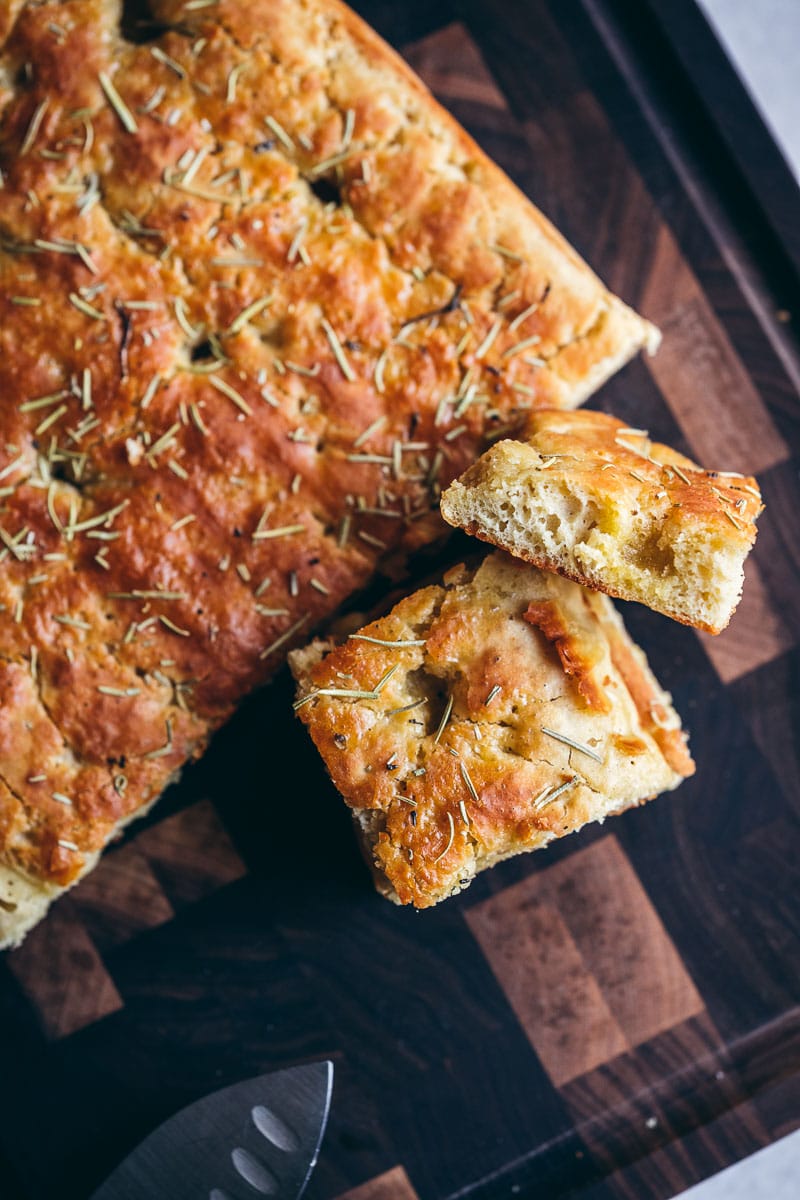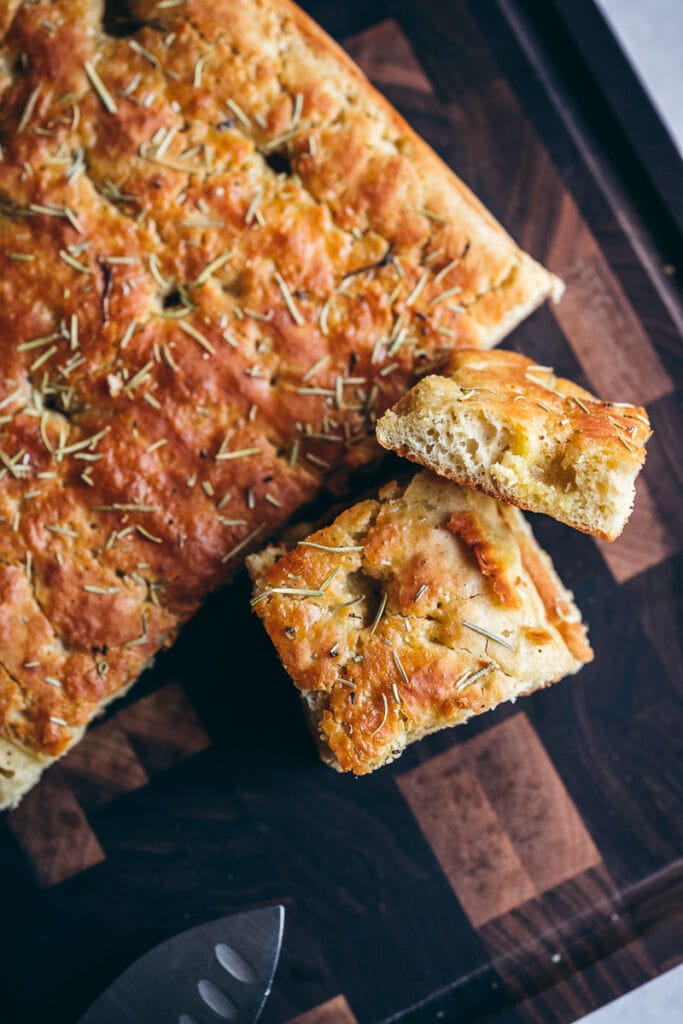 🧂 How-to Serve
This is the kind of bread that doesn't need anything else but itself! It is that delightful. But if you're looking for ways to mix it up a little, here are some great ways to enjoy this bread:
Dipped into olive oil with or without dried herbs.
Slathered with a healthy dose of butter or ghee.
Dipped into marinara sauce.
Topped off like a pizza and reheated until toppings are melted.
Dipped into soup.
Sliced and used as sandwich bread.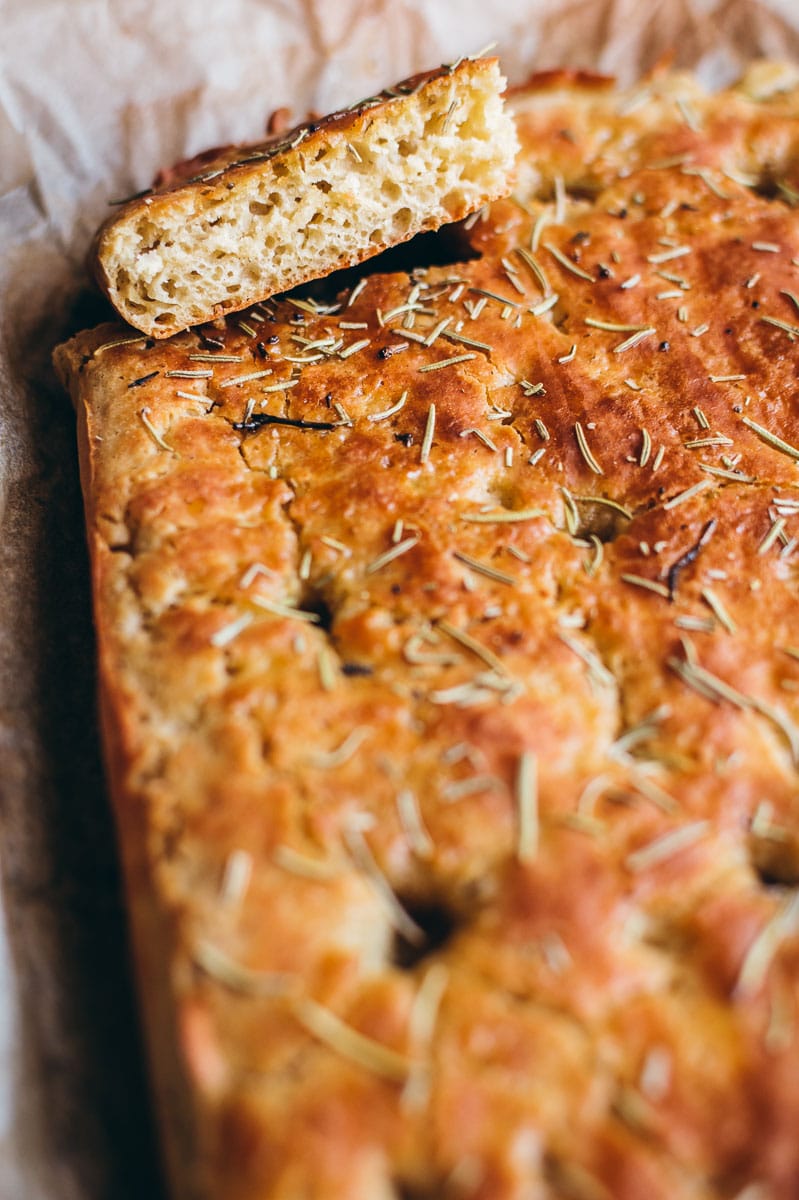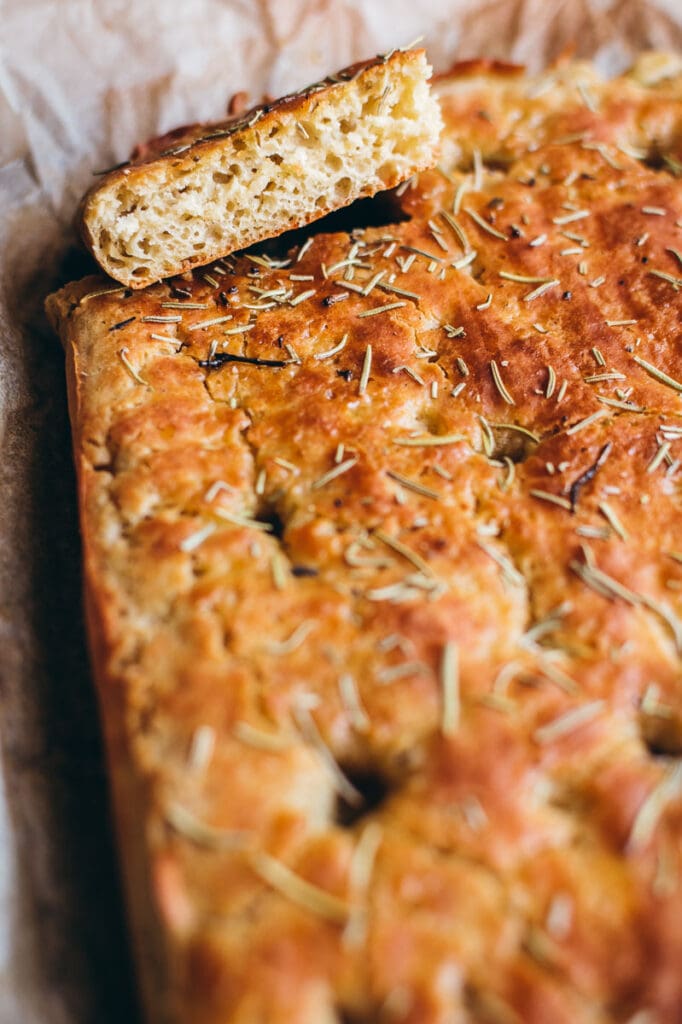 🍞 More Delicious Gluten-Free Bread Recipes
The Best Gluten-Free Vegan Bread
Gluten-Free Vegan Banana Bread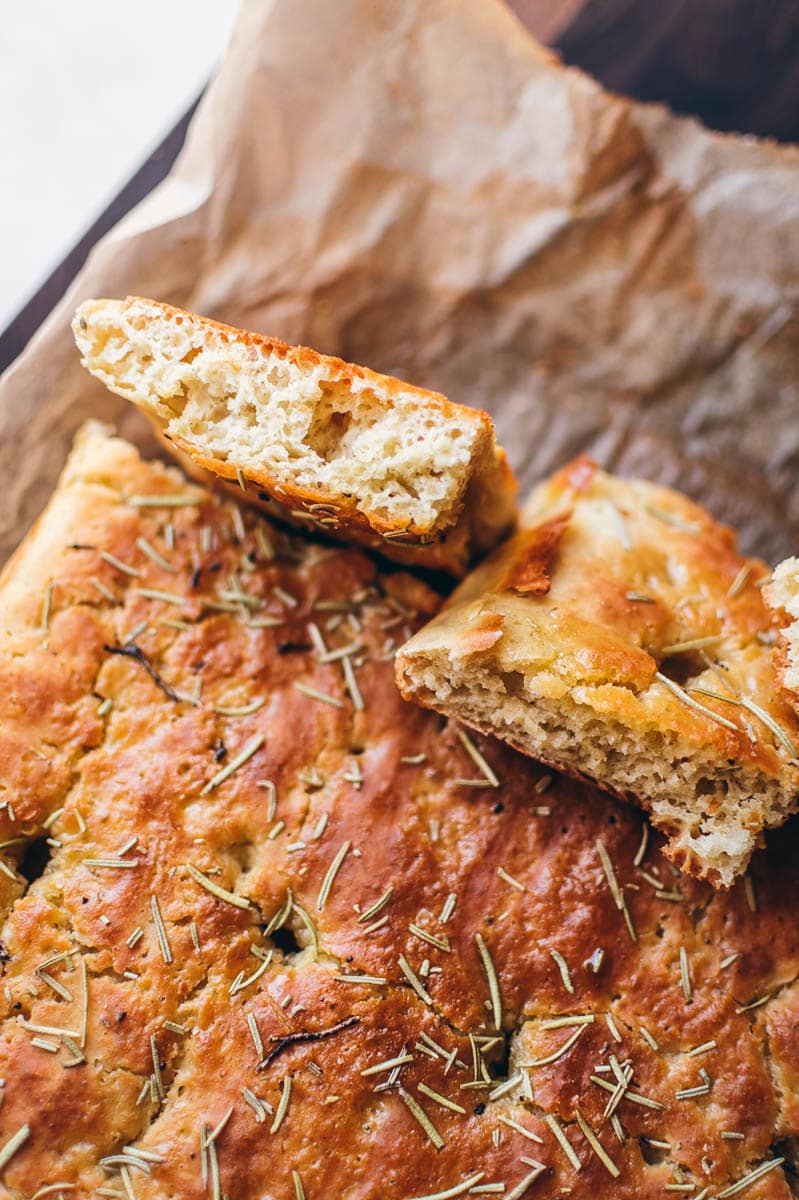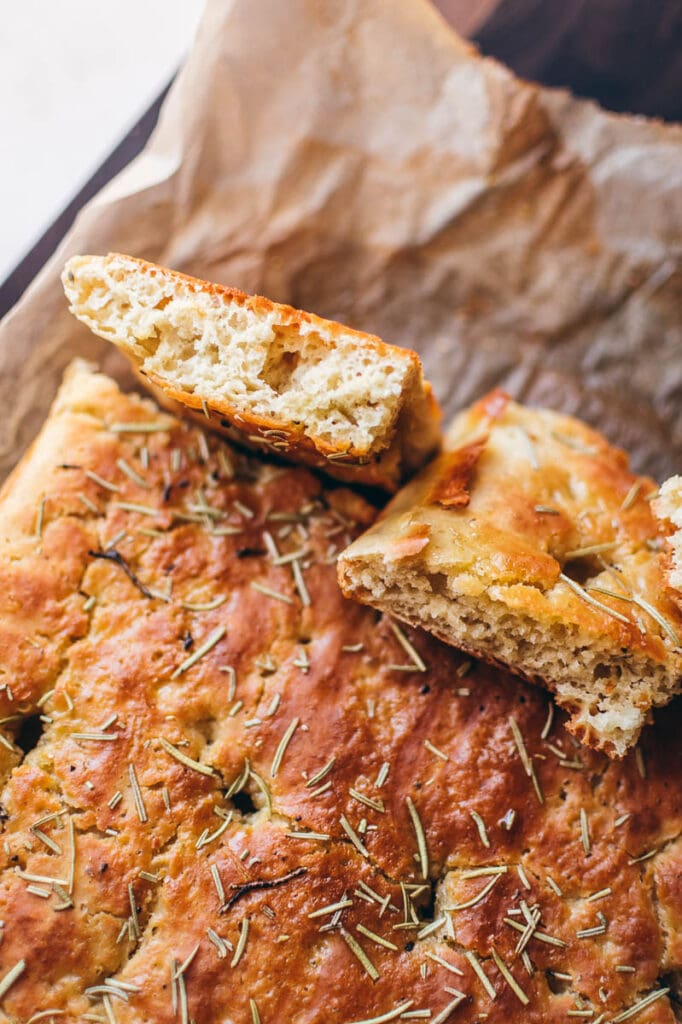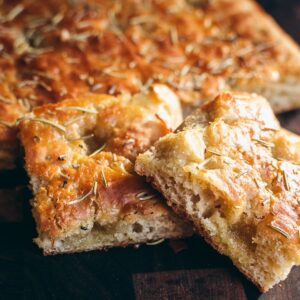 Gluten-Free Focaccia
This Gluten-Free Focaccia Bread has the perfect focaccia texture! You would never suspect that it is gluten-free. Naturally vegan and xanthan gum free!
Print
Pin
Rate
Ingredients
1

tablespoon

active dry yeast

1

tablespoon

coconut sugar

or any granulated or liquid sweetener of choice

1 ½

cups

warm water

3

cups

gluten-free all purpose flour blend

without xanthan gum

1

teaspoon

sea salt or pink salt

1

teaspoon

baking powder

2

tablespoons

extra virgin olive oil

plus more for topping and pan

1

tablespoon

crushed dried rosemary

optional, for topping

coarse or flaked sea salt

optional, for topping
Notes
Please note: The metric conversions in this recipe card are not calculated by me but by the converter built into the recipe card itself. They may or may not be accurate. This recipe was developed using cups, not grams and that will yield the most accurate results.
The secret to this focaccia bread is using a gluten-free all-purpose flour blend without xanthan gum. If you use one, you will likely end up with dense and gummy bread, so I do not advise it. I like Bob's Red Mill Gluten-Free All Purpose Baking Flour and King Arthur Gluten-Free All Purpose Flour.
If you want to make your own gluten-free flour blend for this recipe, I recommend using one part tapioca or potato starch and one part sorghum or brown rice flour.
If you are not a fan of rosemary, you can use any dried or fresh herbs of your choice for the topping.
This is a rather loose and wet batter, it is not something you can knead, do not worry..it will turn out beautifully so long as you follow the steps outlined here in the post and recipe card.
Nutrition
Serving:
2
square slices
|
Calories:
150
kcal
|
Carbohydrates:
27
g
|
Protein:
4
g
|
Fat:
4
g
|
Saturated Fat:
1
g
|
Sodium:
279
mg
|
Potassium:
4
mg
|
Fiber:
4
g
|
Sugar:
2
g
|
Vitamin C:
1
mg
|
Calcium:
49
mg
|
Iron:
1
mg
Have you tried this recipe?
Please Rate + Comment Below!
Watch Our Latest Videos
Follow us on YouTube!