Best Spanish Vegetarian Tapas
This post may contain affiliate links, and we receive an affiliate commission for any purchases made by you using these links. We appreciate your support!
Are you looking for Spanish vegetarian tapas? Then you are in the right place!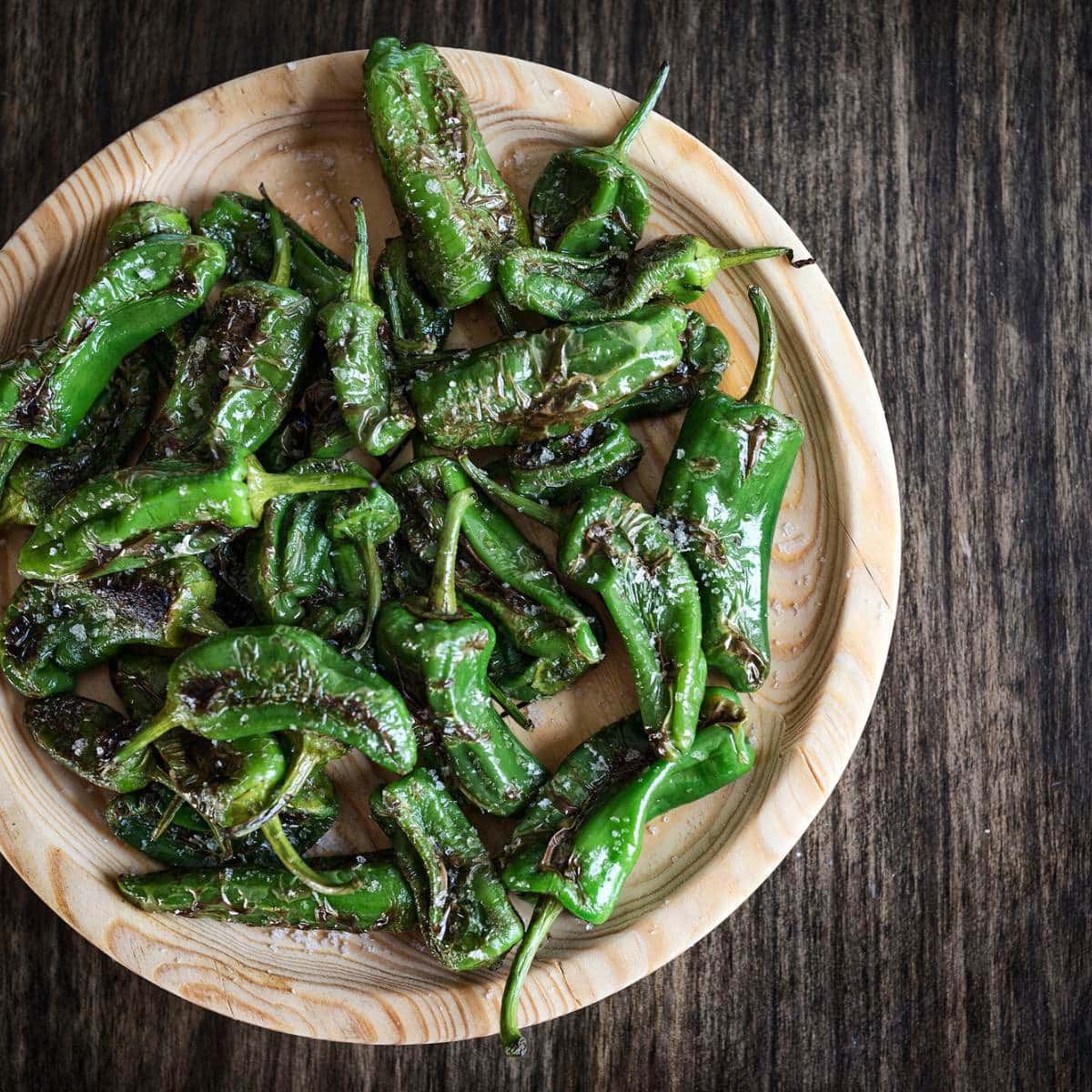 This is a special guest contribution from Cristina of My Little World of Travelling.
Although Spain cuisine is known for its meat and fish-based dishes, there are also many delicious vegetarian dishes, such as marinated carrots, cold tomato soup, and fried aubergines with sugar cane honey.
In this article, you are going to discover amazing Spanish vegetarian tapas. Let's dive into it!
Spanish Food
Spanish cuisine is vibrant, rich in flavours, and varied, as each region has its traditional recipes using the best local ingredients. From tapas to paella, Spanish food offers a wide range of dishes that will make you fall in love with it.
Tapas are a big part of Spanish cuisine and are present in every region. They aren't only about delicious small dishes to share with friends and family, but they are a cultural aspect.
15 Spanish Vegetarian Tapas
Vegetarian tapas don't have to be boring, and Spanish vegetarian tapas aren't. You can find anything from delicious rice and potato dishes to vegetables packed with flavours.
Here are some of the amazing vegetarian tapas in Spain that you absolutely must try:
Zanahorias Aliñadas
Zanahorias aliñadas is a popular tapa in Cadiz, in Southern Spain. There is no tapa bar without serving these delicious marinated carrots.
It is a simple recipe but full of flavours. Sliced carrots are marinated in spices such as cumin, spicy paprika, oregano, garlic, salt, and vinegar.
They go perfectly with a glass of white wine or beer.
Tortilla de Patatas
Who hasn't heard of tortilla de patatas? It is the second most famous dish in Spain. However, it is important to know that this tortilla isn't linked to the Mexican tortilla, made with corn flour.
Tortilla de patatas is made with two main humble ingredients: eggs and potatoes. However, you can find variations of this Spanish-style omelette. Some Spaniards add onion.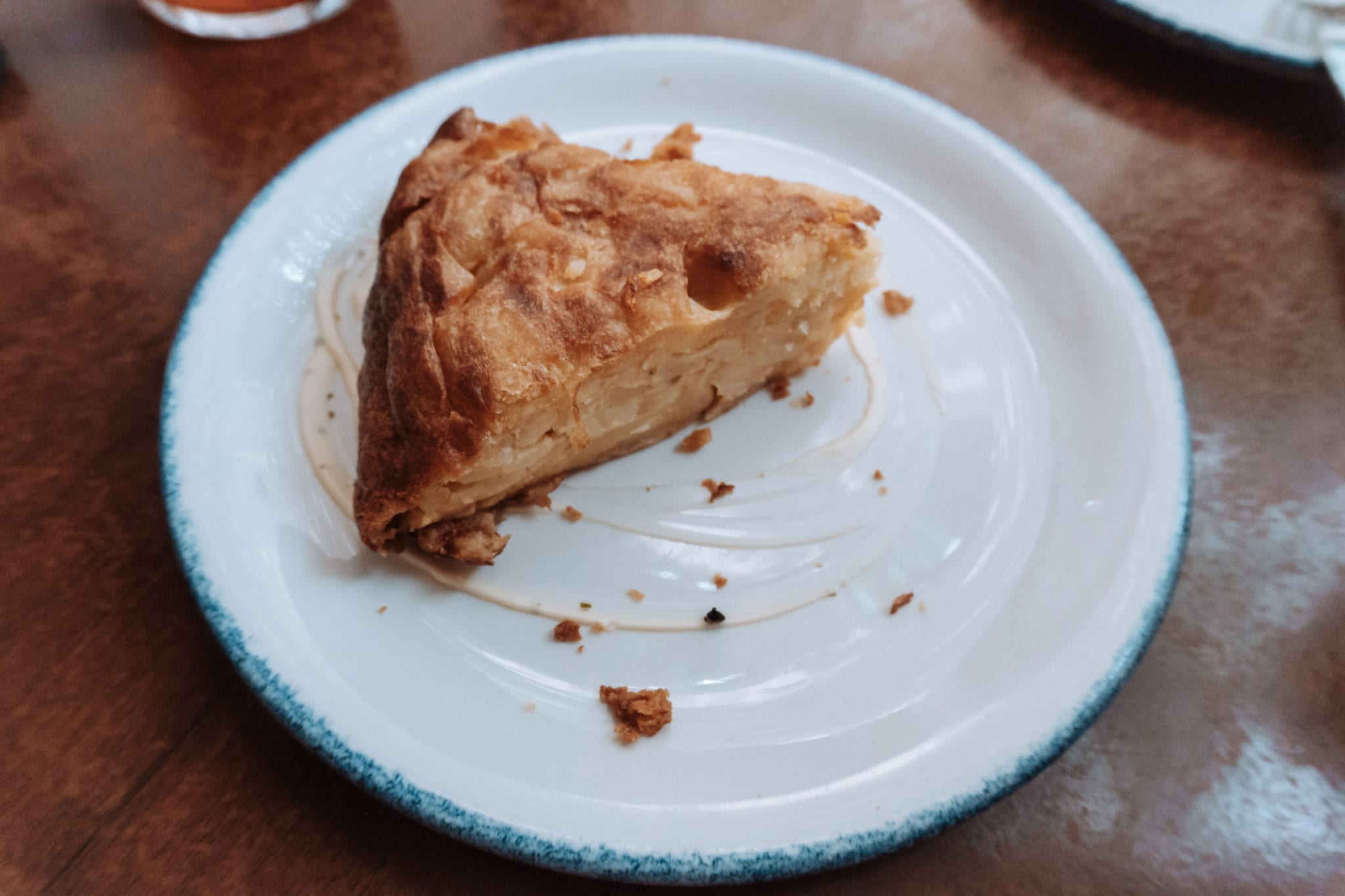 Gazpacho
Gazpacho is a refreshing soup that originated in Andalusia. Although you can have it all year round, it is especially enjoyed during the summer when it is very warm across Andalusia.
It is made with plum tomatoes, green peppers, cucumber, bread, garlic, sherry vinegar, olive oil, water, and salt.
Not only is it a delicious soup, but it is packed with healthy ingredients.
Espinacas con Garbanzos
Espinacas con garbanzos is a hearty and rich in flavour Spanish vegetarian tapa.
This tapa is typical of Seville, where it originated; however, you can find it anywhere in Southern Spain.
This dish is made with spinach, chickpeas, and spices, such as cumin and sweet paprika.
Pisto Manchego
Pisto Manchego is the Spanish version of the French Ratatouille. You can have it as a tapa or as a main course, usually accompanied by a fried egg.
The rich tomato sauce alongside vegetables like peppers, courgettes, and onions is delightful.
Enjoy this Spanish-style ratatouille with a few slices of bread to dip in the sauce.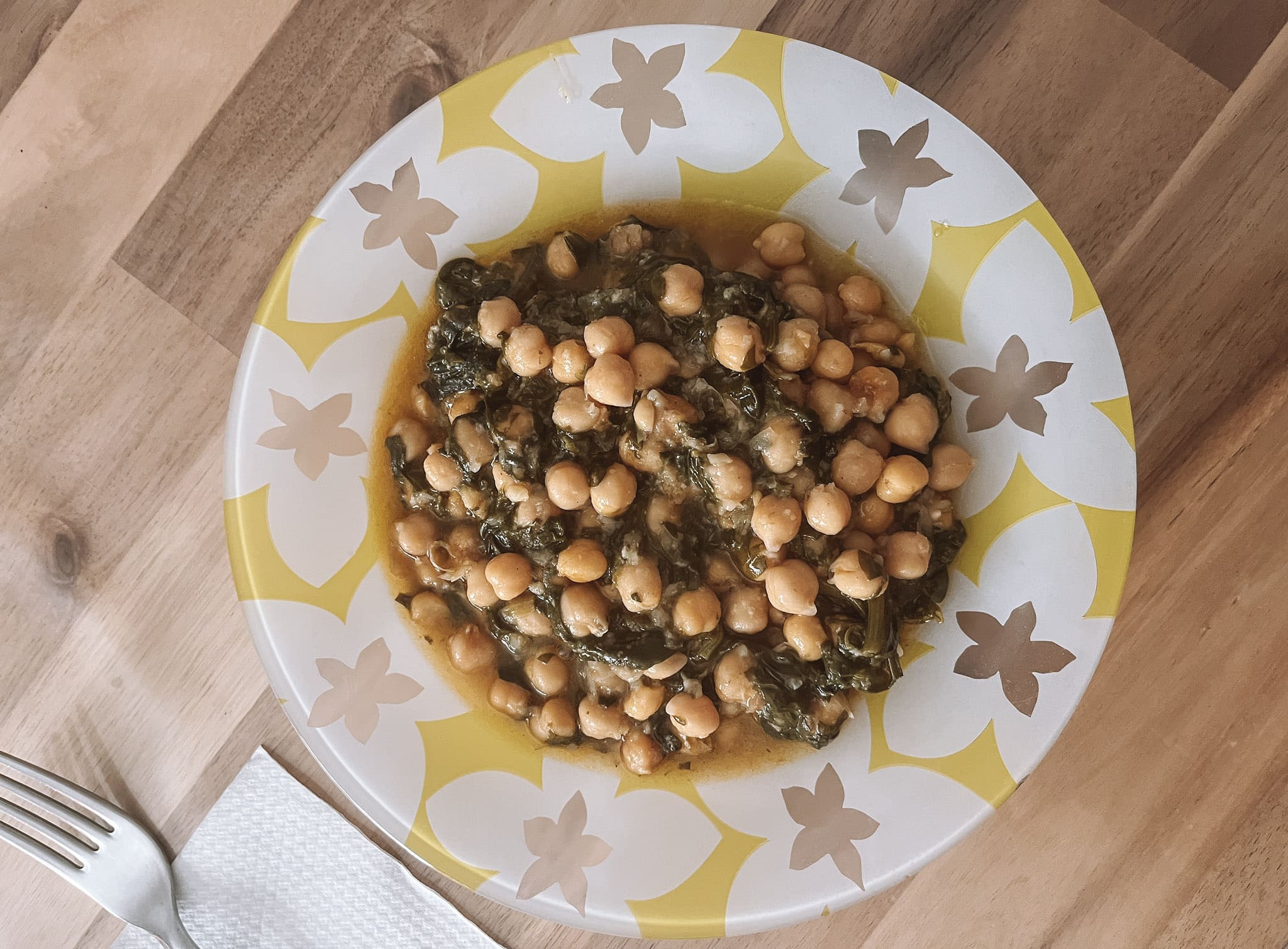 Ajoblanco
Ajoblanco is the vegetarian star dish of Malaga. This cold soup is the perfect remedy for hot days in Malaga.
This delicious soup is made with bread, almonds, vinegar, olive oil, water and salt and then topped with green grapes.
You can't visit Malaga or the towns near Malaga without trying this vegetarian dish.
Calçots
Calcot is a type of onion, bigger than a spring onion but smaller than a leek. These are grown and typical in Catalonia.
They are grilled and enjoyed on their own or with a sauce like romesco sauce, made with tomatoes, Nora peppers, almonds, and bread, among spices, olive oil, and salt.
Patatas bravas
A classic Spanish vegetarian tapa is patatas bravas. They are in every Spanish restaurant meal, and there is no doubt why, as it is a favourite.
These fried diced potatoes are crispy and delicious, and they are served with a spicy sauce made with spicy paprika, cayenne pepper, tomatoes, vegetable stock, garlic, and olive oil.
Pimientos de Padrón
Padron peppers are a different variety of peppers grown in Galicia. They are small and spicy; however, it isn't possible to tell which ones are until you have eaten them.
This vegetarian tapa won't take much of your time. It is simply made with Padron peppers, olive oil, and salt. The peppers are fried until blistered, and then they are seasoned with salt.
Croquetas de boletus
Traditional croquetas often contain ham or chicken, but you can also have a vegetarian option which is made with mushrooms.
These creamy croquettes filled with mushrooms are flavourful and often enjoyed as a tapa with a refreshing tinto de verano (wine with Sprite) or beer.
They can never go wrong with some fries, either.
Berenjenas fritas
If you love aubergines, you must try berenjenas fritas. They are typical of Malaga and Granada in Southern Spain. These fried aubergines are delicious and so easy to eat.
They are coated in egg and flour and fried with extra virgin olive oil until golden crispy.
Although they don't need anything else, most people drizzle a little sugar cane honey, giving them a nice sweet flavour.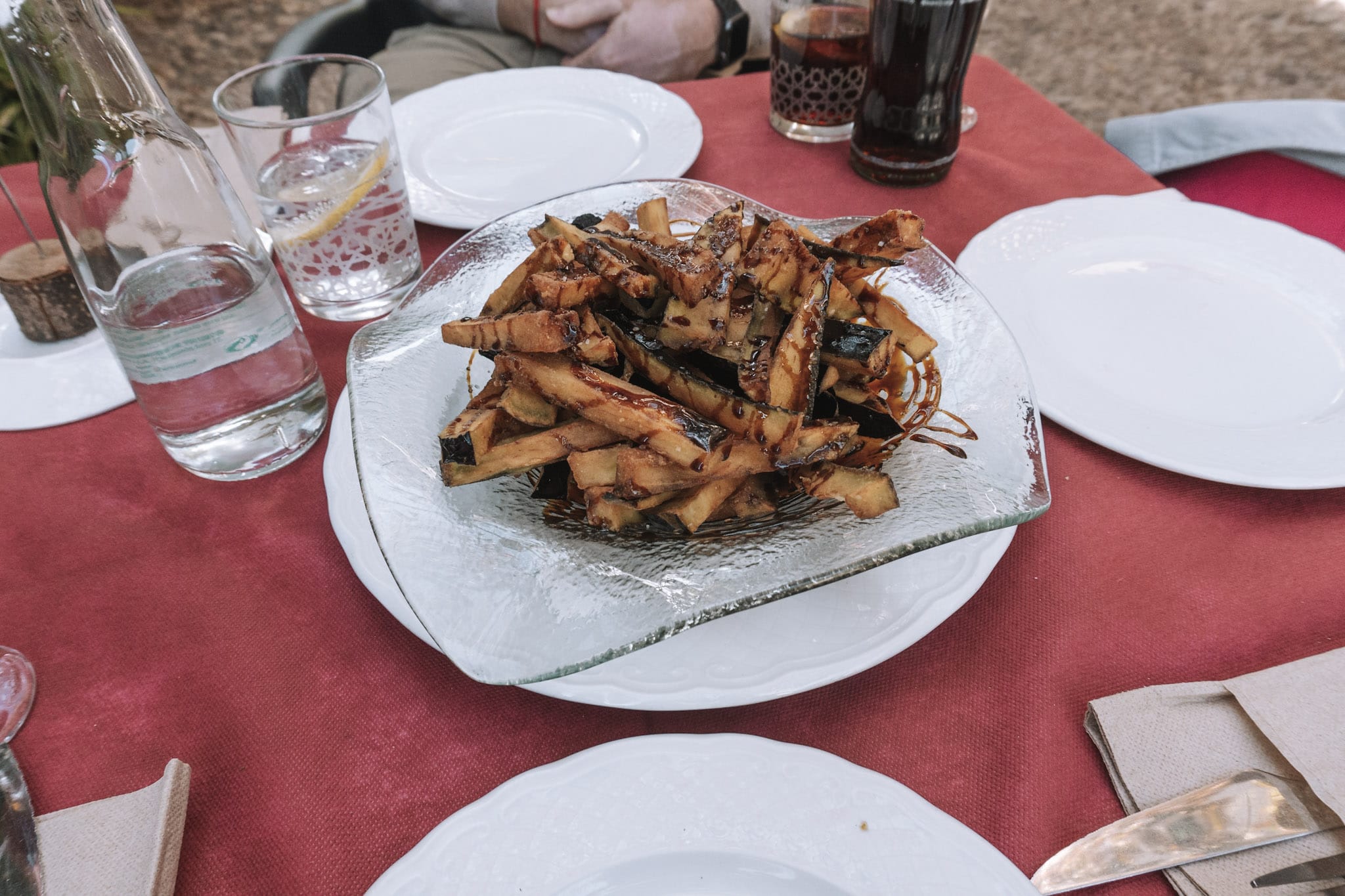 Paella de verduras
Paella is the most classic Spanish recipe. This dish originated in Valencia, it isn't traditionally vegetarian, but there are many types of paellas, including a vegetarian one.
The best place to have paella is Valencia, but you can also enjoy delicious paella in Seville and other cities across Spain.
The vegetarian paella is often prepared with bomba rice, artichokes, green and white beans, peppers, and tomatoes.
Pan con tomate
Pan con tomate, also known as pa amb tomàquet, is a traditional Catalan dish. You can have it for breakfast or as a tapa before your main meal at lunch or dinner.
It is a very simple dish, so the quality of the ingredients must be good. It consists of toasted bread spread with fresh tomato, garlic, and extra virgin olive oil.
Papas Arrugadas
If you go to the Canary Islands, there is no way you won't see papas arrugadas served as a tapa or alongside a main course.
These potatoes, called wrinkled potatoes, are made with special potatoes grown on the islands. They are simply boiled with sea salt until they wrinkle.
They are served with mojo verde or mojo rojo, two typical Canarian sauces which are slightly spicy.
Setas al ajillo
Garlic mushrooms are a delicious Spanish vegetarian tapa typical during the mushroom season, which often starts in October; however, you will find this tapa in restaurants all year round.
The ingredients of this dish are mushrooms, garlic, fresh parsley, vinegar, white wine, and a pinch of salt.
The combination of mushrooms, garlic, and wine is fantastic.
Cristina Reina is the founder of My Little World of Travelling, a travel blog about Spain that helps travellers have more authentic experiences in Spain, especially in her hometown, Malaga.