Best Vegetarian Food in Spain
This post may contain affiliate links, and we receive an affiliate commission for any purchases made by you using these links. We appreciate your support!
Let's discover the vibrant flavors of the best vegetarian food in Spain. From paella to tapas, you're certain to find something to delight every palate.
This is a special guest contribution from Tina of Veganderlust.
Spain is an amazing destination that has so much to offer, from stunning coastal towns to historic landmarks and vibrant urban cities. The best part? There's plenty of vegan and vegetarian food in Spain for plant-based foodies to choose from.
So, if you're a veggie heading to Spain, prepare to enjoy some of the most delicious vegan and vegetarian food Spain has to offer.
Spanish Food
Being a vegetarian or a vegan in Spain is definitely easier in the big cities. The two biggest cities, Madrid and Barcelona, have an incredible selection of all vegan and vegetarian restaurants. I enjoyed so much delicious vegan food in Barcelona during my time in the city, from traditional Spanish food to international cuisines.

The further away you go from big cities, the more difficult it's going to be to find vegan and vegetarian options. In some rural areas, it can be a struggle to find something vegan, especially if you don't speak Spanish. Traditionally, Spanish cuisine is not known for its vegan or vegetarian food. However, there are still quite a few traditional dishes that are vegetarian-friendly and can easily be made vegan.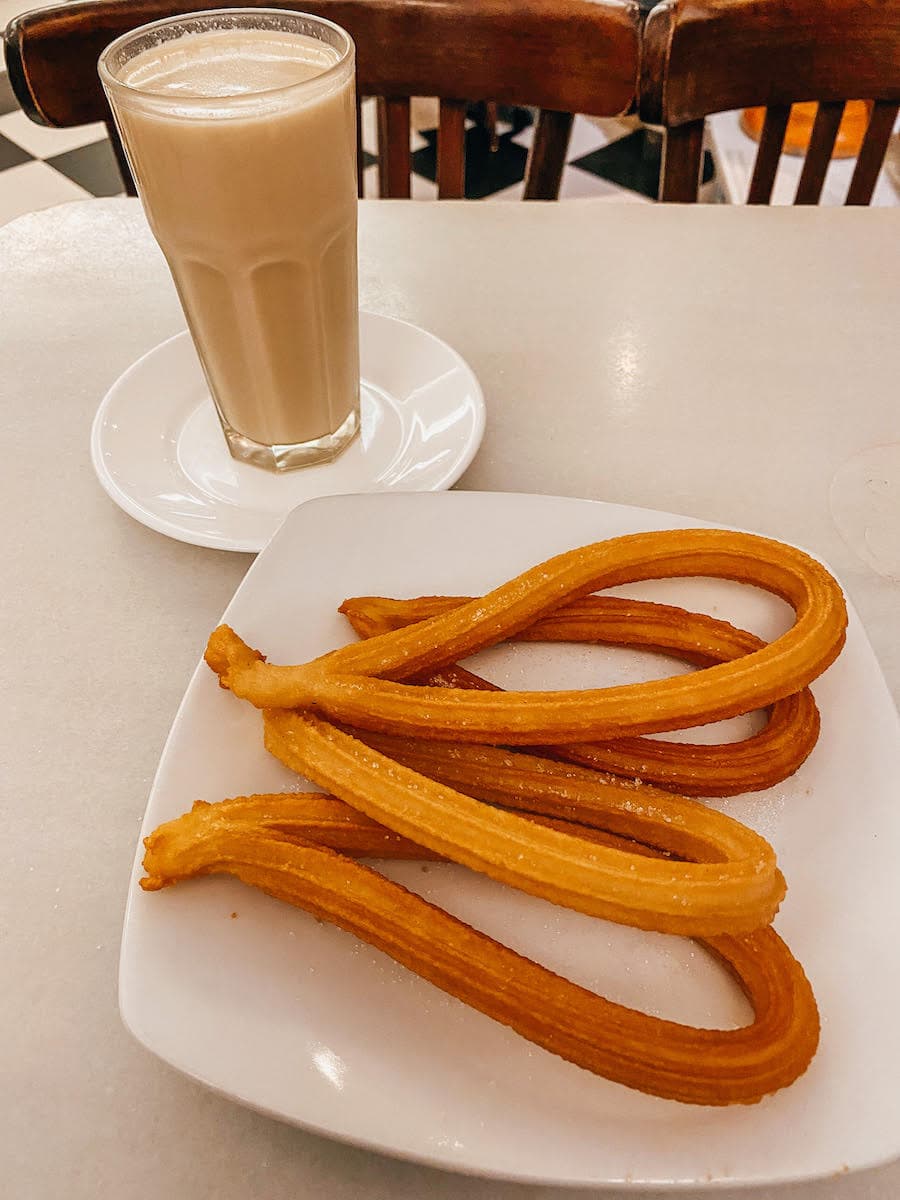 10 Vegetarian Spanish dishes
The following list of Spanish vegetarian dishes contains main dishes and tapas. A tapa on its own is just a snack or starter, but in Spain, it's very popular to create a main meal out of multiple tapas. There are even some traditional desserts and drinks in Spain which are vegetarian by default.
Some dishes mentioned below are known across Spain, while others are more prominent in one region of the country. So, depending on where you go, you'll have different options.
1. Paella
Spanish people consider Paella a traditional dish from the Valencian region, but since the dish is so popular you can find it everywhere in Spain.
The traditional paella is neither vegan nor vegetarian, but nowadays you can find delicious vegetable paella all over the country.
Valencia is still the best place in Spain to try vegetarian paella. In a good restaurant, you can get paella with local ingredients. You can even do a day trip just outside Valencia and visit the village, El Palmar, where Paella was born.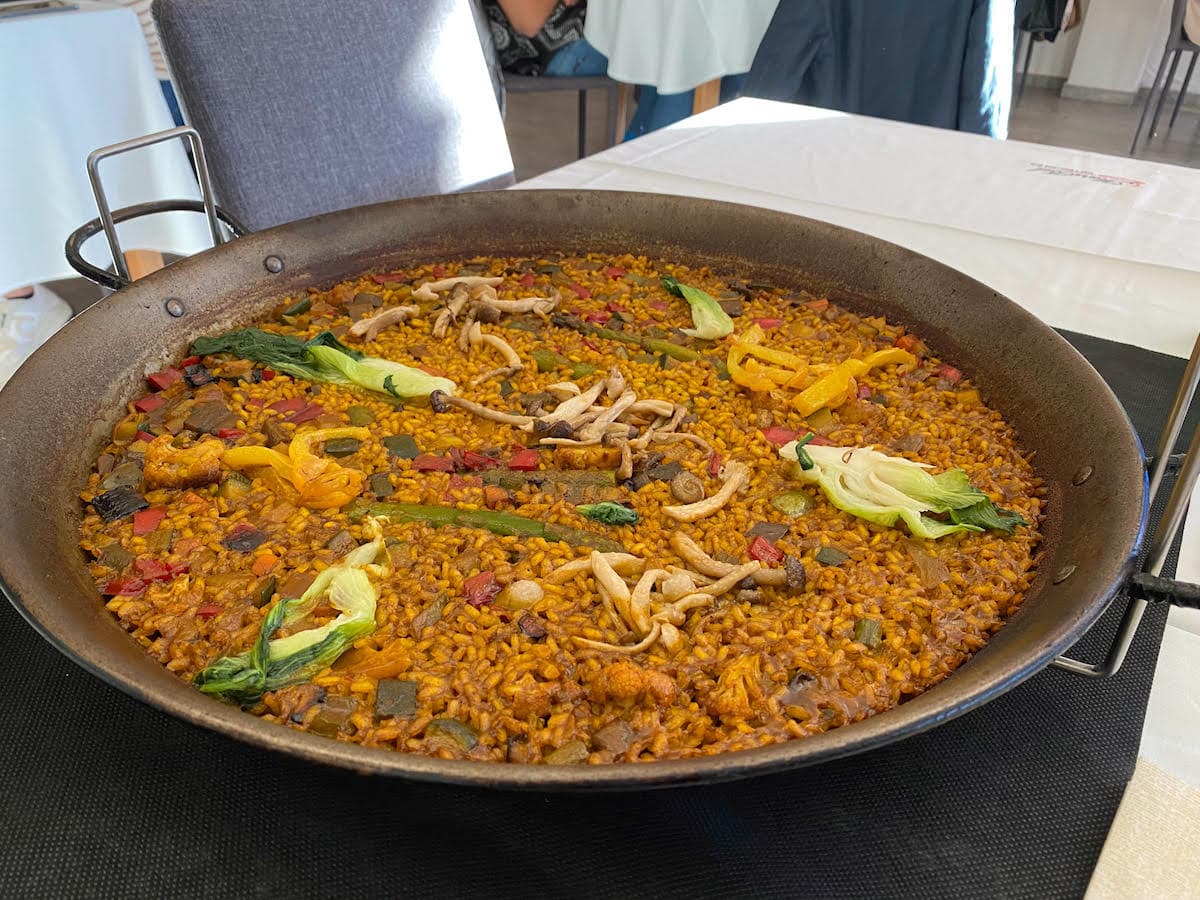 2. Patatas Bravas
Patatas Bravas are cube-shaped fried potatoes covered in a spicy bravas sauce and they are a very popular tapas or side dish. It's probably the most famous vegetarian tapas in Spain and is often served instead of fries.
Even though Patatas Bravas are always vegetarian, they are not always vegan, since the sauce sometimes contains non-vegan ingredients. So if you're vegan make sure to ask if the Patatas Bravas are vegan.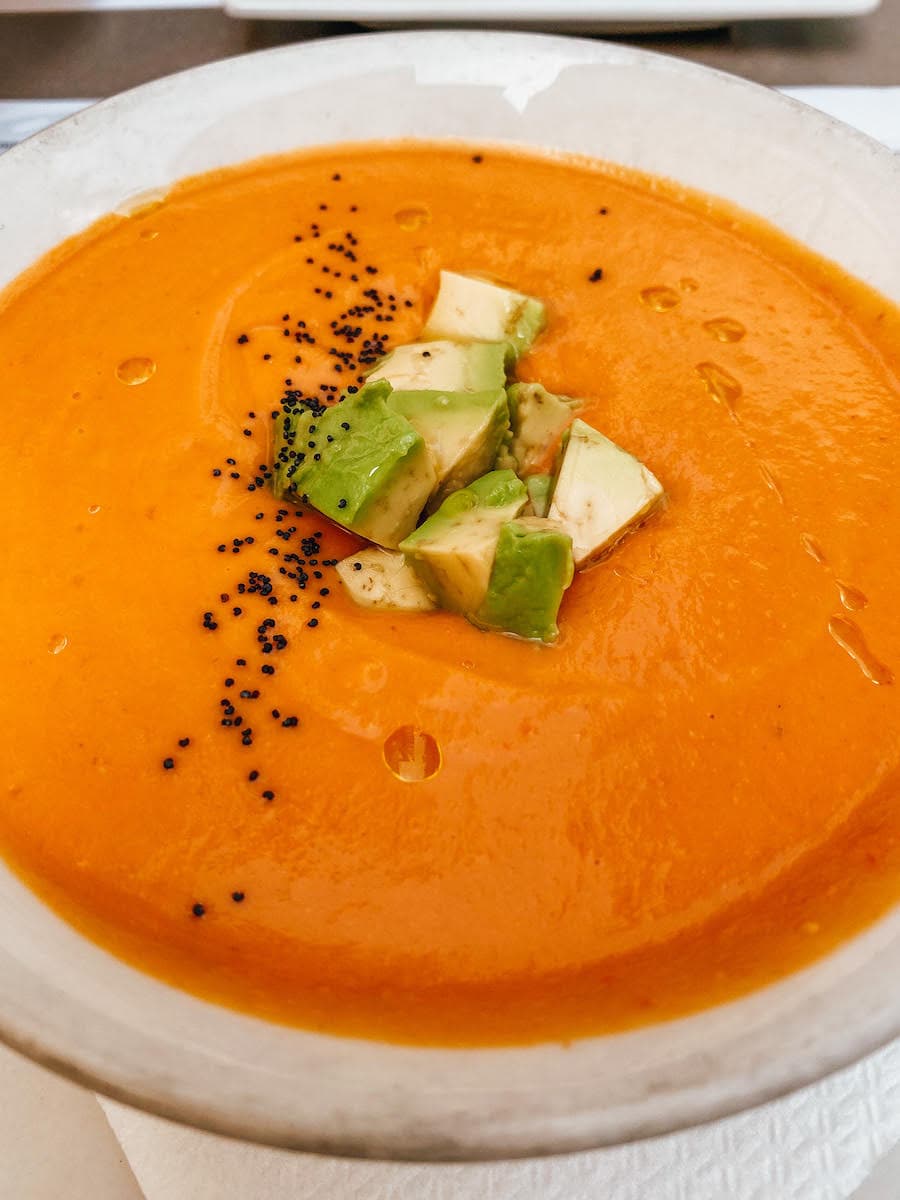 3. Gazpacho
Gazpacho is a cold blended vegetable soup, making it perfect for hot summer days. It's most popular in Andalusia, the southern region of Spain. You'll be able to find it on menus from Seville to Granada.
Traditional gazpacho only contains vegetables, but there are modern versions that mix fruits like melon or strawberry in as well.
4. Croquetas
A croqueta is a deep-fried roll of mashed potato or wheat flour with different fillings. It's one of the most popular tapas dishes in Spain.
Some croquetas have meat inside and are therefore not vegetarian. So, make sure to check what kind of croqueta it is.
The most popular vegetarian croqueta is filled with mushrooms. But there are many other vegetable fillings available as well. Croquetas are usually not vegan but you can find vegan ones in many vegan restaurants.
5. Pan con tomate
Pan con tomate is a very typical dish in Spain. It translates to "bread with tomato", and that's exactly what it is. The tomato is rubbed on the bread and seasoned with olive oil, salt, and sometimes some spices.
Pan con tomate is served as tapas in most places. In Andalusia, it's also a very popular breakfast dish.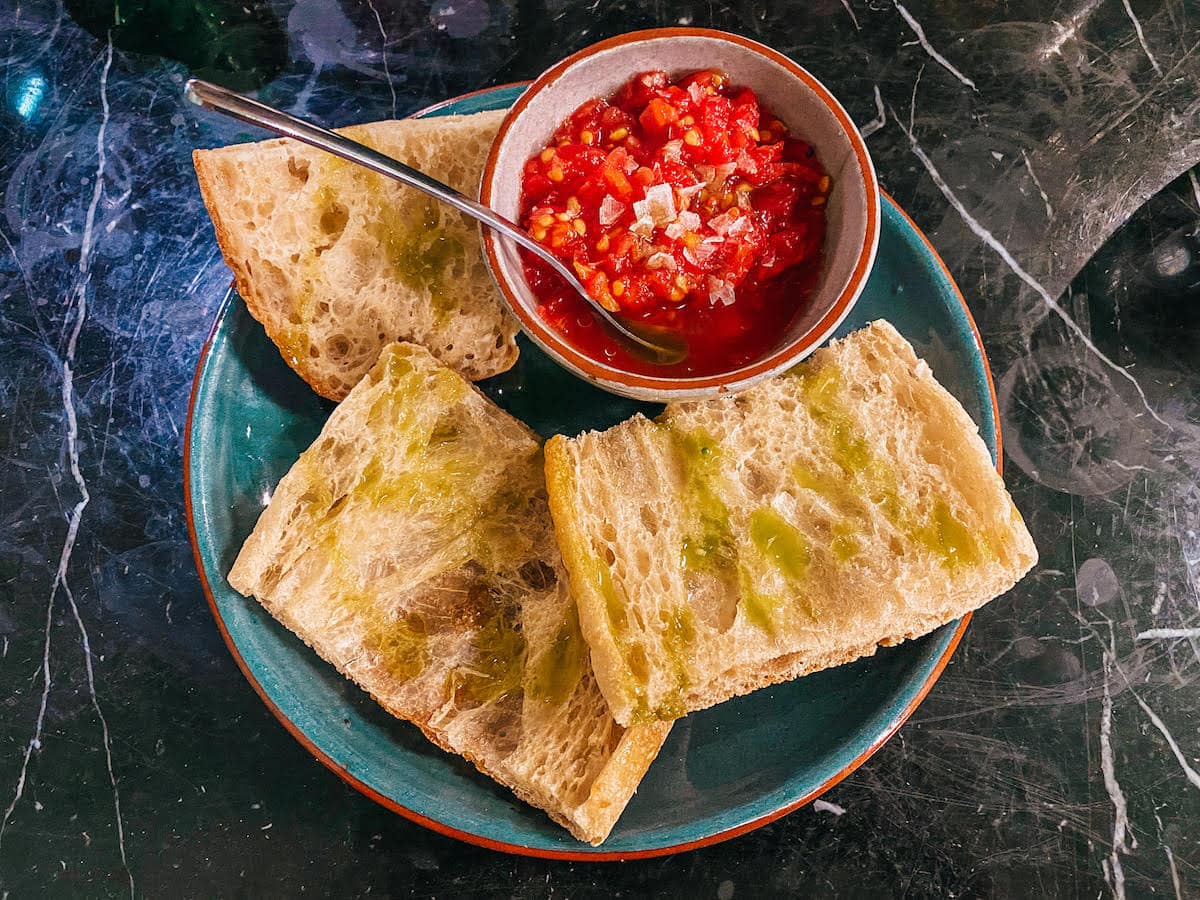 6. Espinacas con garbanzos
Espinacas con garbanzos translates to "spinach with chickpeas". And yes, once again, that's exactly what it is, a stew made out of spinach and chickpeas.
It's a popular tapas or a side dish in the south of Spain, in Andalusia. Espinacas con garbanzos are vegetarian by default, so it's a safe vegetarian option in any restaurant.

7. Churros
Spain also has some vegan treats! Churros are sold all over Spain, and most of the time the plain churros are vegan by default. However, the traditional chocolate dipping sauce is usually just vegetarian, and not vegan.
Many places also sell churros filled with chocolate or some other kind of sweet sauce. Those filled churros are also vegetarian.
The first time I had churros in Spain, I was sitting on a bench in front of one of the many Gaudi buildings in Barcelona, a very special Spanish experience.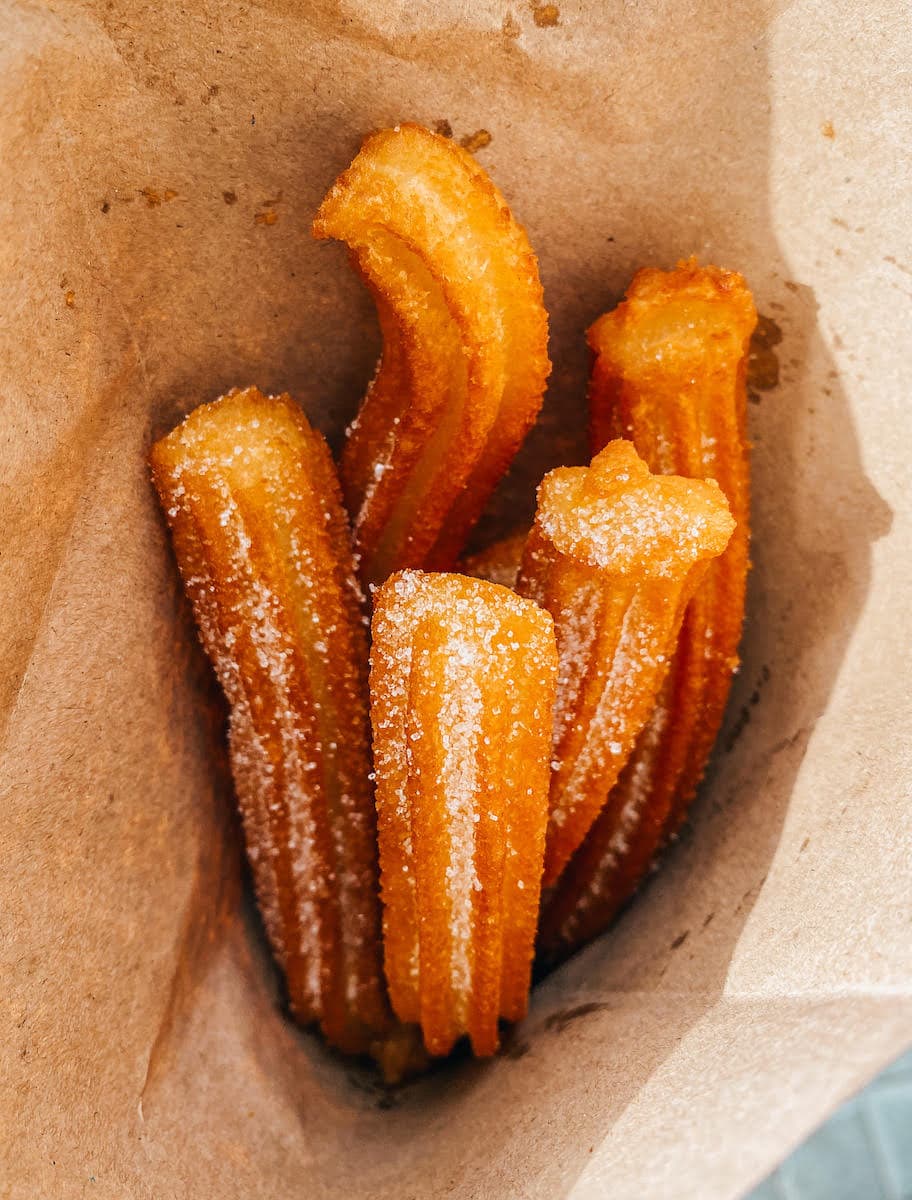 8. Horchata
Horchata is a sweet drink made out of tiger nuts which is served only in Valencia. It tastes like very sweet plant-based milk and is usually served with some churros.
In Valencia, you can even visit a Horchata museum and learn all about the history and production of this unusual drink.
9. Cortado
Spaniards love their coffee! A traditional coffee in Spain is the Cortado. It's an espresso mixed with the same amount of warm milk. The milk in a cortado is steamed which makes it different from other coffees.
The cortado is always vegetarian, and in the bigger cities, you can usually order it with plant milk to make it vegan.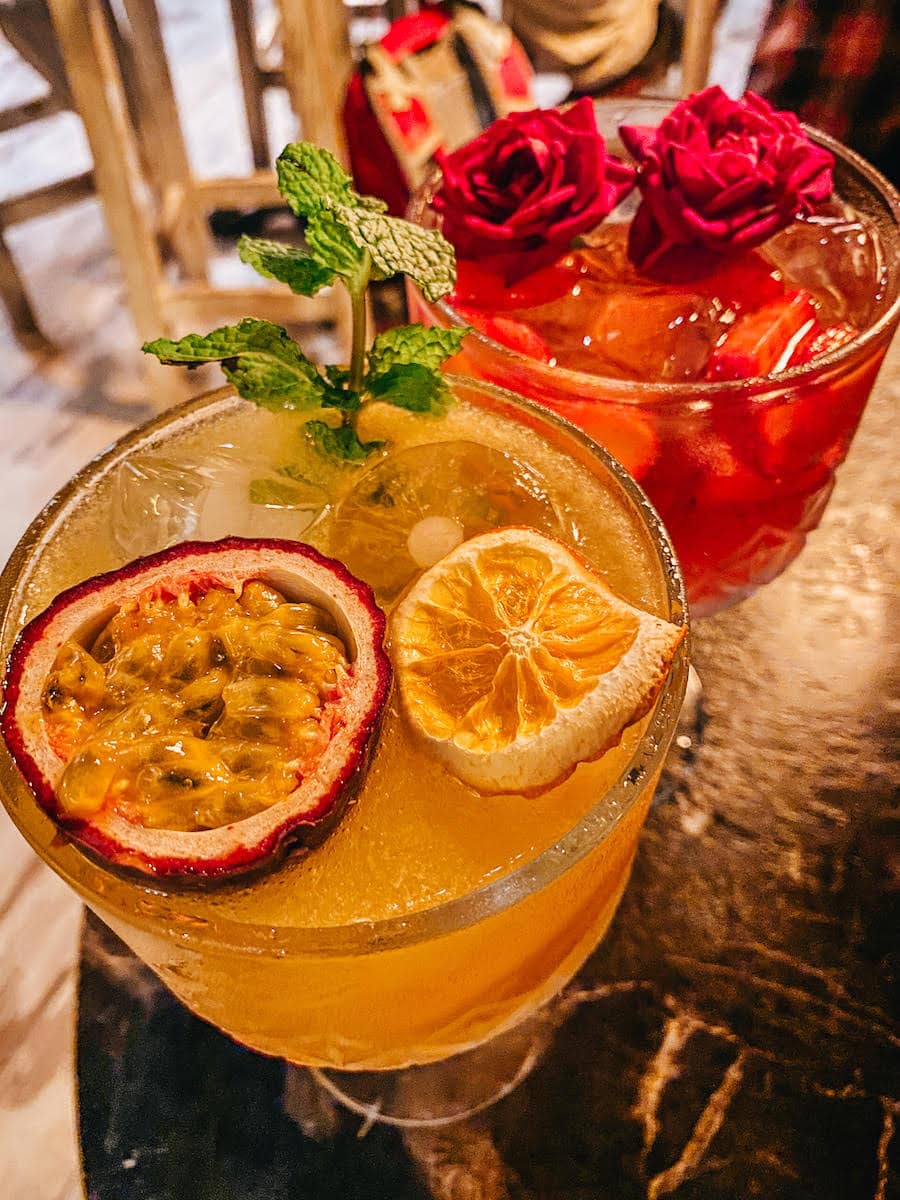 10. Sangria
A popular Spanish holiday experience is enjoying a refreshing Sangria by the ocean. Sangria is an alcoholic beverage made with red wine and chopped fruits and originally comes from Spain and Portugal. It can also be ordered as non-alcoholic if you prefer.

So, prepare to unwind and enjoy a glass of Sangria while indulging in some delicious vegetarian food during your next holiday in Spain.

Tina is the blogger behind Veganderlust, she's been vegan since 2007 and loves to travel with just one small bag. Spain is one of her favorite destinations in Europe for its sunny weather and laid-back atmosphere.