Best Vegetarian Dutch Food
This post may contain affiliate links, and we receive an affiliate commission for any purchases made by you using these links. We appreciate your support!
Explore the best of Dutch vegetarian food! From sweet stroopwafels to delectable cheese platters, savor the flavors of the Netherlands without meat. Discover your next meatless culinary adventure in Dutch food.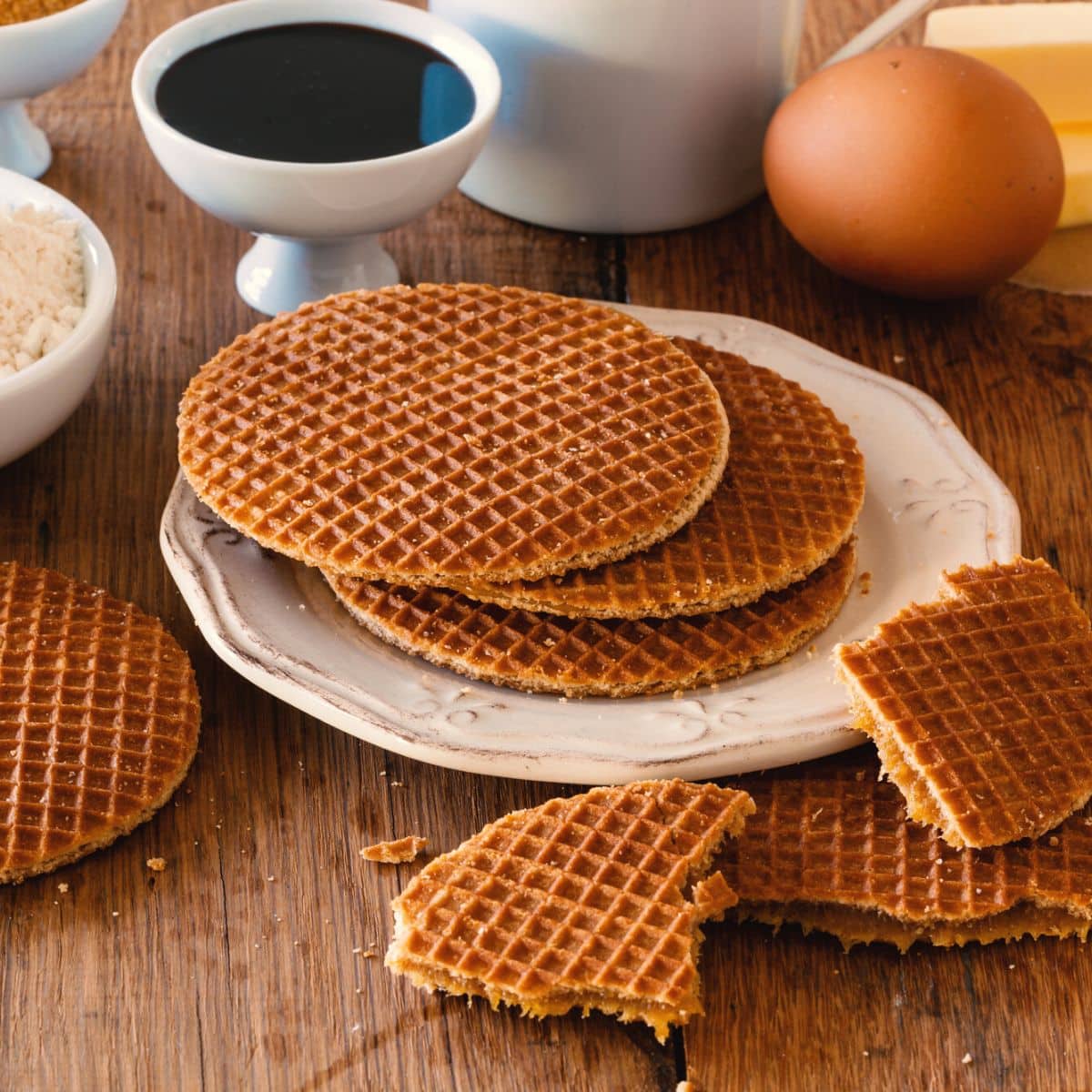 This is a special guest post from Lara of The Best Travel Gifts.
Visiting the Netherlands as a vegetarian is an absolute breeze. As a Dutchie and a vegetarian for 17 years, I can assure you that you will be able to find plenty of Dutch vegetarian food. In this post, I will be your guide to help you find the best traditional vegetarian Dutch dishes!
Dutch Food
Have you ever seen a restaurant serving traditional Dutch food? Or Dutch vegetarian food, for that matter? Probably not. You can't even find it in Amsterdam! And today you will find out the secret why you've never seen a Dutch restaurant.
Dutch food sucks!
Or let me rephrase that "Traditional Dutch dinner sucks". Don't worry Dutch snacks and sweets (including the vegetarian ones) rock.
As a Dutchie myself, I can tell you honestly and with 29 years of experience that a typical Dutch dinner is nothing to write home about.
The reason why restaurants never serve Dutch meals is because our traditional dishes are just plain boring. Don't believe me? Check out our most traditional dish.
Stamppot
The most famous Dutch dish is stamppot. Literally translated to mashed pot, and that's exactly what it is. Boiled veggies, boiled potatoes, and gravy all mashed together with a sausage on top. Not only is it not very vegetarian-friendly, but it also lacks any sort of spices.
However, that's not entirely true. If Dutchies do feel a little crazy and creative, they might add a dash of nutmeg (but they must be really creative with spices).
Stamppot comes in all variations, but the three most famous traditional ones are made from carrots, endives, or kale.
Restaurants in the Netherlands
Luckily, restaurants picked up on the fact nobody is willing to pay for Stampppot, so most restaurants in the Netherlands have borrowed dishes and meals from other countries, which is why you will still find delicious food in The Netherlands (it's just not traditional).
Dutch Snacks
To compensate for our horrible dinner choices, we have made a whole range of delicious snacks. That way, you can stuff your face throughout the day and skip Dutch stamppot.
The most typical ones are cheese, cookies and sweets, and deep-fried snacks which you can find at any Dutch "snack bar" or even in a vending machine or wall (I'm not making this up, check out FEBO and you will know what I mean).
Dutch Vegetarian Food
The Netherlands is a very vegetarian-friendly country, you can literally find vegetarian options anywhere, no matter how small the restaurant is. Though most likely, you won't be having any typical Dutch vegetarian food, but something borrowed from other countries to "spice up" (literally) our menus.
However, you will be able to find some delicious Dutch vegetarian snacks. From sweets and cookies to cheese and deep-fried stuff, there is Dutch vegetarian food for any type of craving. The only downside to Dutch vegetarian food is that none of them are healthy.
But luckily, vacation calories don't count! So when you're visiting the Netherlands as a vegetarian, ditch the diet and indulge in these 15 Dutch vegetarian dishes.
#1 Stroopwafels (Caramel Waffles)
Stroopwafels are probably the most famous Dutch cookies. It's made of two thin waffles with caramel syrup in between. The best ones are the freshly made stroopwafels where the caramel syrup is still dripping hot between the waffles. You can get these at stroopwafel stands on Dutch markets, such as the Albert Cuyp Market in Amsterdam.
Alternatively, storebought stroopwafels will also do the trick. Simply place them on top of your hot coffee, tea, or chocolate, and wait for it to heat up the waffle and caramel in between. Because that's when they're at their best!
And if you're looking for a traditional Dutch gift to bring home for friends and family (or just for yourself, I won't judge), stroopwafels are a great choice.
#2 Less Famous Dutch Cookies
They may not have the fame of stroopwafels, but trust me, you will find plenty of other delicious Dutch cookies here.
And the best part?
They're all vegetarian.
You can find them at Dutch bakeries, Dutch cookie stores (though these are usually quite touristy, so you'll pay double the price), and Dutch supermarkets.
Here is a list of some of my favorites that you should definitely try.
Gevulde koek. Literally translated to filled cookie. But essentially it's a crumbly, buttery cookie filled with almond paste.
Speculaas. A ginger spice type of cookie that can be found in various shapes and sizes.
Stroopkoek. This is Stroopwafel's less famous brother, it also consists of two cookies with syrup in the between. The only difference is the type of cookies and syrup used.
Boterkoek. Literally translates to butter cookie, and that is what it is. A heavenly buttery cookie.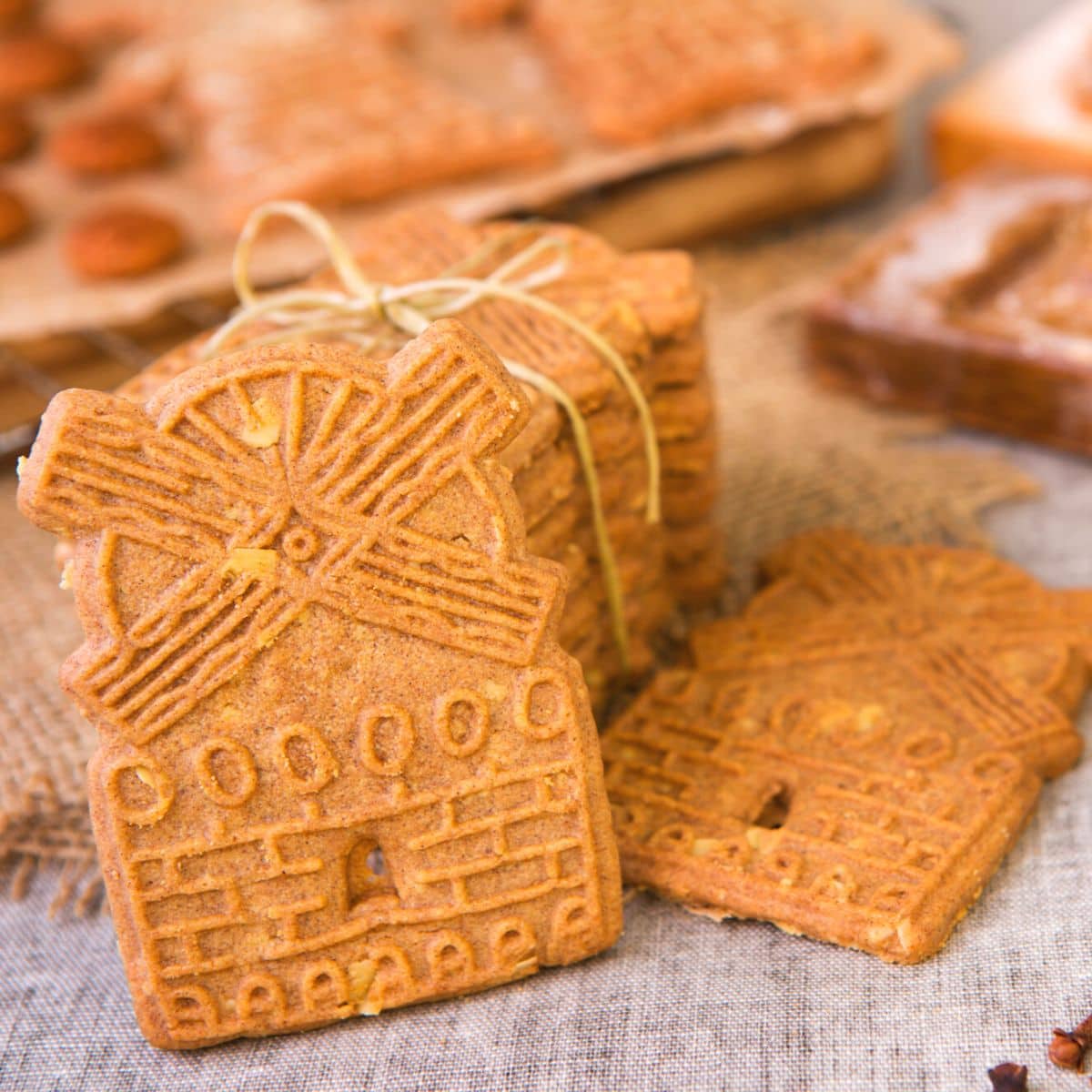 #3 Drop (Liquorice)
Drop is a super popular candy in the Netherlands (in fact, The Netherlands is the leading country in the world when it comes to the consumption of liquorice).
Liquorice is a black candy that has a sweet and salty flavor. You can literally find them in all shapes and sizes in the Netherlands. From automotive-shaped drops, to coin-shaped drops, they're available in many different variations.
If you want to try drop for yourself, the easiest way would be to head over to a Dutch supermarket and try one of the following Dutch drop brands. However if you are looking to gift drop, you probably want to find a Dutch candy store (such as Yamin) to get fancier packaging.
Kleine
Venco
Autodrop (automotive drop)
#4 Dutch Candy
As I mentioned earlier, Dutch vegetarian food is unhealthy, and Dutch candy is no exception to that! It's a highly sugary and addictive type of snack. But if you want the real Dutch deal, definitely try one (or more) of the famous Dutch candy brands below. They are not just popular among children, but among adults too.
Each brand has about a dozen different types of confectionary, so simply go to a supermarket, head to the candy section, and pick one as if you're a child in a candy store.
Katja
Redband
Winegums
Frisia
Autodrop
Look-O-Look
#5 Ontbijtkoek (Gingerbread)
Ontbijtkoek or peperkoek is a Dutch variation of gingerbread, and it literally means breakfast cookie. Though you can eat it as a snack throughout the day. The best way to eat it is to spread it with a layer of good and creamy butter (not margarine, but the real deal).
Again, this is a type of Dutch vegetarian food you can not find in restaurants or stores. The easiest way for you to try ontbijtkoek is to go to the closest Dutch bakery or supermarket. In the case of the latter, look for the brand Peijnenburg.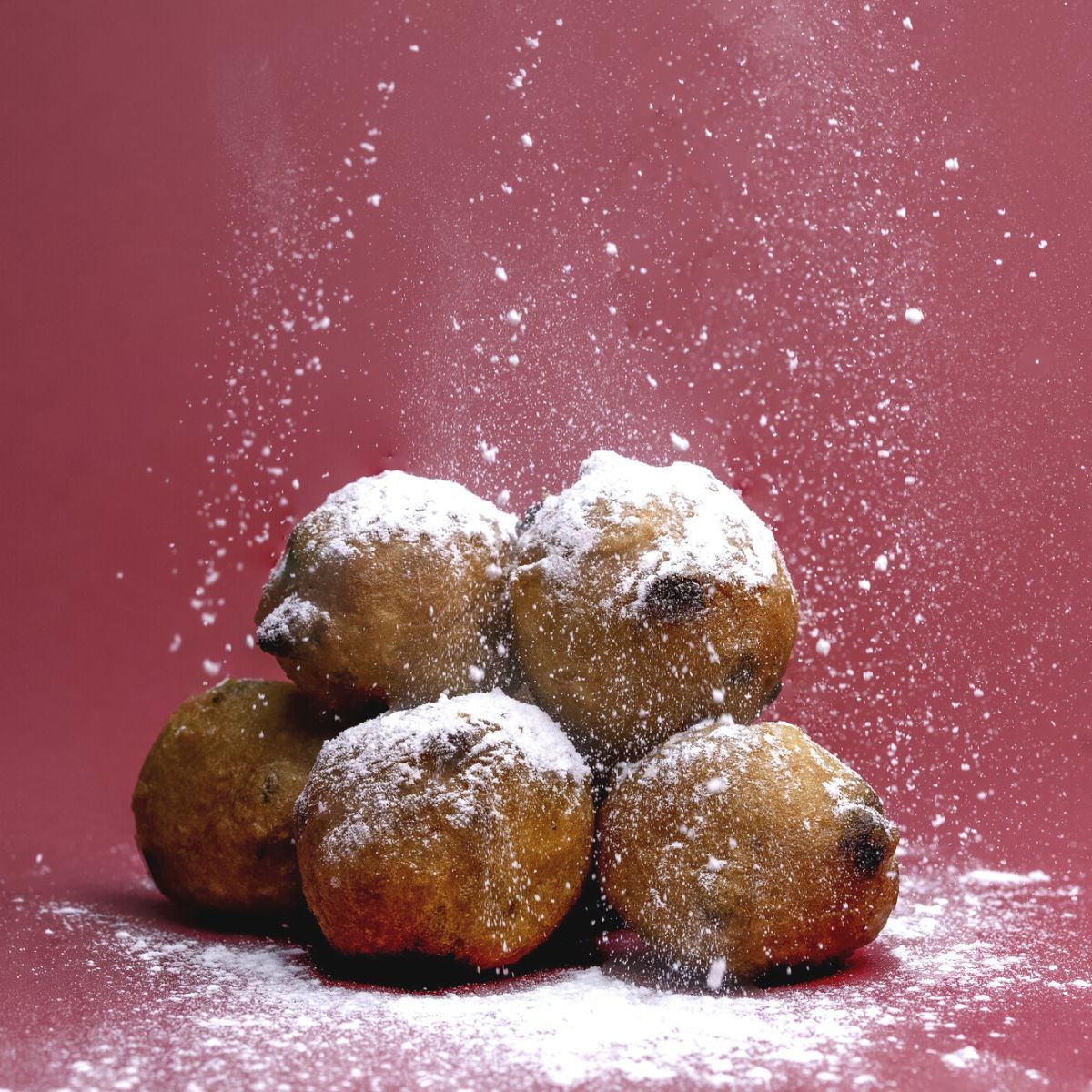 #6 Oliebollen (New Year's Dough Balls)
This is actually one of my favorite Dutch vegetarian foods; oliebollen. Which means oil balls, and that is quite literally what they are. They are deep-fried dough balls topped with icing sugar. You can get them with or without raisins (I prefer without, but the original recipe is with raisins).
They are traditionally eaten on New Year's Eve and Day, which you why you can only find Dutch Oliebollen stands around December and early January. But if you are around in this period, this is an absolute must-try!
#7 Tompouce (Pink Pastry)
This pink type of puff pastry is filled with a heavy (and delicious) cream and topped with pink icing. It's a battlefield trying to eat a tompouce in a sophisticated way but trust me, it's well worth the fight. There are different theories in The Netherlands as to how you should eat your tompouce, but whatever tactic you choose, it will be a mess. But a delicious mess.
You can buy pink tompouces year-round at Dutch bakeries or at the HEMA. But the highest consumption of tompouces happens on King's Day (April 27th), when the icing color is changed to orange to honor the king's birthday.
#8 Kruidnoten (Spice Cookies)
What the Dutch lack in spices in their dinner they make up for with spices in their cookies. These tiny, crunchie cookies are called spice cookies because they're filled with up to 11 different spices! From cinnamon and nutmeg (here is our favorite spice again) to cardamom and anise, it's a lot of flavor in a tiny cookie.
Maybe that's the reason why we only eat kruidnoten in December. They're the typical cookies that go with our controversial Sinterklaas celebration taking place on December 5th.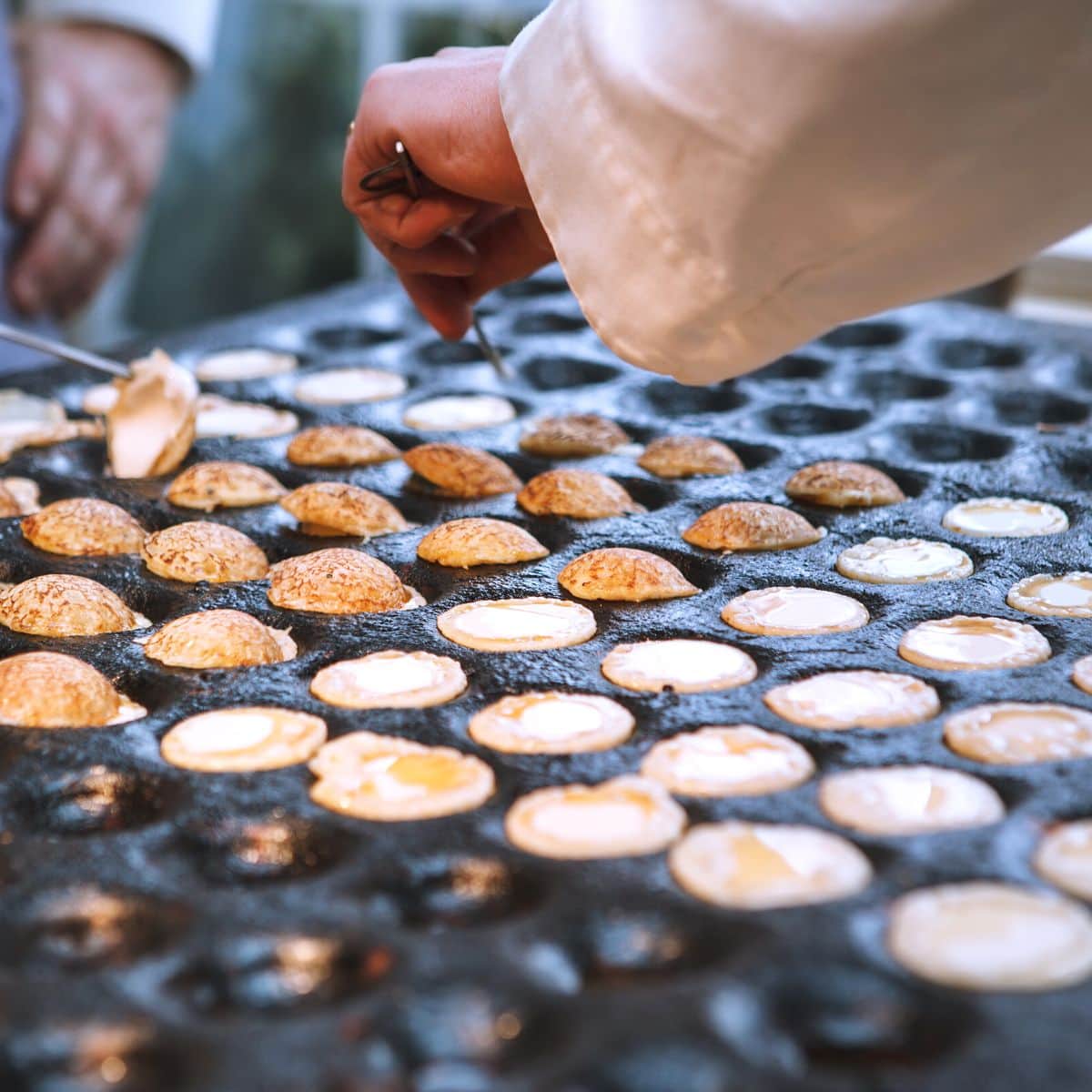 #9 Poffertjes (Tiny Pancakes)
Oh man, I love these tiny snacks!
I know I say this with all the Dutch vegetarian foods on this list, but I mean it. Poffertjes are the best!
The best way to describe them would be, tiny pancakes. They're typically served with icing sugar and butter. And that's it. They're so delicious you won't need anything else. They do fill you up quite easily, so it's definitely enough for lunch (or even dinner, I've been there and many other Dutchies too).
The best poffertjes are also found at Dutch markets such as the Albert Cuyp in Amsterdam. And don't fall for the trap of adding all sorts of things to your poffertjes, such as strawberry, chocolate, banana, and whatnot! That's not how the Dutch eat poffertjes, go for the original style with just butter and icing sugar.
#10 Pannenkoeken (Dutch Crepes)
Pannenkoeken is often translated to pancakes, but honestly, that paints the wrong picture. They're actually a lot more like French crepes, except a little thicker and a little sweeter (not much).
The best thing about pannenkoeken is that you get them both sweet and savory, so you can satisfy every craving.
Pannenkoekenhuizen (restaurants that sell pannenkoeken) are probably the only restaurants that sell Dutch vegetarian food, and you can find them anywhere, including Amsterdam. Check out De Carrousel, for a unique pannenkoekenhuis in Amsterdam, it's actually built inside an old carrousel (hence the name).
#11 Bread with Hagelslag (Chocolate Sprinkles)
I know that bread with chocolate sprinkles sounds like a very weird item to add to a Dutch vegetarian food list. But remember, traditional Dutch food sucks. Only our sweets and deep-fried stuff are good.
And in the category of sweets, hagelslag (chocolate sprinkles) is a winner.
Dutch people love to eat bread. For breakfast, for lunch, as a snack, and sometimes even for dinner (I've definitely been guilty of that).
One of the main reasons why we love our bread so much is because we simply add a bunch of sugar and butter to make it taste better. And hagelslag is by far the most popular sweet bread topping. You won't be able to find it in a restaurant or shop. Though your hotels might serve small packages of hagelslag for breakfast. Otherwise, just jump into the closest supermarket and buy a loaf of bread, butter, and chocolate sprinkles and have yourself a very traditional and vegetarian Dutch breakfast.
#12 Patatje Oorlog (French fries with Mayonnaise and Peanut Butter Sauce)
Now that we've had our sweet Dutch vegetarian foods, let's check out the savory options.
The first one that comes to mind is patatje oorlog, which is basically French fries with mayonnaise and pindasaus (peanut butter sauce), and sometimes raw onions though you opt to leave those out. It may sound weird or disgusting, but trust me, it's not.
It's actually a great vegetarian midnight snack! This is also why you can find this type of snack at any snack bar.
#13 Kaassoufflé (Deep-Fried Cheese)
Here is another deep-fried Dutch favorite; deep-fried cheese.
It's basically cheese covered in a layer of pastry which is breaded and then deep fried. Just like patatje oorlog, you will most likely find a kaassoufle a snack bar, such as the FEBO (the wall I talked about earlier).
#14 Dutch Cheese
Speaking of cheese, let's not forget the number one Dutch vegetarian food; cheese!
As a cheese lover myself, I must say there is no other cheese like Dutch cheese. The typical yellow, semi-hard, salty cheese from the Netherlands can't be found elsewhere. The best way to eat Dutch cheese is on bread, or as a small bite with mustard.
You can often find Dutch cheese as a snack in bars, or simply buy fresh cheese at a market or a cheese shop.
#15 Vegetarian and Vegan Variants of Dutch Meat
The last Dutch vegetarian food on this list is actually a whole range of options. As I mentioned earlier, The Netherlands is a super vegetarian-friendly country. And that's why you can find a vegetarian variation of almost any traditional non-vegetarian Dutch food.
And some are actually pretty good.
Below I shared my favorite vegetarian adaptations of authentic meat Dutch foods. Now, most likely you will find these options in vegetarian or vegan restaurants (of which there are plenty in Amsterdam), or at snack bars, or supermarkets.
Frikandelbroodje (like a sausage roll, but with curry and a Dutch type of meat called a frikandel)
Bamischijf or nasischijf (Deep fried noodles or rice covered with breadcrumbs)
Kapsalon (Dutch dish with shawarma, fries, cheese, lettuce, garlic sauce, and spicy sauce)
Kroket (deep fried meat ragout)
Bitterbal (like a kroket, but round)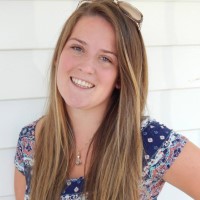 Lara is the founder of The Best Travel Gifts, a site where (guess what) she helps you find the best gifts for traveler lovers from around the world to turn every occasion into an unforgettable experience!