Best Vegetarian Food in England
This post may contain affiliate links, and we receive an affiliate commission for any purchases made by you using these links. We appreciate your support!
Embark on a mouthwatering journey exploring diverse vegetarian food in England! Uncover new flavors and savor the richness of England's veggie culinary scene in every delectable bite!
This is a special guest contribution from Day Out in England.
England has some of the most iconic and unique dishes anywhere in the world, many of which have become staples in other countries too. If you're visiting England and want to try some of the local, traditional foods, but you're worried there won't be any vegetarian options, don't worry.
There are tons of great veggie dishes in England whether you're eating at a fancy restaurant, in a local pub, or just cooking at home with ingredients from the supermarket.
What is English Food Like?
England is known for its hearty, meat-based dishes, but aside from the typical ones you may know already (fish and chips, Sunday roasts, and so on), there are actually quite a few classic English dishes that you may not have come across before. And yes, lots of them are vegetarian.
The great thing about visiting England as a vegetarian is that the country makes it very easy to turn some of the main traditional dishes into veggie versions, and lots of restaurants will even offer a veggie version too.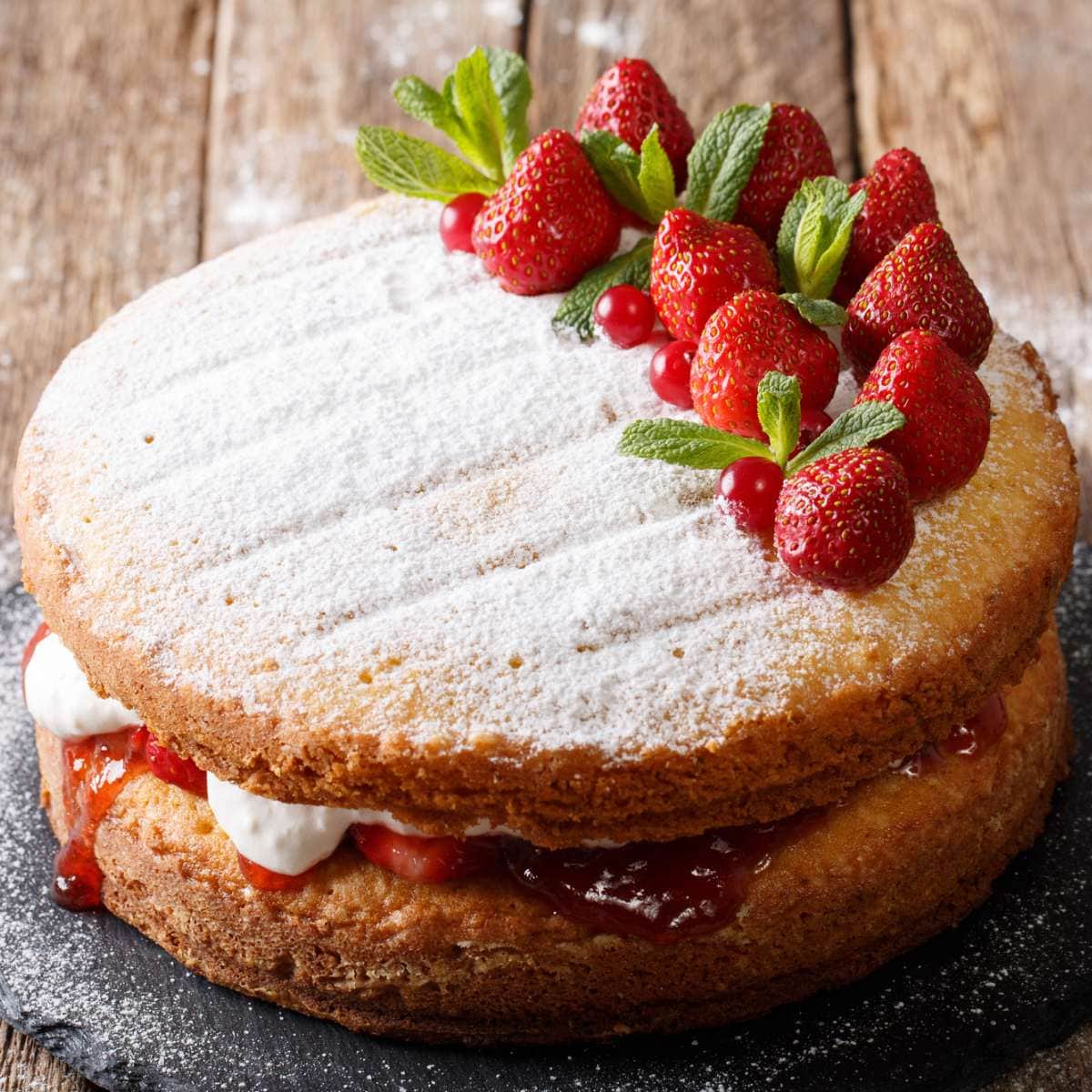 The Best Vegetarian Food in England
The UK is a great place to visit for vegetarians and vegans as there's lots of choice, and most eating establishments will have at least one vegetarian and vegan option, but usually more. Here are some of the best vegetarian foods in England so you can enjoy the local cuisine the same as everyone else does.
Bubble and Squeak
Bubble and Squeak is a mix of cooked potatoes, cabbage, and occasionally other ingredients since it's a common dish made from leftovers and offcuts of veg from other dishes. The ingredients are all mixed together and fried.
The name 'Bubble and Squeak' supposedly comes from the usual noises that are made during frying. This is a tasty side dish that's popular in pubs and other English restaurants.
Cheddar Cheese
Cheddar Cheese is known all over the world, but this hard, sharp-tasting cheese originates in the village of Cheddar in Somerset. It's definitely one of the tastiest cheeses to come out of England. Although the name Cheddar isn't protected, the region of origin ("West Country Farmhouse Cheddar") has been since 2017, which is defined as cheddar made from local milk within Somerset, Dorset, Devon, and Cornwall, and manufactured with traditional methods. So if you want really good stuff, you need to visit England.
If you fancy tasting it at the source, the village of Cheddar is surrounded by amazing walks so you can visit and do one of these Cheddar Gorge walks to hike off the cheese!
3. Yorkshire Puddings
A Yorkshire Pudding is a traditional food from Yorkshire made from eggs, flour, and milk, and it's often found as a side dish in a Sunday Roast or other pub foods. It's best served with gravy, and you may need to specify that you'd like onion gravy instead of meat-based gravy.
Yorkshire puddings are art to make, and some can bake until they're as big as your plate. With gravy inside, they're delicious. You'll probably find the tastiest ones in some of the best pubs in the Yorkshire Dales.
4. Victoria Sponge
A Victoria Sponge is simple but glorious! With vanilla sponge sandwiching a jam and buttercream (or whipped cream) filling, this is a light, fluffy, and seriously tasty dessert that's typically vegetarian.
The name comes from Queen Victoria of England, who supposedly enjoyed a slice or two herself back in the day along with her traditional afternoon tea. Sometimes you'll find this on a menu called a Victoria Sandwich, but it's the same thing.
5. Sage and Onion Stuffing
Sage and Onion Stuffing is pretty much what it sounds like; made from fresh sage, onion, and other ingredients like breadcrumbs, egg, and herbs. It's called stuffing as it's usually what would be added (stuffed) into the inside of a bird that's being cooked.
If you see stuffing on a menu you'll have to check if it's sage and onion, as traditionally it's meat-based, but very often a vegetarian version will be offered. You'll usually see this on the menu around Christmas time, but it's also a common Sunday roast side dish too.
6. Crumpets
Crumpets are a food you have to get in England. A bit like a holey pancake, these are small spongy, cake-like treats made from unsweetened batter, and you would usually have them at breakfast, at afternoon tea, or as a sweet snack after a meal.
They have lots of little holes in them perfect for holding toppings like jam, peanut butter, or whatever else you'd like on them.
7. Parkin
Parkin hails from Yorkshire in the north and is a traditional ginger cake made from molasses, oatmeal, and spices. It's often eaten at Bonfire Night, but it can be found throughout the year as a sweet treat.
You'll find this cake to be sticky and chewy, but still very sweet. If you're visiting Yorkshire specifically, you should definitely add this to your list of foods to try.
8. Cheese and Onion Cornish Pasty
You'll find pasties all over the UK, but in England, it's the Cornish Pasty that's most famous. This baked shell of pastry with a variety of ingredients inside is a super tasty lunch snack that comes from Cornwall in the South West.
The traditional Cornish Pasty contains meat, and if you go to Cornwall to try an authentic one you would likely be handed a meat-filled pasty. However, cheese and onion pasty is much more common now and enjoyed all over the country, so even if you're visiting Cornwall, find one and dig in.
9. Cheese and Pickle Sandwich
If you're looking for a traditional English lunch food that's vegetarian, you can't go wrong with a Cheese and Pickle Sandwich. But to make it really authentic, you have to have Branston Pickle.
Branston is an English brand from the village of Branston in Staffordshire, and they're best known for their original Branston Pickle, which is a pickled chutney first made in 1922. A little of this and some tasty cheese on bread, and you have yourself a mouth-watering English lunch dish.
10. Onion Rings
America might try to claim them, but Onion Rings originated in England, and they're found as a side on many menus all over the country. The first onion rings recipe was actually discovered in a book called The Art of Cookery Made Easy and Refined by John Mollard, which was published as early as 1802!
Treat yourself to some deep-fried Onion Rings while in England. Although they tend to be different depending on where you are in the country, they're always super tasty.
11. Bread and Butter Pudding
As simple as it sounds, Bread and Butter Pudding is a traditional pudding in England that's made from slices of buttered bread, and raisins, and covered in an egg custard mixture containing nutmeg or vanilla. The whole thing is baked to make a lovely sweet dessert that's popular in England.
It is believed to have been first made in the early 11th and 12th centuries when using leftovers was necessary to avoid waste and save money. In 13th-century England, it was apparently known as "poor man's pudding". You won't find it too often on menus, but it's definitely one to try if you do come across it.
12. Stilton Cheese
Stilton is another English cheese that's incredibly flavourful. It's made from cow's milk, has a blueish-green mould on the surface, and has a strong flavour. It comes from three counties in England; Derbyshire, Nottinghamshire, and Leicestershire, and is a protected cheese, meaning to have real Stilton it needs to come from these places.
You'll find Stilton in many supermarkets in England, or if you order a cheese board in a restaurant you might find it there too.
13. Sticky Toffee Pudding
Sticky Toffee Pudding is an English dessert made of moist sponge cake flavoured with dates, and covered in toffee sauce. You'll usually be offered it with custard or vanilla ice cream.
This tasty dish is said to have possibly originated in Gait Inn in Millington, East Riding of Yorkshire in 1907, but the origins are disputed. Whether or not it was actually invented in England, it's eaten all over the country today and is found on many dessert menus.
14. Cauliflower Cheese
Cauliflower Cheese is often found as a side dish in a Sunday roast, but any English person will tell you it's a solid favourite that could be eaten as a main dish based on its popularity.
It's a simple dish; florets of boiled cauliflower covered in a milk-based cheese sauce and baked in the oven so it's gooey underneath and a little crispy on top. Delicious, and vegetarian.
15. Scones
The battle between sc-"own"-es and sc-"on"-es continues to wage across England, but regardless, this tasty sweet baked good is a traditional food that's never hard to find around the country.
They're sweet and often eaten with jam and cream as part of a cream tea or afternoon tea in England, but you can have one on its own too. If you want to try them in an afternoon tea while visiting the capital, you'll find them at some of the best afternoon teas in London.
Day Out In England is on a mission to introduce you to the best days out in each county in England, and you can search by county, by activity, and more. There's so much to see and experience in this beautiful country, so head to dayoutinengland.com to discover your next great day out.