Best Vegetarian Food in Bali
This post may contain affiliate links, and we receive an affiliate commission for any purchases made by you using these links. We appreciate your support!
Let's explore the best vegetarian food in Bali! These dishes are some of the best that Indonesian cuisine has to offer.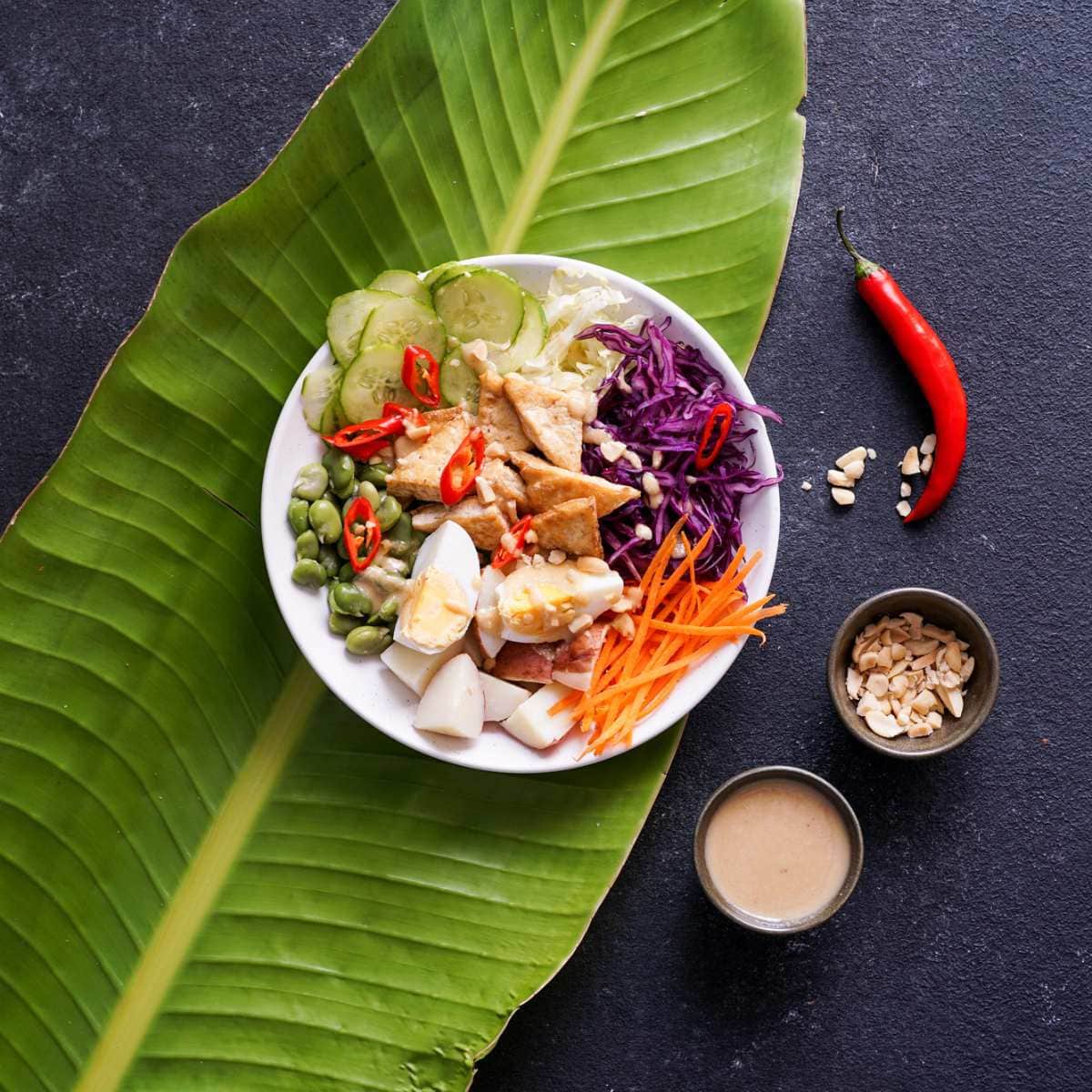 Vegetarian food in Bali is delicious, with a wide variety of local dishes to try. It's not always easy to find meatless options while you travel, but Bali has you covered. While most other parts of Indonesia may not make it so easy for vegetarian travellers, the island is an outlier and one of the best places to visit if you want to try a new delicious treat. Just make sure to visit Bali during the summer when the weather is dry and warm.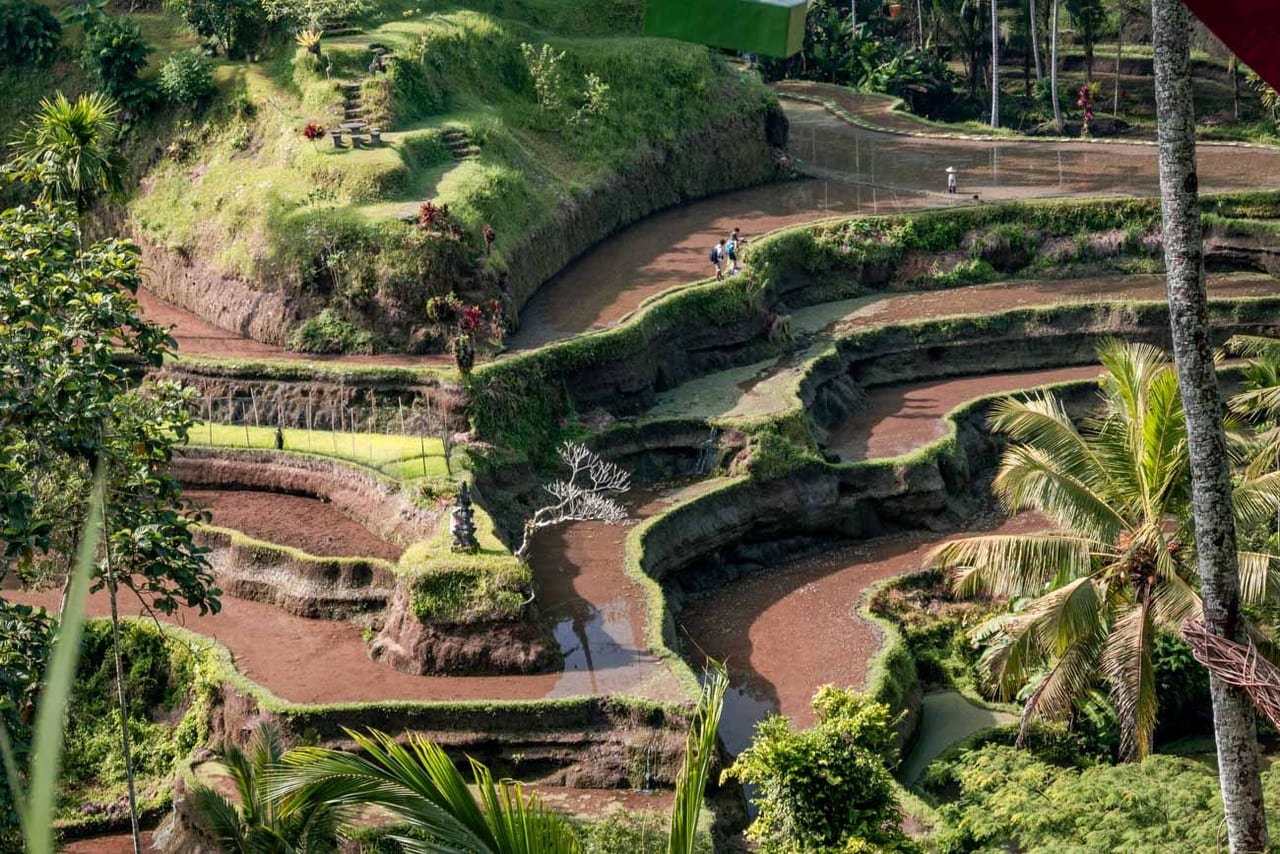 This is a special guest contribution from Victoria of Guide Your Travel.
Vegetarian Food in Bali
Bali is Indonesia's most famous island and a popular destination for all types of travellers. Areas like Uluwatu, Ubud, or Seminyak are hotspots for food lovers and have a fantastic selection of vegetarian food.
10 Vegetarian Dishes to Try in Bali
Bali has a wide variety of food and dishes to try, some of which are vegetarian by nature and some that can be slightly modified to be suitable for those who don't eat meat. Here are some of the most delicious examples.
1. Nasi Goreng
Nasi goreng is a world-famous rice dish that is enjoyed by many throughout Southeast Asia. Originating from Indonesia, this dish has quickly become a staple in many households worldwide due to its delicious combination of spices and flavours. Nasi goreng is typically prepared using leftover rice and mixed with various ingredients, which can but doesn't have to include meat and seafood. Luckily, most nasi goreng is vegetarian, which is usually attributed to the use of cheaper vegetables rather than expensive meat.
Known for its spicy and savoury taste, nasi goreng is a must-try dish for anyone looking to venture into new and exciting culinary territory.
2. Martabak
Martabak is a popular Indonesian street food that has fans all over the world. This delicious cake comes in many varieties and can be filled with sweet or savoury ingredients. One version, called martabak manis, is a sweet treat filled with chocolate, cheese, or fruit. Another type, known as martabak telur, is a savoury dish filled with vegetables and eggs.
This versatile snack is enjoyed by street vendors and foodies alike, and its popularity shows no signs of waning. Make sure to try chocolate martabak while you are in Bali, it's incredible.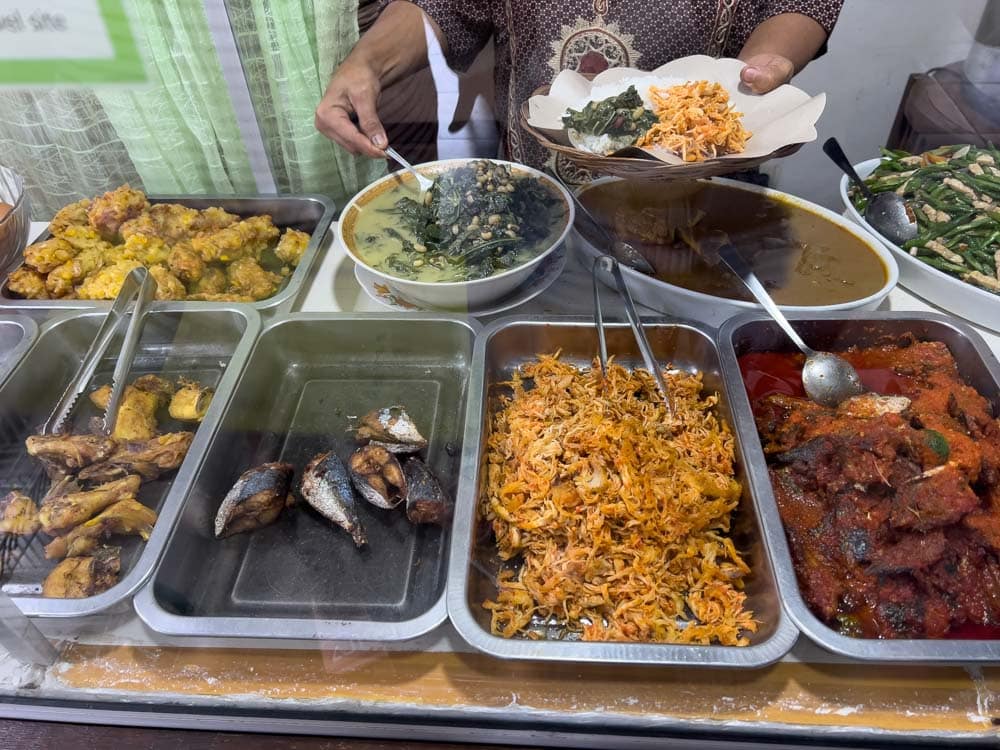 3. Gado Gado
If you're looking to treat your taste buds to an explosion of flavours, look no further than Gado Gado. This traditional Indonesian dish is a mix of vegetables, tofu, and hard-boiled eggs, all coated in a delicious peanut sauce that'll have you reaching for seconds (or thirds!).
The beauty of Gado Gado is that it can be easily customised to your liking – add in your favourite vegetables or maybe some tempeh. But whichever way you choose to make it, one thing's for sure: Gado Gado is a dish that's not only nutritious but also full of bold, satisfying flavours that'll have you coming back for more.
4. Mie Goreng
If you're a fan of Indonesian cuisine or just love noodles, then you don't want to miss out on mie goreng. This beloved dish is a type of fried noodle that is incredibly versatile and always delicious. The noodles themselves are typically thin and chewy and are stir-fried with a variety of spices and vegetables and sometimes served with a fried egg.
What sets mie goreng apart from other noodle dishes is the combination of sweet and savoury flavours that are balanced perfectly with the heat from the spices. Whether you're enjoying mie goreng as a street food snack or as the main course at a restaurant, you're sure to be hooked after just one bite.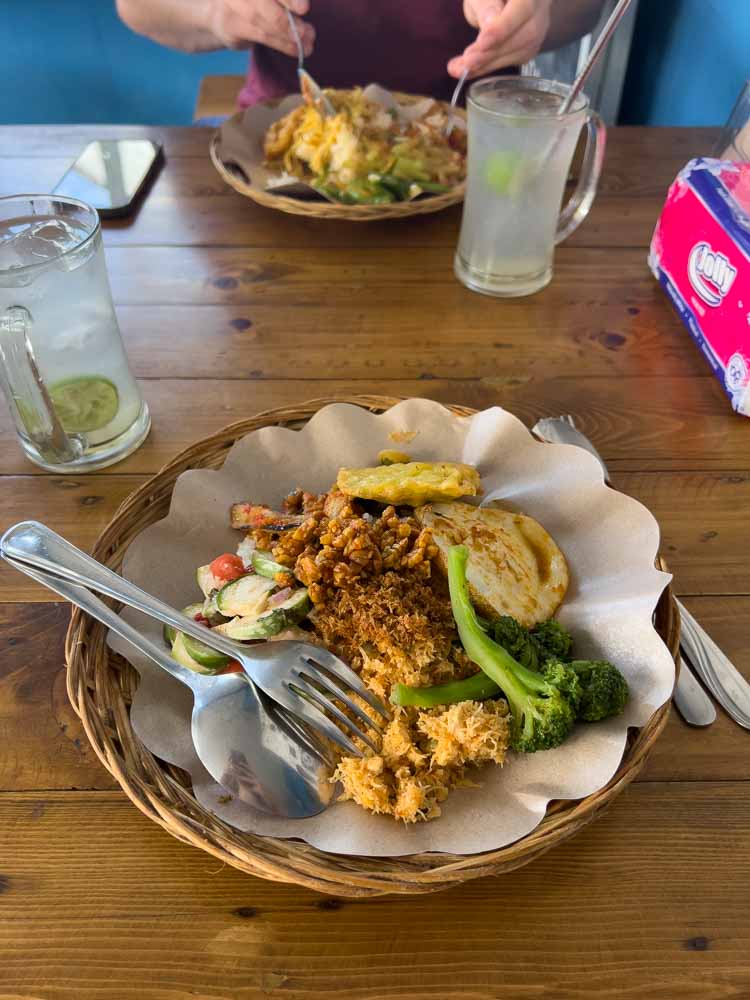 5. Tempeh Goreng
If you're looking for a delicious and protein-packed meat alternative, look no further than tempeh goreng. This Indonesian dish is made from fermented soybeans that are then sliced and fried to crispy perfection. Seasoned with fragrant spices like garlic and ginger and served with sambal, tempeh goreng is a flavour explosion that will leave your taste buds wanting more.
And with almost twice the protein of tofu, tempeh is a fantastic option for anyone looking to add more plant-based protein to their diet. Give tempeh goreng a try and see why this traditional Indonesian dish has become a popular staple around the world.
6. Corn Fritters
Indonesian corn fritters, known as "Bakwan Jagung," are a delightful culinary treat that is both vegetarian-friendly and widely enjoyed in Bali. These crispy and golden fritters are made from a batter consisting of fresh corn kernels, flour, and various aromatic spices such as shallots, garlic, and turmeric. The mixture is skillfully shaped into small patties and deep-fried until they develop a satisfying crunch on the outside while remaining soft and flavorful on the inside. The vegetarian nature of these fritters makes them a popular choice among locals and tourists alike, seeking delicious meat-free options. Balinese corn fritters are often served as a side dish or snack and can be found all around the island.
7. Nasi Campur
Indulging in the diverse flavours of Indonesian cuisine becomes an immersive experience with every serving of Nasi Campur. This traditional dish comprises a fragrant mound of steamed rice surrounded by a tantalising array of sides, vegetables, and condiments.
Each bite is an intricate balance of sweet, savoury, and spicy flavours. The beauty of Nasi Campur lies in its versatility, as it can be customised based on one's personal preferences, which includes plenty of vegetarian options. Whether you prefer a hearty meal of satay, fried tempeh, and tangy sambal or a lighter option packed with fresh vegetables and tofu, Nasi Campur is sure to satisfy any craving. No wonder it is a go-to comfort food for Indonesians and tourists alike.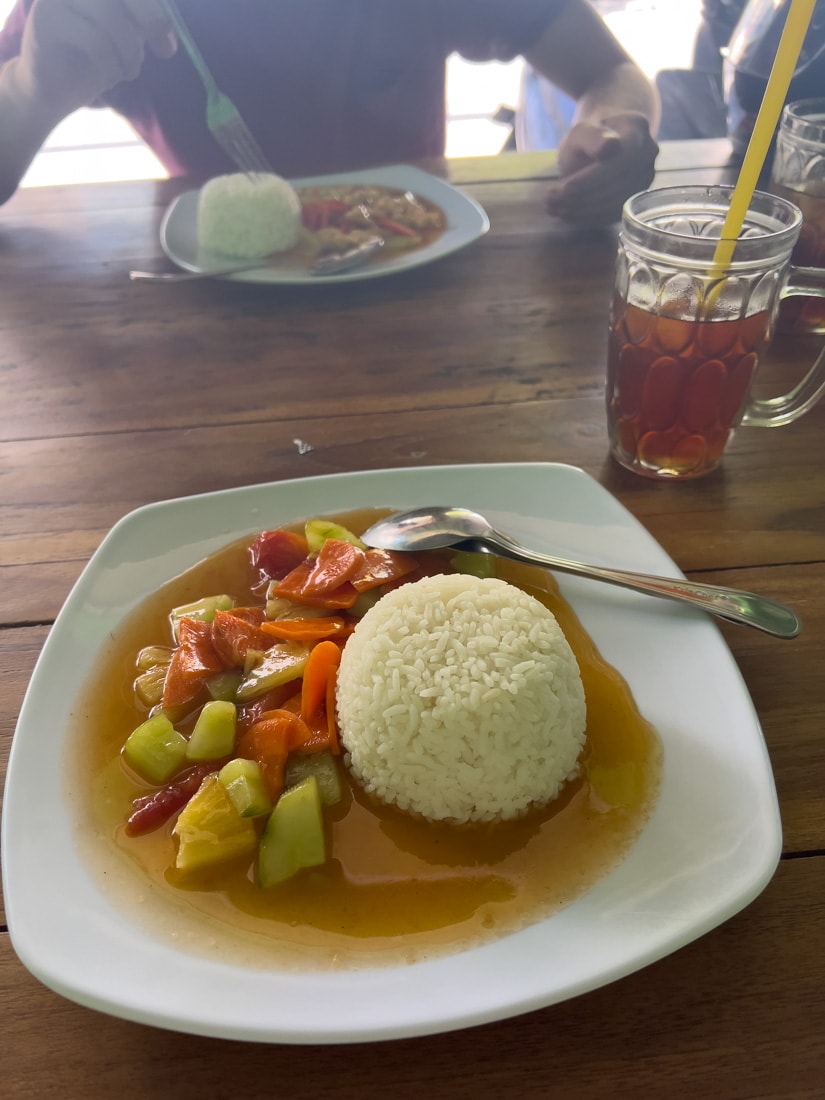 8. Cap Cay
Originating from Indonesia, this stir-fry dish typically includes a medley of vegetables like cabbage, carrots, bell peppers, and bok choy. The vegetables are cooked to perfection, with just the right amount of crunch left in them, and seasoned with a blend of spices that complement the dish as a whole.
Cap Cay is commonly served alongside steamed rice, making it a wholesome and fulfilling meal that will leave you craving more. Whether you're a vegetarian or even vegan, this dish is sure to please and is a must-try for anyone looking to expand their culinary horizons.
9. Sayur Lodeh
Sayur Lodeh is a traditional Indonesian dish that is packed with flavour and nutrition. This vegetable stew is made with coconut milk, a variety of vegetables, and a blend of delicious spices. With its rich, creamy texture and aromatic scent, Sayur Lodeh is a satisfying meal that is perfect for those who want to explore the diverse flavours of Indonesian cuisine.
Whether you are a vegetarian looking for a hearty and healthy meal option or just someone who wants to try something new, Sayur Lodeh is definitely worth a try.
10. Tempeh Satay
If you're looking for a delicious and unique vegetarian option to try during your time in Bali, tempeh satay is a fantastic option. Made from soybeans, tempeh is packed with protein and has a nutty, earthy flavour that pairs perfectly with the sweet and savoury flavours of satay sauce. This is a fantastic street food option and is usually very affordable, so it's a fantastic choice for budget travellers.
Victoria is a travel blogger and writer from Germany who now lives in Bali, Indonesia. Her blogs Guide Your Travel and My Australia Trip focus on giving helpful travel advice and tips for people travelling to South East Asia and Indonesia.