Disclaimer: Please note that some of the links below in this post are affiliate links and I will earn a commission if you purchase through those links. I regularly use and recommend all of the products listed below because I find them to be of great quality and use! All proceeds go back into maintaining and creating for this site. Thank you!
Last Updated on
The following blog post is sponsored by iHerb. All opinions expressed are my own.
This Vegan Wild Rice Soup for the Instant Pot makes for some super creamy, healthy and delicious comfort food perfect any time of year! Made with a blend of wild rice, cannellini beans, vegetables and spices in a creamy cashew base, this gluten-free vegetarian wild rice soup is certain to win you over with its ease and stunning flavors! (Plus, a special discount from iHerb!)
I'm happy to have partnered with iHerb.com to bring you this super creamy and nutritious Instant Pot Wild Rice Soup! If you aren't yet familiar with iHerb, they are an amazing one-stop natural products shop carrying over 30,000 items ranging from groceries and pantry items to health supplements to toiletries and beauty products and more! iHerb ships to over 150 countries from special climate-controlled distribution centers to provide you the highest quality service. And a bonus? They also provide 24/7 customer service in 10 different languages!
My experience ordering products for this recipe from iHerb.com was one of ease, and contentment as the prices were phenomenal and my package arrived swiftly intact.
What products did I order from iHerb.com?
The best wild rice out there!
If you yet to use a little Japanese Mirin in your cooking, you're missing out. This adds the perfect finishing touch to this wild rice soup.
Crushed nori seaweed makes the perfect cracker-alternative topping for cozy soups!
This is a lovely 70% organic vegan vegetable broth base that makes Instant Pot soup cooking a breeze!
Starwest Botanicals is top-notch when it comes to your herb and spice needs!
There is little to go wrong with Bob's Red Mill's amazing Heritage Beans line. These perfect cannellini beans are no exception!
These raw organic cashews are top of the line in quality — perfect for the creamy base of this soup.
This avocado oil makes the perfect neutral base for sauteing and finishing off this comforting soup.
Wild Rice Soup
This Instant Pot Vegan Wild Rice Soup is
Creamy, hearty, and comforting.

Easy to make — no prior soaking of the beans needed!

Packed with healthy, wholesome, nutritious ingredients.

Great served right away or meal prepped for excellent leftovers.

Vegan, dairy-free, soy-free, gluten-free, and refined sugar-free.
What is Wild Rice?
Wild rice isn't actually rice, but the seeds of a wild aquatic grass native to North America. Wild rice is rich in fiber and protein.
What Ingredients are Needed to Make Vegan Wild Rice Soup?
Onion, carrots, bell pepper.
Thyme, garlic powder, sage, red chili flakes, coconut sugar, black pepper and bay leaf.
Salt.
(Note: see recipe card at bottom of post for amounts)
How to Make Vegan Instant Pot Wild Rice Soup — Step by Step
Soak cashews.
2. Saute onion, peppers, and carrots in avocado oil.
3. Prep spices.
4. Prepare broth.
5. Add spices. Cook a few minutes.
6. Add broth.
7. Add beans.
8. Add wild rice.
9. Stir.
`10. Add bay leaves.
11. Cook on manual high pressure for 45 minutes.
12. In a blender combine two cups of soup with soaked, drained cashews.
13. Blend until smooth.
14. Pour creamy cashew base into the Instant Pot.
15. Stir.
16. Add rice wine, sugar, black pepper. Salt to taste.
17. Serve in a bowl.
18. Crush a sheet of nori seaweed.
19. Sprinkle crushed nori on soup, drizzle with avocado oil, and enjoy!
A Few Tips for Making Vegan Wild Rice Soup
Soak the cashews!

For the creamiest results, be certain to soak the cashews the entire time the soup is cooking.

Save it for later.

This soups stores well. Simply put in airtight containers in the refrigerator for up to one week. To re-heat place in a pot over medium heat and cook until warmed throughout, or place in the Instant Pot on saute mode until warm.
Common Recipe Questions
Do I need to soak the beans first?
No. This recipe is written for dry unsoaked beans. No soaking necessary!
Can I use soaked beans?
Yes! Cook for 35 instead of 45 if you do so.
Can I make omit the sugar or use a different sweetener?
Yes. You can omit it or use any sweetener of choice (sugar, maple syrup, etc.). Or a sugar-free sweetener of choice!
Does this soup freeze well?
Yes, this wild rice soup freezes and thaws/cooks well. To freeze, make sure the soup is completely cool (cold) before storing in freezer safe bags or containers. To re-heat, simply let it thaw in the fridge overnight and then place in a pot over medium heat until warmed throughout.
iHerb Discount
New Customers will get a discount off their first iHerb order with no minimum purchase by clicking HERE!
If you try this recipe please let me know! Leave a comment, rate it, share this post, use Pinterest's "tried it" feature, or take a photo, & tag me on Instagram and I'll share it! Thank you so much! <3
Vegan Instant Pot Wild Rice Soup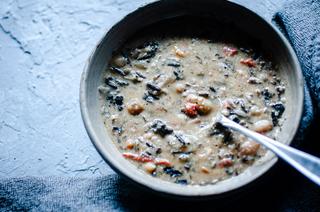 Author: Kristen Wood | 9-9-2019
prep time: 15 minutes
cook time: 45 minutes
total time: 1 hour 10 minutes (to account for the coming to and releasing of pressure)
Yields: 6 servings
---
Ingredients:
---
Instructions:
Place raw cashews into a bowl, cover with hot water and set aside to soak while you prepare your soup.
Press the saute button on your Instant Pot. Add oil, carrots, pepper, and onion. Saute for 10 minutes.
Stir in spices thyme through red chili flakes. Cook while stirring for 2 minutes.
Stir in broth, beans, and rice. Add bay leaves.
Place lid on Instant Pot, close the steam valve, set on manual high pressure for 45 minutes.
Let pressure release naturally for 10 minutes.
Press cancel, release the steam and remove the lid.
Drain the soaked cashews and place in a blender with 2 cups of prepared soup. Blend until smooth. Pour back into remaining soup.
Stir well. Add rice wine, sugar and black pepper. Salt to taste.
To serve, top with crushed nori and a drizzle of avocado oil.
Enjoy!
---
Nutrition:
Serving: 1 serving/bowl
Fat: 8 grams
Calories: 317
Carbs: 48 grams
Fiber: 9.6 grams
NOTE: Please see 'Tips' above in the blog post for suitable substitutions, storage advice and more!
Pin it for Later
Onion, carrots, bell pepper.
Thyme, garlic powder, sage, red chili flakes, coconut sugar, black pepper and bay leaf.
Vegetable broth.
Cannellini beans.
Wild rice.
Cashews.
Rice wine.
Nori.
Salt."
}
},{
"@type": "Question",
"name": "Do I need to soak the beans first?",
"acceptedAnswer": {
"@type": "Answer",
"text": "No. This recipe is written for dry unsoaked beans. No soaking necessary!"
}
},{
"@type": "Question",
"name": "Can I use soaked beans?",
"acceptedAnswer": {
"@type": "Answer",
"text": "Yes! Cook for 35 instead of 45 if you do so."
}
},{
"@type": "Question",
"name": "Can I make omit the sugar or use a different sweetener?",
"acceptedAnswer": {
"@type": "Answer",
"text": "Yes. You can omit it or use any sweetener of choice (sugar, maple syrup, etc.). Or a sugar-free sweetener of choice!"
}
},{
"@type": "Question",
"name": "Does this soup freeze well?",
"acceptedAnswer": {
"@type": "Answer",
"text": "Yes, this wild rice soup freezes and thaws/cooks well. To freeze, make sure the soup is completely cool (cold) before storing in freezer safe bags or containers. To re-heat, simply let it thaw in the fridge overnight and then place in a pot over medium heat until warmed throughout."
}
}]
}