Scrumptious Apple and Pear Chutney
This post may contain affiliate links, and we receive an affiliate commission for any purchases made by you using these links. We appreciate your support!
Savor the flavors of autumn by making this Scrumptious Apple and Pear Chutney. This delectable chutney is flavorful enough to eat on its own, or it can be used as an accompaniment to rich dishes. Naturally vegan and gluten-free.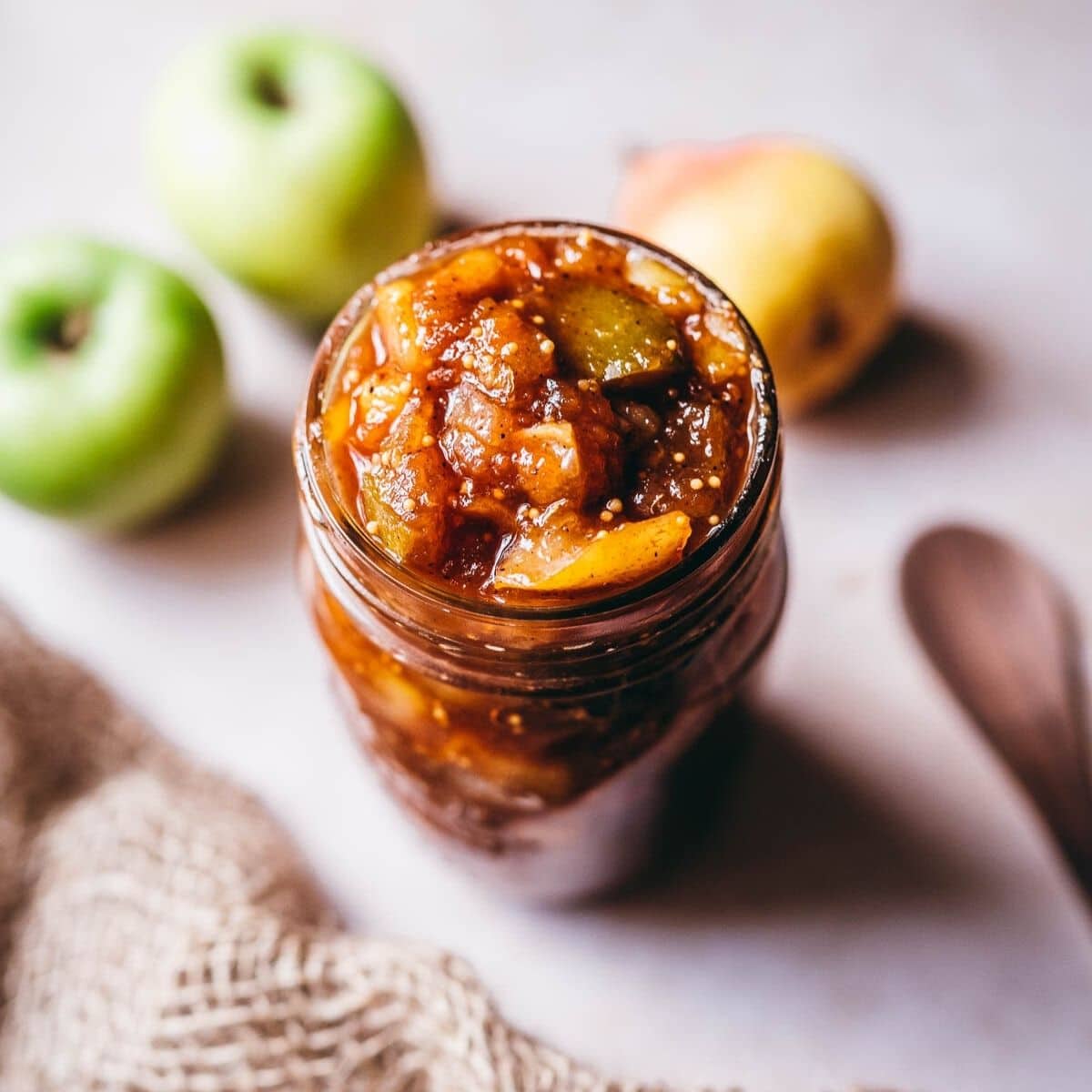 This Pear-Apple Chutney is easy to make and a great addition to your meals and appetizers. Juicy pears and apples combined with sugar, vinegar, ginger and spices give this chutney a complex sweet, tart, and sour flavor with a hint of spice. Simmer this chutney until it has a thick and smooth consistency, give it some time to mature (if you can wait!), and enjoy its delicious flavor for months!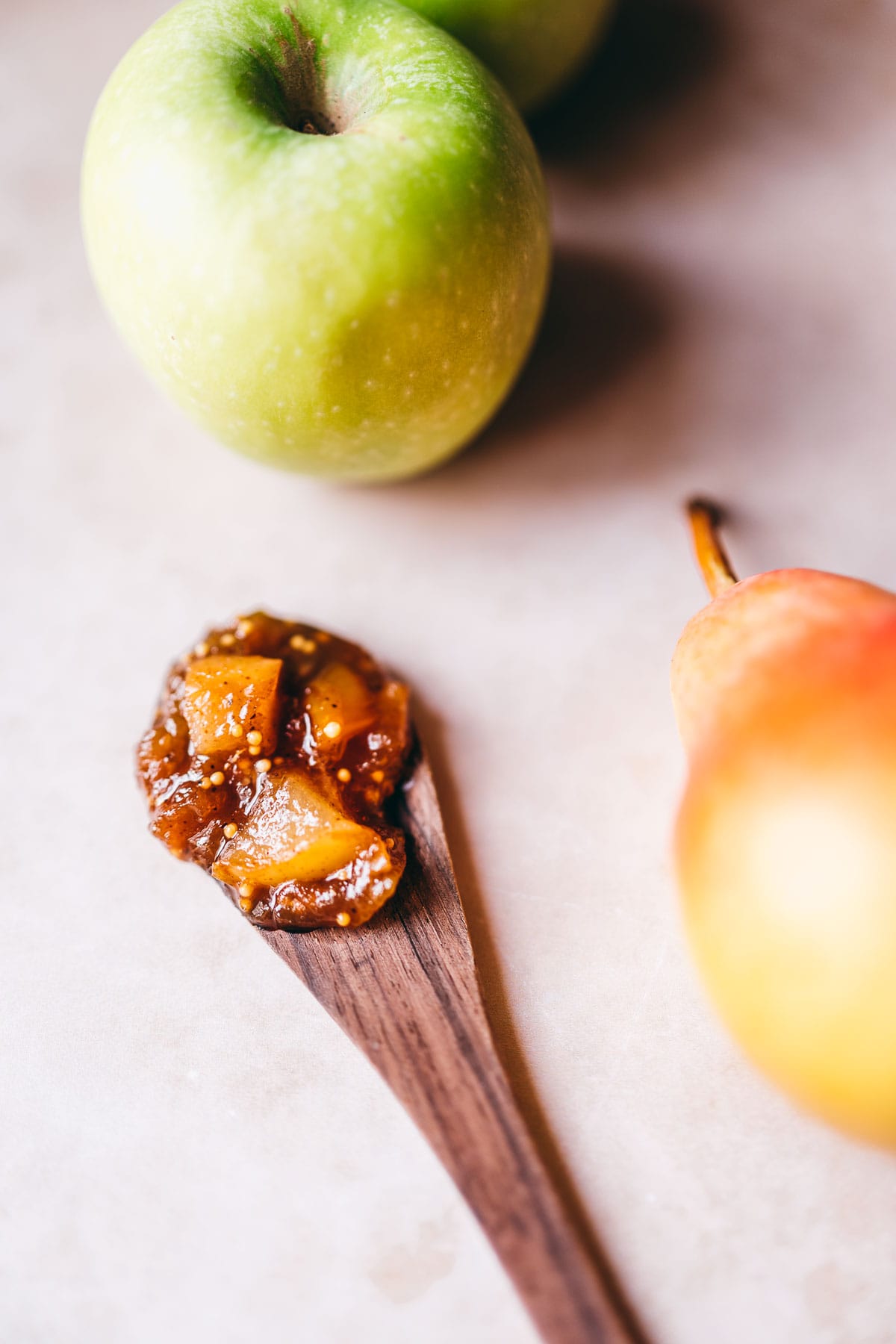 Why This Recipe Works
Chutneys are a great way to use fruits in abundance such as apples and pears because you can preserve them for months. Although this recipe requires many ingredients, they are wholesome and nutritious ingredients that are super easy to work with. It's really a "dump and cook" kind of recipe! This Apple and Pear Chutney goes well with creamy curries as well as cheese and crackers (and much, much more!). Due to its acidic nature, homemade chutney can last a long time with proper storage. Healthy, vegan, gluten-free, and great for the whole family, too!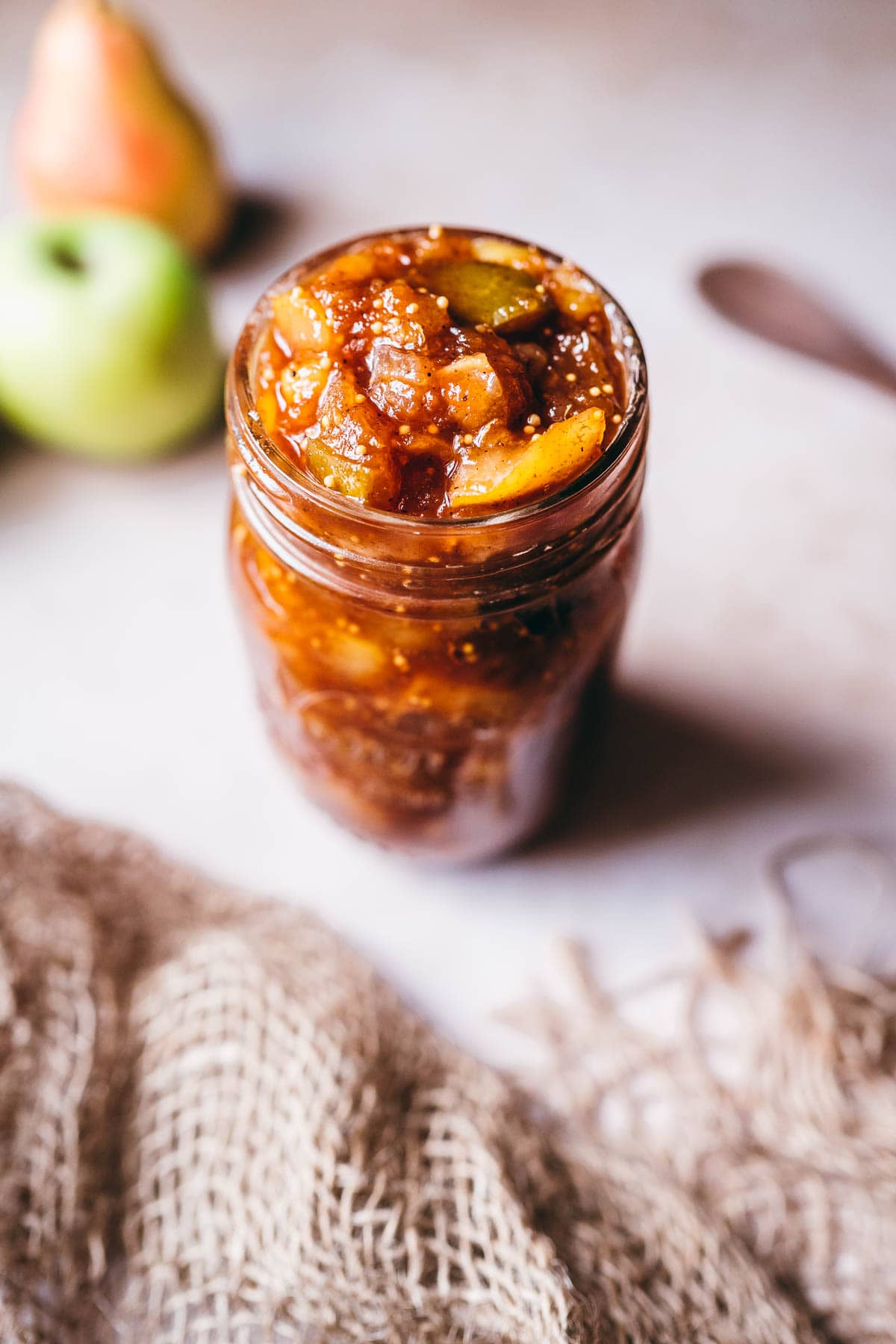 Ingredient Notes for Apple and Pear Chutney
Pears – Pears add a tangy, sweet, and zesty flavor to this chutney, and a soft and tender texture when cooked, in addition to added chunkiness!
Green apples – Green apple is a sweet, sour, and refreshing ingredient. They also add a chunky texture to chutneys.
Onion – Onions add a mildly pungent, sweet, and distinct flavor to chutneys.
Bell pepper – Bell peppers add a juicy sweet and mild flavor and make the recipe more nutritious.
Raisins – Raisins add a sweet taste to chutneys and have a fleshy and tender texture that blends well with the other ingredients.
Apple cider vinegar – This ingredient boosts the flavor and color of chutney and is important in the preservation of the chutney.
Sugar – One of the most essential ingredients for a good chutney. Sugar adds flavor, depth, and texture to chutneys. I use coconut sugar but any granulated sugar of choice can be used.
Mustard seeds – Mustard seeds add a deliciously mild aromatic nutty taste to help balance the flavor.
Salt – Salt, essential in almost every dish, helps balance the chutney's flavor profile for a savory-sweet taste.
Nutmeg – Adds a nutty and earthy flavor to chutney.
Cinnamon – Cinnamon adds a sweet and spicy flavor and gives the chutney a bolder taste.
Cloves – Cloves are spices that have a powerful aroma and add a sweet, spicy, and peppery taste.
Lemon juice – Lemon juice has a zesty, sour, and citrusy flavor that gives the chutney a more tangy flavor.
Grated fresh ginger root – Ginger root has a peppery, spicy, and sharp flavor that's perfect to blend with other chutney ingredients for a delicious savory taste.
How To Make Apple Pear Chutney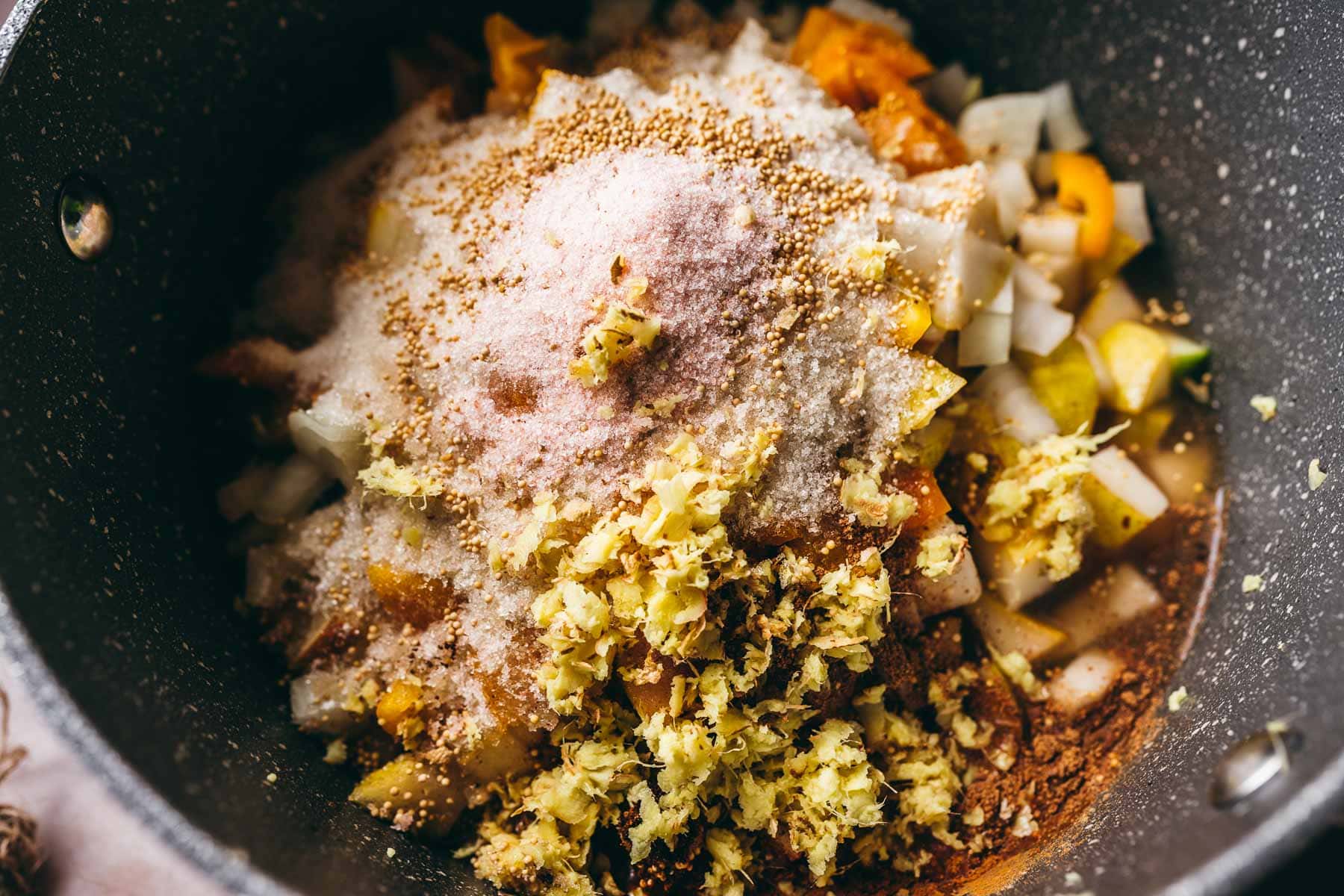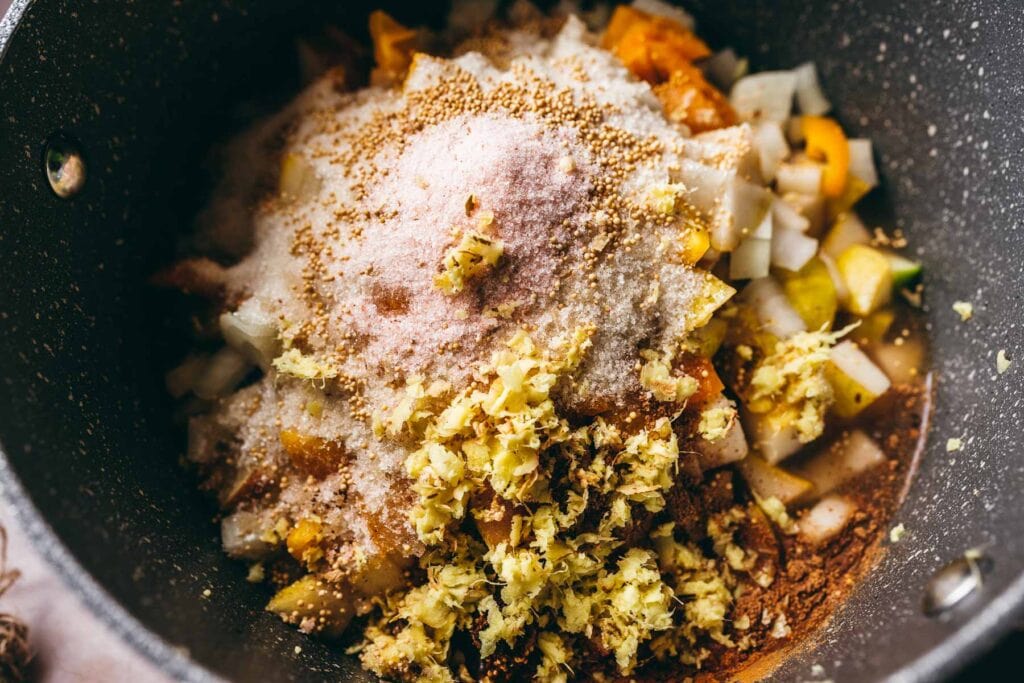 FAQ
What Does Chutney Go Well With?
Chutney goes well with both main dishes and appetizers. Traditional chutneys pair deliciously with hot and creamy curries and rice. Chutneys go well with roasted vegetables such as sweet potatoes, squash, carrots, and more! Serve the chutney as a dip or spread it on vegetables before you grill them.
This Apple and Pear Chutney makes for a great picnic lunch and goes well with goat cheese, crackers, and can also be eaten in a sandwich. My favorite option for sandwich and chutney combinations is grilled cheese sandwiches. You can even add this Apple and Pear Chutney to your yogurt, bread or toast, and other savory or sweet dishes.
What is the Difference Between Relish and Chutney?
Relish and chutney might confuse some people because of their similarities, but they differ in cooking time, consistency, ingredients, and origin. Chutney is often slow-cooked and has a thicker, more jam-like consistency than relish. Chutney also results in a softer texture, while relish often contains firmer vegetables. The taste is often similar as well because they both contain vinegar and spices. However, chutneys are often sweeter while relishes often have a more tangy and pickled flavor.
While both are used as sides to enhance the flavor of the main dish, these two condiments are definitely different and the terms should not be used interchangeably.
How Long Does Homemade Chutney Last?
Homemade chutney can last 2-3 months if stored in the refrigerator.
You can also freeze chutney for up to 12 months.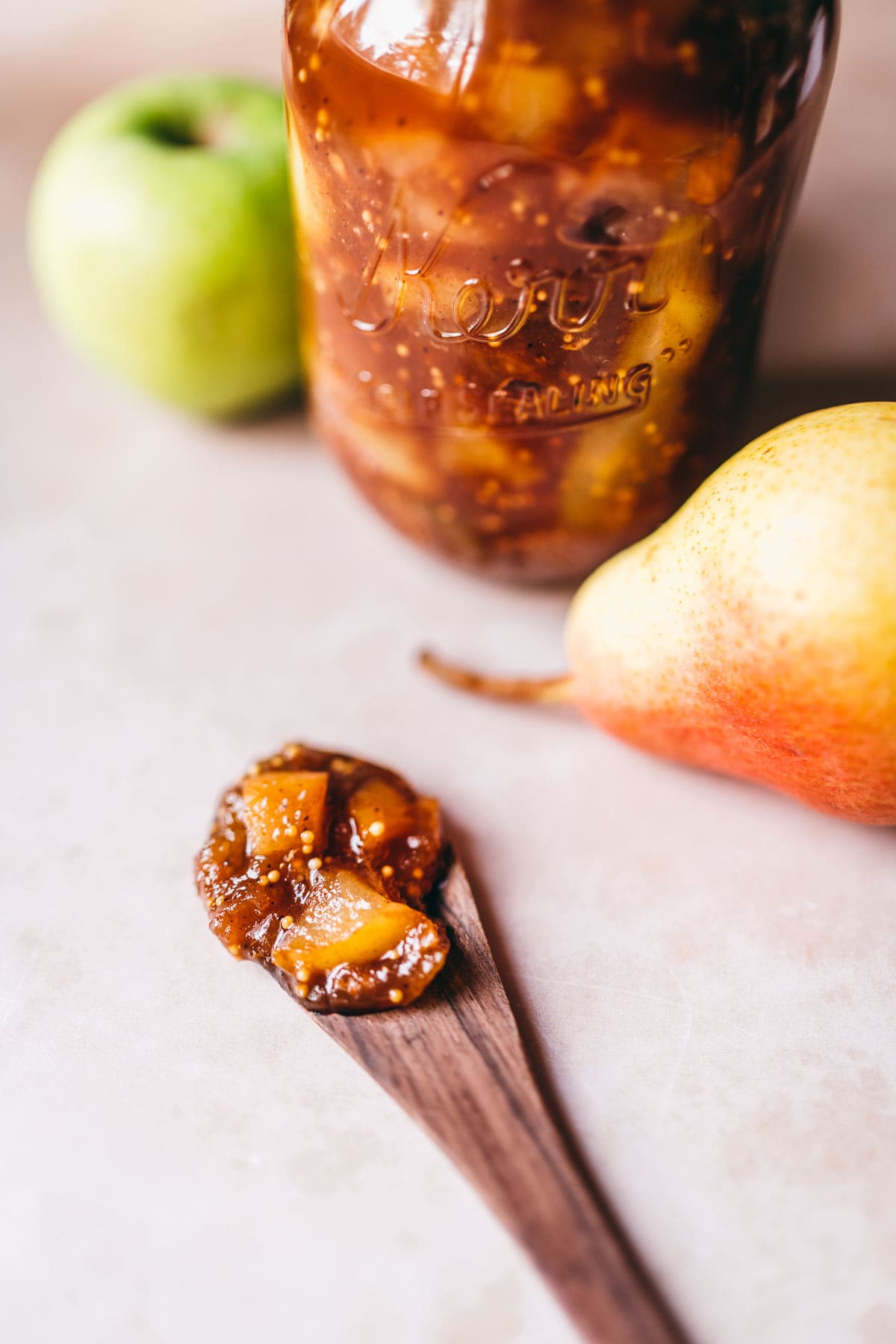 Top Tip
Much like a good curry, chutney will only continue to develop more complex flavors in time. For peak flavor, store the freshly made and cooled chutney in the refrigerator for one week before enjoying the first bite!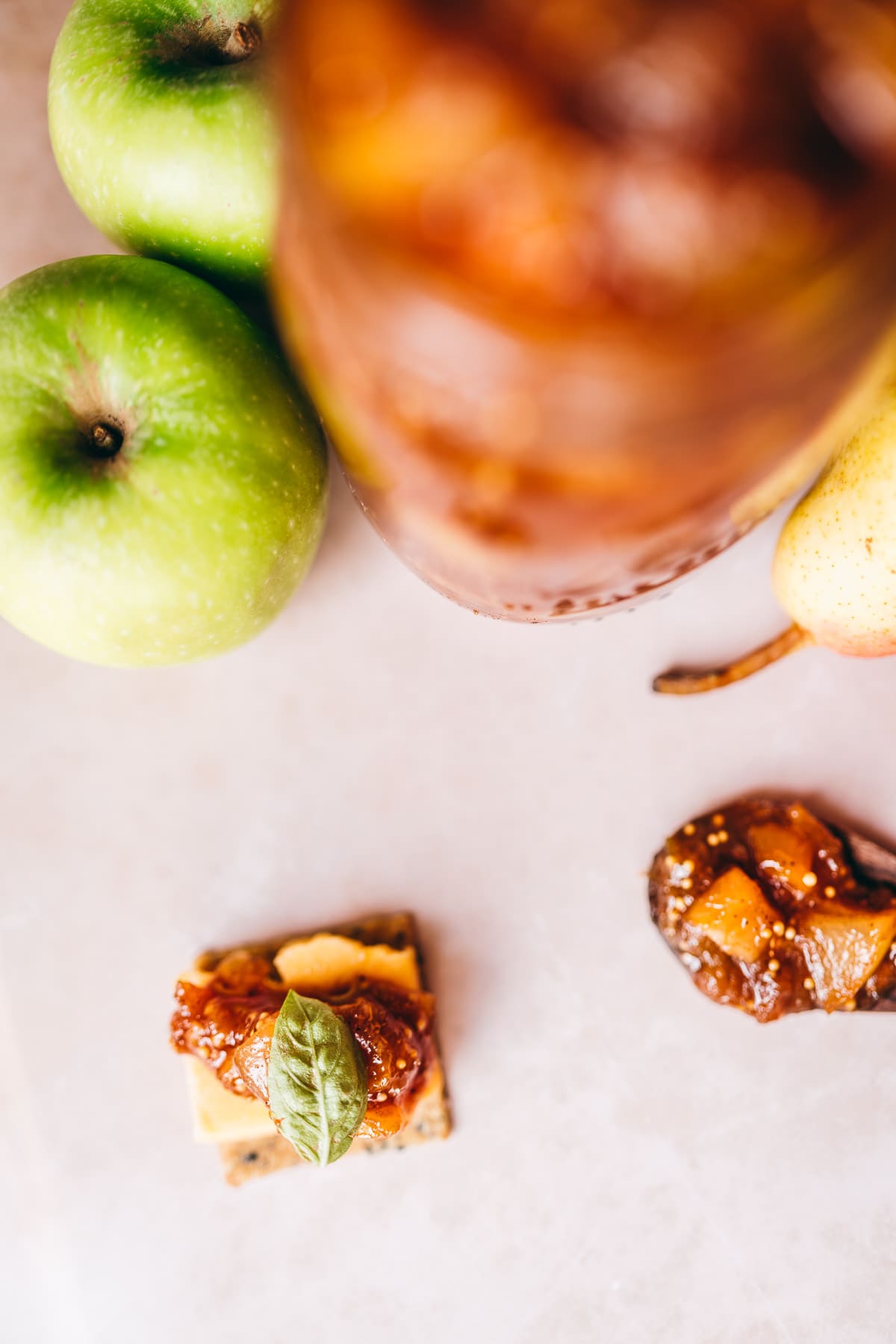 You Might Also Like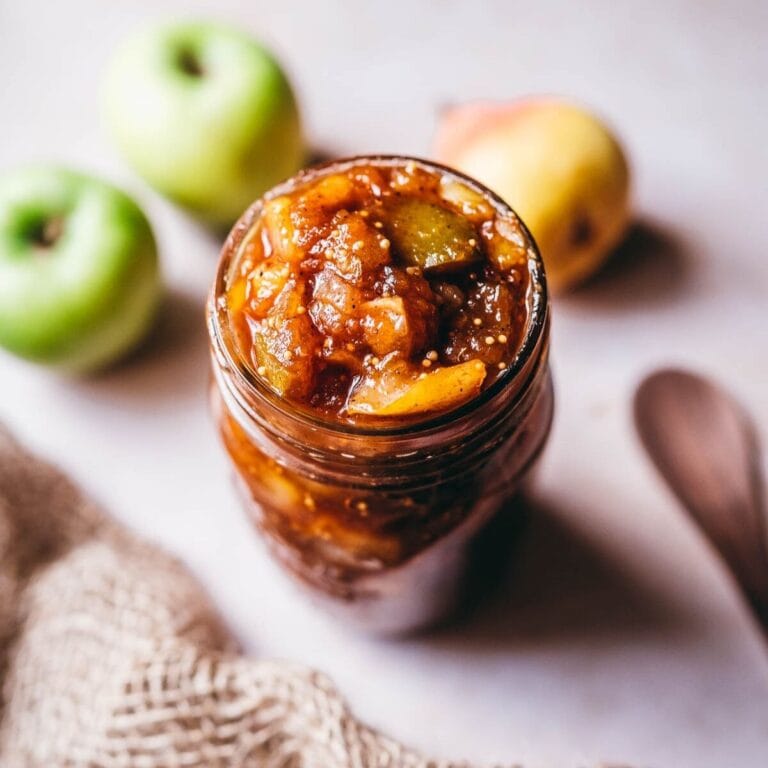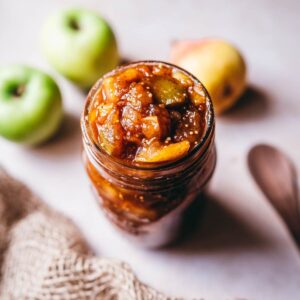 Apple and Pear Chutney Recipe
Easy apple and pear chutney recipe with ginger and spices for the perfect spicy, tangy, sweet condiment spread, dip or garnish for rich dishes and appetizers alike.
Print
Pin
Rate
Ingredients
5

fresh pears

finely chopped, bartlett or bosc works well

2

green apples

finely chopped

1

onion

chopped

1

bell pepper

chopped

1

cup

raisins

thompson or golden

1 ¼

cup

coconut sugar

or any granulated sugar of choice

1

cup

apple cider vinegar

2

tablespoons

lemon juice

2

tablespoons

fresh ginger root

grated or minced

2

teaspoons

yellow mustard seeds

2

teaspoons

salt

1

teaspoon

ground nutmeg

½

teaspoon

ground cinnamon

¼

teaspoon

ground cloves
Instructions
In a large pot over medium heat, add all of the above ingredients. Mix well.

Once the mixture comes to simmer, cover the pot with a lid and reduce the heat to medium-low.

Let the chutney simmer for 1 hour, or until the ingredients have softened, reduced considerably and there is thick, smooth, gel-like consistency to the chutney overall.
Nutrition
Serving:
0.25
cup
|
Calories:
246
kcal
|
Carbohydrates:
63
g
|
Protein:
2
g
|
Fat:
1
g
|
Saturated Fat:
1
g
|
Polyunsaturated Fat:
1
g
|
Monounsaturated Fat:
1
g
|
Sodium:
640
mg
|
Potassium:
419
mg
|
Fiber:
7
g
|
Sugar:
33
g
|
Vitamin A:
520
IU
|
Vitamin C:
29
mg
|
Calcium:
29
mg
|
Iron:
1
mg
Have you tried this recipe?
Please Rate + Comment Below!
Watch Our Latest Videos
Follow us on YouTube!