Best Vegetarian Food in Disneyland
This post may contain affiliate links, and we receive an affiliate commission for any purchases made by you using these links. We appreciate your support!
Disneyland's theme park offers a diverse range of delicious vegetarian options catering to all tastes and preferences. Whether you're a long-time vegetarian or just looking for some meat-free delights, the park has got you covered.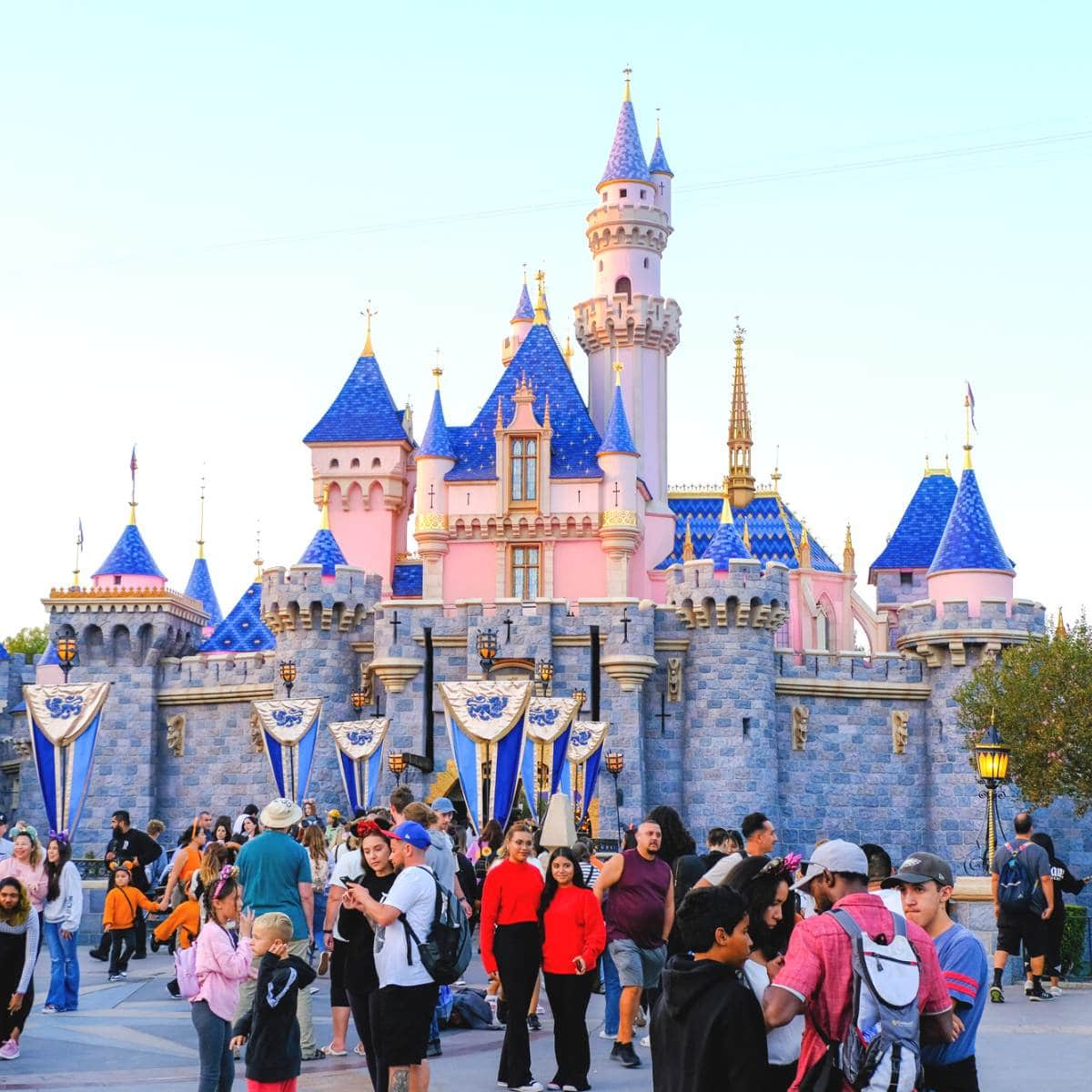 This is a special guest contribution by Anu Agarwal of Destination Check-Off.
Make sure to stay in one of the hotels near Disneyland within walking distance so that you have enough time to do all the awesome Disneyland rides and enjoy these delicacies in your Disneyland Itinerary!
Best Disneyland Vegetarian Food
Disneyland has several themed lands, and you can find vegetarian and sometimes vegan food options at most restaurants and food carts.
Remember that Disneyland is continuously updating its menu offerings, so it's always a good idea to check with park staff or online resources for the most current vegetarian food options.
Here are some of the best vegetarian food options you can find at Disneyland:
1. Vegetable Gumbo in Sourdough Bread Bowl
This hearty vegetarian gumbo, found at Royal Street Veranda restaurant in New Orleans Square, is a favorite among park visitors, offering a taste of Louisiana in the heart of Disneyland.
The gumbo itself is a thick and aromatic stew filled with a medley of vegetables and seasoned with an assortment of spices, creating a harmonious blend of flavors.
The gumbo is served in a Sourdough Bread bowl providing the perfect vessel to soak up all the delicious flavors. The warm, crusty sourdough bread complements the gumbo's bold flavors, making it a delightful combination of textures and tastes.
2. Outback Vegetable Skewers
Bengal Barbecue at Adventureland offers vegetable skewers featuring a delightful combination of vegetables, including asparagus, bell peppers, and mushrooms, all seasoned to perfection. It's a great option for a quick and satisfying bite.
You can also order a Bengal Rice Plate in which you are served two vegetable skewers with Jasmine rice and a side salad. Or pair it with the Hummus Trio and the spicy Dill Pickle to add some more zing to it.
3. Mushroom Philly Sandwich
The Mushroom Philly Sandwich at Galactic Grill in Tomorrowland is a delectable vegetarian delight. This mouthwatering sandwich features savory sautéed mushrooms, bell peppers, and onions, all generously smothered in melted cheese, served on a soft and toasted hoagie roll.
It's a flavor-packed option for mushroom lovers and a satisfying choice for anyone seeking a hearty and tasty meal in the heart of Tomorrowland.
4. Veggie Wrap
The Veggie Wrap at Galactic Grill Disneyland is a delicious and wholesome choice for vegetarians. This flavorful wrap is filled with a mix of fresh and crunchy vegetables, including lettuce, tomatoes, cucumbers, and red onions, beans, cheese, all drizzled with a sun-dried tomato dressing.
Wrapped in a soft tortilla, it's a convenient and satisfying option for a quick and nutritious meal while exploring Tomorrowland. Comes with a side of fries or a mandarin. Add a dill pickle to it!
5. The Impossible™ Bolognese pasta
The Impossible™ Bolognese pasta at Alien Pizza Planet in Disneyland is a delectable vegetarian delight. It features Impossible™ meat, a plant-based protein that mimics the texture and taste of traditional beef, cooked in a rich and savory Bolognese sauce.
The sauce is generously ladled over al dente pasta, creating a perfect harmony of flavors. It's a hearty and satisfying option for pasta lovers and a fantastic choice for those seeking a delicious meat-free meal in the world of Tomorrowland.
6. Spring Garden Wrap
Cafe Daisy in the newly renovated Toontown has Spring Garden wrap, a great vegetarian option. This refreshing wrap is filled with a medley of fresh spring vegetables mixed with a tangy lemon dressing, all wrapped in a soft and flavorful tortilla. It comes with a side of house-made chips.
It's a light and nutritious choice for those looking for a wholesome and delicious meal while exploring the magic of Disneyland.
7. Classic Impossible™ Cheeseburger
The Classic Impossible™ Cheeseburger at Hungry Bear restaurant in Critter Country is a delicious plant-based burger topped with American cheese, lettuce, tomatoes, and pickles on a toasted bun.
Comes with a side of fries or mandarin orange. A satisfying option for vegetarians and burger enthusiasts alike.
8. Cauliflower Tacos
The Cauliflower Tacos at Rancho del Zocalo in Frontierland is a flavorful Mexican delight. These tacos feature crispy cauliflower florets tossed in a zesty and savory tomatillo sauce, served on soft corn tortillas.
They are topped with a refreshing combination of shredded cabbage, cilantro, and onions, creating a perfect balance of textures and tastes. It comes with a side of Mexican rice and refried beans, making it a complete meal.
9. Spicy Garden Burger
The Spicy Garden Burger at Red Rose Taverne in Fantasyland features a plant-based patty made from a blend of Black beans and vegetables, seasoned to perfection with spices and herbs.
Topped with spicy Chipotle-lime aioli, arugula, juicy tomato, and tangy pickles, all served on a Brioche-style bun; it offers a perfect balance of heat and savory goodness. Served with a side of mandarin orange or potato bites.
10. Kale-Chickpea Salad
The Kale Chickpea Salad at Red Rose Taverne in Fantasyland is a refreshing and nutritious option for guests seeking a lighter meal. This vibrant salad features a base of fresh kale leaves, known for their rich nutritional benefits. The kale is tossed with crispy chickpeas, adding a hearty texture and a good source of protein.
To enhance the flavors, the salad is complemented with shredded carrots and dried cranberries and drizzled with a light and tangy vinaigrette dressing, which ties all the ingredients together.
11. Felucian Kefta & Hummus Garden Spread
The new Docking Bay 7 Food and Cargo Restaurant at the Star Wars: Galaxy's Edge land has this yummy vegetarian delight called Felucian Kefta, which is similar to falafel balls and made with Impossible™ Meatballs.
It is served on pita bread with hummus garden spread and fresh vegetables like cucumbers and tomatoes.
12. Blue and Green Milk
The Milk Stand at the new Star Wars: Galaxy's Edge Land serves delicious blue and green milk, which is a dairy-free plant-based drink made of coconut and rice water. These milk drinks have quickly become very popular among Star Wars fans!
13. Dole Whip
The Tiki Juice Bar in Adventureland is known for serving the classic Dole Whip soft-serve frozen dessert, as well as other pineapple-inspired treats. It is a soft-serve frozen dessert made from pineapple juice, creating a refreshing and creamy pineapple-flavored treat.
Whether enjoyed in a cup or swirled into a pineapple-flavored float with pineapple juice, this delightful treat is a must-try for visitors seeking a sweet and tropical escape while exploring the enchanting world of Disney.
14. Good Old Cheese Pizza
You will also find the traditional Cheese Pizza at Alien Pizza Planet in Tomorrowland, which is always a hit with kids and picky eaters. Add a side salad to it to add some vegetables to your meal.
Cafe Daisy at Toontown also has Cheese Pizza on the kid's menu.
15. Ice-cream
Gibson Girl Ice Cream Parlor in Main Street USA has several delicious ice cream flavors that can be enjoyed for an afternoon snack. Especially delicious on those hot summer days. This ice cream parlor also offers some non-dairy sorbet options for those looking for a fruity and dairy-free dessert.
Enjoy your visit to Disneyland and savor the delightful vegetarian treats Disneyland has to offer!