Cherry Tomato Confit
This post may contain affiliate links, and we receive an affiliate commission for any purchases made by you using these links. We appreciate your support!
This recipe for Cherry Tomato Confit is a delicious way to give a whole new life to cherry tomatoes. They will turn into soft, sweet and delicious fruits, ready to eat at any time.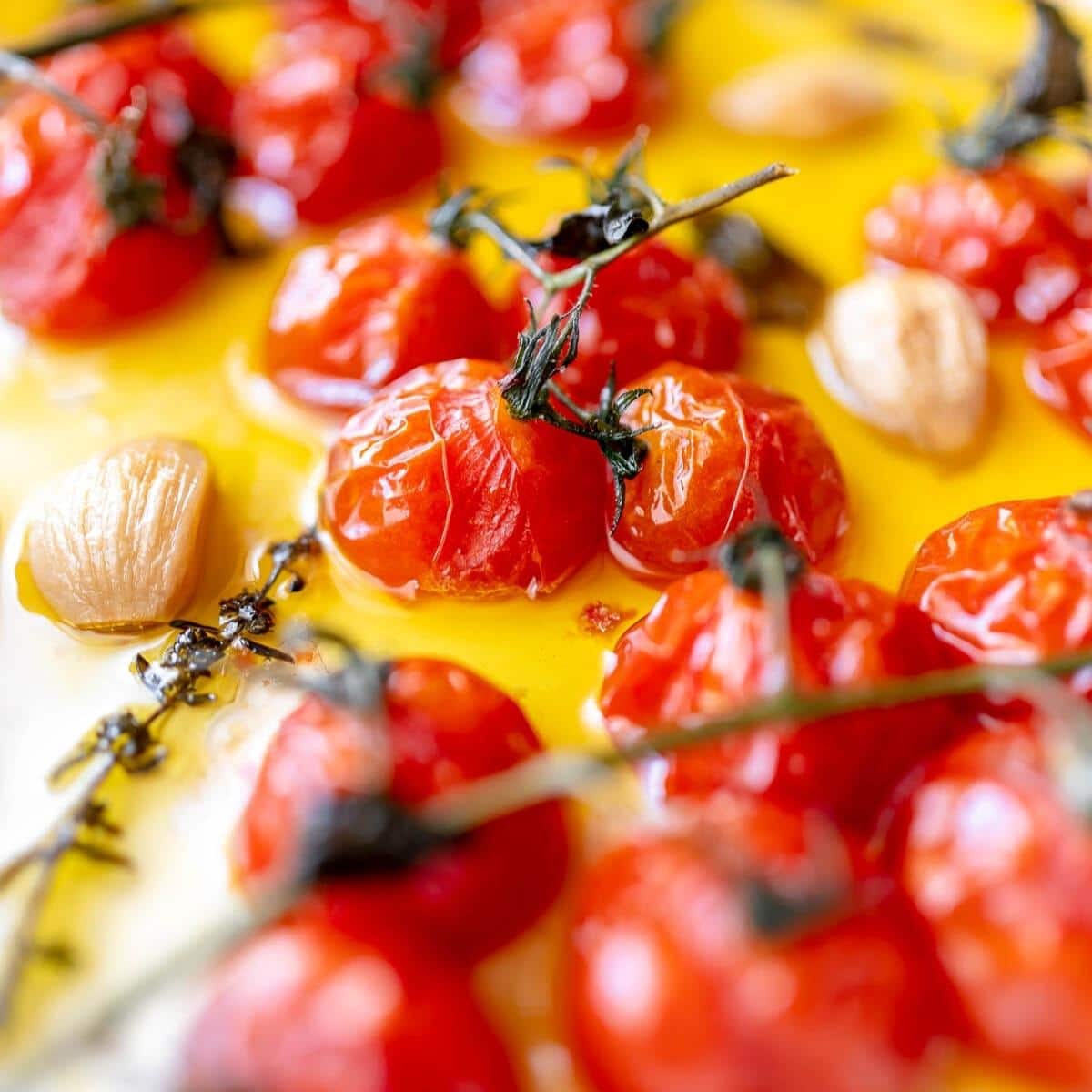 Summer is the perfect time to turn fresh tomatoes into a delicious condiment! With just a few minutes of prep time, you'll have a delicious fresh tomato confit that's oozing with a juicy and intense flavor from the extra virgin olive oil, garlic, and herbs. Slow-roasted at a low temperature to perfection, this tomato confit will definitely be the perfect addition to all your meals.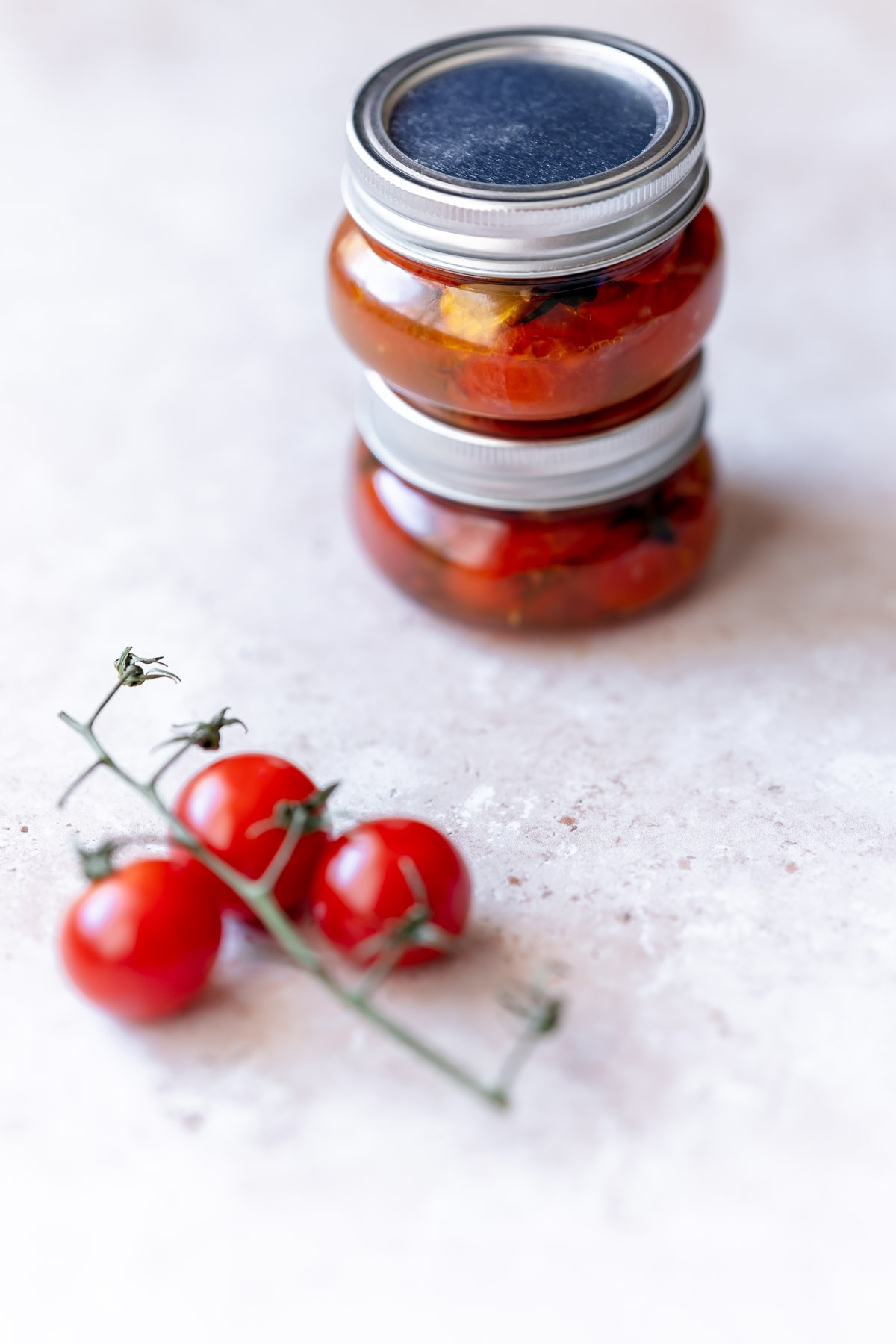 With tomato season just around the corner, making tomato confit is a great way to preserve surplus tomatoes long after harvest season. When tomatoes are preserved in a confit, they tend to retain their shape and naturally sweet flavor, all the while absorbing the complex olive oil, garlic, and herb flavors it's cooked in.
This recipe is a staple that is perfect for holidays, gatherings, and simply as a side for every meal. Serve this tomato confit on bruschetta, pasta, grain bowls, salads, pizza, sandwiches, and more!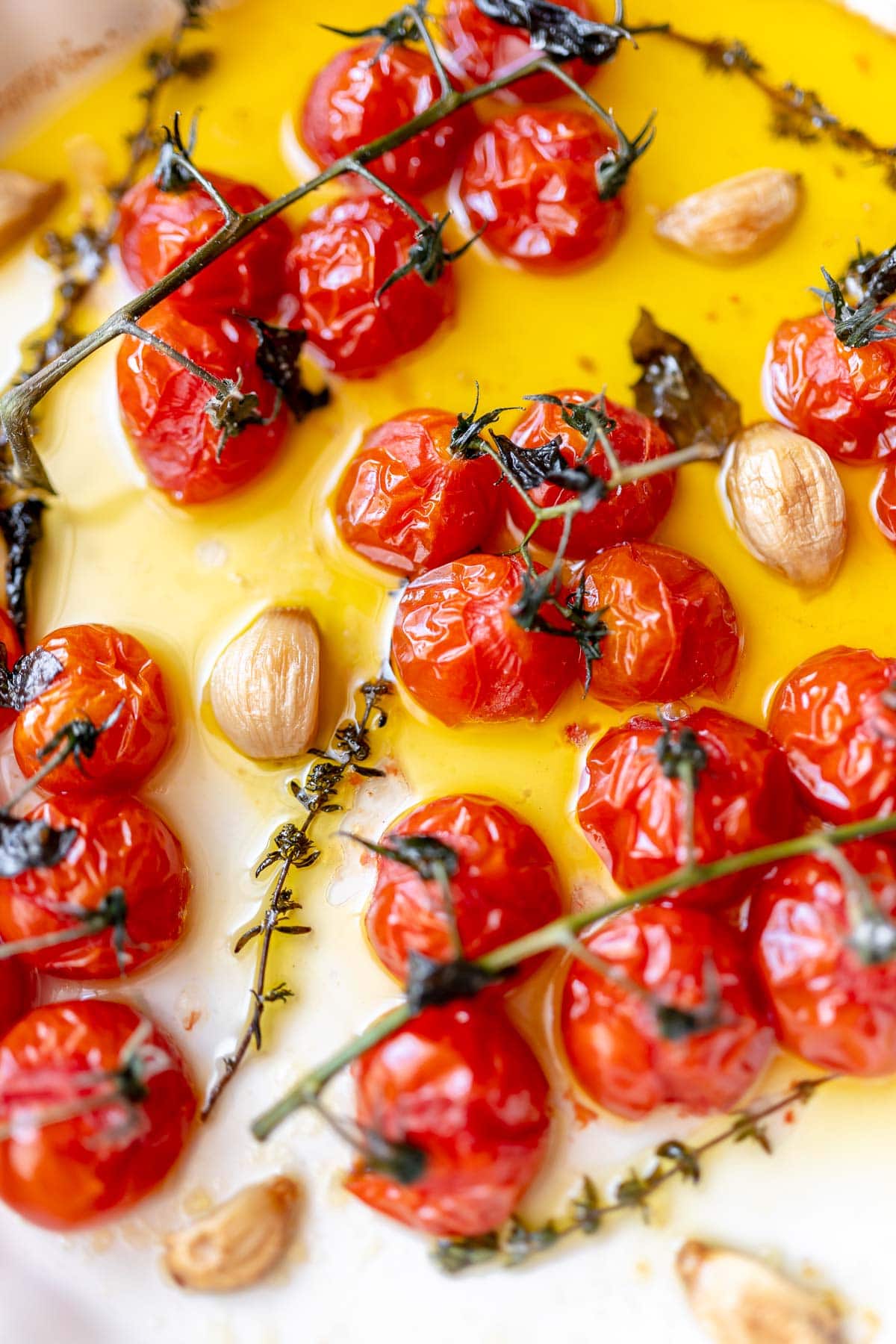 Why You'll Love This Recipe
East to prepare. You'll only need to combine a handful of ingredients in a baking dish, place them in the oven, and voila!
Lasts for a month. It's a great way to preserve fresh and juicy tomatoes from harvest season. They can last up to a month in the fridge and up to three months in the freezer.
Vegan and gluten-free. This recipe only uses tomatoes, garlic, olive oil, and herbs of your liking!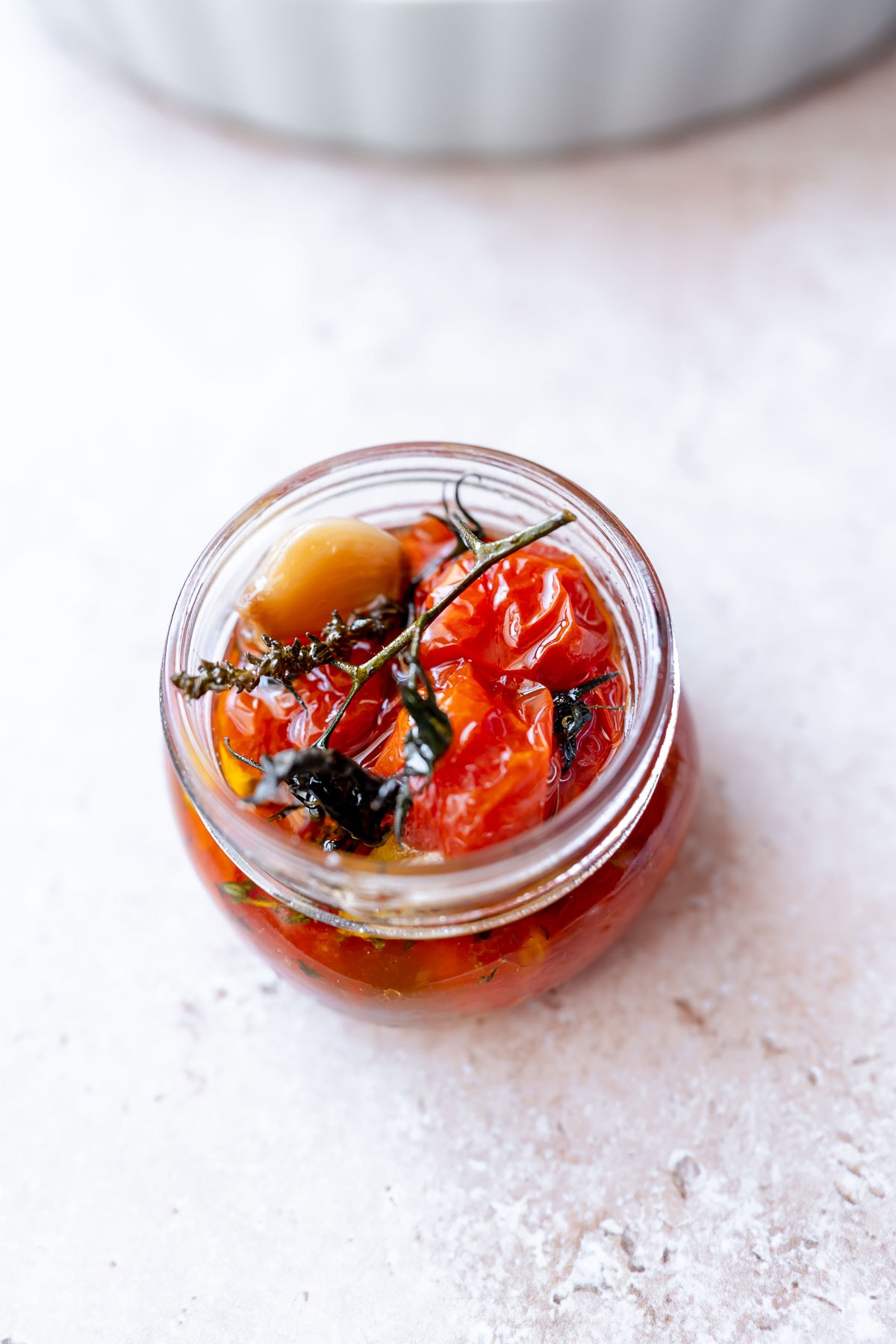 Ingredient Notes
Cherry Tomatoes: Use fresh and ripe cherry tomatoes on the vine for the best results. On the vine isn't absolutely necessary, but it does results in an even tastier confit. Make sure to choose plump and juicy whole cherry tomatoes for a delicious confit!
Garlic Cloves: Use garlic cloves to place in between the cherry tomatoes. Once cooked, olive oil infused with garlic gives a lovely flavor and aroma!
Fresh Basil Leaves: Add fresh basil leaves to enhance the flavor of your confit. Basil is known to have a sweet, savory, and peppery flavor profile and sweet aroma.
Fresh Thyme: Use fresh thyme sprigs for an added earthy and citrusy flavor. Additionally, you can also add other herbs such as fresh rosemary or fresh oregano. Have fun with it!
Olive Oil: I prefer to use quality extra-virgin olive oil for an exquisite result, but you can also use any good olive oil you prefer.
Coarse Sea Salt: Season your confit generously with sea salt. Coarse gives nice bursts of saltines, but fine salt can be used in a pinch.
How to Make Cherry Tomato Confit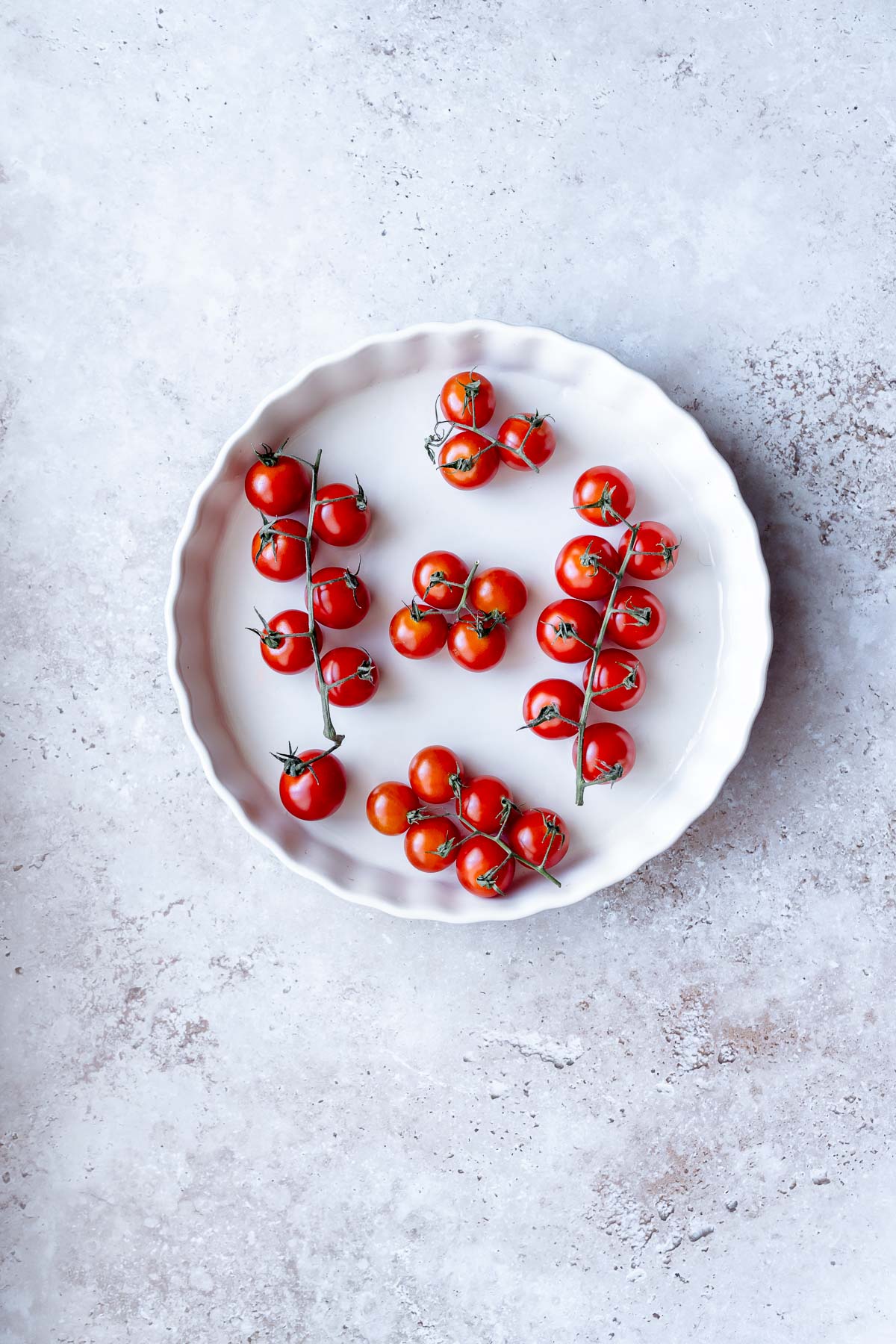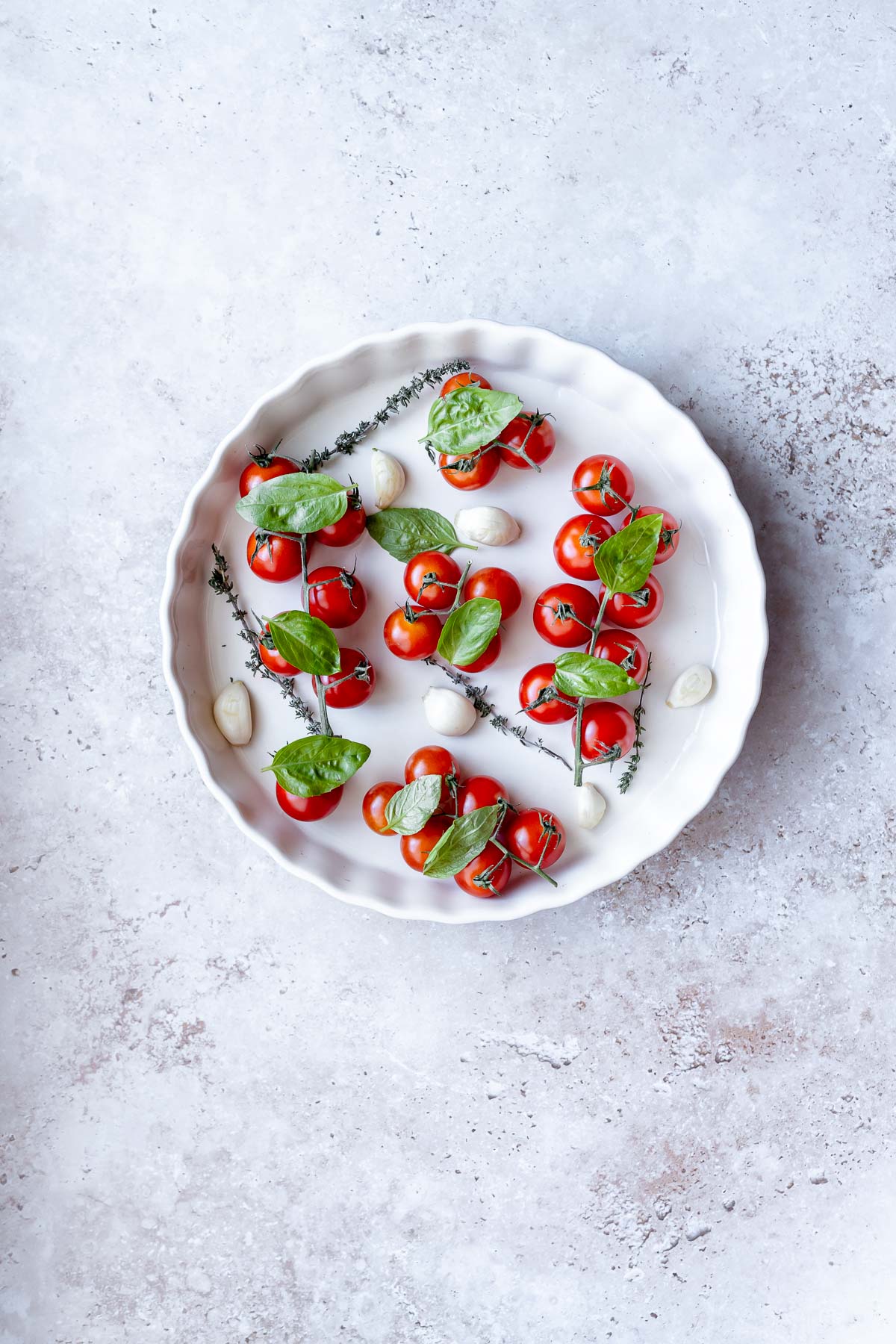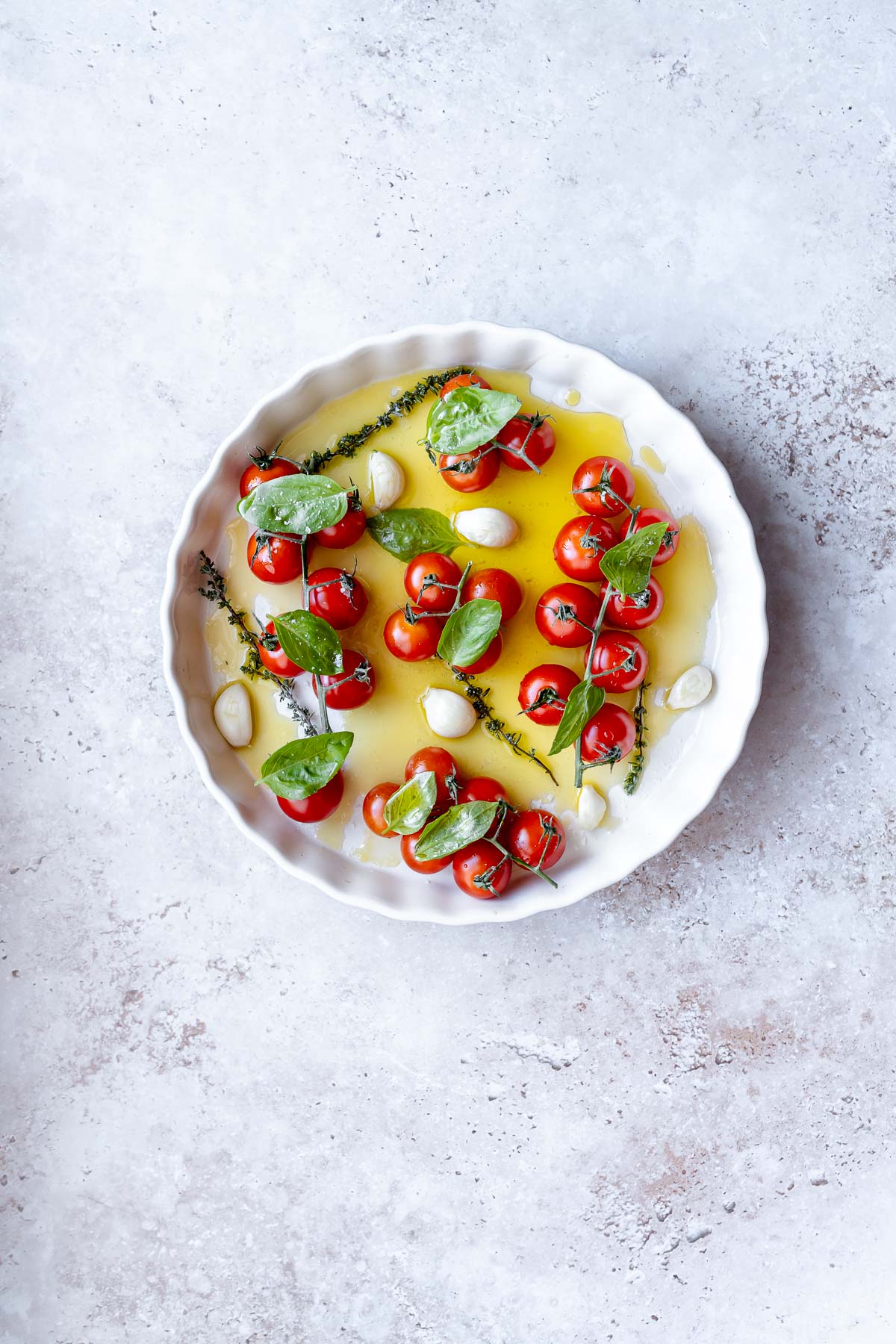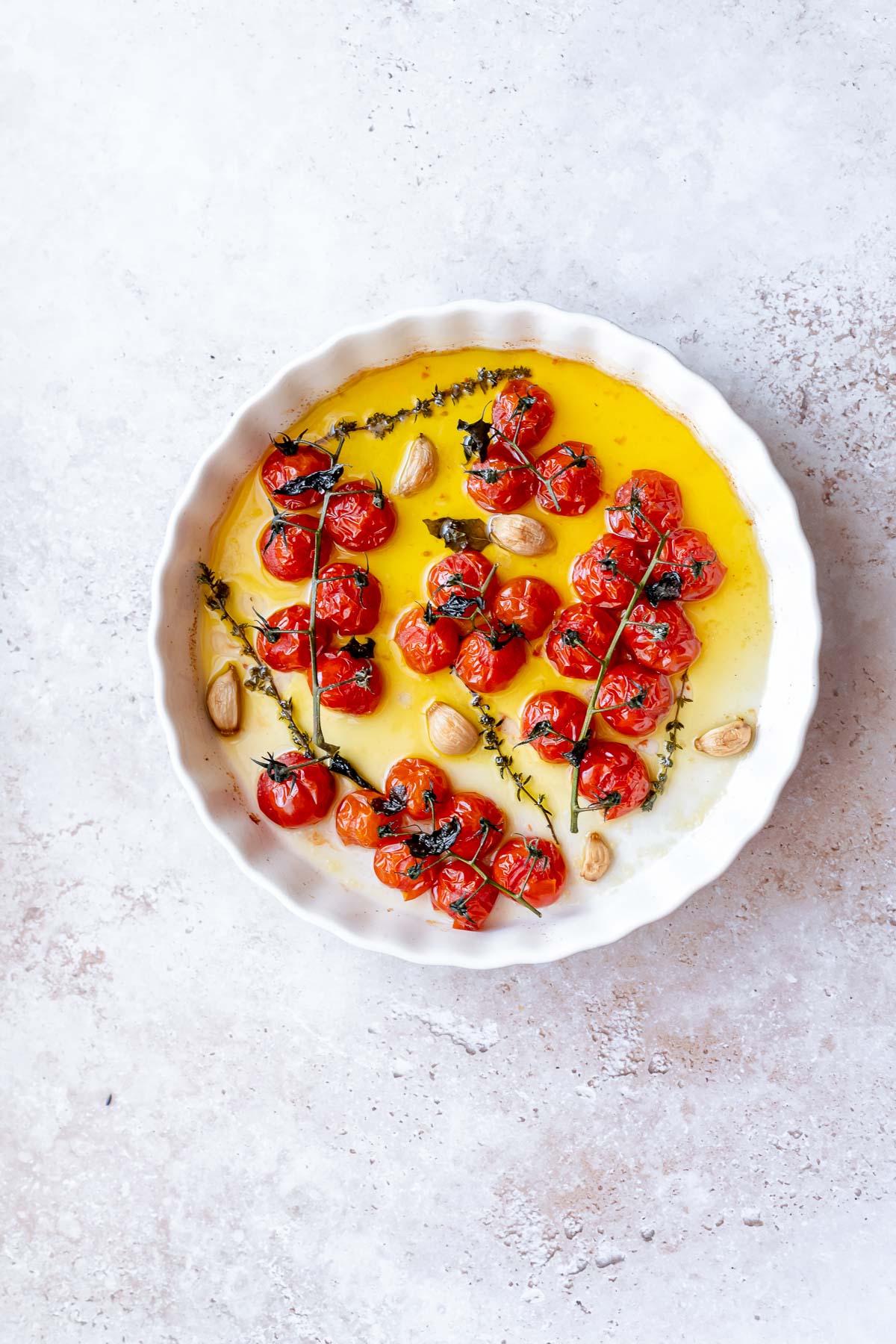 You simply place the ingredients in a single layer on a baking sheet and slow roast! Easy peasy.
How Long Does Tomato Confit Last?
This versatile cherry tomato confit can last up to a month when stored in an airtight container or jar and placed in the refrigerator. Make sure that the tomatoes are fully submerged in olive oil to prevent air from reaching them.
When stored in the freezer, this tomato confit can last up to three months. Make sure to place them in freezer-proof containers.
Before serving, make sure to bring the tomato confit to room temperature as the oil will likely solidify from the fridge or freezer. To reheat, simply place your tomato confit in a baking dish, and heat it in the oven at 300 degrees for 4-5 minutes.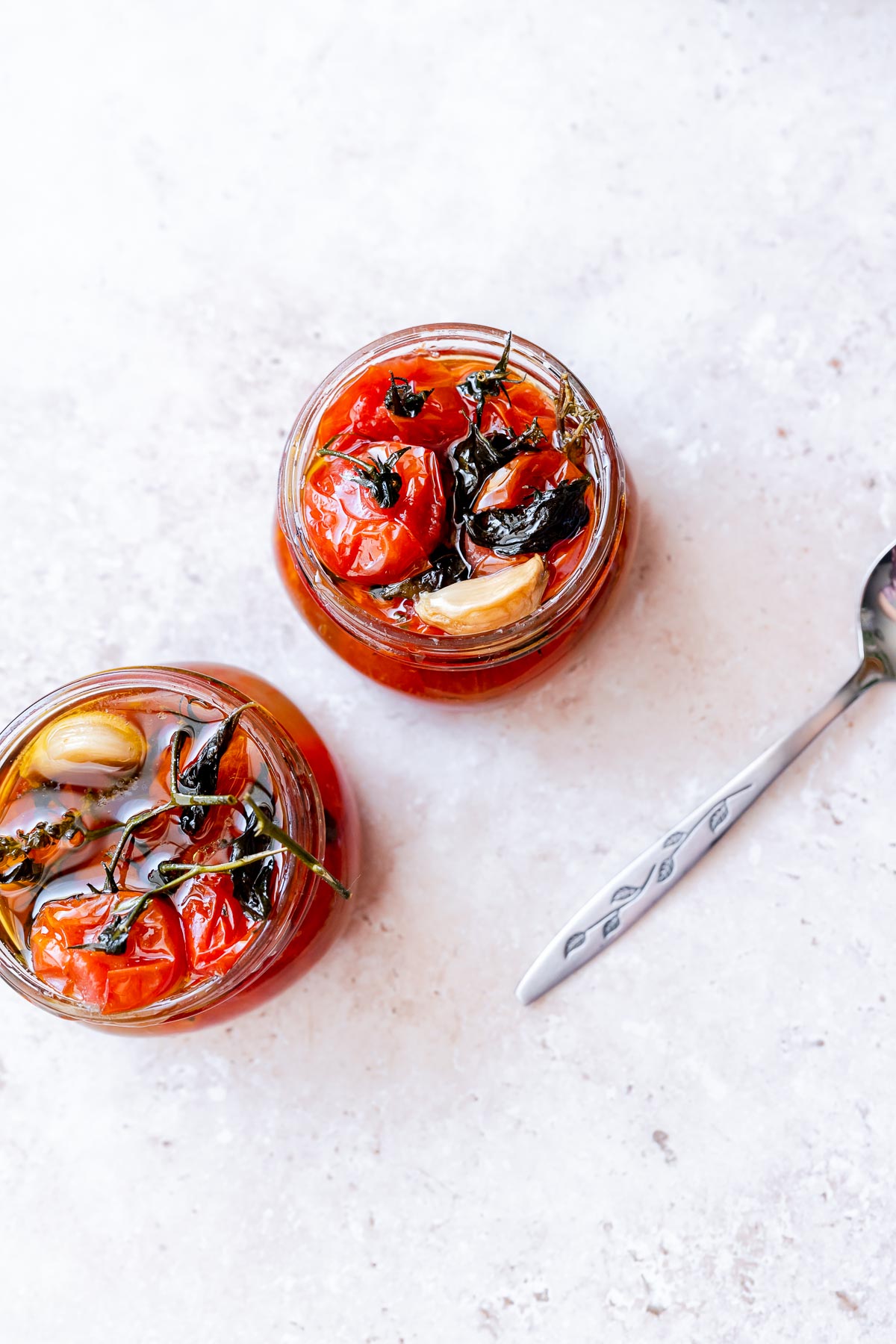 How Do You Serve Cherry Tomato Confit?
One of the best ways to enjoy tomato confit, is as a topping for bruschetta or as a spread for toast, drizzled with balsamic vinegar, or served with ricotta cheese or cream cheese for a delicious bite.
One of my favorite ways to enjoy tomato confit is to swirl it through freshly cooked pasta and sprinkle it with parmesan cheese.
Use the confit as a salad dressing served over greens.
As a side to your meals or as a topping to your protein.
As a topping for creamy hummus.
You can even blend tomato confit to make a tasty tomato sauce.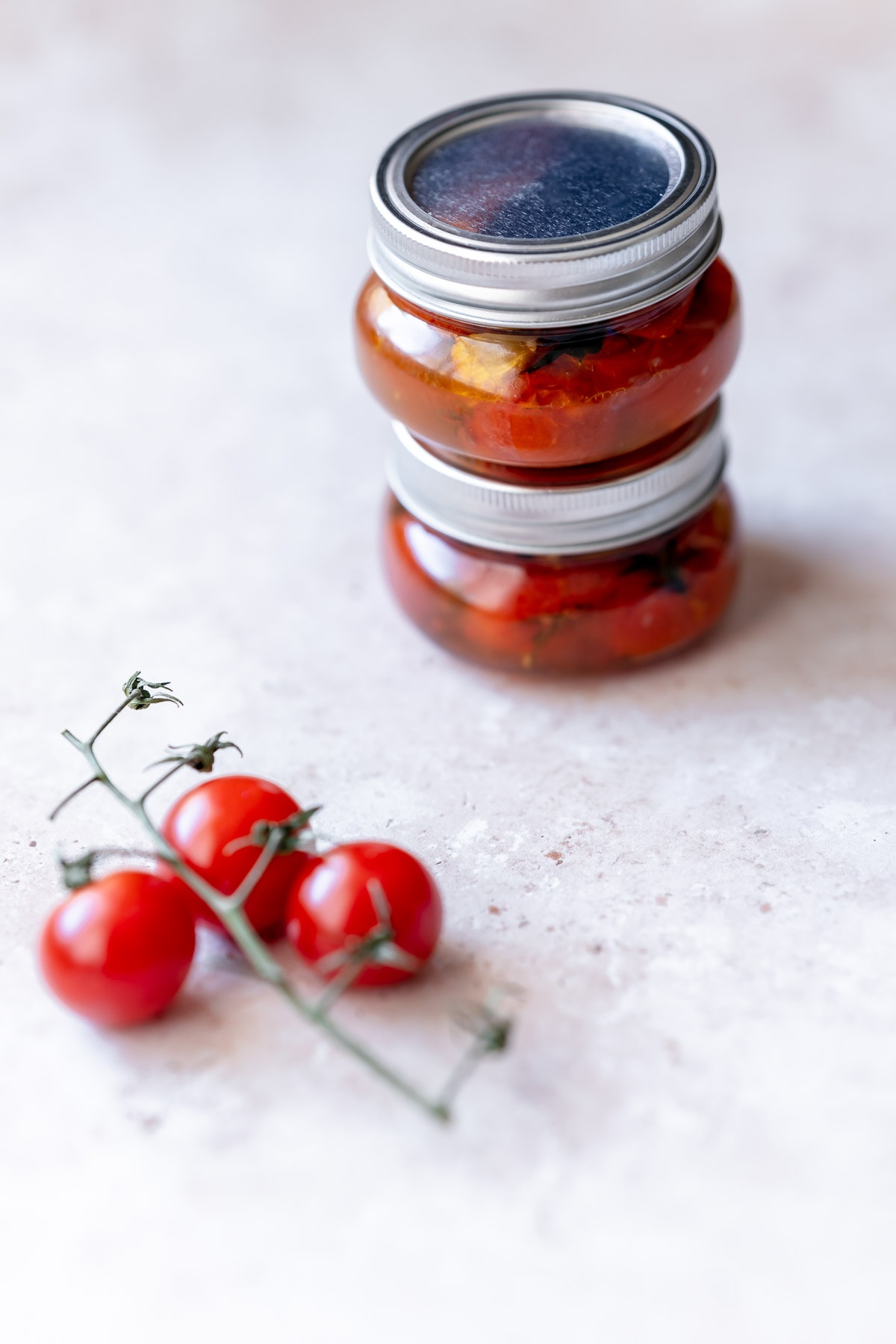 Frequently Asked Questions
What is confit?
The word confit is a French word that refers to a preservation method that involves slow-roasting vegetables or fruit in fat until tender and infused with flavor, resulting in a deliciously rich and aromatic dish.
What Can I Do With Tomato Confit Oil?
The flavorful oil that's leftover from your tomato confit can be stored in the refrigerator and used for cooking and drizzling. Use it to cook or saute vegetables, eggs, and other proteins. You can also drizzle it on your salad or use it as a dipping oil for bread.
How Do You Reheat Confit Tomatoes?
To reheat your tomato confit, simply place it on a baking dish and heat it in the oven at 300 degrees for about 4 to 6 minutes or until it is warm. If you only need a small amount of confit, you can place a portion on a microwave-safe dish and heat the confit for 2-3 minutes.
Can I Use Different Tomatoes With This Confit Recipe?
Definitely! While cherry tomatoes are the most popular variety for confit, you can use other types as long as they are fresh, ripe, and juicy. Plum tomatoes or grape tomatoes also work wonderfully well. Just take note that the confit will take longer to cook if you are using a bigger-sized tomato.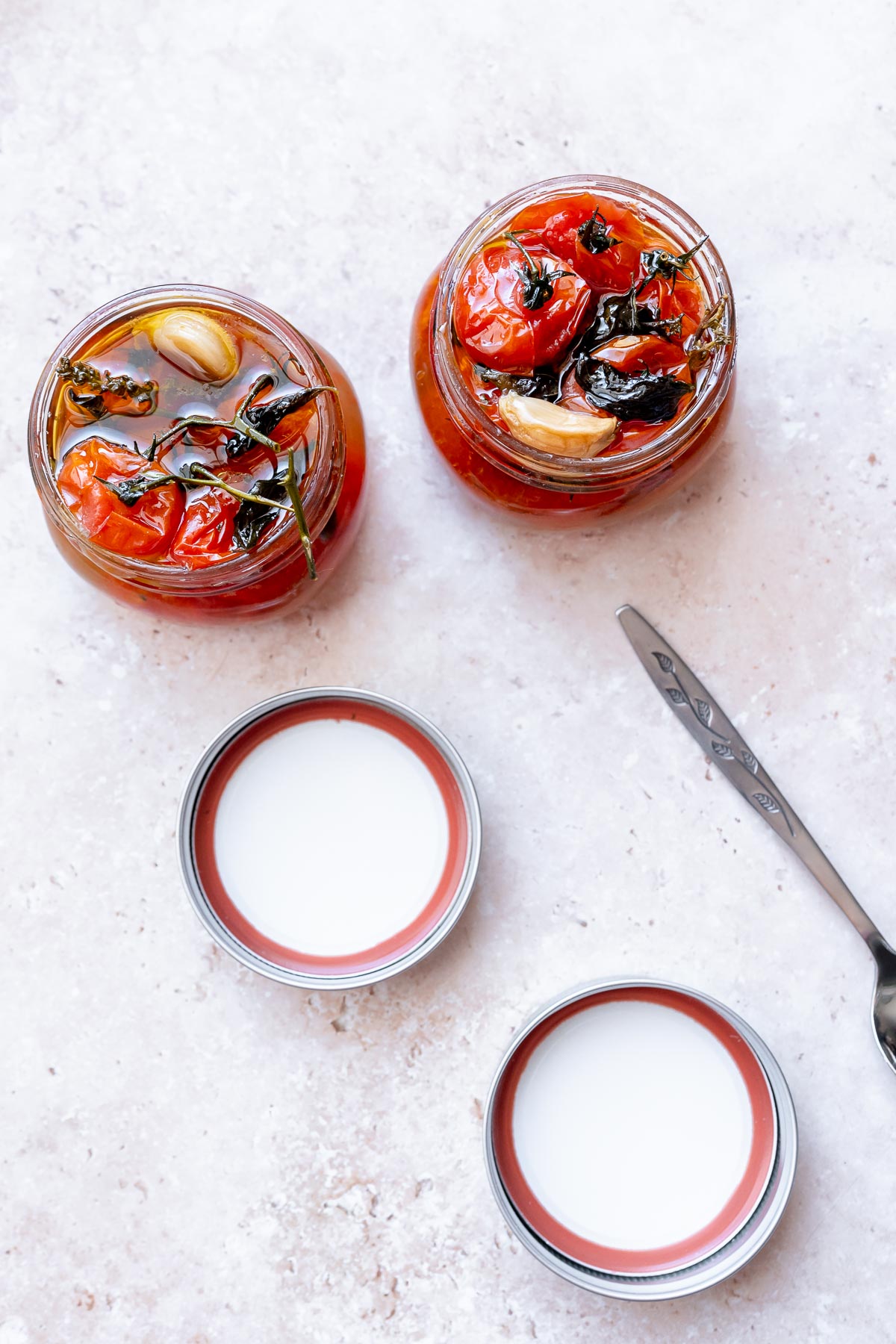 Top Tips
Spice it up
For a spicy touch to your confit, you can add a pinch of red pepper flakes and black pepper to your oil mixture. If you're looking for a more exciting twist to this recipe, you can even add chile de arbol or dried peppers and roast them alongside the preserved tomatoes and garlic.
Add more herbs
Aside from fresh basil and fresh thyme sprigs, you can also mix it up and add more fresh herbs such as oregano, rosemary, marjoram, dill, and any herb of your preference!
Add a bit of sugar
If your tomatoes have a very tart or sour taste, you can add a teaspoon of sugar to help balance the flavor of your confit.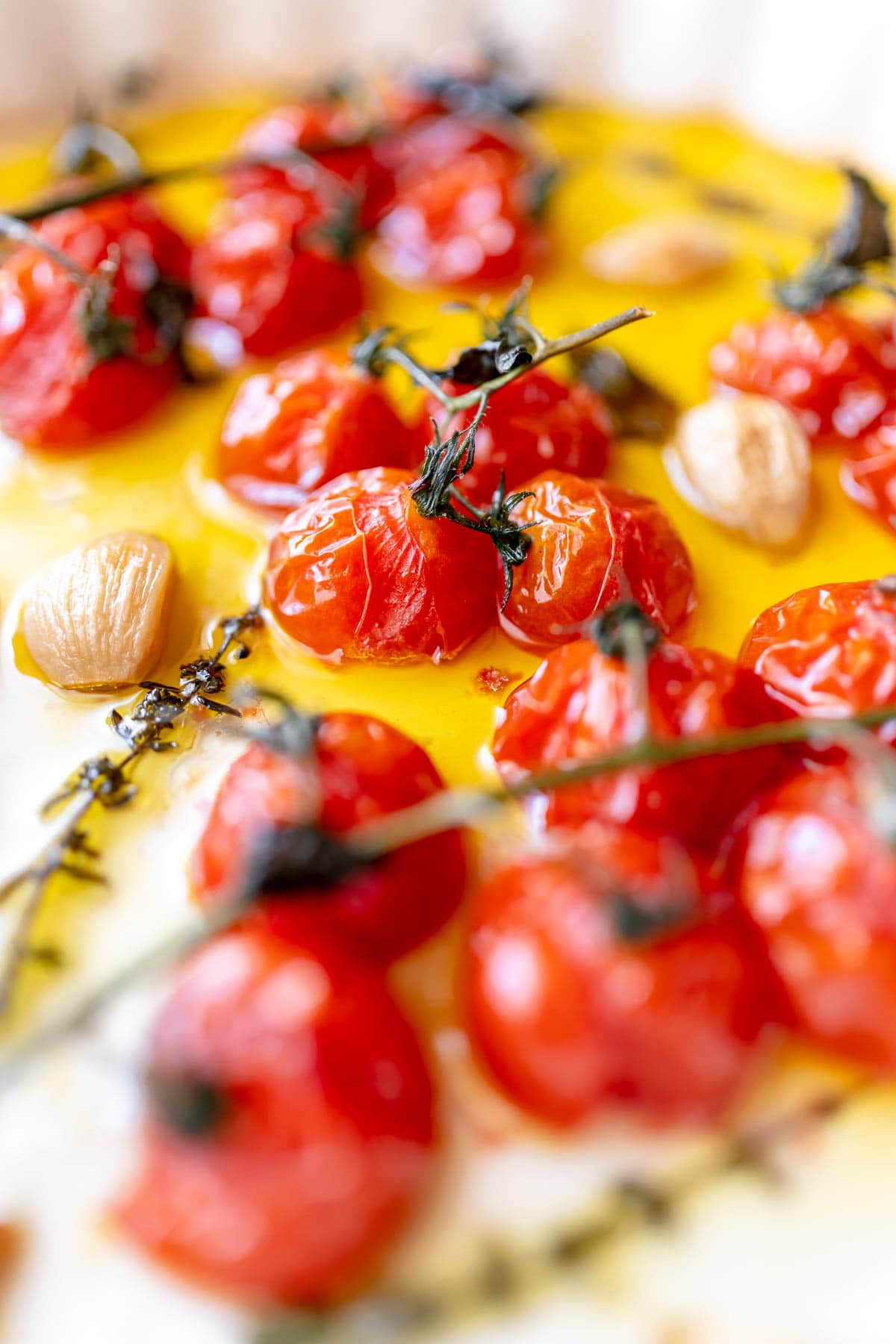 More Delicious Side Dishes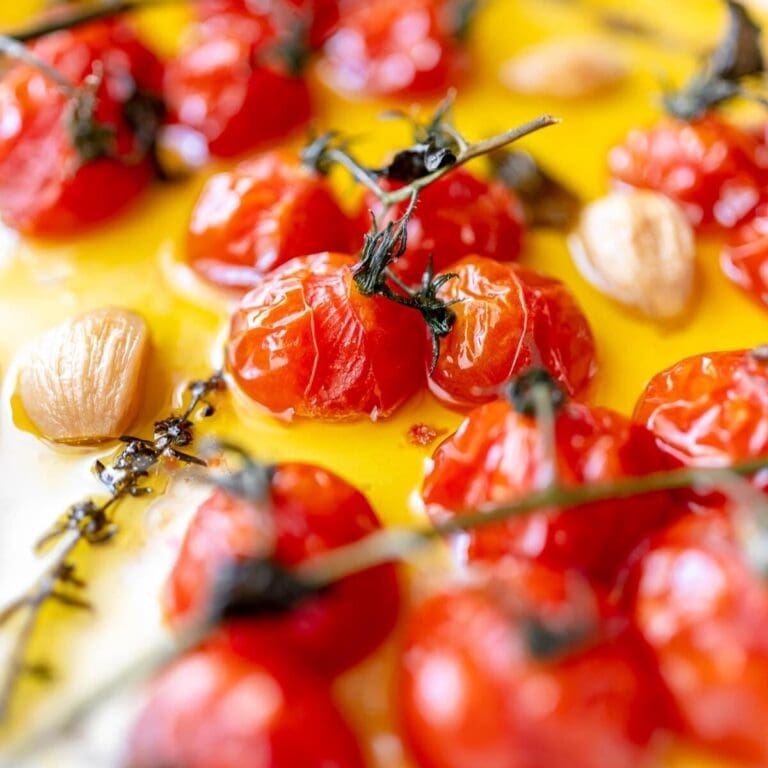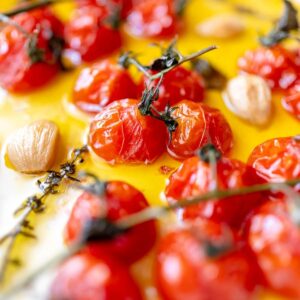 Cherry Tomato Confit
This recipe for Cherry Tomato Confit is a delicious way to give a whole new life to cherry tomatoes. They will turn into soft, sweet and delicious fruits, ready to eat at any time.
Print
Pin
Rate
Ingredients
12

ounces

fresh cherry tomatoes

6

garlic cloves

10

fresh basil leaves

4

sprigs fresh thyme

⅓

cup

extra virgin olive oil

1

teaspoon

sea salt

I like to use coarse in this recipe but fine salt works well too
Instructions
Preheat the oven to 325°F.

In a large baking dish place the tomatoes and garlic cloves in one single layer. Top evenly with the basil and thyme, then drizzle with the olive oil and sprinkle with salt.

Bake for 45 minutes or until the tomatoes have softened and the garlic has turned golden.

Enjoy right away or let cool before storing in the refrigerator for up to 4 weeks.
Notes
Feel free to use any fresh herbs of your choosing—have fun with it! This is a great recipe to use that good quality olive oil you have stowed away. You can use tomatoes on or off the vine, but tomatoes on the vine do come out more flavorful from my experience.
Nutrition
Serving:
1
serving
|
Calories:
159
kcal
|
Carbohydrates:
1
g
|
Protein:
1
g
|
Fat:
18
g
|
Saturated Fat:
2
g
|
Polyunsaturated Fat:
2
g
|
Monounsaturated Fat:
13
g
|
Sodium:
582
mg
|
Potassium:
3
mg
|
Fiber:
1
g
|
Sugar:
1
g
|
Vitamin A:
53
IU
|
Vitamin C:
1
mg
|
Calcium:
2
mg
|
Iron:
1
mg
Have you tried this recipe?
Please Rate + Comment Below!
Watch Our Latest Videos
Follow us on YouTube!