Disclaimer: Please note that some of the links below in this post are affiliate links and I will earn a commission if you purchase through those links. I regularly use and recommend all of the products listed below because I find them to be of great quality and use! All proceeds go back into maintaining and creating for this site. Thank you!
Last Updated on
Basil Vinaigrette made with basil, onion, garlic, mustard, vegan mayo, vinegar, olive oil and spices for a quick, easy, healthy, creamy and delicious salad dressing recipe perfect for salads, soups, bread, pasta — you name it! Low-carb and keto diet friendly!
This little basil dressing is so perfectly flavorful, versatile and healthy! Whether using as a vinaigrette for salads, a dip or condiment for your favorite dishes, you are certain to be pleased with its deliciousness and vibrancy! We love keeping a bottle on hand at all times, as it never goes to waste.
Basil Vinaigrette
This Creamy Basil Vinaigrette recipe is:
Creamy, vibrant, and flavorful.

Versatile, and can be enjoyed a variety of ways.

Super healthy and easy to make.

Easily stored, and keeps well in the fridge.

Vegan, keto friendly, low-carb, dairy-free, soy-free, gluten-free, nut-free, sugar-free.
What ingredients are needed to make Basil Vinaigrette?
Fresh basil leaves.

Onion.

Garlic.

Mustard.

Vegan mayo.

Apple cider vinegar.

Olive oil.

Spices.
How-to Make Basil Vinaigrette Salad Dressing – Step by Step
Combine ingredients in a blender or food processor.
2. Blend until smoothly combined.
3. Pour into desired container of choice.
4. Enjoy right away or refrigerate until ready to use!
Top Tips for Making Creamy Basil Keto Vinaigrette
Keep it Fresh!

I recommend using super fresh basil for highest pungency and flavor!

Low-Carb Keto Vinaigrette

To ensure you are keeping this salad dressing recipe keto-friendly, make sure the mustard and mayonnaise you use does not contain any added sugar!
Common Recipe Questions
Can I use regular mayonnaise instead of vegan mayo in this basil vinaigrette recipe?

Yes! So long as you do not observe a vegan or egg-free diet, regular mayo works perfectly!

How long can I store this dressing?

This basil vinaigrette keeps well in lidded containers in the refrigerator for up to 10 days.
More Salad Dressing Recipes
Pumpkin Seed Vegan Ranch Dressing
Turmeric & Cilantro Sunflower Seed Sauce
Spicy Turmeric Tahini Sauce (Vegan, Gluten-Free)
If you try this recipe please let me know! Leave a comment, rate it, share this post, use Pinterest's "tried it" feature, or take a photo, & tag me on Instagram and I'll share it! Thank you so much! <3
Creamy Vegan Basil Vinaigrette (Keto Friendly)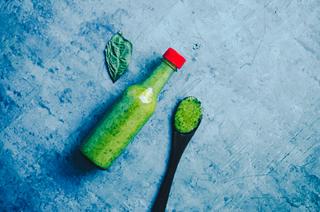 Author: Kristen Wood | 9-23-2019
prep time: 5 minutes
cook time: 0 minutes
total time: 5 minutes
Yields: approx. 1 cup dressing (8 servings)
---
Ingredients:
1 cup packed fresh basil leaves (25 grams)
1/2 onion
1 garlic clove
6 tablespoons olive oil
2 tablespoons apple cider vinegar
2 tablespoons vegan mayonnaise (I love Thrive Market's)
1 teaspoon dijon mustard
1/4 teaspoon black pepper
1/4 teaspoon red chili flakes
sea salt or pink salt, to taste
---
Instructions:
In a food processor or blender combine all of the above ingredients.
Blend until desired consistency.
Salt to taste.
Enjoy!
---
Nutrition:
Serving: 2 tablespoons
Fat: 11 grams
Calories: 104
Carbs: 1.2 grams
Fiber: 0.2 grams
NOTE: Please see 'Tips' above in the blog post for suitable substitutions, storage advice and more!
Shop This Recipe
Pin it for Later
Onion.
Garlic.
Mustard.
Vegan mayo.
Apple cider vinegar.
Olive oil.
Spices."
}
},{
"@type": "Question",
"name": "Can I use regular mayonnaise instead of vegan mayo in this basil vinaigrette recipe?",
"acceptedAnswer": {
"@type": "Answer",
"text": "Yes! So long as you do not observe a vegan or dairy-free diet, regular mayo works perfectly!"
}
},{
"@type": "Question",
"name": "How long can I store this dressing?",
"acceptedAnswer": {
"@type": "Answer",
"text": "This basil vinaigrette keeps well in lidded containers in the refrigerator for up to 10 days."
}
}]
}