Disclaimer: Please note that some of the links below in this post are affiliate links and I will earn a commission if you purchase through those links. I regularly use and recommend all of the products listed below because I find them to be of great quality and use! All proceeds go back into maintaining and creating for this site. Thank you!
Last Updated on
This vegan ranch dressing recipe is made with pumpkin seeds for extra creaminess and nutritional value. It is easy, healthy, delicious, keto friendly and packed with good for you ingredients. Whether for dipping your favorite appetizers or dressing your salads, this vegan ranch dressing has it got it all!
I'm a sucker for a good condiment. It doesn't matter what I'm eating, I'm usually slathering it in a dressing, dip or sauce of some sort. This vegan ranch dressing recipe is no exception — it is packed with nutritional power and big flavor for a lovely salad dressing that also works well as a dip or sauce! It's fast become a staple around here, and we so hope you love it, too!
This Vegan Ranch Dressing Recipe is
Creamy and refreshing.

Versatile, and can be enjoyed as a salad dressing, dip, sauce or marinade.

Super easy to make.

Packed with delicious Ranch dressing flavor.

Gluten-free, vegan, dairy-free, soy-free, nut-free, sugar-free, keto and low-carb friendly.
Ingredients Needed to Make Vegan Ranch
Pumpkin seeds.

Milk (I like to use almond milk).

Apple cider vinegar.

Onion.

Fresh mint or parsley.

Dried dill weed.

Paprika.

Mustard.

Salt.

Black pepper.
How to Make Vegan Pumpkin Seed Ranch Dressing
Combine all ingredients in a food processor or high speed blender.

Blend until desired consistency.

Enjoy!
Great Ways to Use Vegan Ranch Dressing
Drizzle on salads for that classic Ranch dressing experience.

Use in your favorite sandwiches.

Use as a dip for your favorite appetizers and snacks.

Marinate tofu or brush over veggies before roasting them.

Use as a sauce for buddha bowls, tacos, pizza and more.
Top Tips for Making Vegan Ranch Dressing
I designed this recipe around pumpkin seeds, but I have since made it with sunflower seeds and a blend of the two – it all works!

If you want an even thicker and creamier ranch dressing, I advise using coconut cream in place of milk.

In a pinch, dried mint or parsley can be used in place of fresh – use 1/2 teaspoon instead.

Fresh dill can be used in place of dried – use 2 tablespoons minced instead.

Do you want a spicy vegan ranch dressing recipe? Add a pinch of cayenne or red chili flakes.

One fun variation of this recipe we enjoy is making it into a vegan chipotle ranch dressing by omitting the dill and adding 1/2 teaspoon of chipotle powder instead.

The salt content can vary greatly with salted seeds, so if using them, I advise blending, tasting and adding a touch of salt only if needed before blending again.

If your blender or food processor is less than ideal when it comes to blending thing smoothly, simply combine the ingredients and let them soak at least an hour before blending to ensure a smoother dressing!

This dressing stores well in airtight containers or jars in the refrigerator for up to one week.
More Vegan Condiments
Spicy Turmeric Tahini Sauce (Vegan, Gluten-Free)
The Best Vegan BBQ Sauce (Gluten-Free)
The Best Chimichurri Verde Sauce (Vegan, Gluten-Free)
Spicy Cilantro Avocado Hummus (Vegan, Gluten-Free)
Turmeric & Cilantro Sunflower Seed Sauce (Vegan, Gluten-Free)
If you try this recipe please let me know! Leave a comment, rate it, share this post, use Pinterest's "tried it" feature, or take a photo, & tag me on Instagram and I'll share it! Thank you so much! <3
This Vegan Ranch Dressing is great served alongside THESE BBQ Cauliflower Wings and THIS Roasted Cauliflower Salad!
Vegan Pumpkin Seed Ranch Dressing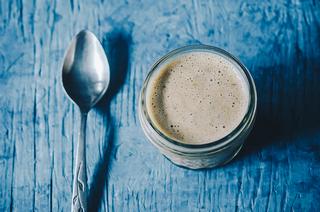 Author: Kristen Wood | 7-22-2019
prep time: 10 minutes
cook time: 0 minutes
total time: 10 minutes
Yields: approx. 1 cup salad dressing
---
Ingredients:
1/2 cup milk of choice (I like to use unsweetened almond)
1/4 cup raw pumpkin seeds, salted or unsalted
2 tablespoons white or yellow onion, minced
2 tablespoons fresh mint or parsley, finely chopped
1 tablespoon apple cider vinegar
1 teaspoon spicy brown or dijon mustard
1/2 teaspoon paprika
1/2 teaspoon salt for unsalted seeds, salt to taste for salted seeds
1/4 teaspoon freshly ground black pepper
1/8 teaspoon dried dill weed
---
Instructions:
In a food processor or blender combine all of the above ingredients.
Blend until desired consistency. (If using salted seeds, salt to taste.)
Enjoy!
---
Nutrition:
Serving: 2 tablespoons
Fat: 2.2 grams
Calories: 27
Carbs: 1.2 grams
Fiber: 0.2 grams
NOTE: Please see 'Tips' above in the blog post for suitable substitutions, storage advice and more!
Shop This Recipe
Pin it for Later