This delicious Roasted Cauliflower Salad makes for one healthy, easy, delicious and filling dish topped with a delightful Sweet and Spicy BBQ Roasted Cauliflower packed with loads of flavor and spice. Contrasted with fresh, crisp iceberg lettuce, and my pumpkin seed vegan ranch dressing, this vegan salad is a medley of pleasing textures, too!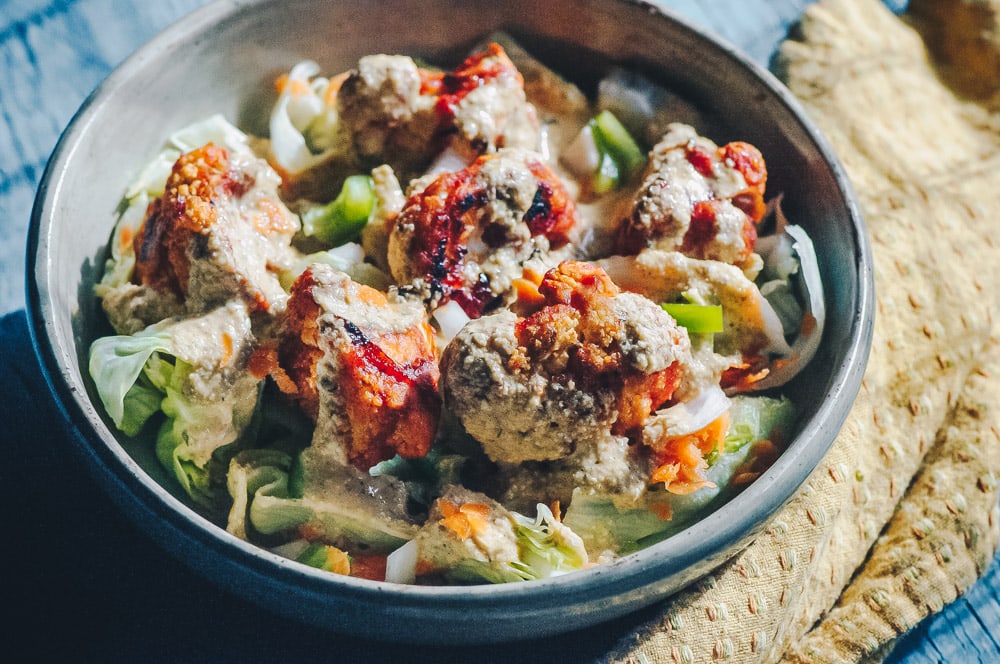 This hearty vegan salad is a medley of pleasing textures and flavors — from crisp and refreshing to rich and spicy, this sumptuous Roasted Cauliflower Salad has got something for everyone!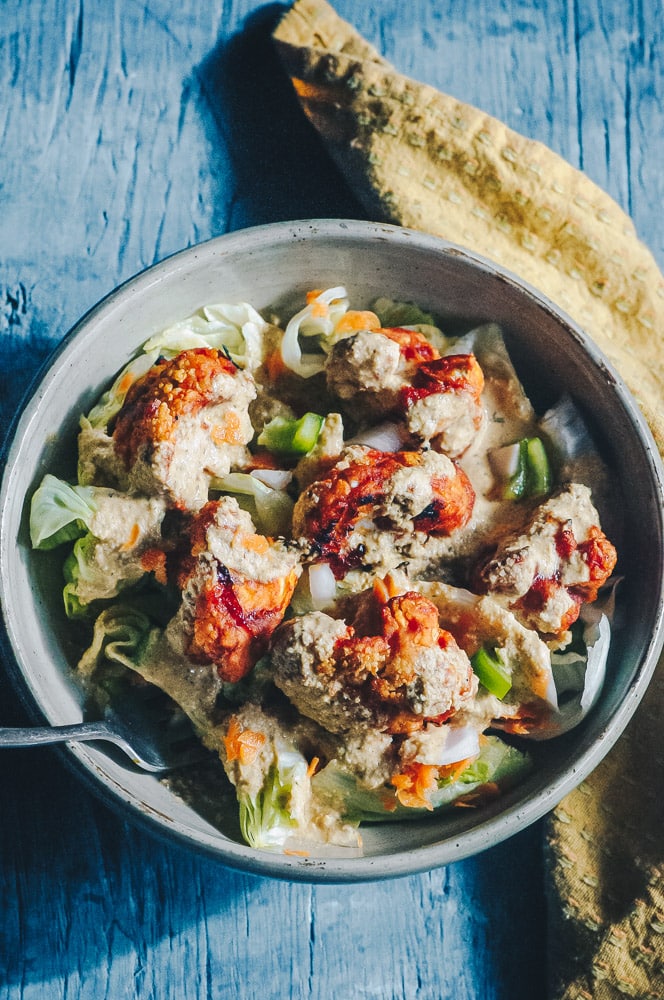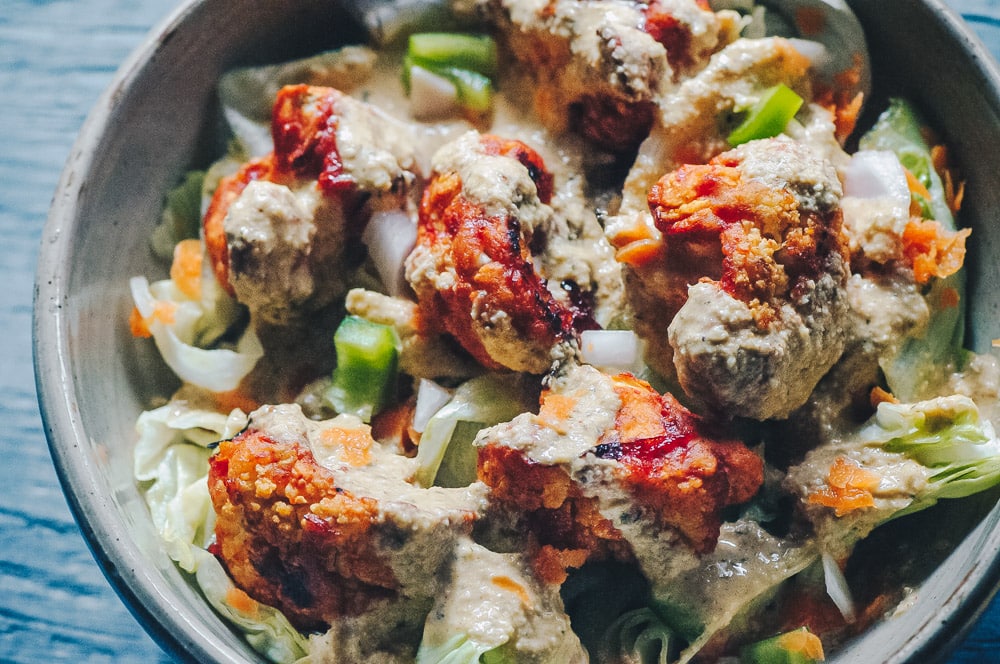 This Roasted Cauliflower Salad is
Filling, hearty and nutritious.

Crisp & refreshing.

Perfectly accented by sweet and spicy notes from Roasted BBQ Cauliflower Wings.

Easy to make.

Great served as a lunch, dinner or side.

Vegan, gluten-free, dairy-free, soy-free, nut-free, optionally refined sugar-free.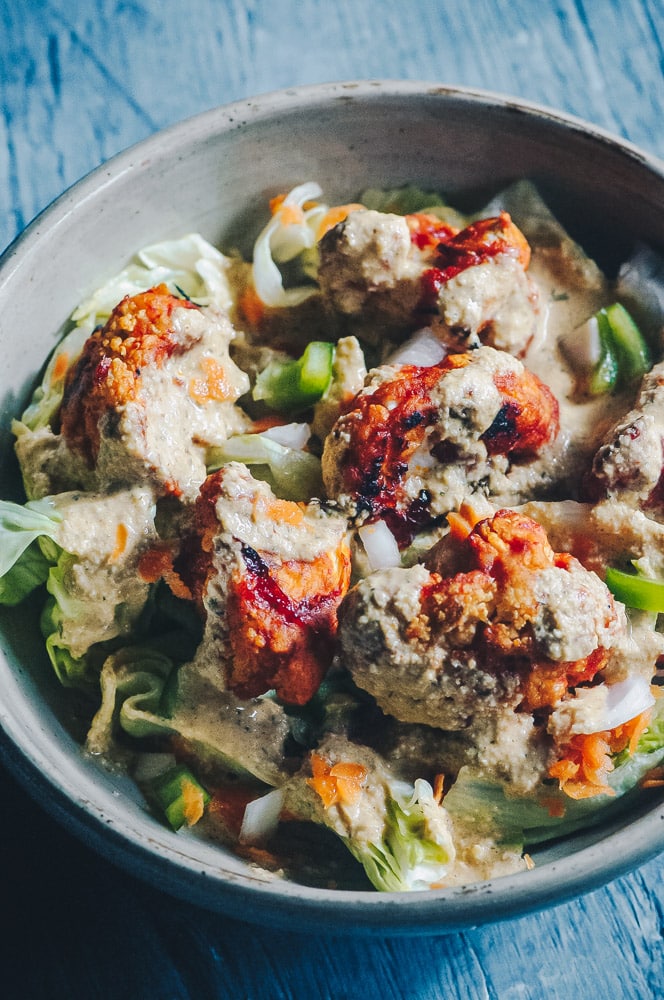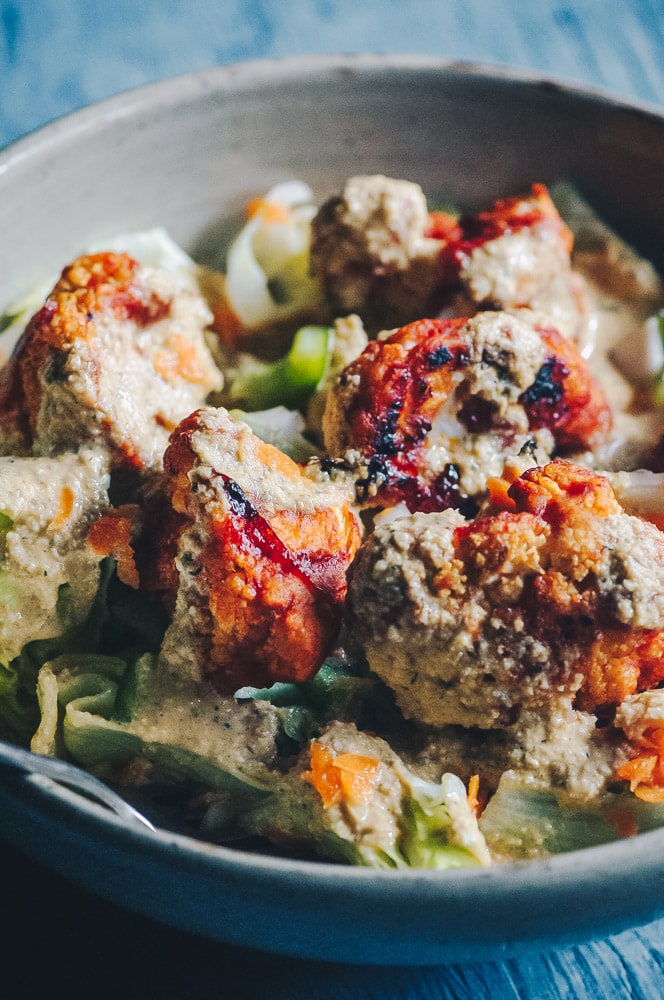 Ingredients Needed to Make BBQ Roasted Cauliflower Salad
Iceberg Lettuce

Bell Pepper

Onion

Carrot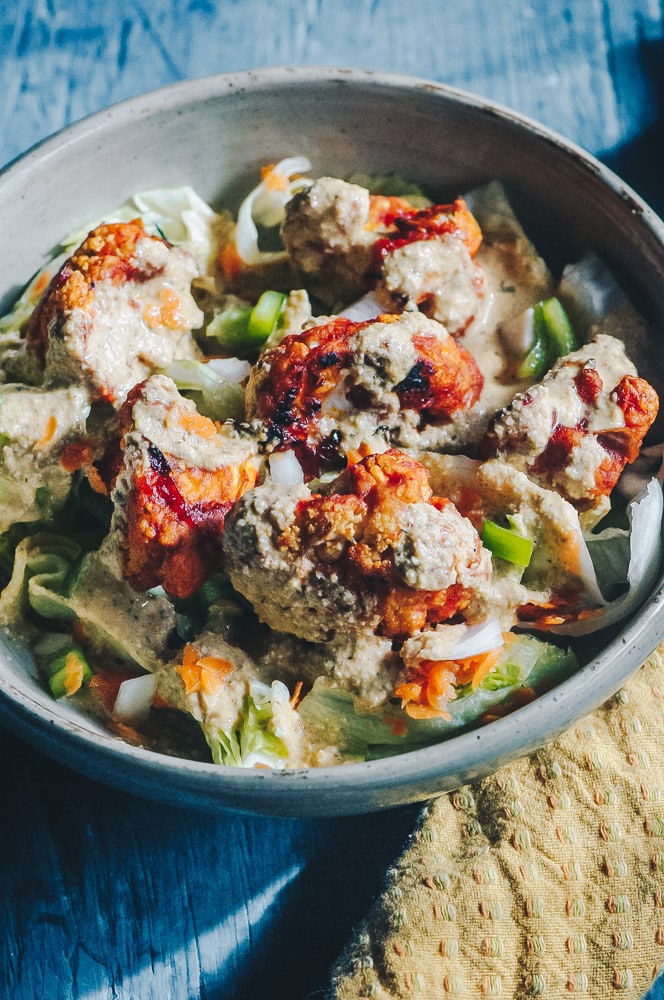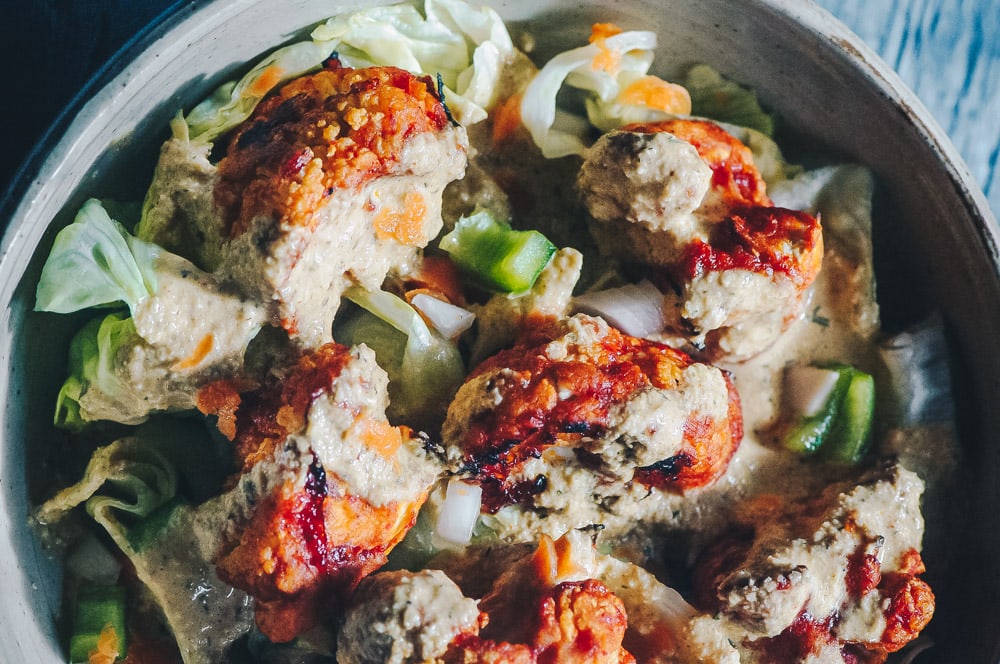 How to Make Roasted Cauliflower Salad
Make a batch of BBQ Roasted Cauliflower Wings.

Optionally, make a batch of my Vegan Ranch Dressing or use store-bought dressing of choice.

Chop lettuce, peppers, and onion. Shred carrots.

Place lettuce, peppers, onion and carrots in a bowl. Top with BBQ Roasted Cauliflower. Drizzle with dressing of choice.

Enjoy!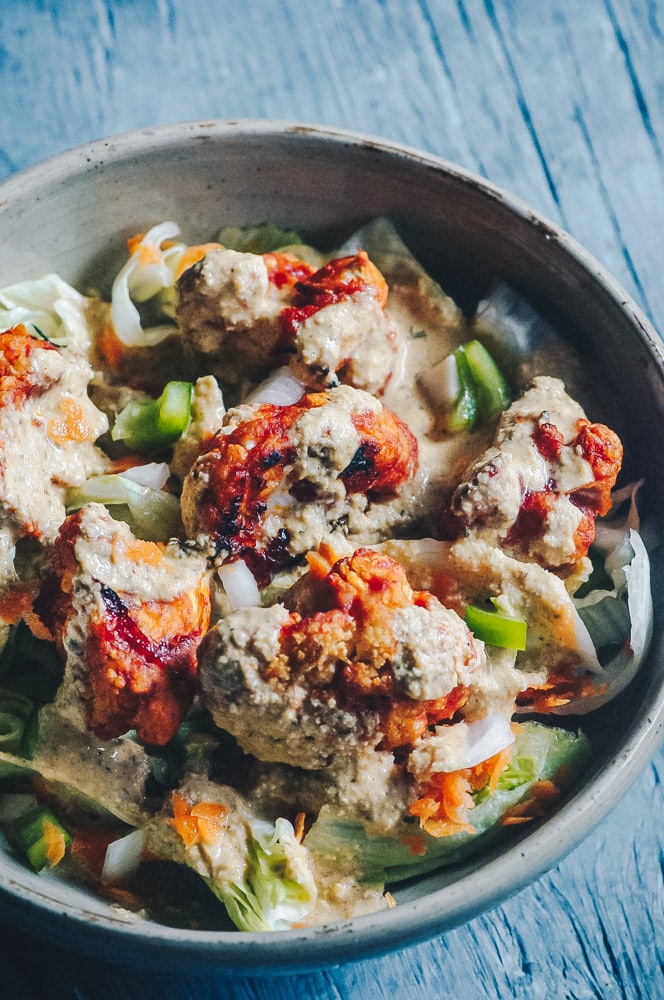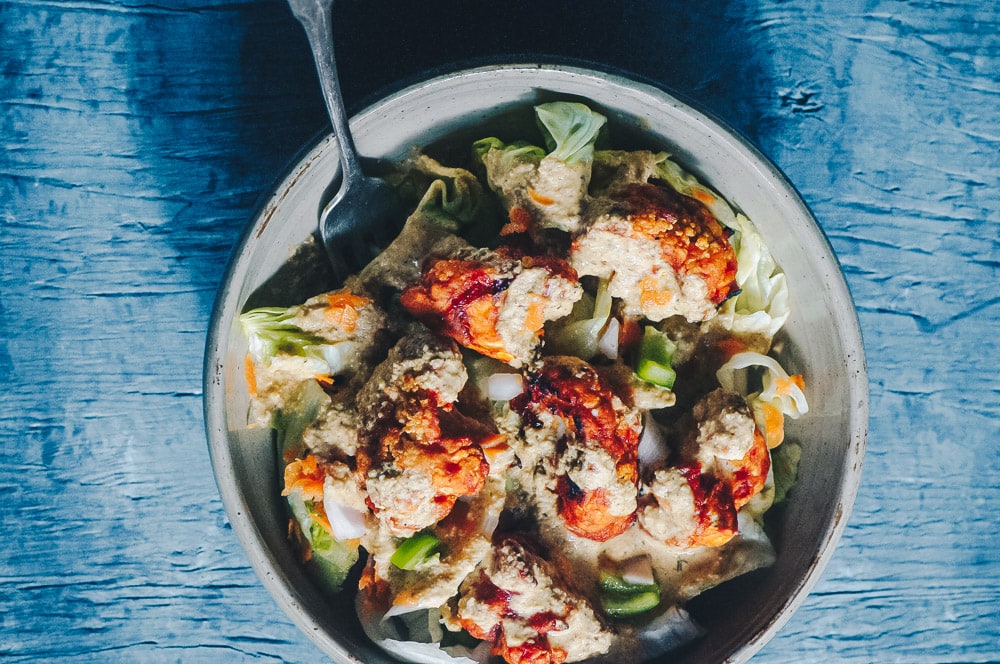 Top Tips for Making BBQ Cauliflower Ranch Salad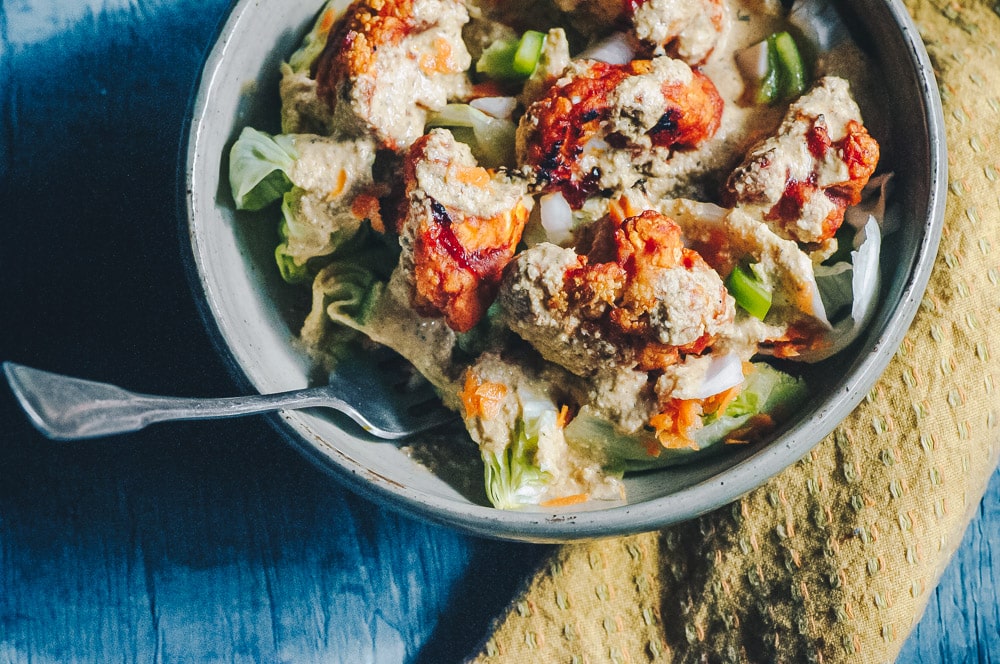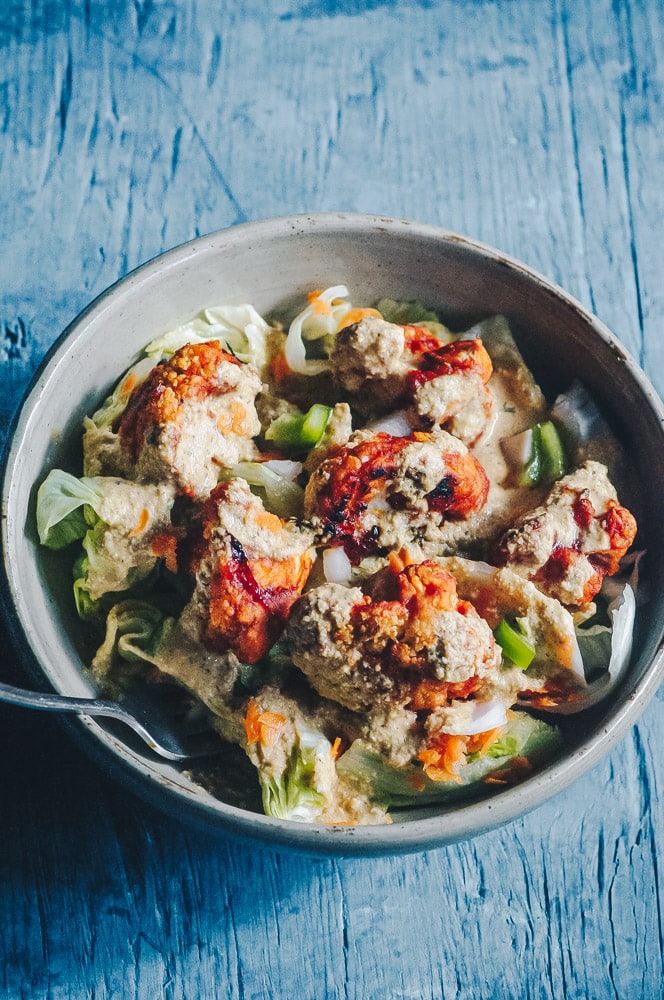 More Vegan Lunch Ideas You Might Like
Vegan Zucchini Fritters (Gluten-Free)
Easy Baked Vegan Gluten-Free Samosas
Zesty Smashed Chickpea Salad Sandwich (Gluten-Free, Vegan)
Gluten-Free Vegan Lentil Minestrone Soup
Spicy Pumpkin Seed Butter Pad Thai (Vegan, Gluten-Free, Soy-Free, Nut-Free)
BBQ Chickpea Walnut Burgers (Vegan, Gluten-Free)
Spicy Chimichurri Chickpea Pasta Bowl (Vegan, Gluten-Free)
Spicy Southwestern Vegan Corn Chowder With Quinoa, Potatoes + Red Lentils
Red Lentil Flatbread Pizza Crust (Gluten-Free, Vegan)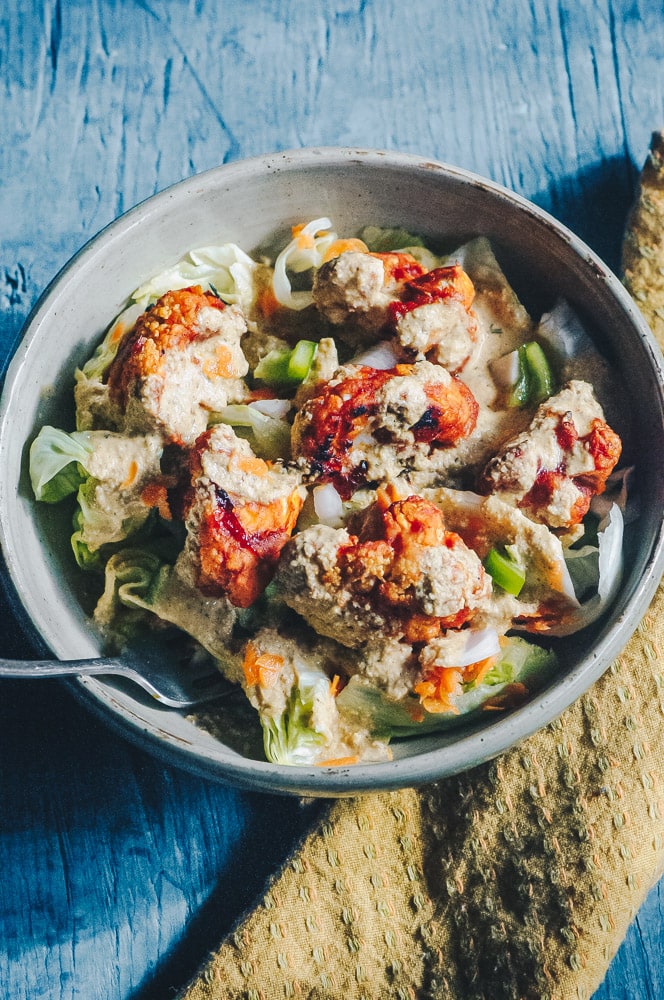 If you try this recipe please let me know! Leave a comment, rate it, share this post, use Pinterest's "tried it" feature, or take a photo, & tag me on Instagram and I'll share it! Thank you so much! <3
BBQ Roasted Cauliflower Salad (Gluten-Free, Vegan)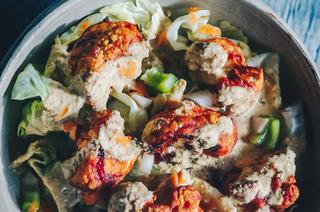 Author: Kristen Wood | 7-24-2019
prep time: 15 minutes
cook time: 40 minutes
total time: 55 minutes
Yields: approx. 4 large salads
---
Ingredients:
---
Instructions:
Prepare BBQ Roasted Cauliflower Wings according to recipe instructions.
Assemble the salad by filling a bowl with chopped iceberg lettuce, onion, bell pepper and shredded carrots. Top with pre-prepared cauliflower wings. Drizzle with vegan ranch or any favorite dressing.
Enjoy!
---
Nutrition:
Serving: 1 salad
Fat: 2.6 grams
Calories: 127
Carbs: 18 grams
Fiber: 2.8 grams
NOTE: Please see 'Tips' above in the blog post for suitable substitutions, storage advice and more!
Shop This Recipe
Pin it for Later