The BEST Fire Cider Recipe
This post may contain affiliate links, and we receive an affiliate commission for any purchases made by you using these links. We appreciate your support!
Homemade Fire Cider is an age-old natural remedy that boasts powerful immune-boosting properties. Learn how to make this great-tasting spicy concoction here.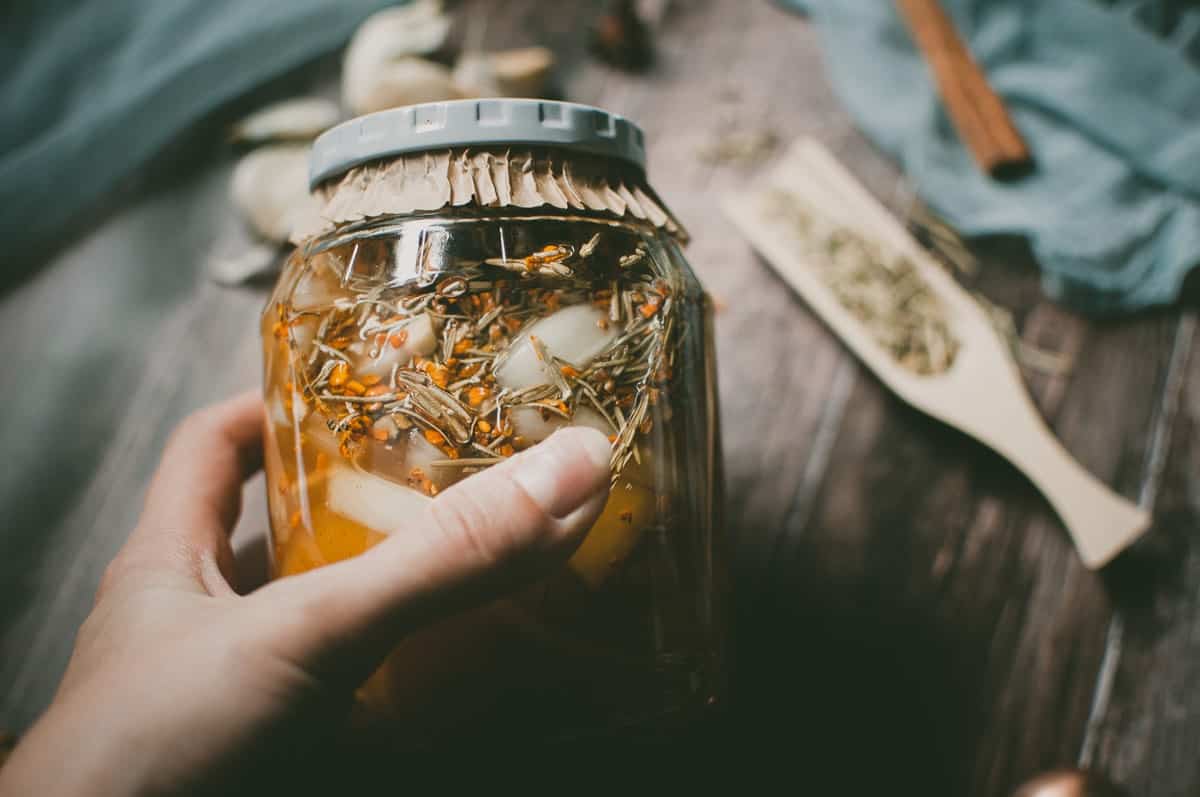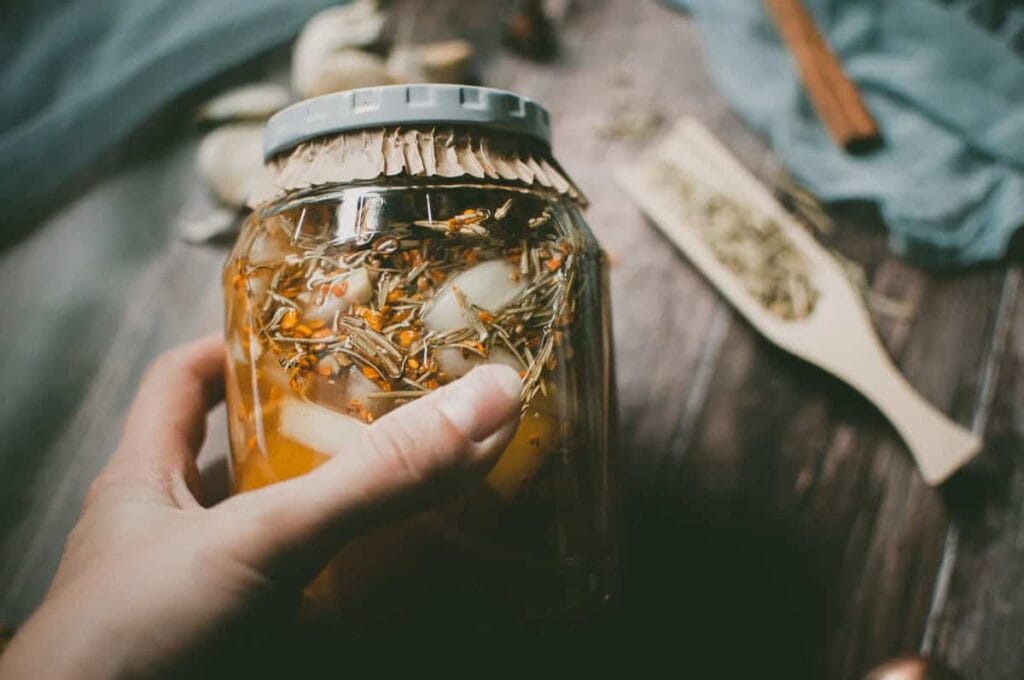 Filled with both dried and fresh ingredients to support the immune system, get digestive juices flowing and warm you up from inside out — this nourishing fire tonic recipe is both easy to make and versatile in its uses!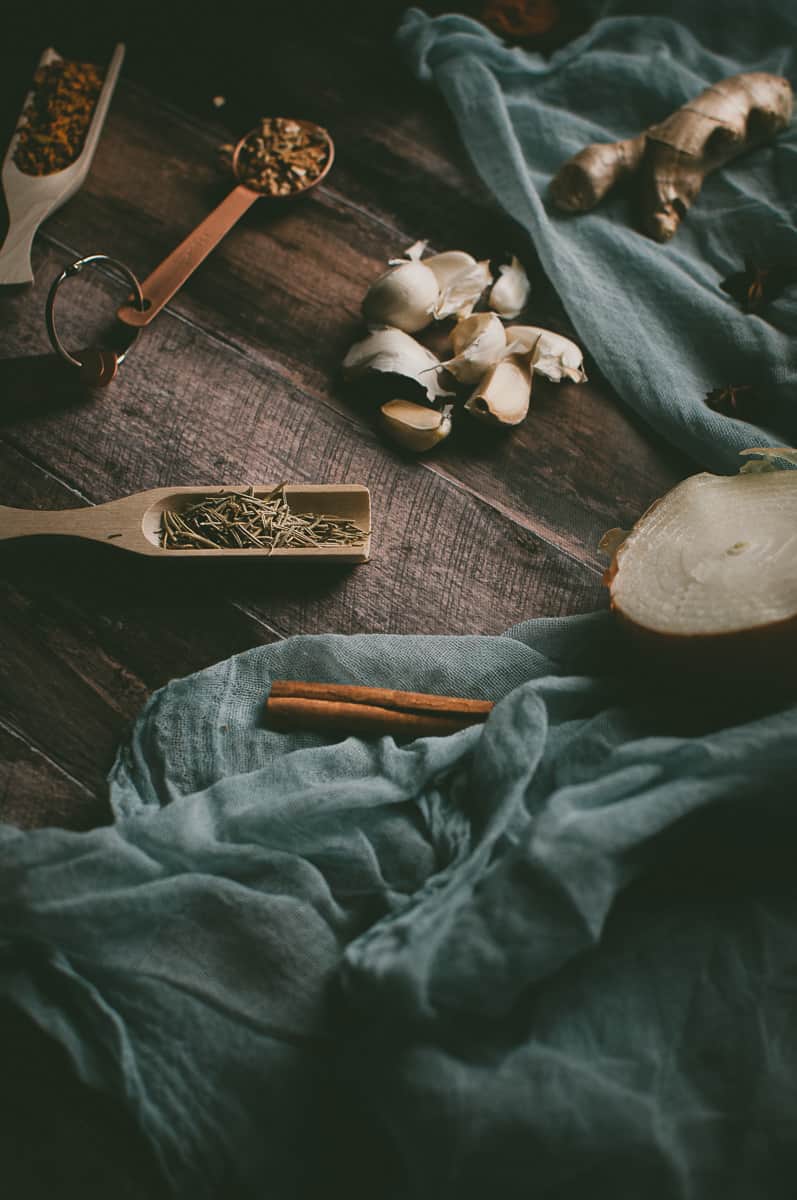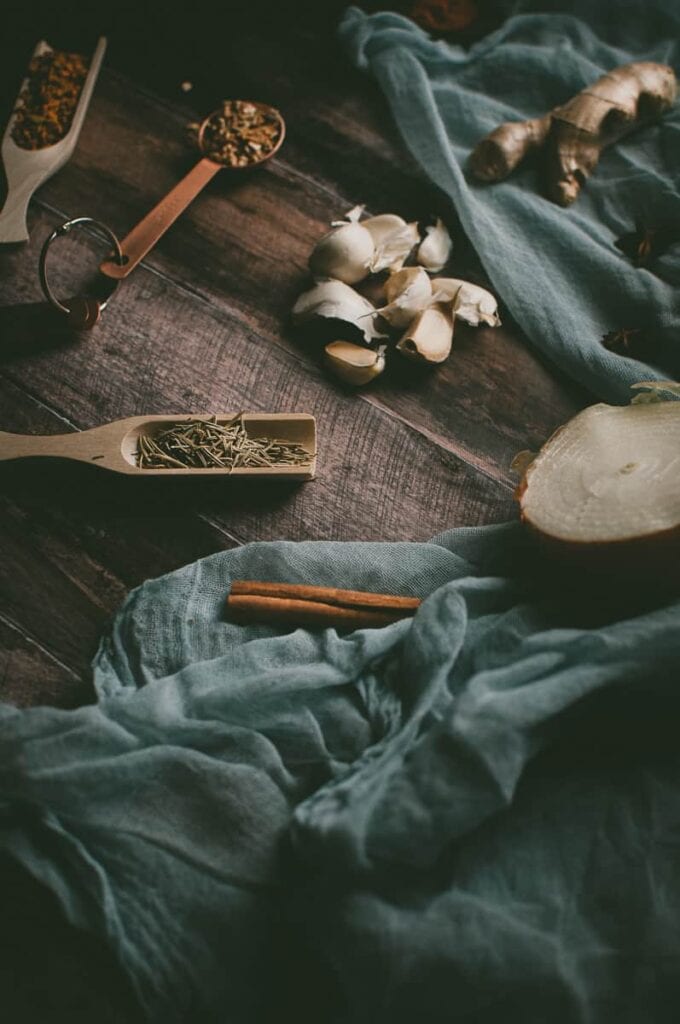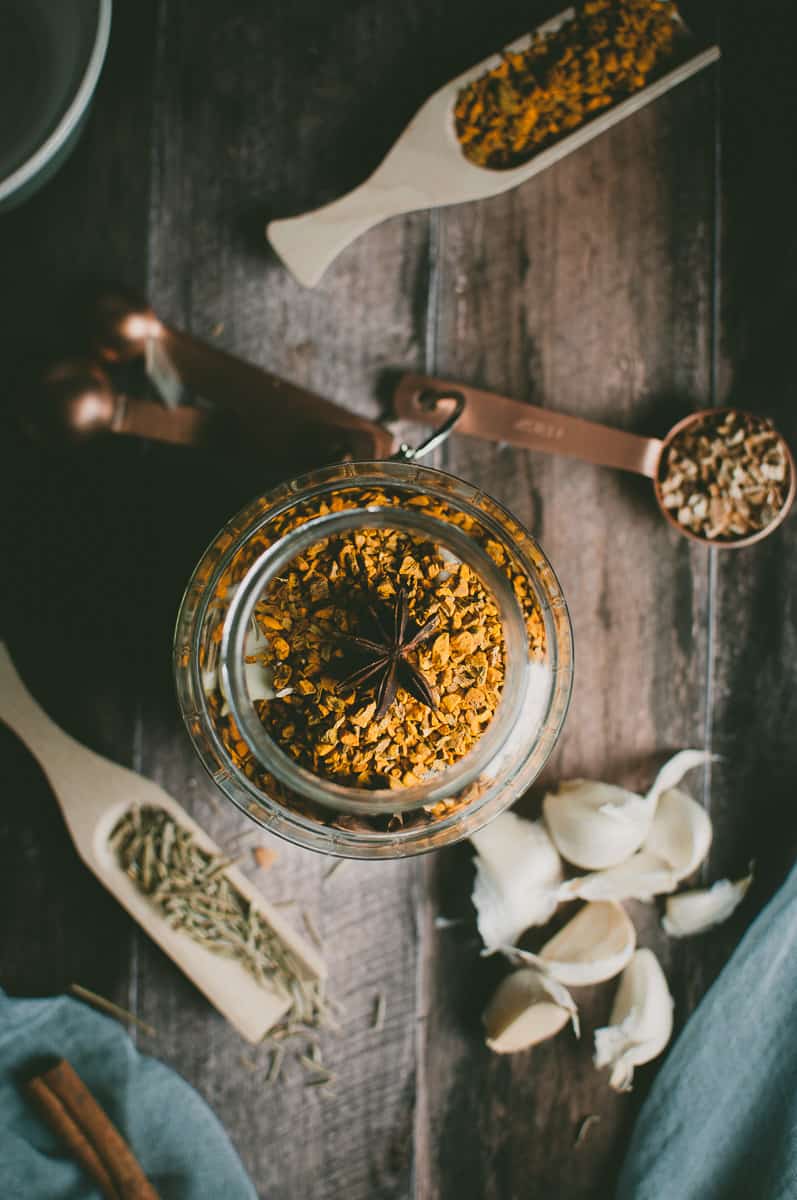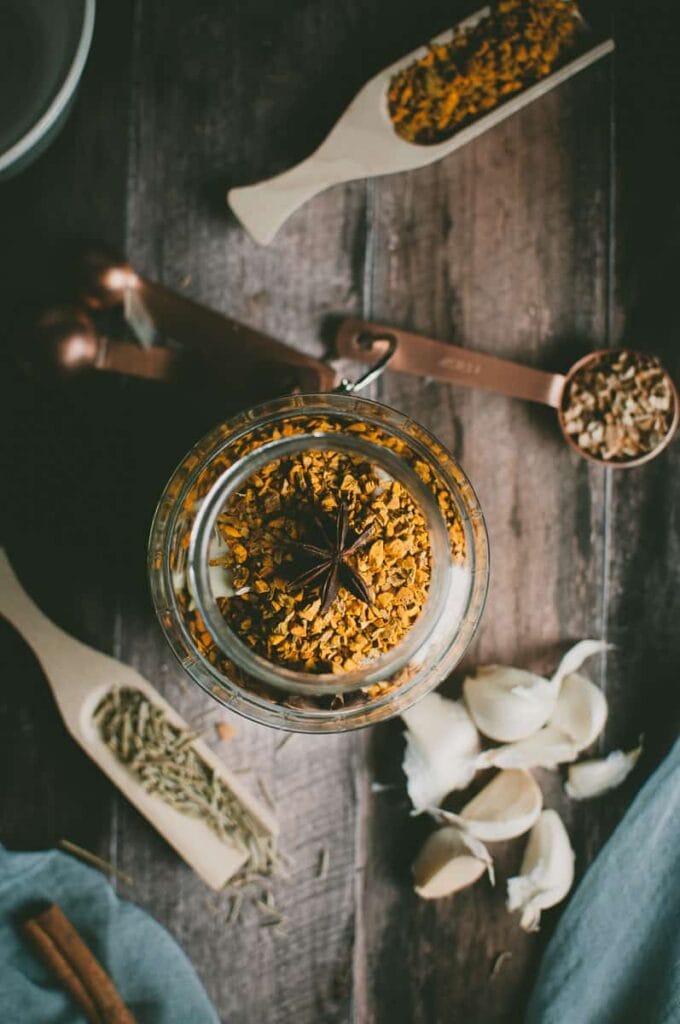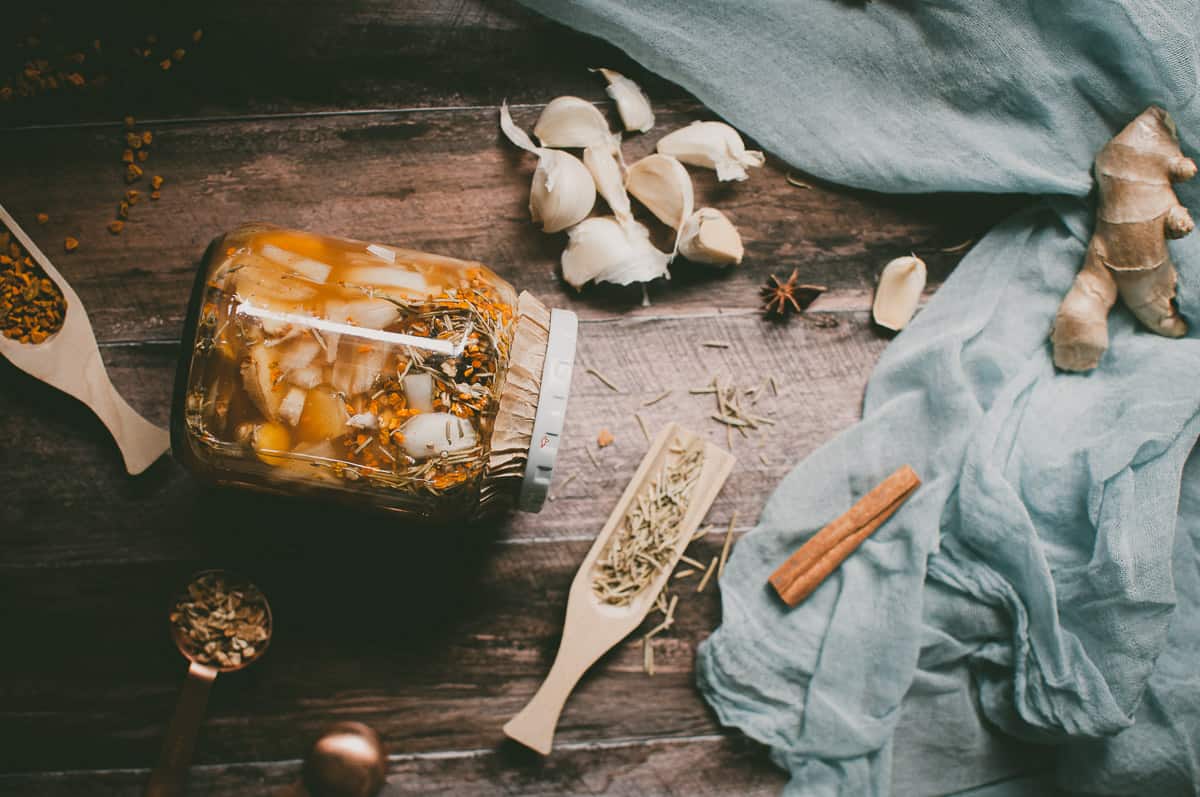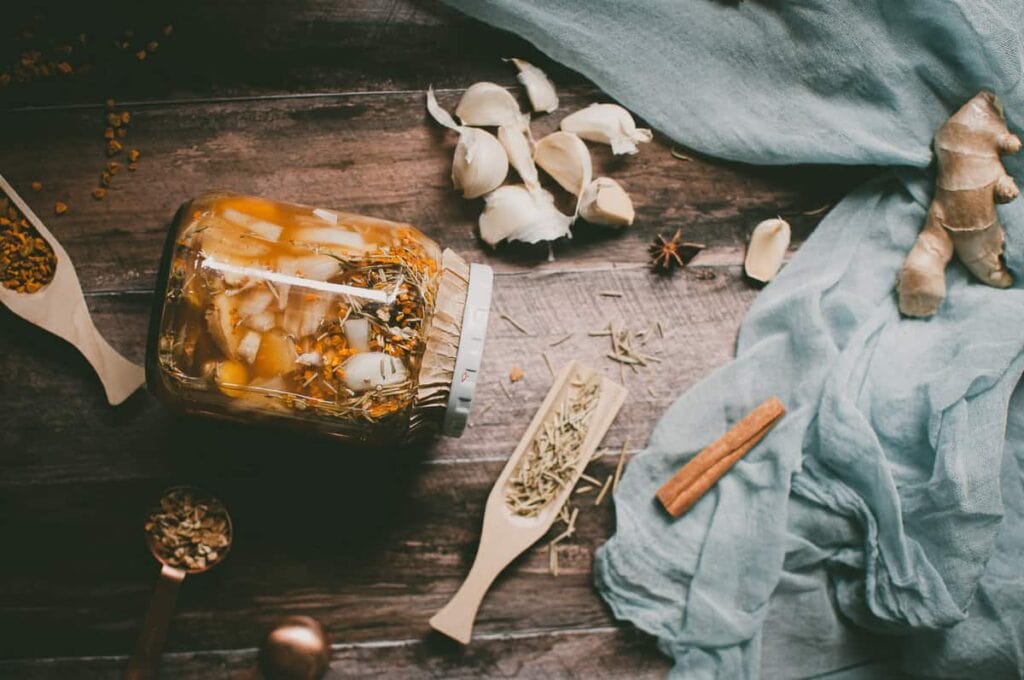 What Is Fire Cider?
Fire Cider is a folk tonic brought to fame by the amazing herbalist Rosemary Gladstar. It is an infused vinegar filled with a variety of herbs, spices and superfoods known to provide an array of health benefits. Bonus: it tastes amazing!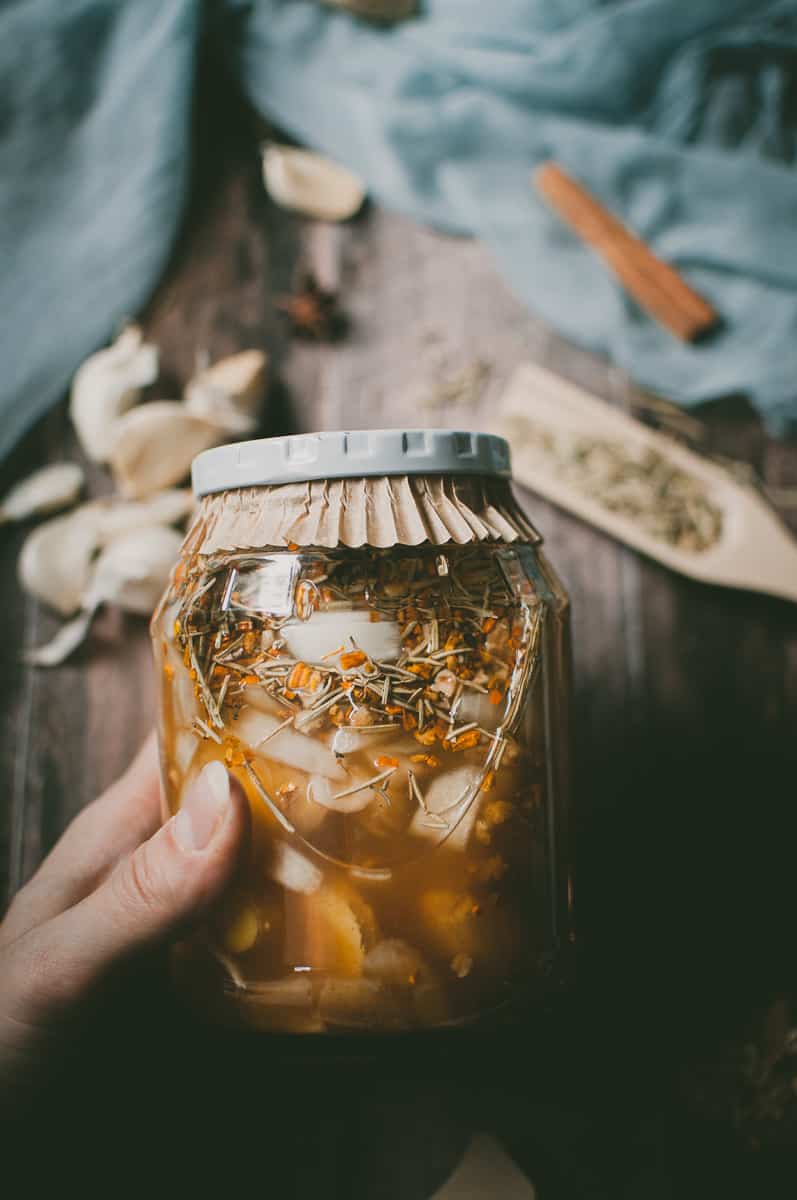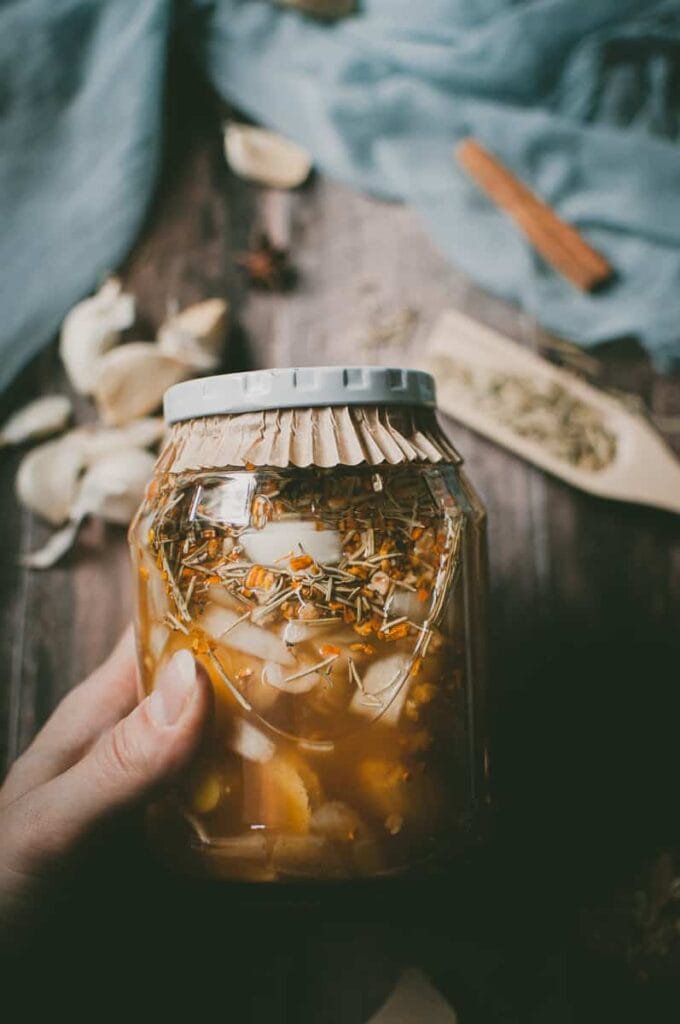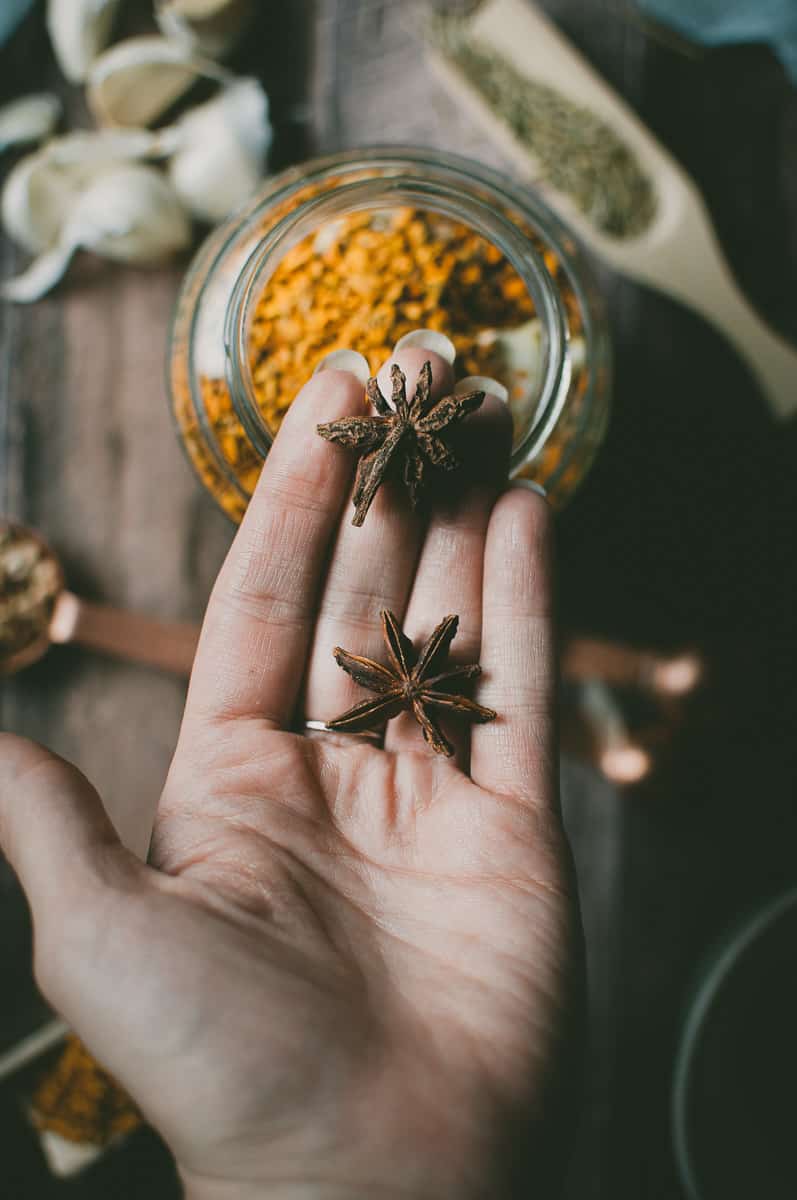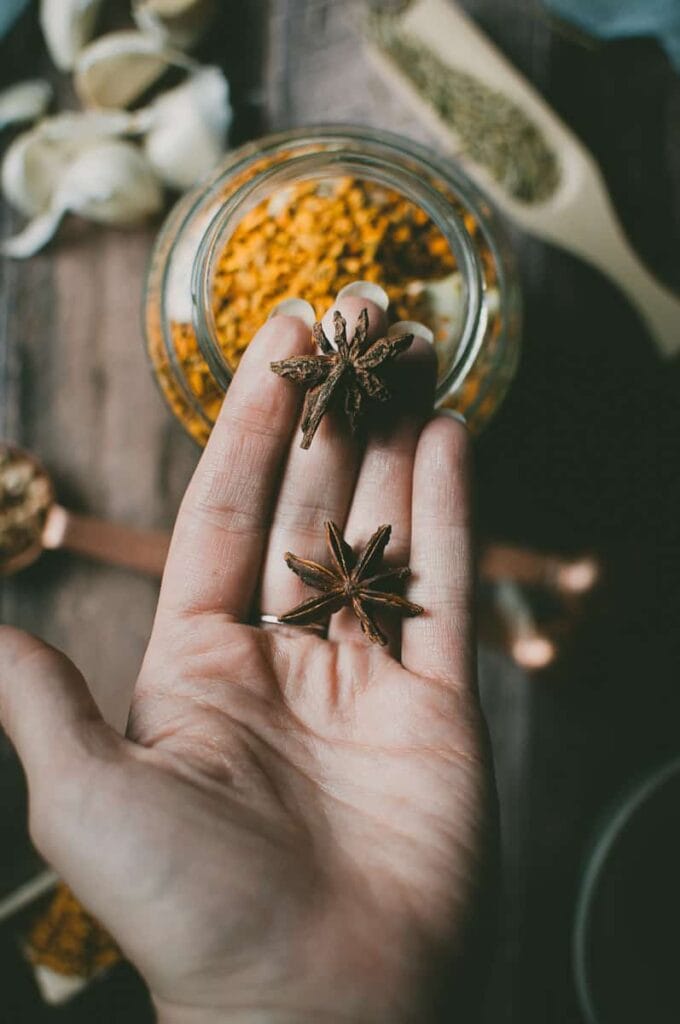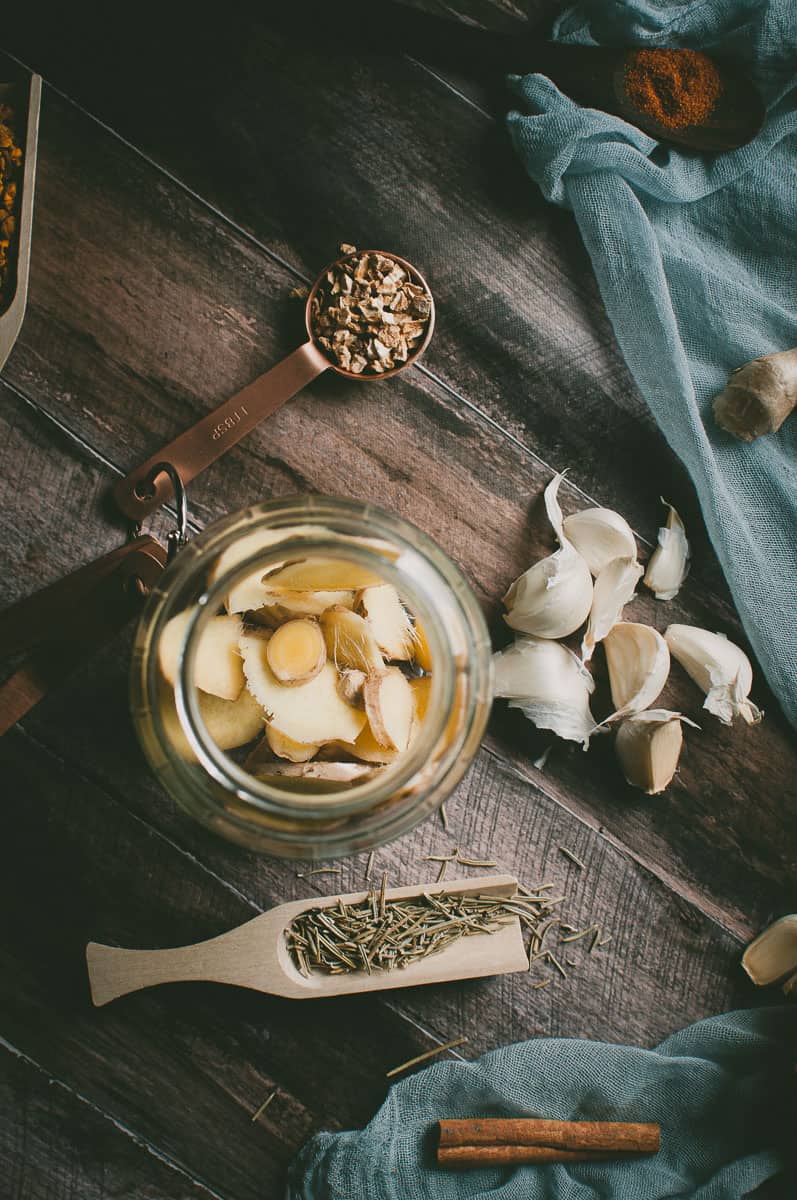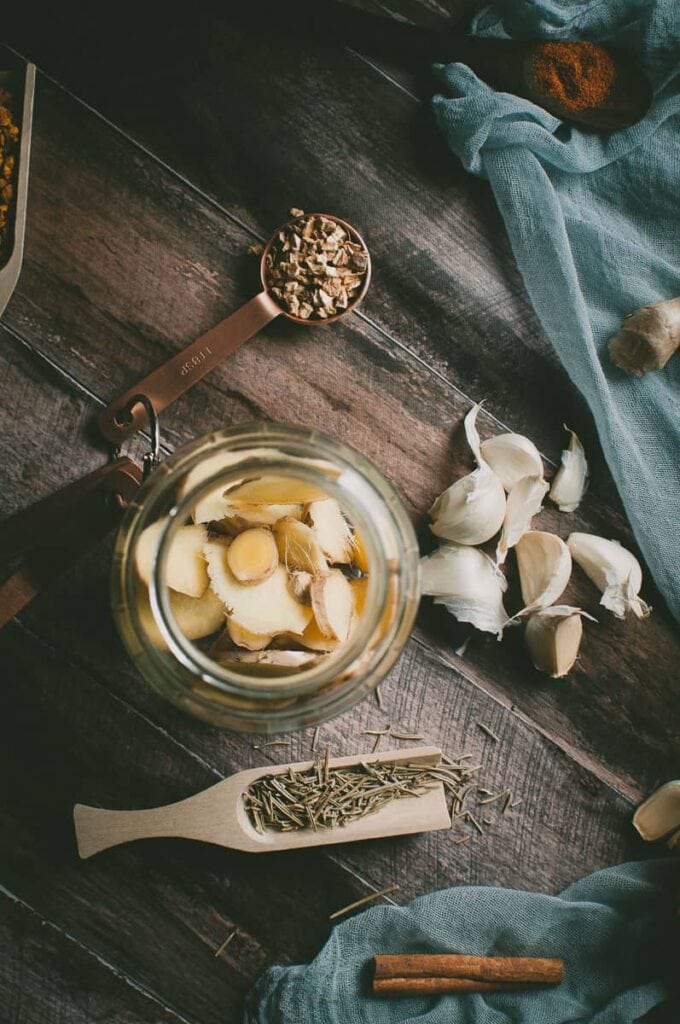 What is Fire Cider Used for?
Take 1-2 tablespoons up to four times a day to keep sickness at bay or to speed up recovery processes. It also helps with circulation, regulating digestion and has strong anti-inflammatory properties.
Combine with a favorite oil for a delicious salad dressing or bread dip.
Mix into water, juice or smoothies.
Incorporate into mocktails or cocktails.
Mix into your stir-fries or drizzle over roasted veggie or buddha bowls.
Once flu season hits, find your own unique ways to incorporate a shot of fire cider here and there!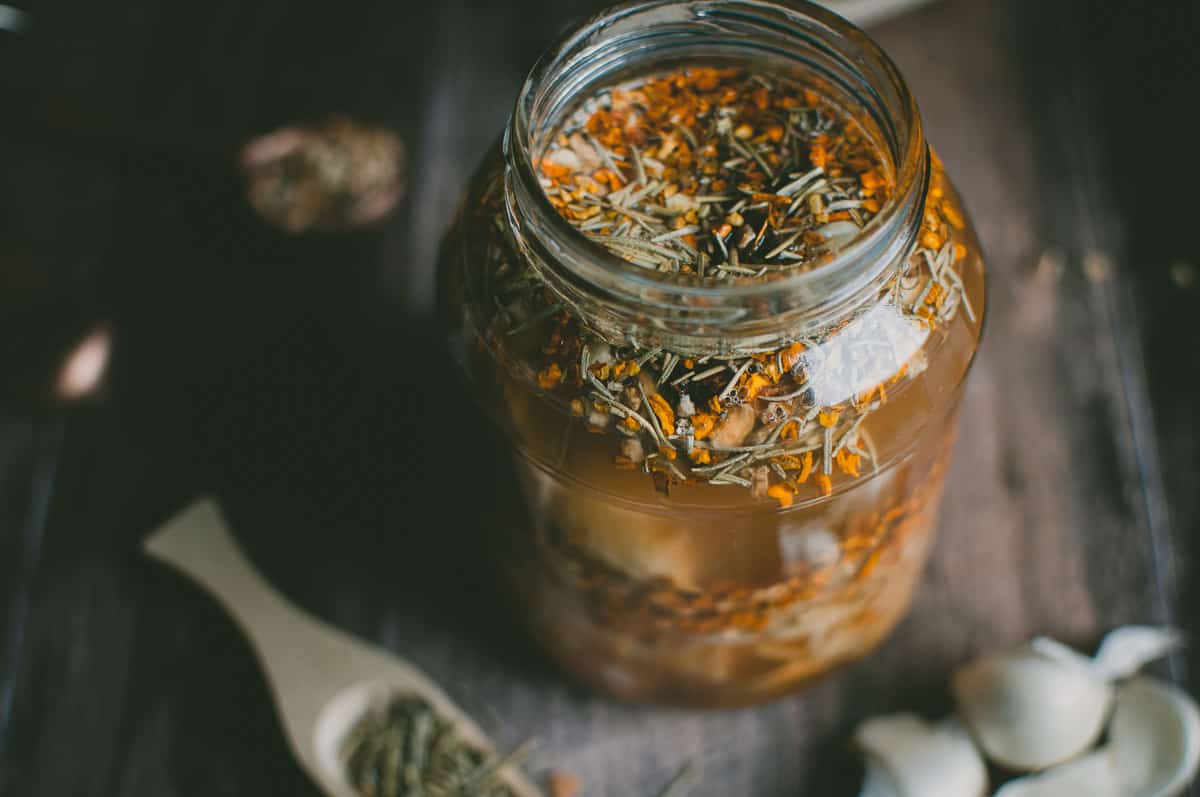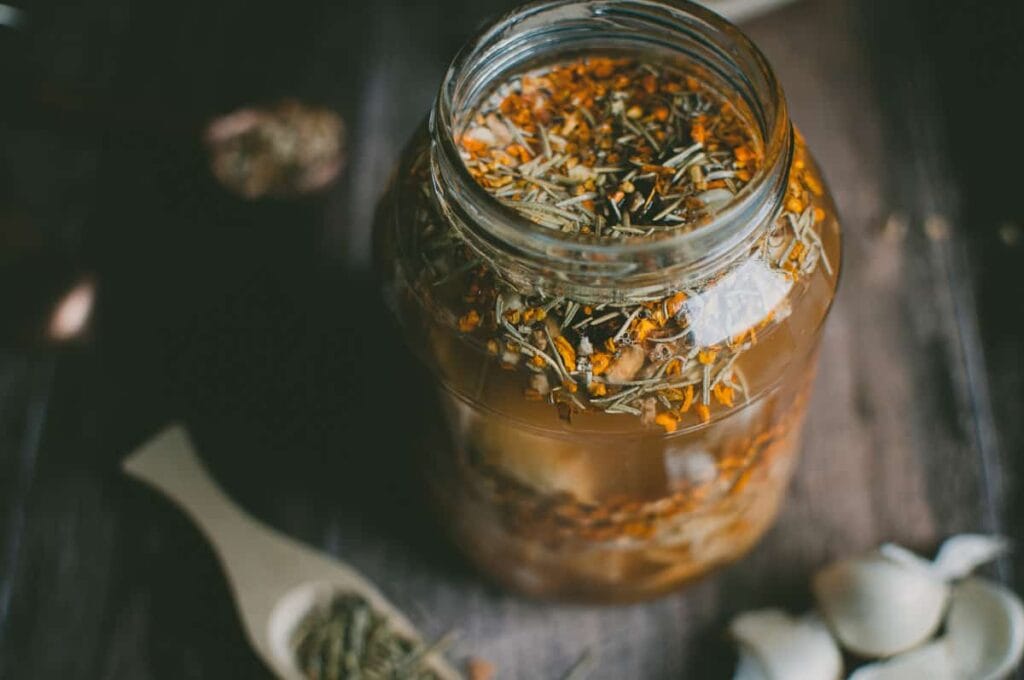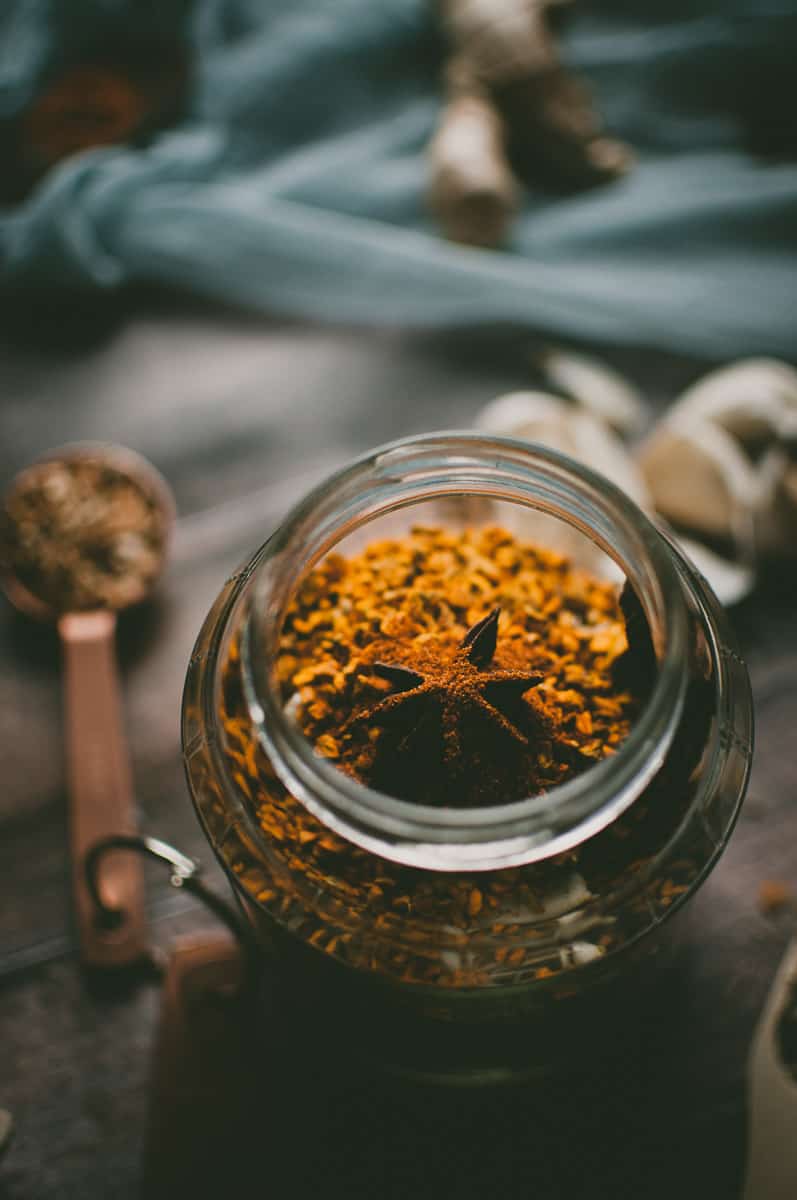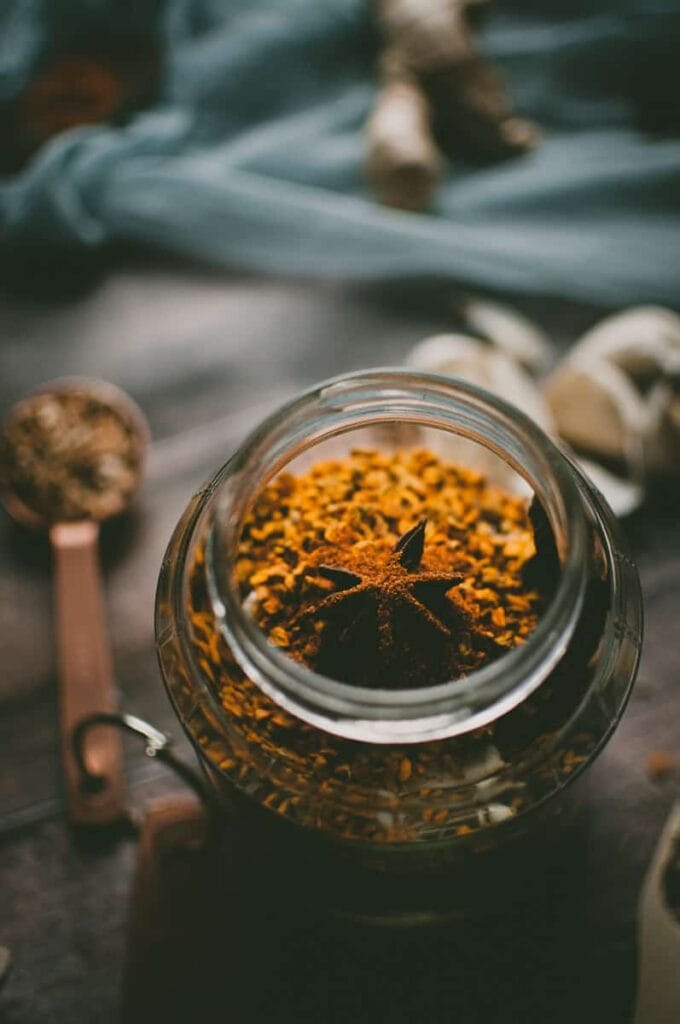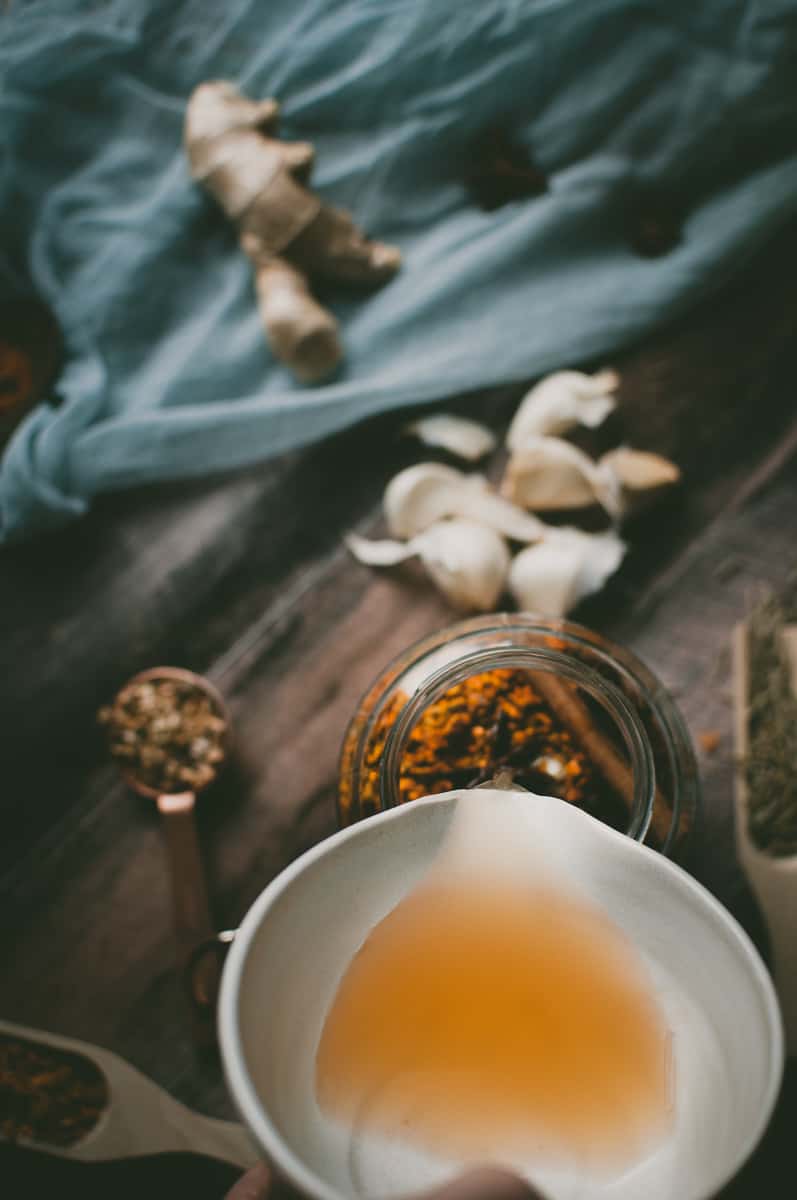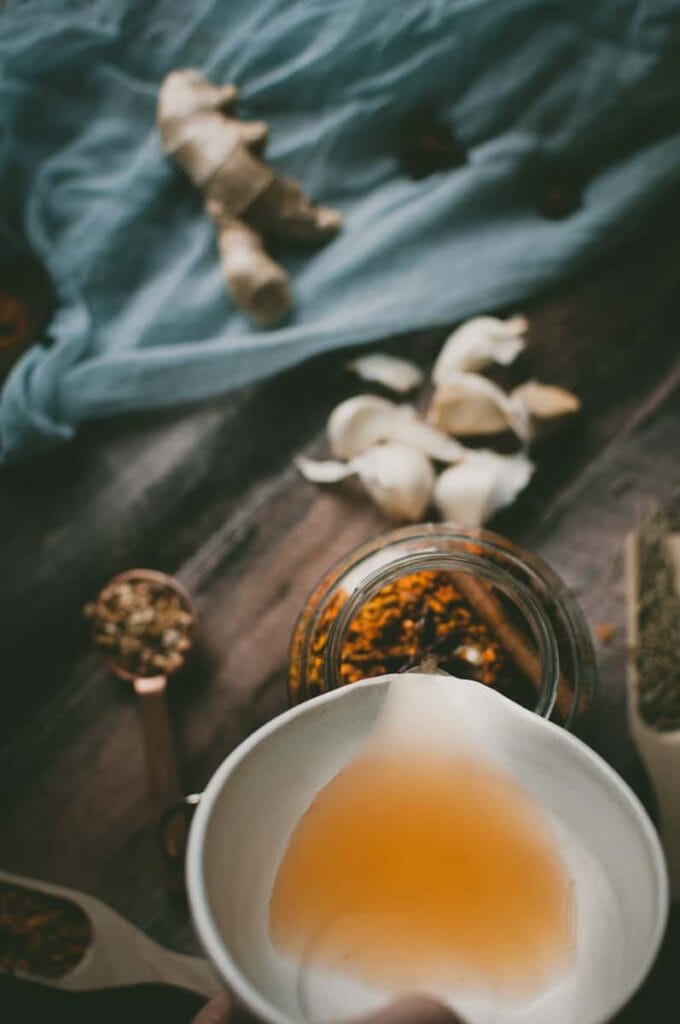 Fire Cider Ingredients and Substitutions
Ginger
If you do not have fresh ginger root on hand, dried ginger root or ginger powder can be used in its place. I recommend 1/4 cup dried ginger root or 1 tablespoon ginger powder to substitute.
Onion
Red, white or yellow onions can be used. Sensitive to onions? Simply omit from the recipe.
Garlic
If you do not have fresh garlic on hand, use one tablespoon of garlic powder instead, or simply omit.
Lemon
I like to throw dried lemon peel in for a little vitamin c boost, but a few grates of lemon, lime or orange zest can be used in its place, or simply omit.
Rosemary
If you do not have dried rosemary on hand, a few fresh sprigs of rosemary can be used or you can replace with fresh or dried thyme or oregano instead.
Turmeric
If you do not have dried turmeric root, use 1/4 cup chopped fresh turmeric root or 1 tablespoon of ground turmeric in its place.
Star Anise
If you do not have anise, use a few whole cloves or a little grated or ground nutmeg instead.
Cayenne
While fire cider is traditionally spicy, you can omit the cayenne for a milder tonic. You can also replace with cayenne with a sprinkle of red chili flakes or a few whole dried chiles.
Cinnamon
If you do not have whole cinnamon, use 1 teaspoon of ground cinnamon instead.
Honey
For best results, I recommend using a raw honey for full antibacterial benefits. But, if you are on a vegan diet or watching your sugar intake, you can replace honey with maple syrup, agave syrup or a sugar-free honey if you prefer.
Vinegar
Raw apple cider vinegar will provide the most health benefits, but in a pinch you can also make your infusion with white vinegar.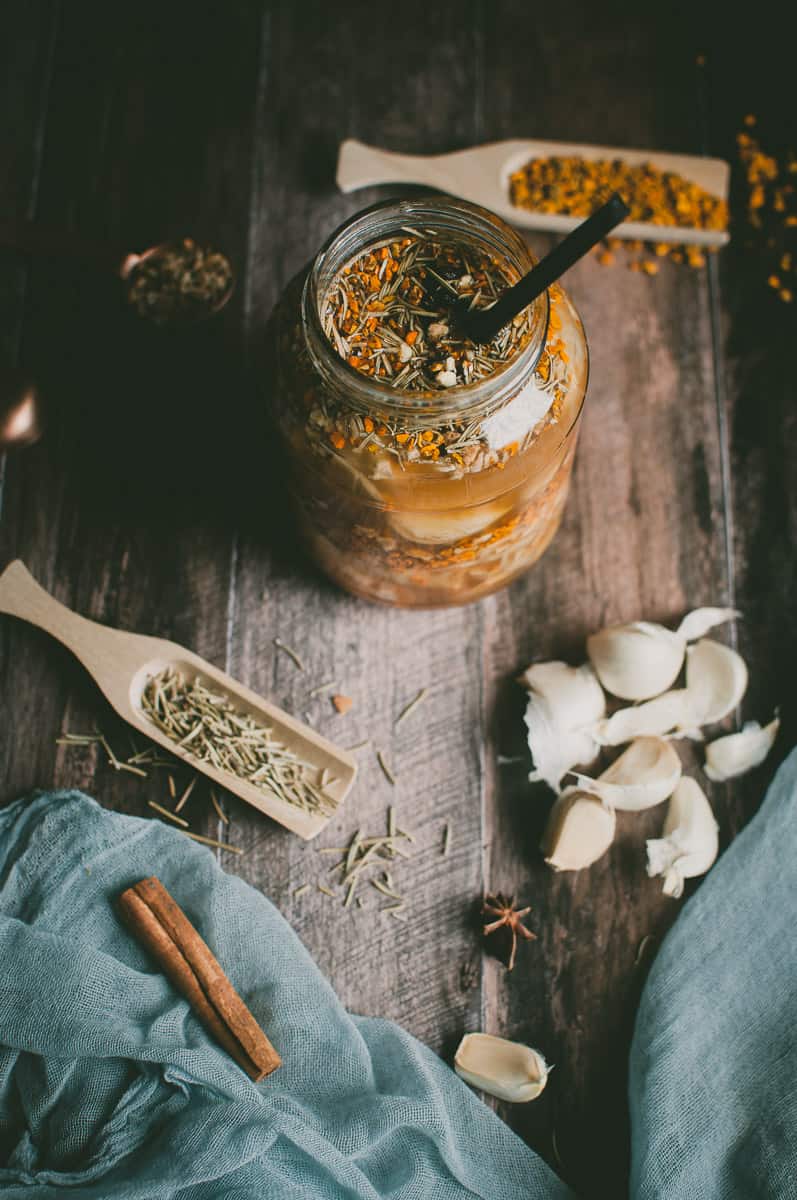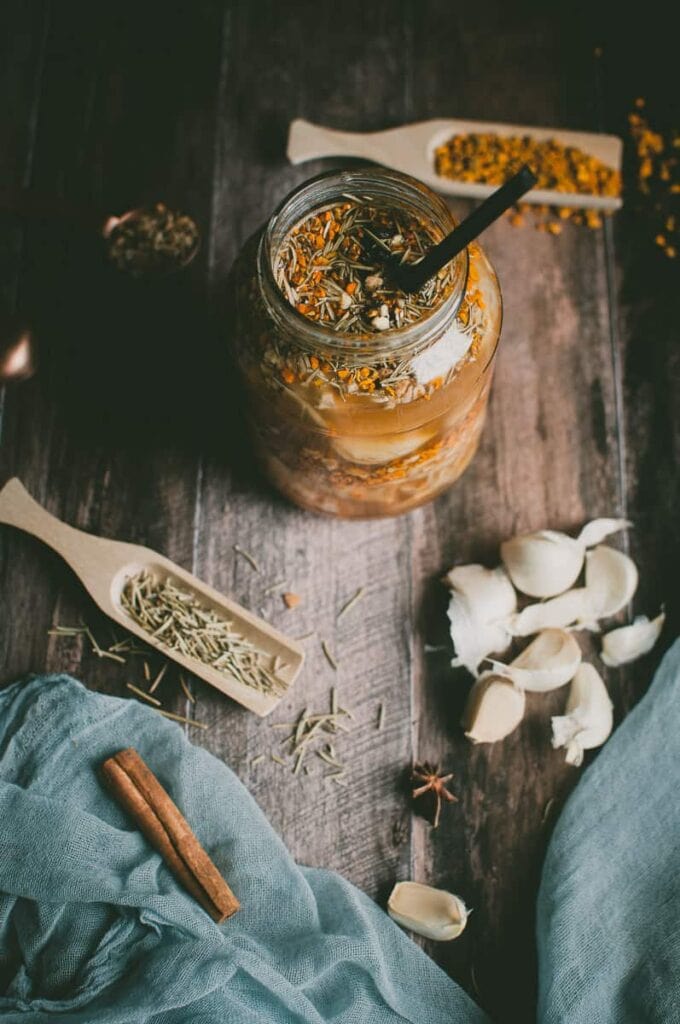 Storage
This fire cider super tonic recipe keeps well stored in a cool place away from direct sunlight for several months. But to ensure freshness, I prefer keeping it stored in the refrigerator throughout use for up to one year.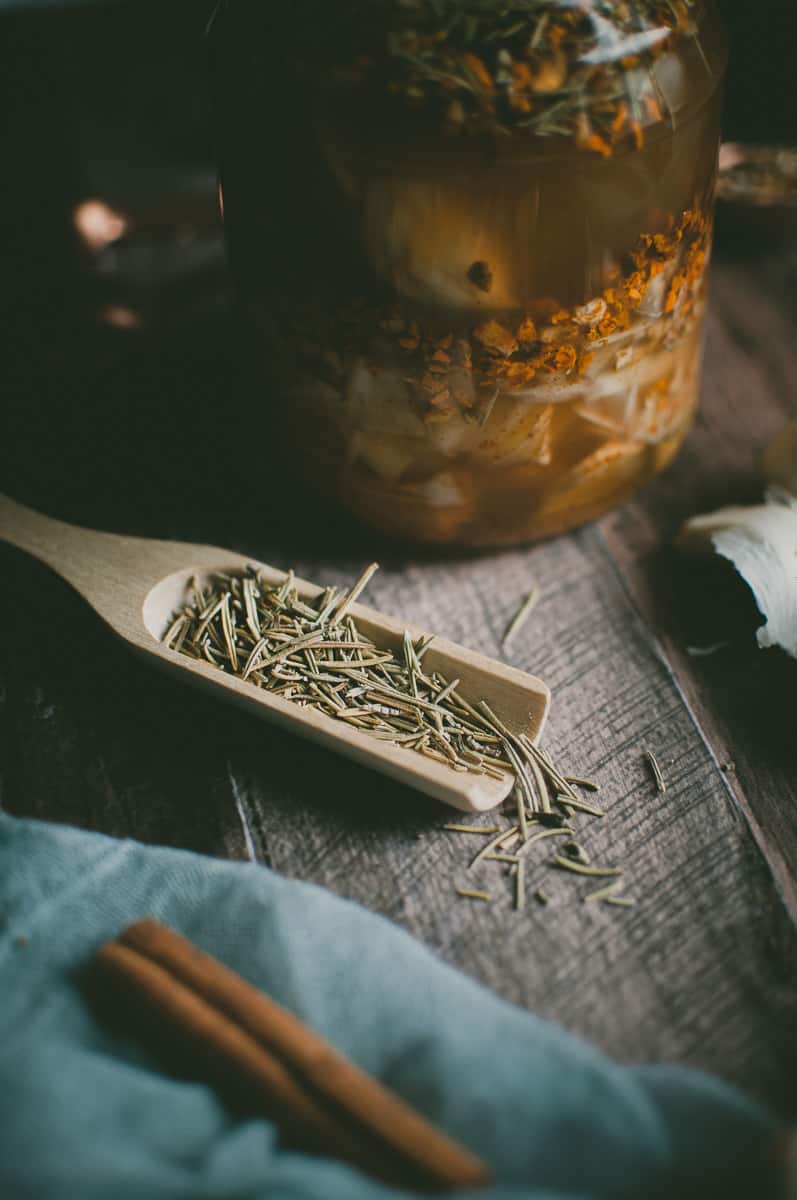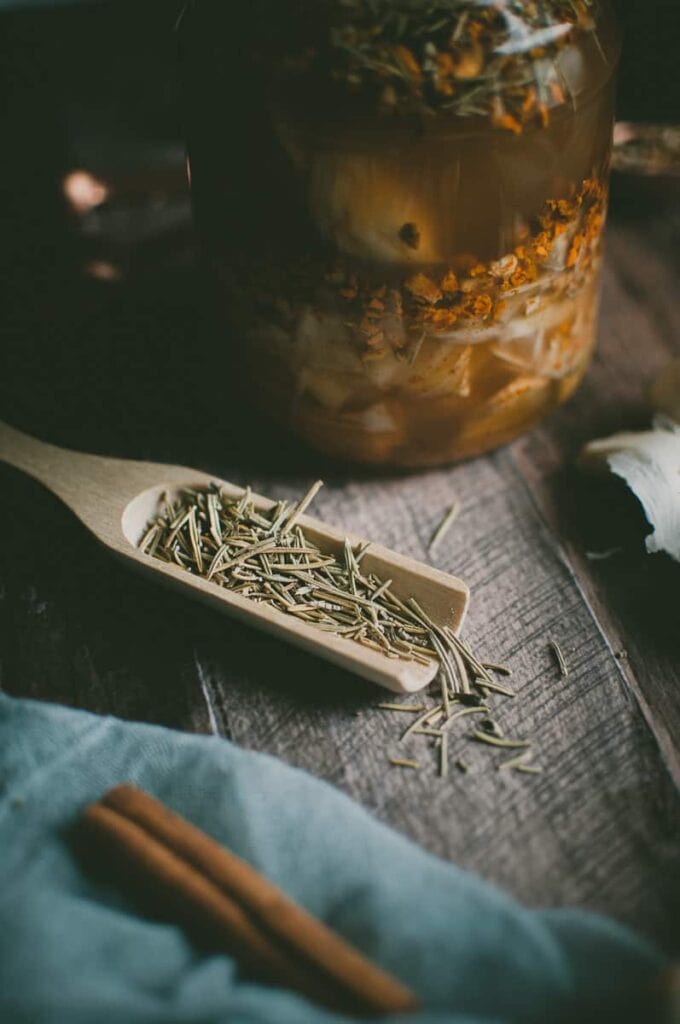 Health Disclaimer
The information shared in this post is not intended nor should be used in place of a medical professional's advice. All opinions expressed are my own, and are based from my own lifelong relationships with plants. If you are worried or concerned about any of the ingredients listed in the recipe, please consult with a medical professional or do your own extensive research.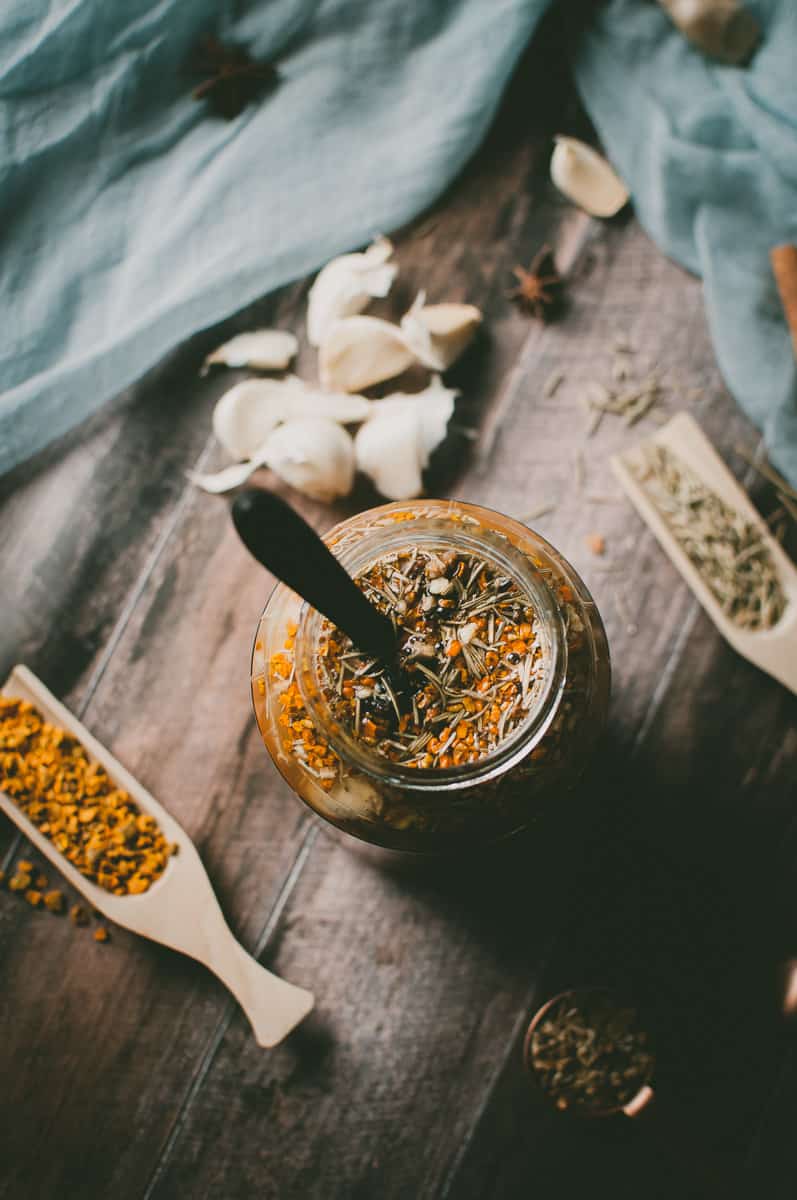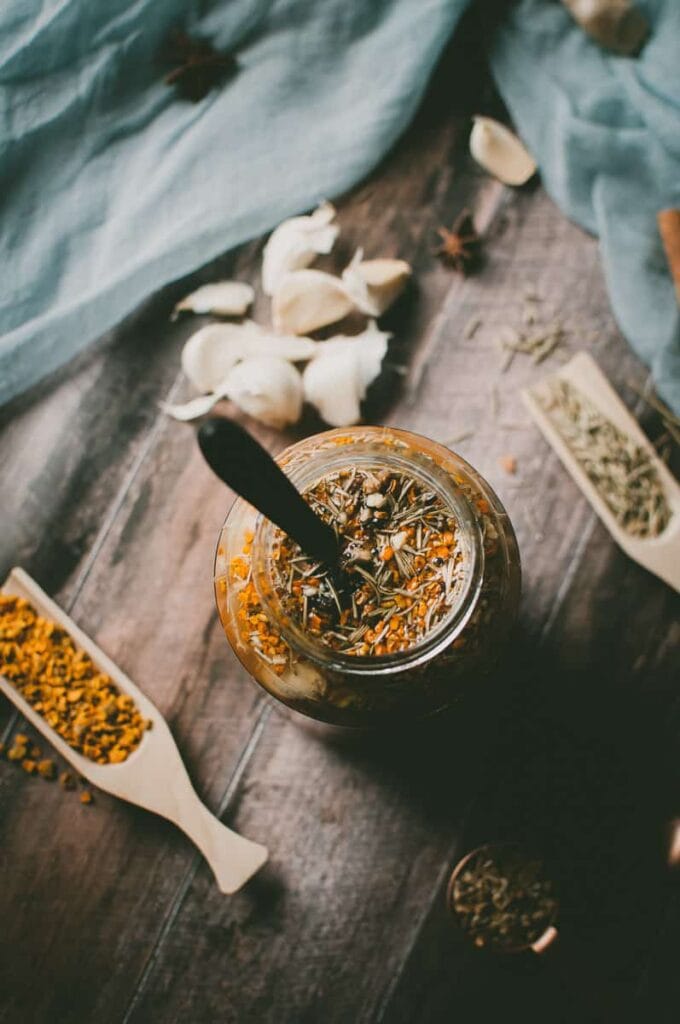 More Herbal Recipes
Herbal Healing Broth with Medicinal Mushrooms
The Ultimate Moon Milk Guide: What is Moon Milk? + 9 Recipes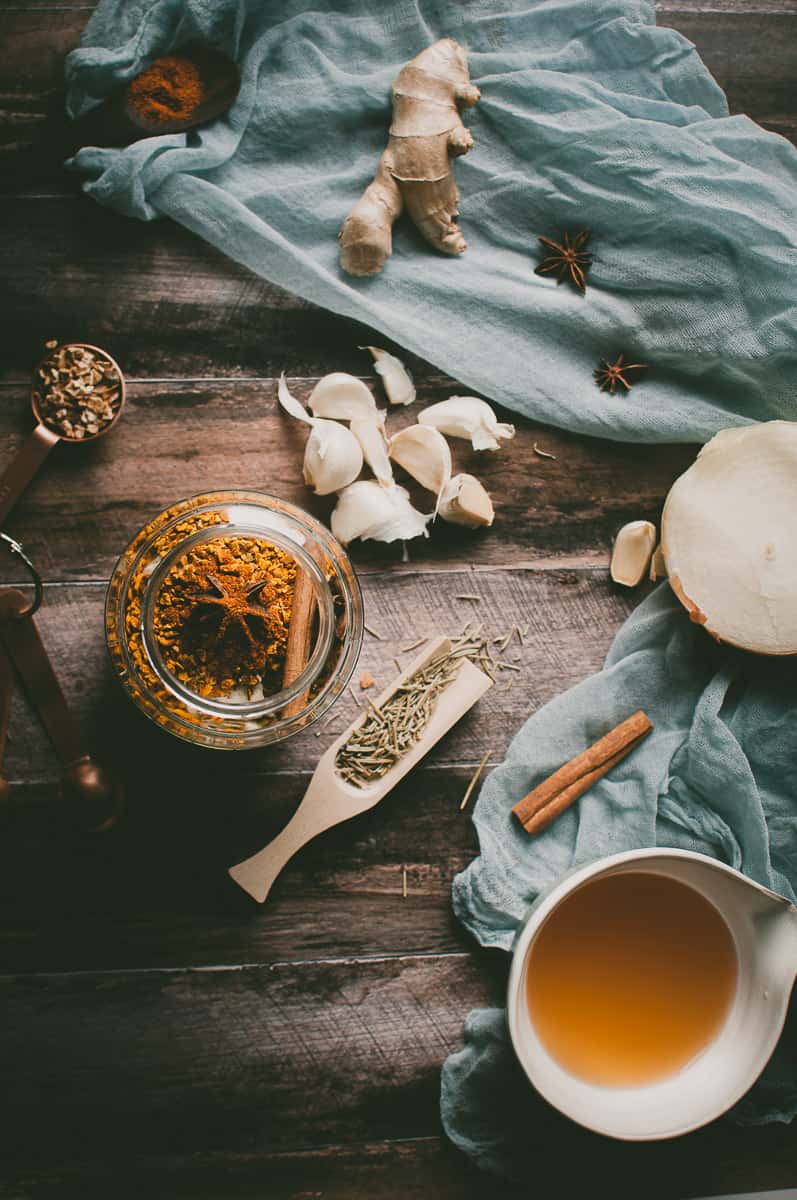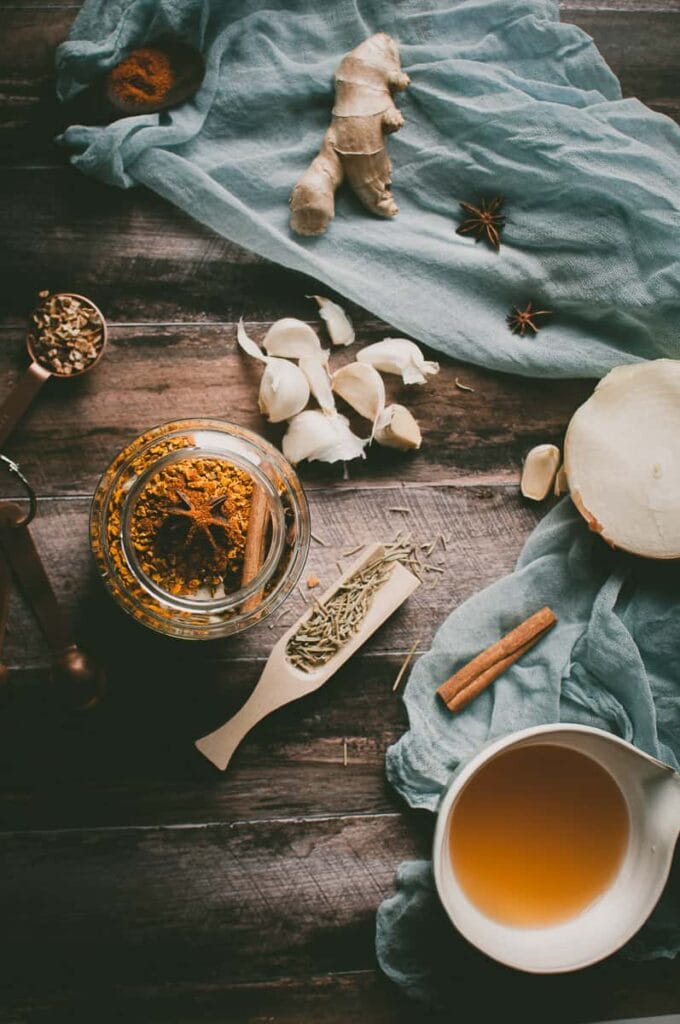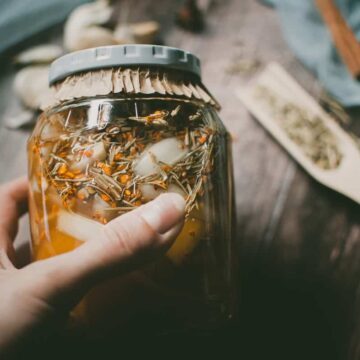 Fire Cider Recipe
How to make delicious, heart-warming and immune-boosting Fire Cider! A recipe for igniting the fire within. This overall wellness tonic is super easy to make, flavorful and super versatile.
Print
Pin
Rate
Ingredients
1/4

cup

ginger root

sliced

1/2

onion

chopped

8

garlic cloves

crushed

2

star anise pods

whole

1

cinnamon stick

2

tablespoons

dried turmeric root

1

tablespoons

dried lemon peel

1

tablespoon

dried rosemary

1/2

teaspoon

cayenne pepper

ground

apple cider vinegar

to cover

1/2

cup

raw honey
Instructions
To a large clean jar* add all ingredients except vinegar and honey.

Fill jar of ingredients to the top with apple cider vinegar.

Place a lid tightly on the jar. If using a metal lid, place a paper muffin liner or cheesecloth over the jar before screwing the lid on to prevent the acid in the vinegar from reacting with the metal in the lid.

Place the jar in a cool, dark place to sit for 4 weeks.

When four weeks has passed, strain the liquid into a clean jar and stir in the raw honey.

Keep in a cool dark place or in the refrigerator for up to one year.
Notes
*I like to use a one quart jar for this recipe, but there is wiggle room to go larger or smaller with this recipe. Just be certain to fill the jar to the top with vinegar!
Please refer to the post above for valuable information!
You might like: Storage Apples.
You might like: A Guide to Asian Spices.
Nutrition
Serving:
1
tablespoon
|
Calories:
13
kcal
|
Carbohydrates:
3
g
|
Protein:
1
g
|
Fat:
1
g
|
Saturated Fat:
1
g
|
Sodium:
1
mg
|
Potassium:
14
mg
|
Fiber:
1
g
|
Sugar:
3
g
|
Vitamin A:
10
IU
|
Vitamin C:
1
mg
|
Calcium:
3
mg
|
Iron:
1
mg
Have you tried this recipe?
Please Rate + Comment Below!
Watch Our Latest Videos
Follow us on YouTube!