Four Thieves Vinegar
This post may contain affiliate links, and we receive an affiliate commission for any purchases made by you using these links. We appreciate your support!
How to Make Four Thieves Vinegar – a tonic for home and health! Four Thieves Vinegar is an old-time concoction of vinegar, herbs and spices with a wealth of benefits and uses.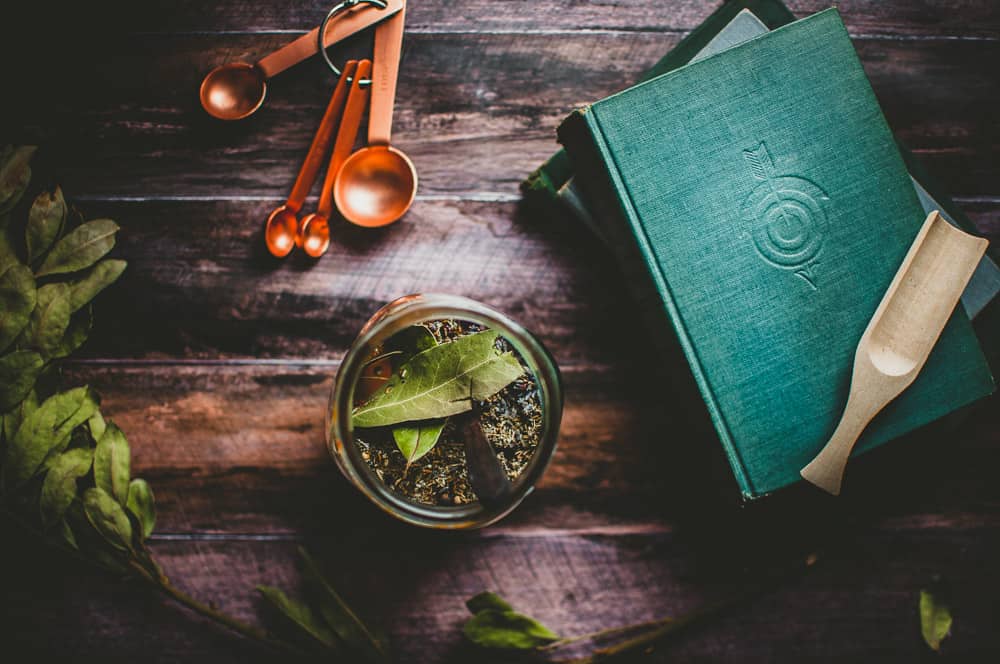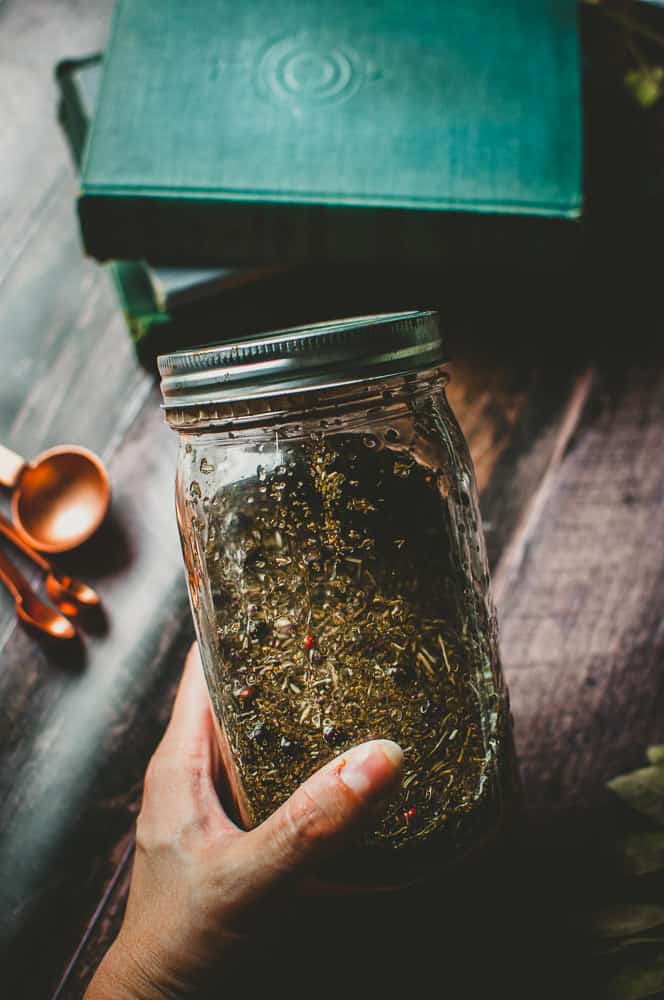 What is Four Thieves Vinegar?
Legend states that during the plague that devastated Marseilles, France during the 17th century, four thieves managed to remain free of illness whilst robbing the dead thanks to this little concoction of vinegar, herbs, spices and garlic. While I can't attest to that kind of strength and effectiveness, I can attest that the ingredients in my own version of Four Thieves Vinegar have their own wonderful cleansing, immune boosting, anti-bacterial properties that suit a variety of uses!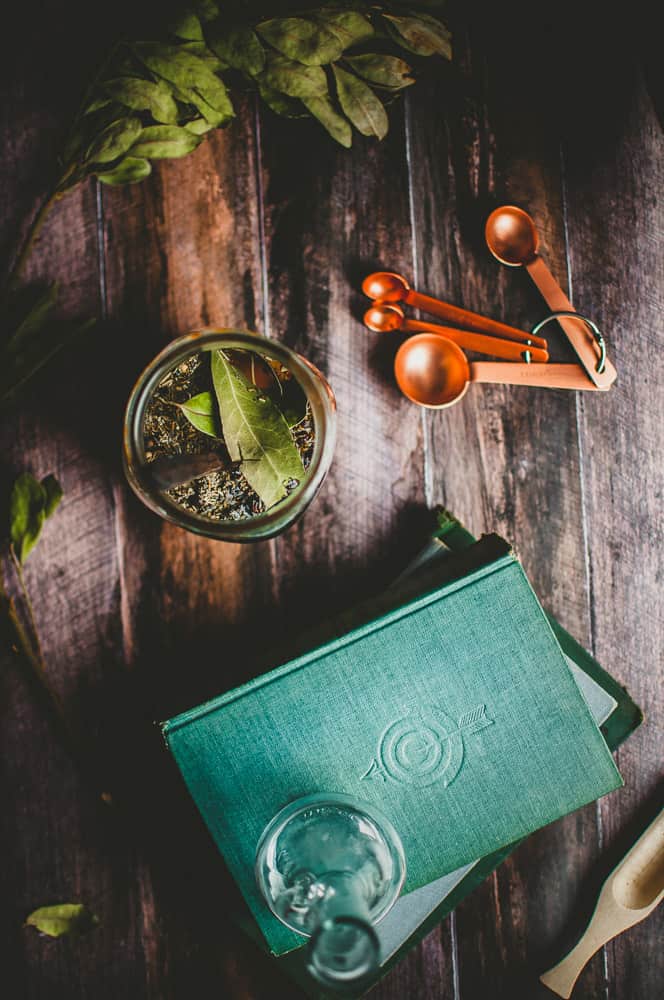 Ingredients
Apple cider vinegar.
Garlic.
Rosemary.
Peppercorns.
Thyme.
Lavender.
Sage.
Bay leaf.
Note: this is just a summarized list. For the full recipe + amounts, please refer to the recipe card towards the bottom of this page.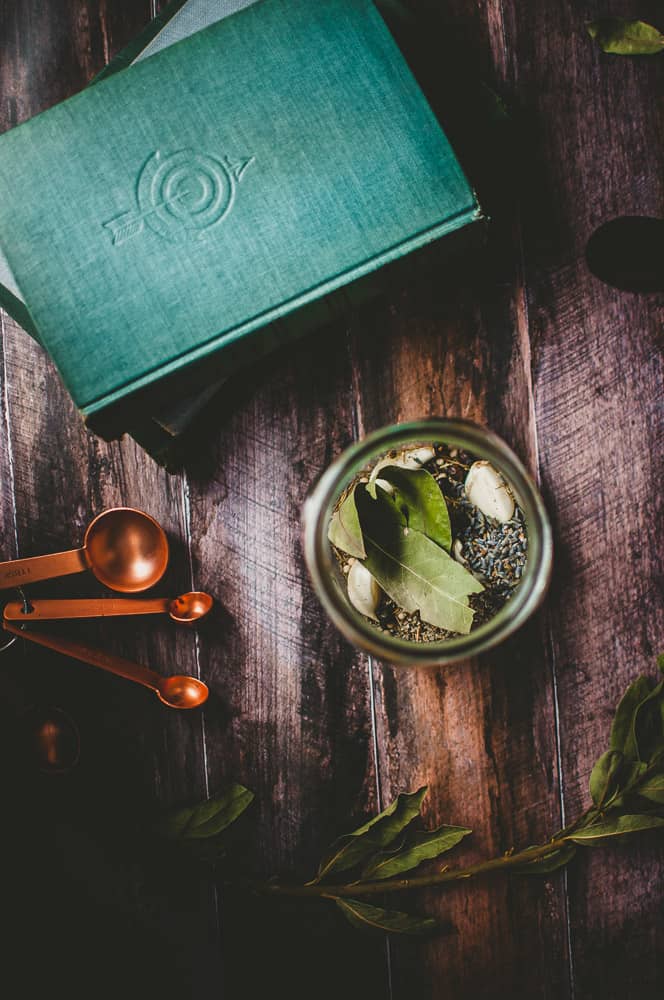 How to Make
Add garlic and dried herbs to a clean jar.
Cover with vinegar.
Place the jar in a cool, dark place to sit for 2 weeks before straining and using.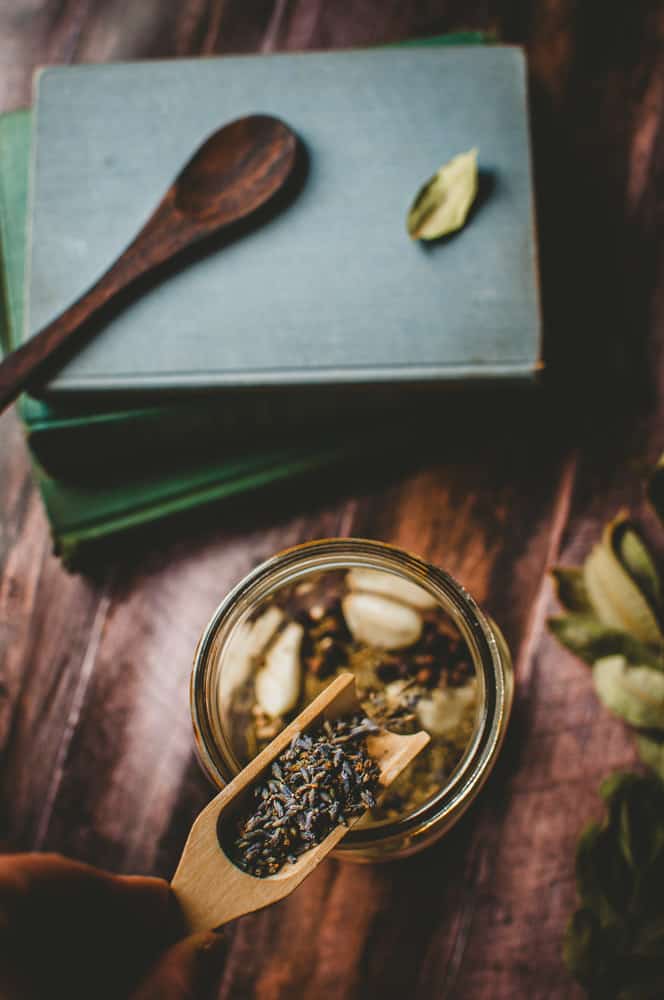 How to Use
As a natural cleaning spray: add one part Four Thieves Vinegar and one part water to a spray bottle. Use to clean kitchen countertops, mirrors, windows, wood furniture, bathroom tiles and more!
As a natural facial astringent: Using 1 part Four Thieves Vinegar, two parts water — gently pat on your face after cleansing for a natural toning effect.
Drink as a wellness tonic: take one teaspoonful a day to keep germs at bay.
In food: you can use Four Thieves Vinegar just as you would any other vinegar when creating in the kitchen — in salads, drizzled over roasted veggies, as a bread dip or even splashed into water or tea.
For protection: in pagan traditions, Four Thieves Vinegar is used for protection. You can sprinkle it around or throughout your home to keep negative energies at bay.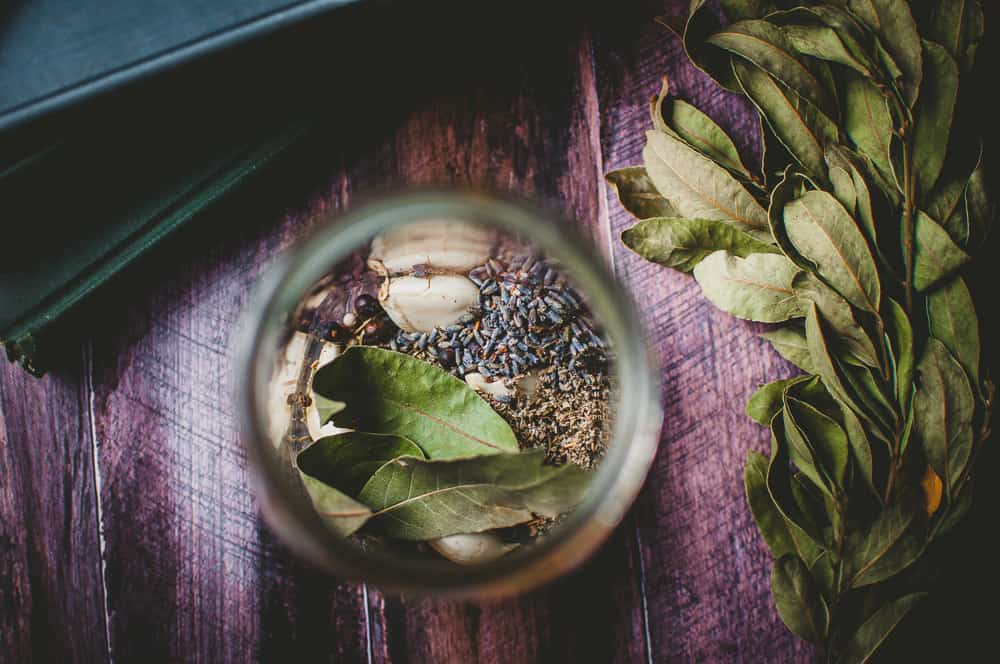 Tips and Tricks
This is a versatile recipe!
Do not have apple cider vinegar? You can use plain old white vinegar.
Do not have all of the dried plants listed here? You can replace them with their fresh counterparts, omit them altogether or replace with any herbs or spices of your choosing!
Straining is completely optional. You can leave the ingredients to steep in-between uses.
If you strain your vinegar, you can use the soaked plant material to add a boost of flavor to soups, stews, stock recipes and more. Or you can dispose of it in a compost pile.
The vinegar (an acid) can react with the metal lids commonly used with jars. I like to place a paper muffin liner in the lid before screwing it onto the jar!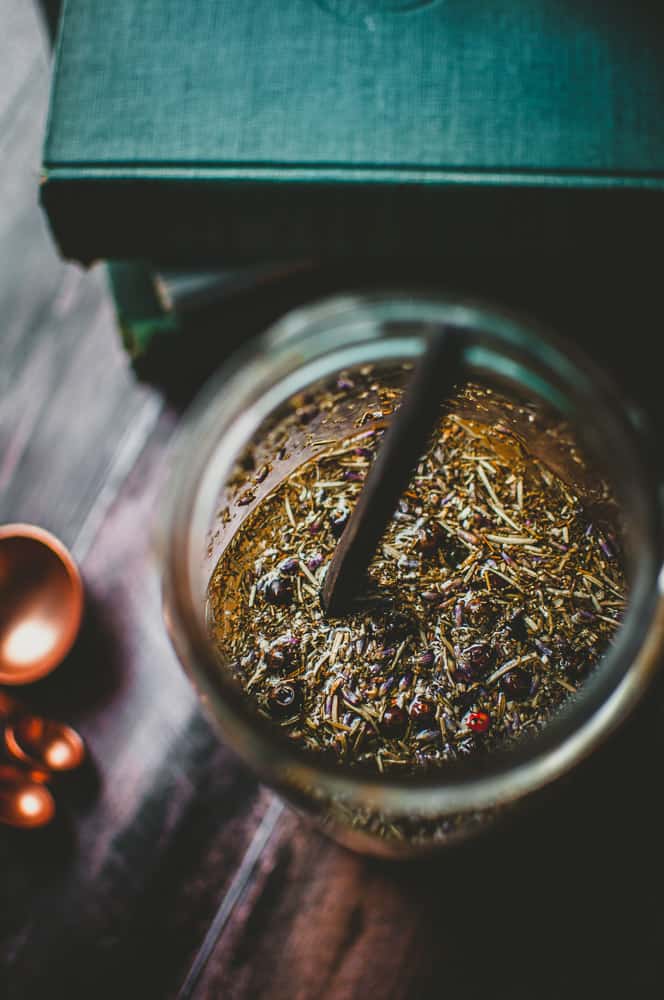 More Herbal Recipes
Herbal Healing Broth with Medicinal Mushrooms
The Ultimate Moon Milk Guide: What is Moon Milk? + 9 Recipes
24 Dandelion Recipes + Health Benefits + Foraging Tips
16 Gluten-Free & Vegan Lavender Recipes + Uses, Tips & Benefits
Orange Infused Nettle Ice Pops + 10 Health Benefits (Gluten-Free, Vegan, Sugar-Free)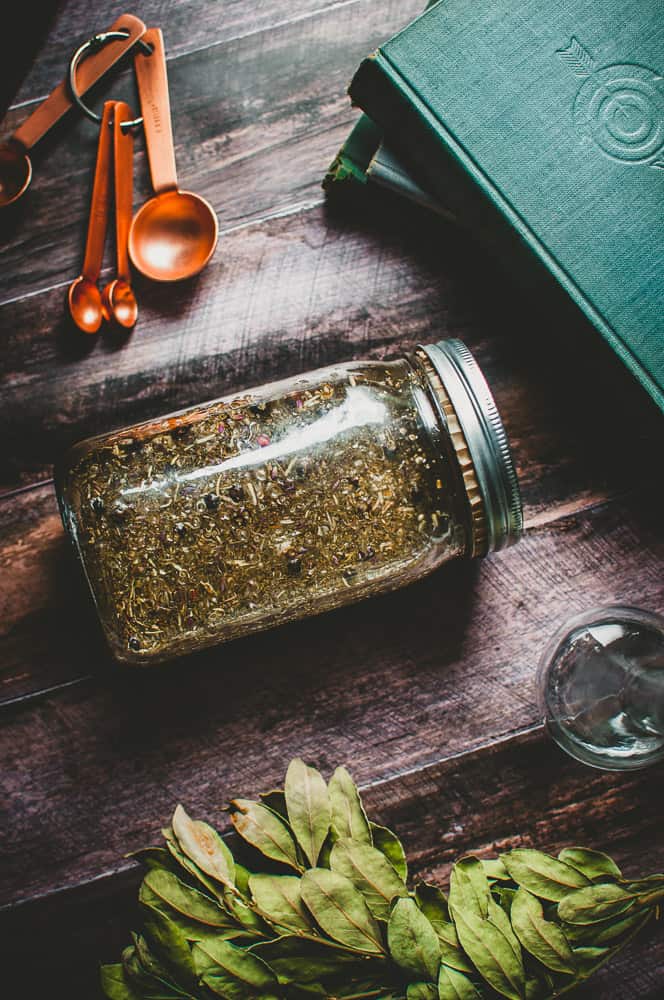 Health Disclaimer
The information shared in this post is not intended nor should be used in place of a medical professional's advice. All opinions expressed are my own, and are based from my own lifelong relationships with plants. If you are worried or concerned about any of the ingredients listed in the recipe, please consult with a medical professional or do your own extensive research.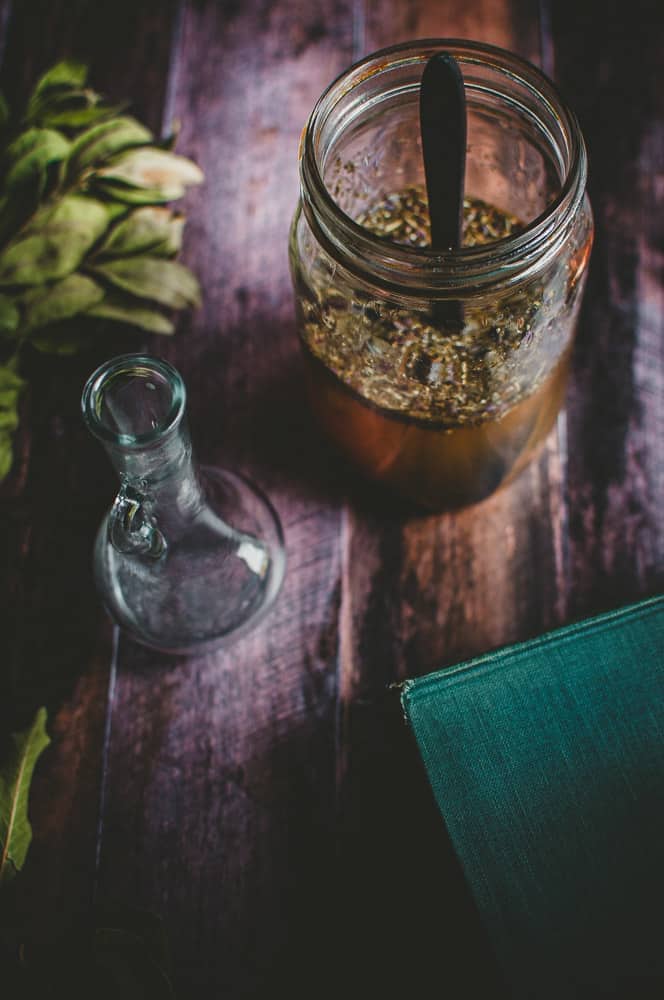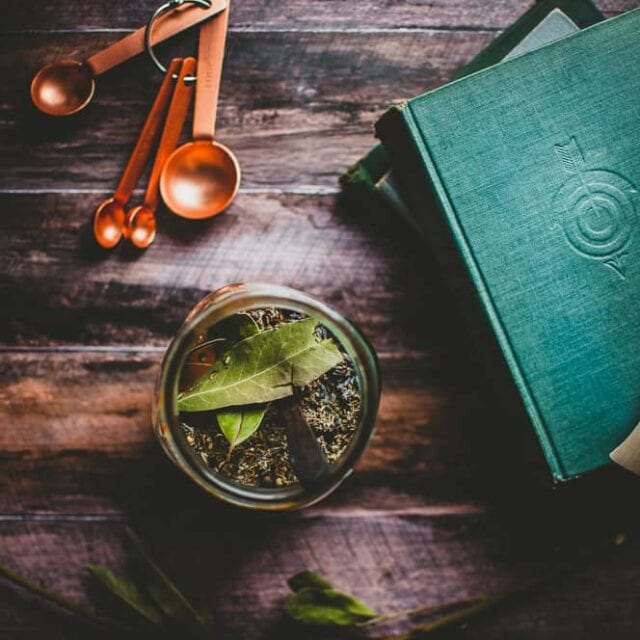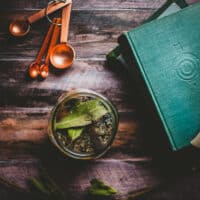 Four Thieves Vinegar
How to Make Four Thieves Vinegar – a tonic for home and health! Four Thieves Vinegar is an old-time concoction of vinegar, herbs and spices with a wealth of benefits and uses.


Print
Pin
Rate
Instructions
In a large jar add garlic, thyme, bay, rosemary, peppercorns, juniper berries, lavender, and sage.

Pour apple cider vinegar into the jar.

Place a piece of cheesecloth or a paper muffin cup over the jar, then screw the lid on tightly (vinegar reacts with the metal in jar lids).

Give it all a good shake, then place in a dark, cool place to sit for 2 weeks.

When ready to use, you can strain the vinegar and keep stored in a clean jar, or leave the plant material suspended in the vinegar throughout use. Please refer to the post above for all tips, substitutions and uses!

Enjoy.
Nutrition
Serving:
1
tablespoon
|
Calories:
159
kcal
|
Carbohydrates:
16
g
|
Protein:
2
g
|
Fat:
1
g
|
Saturated Fat:
1
g
|
Sodium:
29
mg
|
Potassium:
456
mg
|
Fiber:
3
g
|
Sugar:
2
g
|
Vitamin A:
152
IU
|
Vitamin C:
6
mg
|
Calcium:
161
mg
|
Iron:
7
mg
Have you tried this recipe?
Please Rate + Comment Below!
Watch Our Latest Videos
Follow us on YouTube!