Herbal Healing Broth with Medicinal Mushrooms
This post is sponsored by Mountain Rose Herbs. All opinions expressed are my own.
An immune boosting, anti-inflammatory mushroom broth recipe packed with healing herbs, plants, spices and flowers. Easy to make, vegan, sodium-free, and nutrient-dense!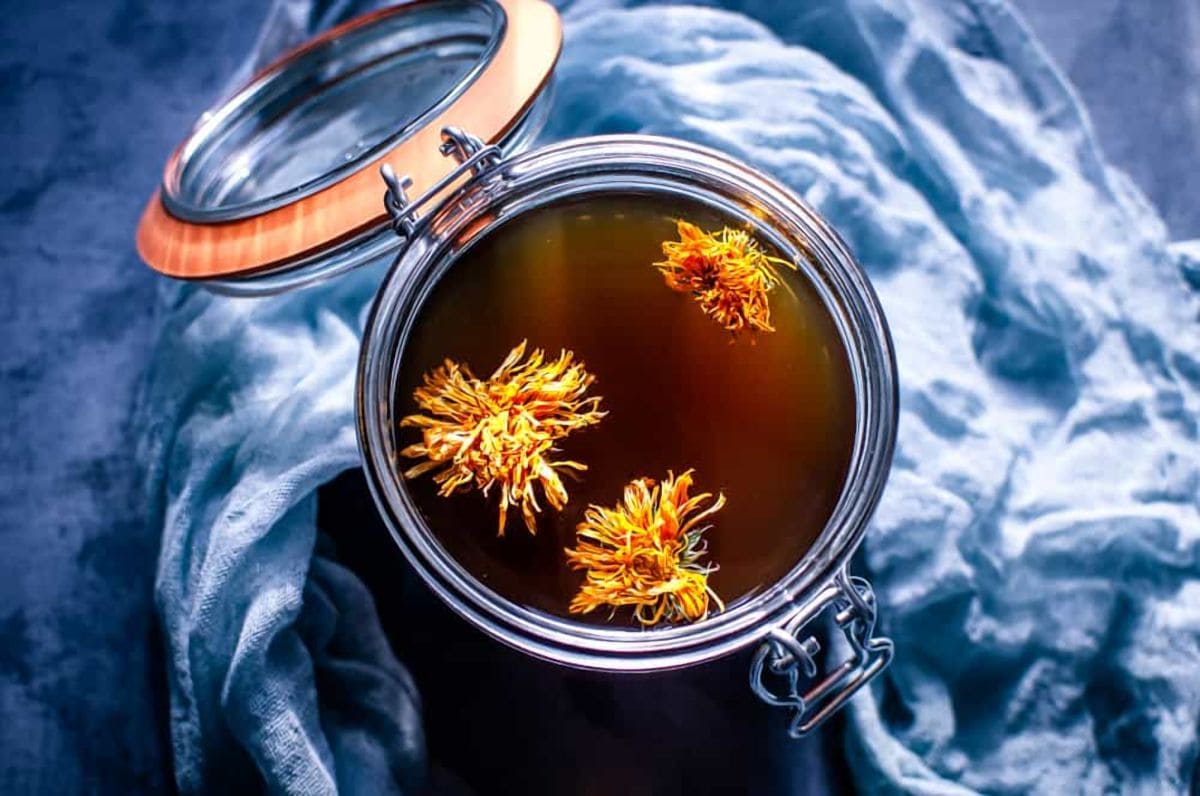 This gentle and flavorful healing broth is packed with beautiful flavors, health-enriching properties, and SO much plant power! One of my favorite things about this rich broth is its versatility. It is wonderful on its own, used as a base for soups and curries, as a hot or cold drink — you name it, it is GOOD. I so hope you love it as much as we do! xo.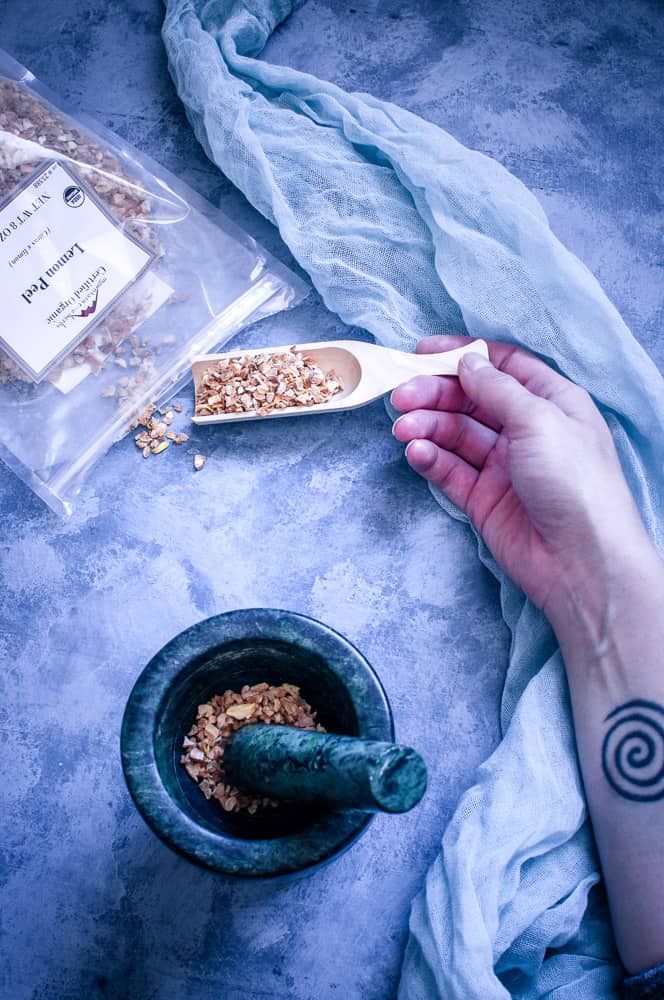 Mountain Rose Herbs
Mountain Rose Herbs is an incredible company founded in 1987 that brings the highest quality herbs, spices, teas, essential oils, DIY ingredients and other botanical goods to your doorstep in a most sustainable fashion. All of their products are organic & fair-trade sourced. They are the first company in Oregon to receive a platinum zero waste certification! Simply put — their love of plants and putting the planet first truly shows, and I'm absolutely honored to partner with them for this post.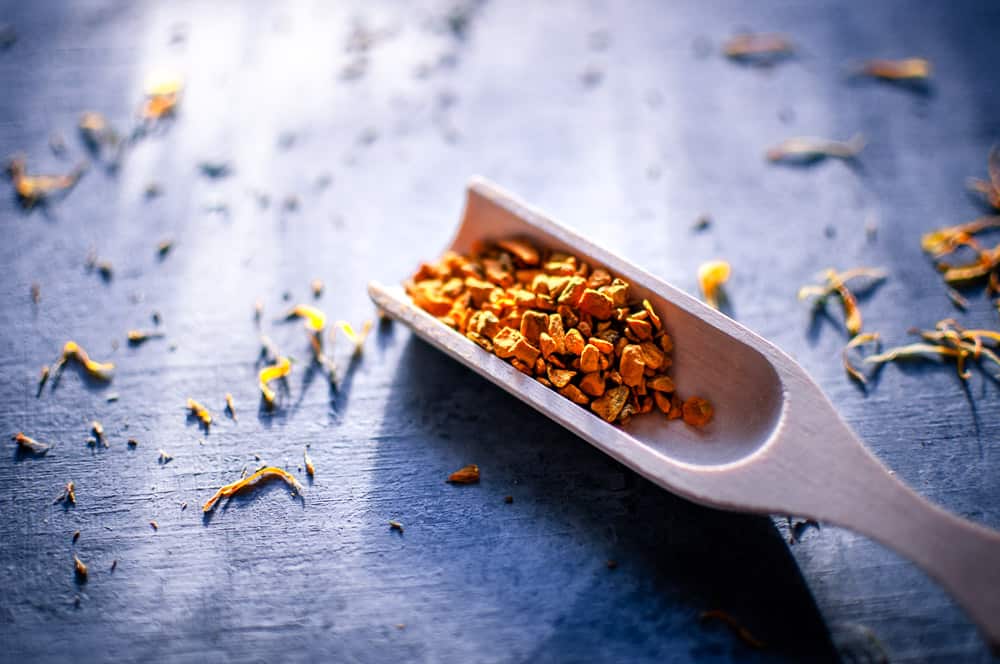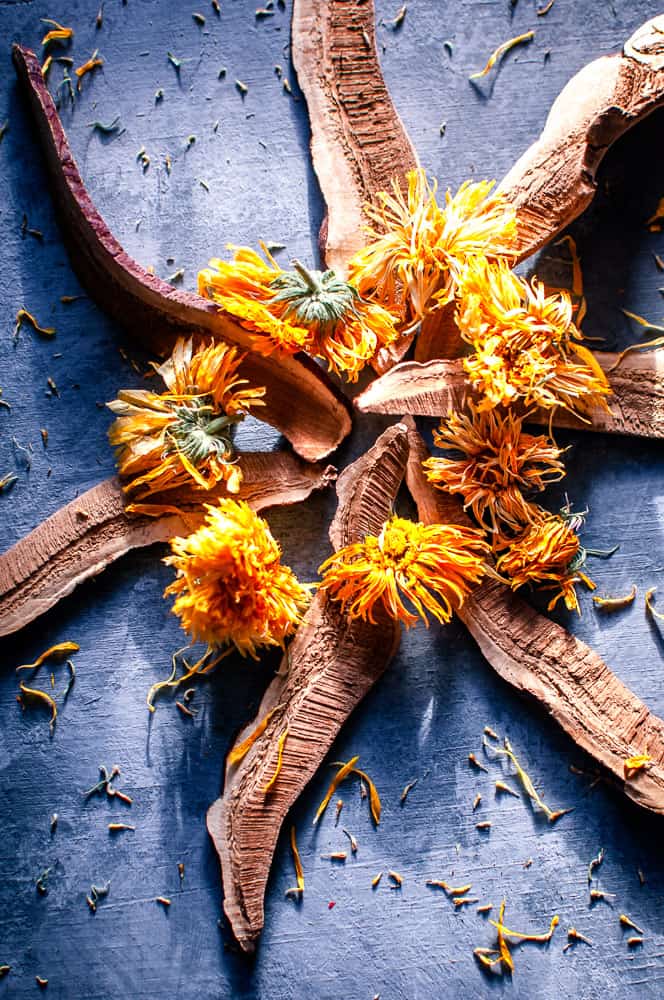 Healing Broth
This Vegan Mushroom Broth filled with Herbs, Spices and Edible Flowers is:
Super easy to make.
Packed with nutrient-dense ingredients.
Subtly spicy + heart-warming.
Versatile.
Comforting, yet rejuvenating.
Vegan, dairy-free, soy-free, paleo, keto, grain-free, nut-free, salt-free, gluten-free and sugar-free.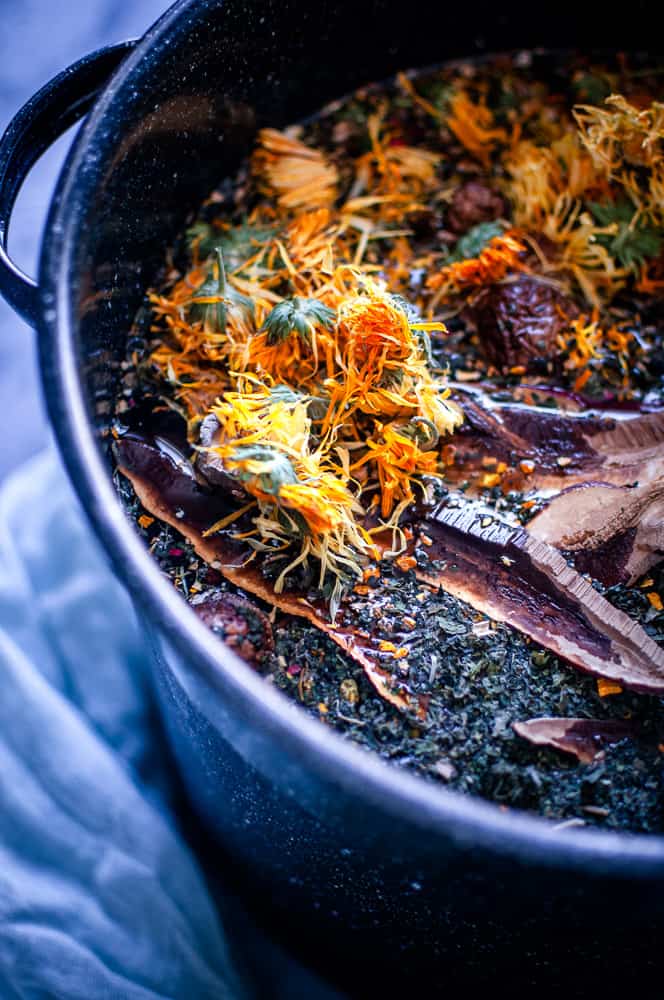 Herbal Healing Broth Ingredients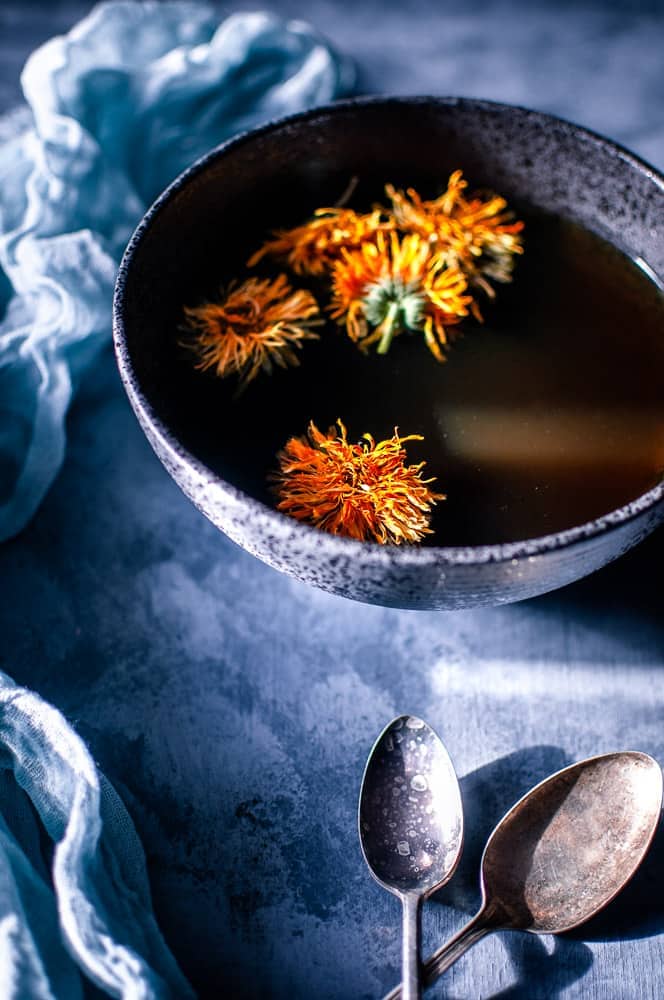 Items Needed to Make Healing Broth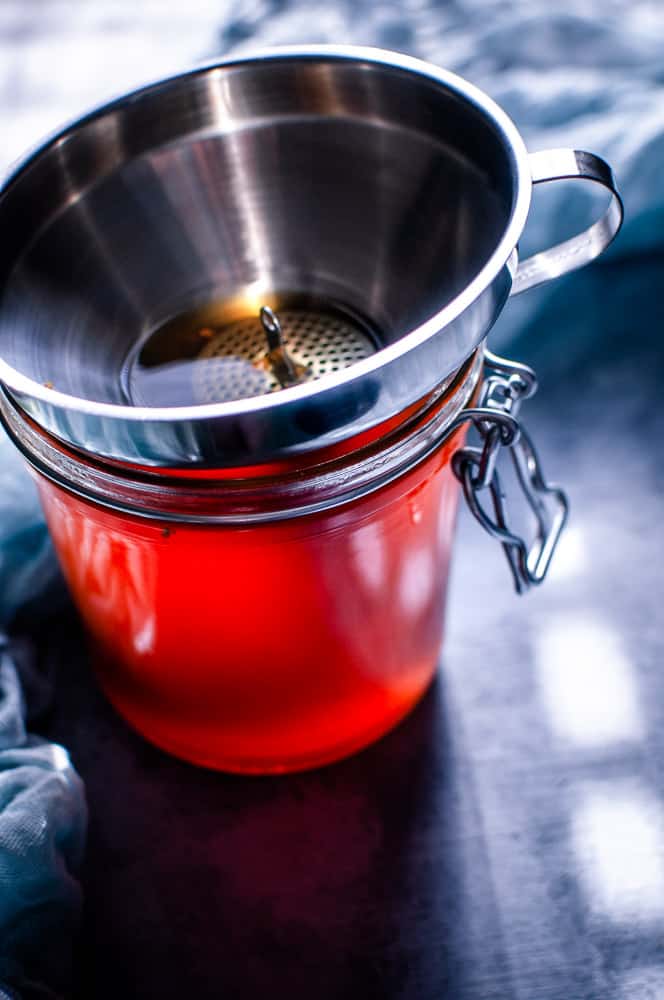 How-to Make Healing Mushroom Broth – Step by Step
Combine all broth ingredients in a 12 quart stock pot.
Cover to the top with clean, filtered water.
Simmer on the stove.
Enjoy!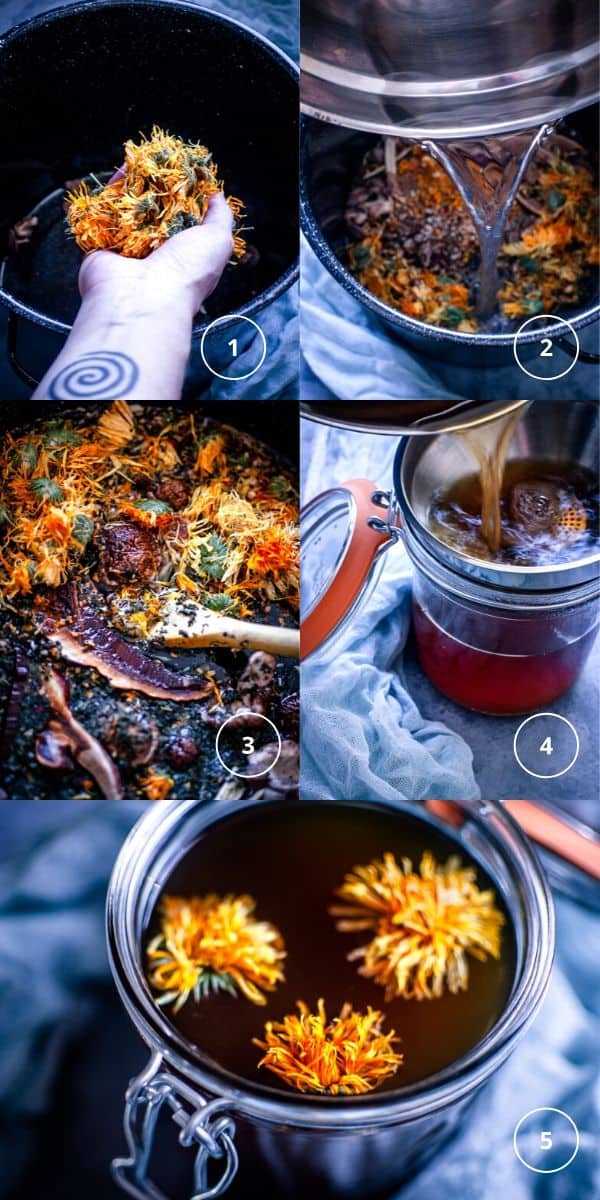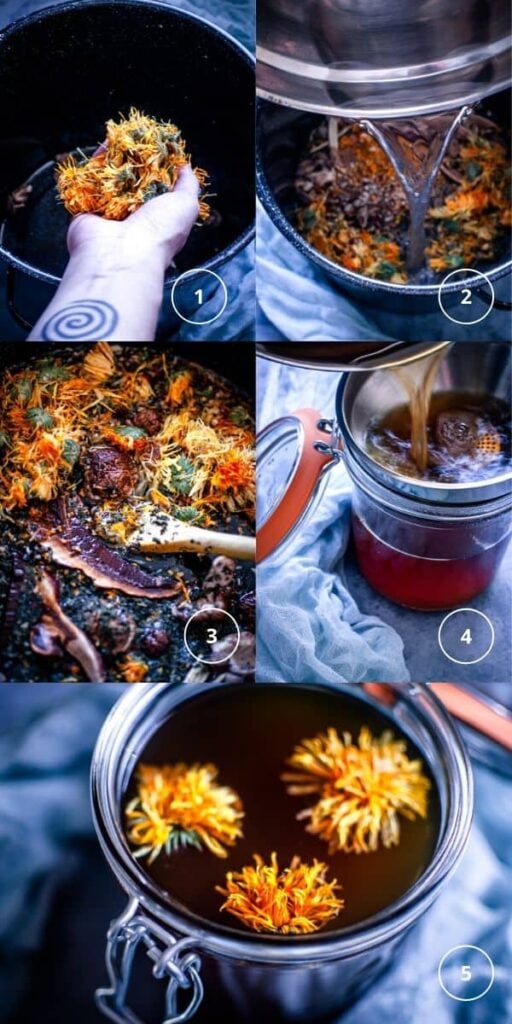 Common Recipe Questions
How do I use this broth?
On its own, to enjoy from a bowl like a soup or sip from a mug like a tea.
As a soup base in place of any vegetable stock.
As a base in curries to use in place of water or coconut milk.
Use in place of water when cooking grains such as rice or quinoa.
Use in homemade salad dressing recipes.
As a base for gravies.
How do I store Healing Broth?
I like to strain this broth, let it cool completely, then store it in glass jars in the refrigerator for up to one week. Alternatively, this broth can be stored in the freezer for up to about 4 months. To freeze, I like to pour the broth into molds or ice cube trays, and then once frozen, store the cubes in freezer safe bags. Alternatively, you can also store the broth in freezer safe glass jars or containers.
Where's the salt?
This sodium-free broth doesn't contain salt simply because it doesn't need it! It is truly quite flavorful and rich on its own.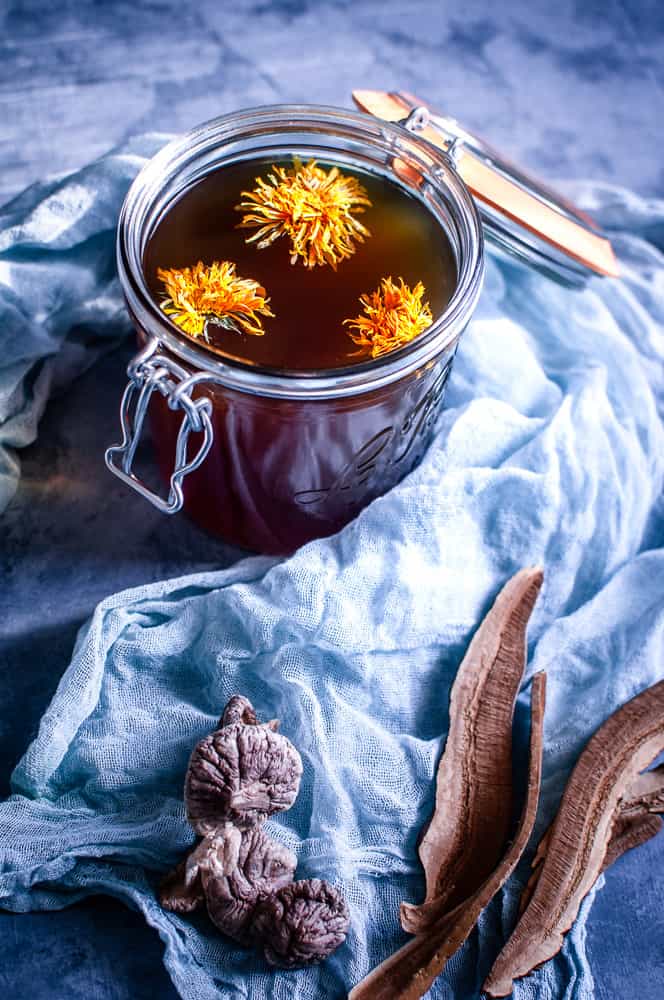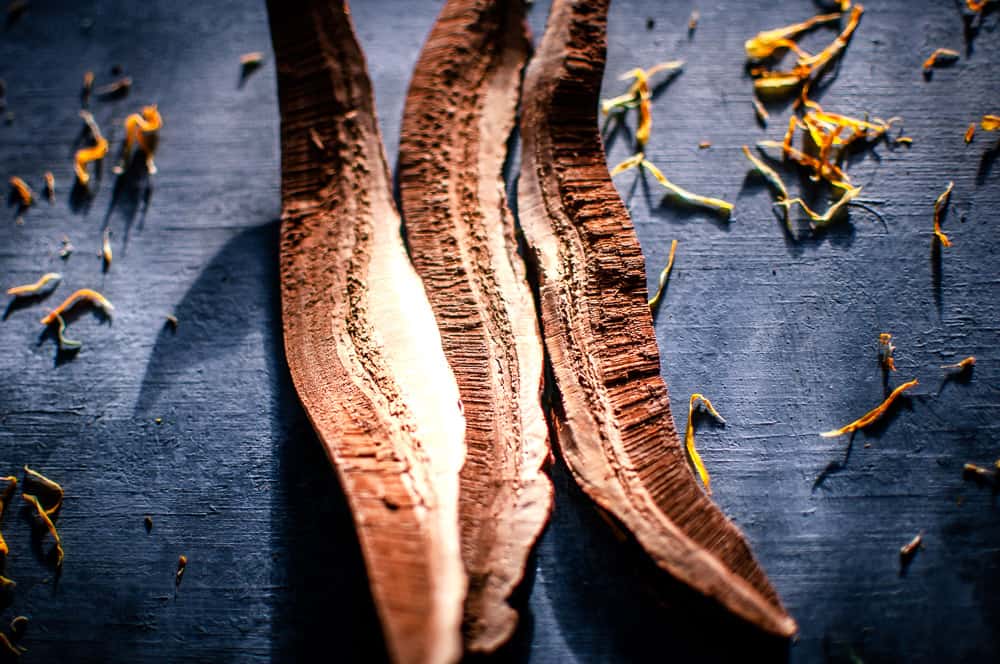 Top Tips for Making an Herbal Broth Recipe
Get Creative
While I very much love the proportions and ingredients listed in the recipe, there is room to adapt this recipe to your tastes and liking. Not a fan of a certain ingredient? Simply omit, or replace with a plant or fungi of your choice.
Low Simmer
I find keeping this broth at a very low simmer to produce the richest flavors and help maintain the health benefits as much as possible.
Cool It Off
Be certain to let the broth cool completely before storing. Otherwise, if using the broth straight away, it is absolutely delightful still warm!
A Bit of Spice
This healing mushroom broth has a slight spicy kick from the rainbow peppercorns. It is not an overwhelming spicy, rather a nice warming sensation throughout. If you are not a fan of spicy at all, you might want to omit the peppercorns or cut the amount in half.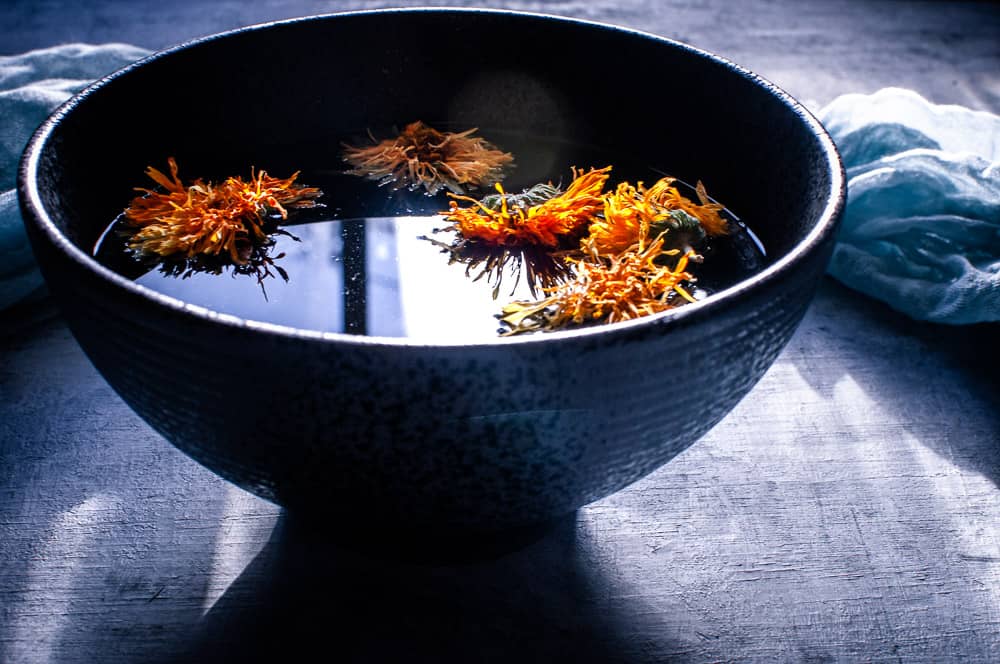 More Herbal Recipes and Resources
16 Gluten-Free & Vegan Lavender Recipes + Uses, Tips & Benefits
24 Dandelion Recipes + Health Benefits + Foraging Tips
Cherry Lavender Moon Milk Recipe (Vegan)
No Bake Dandelion Beet Chocolate Bars (Vegan, Gluten-Free)
Orange Infused Nettle Ice Pops + 10 Health Benefits (Gluten-Free, Vegan, Sugar-Free)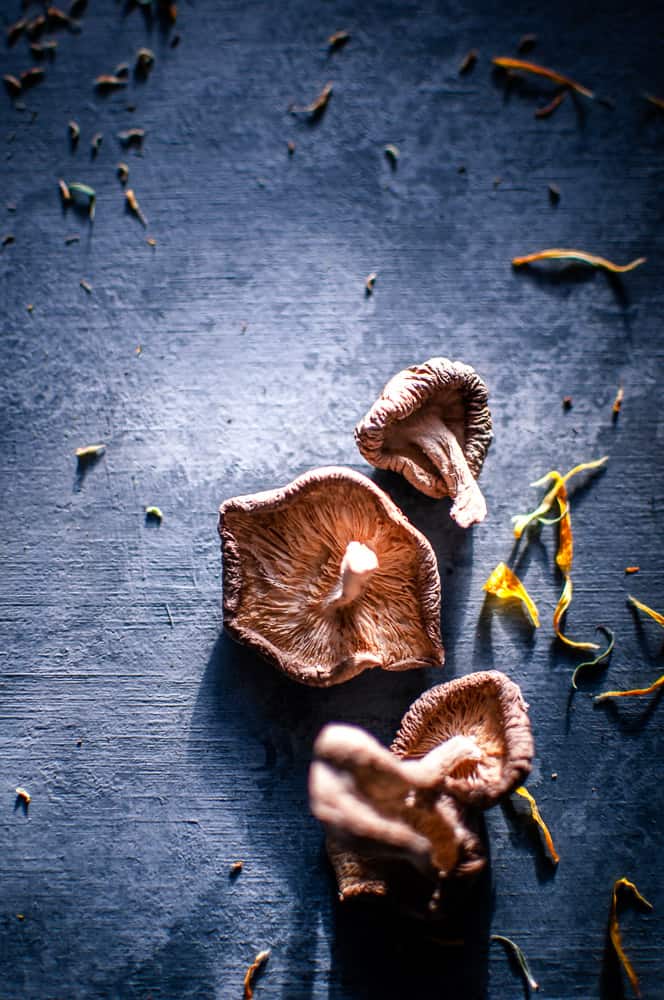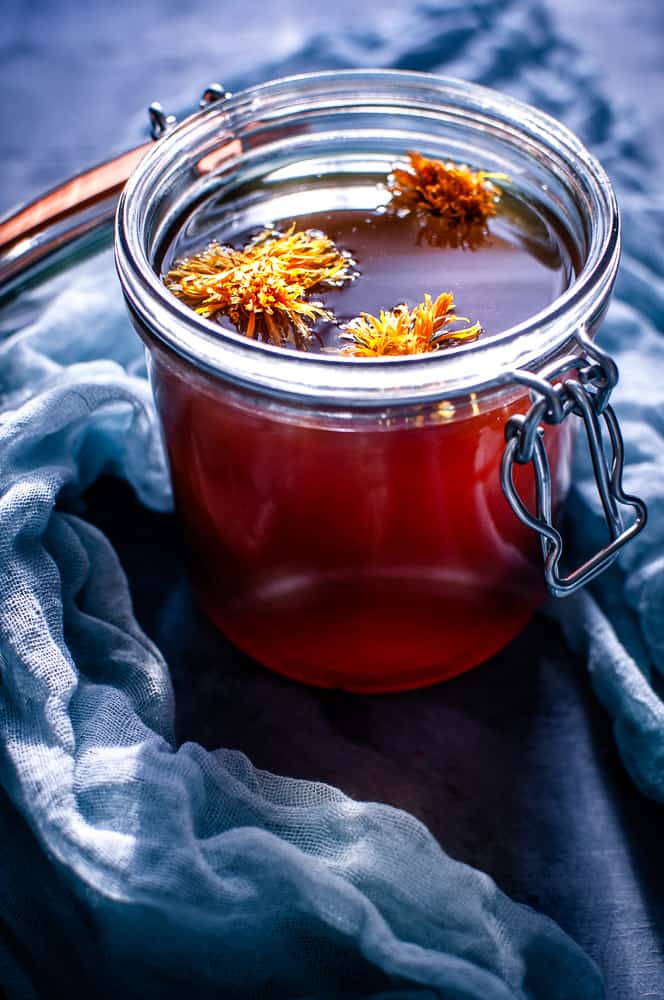 Health Disclaimer
The information shared in this post is not intended nor should be used in place of a medical professional's advice. All opinions expressed are my own, and are based from my own lifelong relationships with plants. If you are worried or concerned about any of the ingredients listed in the recipe, please consult with a medical professional or do your own extensive research.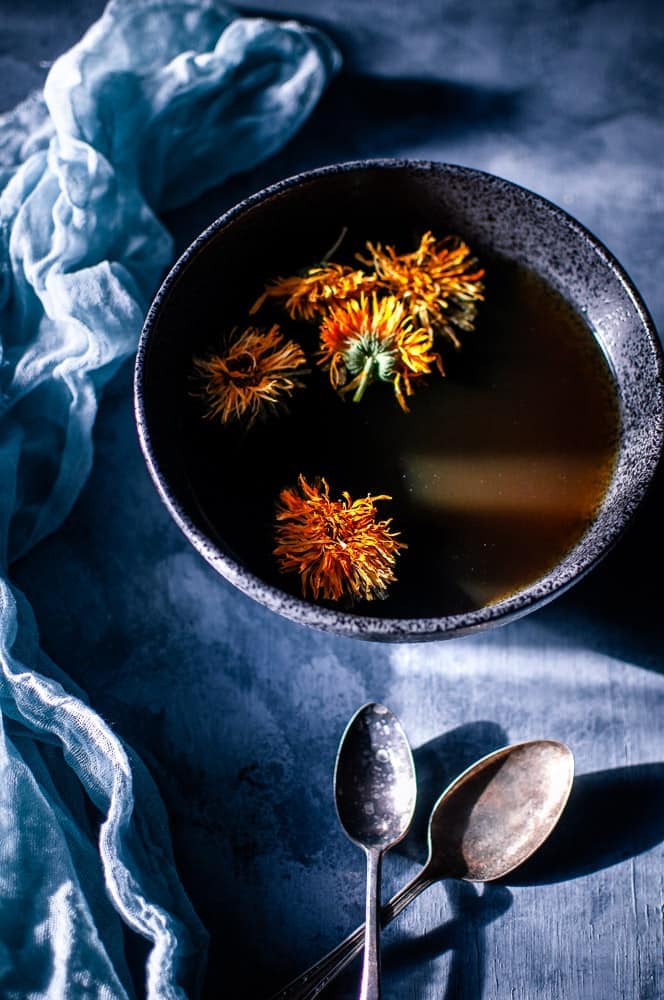 If you try this recipe please let me know! Leave a comment, rate it, share this post, use Pinterest's "tried it" feature, or take a photo, & tag me on Instagram and I'll share it! Thank you so much! <3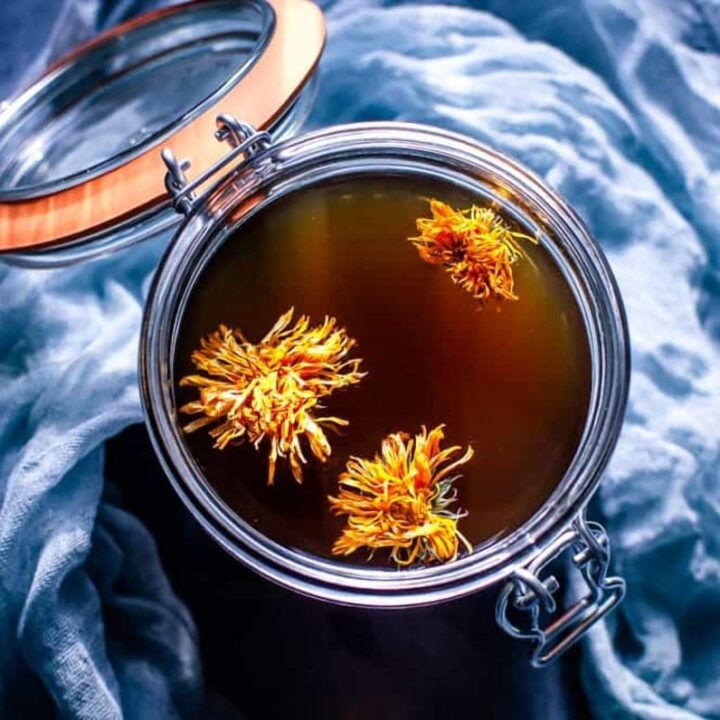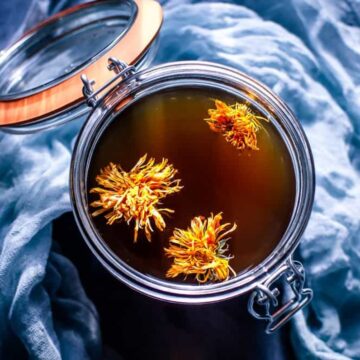 Healing Mushroom Broth with Herbs, Spices + Flowers
An immune boosting, anti-inflammatory mushroom broth recipe packed with healing herbs, plants, spices and flowers. Easy to make, vegan, sodium-free, and nutrient-dense!
Print
Pin
Rate
Ingredients
1

handful shiitake mushrooms

whole

1

handful nettle leaf

1

handful calendula flowers

whole

9

reishi mushroom slices

8

astragalus root slices

3

tablespoons

burdock root

2

tablespoons

chaga mushroom

2

tablespoons

turmeric root

2

tablespoons

ginger root

2

tablespoons

rainbow peppercorns

lightly crushed

1

tablespoon

lemon peel

lightly crushed

1

teaspoon

cordyceps powder

1

bay leaf
Instructions
Place all ingredients into a 12 quart stock pot.

Cover to the top of stock pot with clean, filtered water.

Bring to a boil. Cover, reduce heat to a low simmer.

Simmer for 25 minutes.

Turn off heat and let sit for 10 minutes (up to one hour).

Strain

, let cool completely, then store, or enjoy right away.
Nutrition
Serving:
8
cups
|
Calories:
26
kcal
|
Carbohydrates:
6
g
|
Protein:
1
g
|
Sodium:
3
mg
|
Fiber:
2
g
|
Sugar:
1
g
Have you tried this recipe?
Please Rate + Comment Below!
Watch Our Latest Videos
Follow us on YouTube!
Other Products Used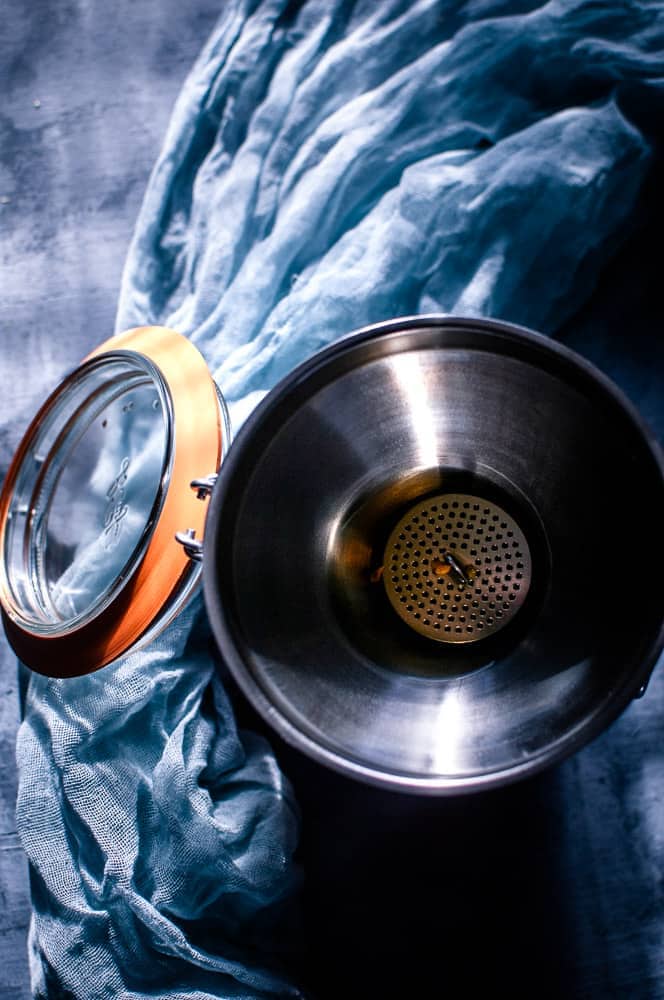 Pin it for Later