40 Paleo Vegetarian Recipes. Vegetarian Paleo appetizers, meals, desserts, breakfast ideas and more can be found in this recipe round-up for the Paleo Vegetarian Diet!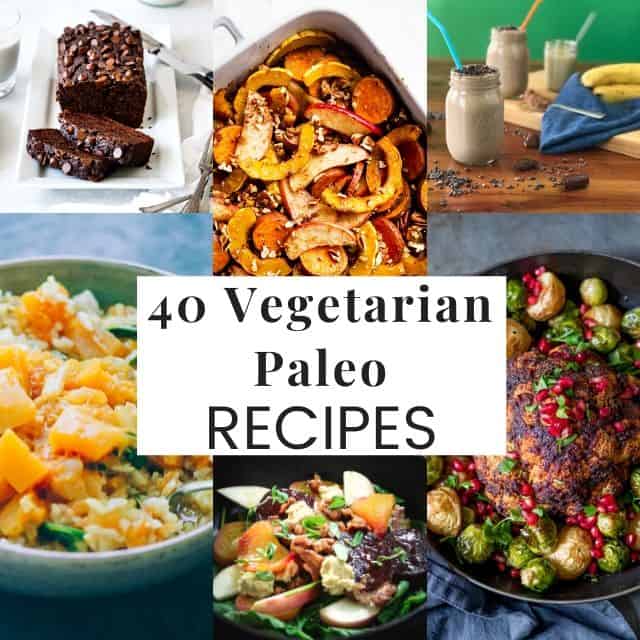 Jump to:
The Paleo Vegetarian Diet
What Foods Can I Eat on a Vegetarian Paleo Diet?
Healthy fats such as coconut oil, avocados, avocado oil, olive oil, ghee, nuts, seeds, nut and seed butters, and coconut butter.
Spices. So long as a dried spice or spice mix does not contain sugar, MSG, wheat or dairy products, it is most likely Paleo.
Fresh herbs such as dill, cilantro, parsely and rosemary.
Vegetables such as bell peppers, onions, cauliflower, broccoli, asparagus, cabbage, beets, carrots, and sweet potatoes.
Leafy greens such as lettuce, spinach, kale, watercress and bok choy.
Squash such as zucchini, spaghetti squash, butternut squash, crookneck squash, and acorn squash.
Fruit such as lemons, limes, apples, pears, watermelon, cantaloupe, oranges, grapefruit, mango, coconut, cherries, peaches, pomegranates, and berries.
Dried fruit such as raisins, plums, figs, and apricots.
Mushrooms. All mushrooms are paleo!
Nuts such as almonds, cashews, hazlenuts and walnuts.
Seeds such as sunflowers seeds, hemp seeds, chia seeds, pumpkin seeds, and sesame seeds.
Eggs. All eggs (chicken, duck, quail) are paleo and suitable for a lacto-ovo vegetarian diet. Avoid if you are a lacto-vegetarian or on a vegan diet (a.k.a. pegan)
.
Fermented and pickled veggies such as pickles, sauerkraut and olives.
Drinks such as herbal teas, coffee, matcha, most moon milks, refined sugar-free hot chocolate, and coconut water.
Natural sweeteners such as raw honey, maple syrup, coconut nectar, date syrup, dates, and coconut sugar.
Condiments such as mayonnaise, mustard, ketchup are paleo so long as they are not the store-bought variety with added sugars and/or preservatives.
Bonus Paleo Ingredients include: cacao powder, nutritional yeast, apple cider vinegar, maca powder, moringa powder, cacao nibs, and coconut aminos (to name a few).
What Foods Should I Avoid on a Paleo Vegetarian Diet?
Grains suchs as wheat, corn, oats, barley, rice, and quinoa.
Legumes such as beans, lentils, peanuts, peas, and soybeans.
Soybeans and soy products such as tofu and tempeh.
All refined sugars. This includes, cane sugar, brown sugar, turbinado sugar, and agave syrup. Be certain to read labels and avoid any products commonly containing added sugars such as fruit juices, cereals, soda, energy bars, and even some gluten-free breads.
Dairy products. Cheese, milk, yogurt, ice cream are not generally considered Paleo, though some people make exceptions and include a bit of butter or goat cheese. There are lots of wonderful alternative to be found for dairy products. See: nut cheese and dairy-free + refined sugar-free ice cream.
Processed vegetable oils such as canola oil, soybean oil and peanut oil.
Potatoes.
The majority of packaged food, unless otherwise stated as paleo, is likely to be highly processed and full of sugars and preservatives that are not considered paleo-friendly.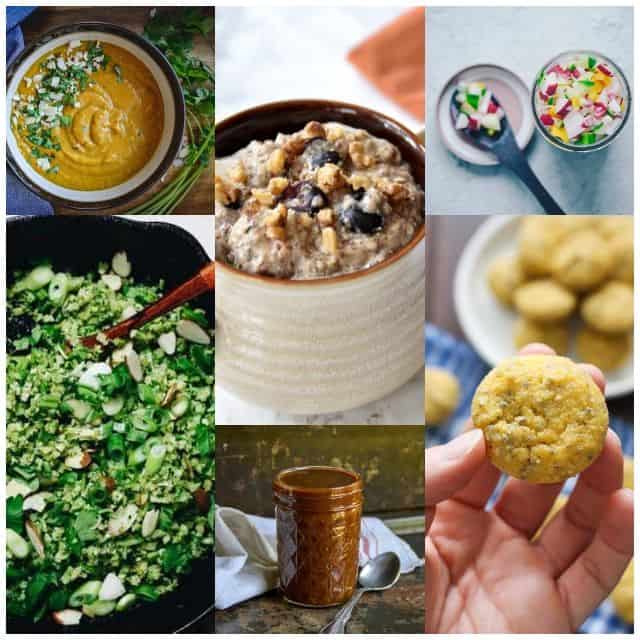 40 Vegetarian and Vegan Paleo Recipes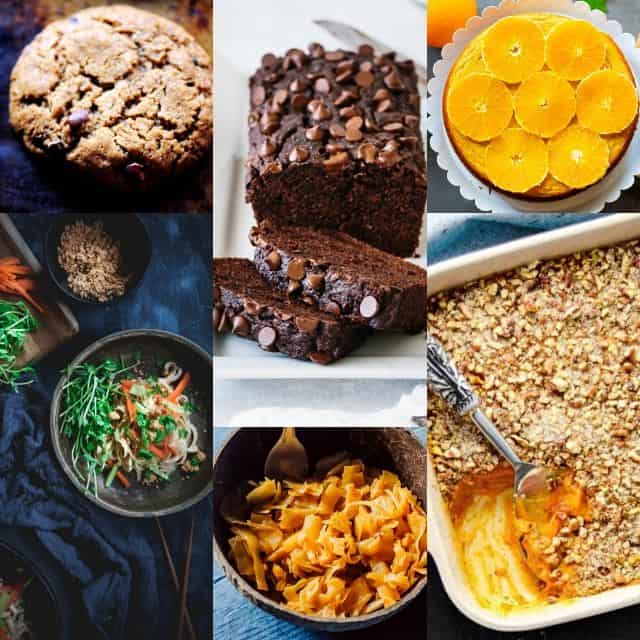 You Might Also Like
I greatly hope you enjoyed this round-up of Paleo Vegetarian Recipes + the food lists! If you found this post helpful, I would so appreciate you sharing on social media! Thank you!