Lavender Simple Syrup
This post may contain affiliate links, and we receive an affiliate commission for any purchases made by you using these links. We appreciate your support!
This lavender simple syrup will add a calming sweet and floral flavor to your cocktails and hot drinks. Use it to make your baked goods extra special, or even as the perfect complement to your cuppa joe.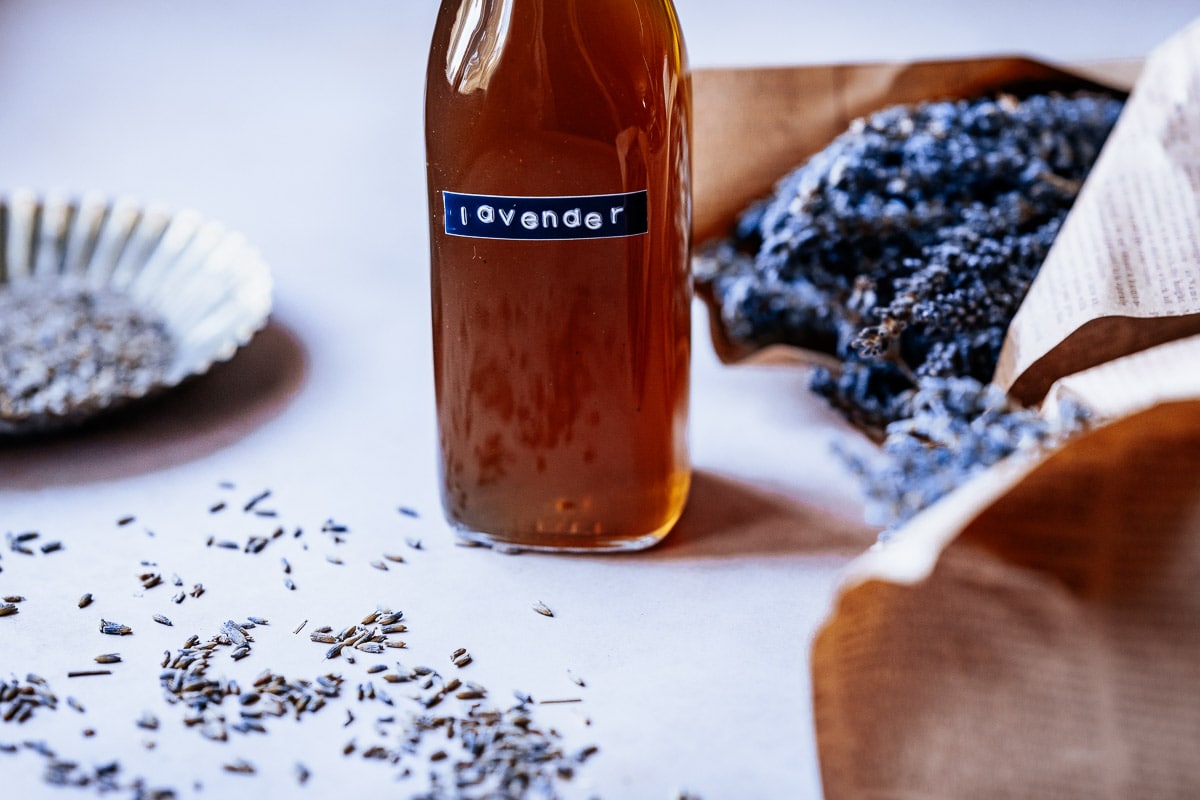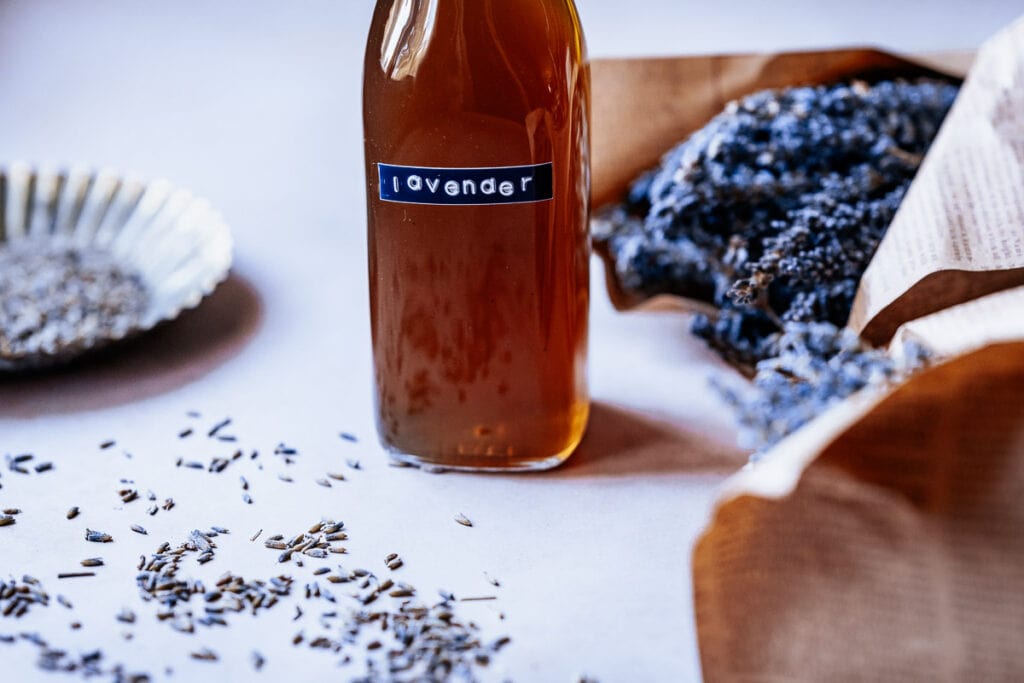 Lavender is one of my favorite herbs and I love to keep a bottle of lavender simple syrup in the fridge, so it's always on hand. I use lavender syrup all the time, whether I'm adding it to milk for a calming nighttime drink or throwing it into cookie dough for a tasty snack. This recipe is even better because it uses dried lavender buds, which means that you'll benefit from all of the unique healing properties that lavender has to offer. Whether a recipe needs sweetening or you simply want to enjoy the world of lavender, I think you'll find a good friend in this simple syrup recipe!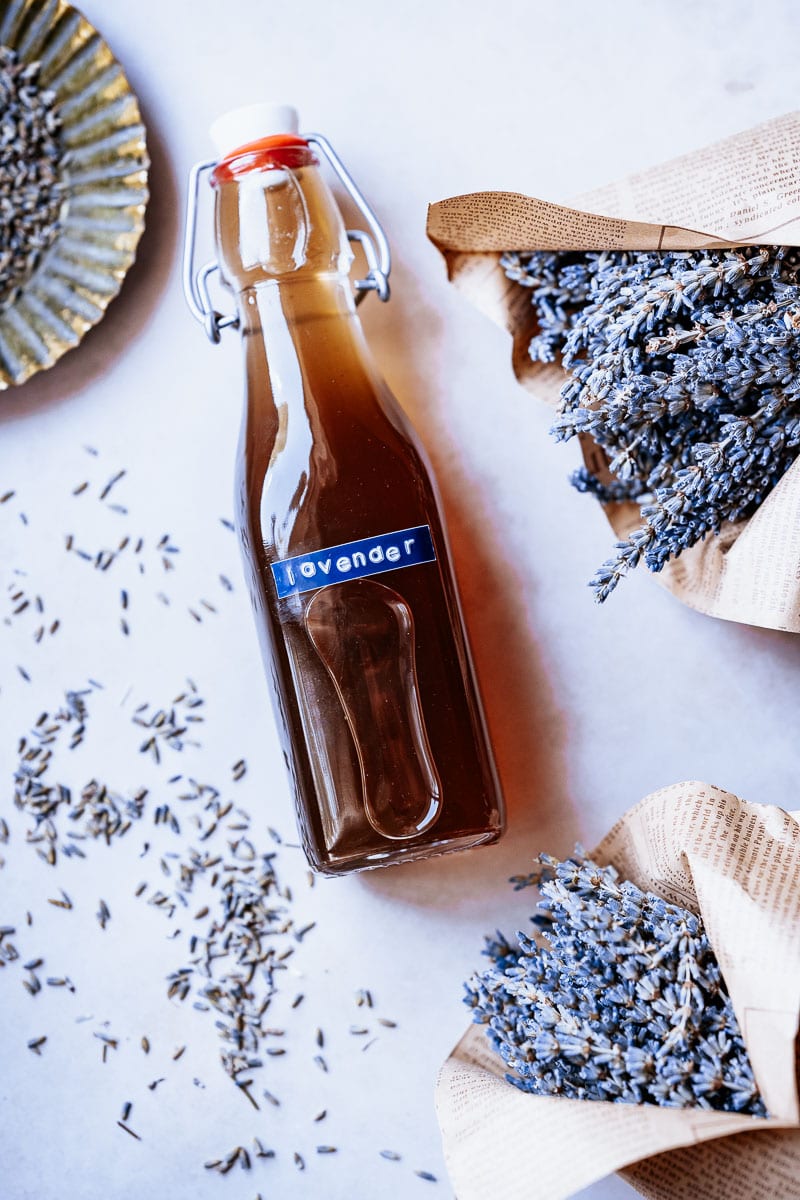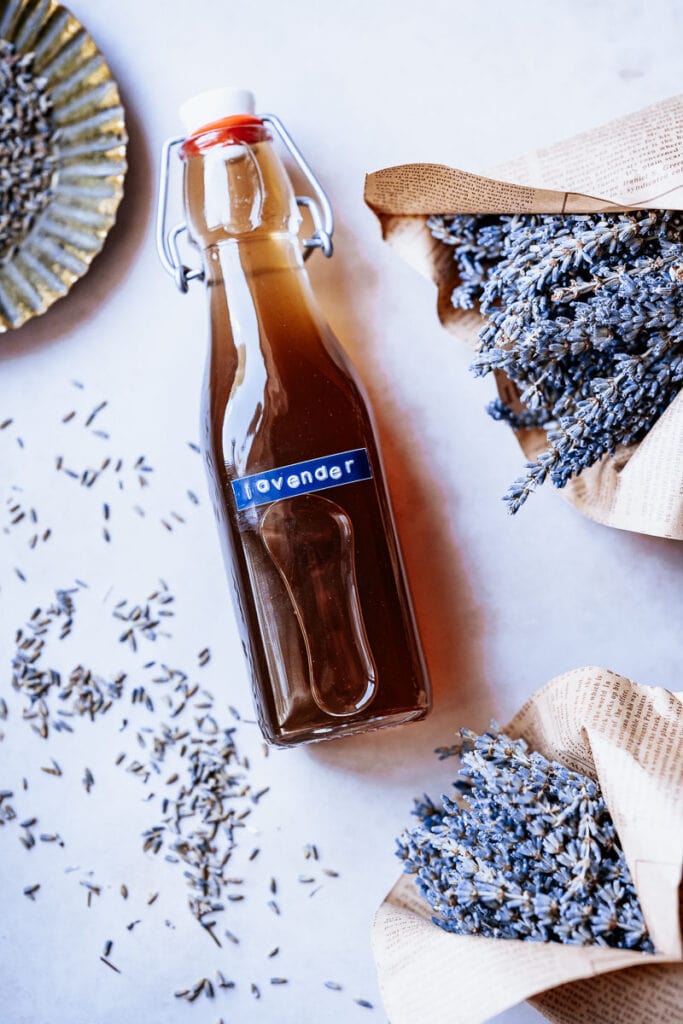 Why You'll Love This Recipe
Lavender simple syrup is an easy way to make your hot lattes and drinks more interesting.
It's super simple to make.
Lavender is great for helping you relax, combatting anxiety and depression, and even helps promote healthier skin!
You will only need a mixing bowl and a pan to make it.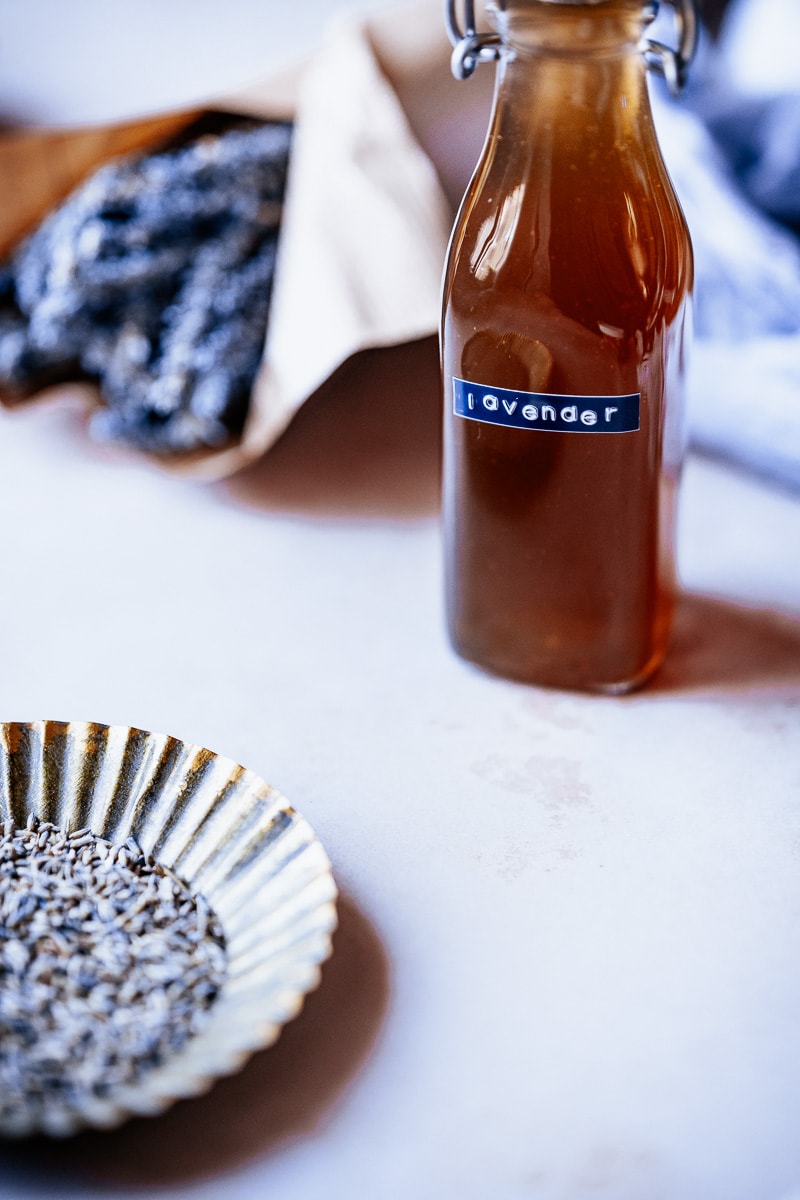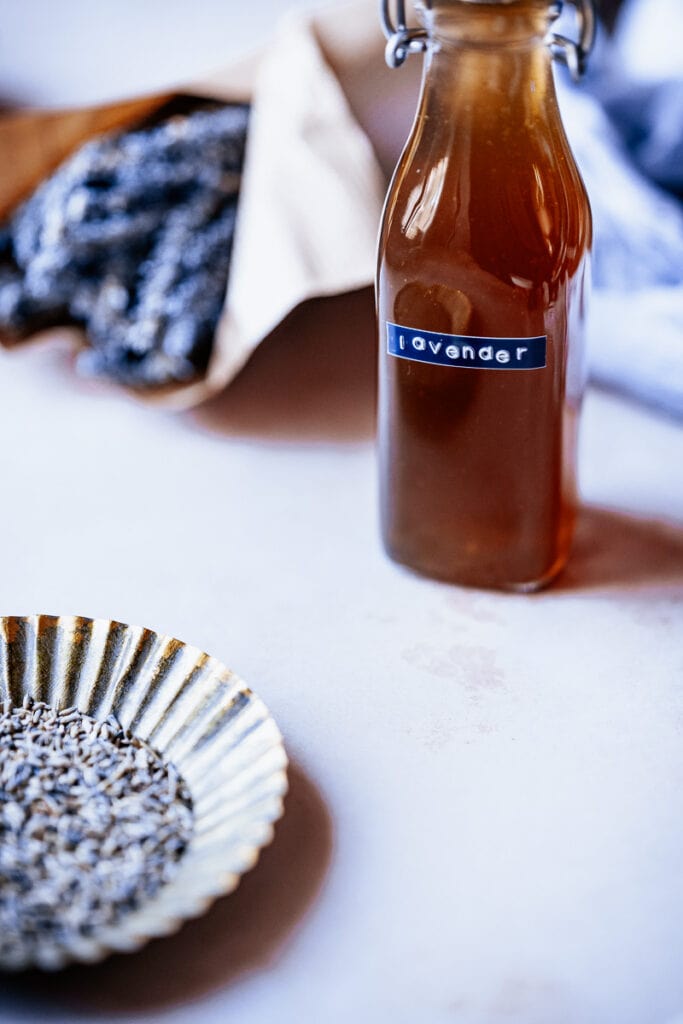 Ingredient Notes and Substitutions
Culinary grade dried lavender buds: It's essential to use culinary lavender buds for your lavender simple syrup. Culinary grade lavender is sifted multiple times to remove any leaves, stems or dried calyxes (which form a protective layer around the flower). Good culinary lavender is usually a beautiful pale lavender color and is also usually known as 'English lavender'.
Sugar. You can use any kind of granulated sugar your prefer, but if you can, I'd recommend coconut sugar as it's a slightly healthier option with the perfect sweetness.
Looking for something fruity? Try this delicious Raspberry Syrup!
Sugar-free? Try this sugar-free simple syrup.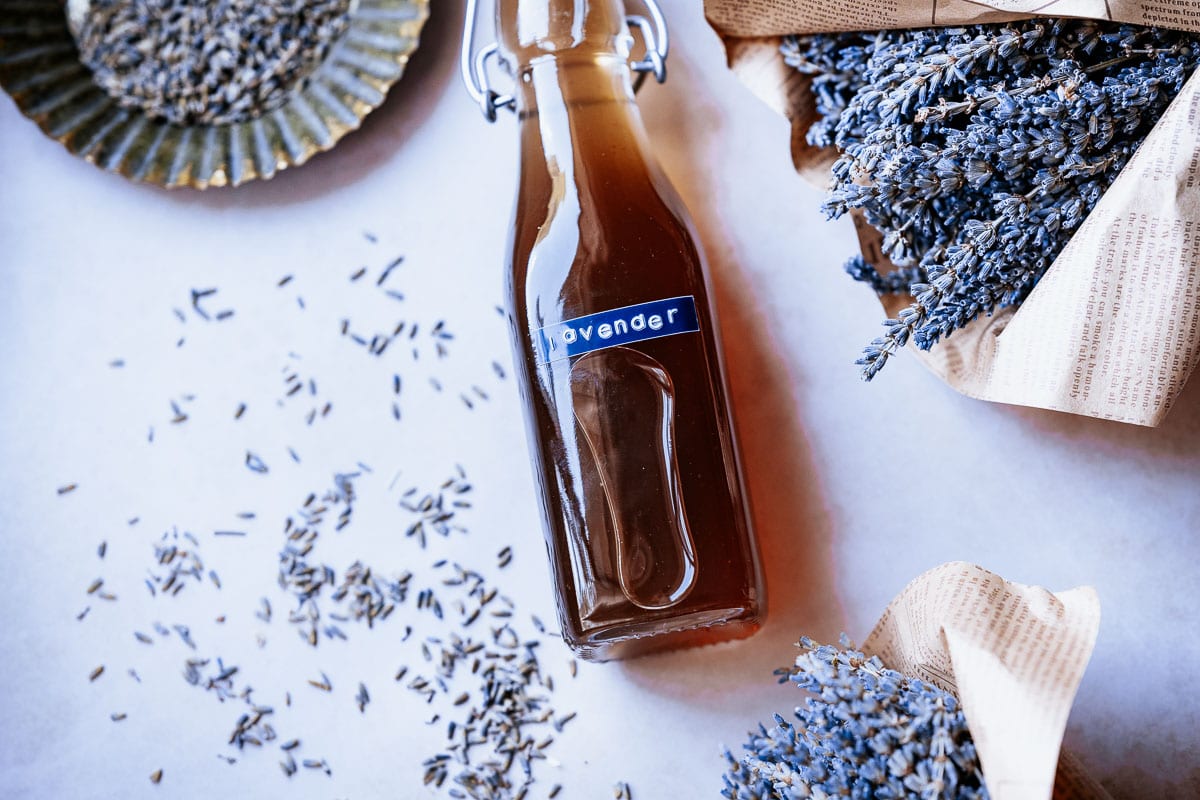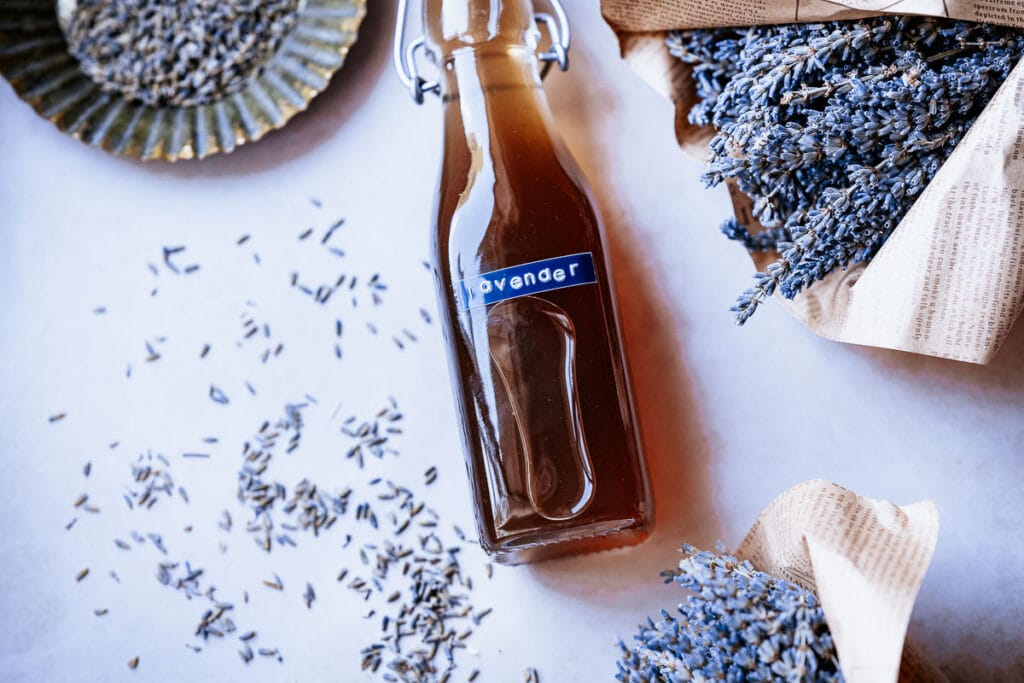 How-to Make Lavender Syrup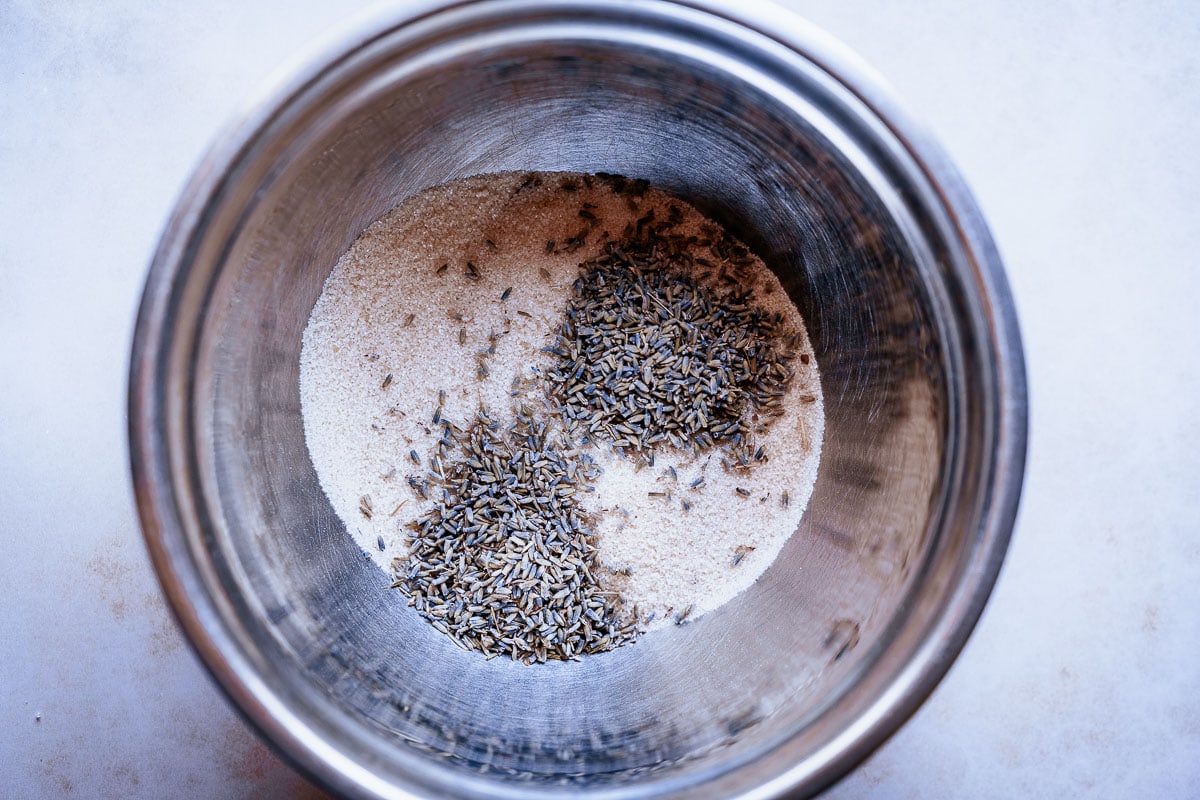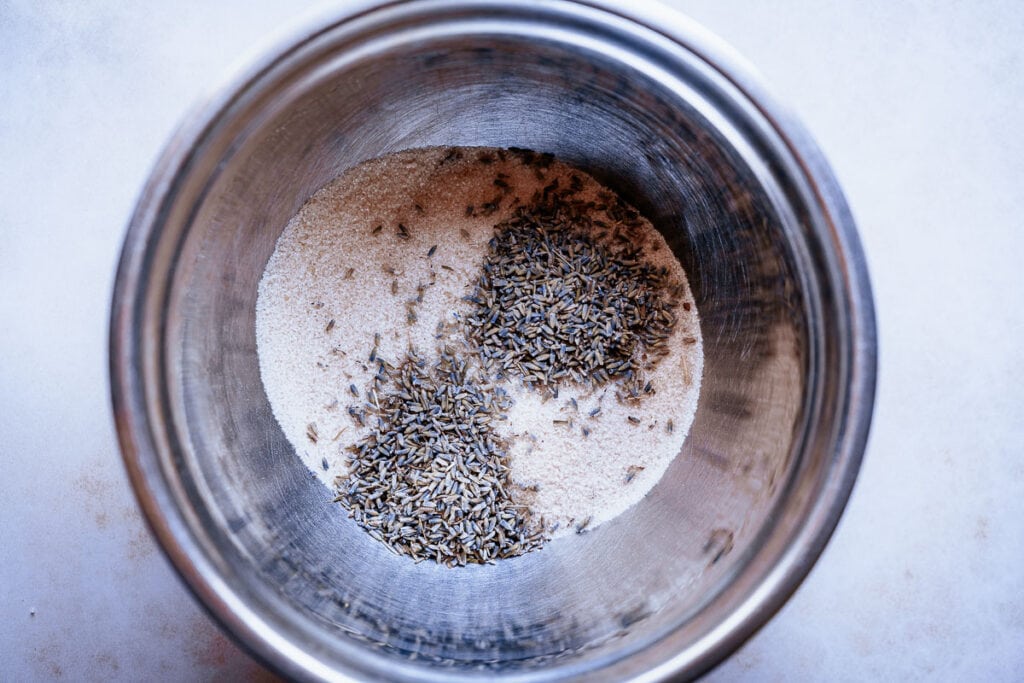 To make this lavender simple syrup recipe, begin by combining the sugar and lavender in a mixing bowl. Then, with clean hands, massage them together for a few minutes until the lavender releases its oils and the sugar smells strongly of lavender.
Move the lavender and sugar mixture to a medium saucepan, add the water, stir and heat at a high temperature until it begins to boil. As soon as it begins to boil, cover the pan, then turn off the heat.
Now let the mixture sit for at least one hour or up to eight hours. The longer you can leave it to sit, the stronger the lavender flavor will be.
Once you have let it sit, strain the lavender simple syrup through a fine mesh strainer or piece of cheesecloth to remove the lavender buds.
Transfer the syrup to a glass bottle or jar, and put it in the fridge. It will keep for up to one month.
How-to-Use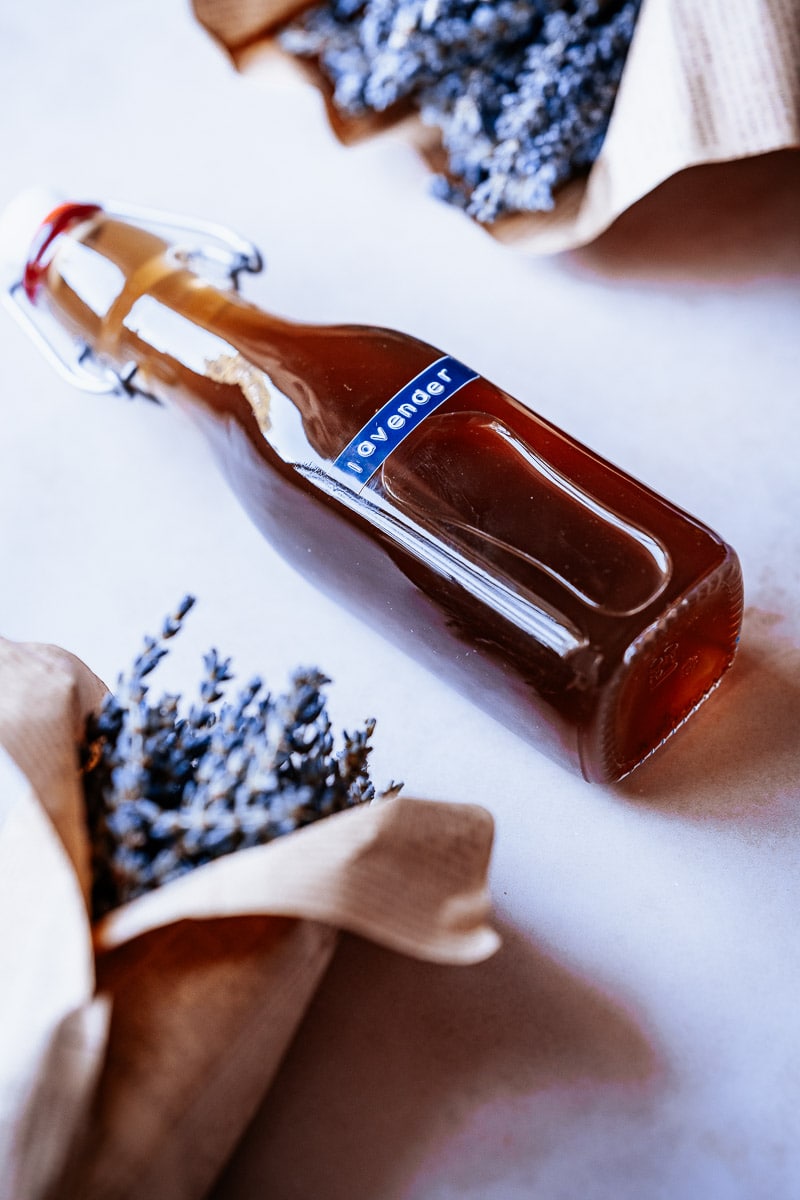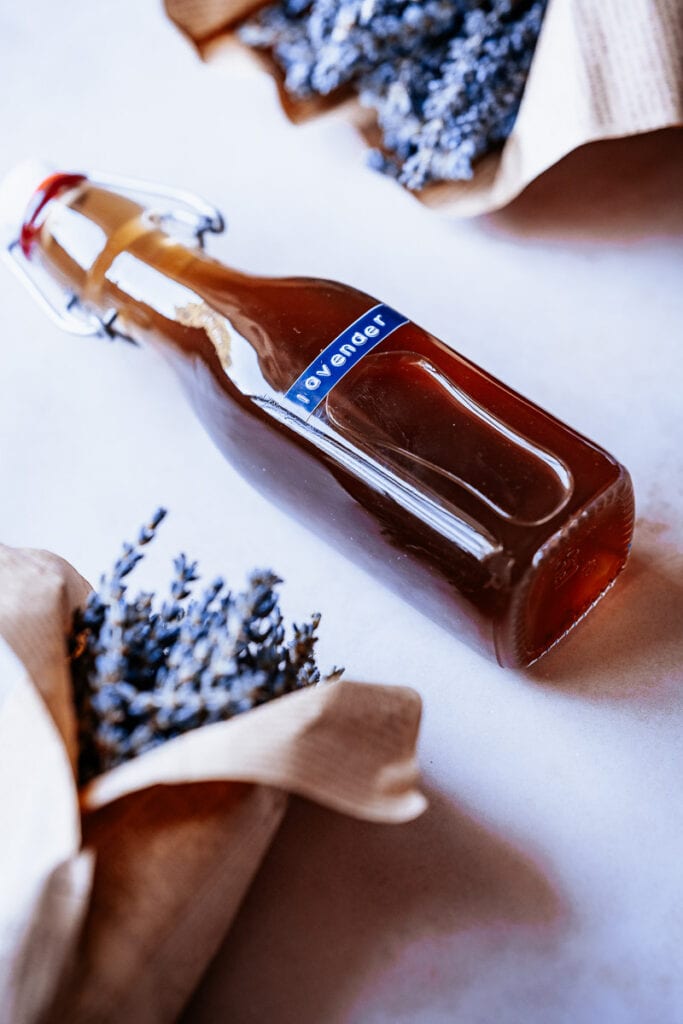 If you're anything like me, once you have a bottle of lavender simple syrup in the fridge, you'll want to add it to everything! These are some of the ways I like to use it:
To make a pitcher of refreshing lavender lemonade.
Added to warm milk for a relaxing bedtime drink.
Swirl it into a cup of coffee. The floral notes perfectly complement the earthy flavors of the coffee and make the perfect quick lavender latte.
Use it instead of lavender buds when you're making delicious lemon lavender honey cakes.
Drizzle some into your iced tea for elevated refreshment.
Add it to any cake recipe for some extra flavor. Lavender goes particularly well with citrus flavor; you could try a lavender lemon drizzle cake, for example.
Top off a fresh stack of pancakes or waffles as a wonderful maple syrup alternative.
I like to sometimes use lavender syrup in place of vanilla extract in baked goods for that lavender touch.
Also worth mentioning: lavender syrup makes one of the best gifts!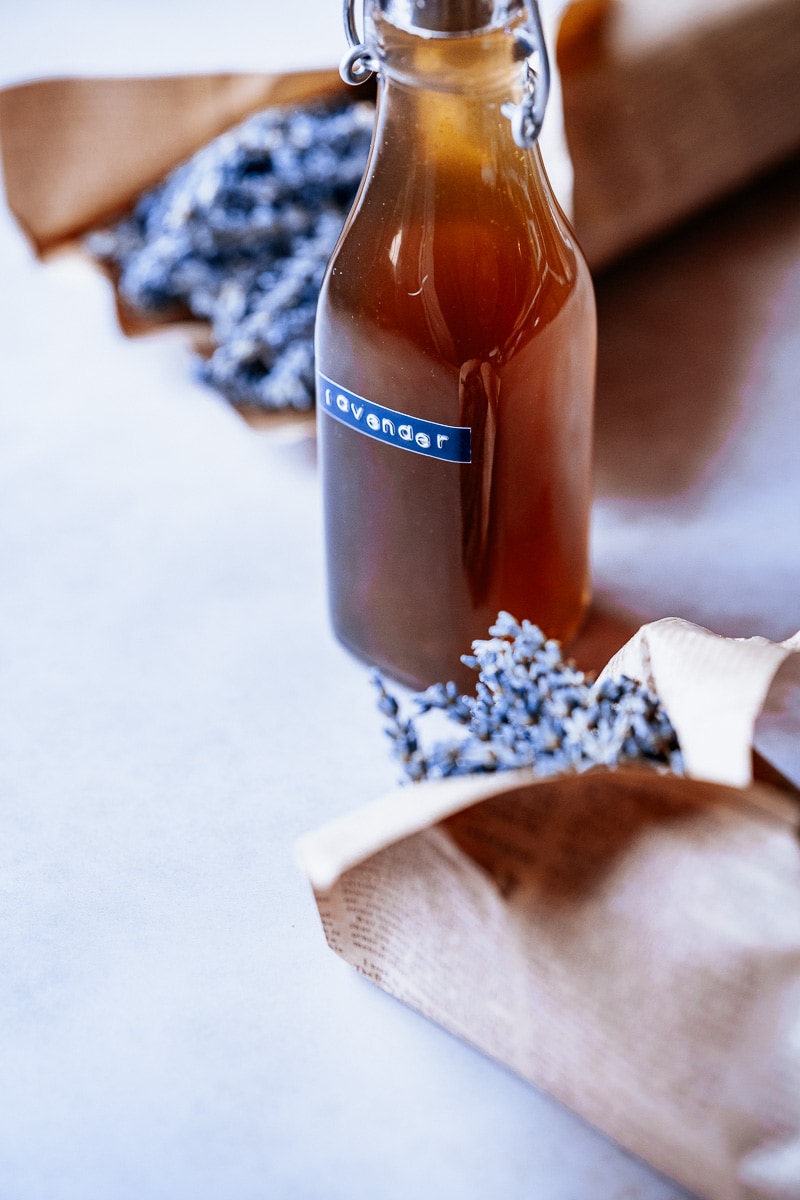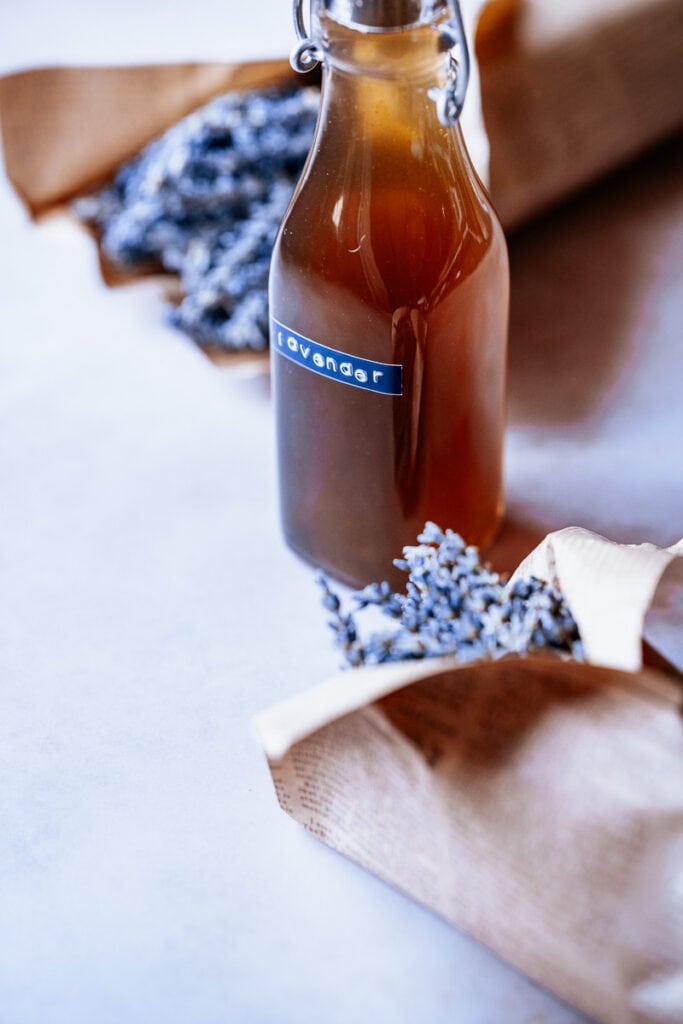 FAQ
Why does my lavender simple syrup taste bitter?
If your syrup tastes bitter, this usually means that you have boiled the lavender buds for too long. It's essential to remove the pan from the heat as soon as it reaches boiling point to avoid this happening.
Is lavender simple syrup calming?
Many people report feeling calmer after drinking lavender-infused drinks, particularly if you take the time to inhale the calming floral scent. Its natural calming properties are especially evident when incorporated into warm beverages.
Does lavender simple syrup need to be refrigerated?
Yes, it does. You must store your syrup in a sealed, airtight container in the fridge to prevent bacteria and mold from growing.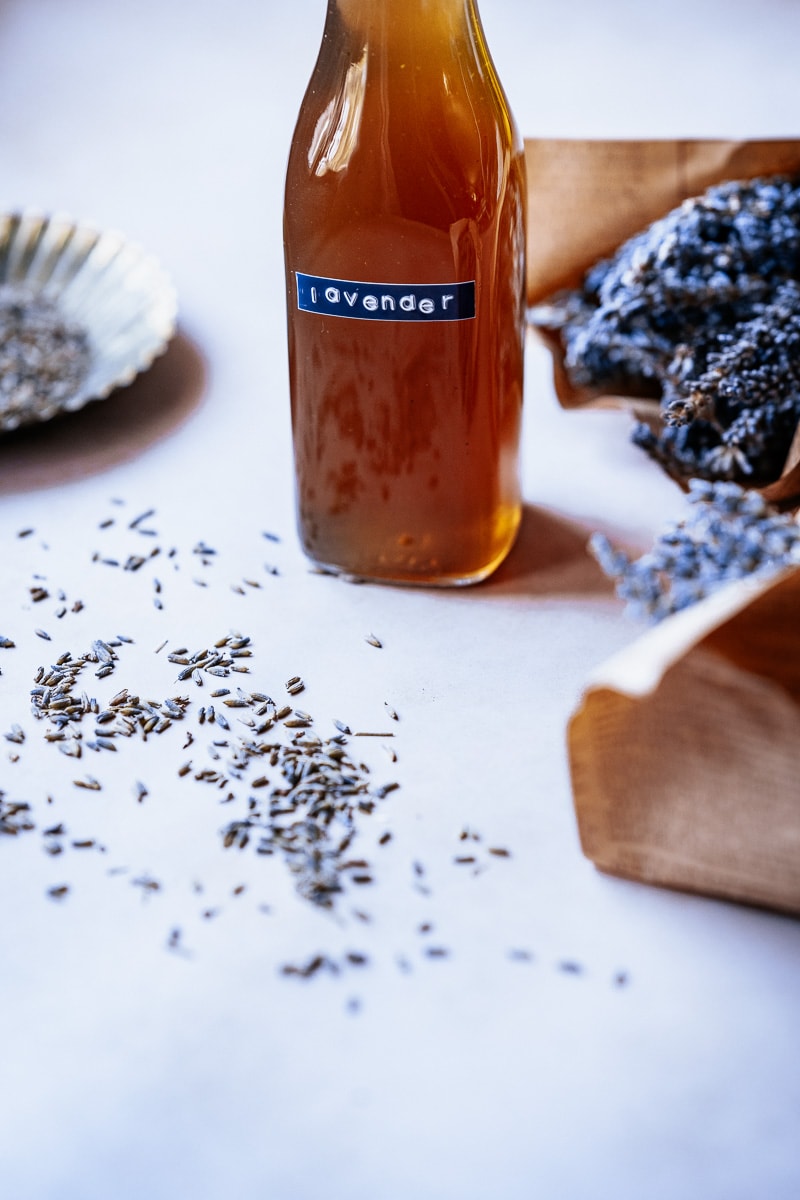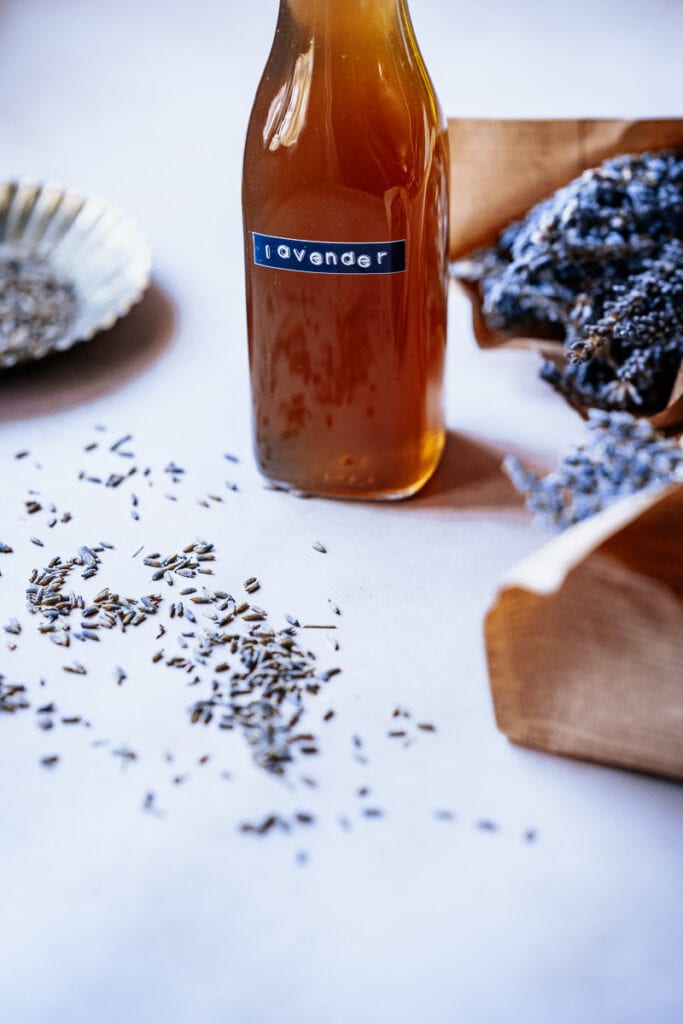 More Delicious Lavender Recipes
Gluten-Free Lemon Lavender Honey Cakes
16 Gluten-Free + Vegan Lavender Recipes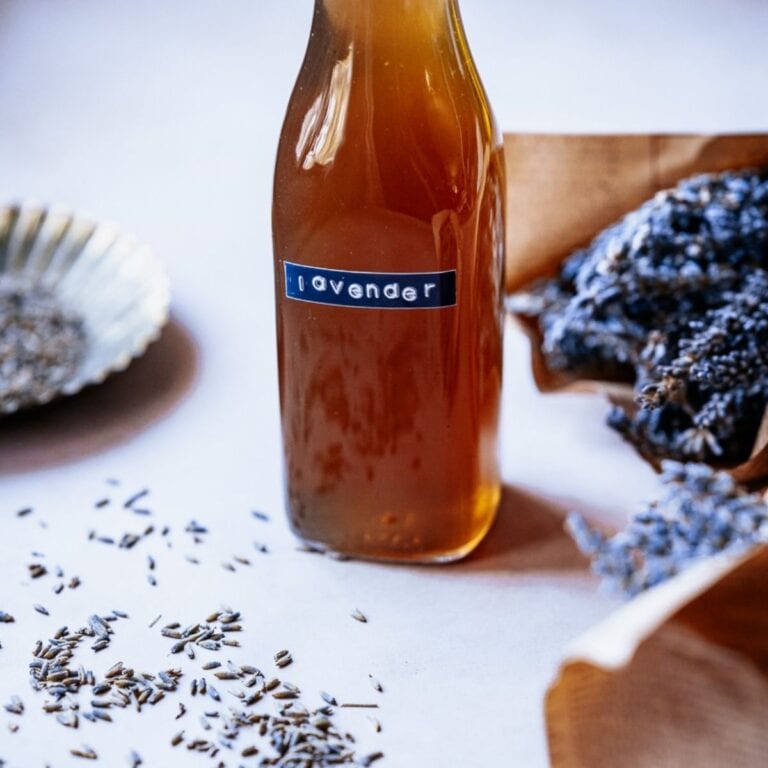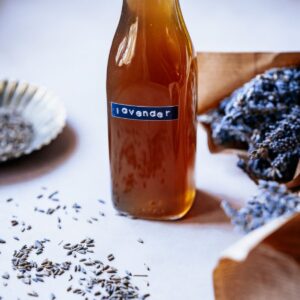 How to Make Lavender Simple Syrup
How to make Lavender Simple Syrup. This recipe is made with two simple ingredients to add flavor to coffee, cocktails, baked goods + more!
Print
Pin
Rate
Instructions
In a mixing bowl, combine the sugar and lavender. Massage with your hands for a few minutes, or until the oils release and the sugar smells strongly of lavender.

Place the lavender sugar and water in a small saucepan over high heat. Bring to a boil, cover, then turn off the heat.

Let sit for at least 1 hour, or up to 8 hours (the longer it sits, the stronger the lavender flavor).

Strain the lavender buds from the syrup, then keep the syrup stored in a glass bottle or jar in the fridge for up to one month.
Nutrition
Serving:
2
tablespoons
|
Calories:
99
kcal
|
Carbohydrates:
25
g
|
Protein:
1
g
|
Fat:
1
g
|
Sodium:
2
mg
|
Potassium:
1
mg
|
Sugar:
25
g
|
Vitamin A:
11
IU
|
Vitamin C:
1
mg
|
Calcium:
9
mg
|
Iron:
1
mg
Have you tried this recipe?
Please Rate + Comment Below!
Watch Our Latest Videos
Follow us on YouTube!