Creamy Vegan Sesame Ramen
A delicious Vegan Creamy Sesame Ramen recipe from Melissa Copeland of the fantastic vegan food blog The Stingy Vegan, a review of her inspiring new cookbook 30-Minute Frugal Vegan Recipes, plus a GIVEAWAY (one lucky reader will win a copy!). Note: GIVEAWAY NOW CLOSED.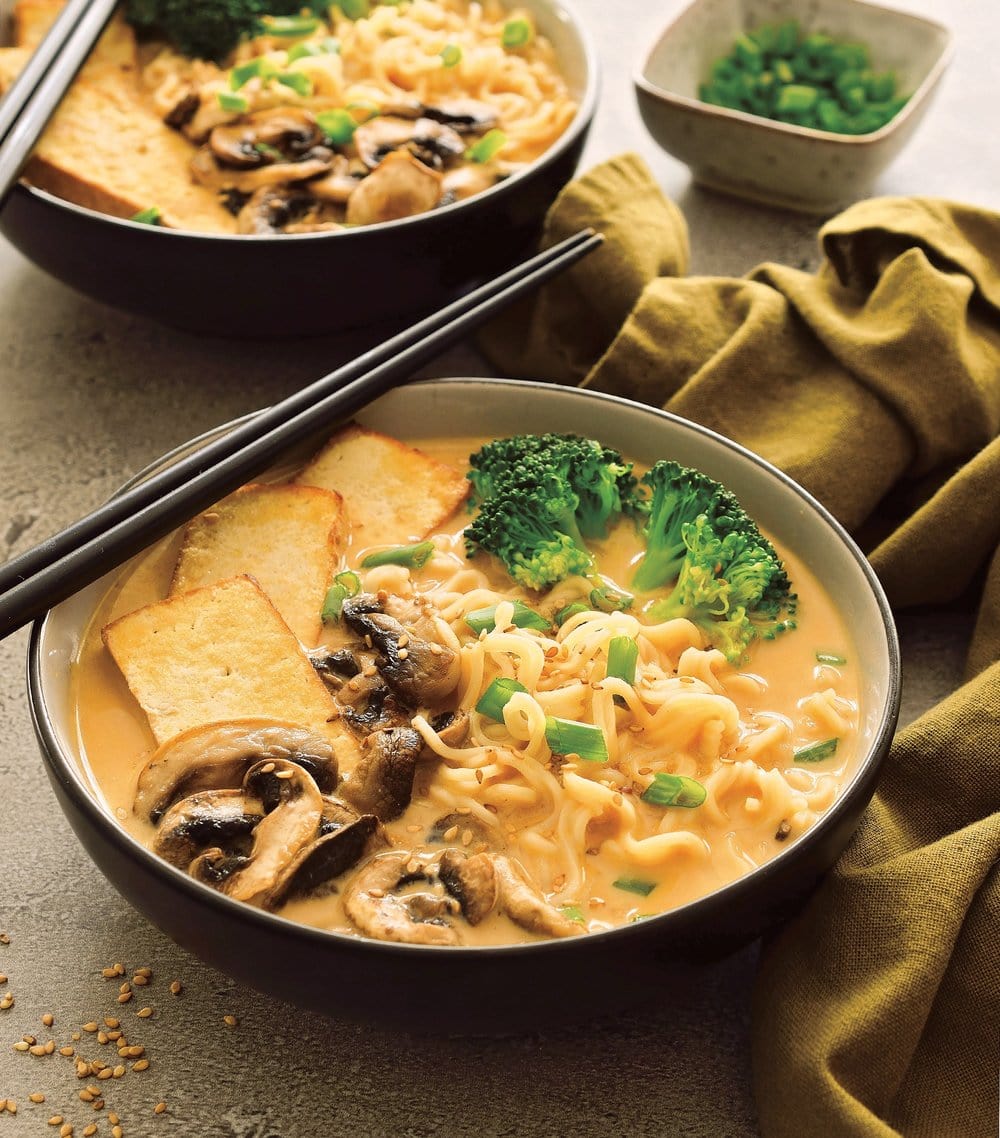 One little browse through 30-Minute Frugal Vegan Recipes, and I was hooked! I next found myself diving into each recipe amazed at what Melissa does with budget-friendly plant based ingredients in such little time. Every creation is wholly inspiring and mouthwatering. . .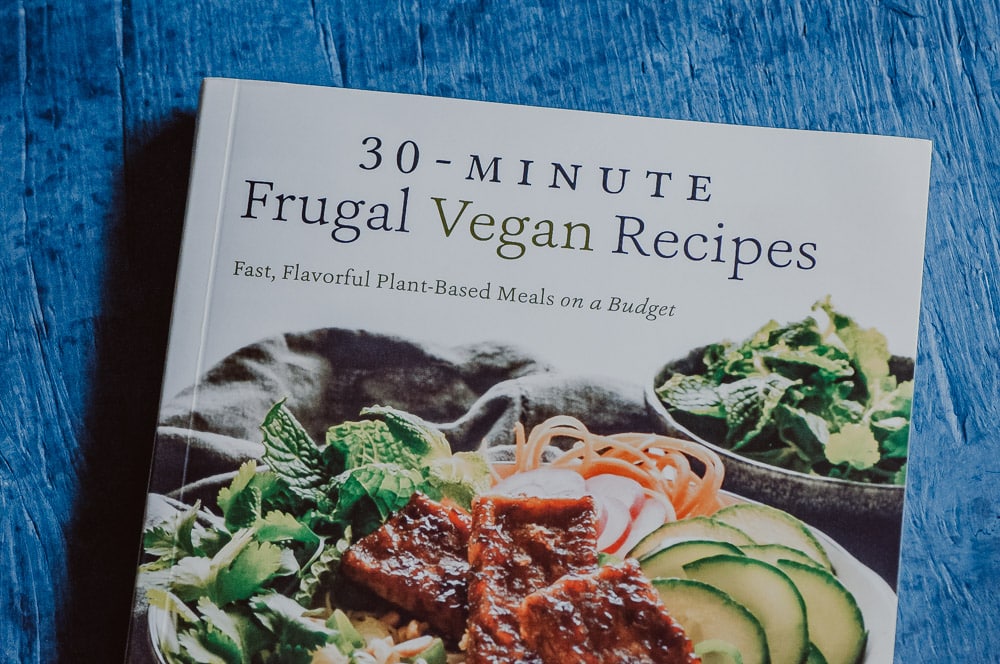 Enter this Creamy Vegan Ramen recipe. Melissa says "This is by far my favorite broth for ramen. While the majority of vegan ramen recipes rely on miso paste to make a savory broth, this one is in the style of tantanmen ramen, which makes a creamy and spicy broth from Japanese sesame paste and chili oil. Here I've used the more accessible tahini and sriracha to achieve the same basic flavor profile." Is your mouth watering yet?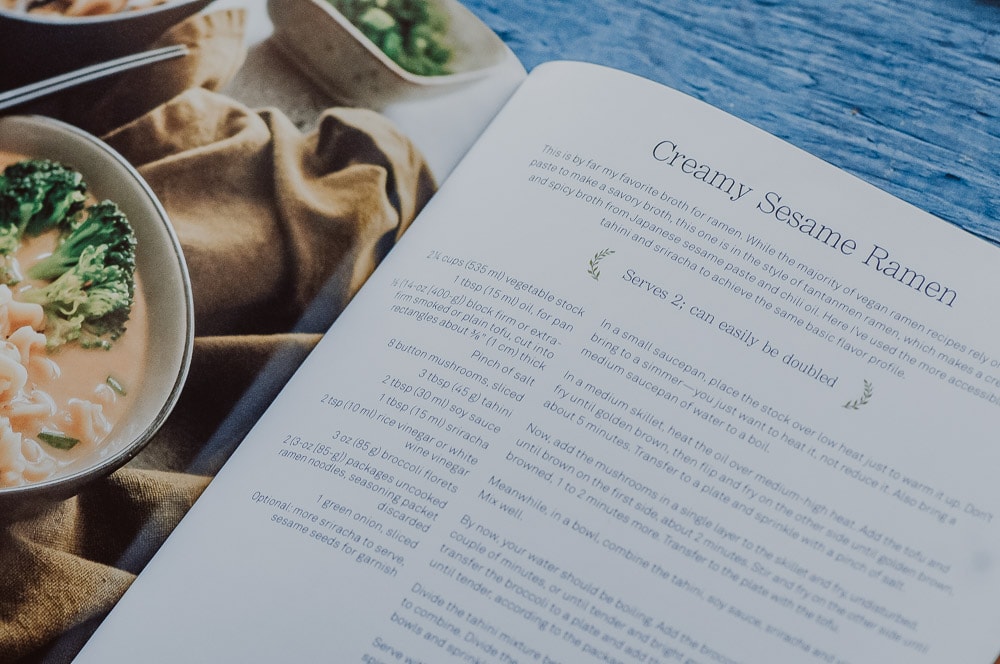 What's inside of 30-Minute Frugal Vegan Recipes?
A wide variety of nourishing vegan meals that will not break the bank!
This amazing cookbook is divided into eight chapters:
Quick-Fix Pasta and Noodles

Speedy Soups and Stews

Plant-Powered Salads

Irresistible Vegan Sandwiches, Wraps, and Burgers

Savory Small Bites

Quick and Easy Morning Munchies

Snappy Sweet Treats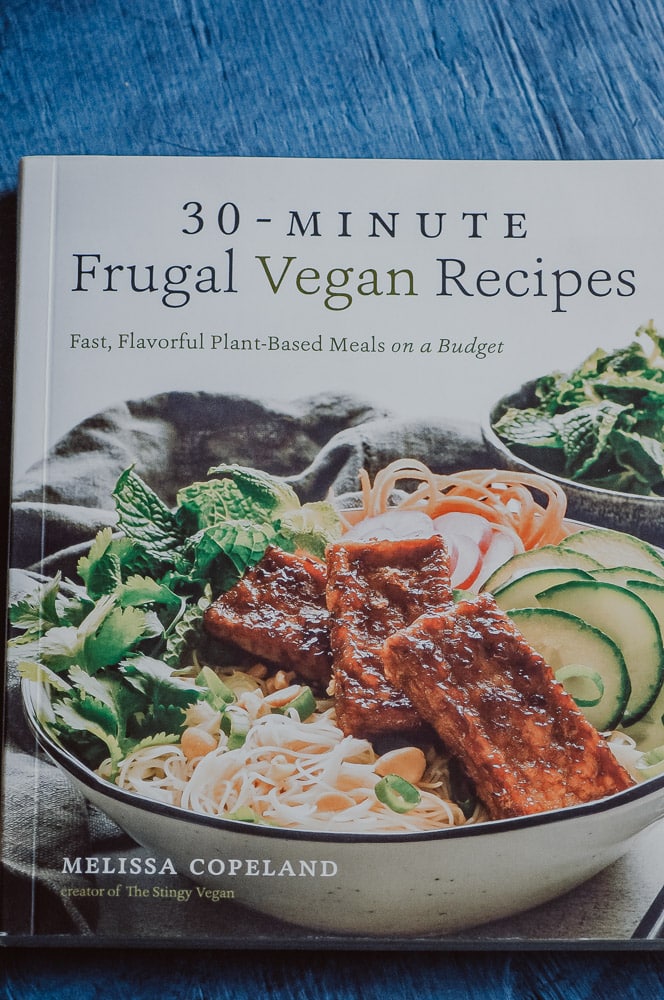 What stands out the most to me about this lovely cookbook? Melissa's use of spices to create vegan recipes that are anything but bland and boring. The sheer variety of recipes in 30-Minute Frugal Vegan Recipes is absolutely impressive, too. As someone on a tight budget, I walked away feeling inspired to create more with less! I hope you do, too.
Melissa was kind enough to share this Vegan Ramen Recipe from 30-Minute Frugal Vegan Recipes AND give away one free copy to a lucky reader below! Enjoy. xo.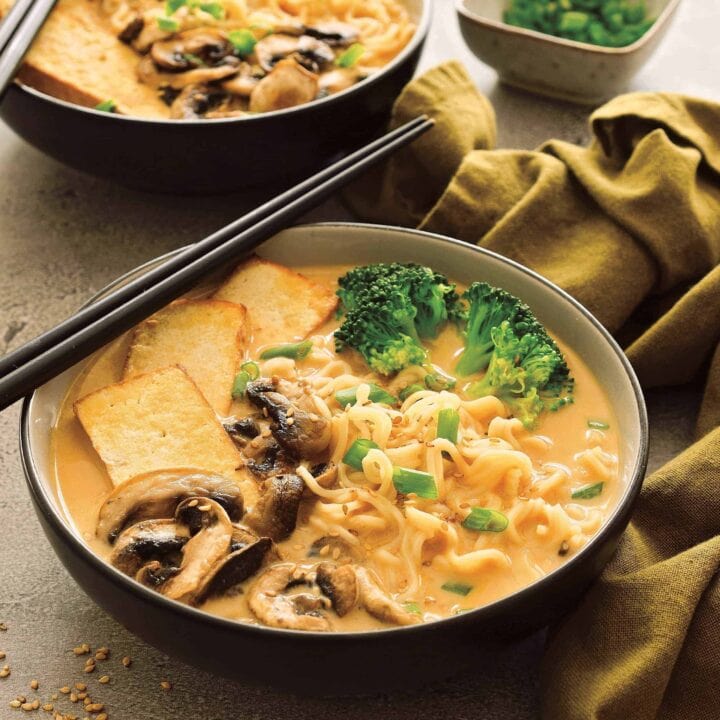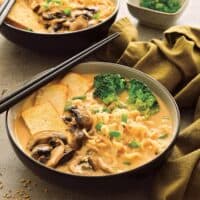 Ingredients
2¼

cups

535 ml vegetable stock

1

tbsp

15 ml oil, for pan

½

14-oz [400-g] block firm or extra-firm smoked or plain tofu, cut into rectangles about ⅜" (1 cm) thick

Pinch

of salt

8

button mushrooms

sliced

3

tbsp

45 g tahini

2

tbsp

30 ml soy sauce

1

tbsp

15 ml sriracha

2

tsp

10 ml rice vinegar or white wine vinegar

3

oz

85 g broccoli florets

2

3-oz [85-g] packages uncooked ramen noodles, seasoning packet discarded

1

green onion

sliced

Optional: more sriracha to serve

sesame seeds for garnish
Instructions
In a small saucepan, place the stock over low heat just to warm it up. Don't bring to a simmer—you just want to heat it, not reduce it. Also bring a medium saucepan of water to a boil.

In a medium skillet, heat the oil over medium-high heat. Add the tofu and fry until golden brown, then flip and fry on the other side until golden brown, about 5 minutes. Transfer to a plate and sprinkle with a pinch of salt.

Now, add the mushrooms in a single layer to the skillet and fry, undisturbed, until brown on the first side, about 2 minutes. Stir and fry on the other side until browned, 1 to 2 minutes more. Transfer to the plate with the tofu.

Meanwhile, in a bowl, combine the tahini, soy sauce, sriracha and vinegar. Mix well.

By now, your water should be boiling. Add the broccoli and simmer for a couple of minutes, or until tender and bright green. Use a slotted spoon to transfer the broccoli to a plate and add the ramen noodles to the pot. Simmer until tender, according to the package instructions. Drain.

Divide the tahini mixture between 2 large bowls. Ladle in the hot stock and stir to combine. Divide the noodles, tofu, mushrooms and broccoli between the bowls and sprinkle with some sliced green onion and sesame seeds, if using.

Serve with the bottle of sriracha on the side for those who like it especially spicy.
Nutrition
Serving:
1
g
|
Calories:
495
kcal
|
Carbohydrates:
53
g
|
Protein:
21
g
|
Fat:
22
g
|
Saturated Fat:
6
g
|
Polyunsaturated Fat:
15
g
|
Cholesterol:
11
mg
|
Sodium:
2099
mg
|
Fiber:
7
g
|
Sugar:
14
g
Have you tried this recipe?
Please Rate + Comment Below!
Watch Our Latest Videos
Follow us on YouTube!
Reprinted with permission from 30-Minute Frugal Vegan Recipes by Melissa Copeland, Page Street Publishing Co. 2019. Photo credit: Melissa Copeland.
Please Note: You must live in the US or Canada to be eligible to win.
30 Minute Frugal Vegan Recipes COOKBOOK GIVEAWAY

Want more Gluten-Free + Vegan Noodle Recipes? Check out this post.