11 Vegan (+ Gluten-Free) Ramen Recipes
This post may contain affiliate links, and we receive an affiliate commission for any purchases made by you using these links. We appreciate your support!
These 11 super easy, delicious and comforting Vegan Ramen Recipes all offer creative and tasty ways to use your favorite ramen noodles for some healthy wholesome soups any time of year!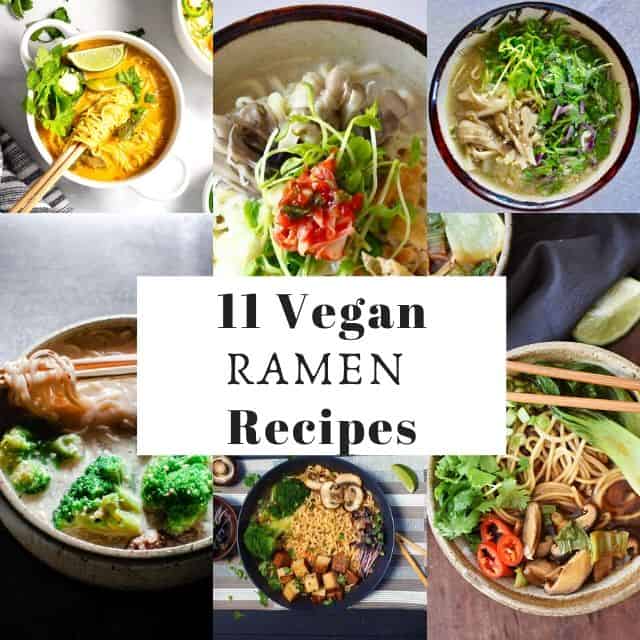 I'm a sucker for a big bowl of comfort food so I wanted to gather together some of my favorite Gluten-Free Vegan Ramen Recipes from some of the best food bloggers out there! From Curry Ramen to Sesame Ramen to Classic Ramen, I hope you find something you enjoy!
Vegan Gluten-Free Ramen Tips
On a gluten-free diet? I recommend these gluten-free ramen noodles.
Making one of the shirataki (miracle noodle) ramen recipes here? I love these shirataki noodles.
Ramen noodle recipes are easily customized with your choice of toppings. Some of my favorite ramen toppings include: raw or cooked veggies, tofu, tempeh, hemp or sesame seeds, sesame oil, coconut aminos, sriracha, seaweed, bean sprouts, lime wedges, and freshly chopped herbs.
Most ramen broths can be stored in the fridge for up to one week then re-heated to serve with freshly cooked noodles and toppings when ready! This makes these ramen recipes perfect for meal prepping!
Slurp your ramen! Yep, you heard me. In Japan it is considered customary to slurp while eating ramen. Not only does this help cool the broth a little while you eat, you really get the full sensory experience of smelling the aromatics of the broth as you slurp which in turn greatly enhances the taste.
More Gluten-Free Vegan Noodles Recipes
22 Gluten-Free & Vegan Rice Noodle Recipes
Instant Pot Sticky Maple Ginger Rice Noodles (Gluten-Free, Vegan)
Butternut Squash Coconut Curry Rice Noodle Soup
Spicy Pumpkin Seed Butter Pad Thai (Vegan, Gluten-Free, Soy-Free, Nut-Free)
If you enjoyed this Vegan Ramen Recipe Round-up, please share it on social media. Your support is greatly appreciated! xo.