Popular Latte Drinks To Make At Home
This post may contain affiliate links, and we receive an affiliate commission for any purchases made by you using these links. We appreciate your support!
A collection of the best latte drinks to make at home. Read all about these classic and delicious drinks, plus snag seven easy latte recipes.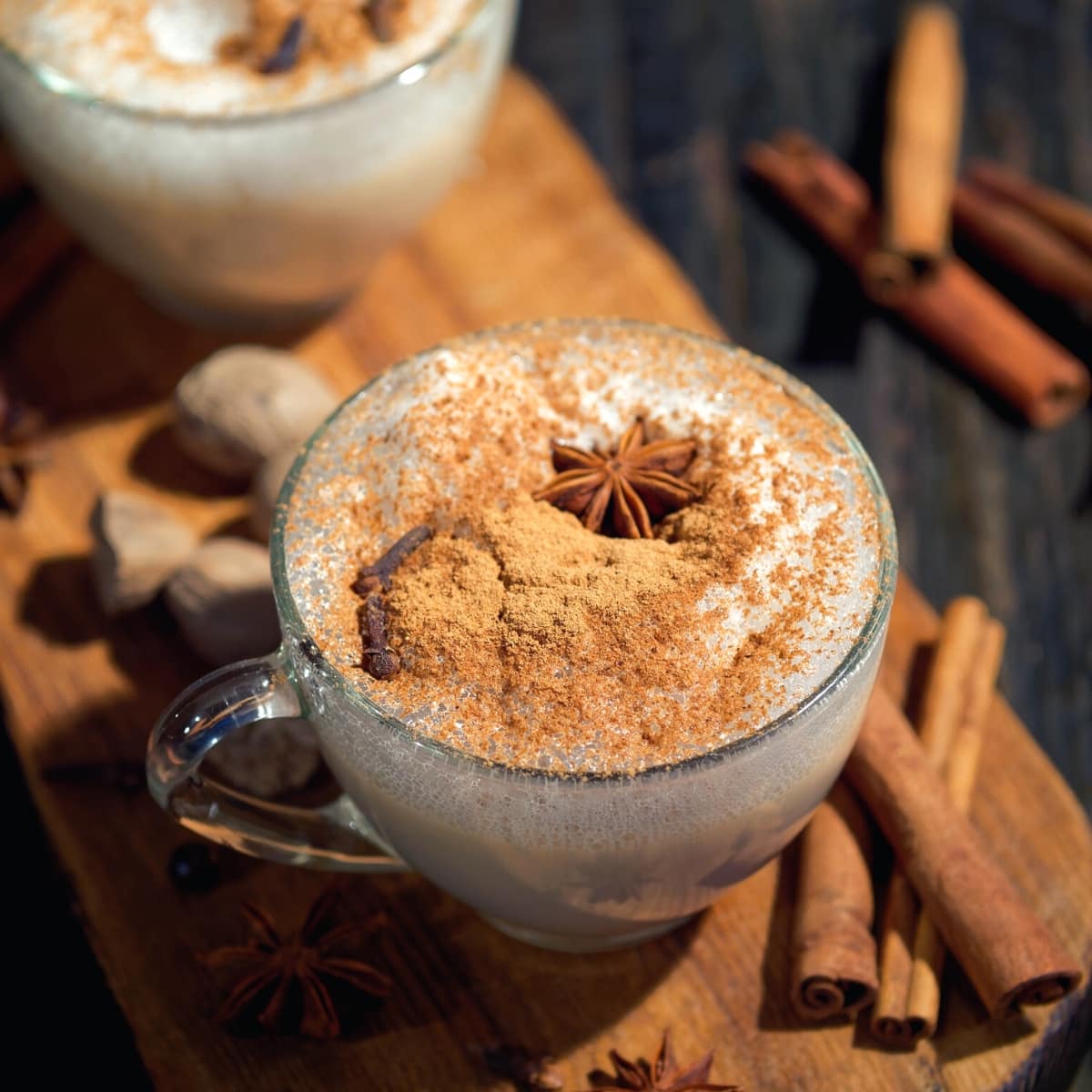 Americans drink around 67 million lattes a year. It's no wonder, considering how customizable the drink is. Vanilla, caramel, mocha, gingerbread, pumpkin spice, coconut, matcha… I could go on listing latte flavors indefinitely.
Even if your choice is a regular latte, the velvety steamed milk, espresso, and a subtle layer of microfoam work together perfectly. But if you want to add some variety to your latte drinking habits, we've got seven best lattes you can try, including recipes on how to make them.
7 Best Latte Drinks
1. Caramel Latte
A caramel latte is a classic. Coffee and caramel are a match made in heaven — caramel's sweetness and creaminess complement the bitter taste of coffee. When you combine the two with milk, you have a delicious coffee drink, which is why caramel is a popular cappuccino ingredient as well.
Caramel latte is easy to make:
Make a shot of espresso.
Warm a cup of milk. You can froth or whisk the milk to get frothed milk as in a coffee shop.
Combine espresso and milk.
Add a shot of caramel syrup and stir.
You can add whipped cream and more caramel sauce on top if you want a sweet drink.
2. Cinnamon Latte
Cinnamon is another favorite latte flavor, especially during the colder months. Its deep, earthy notes work beautifully with creamy milk and bitter coffee, so you get a well-rounded drink.
Moreover, cinnamon gives warmth to a latte, and its rich flavors result in a spicy drink.
If you want a low-calorie version, you can infuse your latte with cinnamon sticks or go for syrups for the sweeter version.
Here's how to make a cinnamon latte:
Pull an espresso shot.
Heat a cup of milk.
Combine the espresso and milk.
Add a shot of cinnamon.
Pair the latte with cinnamon raisin bread for a delicious afternoon treat.
Tip: You can also make a coffee cinnamon treat by adding whipped cream and sprinkling cinnamon on top.
3. Pumpkin Spice Latte
The pumpkin spice latte is a cult classic. As soon as we get into the colder months, pumpkin spice is everywhere, especially in lattes. For many latte drinkers, it's the autumn feel in a cup.
It contains the same ingredients as other lattes: steamed milk and espresso, but there's also pumpkin, which makes this one of the more complicated latte recipes.
Here's how to easily make a pumpkin spice latte:
Add 2 cups of milk, 2 tablespoons of pumpkin puree, and 2 tablespoons of sugar to a saucepan on medium heat. Heat until it's hot but not boiling. This should take about two minutes on medium heat.
Whisk in 1 tablespoon of vanilla extract, half a teaspoon of pumpkin pie spice, and half a cup of coffee.
Pour into two mugs.
Top with whipped cream.
Optional: Add pumpkin pie spice on top.
4. Gingerbread Latte
A gingerbread latte is another holiday favorite. If you love aromatic gingerbread cookies, you'll love a gingerbread latte as well, especially on a cold day.
Here's how to make a gingerbread latte:
Add 2 tablespoons dark brown sugar, 2 tablespoons molasses, and 1 cup water into a pan. Add one cinnamon stick, 2 tablespoons of grated ginger, and four peppercorns. Stir for about five minutes until the sugar dissolves.
Let the mix cool for 20 minutes, then strain into a jug.
Use an espresso machine, a Moka pot, or an AeroPress to make espresso.
Heat milk on the stove, add 2 tablespoons gingerbread syrup, and whisk.
Pour the espresso into a mug and add the milk.
Add whip cream, vanilla, and cinnamon if you want extra flavor.
Tip: You can use storebought gingerbread syrup if you don't want to make your own. You can also add a shot of Baileys Irish Cream if you're feeling festive.
5. Chai Latte
Chai latte is a staple in coffee shops around the world. This is a popular latte drink because of the delicious blend of milk and spices. It contains spices such as ginger, cloves, cinnamon, and others. The spices make an aromatic treat when combined with milk.
It's easy to make as you can buy pre-made chai flavor or a char latte syrup to drizzle in.
Here's how to make a chai latte:
Make 4 oz chai tea and add sugar to taste.
Heat 2 oz milk, but don't let it boil. The lower the milk temperature, the softer the latte.
Froth the milk and pour it into a container to whisk.
Make a shot of espresso.
Pour the milk, chai, and espresso into a cup.
Note: A shot of espresso is optional, and many chai lattes don't have it.
6. Lavender Latte
The lavender latte is a newer version of the latte that gained popularity because of its color. Lavender is calming, so this is a good choice when you want a relaxing drink.
Here's how to make a lavender latte:
Brew espresso.
Add lavender syrup to the espresso.
Steam the milk and pour it into the espresso.
Garnish with lavender buds.
7. Mocha Latte
Mocha latte is a favorite latte for chocolate lovers. Instead of adding syrup, you need mocha sauce. You'll have the flavor of hot cocoa with the kick the coffee provides.
Here's how to make mocha:
Brew a shot of espresso.
Combine two tablespoons of hot chocolate powder and a cup of milk in a pot. Stir until well combined and hot.
Add a shot of espresso and mix.
Pour into a mug and drink while hot.
You can garnish with chocolate on top.
Tip: Make an iced mocha by pouring the mocha latte over ice. This will chill the drink. Then strain it into a tall glass.
More Drink Posts You Might Enjoy
Best Starbucks Drinks for Kids