Disclaimer: Please note that some of the links below in this post are affiliate links and I will earn a commission if you purchase through those links. I regularly use and recommend all of the products listed below because I find them to be of great quality and use! All proceeds go back into maintaining and creating for this site. Thank you! XO
Last Updated on
This post is sponsored by Naturacentric. All opinions expressed are my own.
A rich and decadent Persian Love Cake made with rose, cardamom, saffron, almond flour and honey. Topped with rose cardamom honey syrup and a thick coconut butter glaze. Gluten-Free.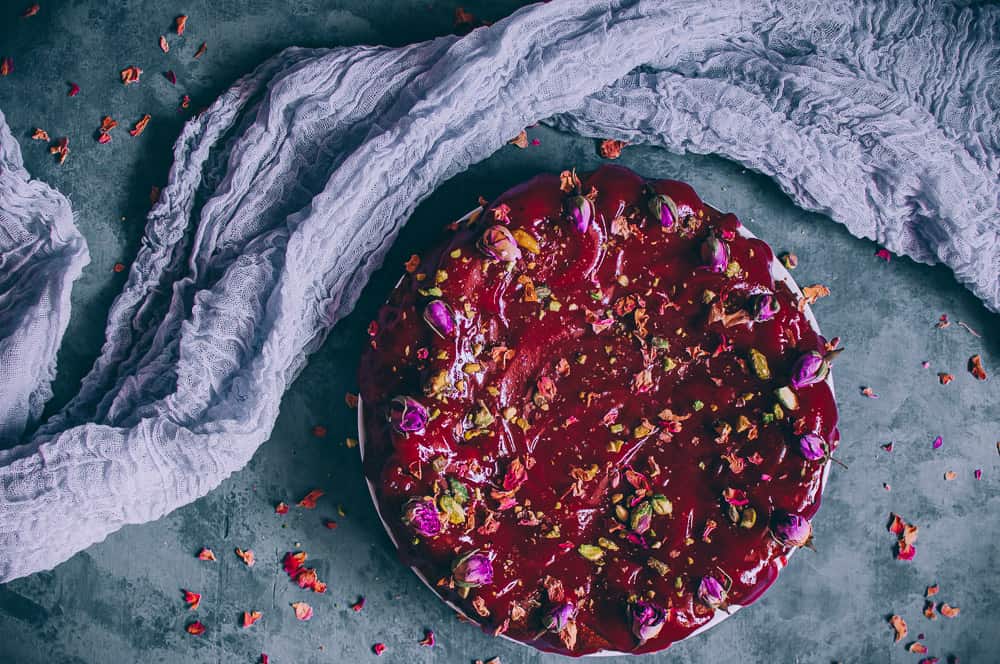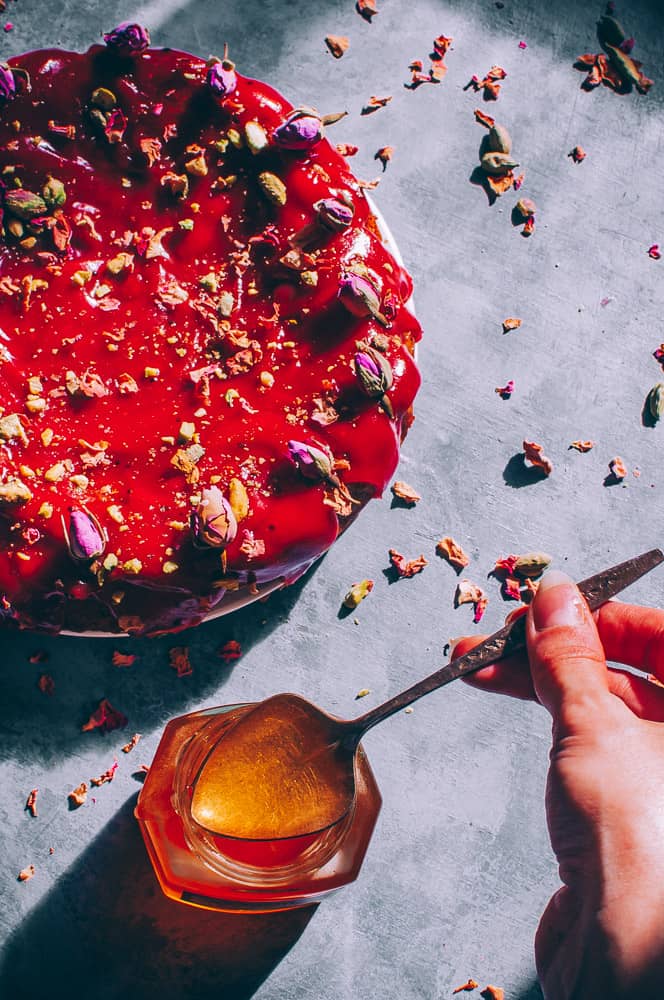 Ever since I first laid eyes on Yasmin Khan's Persian Love Cake, I knew I wanted to make my own version of it – gluten-free style! This rich and decadent cake is packed with rose, cardamom, saffron, a hint of lemon and sweetened with Naturacentric's truly amazing Rose Cardamom Honey. Whether you're looking to indulge with a loved one or try your hand at a truly unique and flavorful cake, you will not be disappointed with the outcome of this beauty!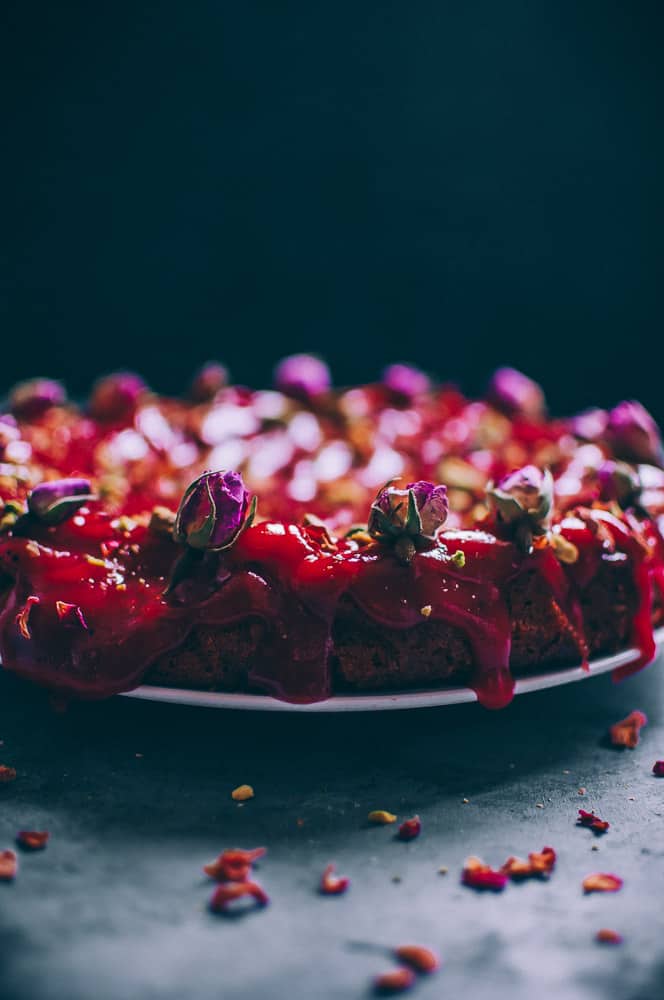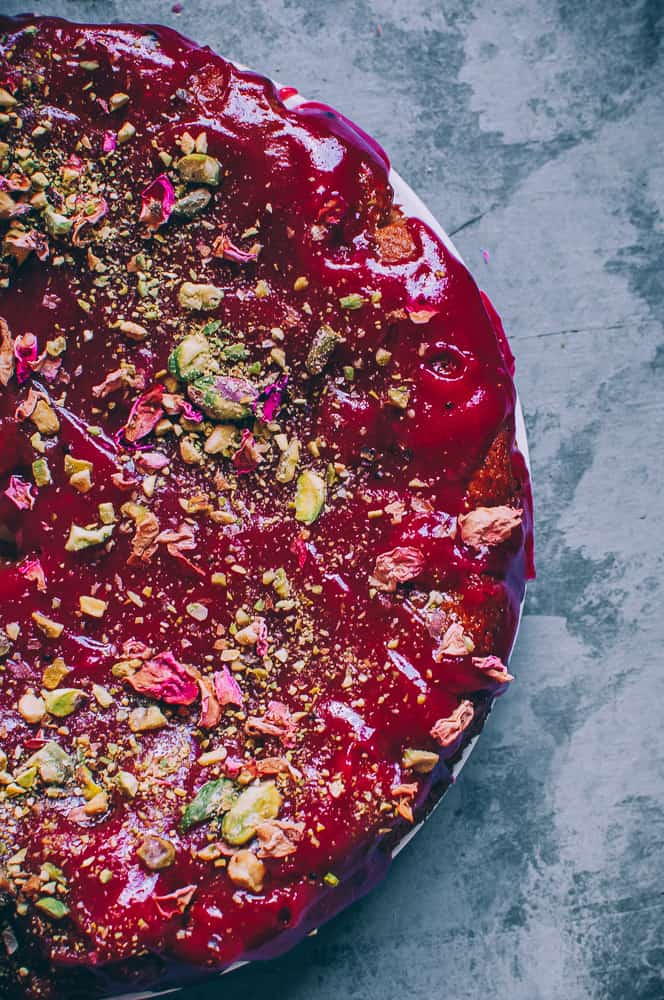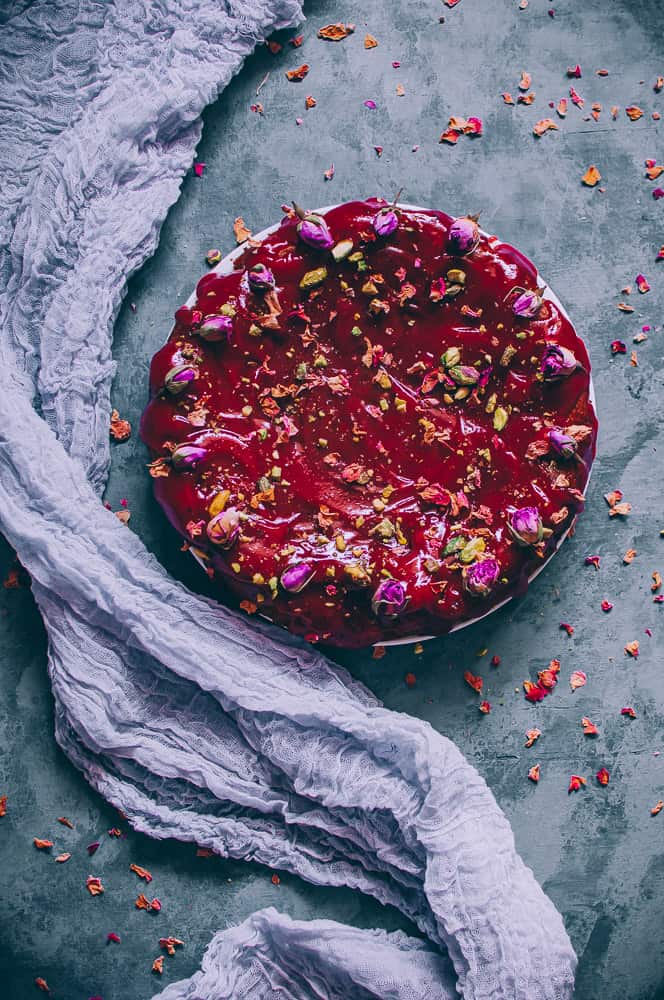 Naturacentric Honey
This almond flour cake is topped with a syrup and glaze made with Naturacentric's Rose Cardamom Honey. Naturacentric is a lovely little zero-waste company that makes the most lovely infused honeys, herbal teas and soaps you will ever find. This Rose Cardamom Honey is particularly silky and flavorful!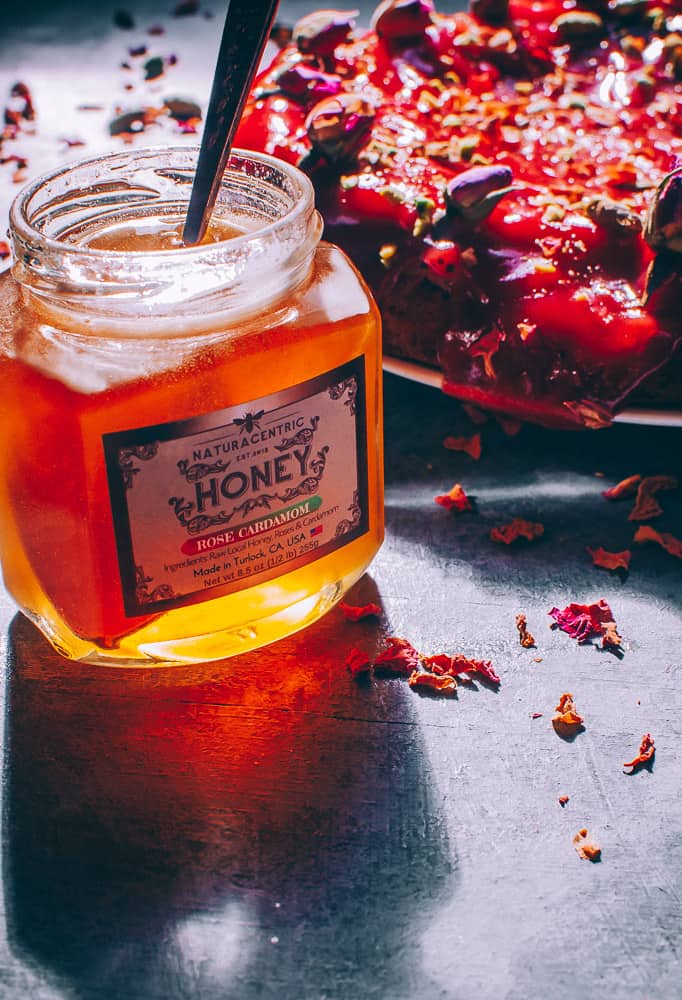 Persian Love Cake
This Persian Love Cake is:
Rich and decadent.
Fluffy and moist.
Packed with big flavors that complement one another greatly.
Easy to make.
Gluten-free + refined sugar-free.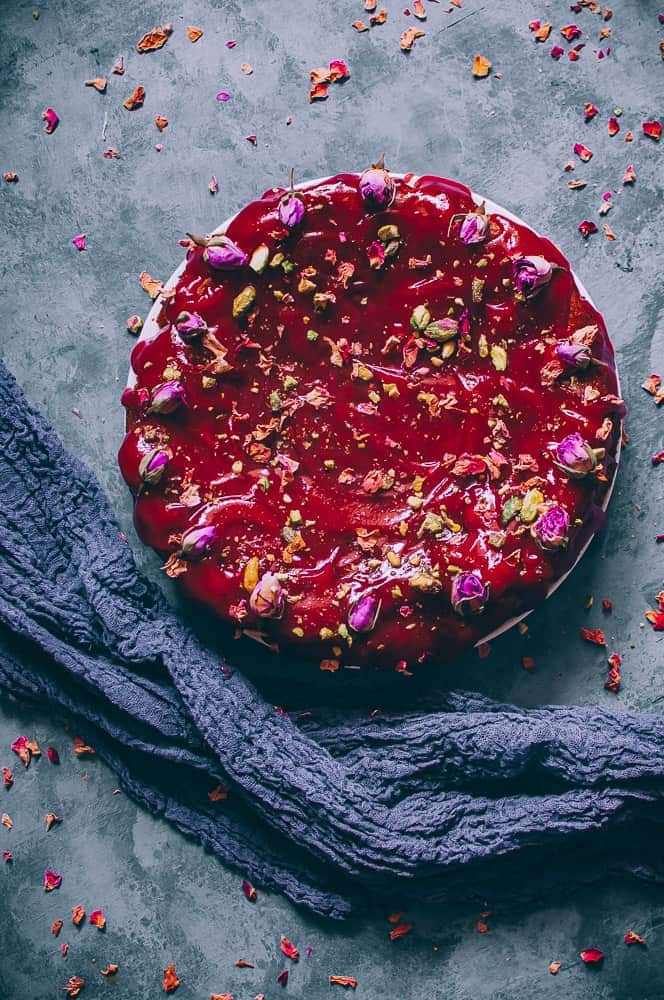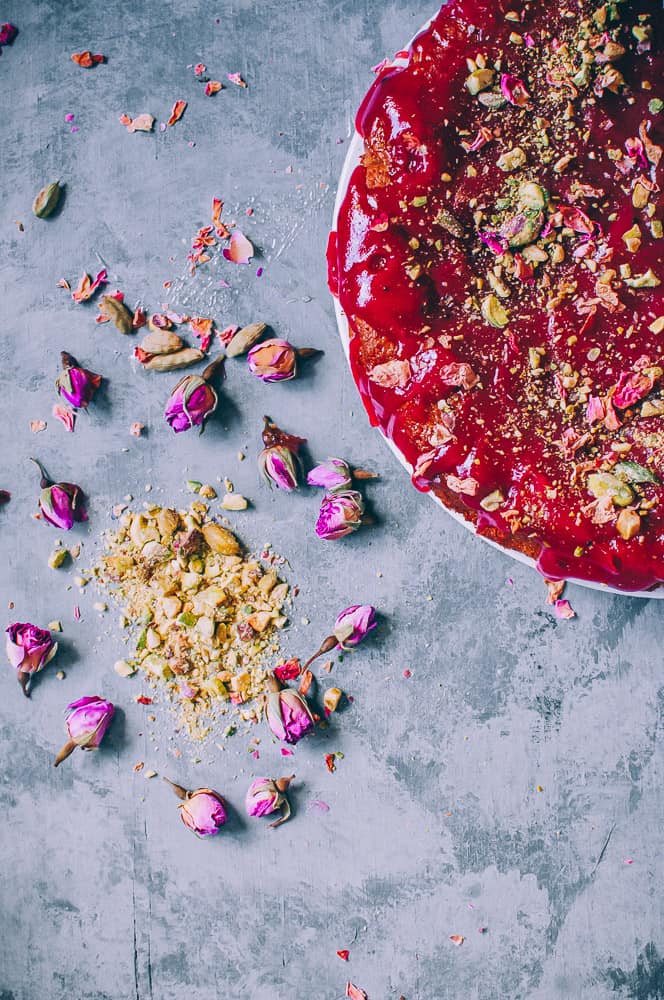 What ingredients are needed to make Rose Cardamom Persian Love Cake with Honey Syrup + Coconut Butter Glaze?
Almond flour, gluten-free all purpose flour.
Coconut sugar, baking powder, salt.
Cardamom.
Vanilla.
Rosewater.
Ghee or butter.
Eggs.
Lemon peel (optional).
Coconut milk
Lemon juice.
Coconut oil.
Beet powder (optional, for color)
Please note: for full ingredients, amounts and instructions, scroll to the recipe card towards the bottom of this post.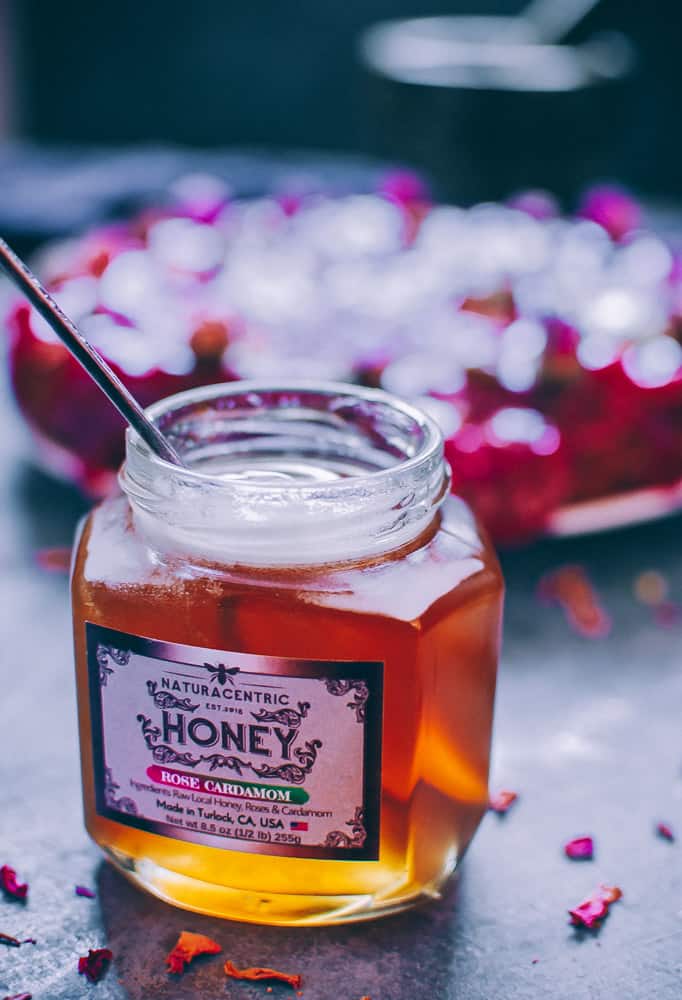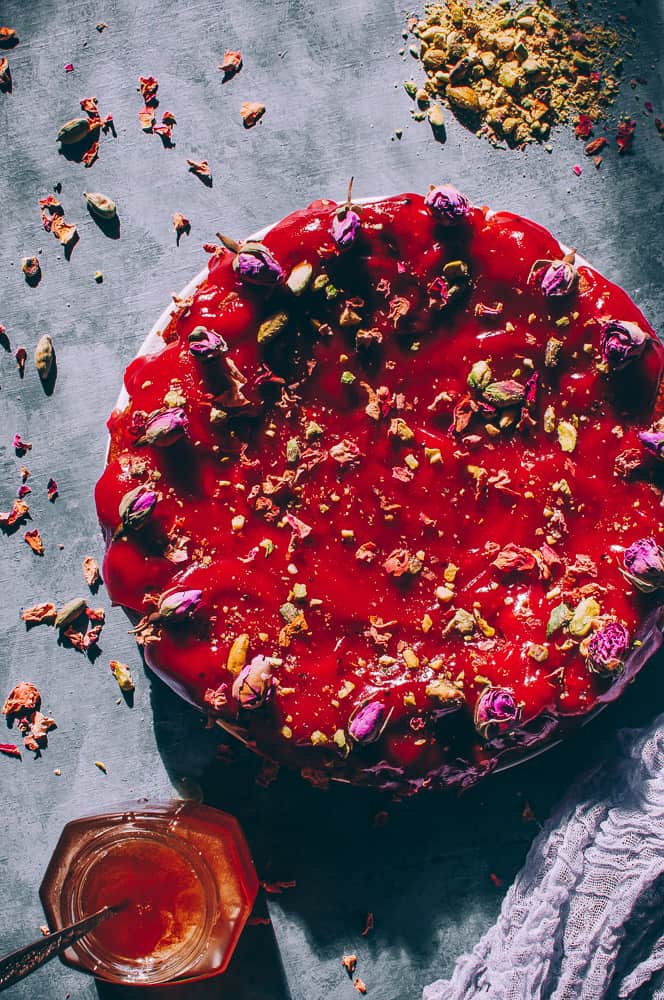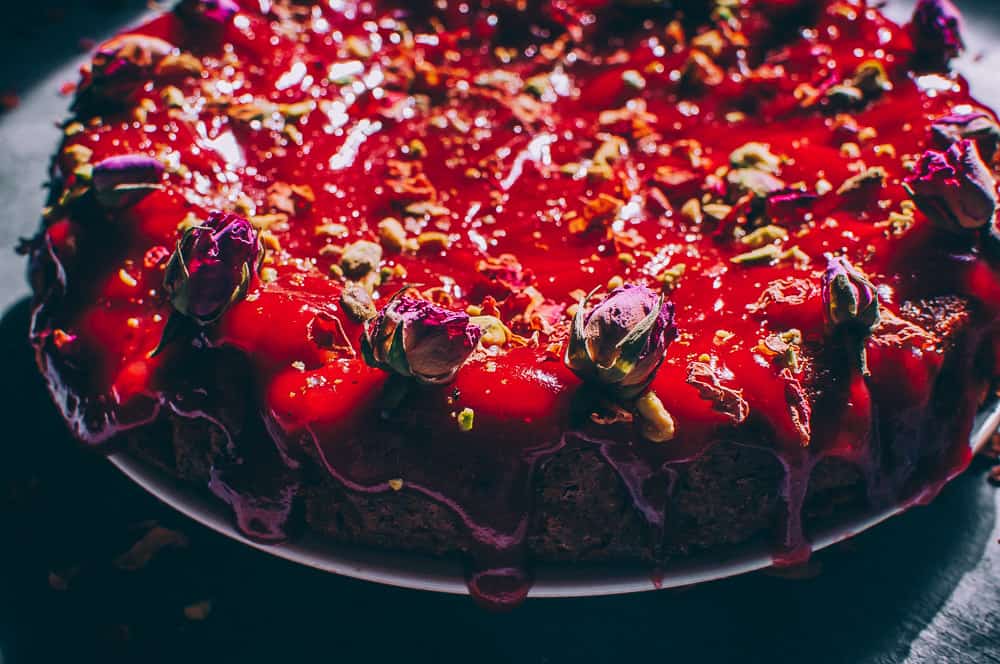 How-to make Persian Love Cake – Step by Step
Combine dry ingredients in a bowl. Mix.
Combine wet ingredients in a bowl. Mix.
Combine wet and dry ingredients. Mix.
Bake cake.
Prepare coconut butter glaze.
Prepare honey syrup.
Drizzle syrup on warm cake.
Drizzle glaze on cooled cake.
Top with pistachios, rose petals and enjoy!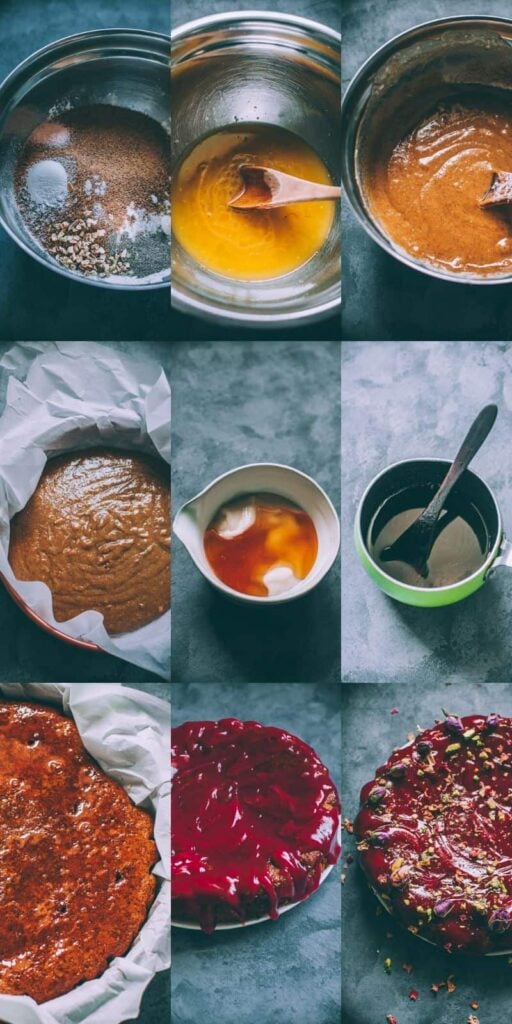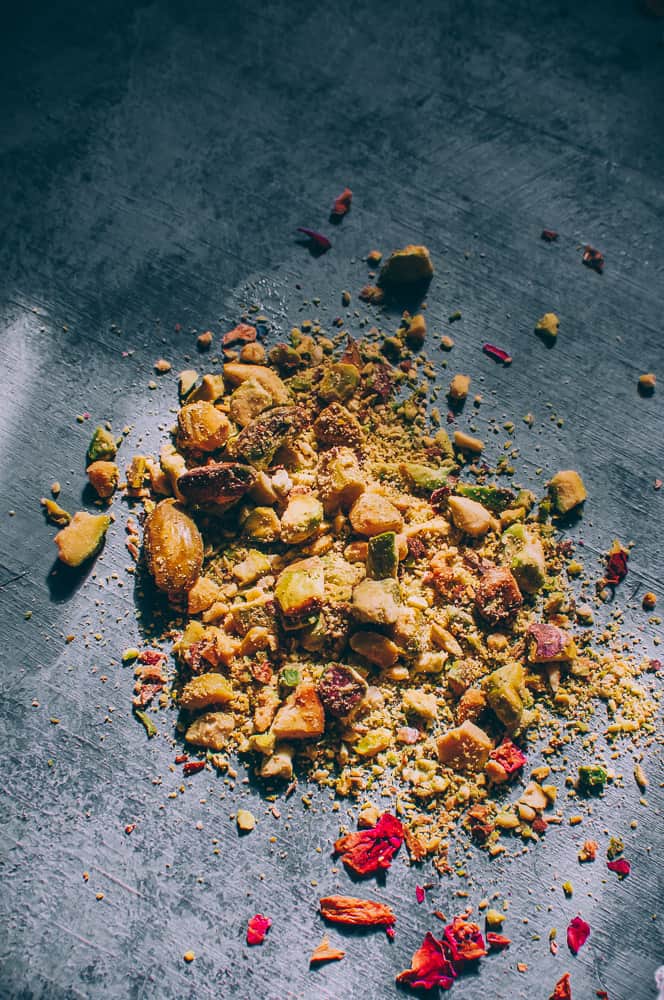 Top Tips for Making Gluten-Free Persian Love Cake
Flour
I do not recommend replacing the almond flour or all purpose flour with any other flours. As for all purpose flour, a blend with or without xanthan gum works well in this recipe.
Rose
Be certain to use food-grade rosewater and edible rose petals in this recipe. I like this rosewater and these rose petals.
Fat
I like to use ghee or melted butter in this recipe for continued lusciousness, but if you are on a dairy-free diet, coconut oil will work in a pinch!
Color
I like to add a touch of beet powder to the glaze before drizzling on the cake for a pop of color that lives up to the name of this recipe, but it is not necessary. Hibiscus powder or pitaya powder would be another great choice for this cake!
Serving and Storing
This cake keeps well covered at room temperature for up to 3 days with or without the glaze applied prior! Be certain to top with the pistachios and rose petals for an added wow factor before serving.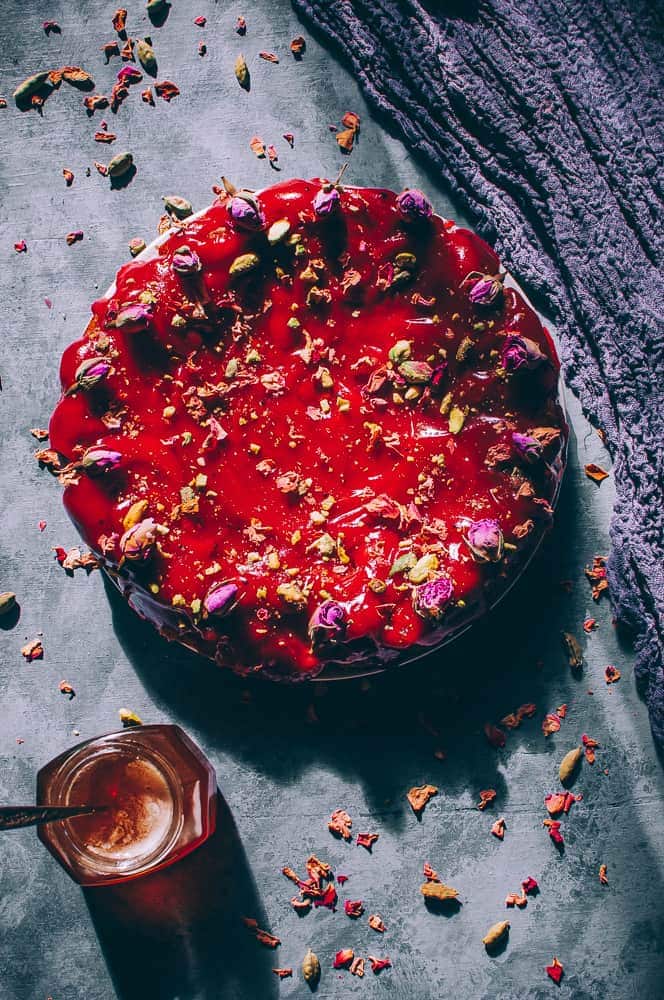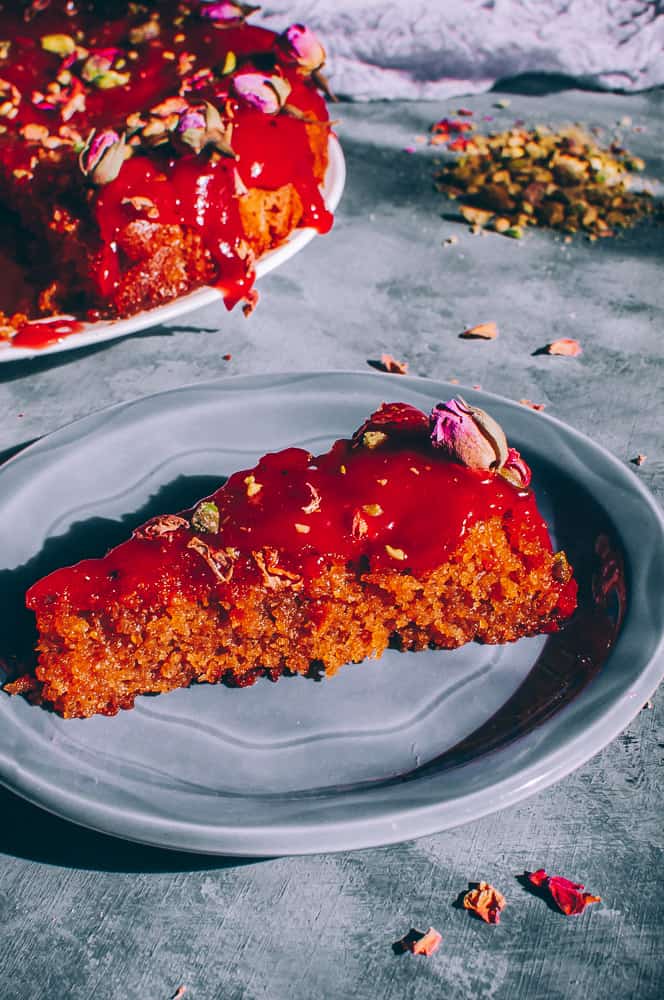 More Gluten-Free Cake Recipes
Gluten-Free Carrot Cake + Orange Coconut Butter Glaze (Dairy-Free)
Caramelized Upside Down Banana Cake with Gingerbread Spices (Gluten-Free)
Gluten-Free Cinnamon Roll Cake with Pumpkin + Tahini Icing
Gluten-Free Banana Cake (Refined Sugar-Free)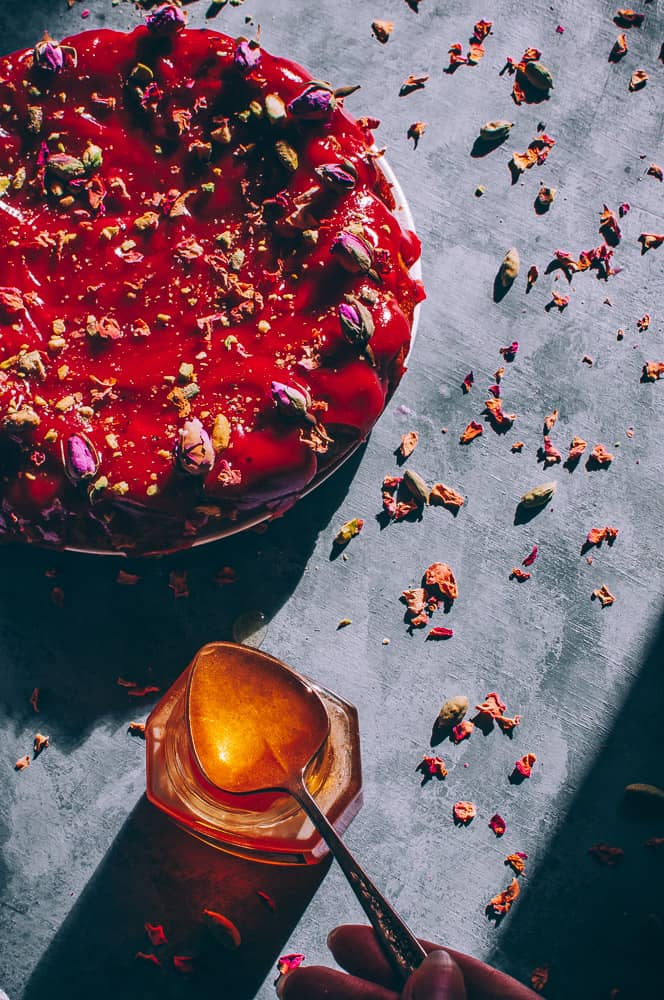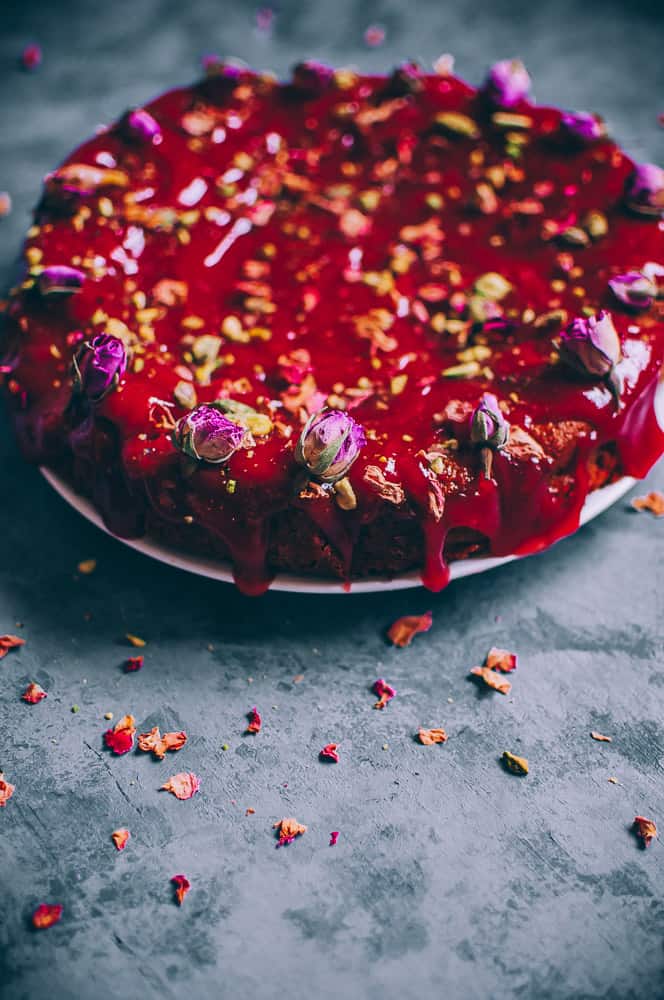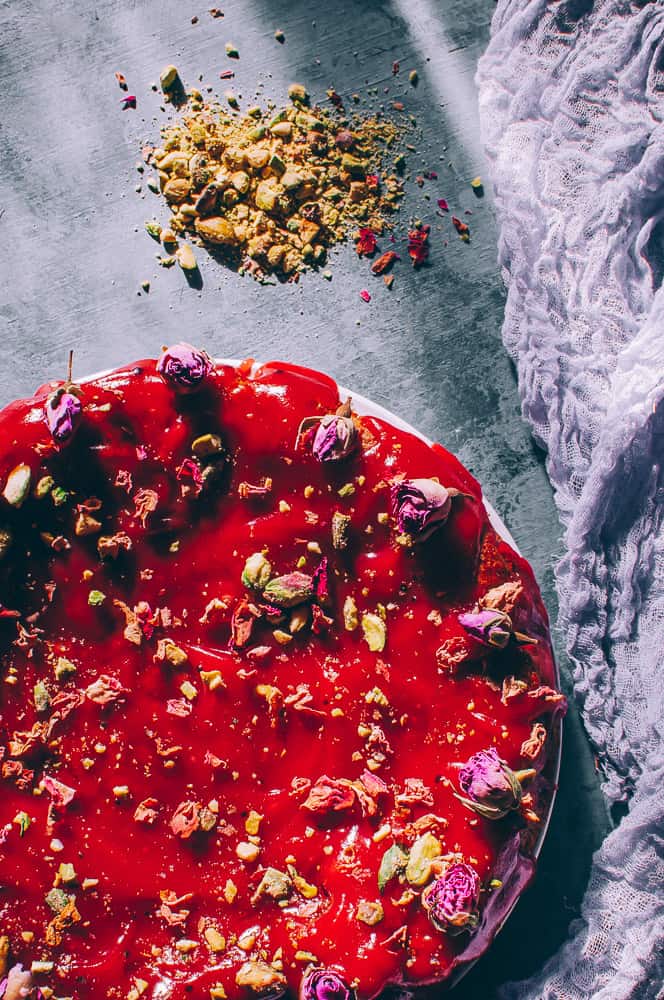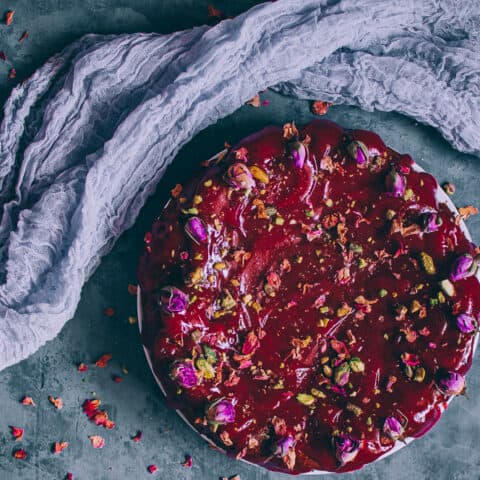 Gluten-Free Persian Love Cake
A rich and decadent Persian Love Cake made with rose, cardamom, saffron, almond flour and honey. Topped with rose cardamom honey syrup and a thick coconut butter glaze. Gluten-Free.
Ingredients
Cake:
1 cup almond flour
1/2 cup gluten-free all purpose flour
3/4 cup coconut sugar
1 teaspoon baking powder
1 teaspoon ground cardamom
1/2 teaspoon ground dried lemon peel (optional)
1/4 teaspoon sea salt or pink salt
pinch of crushed saffron
1/2 cup ghee or melted butter
1/2 tablespoon rosewater (food grade)
2 eggs
1/2 teaspoon pure vanilla extract
1/2 cup full fat coconut milk
Honey Syrup:
1/2 cup Naturacentric Rose Cardamom Honey
2 tablespoons lemon juice
Honey Coconut Butter Glaze:
1/2 cup coconut butter
1/4 cup water
3 tablespoons Naturacentric Rose Cardamom Honey
2 tablespoons coconut oil
1/2 teaspoon beet powder, for color (optional)
To garnish:
crushed pistachios
edible rose petals
Instructions
Preheat oven to 350°F (180°C).
In a large bowl combine dry ingredients flour through saffron. Stir to combine.
In another large bowl whisk together ghee/butter, rosewater, eggs and vanilla until smooth.
Pour wet ingredients into dry ingredients and mix until smooth.
Gently stir in coconut milk until just combined.
Pour into a parchment lined 9 inch cake pan or greased springform pan.
Bake for 30-35 minutes or until firm and a toothpick inserted in the center pulls out clean.
While the cake is baking prepare the syrup and glaze.
To prepare the syrup bring the honey and lemon to a simmer over medium heat and cook while stirring, for 5 minutes or until the mixture grows slightly thicker. Turn off heat, but leave the syrup to sit on the burner until ready to use.
To prepare the glaze, combine all glaze ingredients in a bowl or a blender and mix until completely smooth. Set aside until ready to use.
When the cake is done baking, remove from the oven and place the cake (still in pan) on a cooling rack. Poke 5-10 holes in the cake while it is still warm, then pour the syrup over top, coating all evenly.
Let the cake cool completely.
When the cake is cool, gently remove the cake from the pan then drizzle with coconut butter glaze and top with pistachios and rose petals before serving.
Enjoy!
Notes
Please refer to the Tips section above in the post for valuable information.
Nutrition Information:
Yield:

10
Serving Size:

1 slice
Amount Per Serving:
Calories:

451
Total Fat:

33g
Saturated Fat:

21g
Trans Fat:

0g
Unsaturated Fat:

10g
Cholesterol:

66mg
Sodium:

193mg
Carbohydrates:

34g
Fiber:

4g
Sugar:

24g
Protein:

6g