Side Dish Ideas with Potato
This post may contain affiliate links, and we receive an affiliate commission for any purchases made by you using these links. We appreciate your support!
If you're looking for the ultimate list of side dish ideas with potatoes, you have come to the right spot! When it comes to potato side dish recipes, there are dozens of creative ways to turn those potatoes into something tasty.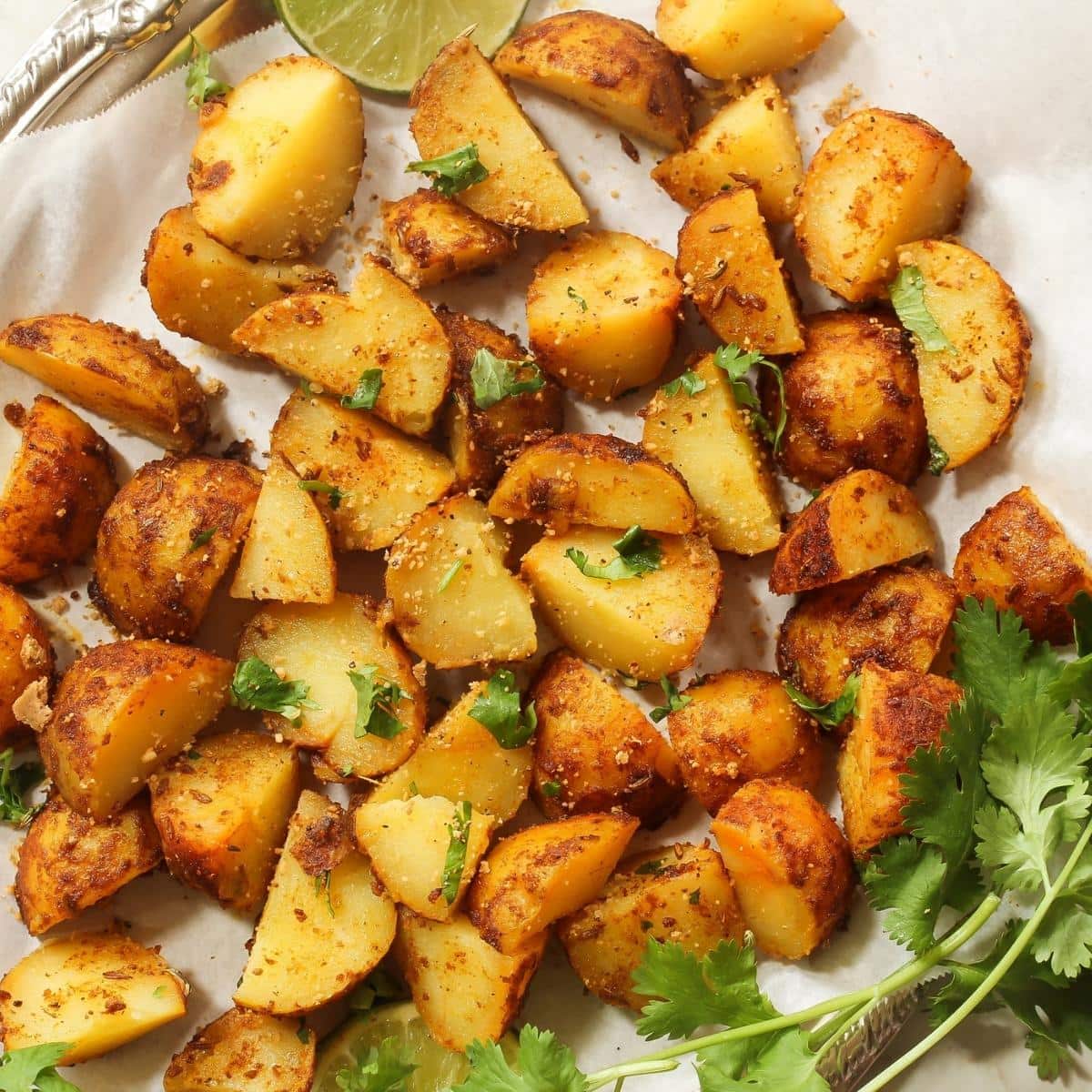 French fries are the world's most famous potato side dish, and although they are great, you can do so much more with potatoes. Like easy recipes with few ingredients, some of the best recipes only use a handful of ingredients.
From sliced potato dishes like scalloped potatoes to something more creamy like mashed potatoes and duchess potatoes or on the crispier side like a crispy baked potatoes recipe, to impress your guests, there is something for everyone on this specially curated list of potato side dishes.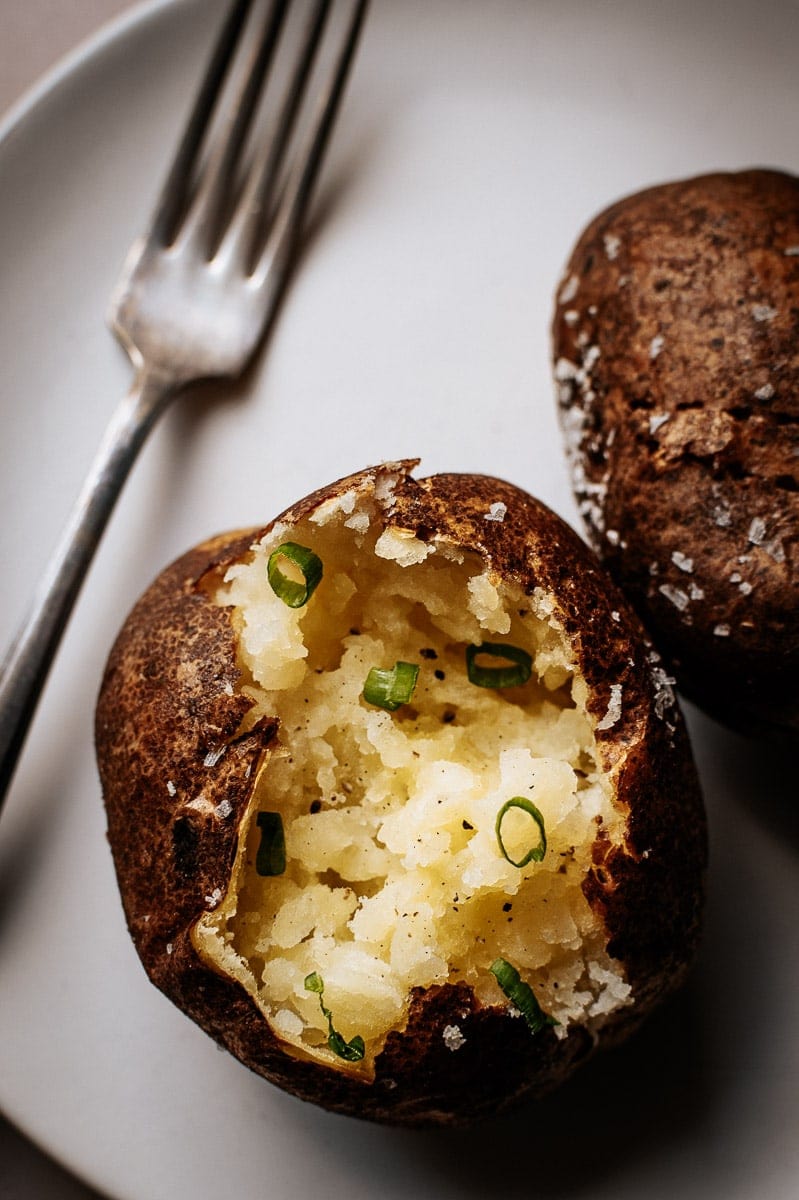 These air fryer baked potatoes have a fluffy interior and are crispy on the outside.
A baked potato is one of those comforting potato side dishes that you can fill with your favorite ingredients, like beans, cheddar cheese, bacon bits, sour cream, onions, etc. They fit seamlessly on a table with any main course meal and are always a huge family favorite.
This recipe for air fryer baked potatoes uses russet potatoes with just a sprinkle of sea salt and olive oil and can be on the table in 40 minutes. If you want some tasty ideas to serve with them, check out these 25 amazing dishes.
These crispy parmesan cheese potato wedges are the perfect side dish to any meal.
Wedges are a great alternative to French fries and can be just as crispy and delicious. This recipe uses shredded parmesan cheese, rosemary, thyme, and paprika for added flavor.
You could even make baked sweet potato wedges for a sweeter alternative.
Turn leftover mashed potatoes into these soft mashed potato cakes that are easy to make in just 15 minutes and use few ingredients.
They're an upgrade from classic mashed potatoes with the addition of shredded cheese to the mix and are pan-fried until crispy on the outside.
You'll love the simplicity of this recipe and how it takes mashed potatoes to the next level!
If you're looking for a delicious creamy potato side dish loaded with goodness and perfect for barbecues, then loaded potato salad is what you want.
This potato salad side dish is hearty and filling and made with green onions, crispy bacon, mayo, sour cream, cheese, and seasoning.
Summer BBQs and picnics are not complete without a good potato salad, and this recipe is sure to be a hit.
25 minutes is all it takes to make air fryer roasted potatoes!
Cooking in the air fryer takes a fraction of the time compared to oven roasting, and they become even crispier on the outside with only 2 tablespoons of oil.
Seasoned with smoked paprika and garlic to flavor the roasted potatoes, they make for a delicious side dish.
Cheesy potatoes with ranch mix is a simple side dish idea that the whole family will love!
Creamy, cheesy potatoes with a hint of ranch mix is a delicious and easy potato dish to make for any meal.
This recipe has a delicious creamy sauce using only 4 ingredients and can be on the table in 30 minutes.
If you have never heard of duchess potatoes, they're mashed potatoes piped into little rounds and baked until golden brown.
Duchess potatoes are a bit more time-consuming, but they're worth the effort.
They make a great side dish to wow your guests and are perfect for any holiday meal or dinner party.
Potato side dishes like funeral potatoes are a comforting side dish usually served at funerals in the United States.
It is a comfort food casserole made with hash brown potatoes, cheese, cream of chicken soup, sour cream, and butter. The mixture is poured into a casserole dish and topped with cornflakes for a crunchy topping.
This dish is easy to make and can be a real crowd-pleaser!
Creamy mashed potatoes with garlic is a delicious potato side dish recipe that is creamy and easy to make.
This mashed potato recipe uses Russet potatoes, lots of garlic, and butter to create smooth, fluffy potatoes. You could also mix some cream cheese to make the side dish more decadent.
Serve them with fried chicken and some country-style gravy for the perfect meal. Or, if you want something vegetarian, check out these 25 vegetarian pairing ideas for mashed potatoes.
This classic side dish of tender potatoes cooked in a skillet with onions and garlic is so good that it can even be eaten as a main meal.
To make this simple recipe, make thinly sliced potatoes and fry them with sliced onions and garlic until tender, then simmer them with some chicken broth.
The tender potato chips soaked in the flavorful broth make this dish irresistible.
Hasselback potatoes are a beautiful and elegant side dish that is perfect for special occasions. They are named after the Hasselbacken hotel in Stockholm, where they were first served.
To make Hasselback potatoes, thinly sliced cuts across the width of the potatoes and drizzle them with olive oil.
They are then roasted for an hour until the skin is crispy and served with butter and parsley.
These melt-in-your-mouth melting potatoes are one the best potato side dishes to serve for a Sunday dinner with tender roast beef!
They are pan-fried with butter to give them color and oven baked with chicken stock, garlic, more butter, and fresh rosemary or thyme.
It's one of my favorite recipes to serve with meat dishes, and they are guaranteed to be the first thing to be devoured.
This delicious cheesy potato recipe is one for the recipe books! The creamy cheese sauce mixed with mashed potatoes and crispy bacon is heavenly.
It's super easy to make this casserole and combines cream cheese, sour cream, and lots of cheese to give that decadent creamy texture.
You could also try spinach potato casserole, or if you have sweet potatoes, try sweet potato casserole for something different.
These creamy scalloped potatoes are perfectly cooked and make you fall in love at the first bite!
Thinly sliced Yukon gold potatoes are baked in a rich and creamy sauce, making for an excellent side dish to any main course.
Be sure to make this holiday classic a part of your meal!
Now, here's a potato recipe worthy of an award! These crispy smashed potatoes are utterly delicious and super crispy.
Potato side dishes like this can be served with any main meal or just served on a plate and enjoyed on their own; they're that good!
The method is easy, and the results are flawless. Give them a try and be amazed at how crispy and moreish they are. You'll want to scale this recipe, as they will go quickly for dinner tonight.