Disclaimer: Please note that some of the links below in this post are affiliate links and I will earn a commission if you purchase through those links. I regularly use and recommend all of the products listed below because I find them to be of great quality and use! All proceeds go back into maintaining and creating for this site. Thank you!
This easy granola recipe is super flavorful, delicious and healthy! I first created this Lemon Poppy Seed Granola three years ago, and have made it several times since. I'm so excited to be finally sharing it with you! This fun vegan granola makes a great breakfast cereal with milk or on its own as a grab and go snack or hiking accompaniment!
Making your own homemade granola at home could not be easier, more fun or MORE delicious than the store-bought variety. I'm always making a batch for the kiddos to nibble on as a snack or as I like it: a quick ready-made breakfast to serve with almond milk or yogurt. We also enjoy grabbing some to take on day hikes and car trips. It's truly fun and easy, and this delightful lemon poppy seed version is no exception. My family adores it, and I hope you do, too!
This Granola Recipe with Lemon and Poppy Seeds is:
Simple and easy to make.

Very flavorful with satisfying textures.

Healthy and nutritious.

Versatile and delicious any time of day.

Gluten-free, vegan, dairy-free, refined sugar-free.
Tips for making Lemon Poppy Seed Granola:
If you are not vegan or dairy-free, you can replace the coconut oil with melted butter if you would prefer.

You can use fresh lemon juice or bottled. I like this organic one a lot.

For a vegan version use maple syrup. For a vegetarian version, I recommend honey. For a sugar-free granola, I love this sugar-free sweetener.

For a nut-free granola, you can omit the walnuts or replace with any seeds of choice.

If you want your granola to clump together into clusters, spread it thickly and make sure it is all touching before baking.

If you want a loose cereal-like granola, spread thinly and leave some spaces between oats.

This granola stores well in an airtight container at room temperature for 3-4 days. In the refrigerator for up to one week.
More Vegan and Gluten-Free Granola Recipes:
Carrot Cake Granola (Gluten-Free, Vegan)
Maple Walnut Goji Berry Granola (Vegan, Gluten-Free)
Quinoa Cocoa Molasses Crunch Granola (Gluten-Free, Vegan)
Gluten-Free Lemon Poppy Seed Recipes you might enjoy:
Chickpea Flour Lemon Poppy Seed Bread (Gluten-Free)
Blackberry Lemon Poppy Seed Crumble (Gluten-Free)
If you try this recipe please let me know! Leave a comment, rate it, share this post, use Pinterest's "tried it" feature, or take a photo, & tag me on Instagram and I'll share it! Thank you so much! <3
Lemon Poppy Seed Granola (Gluten-Free, Dairy-Free, Vegan)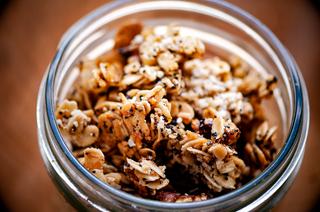 Author: Kristen Wood | 3-19-2019
prep time: 5 minutes
cook time: 40 minutes
total time: 45 minutes
Yields: approx. 2 1/2 cups granola
---
Ingredients:
---
Instructions:
Preheat oven to 275°F. Line a cookie sheet with parchment paper. Set aside.
In a large bowl combine oats, salt, ginger. Stir to combine.
In a saucepan over low heat combine maple syrup/honey, oil, lemon juice, 1 tablespoon coconut sugar, and vanilla. Stir until all is smooth and melted.
Pour oil mixture over oats in bowl. Stir vigorously until all is well coated.
Pour granola mixture onto prepared cookie sheet and bake for 30 minutes.
Remove from the oven and evenly top (do not stir) with walnuts, poppy seeds, coconut and 1 tablespoon of coconut sugar.
Bake for 10 minutes longer.
Remove from the oven and let cool completely before breaking up and serving.
Enjoy!
---
Nutrition:
Serving: 1/2 cup
Fat: 22 grams
Calories: 373
Carbs: 36 grams
NOTE: Please see 'Tips' above in the blog post for suitable substitutions, storage advice and more!
Shop This Recipe:
Pin it: