These gluten-free vegan mini rustic pies are filled with juicy blackberries and tart kiwi for a fun twist! Easy, healthy, and delicious galettes are at your fingertips!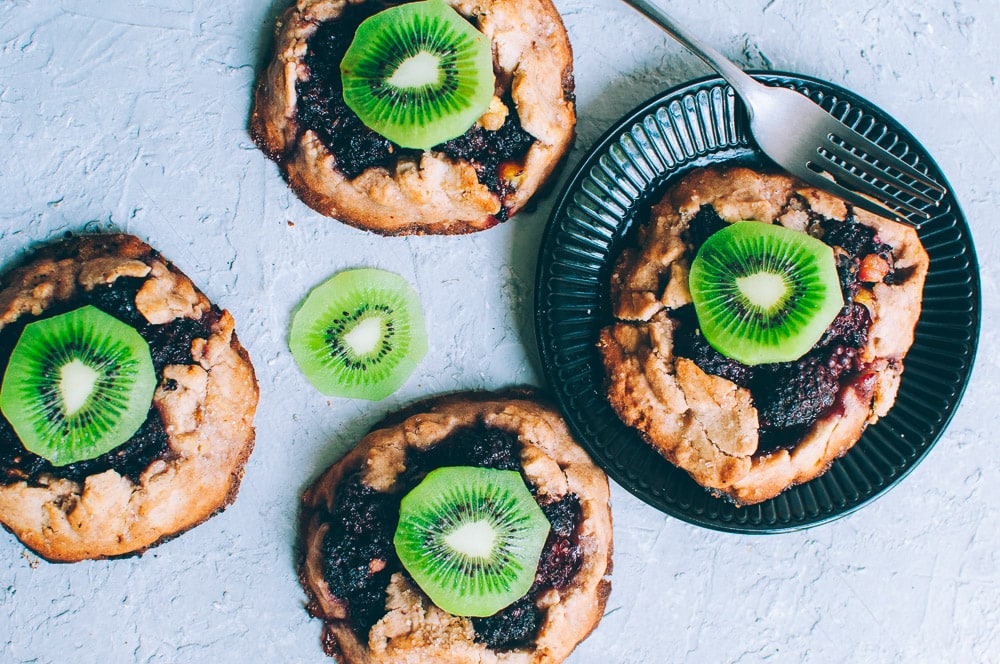 We are fruity dessert lovers around here, so when I found myself with both blackberries and kiwis on hand, I just knew I had to combine them! The result? Absolutely fab, if I must say so myself …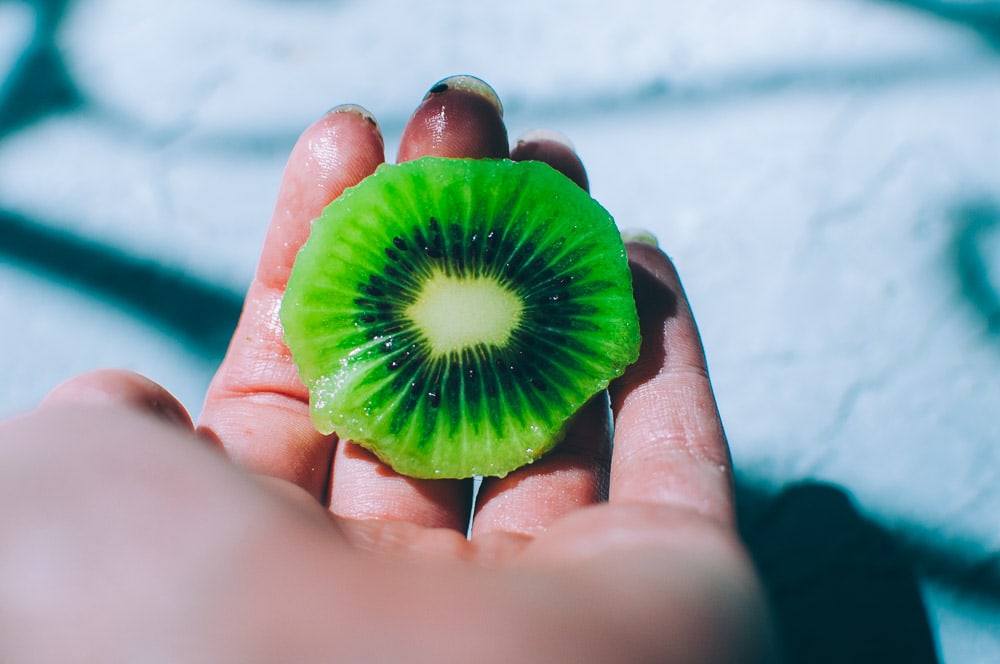 What are Galettes?
A galette is a rustic free-form pie with its roots in France, that can be sweet or savory, and made with pie OR bread dough!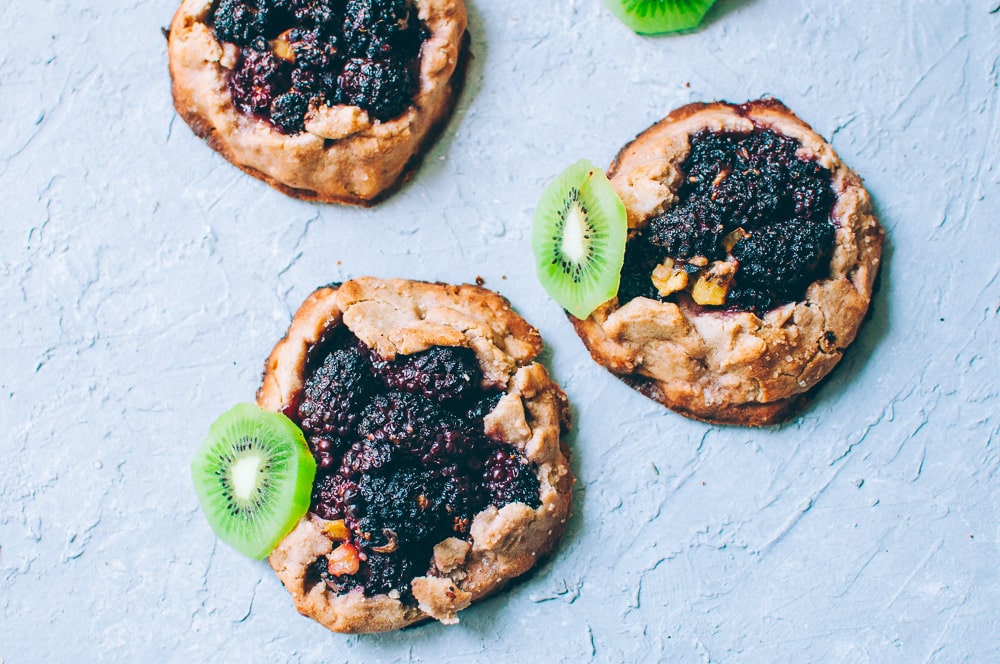 These Mini Blackberry Kiwi Pies are
Easy to make.

Filled with just a handful of simple wholesome ingredients.

Slightly sweet, slightly tart.

Perfectly crusty with a super juicy, luscious berry-kiwi filling.

Gluten-free, dairy-free, nut-free, soy-free, vegan, and refined sugar-free.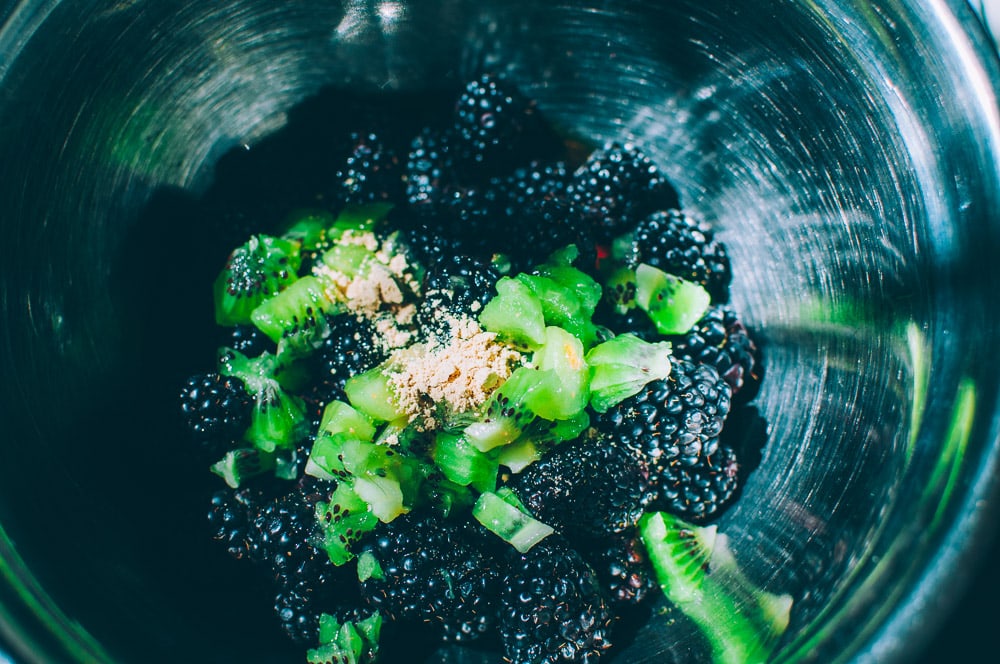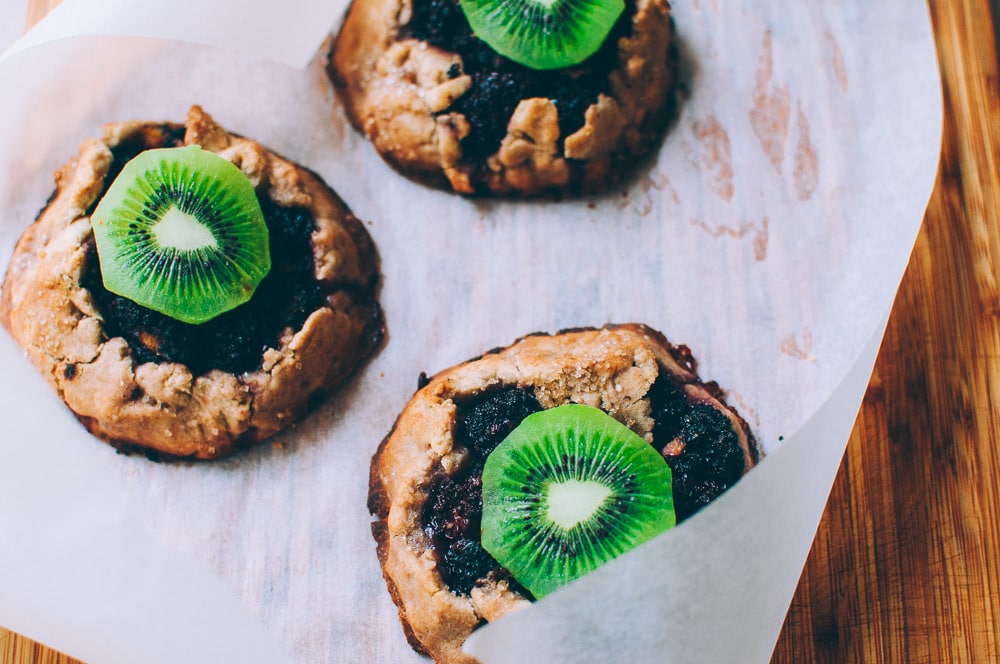 What Ingredients are Needed to Make Mini Galettes?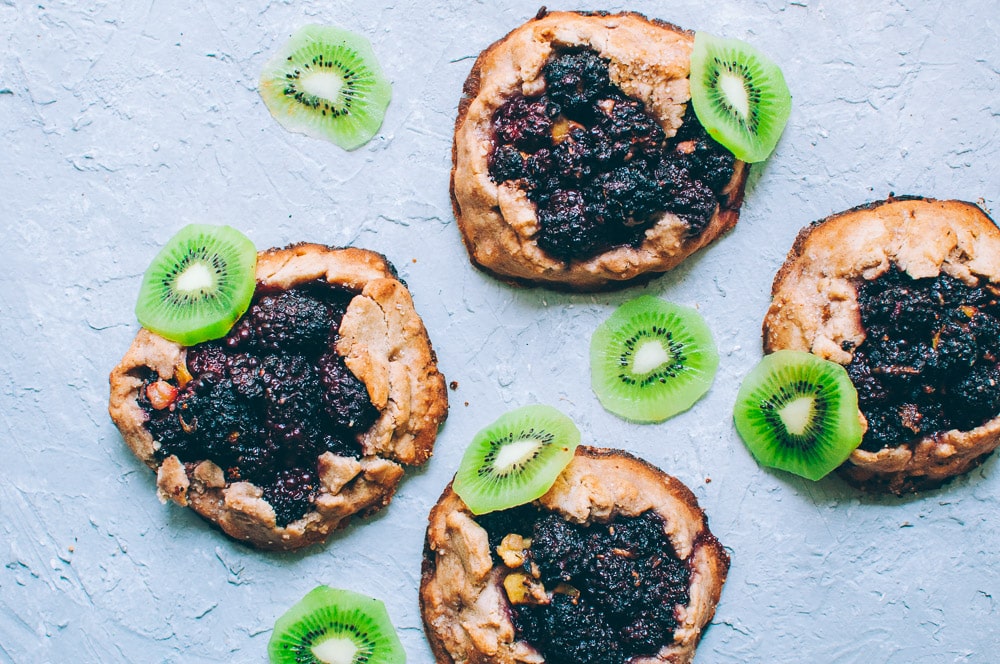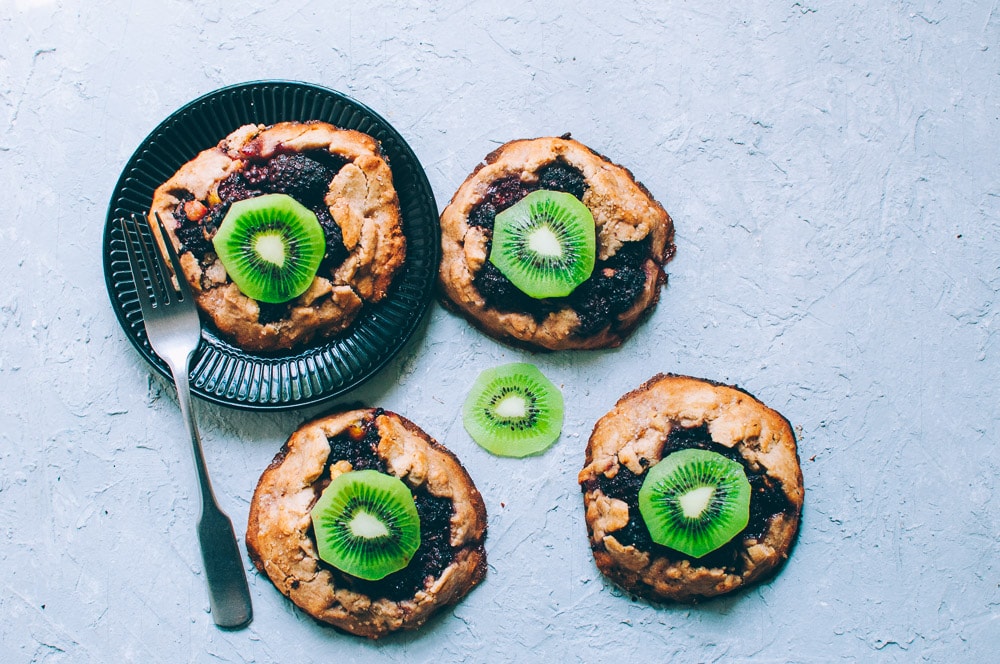 How-to Make Mini Gluten-Free Galettes with Kiwi and Blackberries
Buy or prepare pie crust dough (like my gluten-free vegan pie crust dough recipe).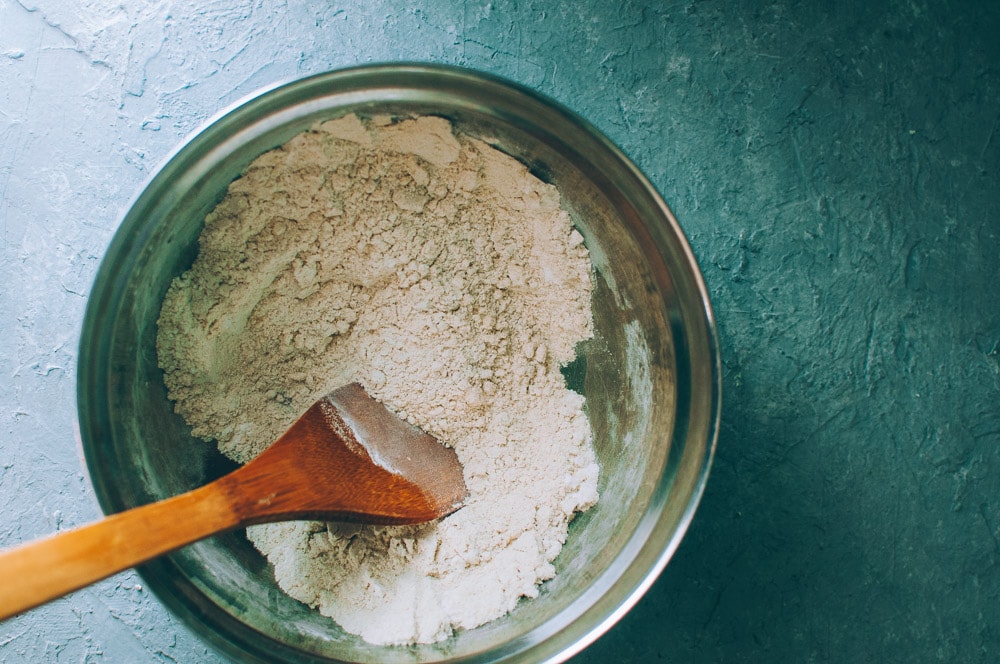 2. Divide dough into four portions. Set aside.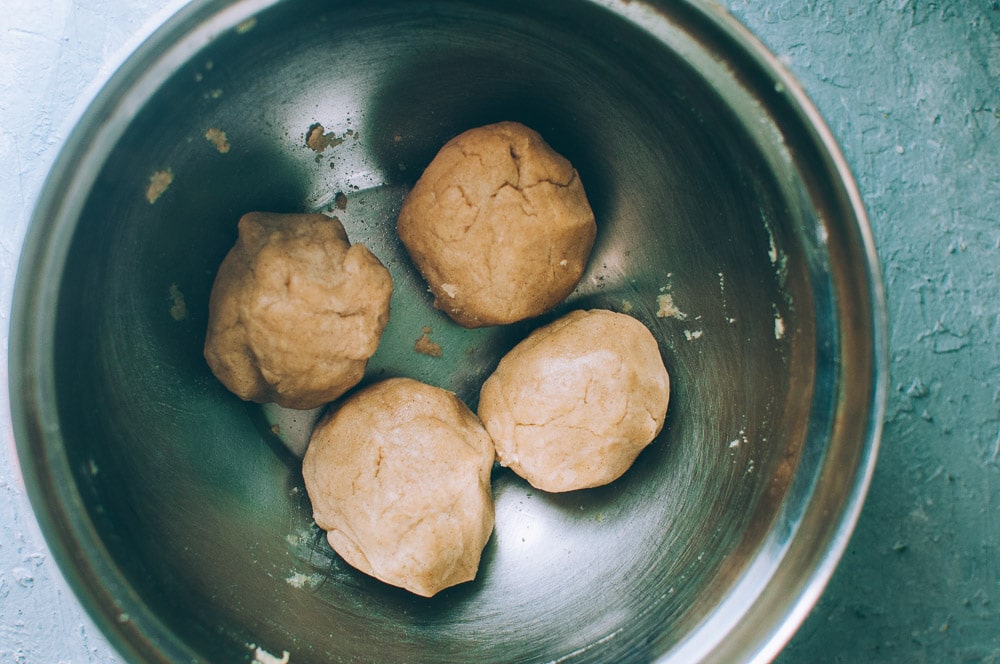 3. Prepare blackberry kiwi mini galette filling.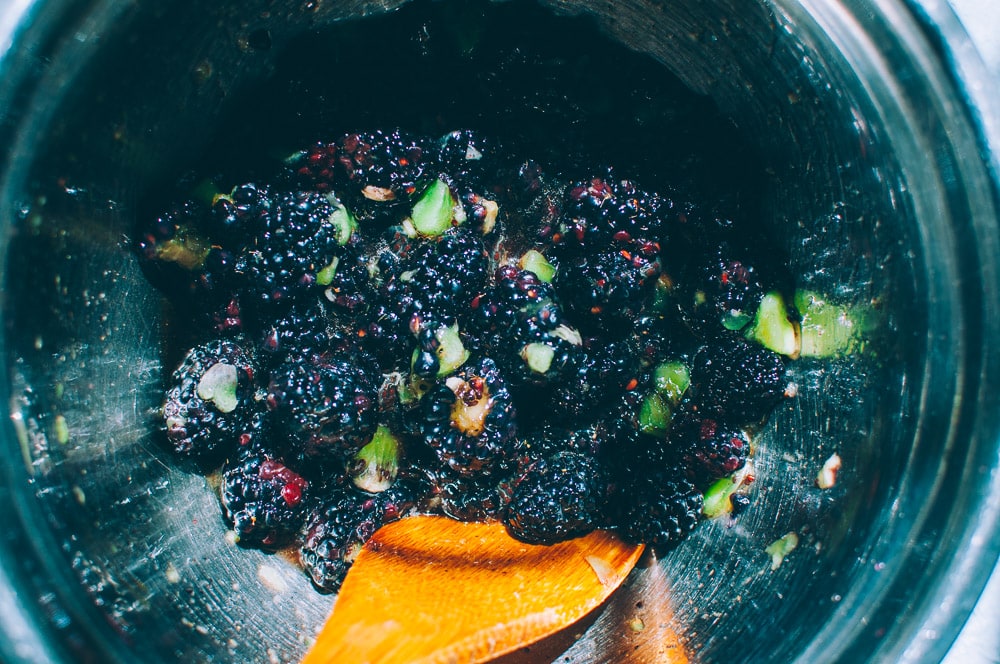 4. On parchment paper, roll out or press pie dough into 4 circles.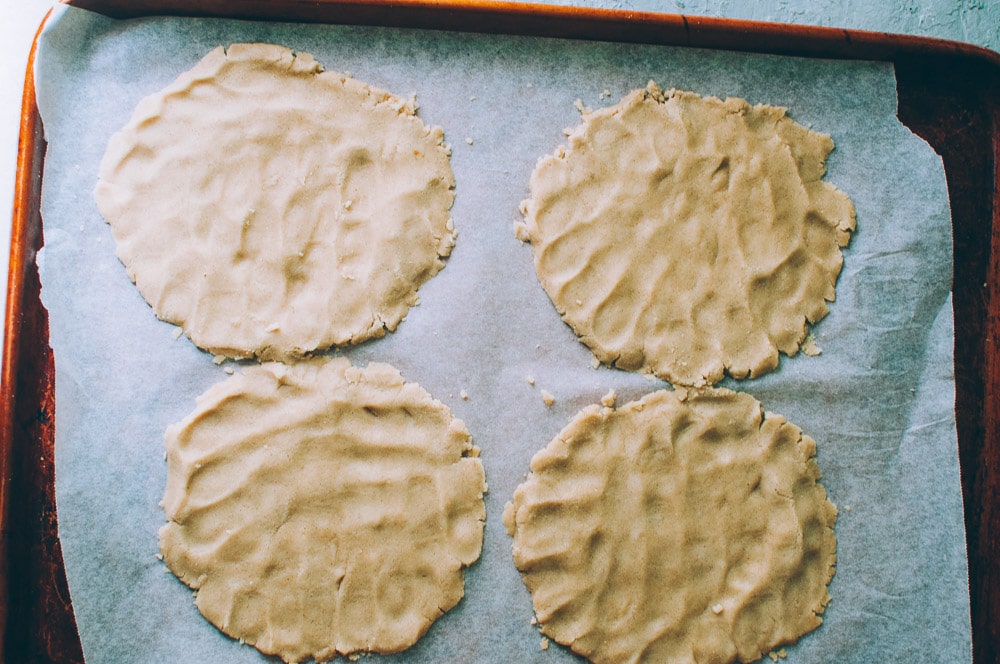 5. Place berry kiwi filling into the center of each pie round. Fold edges of each pie round towards center of filling.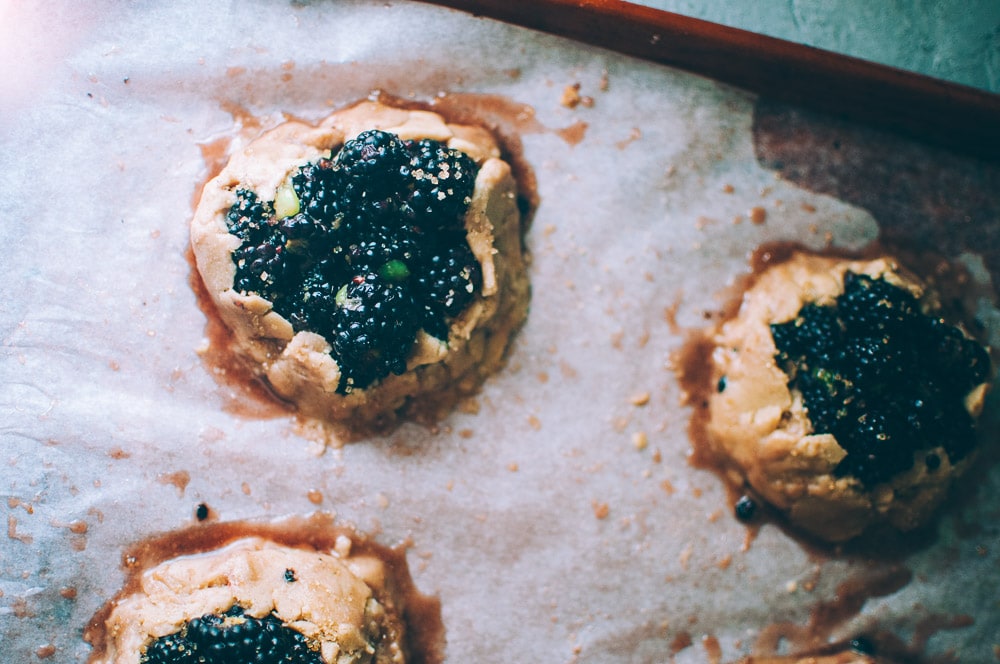 6. Bake and enjoy!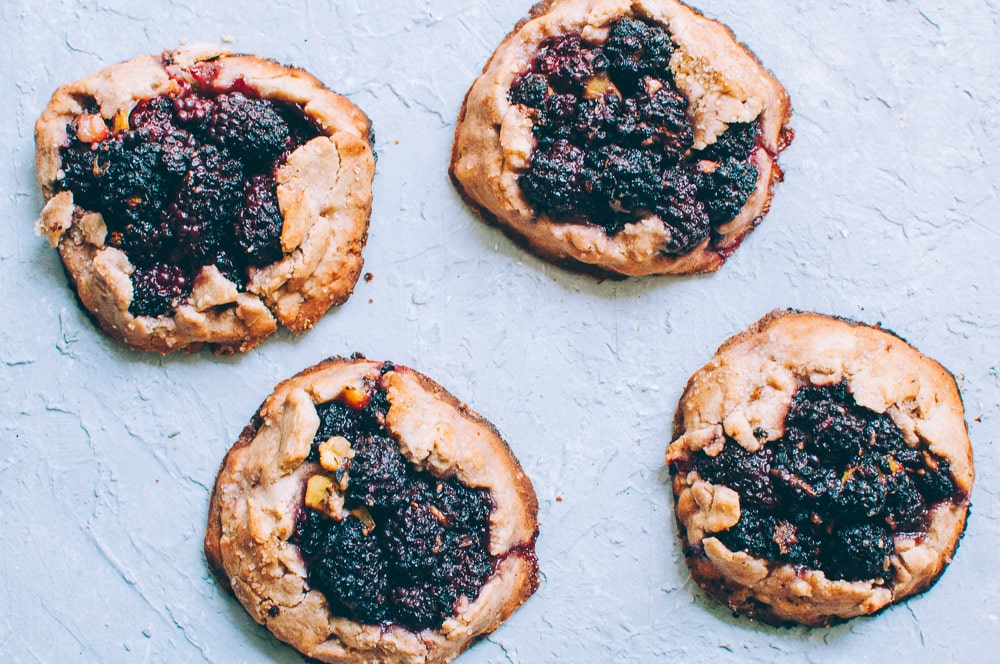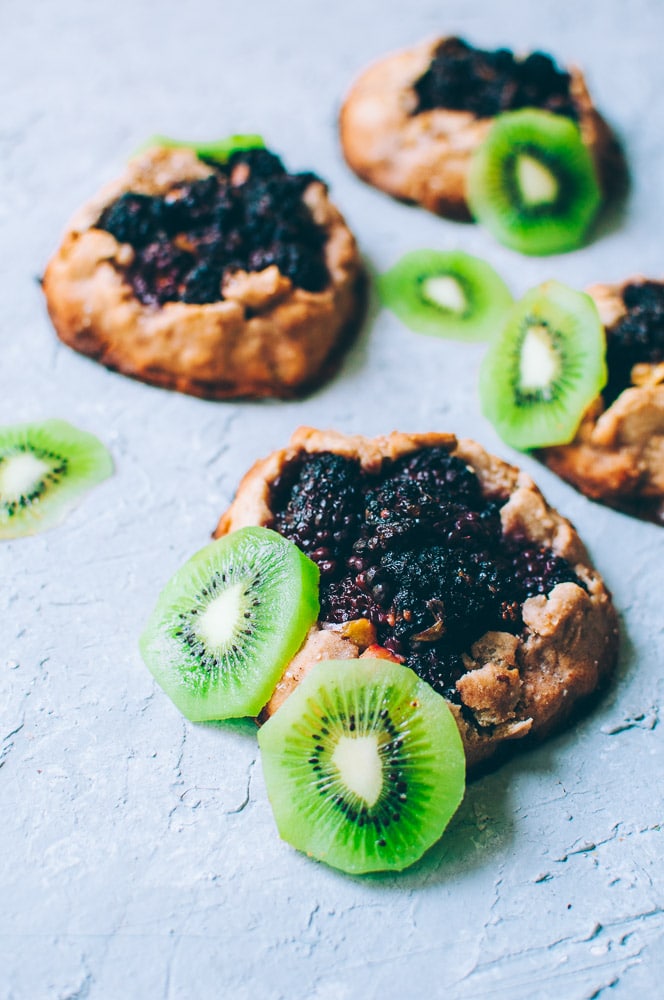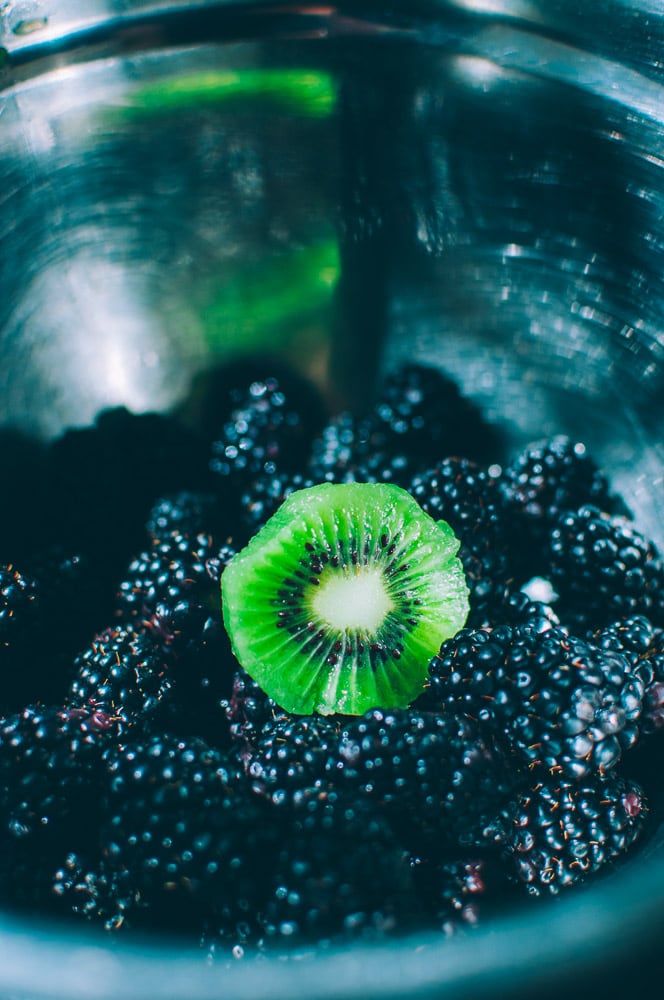 Tips for Making the Best Gluten-Free Vegan Galettes
For gluten-free vegan mini galettes pictured here, use my Gluten-Free Vegan Sorghum Flour Pie Crust Dough Recipe. Or purchase pie crust dough of choice!

I think fresh blackberries provide the best flavor alongside fresh kiwi, but in a pinch frozen berries will work!

Maple syrup can be replaced with coconut sugar, raw honey or a sugar-free sweetener such as Lakanto.

The ground ginger really complements and enhances the kiwi, but it can be omitted or replace with ground cinnamon if need be.

These galettes taste best straight out of the oven but will keep lightly covered at room temperature for up to 36 hours or in airtight containers in the refrigerator for up to 5 days.

To re-heat, simply place in a 350 F/180 C oven until warmed throughout.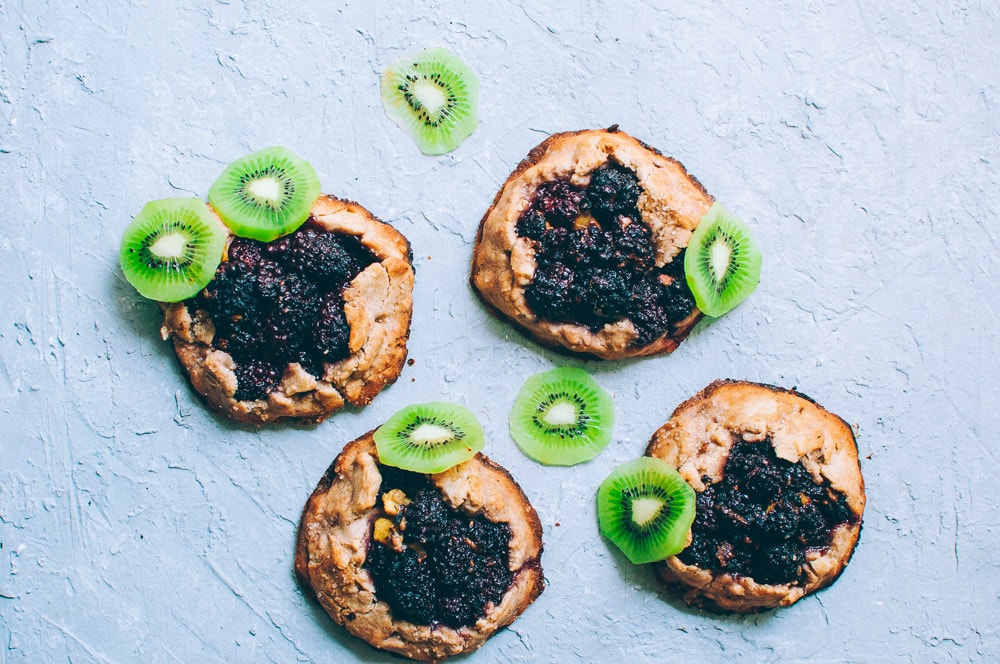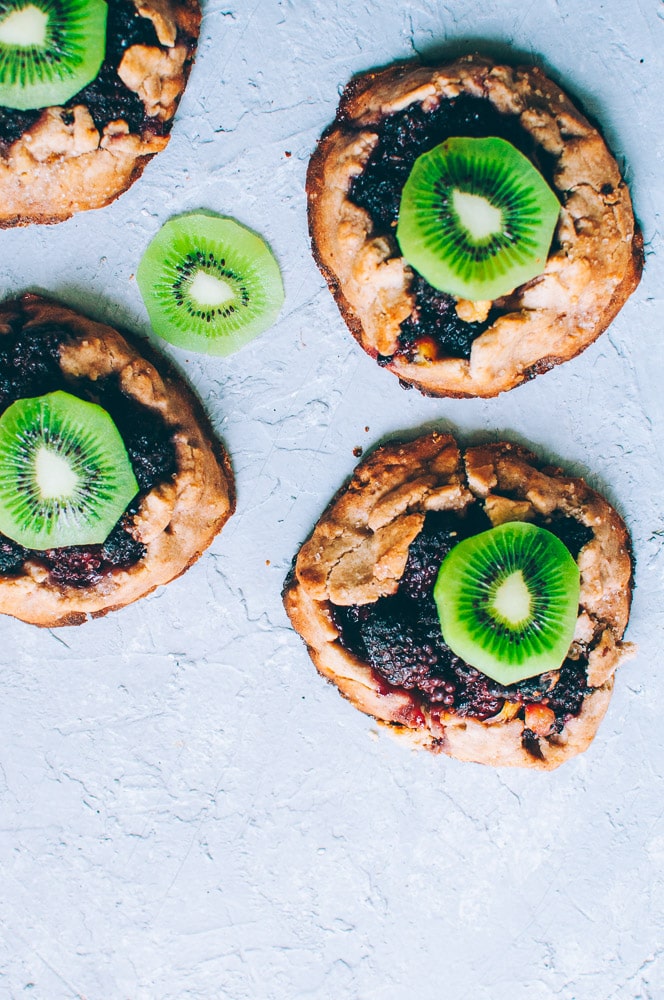 More Gluten-Free Vegan Desserts
Gluten-Free Peach Cobbler with Buckwheat Flour (Vegan)
The Best Gluten-Free Vegan Chocolate Chip Cookies (Nut-Free)
Gluten-Free Cherry Cobbler Muffins (Vegan, Oil-Free)
Mint Cacao Adaptogenic Freezer Candy (Raw, Vegan, Gluten-Free, Sugar-Free)
Vegan Mango Nice Cream Bars (Gluten-Free)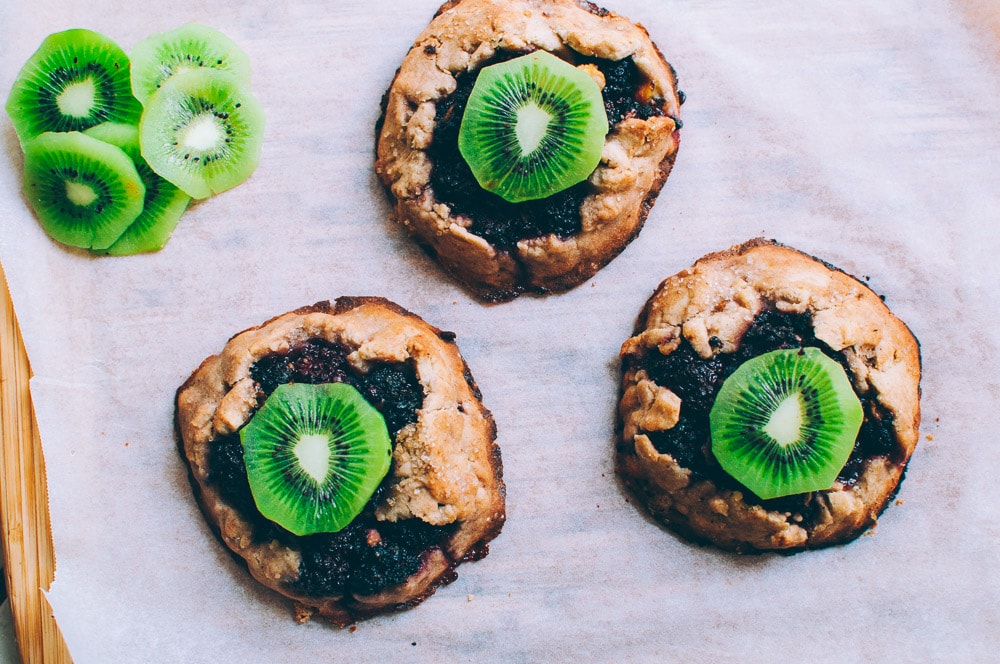 If you try this recipe please let me know! Leave a comment, rate it, share this post, use Pinterest's "tried it" feature, or take a photo, & tag me on Instagram and I'll share it! Thank you so much! <3
Mini Gluten-Free Vegan Galettes with Blackberries + Kiwi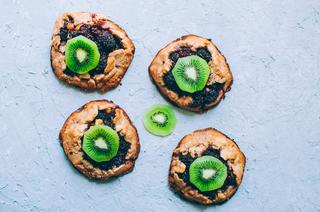 Author: Kristen Wood | 8-28-2019
prep time: 25 minutes
cook time: 35
total time: 55
Yields: 4 mini pies
---
Ingredients:
1 pre-prepared pie crust (I used my GF/V crust HERE)
12 ounces fresh blackberries (approx. 2 1/2 cups, 340 grams)
1 kiwi, peeled & chopped (+ 1 more for optional garnishing)
5 tablespoons maple syrup
1/2 teaspoon ground ginger
---
Instructions:
Combine berries, kiwi, maple syrup in ginger in a large bowl. Mix and mash a little, set aside.
Divide pie crust dough into four equal portions. Roll each portion into a ball.
Preheat oven to 400 F/ 205 C.
On a parchment lined cutting board or counter, take one dough ball at a time and roll out into a small circle (see images above in post), about 1/4 inch thick or alternatively, use your fingers to press the dough out into circles. Repeat with remaining dough on same sheet of parchment.
Transfer parchment paper (dough circles and all) to a cookie sheet.
Spoon 1/4 of your prepared berry filling into the center of each dough round.
Working quickly, fold the sides of each dough circle toward the center of each galette. This is not supposed to be very neat, this is a rustic pie - so do not fret if it gets messy. Just try your best to fold the edges up, and use the warmth of your hands to press and patch any holes.
Place your prepared galettes into your preheated oven.
Bake for 30-35 minutes or until bottoms and edges are turnig golden.
Let cool before serving, and optionally serve with fresk kiwi slices.
Enjoy!
---
Nutrition:
Serving: 1 mini galette
Fat: 11 grams
Calories: 258
Carbs: 35 grams
Fiber: 5.4 grams
NOTE: Please see 'Tips' above in the blog post for suitable substitutions, storage advice and more!
Shop This Recipe
Pin it for Later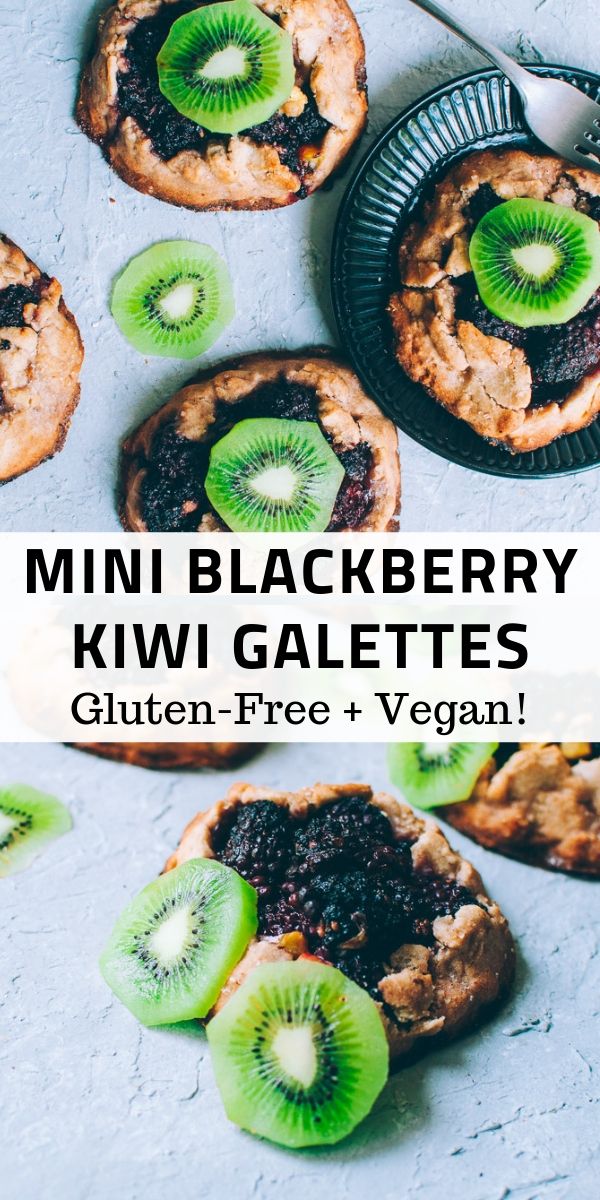 Blackberries
Kiwis
Maple syrup
Ground ginger"
}
}]
}