Disclaimer: Please note that some of the links below in this post are affiliate links and I will earn a commission if you purchase through those links. I regularly use and recommend all of the products listed below because I find them to be of great quality and use! All proceeds go back into maintaining and creating for this site. Thank you! XO
Last Updated on
This easy and healthy gluten-free peach cobbler recipe is made with a blend of buckwheat and tapioca flours for a lovely flavor and texture that greatly complements juicy peaches for a heart-warming breakfast, brunch, or dessert! Refined sugar-free with a dairy-free + vegan option!
This soft and fluffy gluten-free peach cobbler is filled with warming spices and decadent flavor! Made with coconut sugar and a blend of buckwheat & tapioca flour, this delicious cobbler is on the healthier-not-too-sweet side of things, making it a great breakfast or dessert!
This Gluten-Free Peach Cobbler is
Soft, moist and fluffy.

Packed with big peach flavor and heart-warming spices.

Super easy to make.

Filled with protein, fiber and healthy fats.

Gluten-free, nut-free, soy-free, refined sugar-free, with a dairy-free and vegan option.
Ingredients Needed to Make Gluten-Free Peach Cobbler
Buckwheat flour.

Tapioca flour.

Fresh or frozen peaches.

Coconut sugar.

Maple syrup.

Spices.

Butter or oil.

Egg or flax egg.

Dairy or non-dairy milk.
How to Make Gluten Free Peach Cobbler with Buckwheat Flour
Mix dry ingredients; mix wet ingredients. Combine.

Combine peach mixture.

Place peaches into a pan. Pour batter over peaches.

Bake.

Enjoy!
Step-by-step how-to process shots below:
Top Tips for Making Gluten-Free Peach Cobbler
For Vegan and Dairy-Free options, simply be certain to use coconut oil instead of butter and a flax egg instead of an egg.

Due to the unique properties of buckwheat flour and tapioca flour and for best results, I do not recommend replacing them with other flours. However, though I have not tested it, I do think this recipe might work with a gluten-free all purpose blend if you're feeling experimental!

Any granulated sugar can be used to replace the coconut sugar if need be.

For a sugar-free cobbler, we love this sugar-free sweetener.

If you are out of one of the spices listed, any combination of warming spices will work well in this recipe (nutmeg, cinnamon, ginger, allspice, cardamom, cloves).

This cobbler tastes best served right away, but can be stored in an airtight container in the refrigerator for up to 3 days.

To re-heat, place in a 350 F oven and heat until warmed throughout.
More Gluten-Free Dessert Recipes
Gluten-Free Raspberry Coconut Apple Cobbler (Vegan)
Gluten-Free Rustic Polenta Crusted Blackberry Galette
Gluten-Free Coconut Flour Zucchini Bread
Blackberry Lemon Poppy Seed Crumble (Gluten-Free)
Healthy Flourless Peanut Butter Bars (Gluten-Free, Dairy-Free, Refined Sugar-Free)
Chickpea Flour Lemon Poppy Seed Bread (Gluten-Free)
If you try this recipe please let me know! Leave a comment, rate it, share this post, use Pinterest's "tried it" feature, or take a photo, & tag me on Instagram and I'll share it! Thank you so much! <3
Gluten Free Buckwheat Peach Cobbler (Gluten-Free, Vegan Option)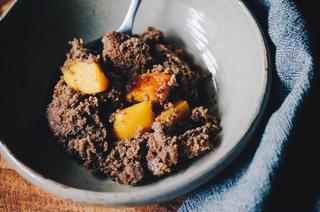 Author: Kristen Wood | 7-31-2019
prep time: 15 minutes
cook time: 40 minutes
total time: 55 minutes
Yields: 6 servings
---
Ingredients:
Batter:
1/2 cup (60 grams) buckwheat flour
1/2 cup (60 grams) tapioca flour
1/2 cup (95 grams) coconut sugar
2 teaspoons baking powder
1 teaspoon ground cinnamon
1/2 teaspoon sea salt or pink salt
1/4 teaspoon ground cloves
1 cup (240 grams) + 2 tablespoons milk of choice (I use unsweetened almond)
5 tablespoons melted butter or coconut oil
1 egg or flax egg (see note below)
Peach Mixture:
2 cups fresh or frozen peaches (450 grams), sliced and then slices halved
3 tablespoons maple syrup or coconut sugar
2 tablespoons melted butter or coconut oil
1/2 teaspoon ground ginger
1/8 teaspoon sea salt or pink salt
---
Instructions:
Preheat oven to 375°F (190°C). Grease a cast iron skillet, cake pan or pie dish and set aside.
In a large bowl combine dry ingredients (buckwheat flour through cloves). Stir to combine.
In another bowl, combine milk, oil/butter, and egg/flax egg. Whisk until smooth.
Pour wet ingredients into dry ingredients. Stir until well combined. Set aside.
In a bowl or pre-prepared pan toss together peaches with maple syrup (or coconut sugar), butter/oil, ginger and salt.
Place the peaches into pre-prepared pan. Pour batter over peaches.
Bake for 40 minutes or until top is firm and edges are turning golden.
Let cool for a few minutes before scooping and serving.
Enjoy on its own, alongside yogurt, ice cream or dash of coconut cream!
---
Nutrition:
Serving: 1 serving/bowl
Fat: 24 grams
Calories: 361
Carbs: 37 grams
Fiber: 3 grams
NOTE: Please see 'Tips' above in the blog post for suitable substitutions, storage advice and more!
*To make a flax egg, combine 1 tablespoon ground flaxseed with 3 tablespoons water. Let sit and thicken for 10 minutes before using.
Shop This Recipe
Pin it for Later