12 Best Almond Butter Substitutes
This post may contain affiliate links, and we receive an affiliate commission for any purchases made by you using these links. We appreciate your support!
Are you looking for the best almond butter substitute? Look no further! We've gathered the best almond butter substitutes to use as replacements in cooking and baking. Both nut-based and nut-free options can be found here!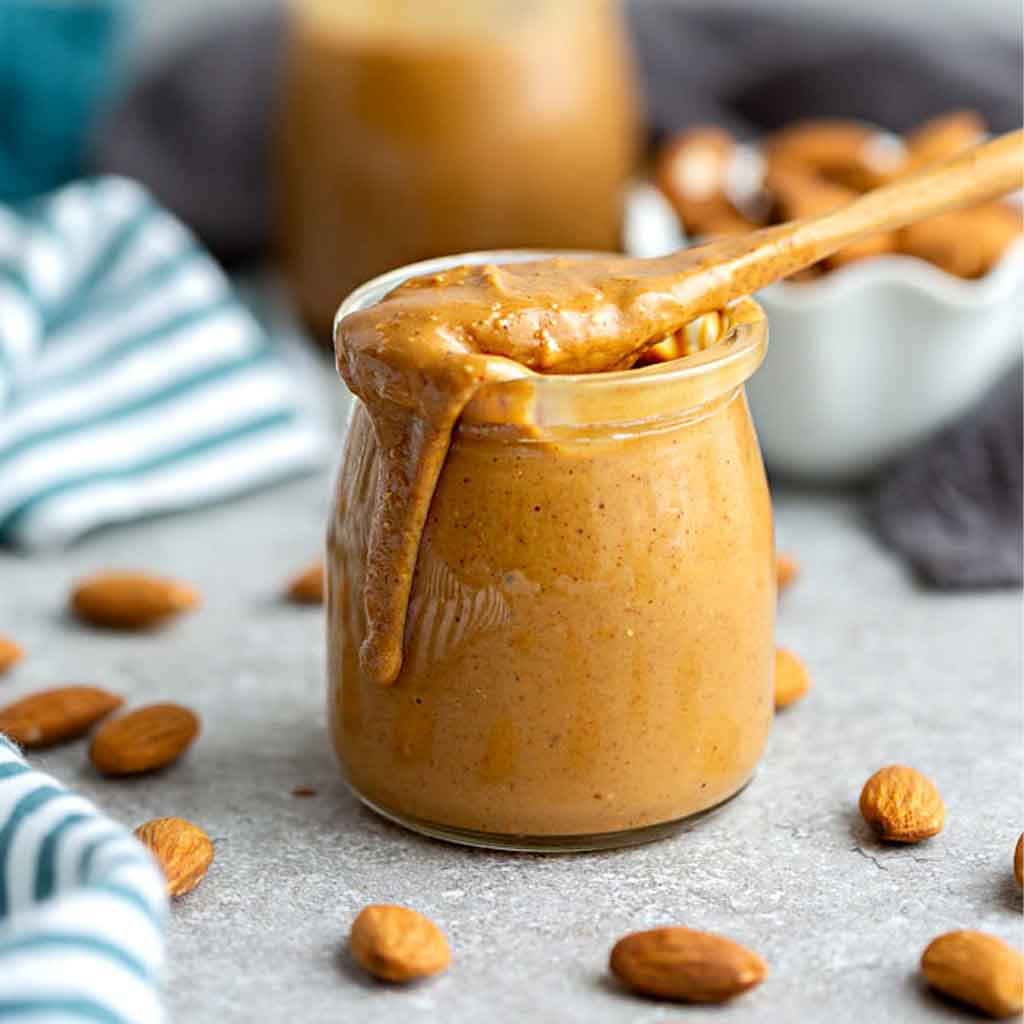 Whether you are looking for nut-free alternatives to almond butter due to a nut or peanut allergy or looking for other sources of omega-3 fatty acids, we've got you covered with a wide variety of choices to help you on your search for an almond butter substitute.
What Is Almond Butter?
Almond butter refers to a kind of nut butter that is quite similar to peanut butter, but instead of peanuts, is made of roasted or raw almonds. In almond butter, the almonds are finely grounded into a spread with a creamy texture and rich consistency. You will find both crunchy and creamy versions of almond butter in the market, much like peanut butter. You also get choices between stir and non-stir options. Apart from its wonderful nutty flavor, almond butter is packed with protein, minerals, healthy fats, and vitamins, including vitamin E and magnesium, as are many of its suitable replacements.
One of the good things about almond butter is that it can be matched with several other nut-based kinds of butter and you will most often than not, not feel any difference.
12 Best Substitutes For Almond Butter
Nut-Based Alternatives To Almond Butter
1. Peanut Butter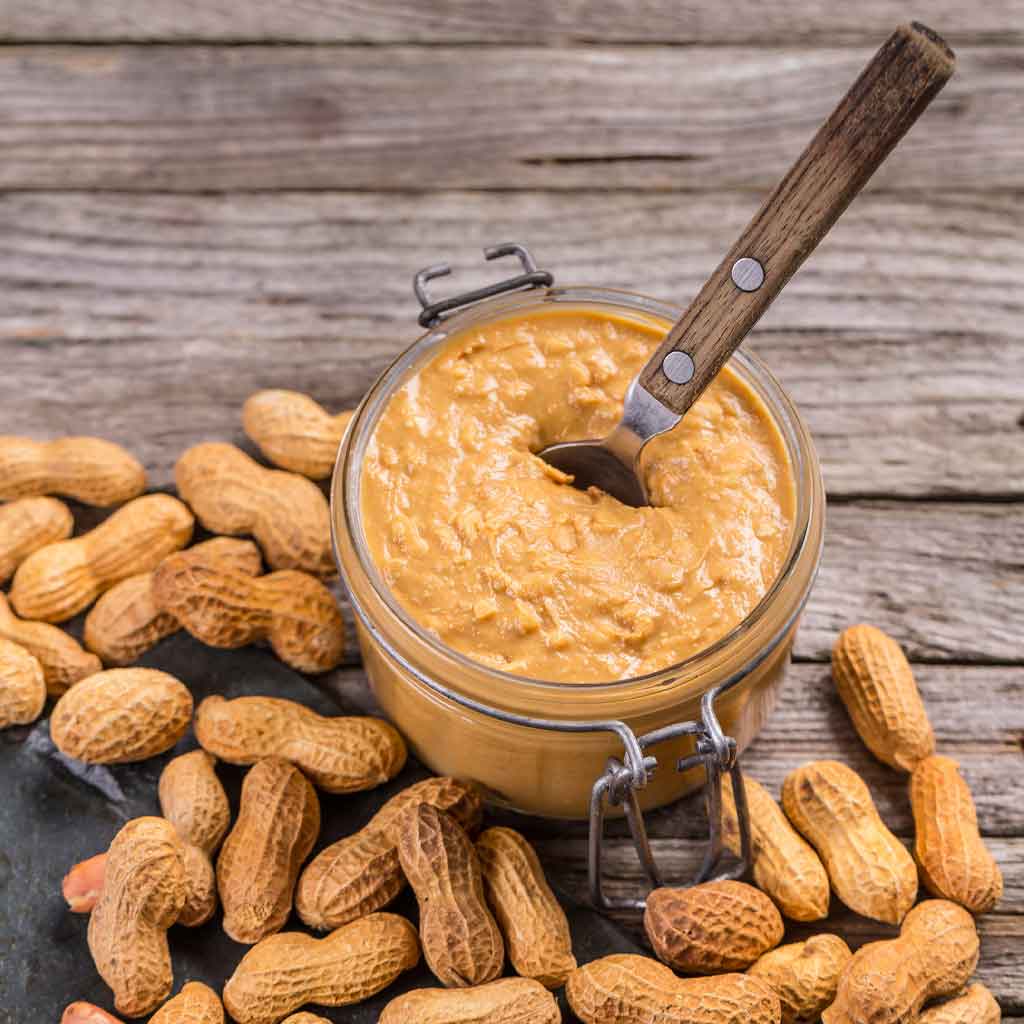 The most attractive almond butter substitute, peanut butter is a tad bit sweeter than almond butter, and it is more affordable and acts as a great substitute for tons of food like tahini, chickpeas, cashew butter, etc. Easily available in stores, peanut butter goes well with tons of recipes, and it goes head-to-head with almond butter in recipes that call for the latter (and that includes spreads, smoothies, or as toppings on your oatmeal).
You can exchange both almond butter and peanut butter for each other, and the best part is, you can easily make it at home, both in a creamy and a crunchy way. Substitute each 1:1 and voila, you are good to go!
2. Walnut Butter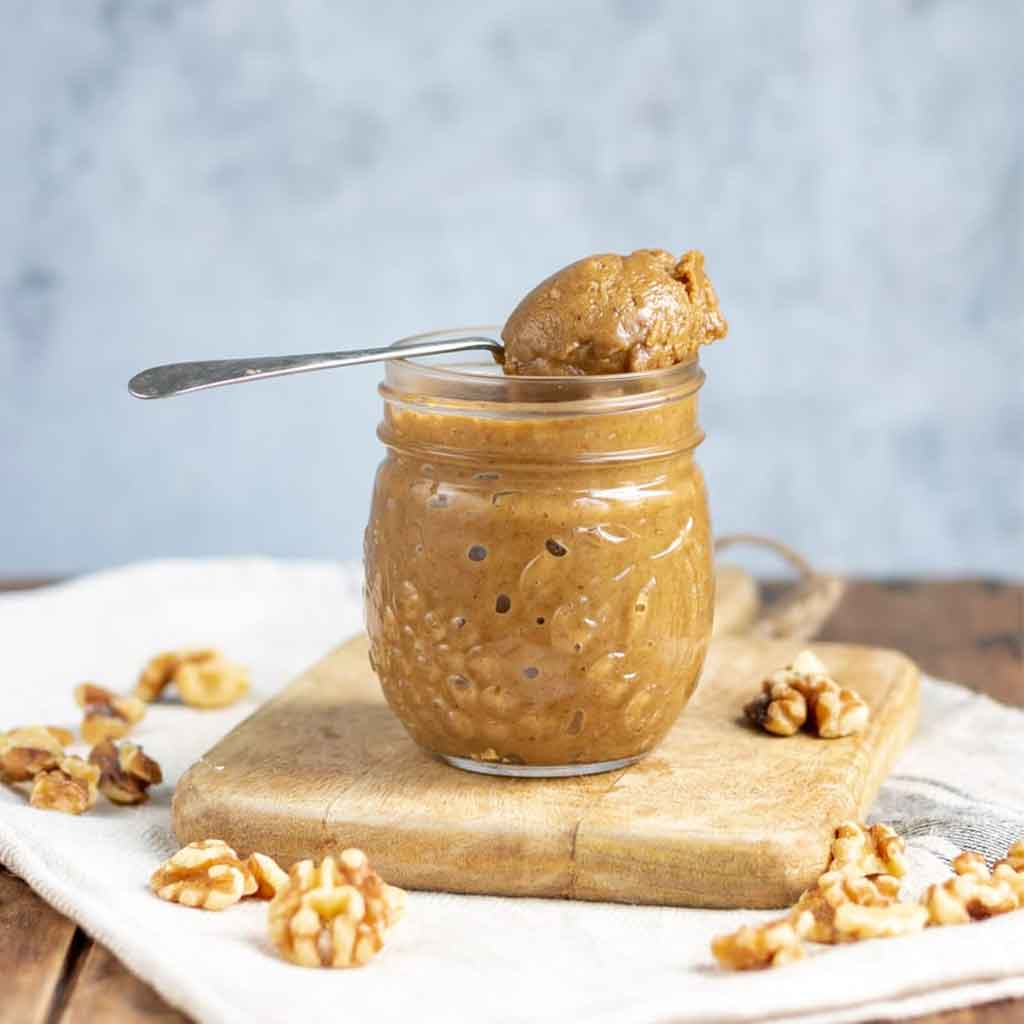 Nutty and creamy in flavor and bearing many health benefits including an abundance of omega fatty acids, walnut butter is a go-to almond butter substitute for many vegan recipes. With a slightly bitter taste, walnut butter can be made to taste more to your liking by adding a little sweetener such as maple syrup.
Walnut butter goes great in stews, dips, pasta sauces, and soups for umami flavors. Note that walnut butter is generally a little sweeter than almond butter, though both are exchangeable in a 1:1 ratio.
3. Cashew Butter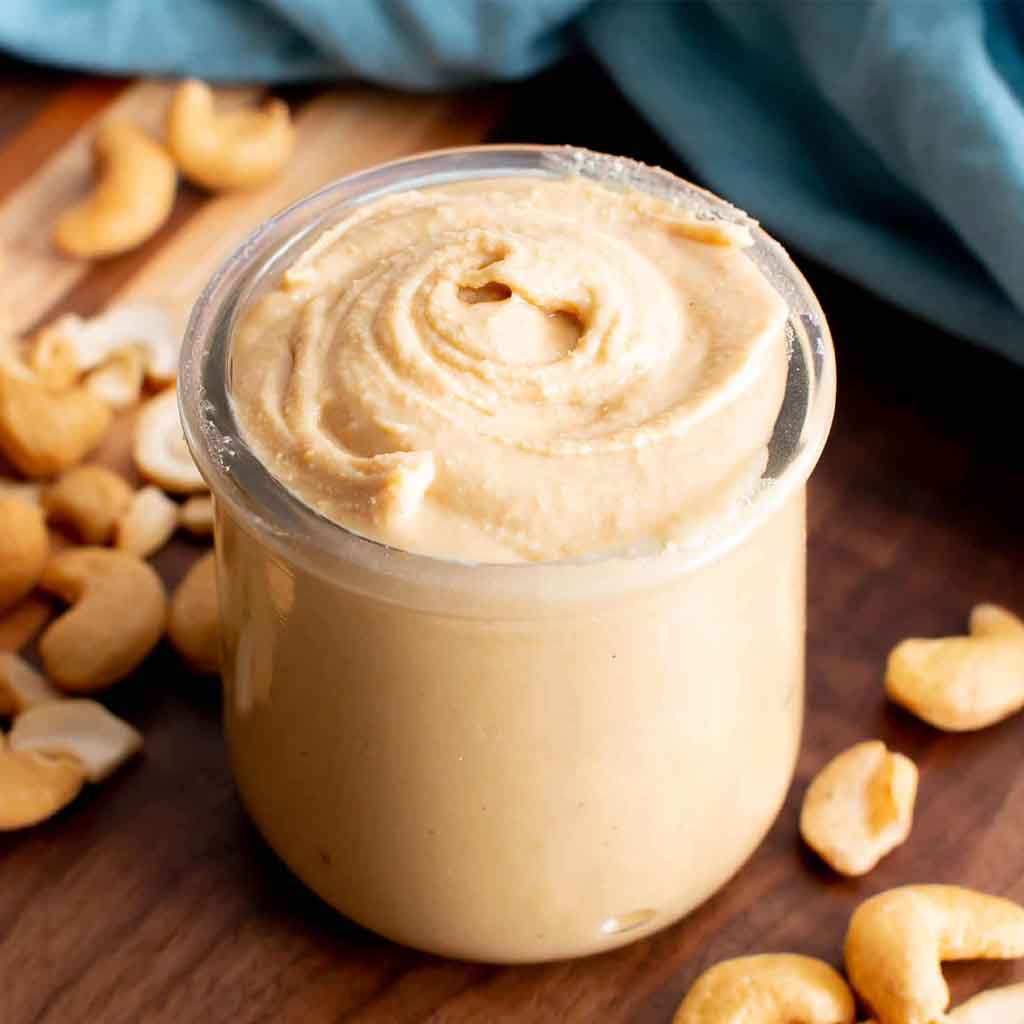 Yet another nut-based almond butter substitute, cashew butter is extremely creamy and a little sweet. If you cannot hunt down almond or peanut butter, make cashew butter your next obvious choice. There is not much difference in aroma, taste, and texture, though cashew butter happens to be a little on the higher side when it comes to fat content.
Cashew butter is perfect for smoothies, baked goods, and toast, and its natural sweetness makes it a great dip. You can use cashew butter in place of almond butter in a 1:1 ratio.
4. Pecan Butter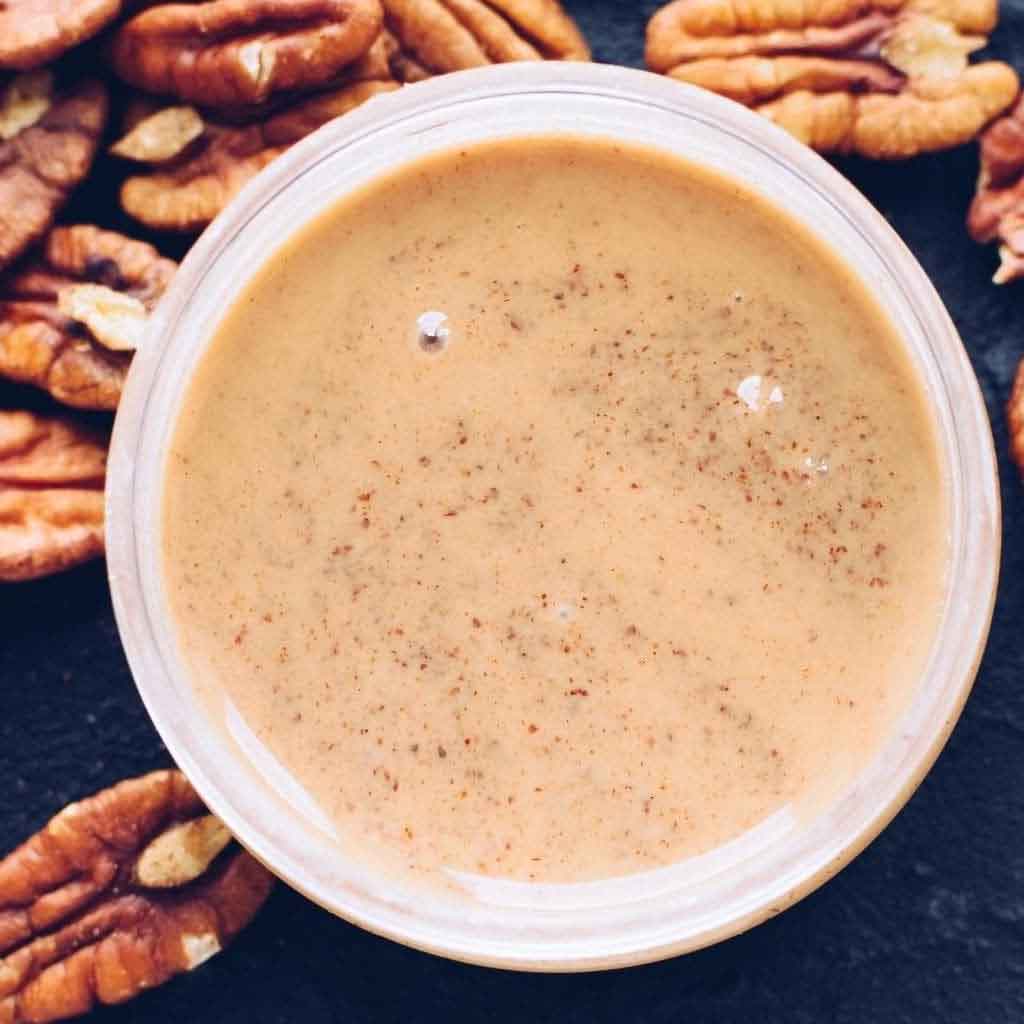 Pecan butter is both creamy and nutty, a little more so than almond butter. It might not be the easiest almond butter alternative to find in stores or online, but that is compensated by how easy it is to make at home.
Pecan butter can be a great almond butter substitute in both spreads, baked goods, pasta sauces, dips, stews, smoothies, and soups. You can replace almond butter with pecan butter in a 1:1 ratio.
5. Pistachio Butter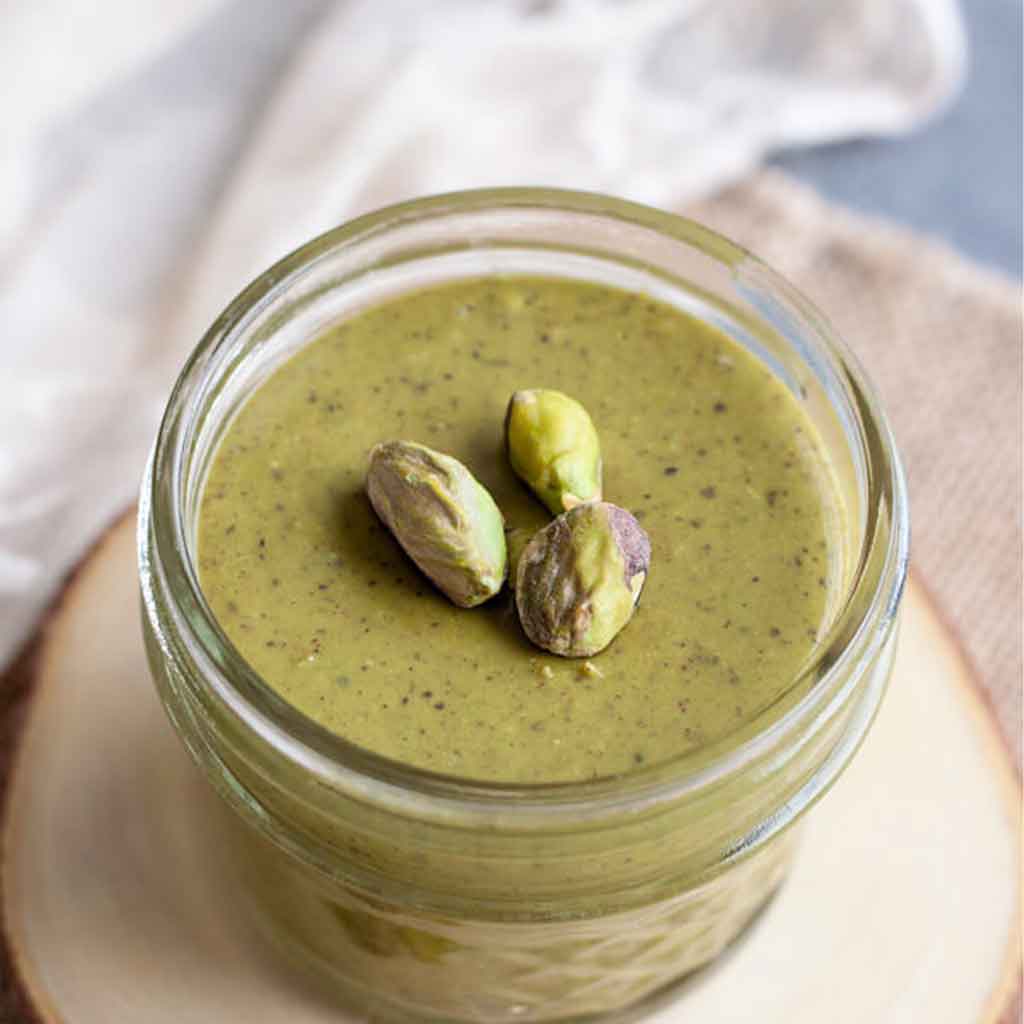 This is yet another creamy and delicious almond butter alternative, right after cashew butter. Smooth and green in color, pistachio butter looks and tastes great! If you cannot find this almond butter substitute at your nearest stores, feel free to make it at home.
Be it for baking, in dips, on toast, or while making ice cream, pistachio is often the go-to choice, courtesy of its flavors and richness.
6. Hazelnut Butter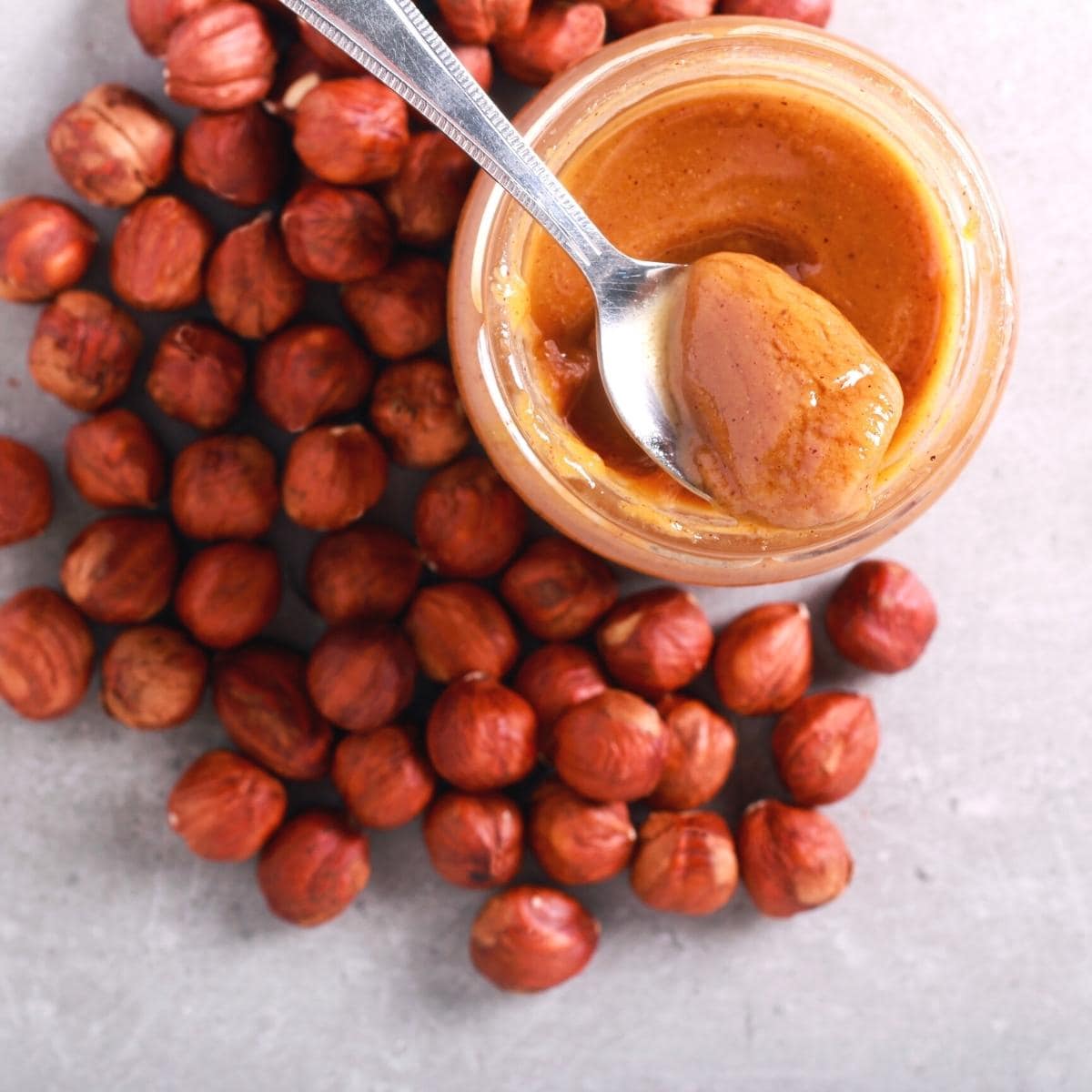 A creamy substitute for almond butter, hazelnut butter is nutty in flavor, quite like walnut or pecan butter. The best part about hazelnut butter is how it complements chocolate-based desserts and spreads. Case in point, Nutella. Use hazelnut butter in place of almond butter in a 1:1 ratio, and you should be good to go!
Other Substitutes for Almond Butter
7. Greek Yogurt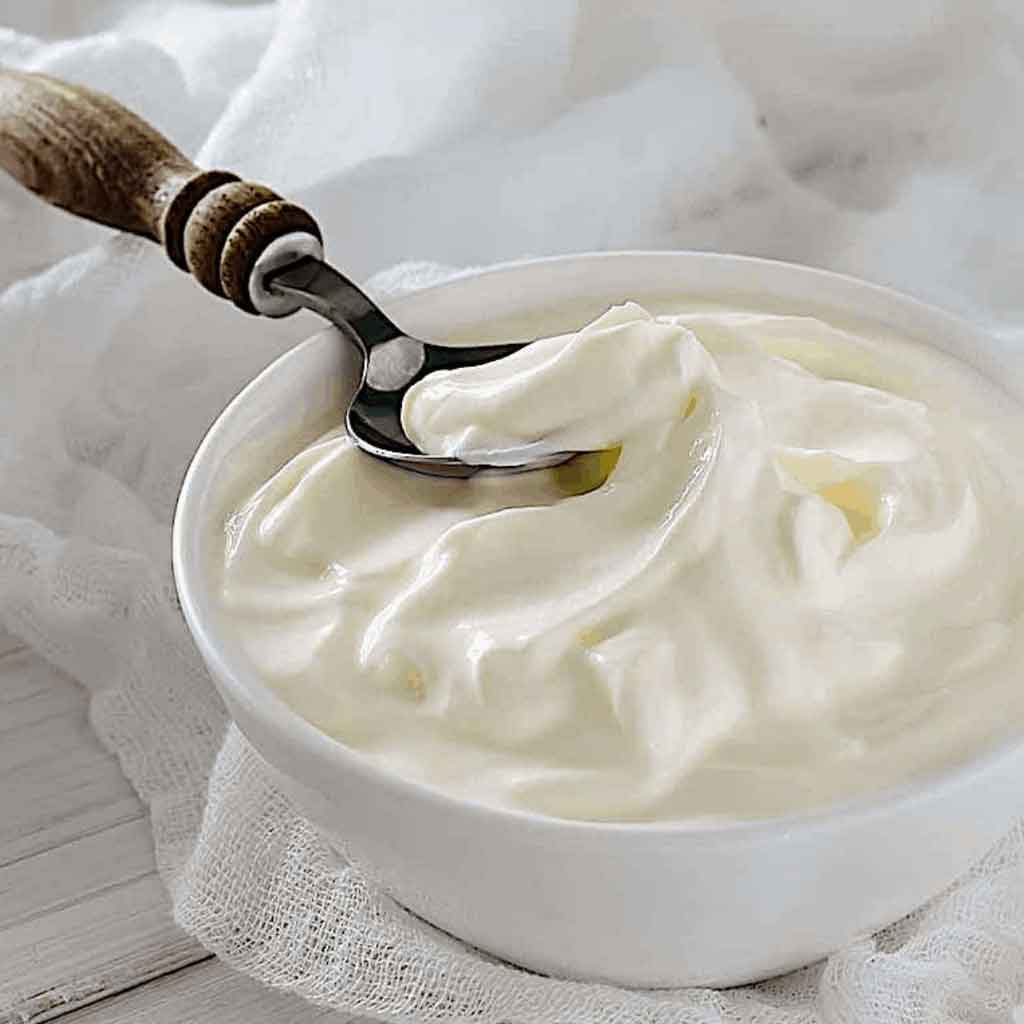 Greek yogurt is yet another great substitute for almond butter, and more so because it adds texture to every recipe. If you are trying to substitute almond butter in your smoothies and shakes, try adding some greek yogurt. After all, you can never go wrong with yogurt! Greek yogurt is a great vegetarian option but if you are vegan, beware of its non-vegan properties. But no need to worry as vegans can easily prepare vegan greek yogurt at home and use it as a substitute for almond butter.
8. Sunflower Seed Butter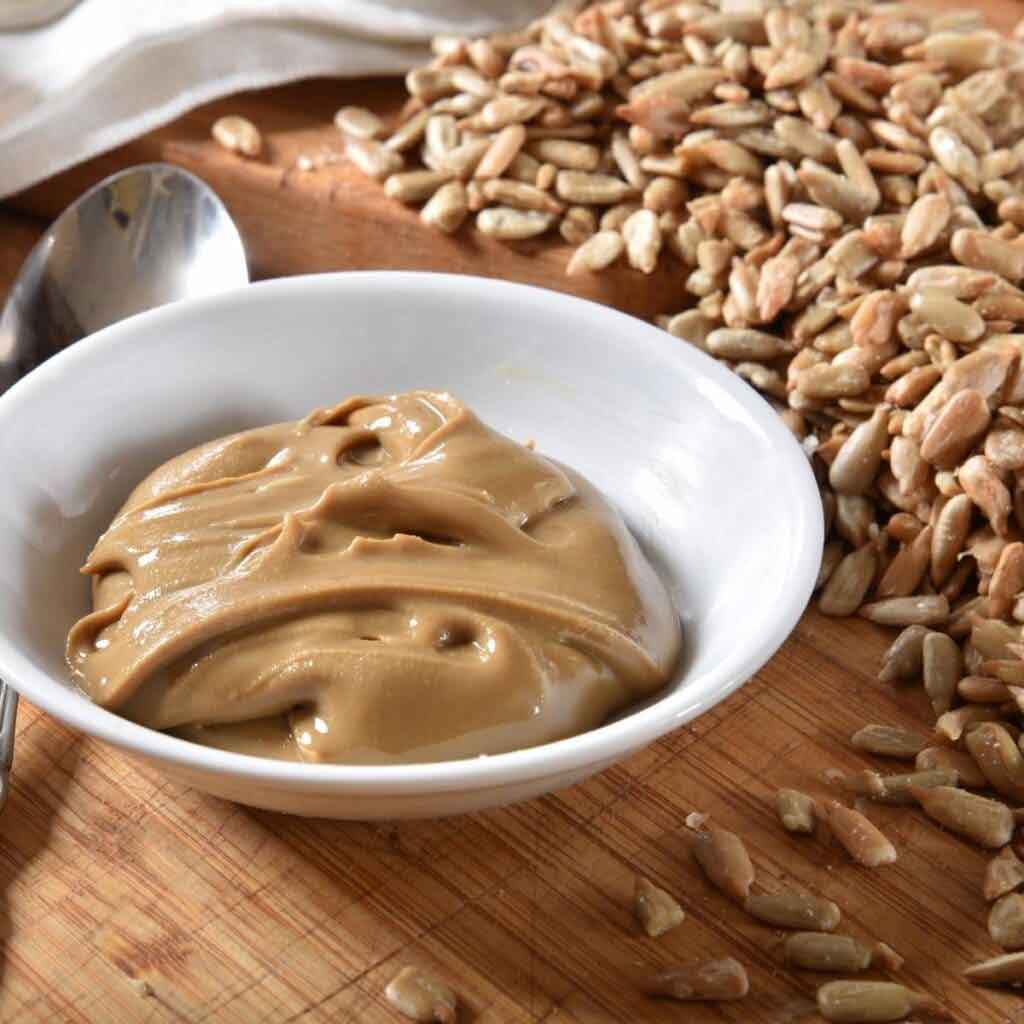 If you are wondering what is the best nut-free substitute for almond butter, the answer is simple- sunflower seed butter. Given its oil content, sunflower butter is extremely creamy and rich in texture, much like almond butter. It is easily available in stores but if you want, you can always make it at home too!
9. Pumpkin Seed Butter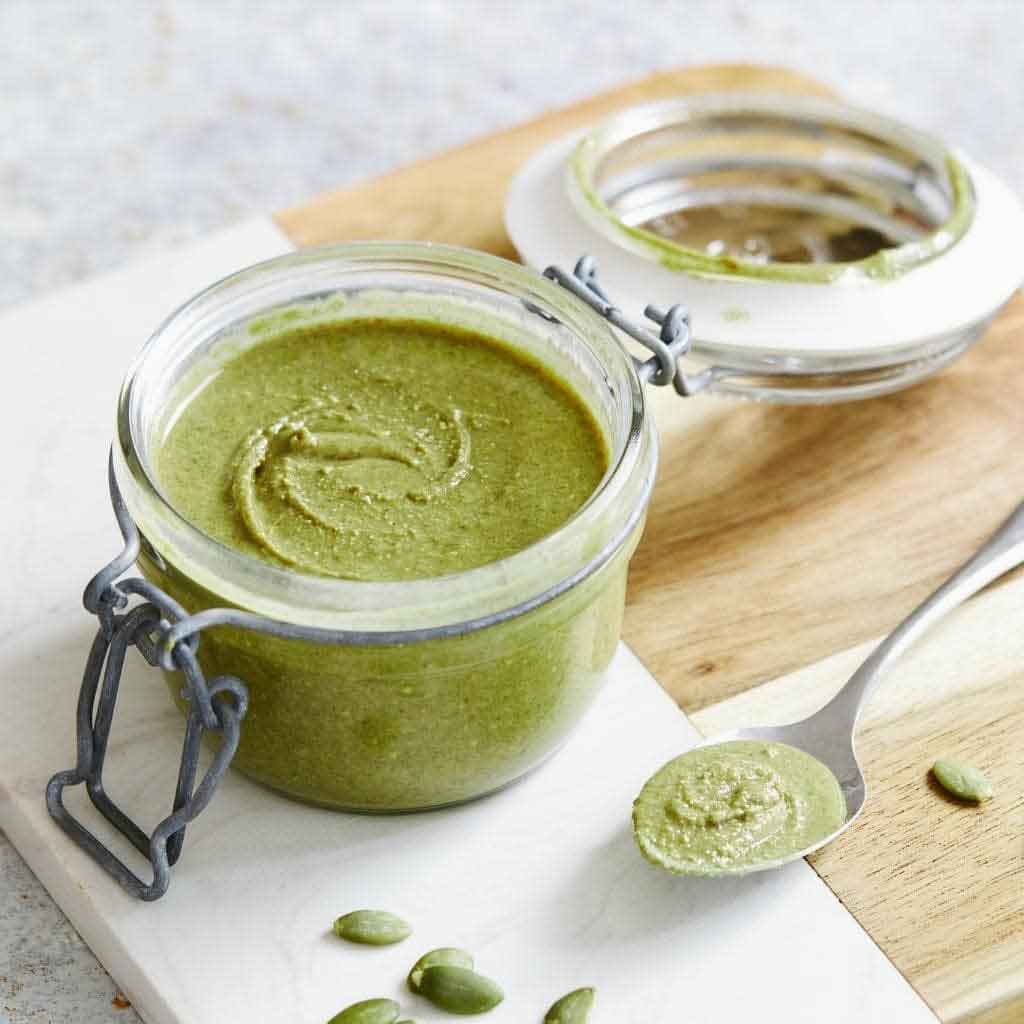 You might like almond butter and other nut-based alternatives, but that does not necessarily mean your body agrees with them. If you have a nut allergy and are looking for nut-free healthy butter alternatives, pumpkin seed butter is unmatched in taste and texture. This kind of butter is green in color and is made of pumpkin seeds (aka pepitas), as the name suggests.
10. Mashed Banana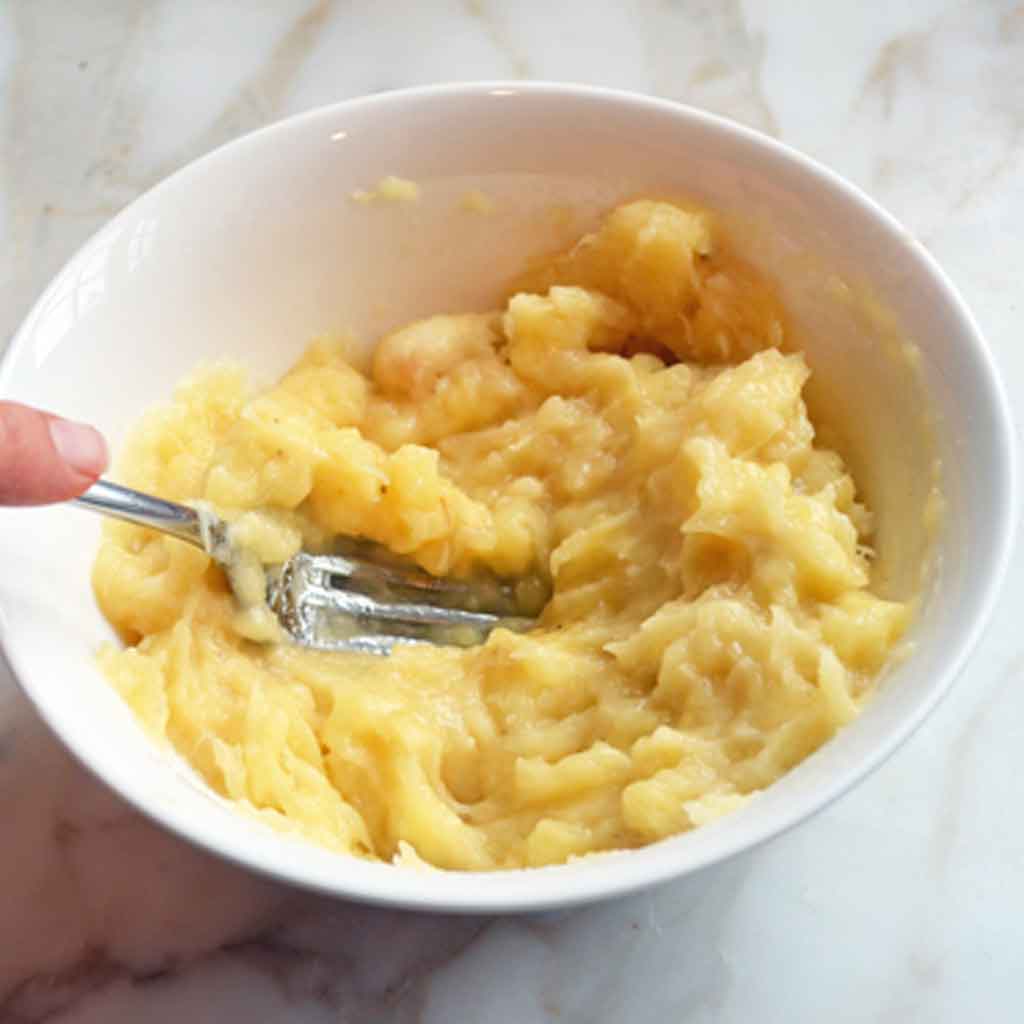 Mashed banana happens to be yet another vegan and nut-free substitute for almond butter, and if mashed avocado is not up to your liking, mashed banana might just be it. From baked goods to smoothies, mashed banana goes well with tons of recipes, and it is available throughout the year. In fact, bananas are a viable substitute for applesauce, eggs, and other gluten-free baking ingredients in general. Always go for the ripe ones!
11. Coconut Butter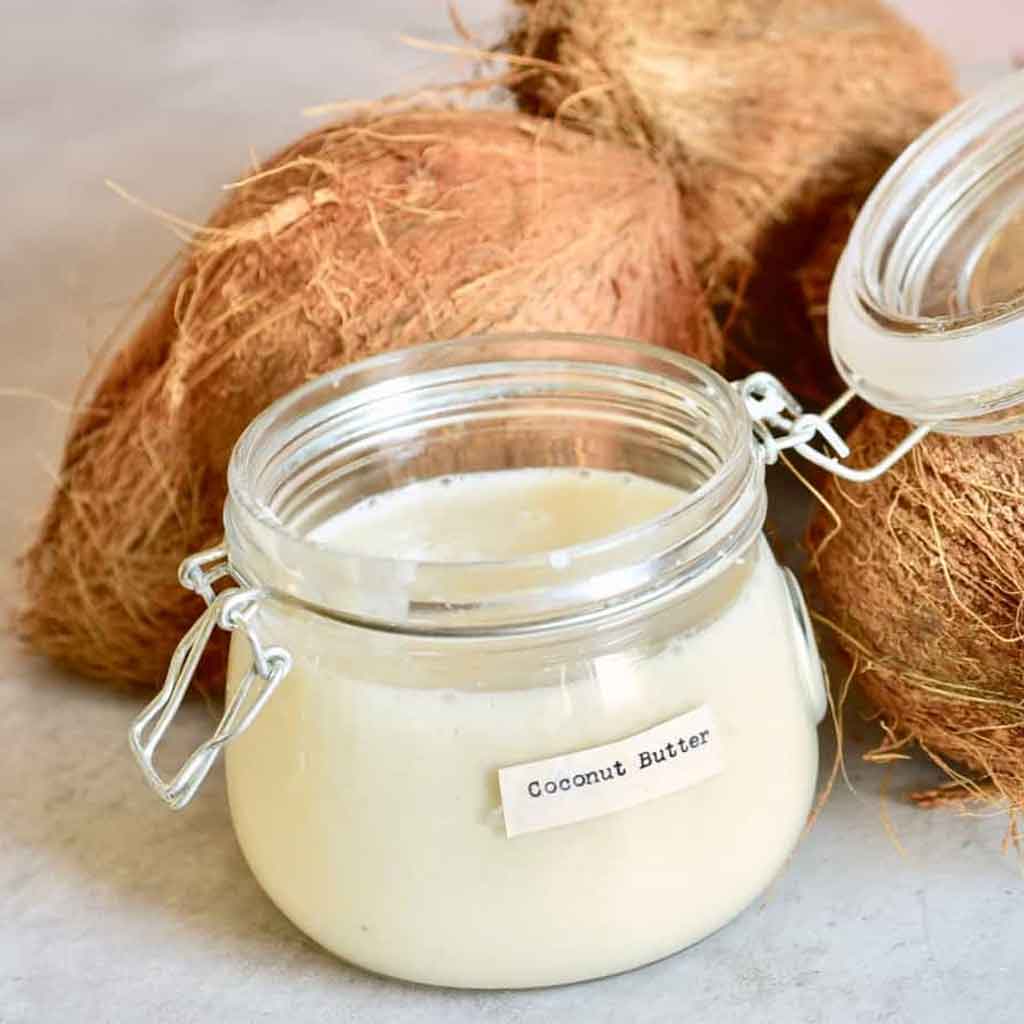 Coconut butter is a great vegan substitute for almond butter for those allergic to nuts. If you are looking for nut-free butter, coconut butter can be a great substitute. It is a little sweet and creamy, imbued with coconut flavors, making it perfect for no-bake desserts or any baking if you can overlook that coconut-ty flavor.
12. Black Bean Paste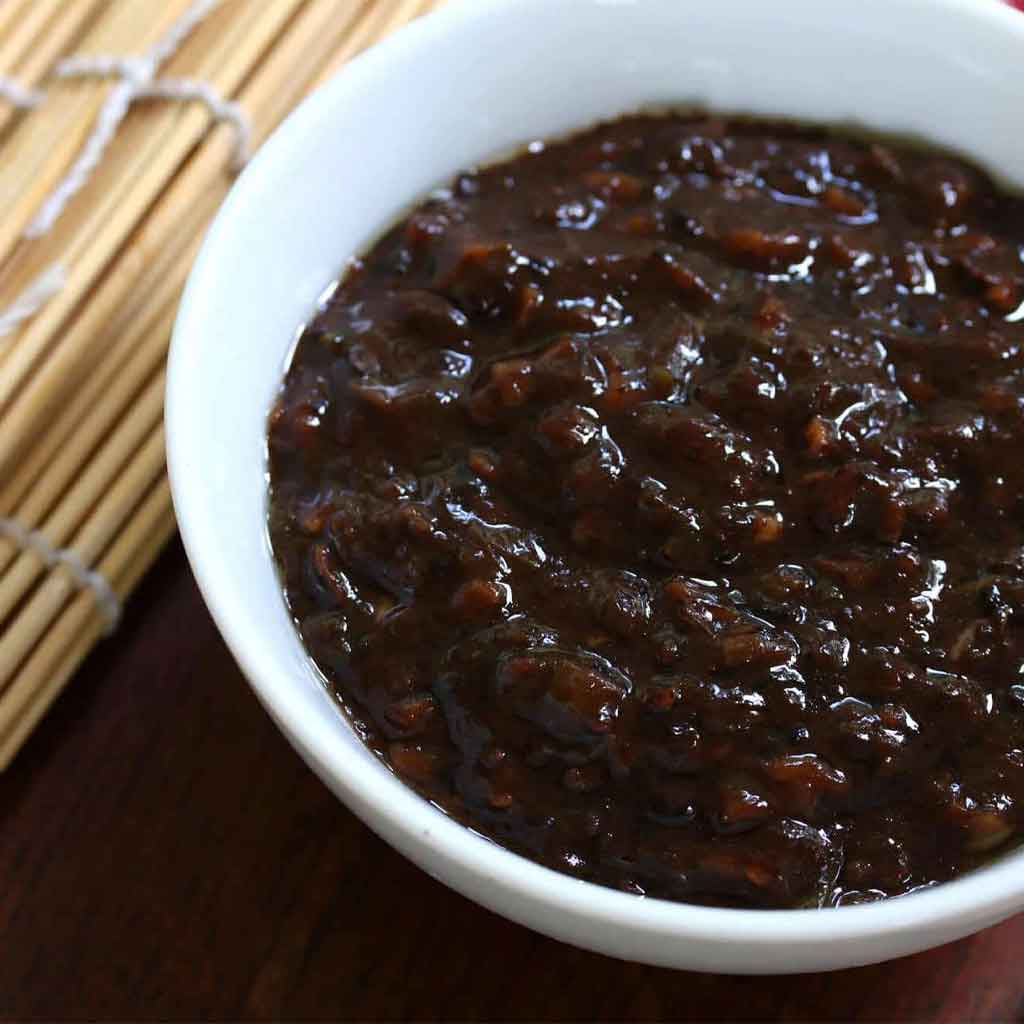 When it comes to healthy almond butter substitutes in dips and baked goods, black bean paste is a life savior. Simply blend some black beans with little water or oil to form a fine and smooth paste. It can be great for baking muffins, brownies, and cakes.
How To Choose An Almond Butter Substitute
For Baking
If baking is the prerogative, go for pecan, cashew, peanut, walnut, hazelnut, or macadamia nut butter as a substitute for almond butter. In chocolate-flavored baked goods, hazelnut goes best, though the rest will also work just fine. For nut-free recipes, seek out seed butter and for room-temperature baking, greek yogurt, mashed avocado, or mashed bananas can help.
In Smoothies
Trying to find an almond butter alternative for smoothies? Go for avocado, greek yogurt, cashew butter, banana, macadamia butter, peanut butter, and hazelnut butter. One tablespoon will be enough to add the right amount of nutrients and richness.
As A Spread
When it comes to dips and spreads on toast or a sandwich, all nut and seed butter are viable almond butter substitutes.
Savory Dishes
If you are whipping up some savory dishes, go for pecan or walnut butter to bring out those umami flavors. For stews and soups, peanut, cashew, and macadamia nuts go better.
Conclusion
The bottom line is, you can use any nut-based butter or seed butter as an almond butter alternative. With a handful of nutritional values and calories forming the sole difference between them, replacing one nut-based butter for the other is always a great way to experiment. Bonus: it is super easy to make any of these if you have a food processor at home. While you may not get the same flavor profile with nut-free almond butter substitutes as you did with their nut-based counterparts, they work exceptionally well and serve their purpose as a viable almond butter alternative, if you know how to utilize them.
You Might Also Like