Disclaimer: Please note that some of the links below in this post are affiliate links and I will earn a commission if you purchase through those links. I regularly use and recommend all of the products listed below because I find them to be of great quality and use! All proceeds go back into maintaining and creating for this site. Thank you!
Last Updated on
Thank you Modern Table for sponsoring this post. This delicious, complete protein pasta is made from just three plant-based ingredients — eat clean with Modern Table pasta today!
This Gluten-Free Instant Pot Chipotle Macaroni and Cheese pasta dish makes for some super easy, healthy, and delicious comfort food that can be made in just about 10 minutes!
This Pressure Cooker Cheesy Chipotle Pasta is reminiscent of a comforting, childhood macaroni and cheese dish but with bigger flavor and a bit of a spicy and smoky kick to boot! This delicious gluten-free pressure cooker recipe is made with Modern Table's incredibly healthy gluten-free pasta. All pastas are lentil-based and contain complete proteins – meaning they have the 9 essential amino acids our bodies need for strong energy, good digestion, and muscle health.
This Gluten-Free Instant Pot Chipotle Macaroni and Cheese Recipe:
is made with Modern Table's plant-based lentil elbow noodles

is gluten-free, soy-free, nut-free, and protein-rich

can be on the table ready to eat in just about 10 minutes

is very creamy, cheesy, flavorful

is filled with smoky and spicy flavor notes

makes a great main or side dish

makes for some ultimate comfort food

is DELICIOUS!
Tips for making Instant Pot Chipotle Mac and Cheese:
you can use less or omit the butter for a lighter version

you can use any variety of shredded cheese(s) that you would like, I just think cheddar complements chipotle peppers best

be sure to quick release pressure to avoid having soggy noodles

stir in milk and cheese immediately for the creamiest result

if you like your food super spicy, throw 1-2 more chipotle peppers into your milk mixture

this stores well in an air-tight container in the refrigerator for up to one week

to re-heat, warm using the 'saute' function on your Instant Pot stirring frequently or put in an covered oven-proof dish and bake at 350 F until warmed throughout

this was made and tested using a 6 quart Instant Pot. I cannot yet attest to how well this works with a mini or an 8 quart Instant Pot
What to Serve with Instant Pot Gluten-Free Chipotle Macaroni and Cheese :
Instant Pot Chimichurri Mashed Potatoes (Vegan, Gluten-Free)
Rustic Gluten-Free Boule (Artisan Bread)
Creamy + Toasted Warm Spiced Potatoes (Gluten-Free, Vegan)
Chickpea & Avocado Salad With A Spiced Orange Vinaigrette Dressing (Gluten-Free, Vegan Option)
Spicy Spiralized Turmeric Tahini Cucumber Noodles (Gluten-Free, Vegan)
All in all, this Instant Pot Cheesy Chipotle Pasta makes for one super-comforting and flavorful gluten-free dish that's perfect for those nights that you need something ready to enjoy quickly! Throw in the quality and nutrition of Modern Table's elbow noodles and you are set for one healthy dish, too!
Modern Table pastas are for those looking for a healthy lifestyle, and a perfect way to get more nutrition from your meals — a blend of nutrition, with the texture of tradition! I cannot recommend them enough if you're looking for a gluten-free plant-based pasta that doesn't skimp on flavor or texture!
Enjoy. xo.
If you try this recipe please let me know! Leave a comment, rate it, share this post, use Pinterest's "tried it" feature, or take a photo, & tag me on Instagram and I'll share it! Thank you so much! <3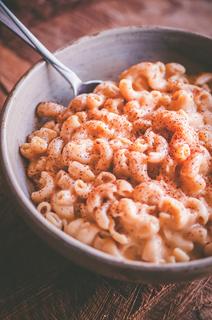 Instant Pot Cheesy Chipotle Pasta (Gluten-Free)
This Gluten-Free Instant Pot Cheesy Chipotle Pasta makes for one super easy, healthy, and delicious dish that can be made in just about 10 minutes!
Ingredients
16 oz (2 boxes)

Modern Table's gluten-free elbow noodles

4 cups

water

1/4 cup

butter

1/2 teaspoon

sea salt

1 cup

milk of choice (I use almond)

2

garlic cloves

1 can

chipotle chiles in adobo sauce (you will use 2 chiles + 1 tsp adobo sauce from the can)

2 1/2 cups

shredded cheddar cheese
Instructions
Add noodles, water, butter and salt to the Instant Pot. Place the lid on and make sure the valve is sealed.
Cook on manual high pressure for 4 minutes.
While your pasta is cooking add milk, garlic, 2 chipotle chiles and 1 tsp of adobo sauce to a high speed blender or food processor. Blend until well combined.
When the Instant Pot timer goes off, quick release pressure right away. Pour in milk mixture and shredded cheese. Stir immediately until all is smooth and creamy. Optionally, sprinkle with a little ground chipotle powder.
Serve and enjoy!
Details
Prep time:


Cook time:


Total time:


Yield:
8 servings | 1 serving:

Calories: 397
Fat: 18 g
Shop This Recipe:
Pin it: