Easy Jamaican Jerk Sauce
This post may contain affiliate links, and we receive an affiliate commission for any purchases made by you using these links. We appreciate your support!
This easy Jamaican jerk sauce recipe is bursting with complex flavors, is easy to make, and has a large variety of uses. Naturally vegan and gluten-free.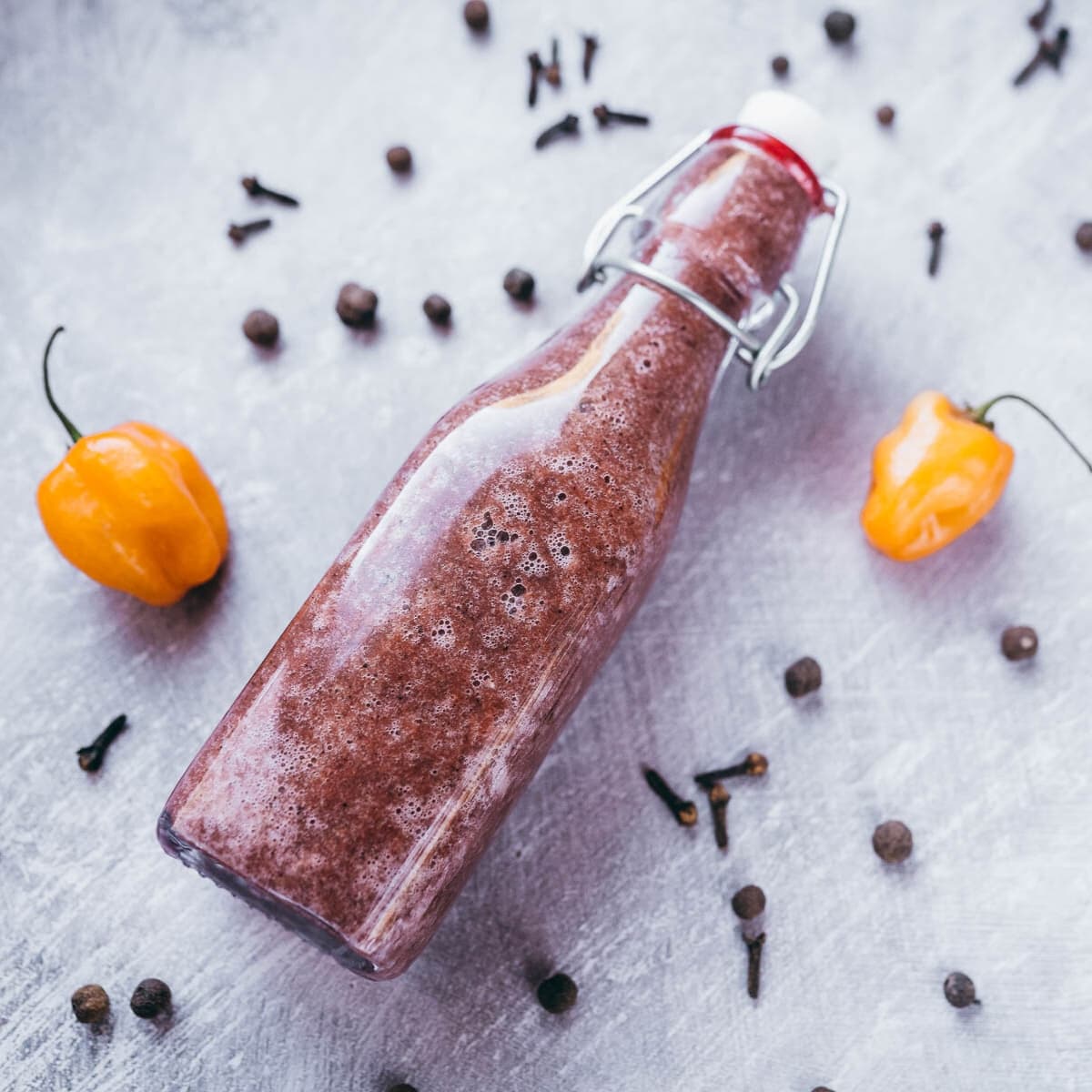 Jerk sauce is a spicy sauce with roots in Jamaican and Caribbean cuisine. One thing that sets jerk sauce apart from most hot sauces, is its robust use of warming spices. It's the perfect condiment for jazzing up a bit of comfort food in the cooler months!
Allspice, black pepper, ginger, garlic, and cloves are all-natural anti-inflammatories with pain-relieving and circulation-boosting benefits, and anti-bacterial properties as well. Simply put: this potent sauce is as healthy as it is tasty.
Use this jerk sauce to marinate a protein or vegetable before cooking, as a stir-fry sauce, dipping sauce, or simply to drizzle over rice bowls or soups before digging in.
Enjoy!
🌶️ What is Jerk Sauce?
Jerk itself is originally a term used to describe a method for seasoning and grilling meat, with its origins in Jamaica. It has since evolved to mean a sauce, seasoning, spice, and marinade, its ingredients evolving over time as well.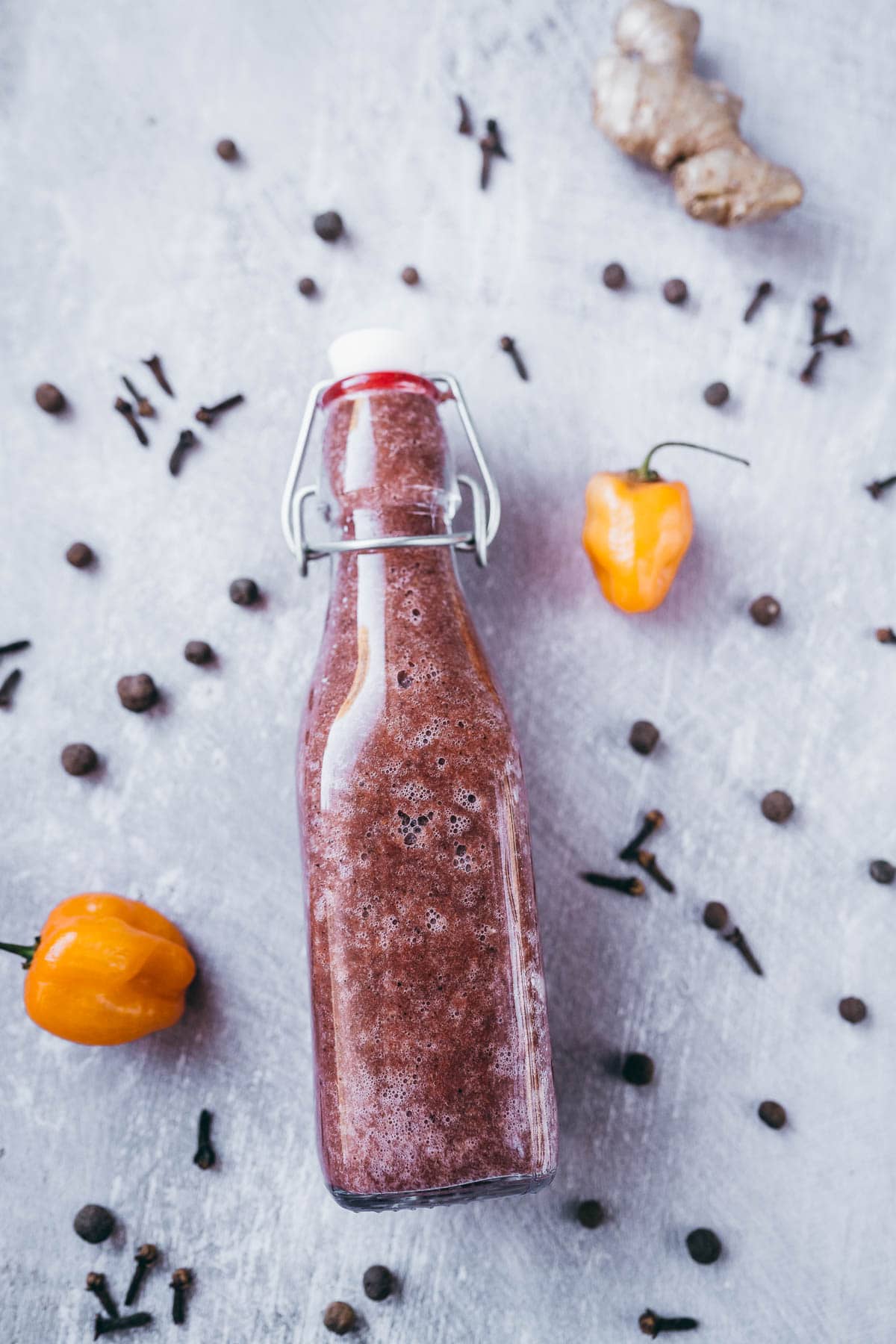 ❤️ Why You Will Love This Recipe
It's super easy to make this jerk sauce. You simply blend and enjoy!
You can use this sauce as a dip, marinade, drizzle, spread and so much more.
This sauce has complex flavor notes running from spicy and warming to fruity and tangy.
Naturally vegan, dairy-free, nut-free, soy-free, and gluten-free.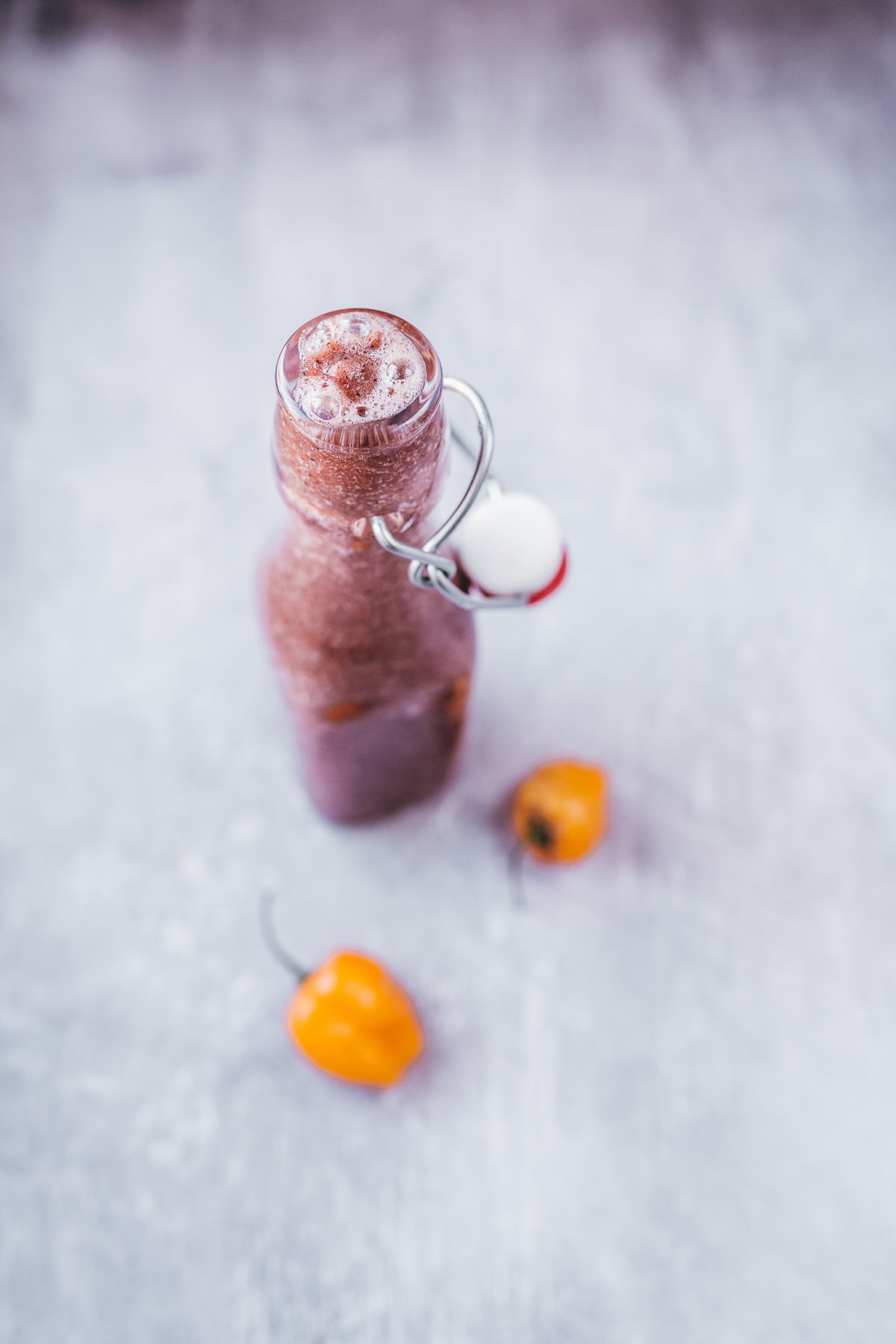 🌿 Recipe Ingredients and Substitutes
Chiles: Traditionally, scotch bonnet peppers are used in a jerk sauce and jerk seasoning, but habanero chiles are usually more easily found and make a suitable substitution, as they are closely related to scotch bonnets. These are relatively hot peppers, so if really want a jerk sauce but cannot handle too much heat, you can use a milder pepper such as jalapeno or serrano in this recipe.
Onions: Red, white or yellow onions will work in this recipe. If you are a major spice fan, you might just have a preference for using red onion in this recipe as it does add its own kick.
Green onion: Both the white and green parts of green onions (aka scallions) are used in this recipe. If you do not have green onions, you can use chives or simply a regular white or yellow onion.
Garlic + ginger: Garlic and ginger are a classic combo for a jerk sauce and adds both flavor and spice.
Orange and lime juice: The combo of orange juice and lime juice is kind of the secret ingredient in this recipe. The combination adds both sweetness and acidity and truly makes this sauce hard to stop eating! I do not recommend any substitutions here, but if you only have lemon juice or apple cider vinegar you can use them for a still-tasty sauce (just not quite the same!).
Coconut aminos or soy sauce: While soy sauce is a more traditional option, I prefer using coconut aminos in this sauce. Use whichever one you have on hand or prefer the most!
Sugar: Any granulated sugar will work, though I personally prefer brown sugar or coconut sugar in this recipe. If you are on a sugar-free diet, use a sugar-free granulated sweetener.
Thyme: Thyme is an extremely traditional spice used in Jamaican cuisine, so it's not surprising that it is also a traditional jerk sauce ingredient as well. I do not recommend omitting or replacing it, though if you want to replace dried Thyme with fresh, you can use a few sprigs instead.
Allspice berries: Allspice berries are a very common ingredient in Caribbean cooking, especially Jamaican cuisine. They are dried, unripe berries that come from the Pimenta tree. They have a very unique taste with flavor notes similar to that of cloves, cinnamon, and nutmeg all combined. It is hard to replace this unique ingredient!
Black pepper: Black pepper adds both spice and some subtly smoky notes to this sauce recipe.
Cloves: Cloves add bitterness, sweetness, and warmth to this sauce, and are a classic addition to a Jamaican jerk sauce.
Salt: I recommended saving the salting for the last step, as not only does everyone have different preferences when it comes to saltiness in foods, but even the sizes of the peppers used can impact how much salt is needed.
Top Pick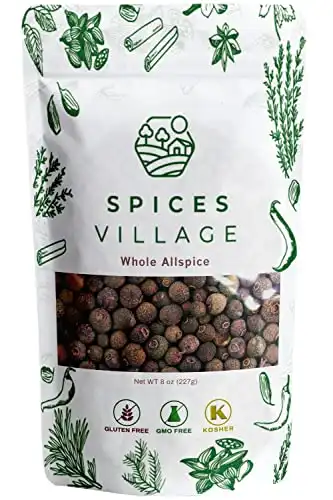 SPICES VILLAGE Allspice Berries
Our favorite allspice berries!
We earn a commission if you make a purchase, at no additional cost to you.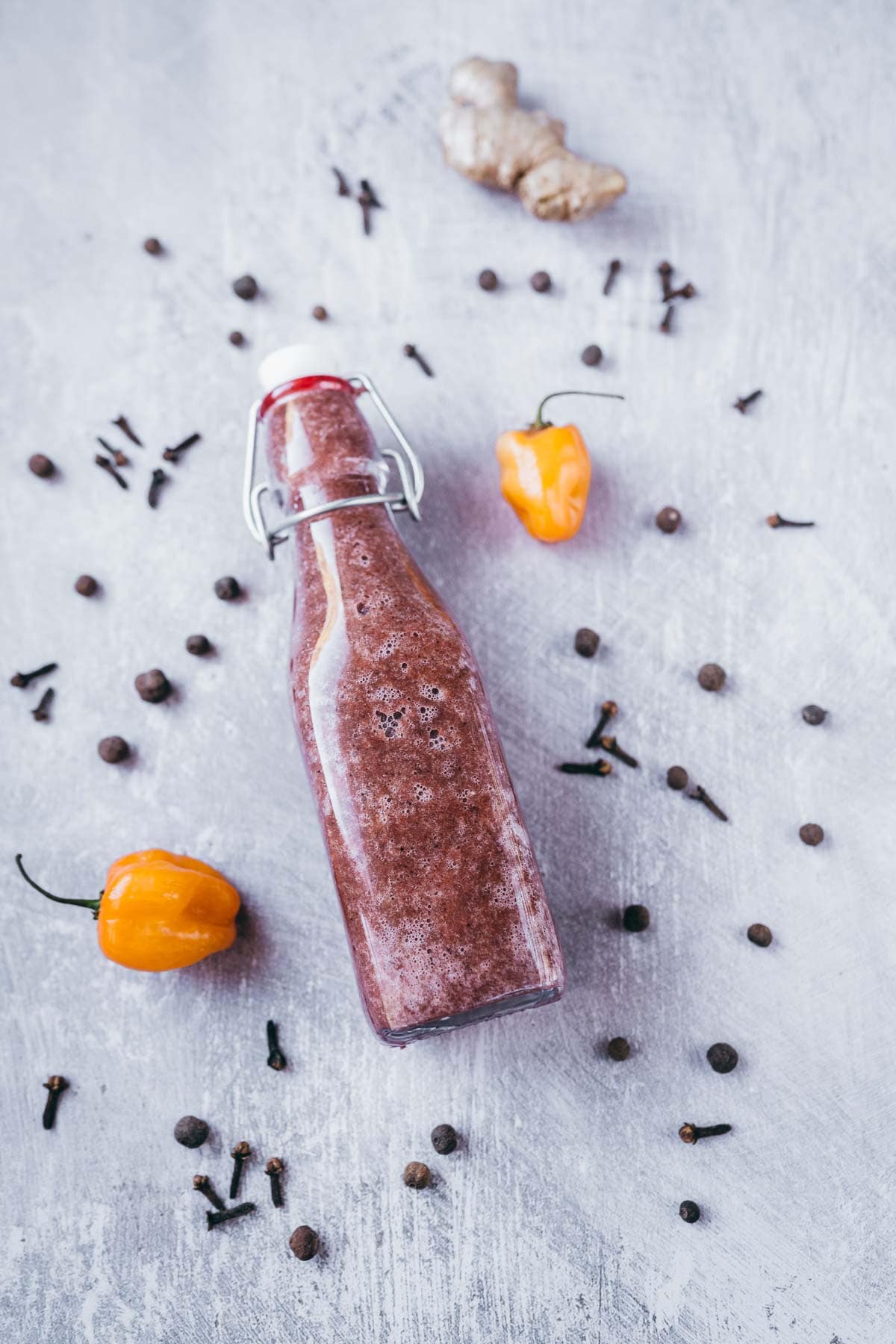 🫙 How to Make Jerk Sauce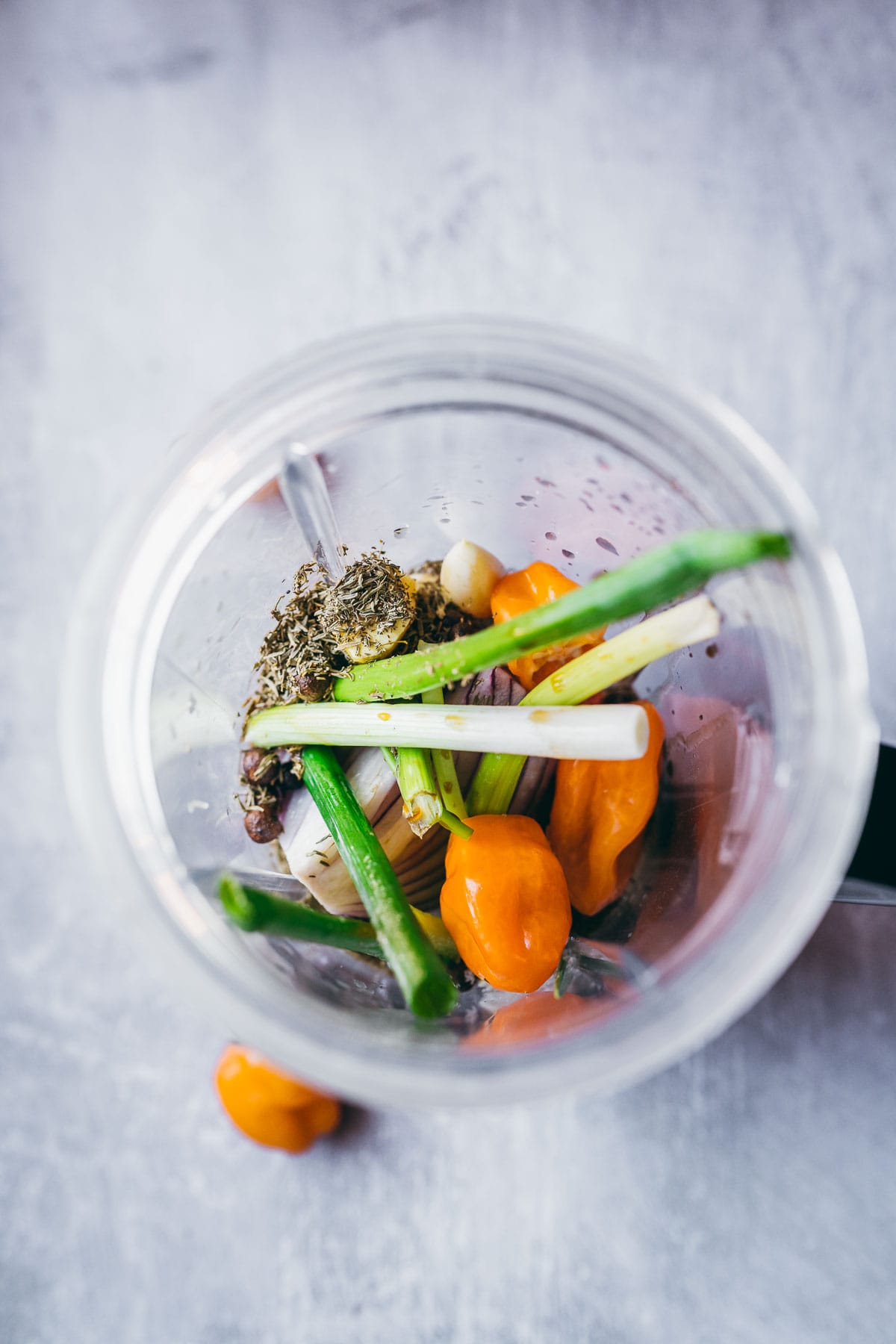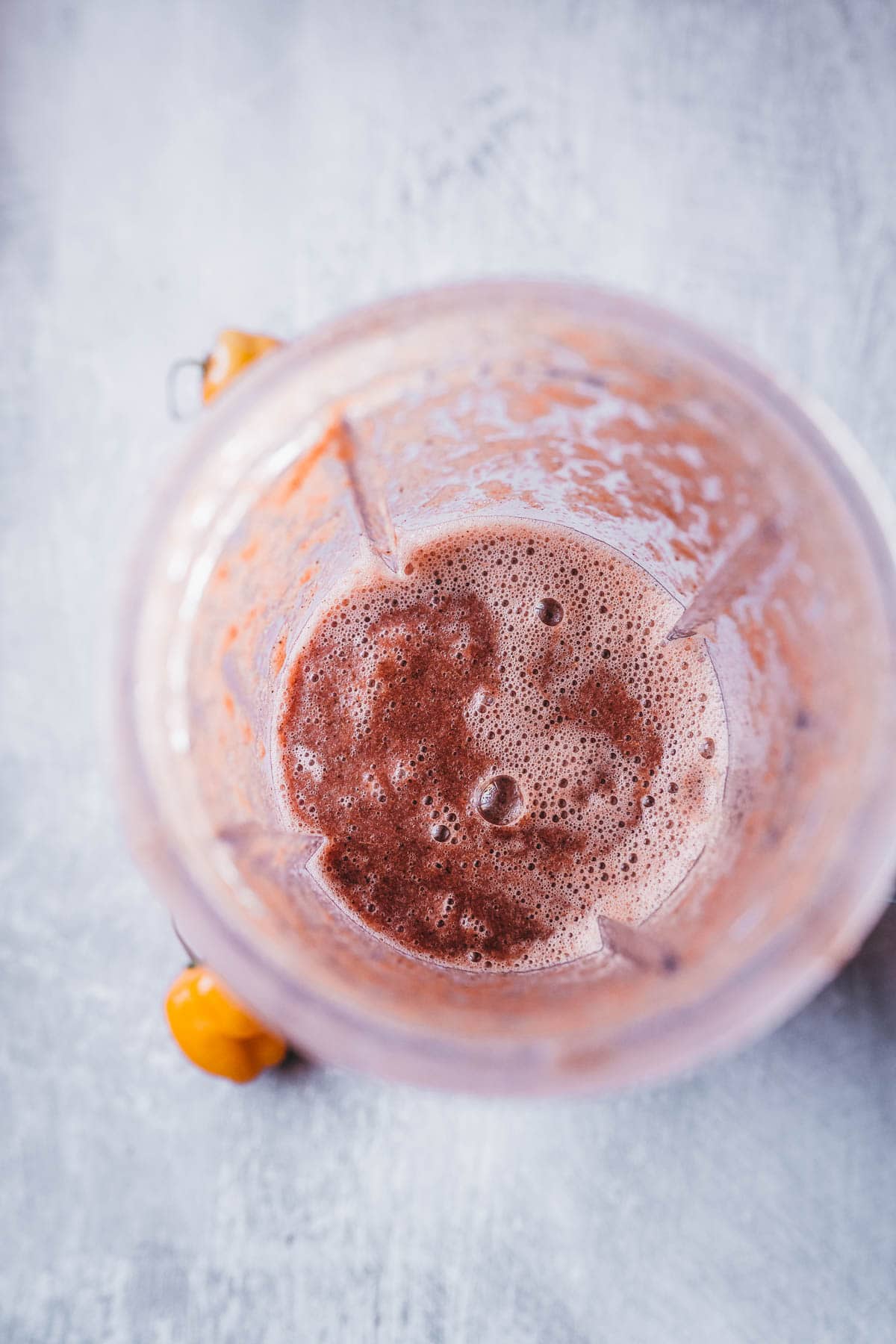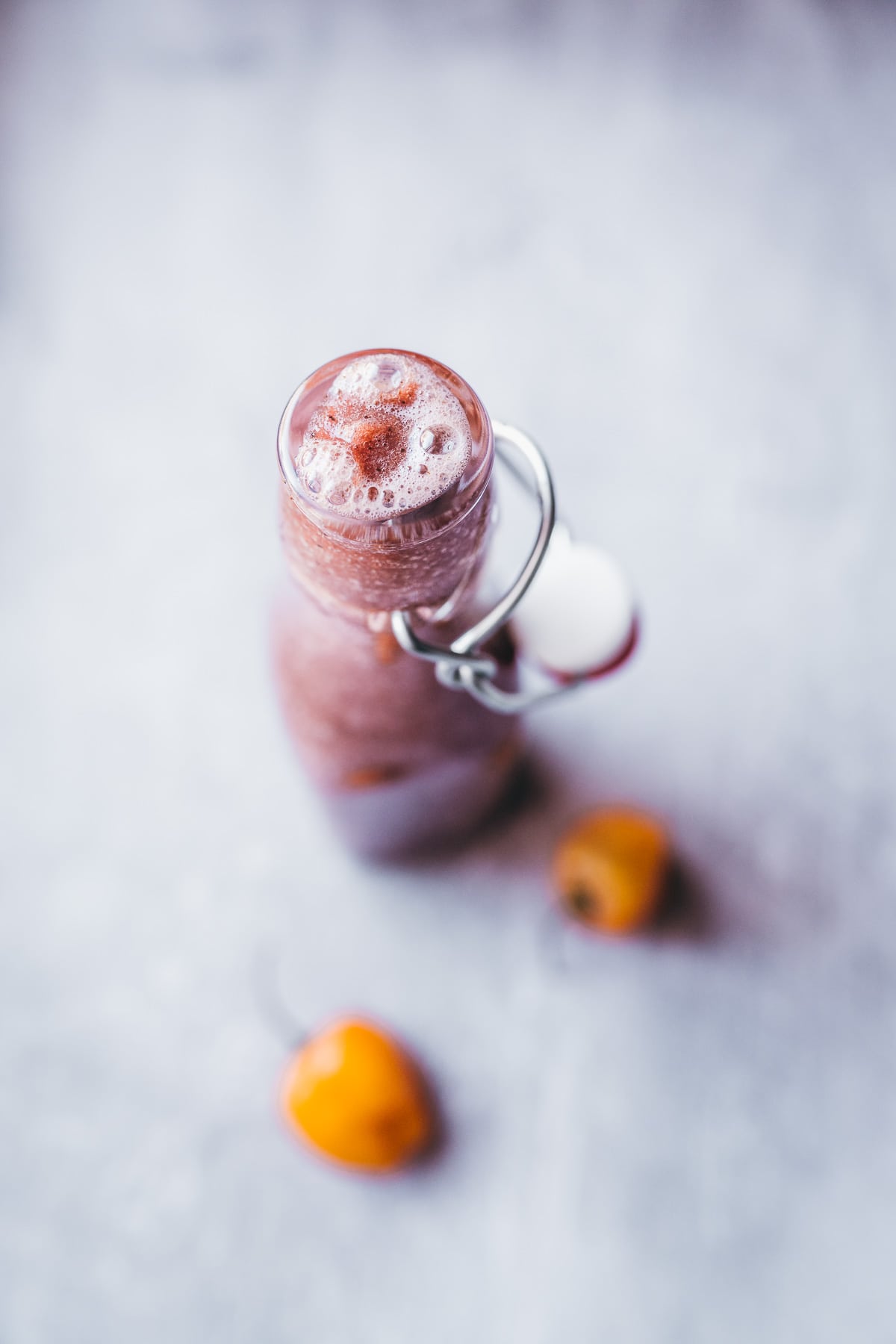 Simply combine all of the ingredients in a blender or food processor, then blend until smooth.
Enjoy!
Top Pick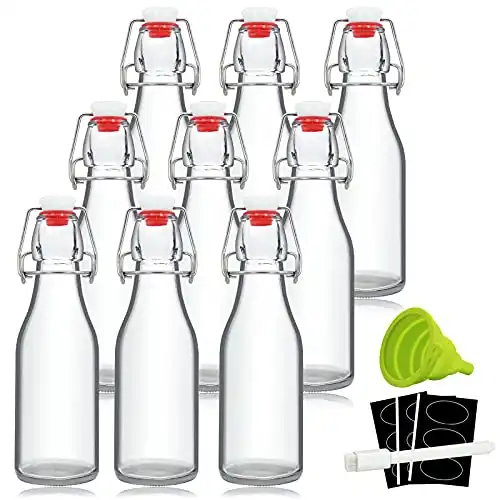 8oz Swing Top Bottles
A great way to store homemade jerk sauce!
We earn a commission if you make a purchase, at no additional cost to you.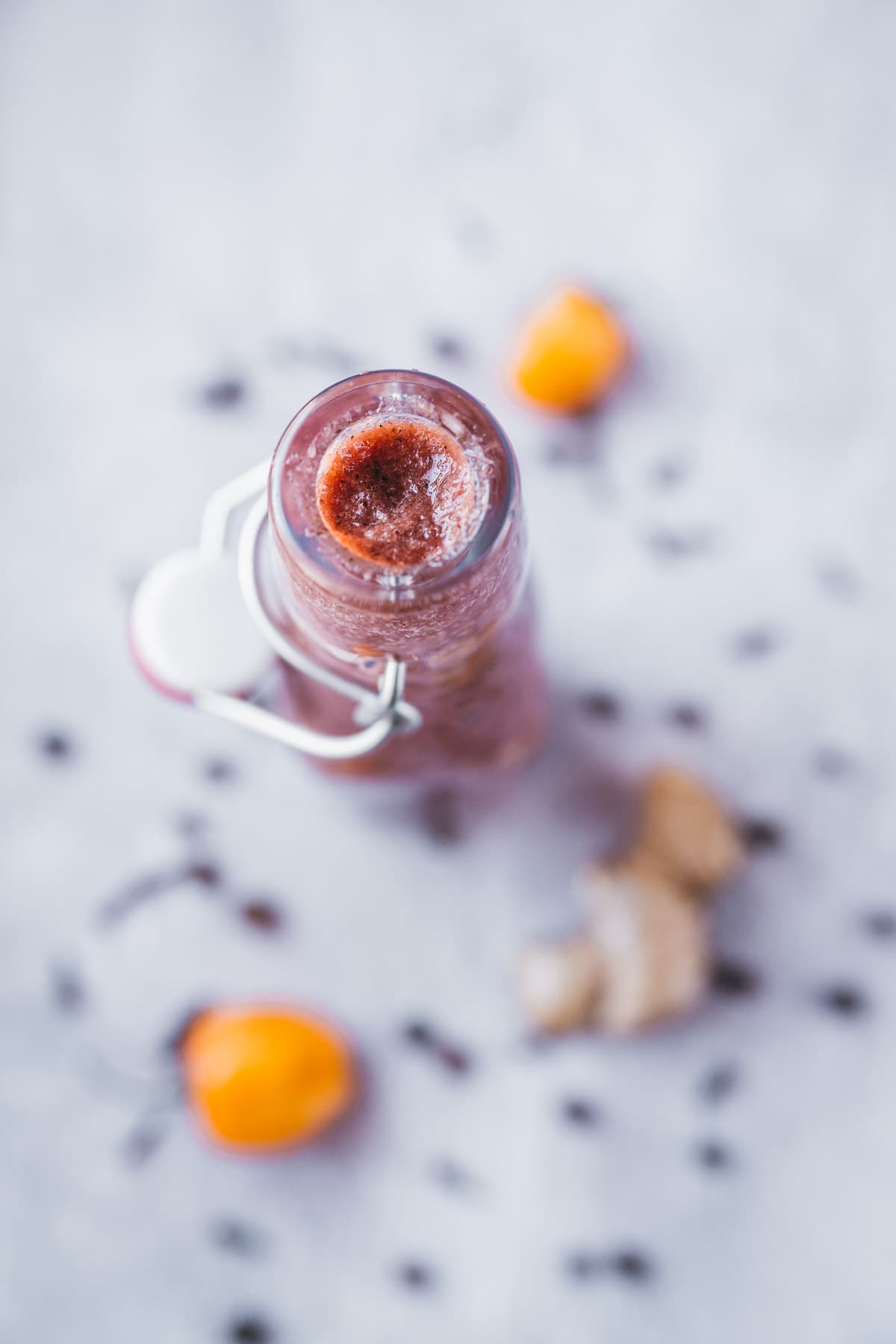 🍚 Serving Ideas
You can use this jerk sauce as a jerk marinade for tofu, tempeh, veggies, or if you are not vegan or vegetarian, nearly any kind of meat or fish (with jerk chicken probably being one of the more popular jerk dishes).
You can use Jamaican jerk sauce as a sandwich spread.
You can drizzle this sauce over soups, stews, quinoa or rice bowls.
You can use jerk sauce as a dipping sauce for foods like fries, quesadillas, mozzarella sticks, and more.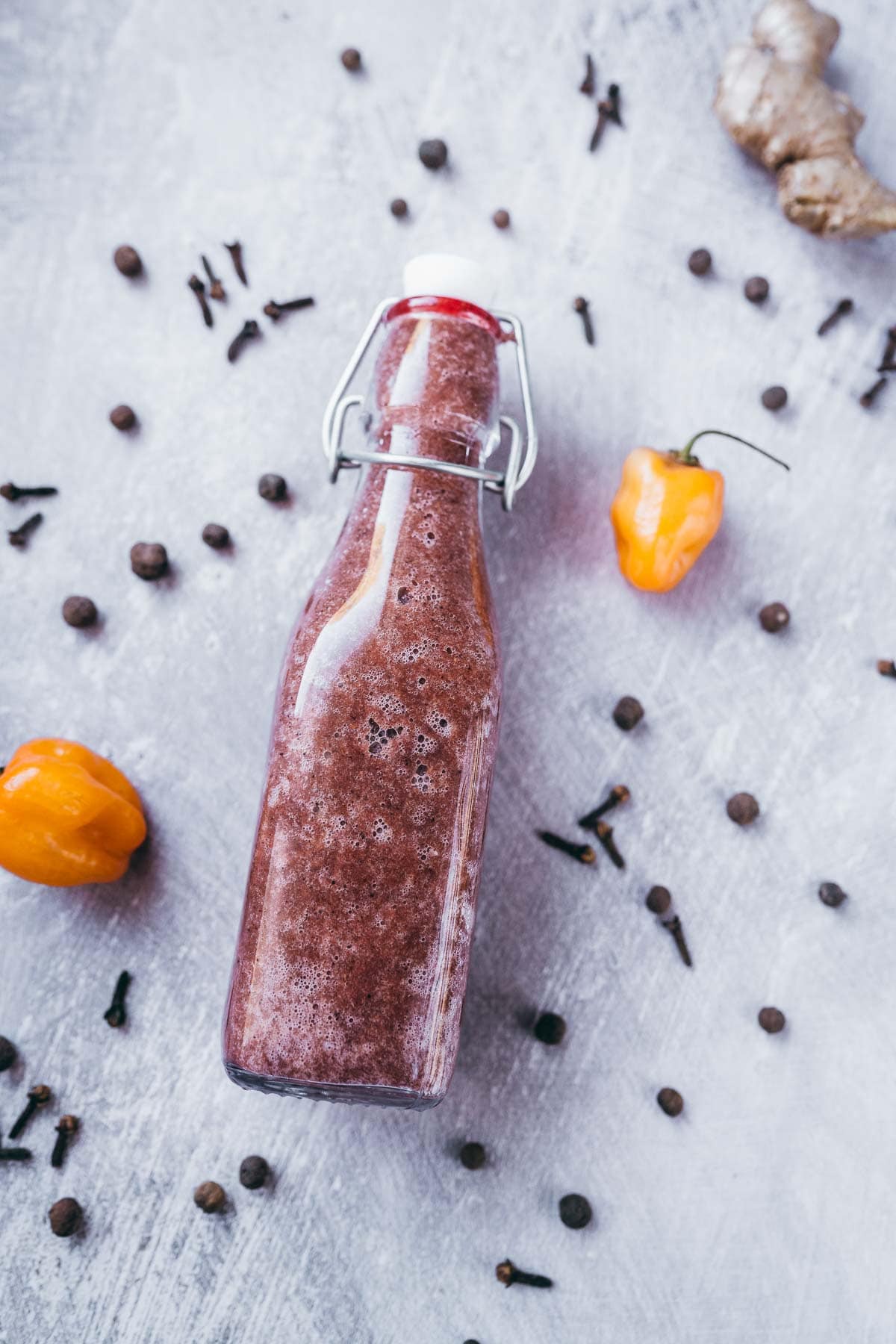 ❓ Frequently Asked Questions
Is jerk sauce really spicy?
Depending on your personal tolerance for spice, jerk sauce sits in the medium to super-spicy range of heat.
How do I store jerk sauce?
Keep jerk sauce stored in an airtight container in the refrigerator for up to 3 months.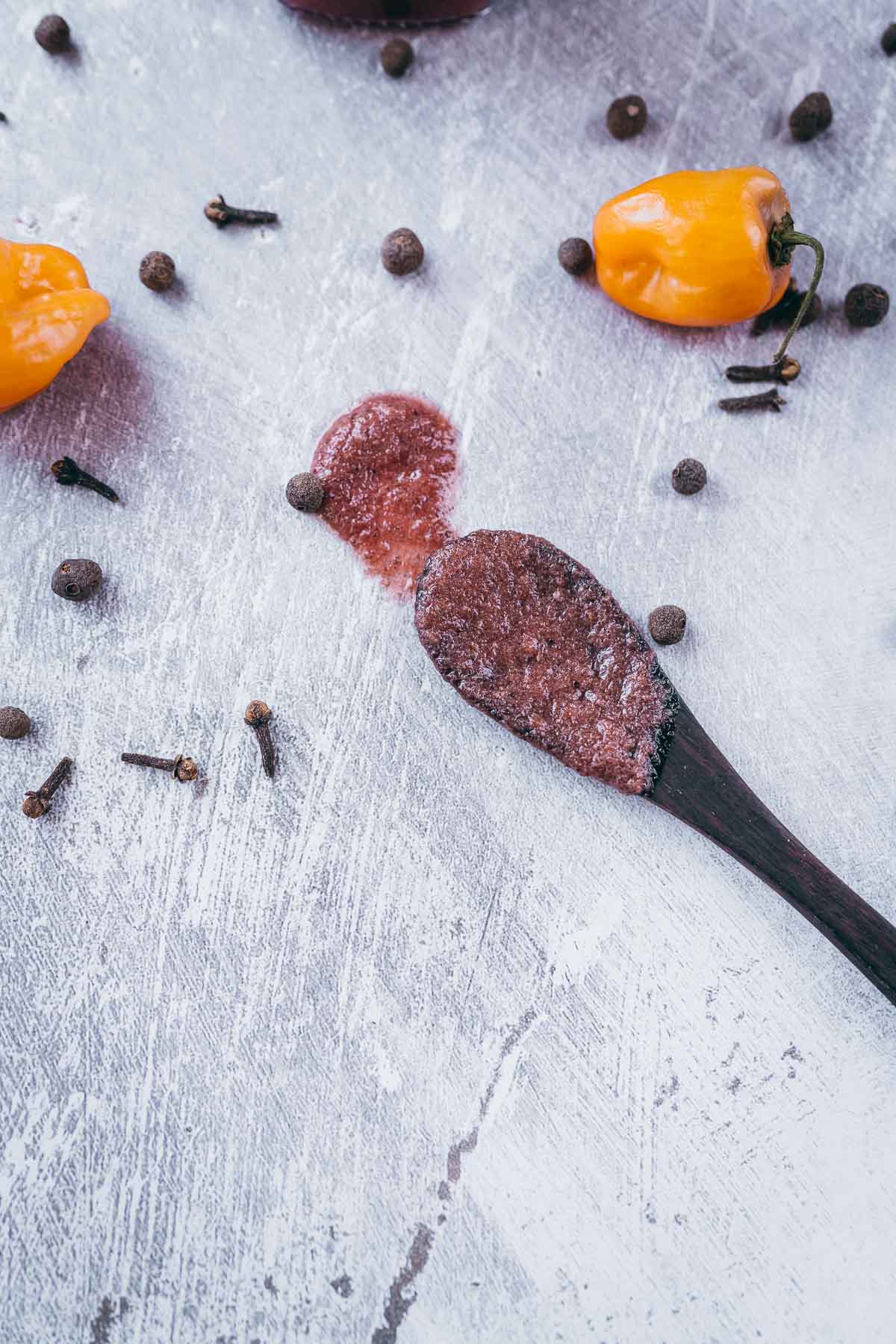 🥣 More Delicious Sauce Recipes
Jamaican Scotch Bonnet Pepper Sauce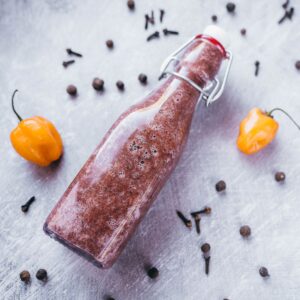 Jerk Sauce Recipe
This easy Jamaican jerk sauce recipe is bursting with complex flavors, is easy to make, and has a large variety of uses. Naturally vegan and gluten-free.
Print
Pin
Rate
Ingredients
5

fresh scotch bonnet or habanero peppers

stemmed

1

red or white onion

halved

2

green onions

white and green parts

4

garlic cloves

1

one-inch knob

fresh ginger root

½

cup

orange juice

½

cup

lime juice

¼

cup

coconut aminos or soy sauce

2

tablespoon

granulated sugar

1

tablespoon

thyme

dried

1

tablespoon

whole allspice berries

dried

1

teaspoon

black pepper

ground

¼

teaspoon

cloves

ground

salt

to taste
Instructions
In a blender or food processor, combine the peppers, onion, green onion, garlic, ginger, orange juice, lime juice, coconut aminos, sugar, thyme, allspice, pepper and cloves.

Blend until smooth.

Salt to taste.

Enjoy right away or keep stored in an airtight container in the refrigerator for up to 3 months.
Notes
Please see the full post above this recipe card for valuable information!
You might also like this collection of Vegetarian Jerk Recipes.
Nutrition
Serving:
0.25
cup
|
Calories:
46
kcal
|
Carbohydrates:
11
g
|
Protein:
1
g
|
Fat:
0.2
g
|
Saturated Fat:
0.05
g
|
Polyunsaturated Fat:
0.1
g
|
Monounsaturated Fat:
0.02
g
|
Sodium:
173
mg
|
Potassium:
125
mg
|
Fiber:
1
g
|
Sugar:
6
g
|
Vitamin A:
176
IU
|
Vitamin C:
25
mg
|
Calcium:
24
mg
|
Iron:
0.5
mg
Have you tried this recipe?
Please Rate + Comment Below!
Watch Our Latest Videos
Follow us on YouTube!