Easy Slow Cooker Vegetarian Chili
Ever craved a hearty bowl of chili, but wanted something lighter and meat-free? This easy Slow Cooker Vegetarian Chili recipe is your answer. Perfect for chilly evenings or family gatherings, it's a delightful blend of flavors and spices that's both satisfying and wholesome.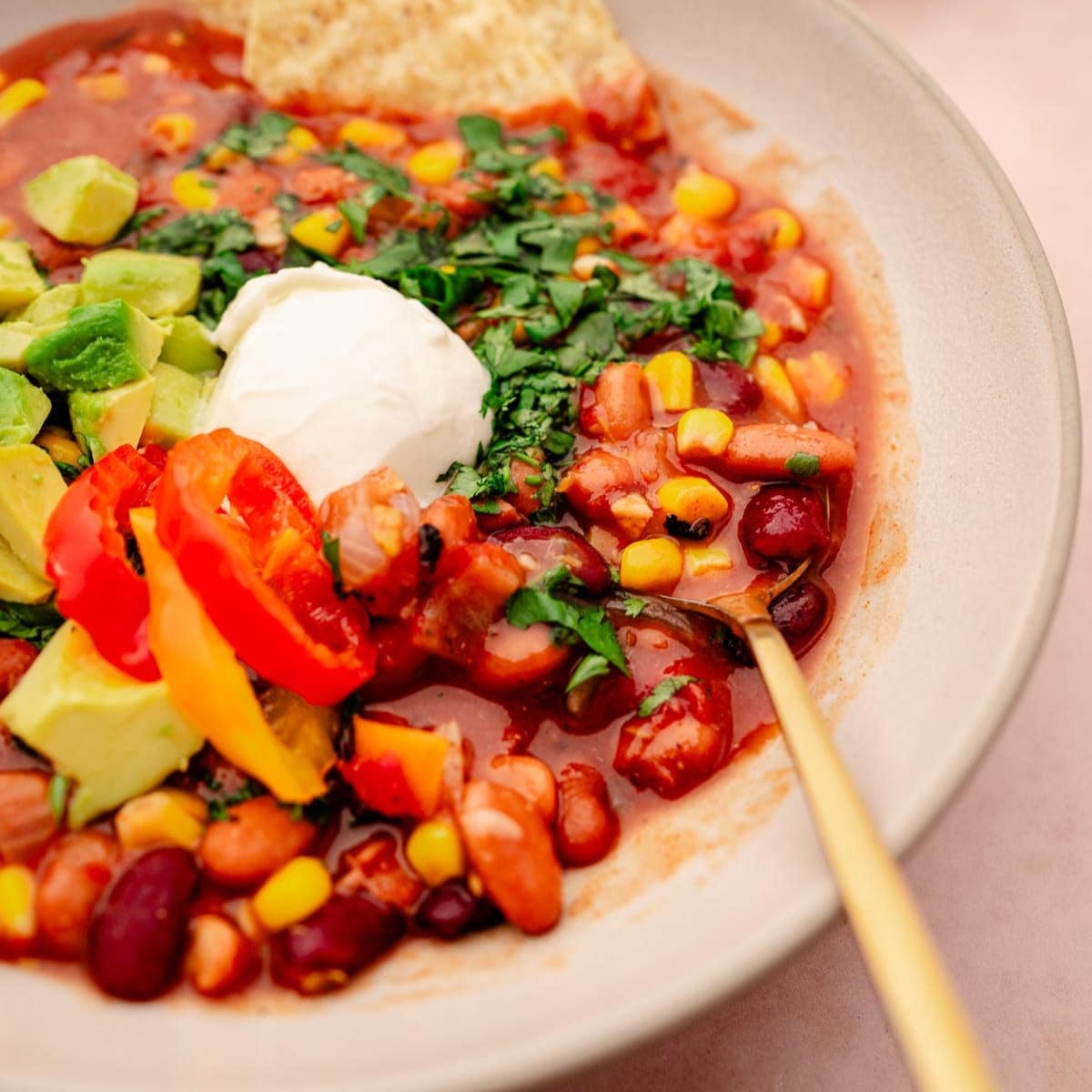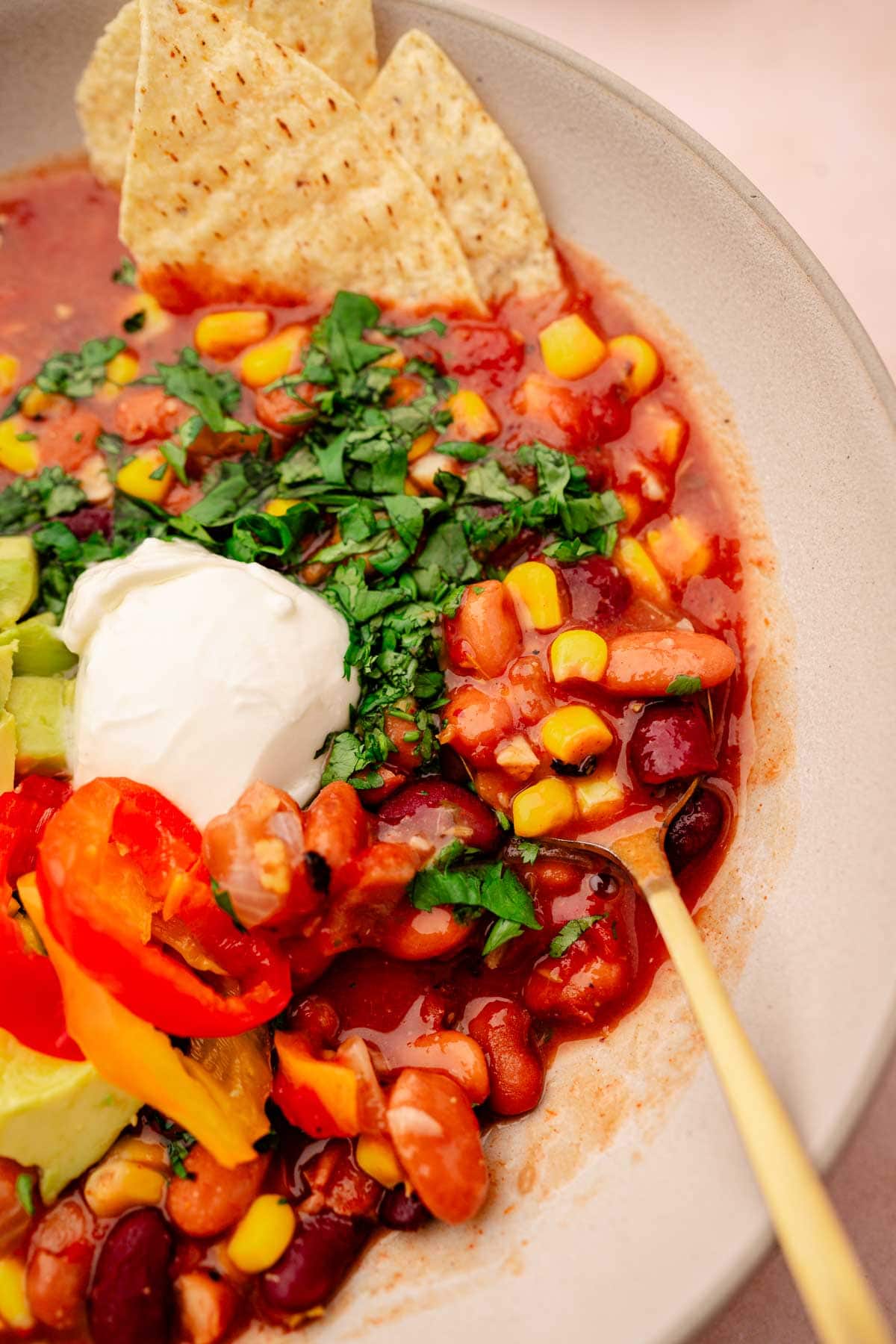 ❤️ Why You Will Love This Recipe
Wholesome Goodness: Packed with protein-rich beans, fresh veggies, and a medley of spices, this slow cooker chili recipe ensures every bite is both tasty and nourishing.
Set and Forget: Thanks to the magic of the slow cooker (or crockpot), you can simply toss in your ingredients and let the appliance do the heavy lifting.
Versatile: Perfect for both casual family dinners and festive gatherings. Plus, it's vegan and gluten-free, ensuring everyone can dig in!
Budget-Friendly: Made with easily available and affordable ingredients, this chili won't break the bank.
Customizable Heat: Whether you enjoy a mild warmth or a fiery kick, you can adjust the spices to your preference.
Rich in Fiber: Thanks to ingredients like black beans and kidney beans, this chili is a fantastic source of dietary fiber, keeping you full for longer.
Easily Doubled or Halved: Whether you're cooking for two or ten, this crock pot vegetarian chili recipe can easily be adjusted to fit your needs.
Guilt-Free Indulgence: With no added sugars, this dish offers natural sweetness from ingredients like bell peppers and tomatoes.
Our Favorite Slow Cooker
We earn a commission if you make a purchase, at no additional cost to you.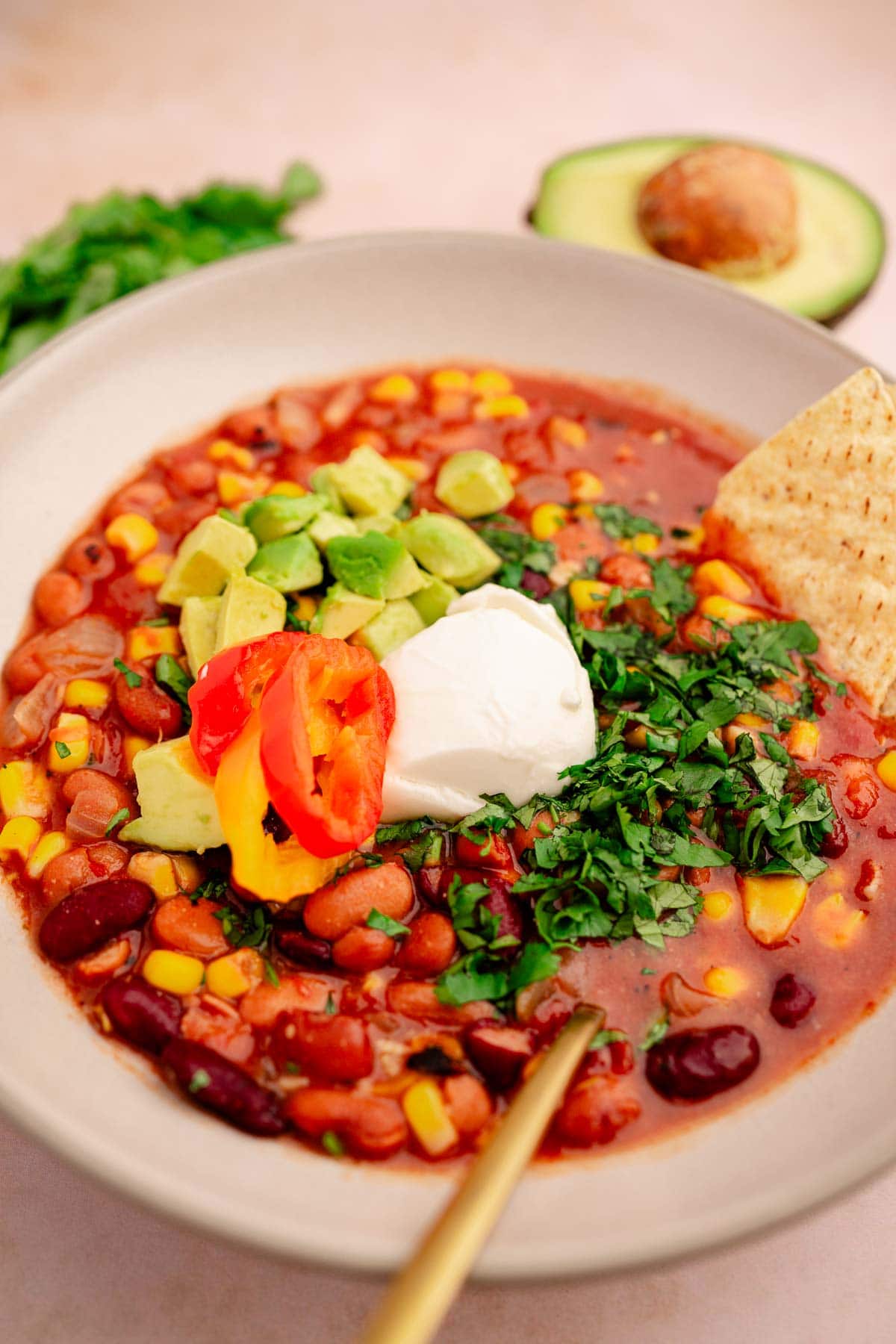 🗒️ Ingredients and Substitutes
Pinto and Kidney Beans: These two types of beans are the protein powerhouses of your chili. They not only add a hearty texture but are also rich in fiber, keeping you satisfied for hours. If you're not a fan or don't have these on hand, black beans or chickpeas can be a great substitute. It's also good to note that I don't drain or rinse canned beans when I add them to chili as the liquid adds great flavor.
Diced Tomatoes: Tomatoes provide a tangy base for the chili. You can opt for fresh ones when they're in season, but canned versions work really well. If you want a slightly different flavor, crushed tomatoes or fire-roasted tomatoes can also be used.
Corn: Whether you use frozen, fresh, or canned, corn adds a hint of sweetness to balance out the flavors. Plus, they offer a delightful crunchy texture. No corn? Green peas or diced carrots could be a unique alternative with a hint of sweetness.
Onion and Bell Pepper: These veggies add depth to the chili's flavor profile. The onion's natural sugars caramelize during slow cooking, adding sweetness, while bell pepper provides a mild, almost fruity taste. Feel free to mix and match with green, red, yellow, or orange bell peppers.
Garlic: An essential for many, garlic infuses the chili with a robust and aromatic flavor. If you're out of fresh cloves, garlic powder can be a quick substitute, though the fresh variant is always recommended for the best flavor.
Vegetable Stock: While vegetable broth enhances the chili's richness, plain water can be used if you're aiming for a lighter taste. Consider homemade stock or a low-sodium store-bought version to control the salt content.
Spices: Cumin, oregano, smoked paprika, and garlic powder blend harmoniously to give the chili its signature warmth. If you're missing any, try experimenting with what you have – chili is forgiving! And for those who like it hot, a pinch of cayenne pepper or chili powder can turn up the heat.
Lime Juice: A splash of lime juice at the end brightens up the flavors and adds a zesty touch. Fresh is best, but bottled works in a pinch. Lemon juice is a good substitution if you don't have fresh lime on hand.
🥣 How to Make Slow Cooker Veggie Chili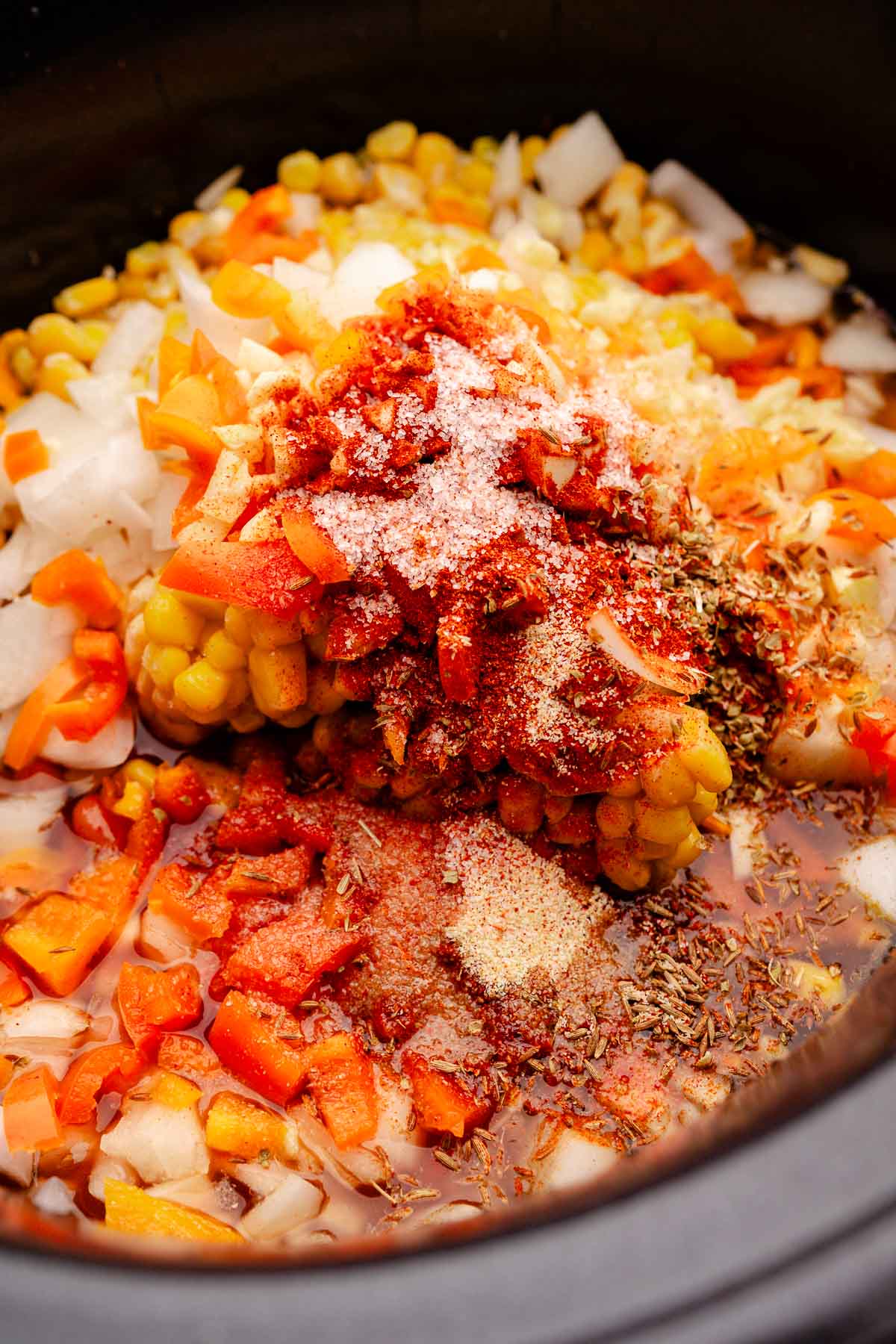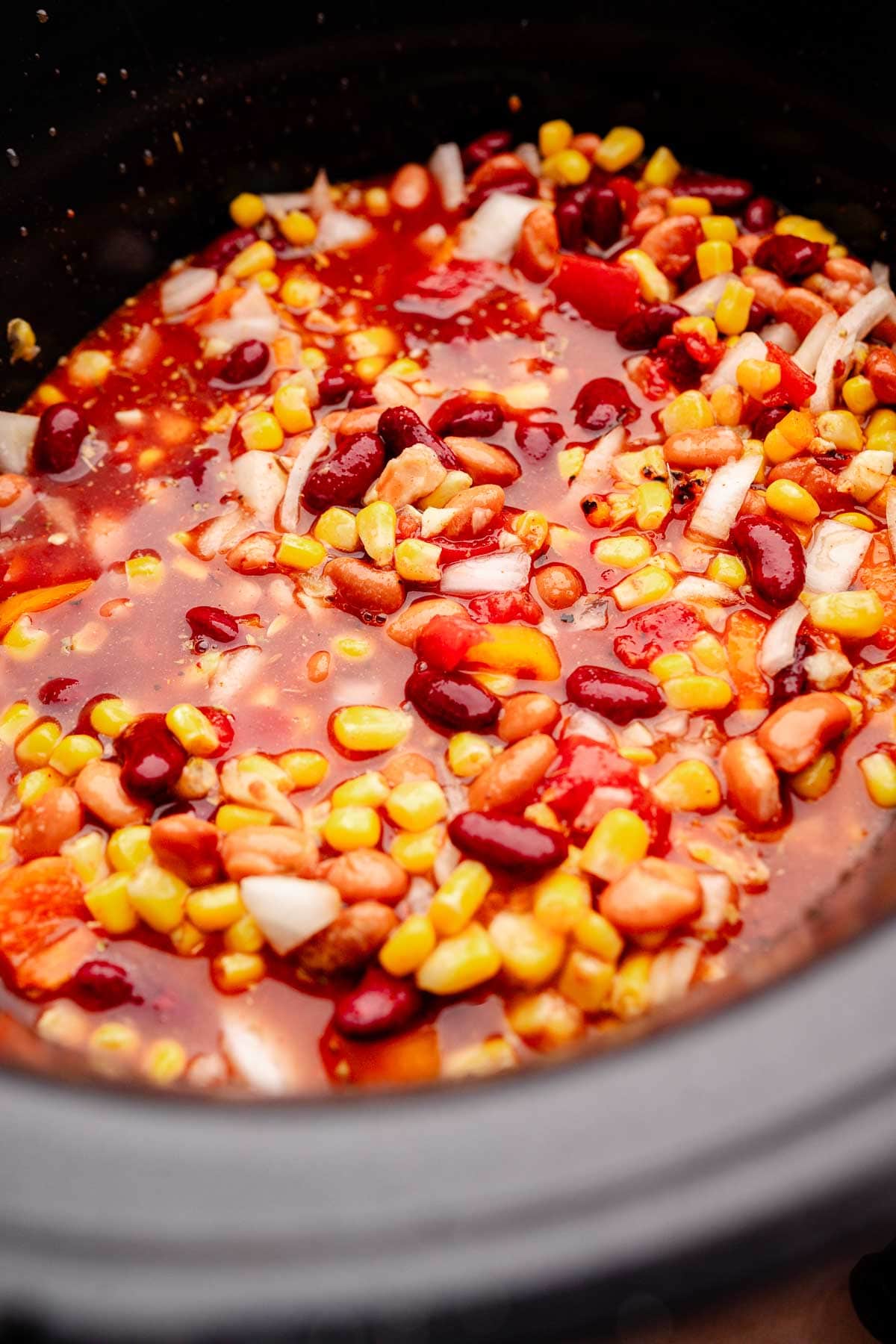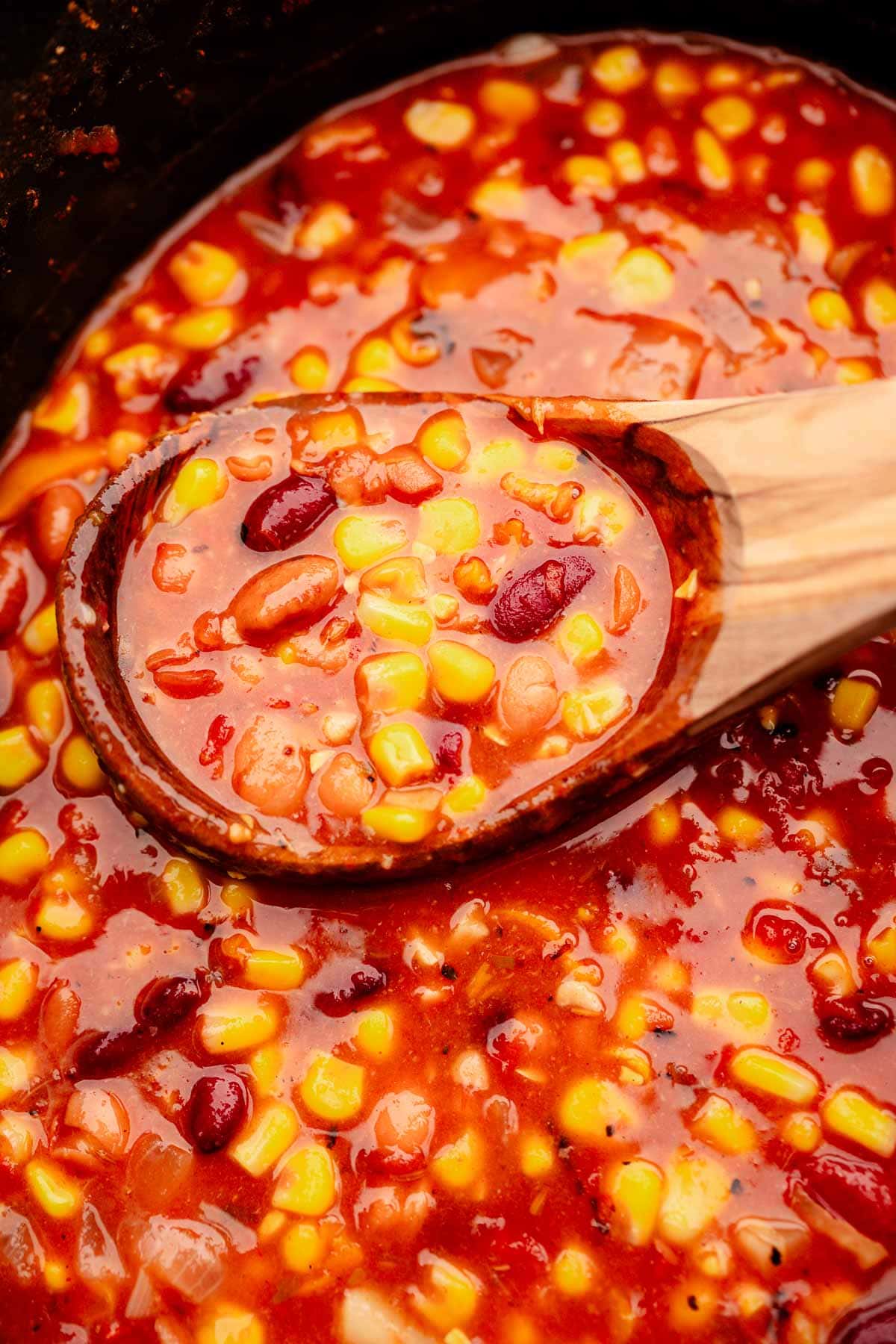 In your slow cooker, start by adding the beans, followed by the tomatoes, corn, onion, bell pepper, and garlic.
Add the vegetable stock or water. This will provide the necessary moisture for slow cooking and melding the flavors together. If you're using stock, opt for low-sodium versions to control the saltiness.
Sprinkle in your salt, cumin, oregano, paprika, and garlic powder. If you're feeling a bit adventurous and like a little kick, add that optional pinch of cayenne pepper. Remember, you can always adjust later, so start with less if you're unsure.
Once everything's in, give it a good stir to ensure all ingredients are well-mixed. Secure the lid on your slow cooker and set it to high if you're aiming for a 2-3 hour cook time, or low if you're going for a 5-6 hour simmer.
After the cooking time has elapsed, carefully remove the lid. Stir in the lime juice for that zesty punch, and do a taste test. If you feel it needs more salt or any other spice, now's the time to adjust.
Your slow cooker vegetarian chili is now ready to be devoured. Ladle it into bowls, garnish as you please, and dive into the delicious warmth.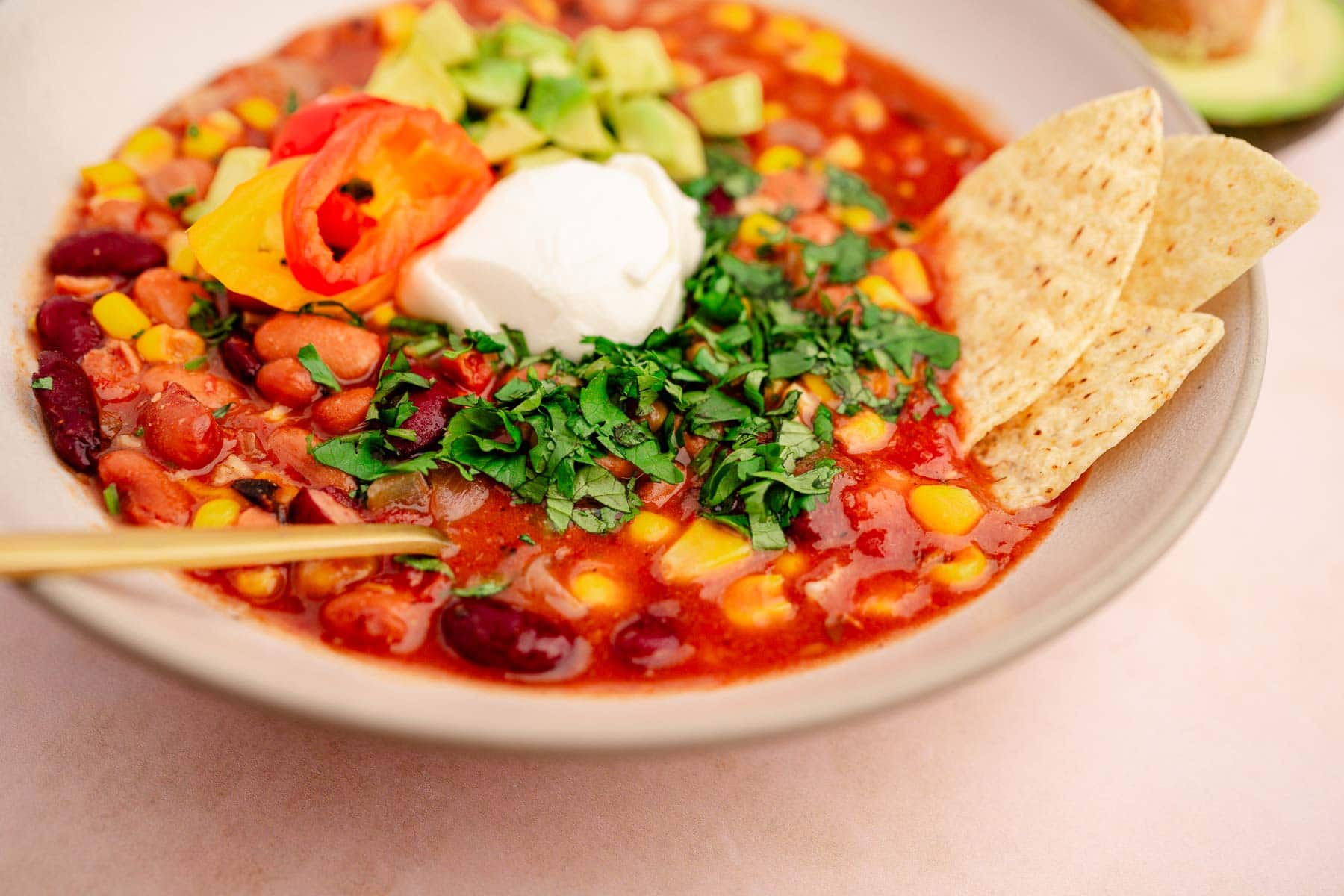 🥑 Topping Ideas
Toppings can transform your bowl of chili from great to absolutely extraordinary. Here are some topping ideas to elevate your chili experience:
Cheese: Whether you prefer a sharp cheddar cheese, a mellow Monterey Jack, or even some crumbled feta, cheese adds a delightful creaminess. For our vegan friends, there are plenty of vegan cheese options out there that melt beautifully on a hot bowl of chili.
Sour Cream or Greek Yogurt: A dollop of cool sour cream or Greek yogurt can balance out the warmth of the chili, adding a creamy texture. Vegans can opt for dairy-free alternatives like vegan sour cream, coconut yogurt, or even a drizzle of cashew cream.
Fresh Herbs: Chopped cilantro or green onions can bring a burst of freshness. Not a cilantro fan? Parsley is a great substitute that offers a mild, herby touch.
Avocado: Creamy avocado slices or a scoop of guacamole can add a rich, buttery dimension. Plus, it's a fantastic source of healthy fats!
Add Some Crunch: Tortilla chips, crackers, or even a sprinkle of roasted pumpkin seeds (pepitas) can give your chili that crave-worthy crunch.
Hot Sauce or Jalapenos: For those who like it spicy, a dash of your favorite hot sauce or some sliced jalapenos can kick up the heat.
Don't limit yourself to these suggestions! Mix and match or come up with your own unique combinations. After all, making it your own is half the fun!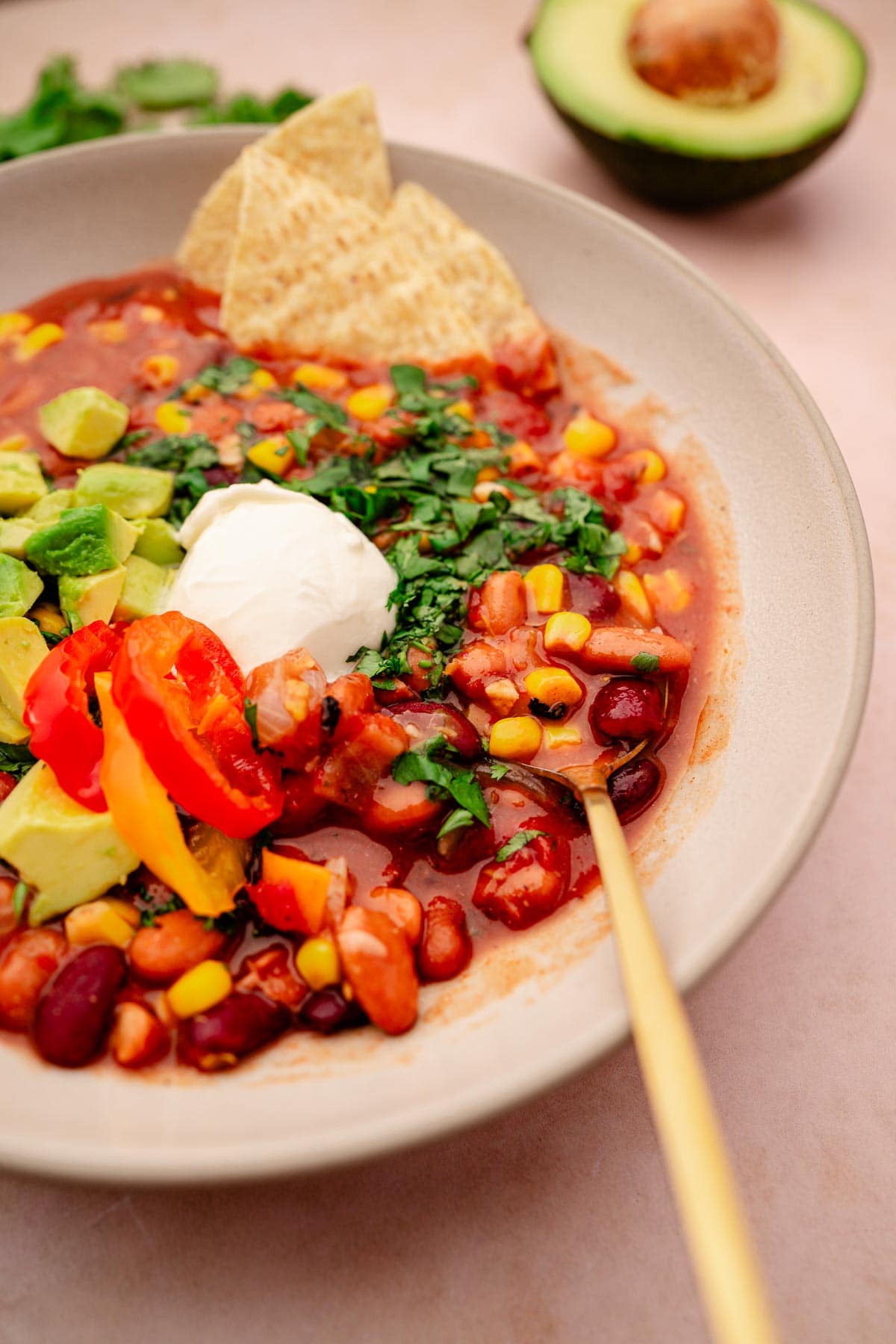 🥡 How to Store Crockpot Vegetarian Chili
Storing Your Vegan Chili
Once cooled, transfer your chili to airtight containers. It can be refrigerated for up to 4-5 days. If you're looking for a more extended storage option, consider freezing the chili. In freezer-safe bags or containers, it can last up to 3 months. Remember to label the containers with the date, so you always know how fresh your chili is.
Reheating
When it's time to revisit the comforting flavors of your chili, you've got a few reheating options. For a quick method, microwave individual portions in a microwave-safe bowl, stirring occasionally to ensure even heating. If you're not in a rush, you can also reheat your chili on the stovetop. Pour it into a pot, and over medium heat, let it simmer until it's warmed throughout. This method might even deepen the flavors a bit, as the ingredients get another chance to mingle. If you've frozen your chili, it's best to let it thaw overnight in the refrigerator before reheating.
A Quick Tip for Freshness
When you reheat your chili, you may need to add a splash of vegetable broth or water to get back to its original consistency. Over time, the beans and veggies can absorb the liquid, making it thicker. And just like when you first made it, a quick taste test after reheating will let you adjust any seasonings if needed. A sprinkle of salt, a dash of cumin, or even a squeeze of fresh lime can rejuvenate those flavors beautifully.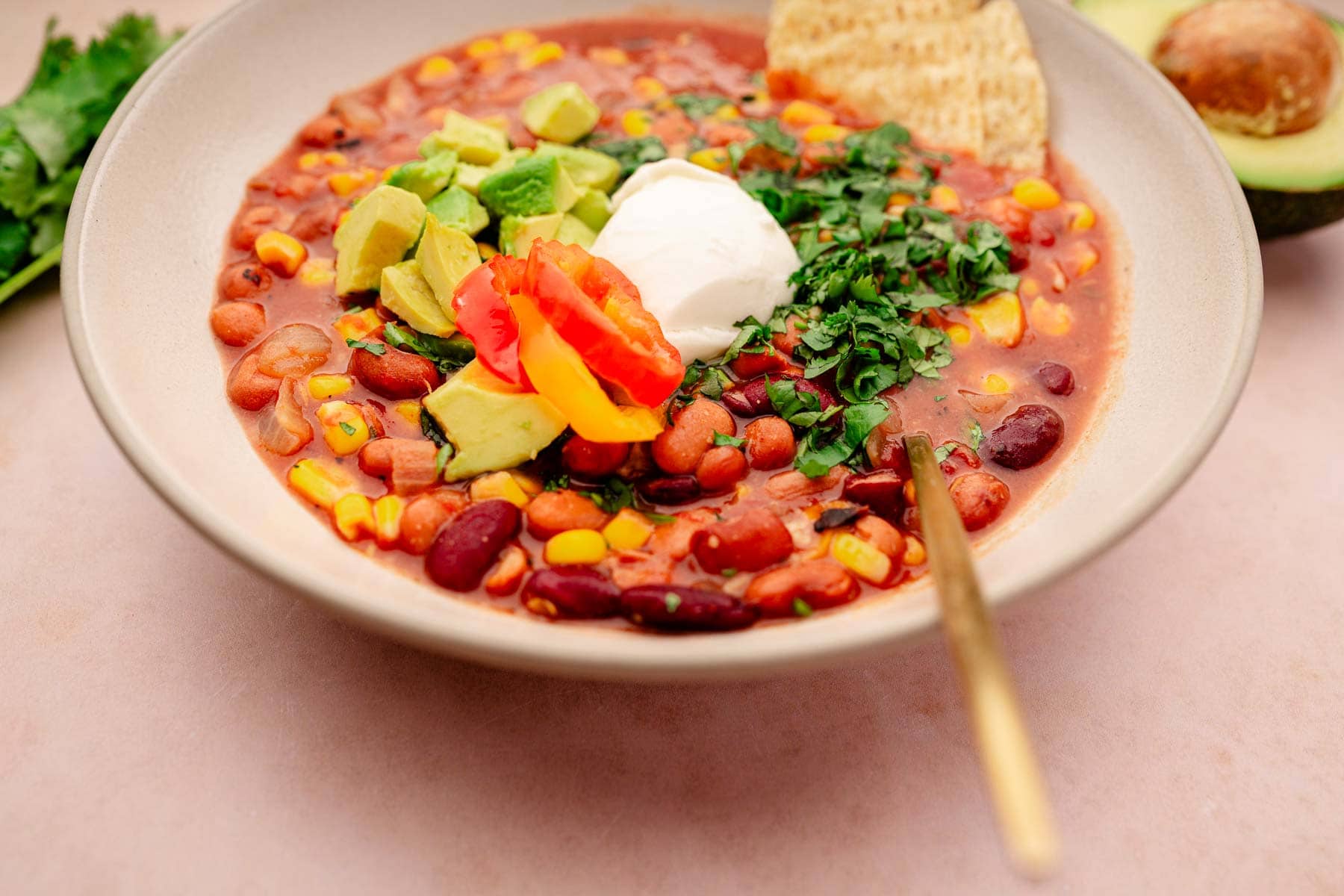 ❓ Frequently Asked Questions
Can I make this chili on the stovetop instead of a slow cooker?
Absolutely! Simply sauté the onions, bell pepper, and garlic in a large pot until softened, then add the other ingredients and simmer for about 30-40 minutes until all flavors meld together.
I'm vegan. What can I use as toppings?
There are plenty of vegan-friendly toppings to choose from, like vegan cheese, avocado slices, vegan sour cream, and chopped cilantro.
How many calories are in a serving of chili?
Calories can vary based on exact measurements and specific products used. However, a general estimate would be around 100 calories per serving without additional toppings.
Can I add other vegetables to this chili?
Of course! Feel free to throw in veggies like sweet potatoes, zucchini, or celery for added nutrition and texture.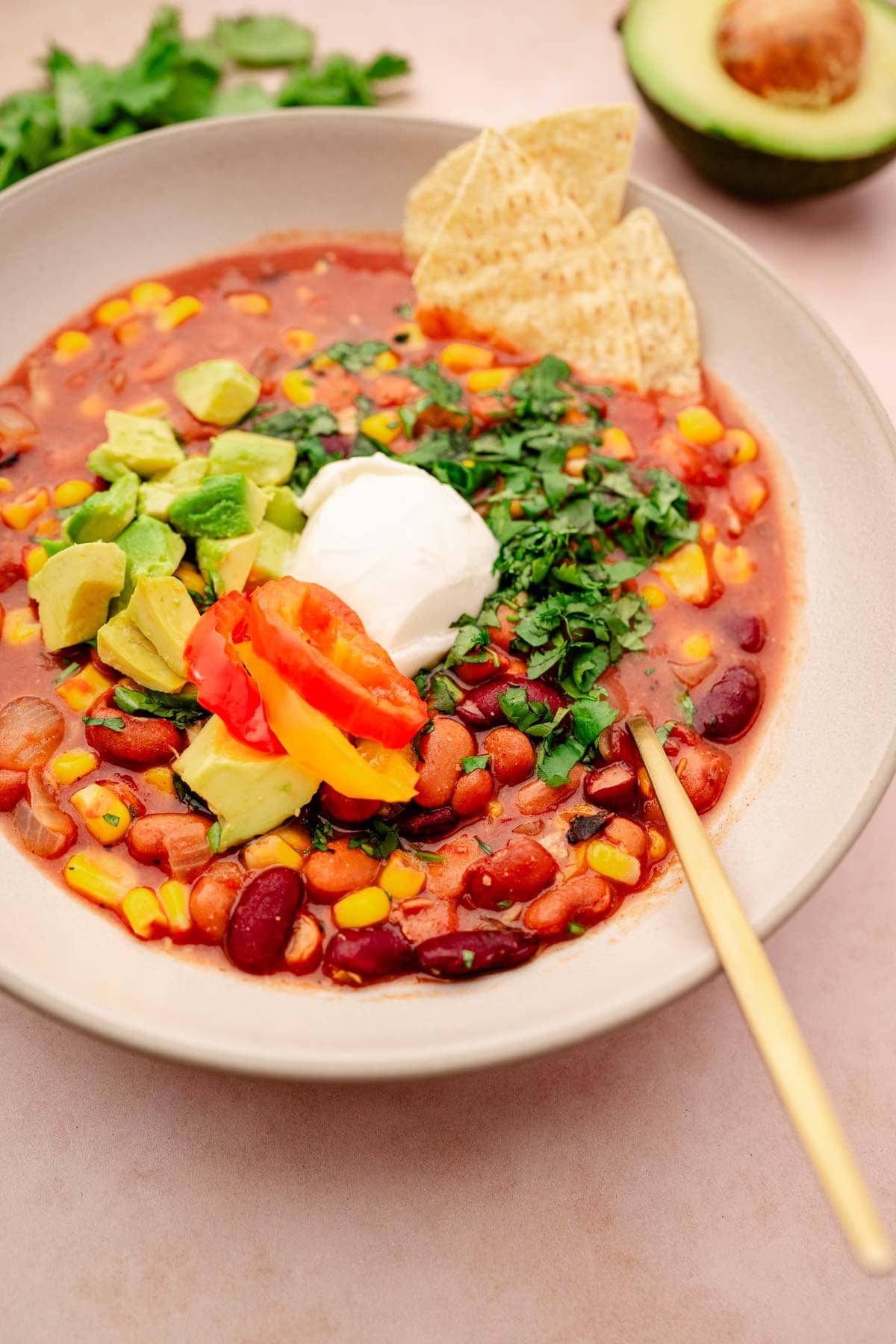 🌶️ More Delicious Chili Recipes
Instant Pot Millet and Pinto Bean Chili
Instant Pot Vegan Acorn Squash Chili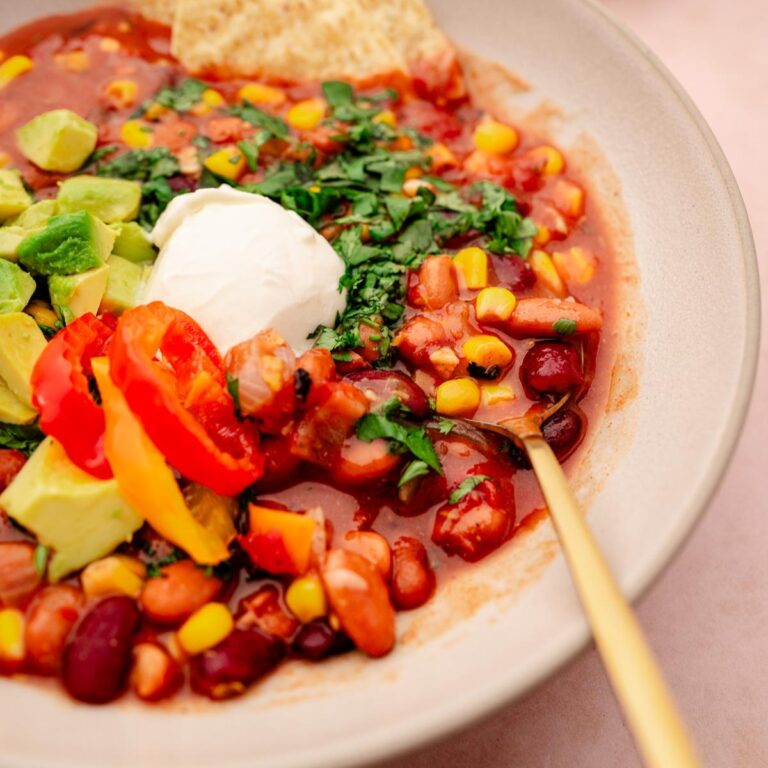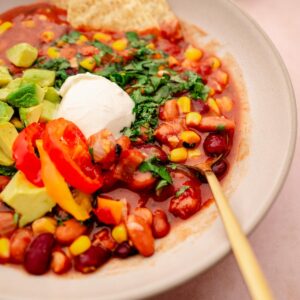 Slow Cooker Vegetarian Chili
Perfect for chilly evenings or family gatherings, this easy Slow Cooker Vegetarian Chili recipe is flavorful, satisfying, and wholesome.
Print
Pin
Rate
Ingredients
2

15.5-ounce cans

pinto beans

1

15.5-ounce can

kidney beans

1

14.5-ounce can

diced tomatoes

12

ounces

frozen corn

or fresh, or canned

1

white or yellow onion

diced

1

bell pepper

chopped

6

garlic cloves

minced

1

cup

vegetable stock

or water

2

teaspoons

salt

1

teaspoon

cumin seeds

or 1/2 teaspoon ground cumin

1

teaspoon

dried oregano

1

teaspoon

smoked paprika

½

teaspoon

garlic powder

pinch of cayenne pepper

optional, add if you want a touch of spice

1

teaspoon

lime juice

fresh or bottled
Instructions
To a slow cooker, add the beans, tomatoes, corn, onion, bell pepper, garlic, stock or water, salt, cumin, oregano, paprika, garlic powder, and cayenne (if using).

Place the lid on the slow cooker, then set it to high for 2-3 hours or low for 5-6 hours.

Uncover, then stir in the lime juice.

Taste and add more salt as needed.
Notes
Canned beans:
I personally opt not to drain or rinse the canned beans, as I believe the liquid in the cans adds flavor. However, if you prefer rinsing and draining, that's absolutely fine too!
Other Beans:
Beans are the heart of vegetarian chili. This recipe recommends pinto and kidney beans, but feel free to swap in black beans, chickpeas, or even navy beans for a twist. If you're using canned beans, give them a good rinse. And if you're team dried beans, soak them overnight and cook them well before adding.
Thicker chili: If you like your chili on the thicker side, mix one tablespoon of starch (tapioca, corn, etc.) and one tablespoon water together before mixing it into the chili about 10 minutes before the cook time ends. This helps thicken the liquid in the chili.
Adjust Your Heat:
This chili is flexible when it comes to spice. Like it hot? Add some cayenne or toss in a jalapeno. Cooking for little ones or prefer it mild? Just skip the cayenne. Remember, you can always add more heat later on.
Keep It Fresh
For the best flavor, check your spices. If they've lost their zing, it's time to refresh your stash. And when it comes to lime, fresh juice is a game-changer.
Make it Ahead:
This chili often tastes even richer the next day. Those flavors deepen beautifully, so consider making it a day ahead of time.
Nutrition
Serving:
1
serving
|
Calories:
79
kcal
|
Carbohydrates:
19
g
|
Protein:
3
g
|
Fat:
1
g
|
Saturated Fat:
0.1
g
|
Polyunsaturated Fat:
0.3
g
|
Monounsaturated Fat:
0.2
g
|
Sodium:
938
mg
|
Potassium:
272
mg
|
Fiber:
3
g
|
Sugar:
2
g
|
Vitamin A:
882
IU
|
Vitamin C:
32
mg
|
Calcium:
24
mg
|
Iron:
1
mg
Have you tried this recipe?
Please Rate + Comment Below!
Watch Our Latest Videos
Follow us on YouTube!