Disclaimer: Please note that some of the links below in this post are affiliate links and I will earn a commission if you purchase through those links. I regularly use and recommend all of the products listed below because I find them to be of great quality and use! All proceeds go back into maintaining and creating for this site. Thank you!
Last Updated on
This Gluten-Free Vegan Meatloaf is truly a DELIGHT! It is easy to make, packed with flavor and rich in protein and fiber for a most delicious, healthy holiday meal or entree any time of year! Top it off with my Vegan Cashew Gravy and you will be in food bliss in no time!
I genuinely could not wait to share this recipe with you guys! This Vegan Meatloaf is truly SUPER tasty, filling and a JOY to make. If you're in need of a hearty protein-rich meal or looking to wow your guests during Thanksgiving or Christmas, this is the ticket!
Vegan Meatloaf
This Vegan Meatloaf with beans, nuts, and delicious vegan gravy is:
Hearty and filling.

Super rich and flavorful.

Easy to make.

Great served right away or meal prepped as leftovers.

Rich in protein and fiber.

Packed with wholesome, healthy ingredients.

Gluten-free, grain-free, vegan, dairy-free, vegetarian, egg-free, soy-free and sugar-free.
Ingredients Needed to Make Vegetarian Meatloaf
Black beans, chickpeas.

Rice.

Garlic, bell pepper.

Sage, thyme, salt, pepper.

Walnuts.

Nutritional yeast.

Ground flaxseed.

DIjon mustard, sriracha (or ketchup).

A side of my Vegan Gravy.
Note: please refer to the recipe card towards the bottom of this post for the full measurements, ingredients, and method.
How to Make Vegan Meatloaf – Step by Step
Saute bell pepper and garlic.
2. Combine beans, chickpeas, walnuts, and rice in a food processor or blender.
3. Pulse until coarsely combined.
4. Add sauteed bell pepper and garlic.
5. Blend until mostly smooth.
6. In a bowl combine remaining ingredients.
7. Mix until smooth.
8. Place a strip of parchment paper in a greased loaf pan.
9. Pour the meatloaf batter into the pan. Pat down with wet hands.
10. Place the meatloaf into the oven. Meanwhile, prepare the Cashew Gravy (if using). . .
11. Remove the vegan meatloaf from the oven.
12. Cover with foil and let sit for 15 minutes.
13. Slice, serve, and enjoy!
Ingredient Substitutions
Chickpeas and Black Beans

I do think that any combo of beans, lentils, pulses or split peas would work well to replace the chickpeas and/or black beans, if so desired.

Walnuts

On a nut-free diet or simply do not care for them? The walnuts in this recipe can be replaced with sunflower seeds, pumpkin seeds or pecans for a still-tasty loaf!

Rice

The rice in this recipe can be replaced with quinoa or millet.

Nutritional Yeast

Not a fan of nutritional yeast? You can simply omit in this recipe if you prefer.

Flaxseed

The ground flaxseed in this recipe adds additional nutrition and binding power, but can be replaced with an egg (if not vegan), ground chia seeds, or psyllium husk powder.

This is my secret ingredient! When paired with mustard it lends an out of this world rich flavor. BUT, if you are not fan or do not care for ever so slight a hint of spiciness, then replace the sriracha with ketchup for a still-tasty vegan meatloaf recipe!
Does this vegan meatloaf freeze well?
Yes! Store cooked meatloaf in freezer-safe containers for up to 6 months. Thaw, then re-heat in a 375 F oven until warmed throughout.
Can I make this vegan meatloaf ahead of time?
Yes! We often make a loaf and have it sit out to eat on throughout the day. Amazingly, it tastes just as good at room temperature as it does straight out of the oven, making it a great recipe to make for holiday gatherings and the like.
What should I serve with Vegan Meatloaf?
More Vegan Main Dish Recipes
If you try this recipe please let me know! Leave a comment, rate it, share this post, use Pinterest's "tried it" feature, or take a photo, & tag me on Instagram and I'll share it! Thank you so much! <3
The BEST Vegan Meatloaf (Gluten-Free)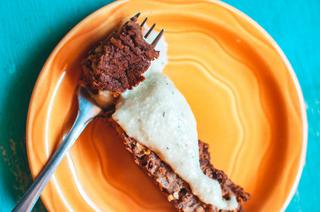 Author: Kristen Wood | 11-19-2019
prep time: 10 minutes
cook time: 50 minutes
total time: 1 hour 15 minutes (to account for resting time)
Yields: 1 loaf (approx. 8 slices)
---
Ingredients:
1 tablespoon olive oil
1 bell pepper, chopped
8 garlic cloves, minced
10 ounces cooked black beans, rinsed and drained (approx. 1 cup or 180 grams)(I like Thrive Market's)
10 ounces cooked chickpeas, rinsed and drained (approx. 1 cup or 200 grams) I like (Thrive Market's)
1 cup raw walnuts (125 grams)
1 cup brown rice, cooked (200 grams)
2 tablespoons nutritional yeast
2 tablespoon ground flaxseed
2 tablespoons sriracha sauce (or ketchup)
2 tablespoons dijon mustard
1 teaspoon sage
1 teaspoon thyme
1 teaspoon ground black pepper
1 teaspoon sea salt or pink salt
1 batch of Vegan White Gravy
---
Instructions:
Preheat oven to 350°F (180°C).
In a skillet over medium heat add oil, garlic and bell pepper. Saute for 5 minutes. Set aside.
In a food processor or blender combine chickpeas, black beans, walnuts and rice. Pulse until coarsely combined.
Add sauteed pepper and garlic to food processor or blender with previous ingredients. Blend until mostly smooth (it's okay if there are a few chuncks of beans or nuts).
Pour batter into a large mixing bowl and add remaining ingredients. Mix until combined.
Place a thin strip of parchment paper into a greased loaf pan (see photos above in post).
Pour vegan meatloaf batter into prepared loaf pan.
Using wet hands, press and pat the batter into an even layer in the pan.
Bake for 50 minutes, or until all is firm, browning and has a nice crust on top.
Remove the loaf from the oven and cover with aluminum foil. Let rest for 15 minutes.
Remove the loaf from the pan by lifting the ends of the parchment paper strip and placing the loaf gently on a serving platter or plate.
Slice, and serve with Vegan Cashew Gravy.
Enjoy!
---
Nutrition:
Serving: 1 slice
Fat: 15 grams
Calories: 482
Carbs: 62 grams
Fiber: 15.1 grams
Protein: 22.1 grams
NOTE: Please see 'Tips' above in the blog post for suitable substitutions, storage advice and more!
SHOP THIS RECIPE
PIN IT FOR LATER