Disclaimer: Please note that some of the links below in this post are affiliate links and I will earn a commission if you purchase through those links. I regularly use and recommend all of the products listed below because I find them to be of great quality and use! All proceeds go back into maintaining and creating for this site. Thank you!
Last Updated on
These no bake Gingerbread Bars with a luscious tahini base and rich salted chocolate topping are packed with layers of flavor and pleasing textures. These delicious and healthy bars are gluten-free, vegan and make the perfect autumn or winter treat!
Okay, guys! These gluten-free vegan bars are not just good, they are DIVINE. I'm super pleased with how much depth and layers of flavor these bars turned out with. You get hints of rich dark chocolate, nutty tahini, subtle date sweetness, warming spices and a touch of sea salt. These gingerbread bars strike the perfect balance between salty and sweet and can easily be made to be completely refined sugar-free or sugar-free! Simply put, they are amazing. And, I hope you think so, too!
Gluten-Free Gingerbread Bars
These No-Bake Chocolate Covered Tahini Gingerbread Bars are:
Rich, creamy, sweet, salty, nutty and DELICIOUS!

Super easy to make.

Packed with nutritious, wholesome ingredients.

Gluten-free, grain-free, dairy-free, vegan, soy-free, with refined sugar-free and sugar-free options.
What Ingredients are Needed to Make Gluten-Free Tahini Gingerbread Bars?
Note: for complete ingredients and amounts, please refer to the full recipe card towards the bottom of this post.
How to Make No Bake Tahini Bars – Step by Step
Gather ingredients.
2. Place all ingredients into a blender or food processor..
3. Pulse until coarsely combined.
4. Pour into a parchment lined pan.
5. Press evenly into the pan. Place into the fridge.
6. Melt chocolate.
7. Remove chilled pan from fridge. Pour and smooth chocolate over the top.
8. Place into the refrigerator to chill for at least 2 hours.
9. Slice and enjoy!
Top Tips for Making Chocolate Tahini Gingerbread Bars
Use Coconut Flour

Due to the unique nature of coconut flour, I do not recommend replacing it with anything else.

Make it Sugar-Free

For no-added sugar gluten-free no bake bars, I highly recommend using these 100% dark chocolate chips, or using your favorite sugar-free chocolate chips.

Not a Fan of Dates?

You can replace the dates with nearly any dried fruit of your choice for a fun twist. We like to use golden raisins or plums.

Store It

These no bake bars should be kept in airtight containers in the refrigerator for best results. Store in the refrigerator for up to 10 days. Alternatively, you can freeze these bars for up to one month; just be certain to let them thaw a bit before serving.
Tahini Gingerbread Bars — Common Recipe Questions
I'm on a nut-free diet. Can I replace the walnuts with something else?

Yes. Simply use raw pumpkin seeds or sunflower seeds in the same amount!

Can I replace the tahini?

Yes. Almond butter, sunflower seed butter, cashew butter and pumpkin seed butter all work well in this recipe. No further adjustments necessary.
More Vegan Gluten-Free No-Bake Dessert Recipes
Easy No Bake Chocolate Peanut Butter Protein Cookies with Peanut Butter Glaze (Gluten-Free, Vegan)
No Bake Super Seed Cinnamon Maca Energy Squares
No Bake Dandelion Beet Chocolate Bars (Vegan, Gluten-Free)
Healthy Vegan Coconut Bliss Balls (Nut-Free, Keto)
If you try this recipe please let me know! Leave a comment, rate it, share this post, use Pinterest's "tried it" feature, or take a photo, & tag me on Instagram and I'll share it! Thank you so much! <3
No-Bake Chocolate Covered Gingerbread Tahini Bars (Gluten-Free, Vegan)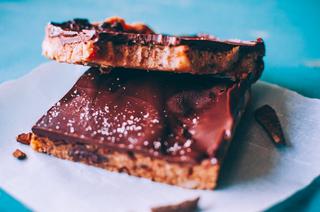 Author: Kristen Wood | 10-29-2019
prep time: 10 minutes
cook time: 0 minutes
total time: 2 hours 10 minutes (to account for chilling time)
Yields: 9 bars
---
Ingredients:
12 pitted medjool dates
3/4 cup raw walnuts (95 grams)
1/2 cup coconut flour (60 grams)
1/2 cup plant based milk (I use unsweetened vanilla almond milk) (240 grams)
1/2 cup tahini (+ 4 tablespoons for chocolate topping) (220 grams total)
1 1/2 teaspoons ground ginger
1 1/2 teaspoons ground cinnamon
1/4 teaspoon ground cloves
1/8 teaspoon sea salt or pink salt (plus more for sprinkling)
1 cup dark chocolate chips, melted (175 grams chips)
---
Instructions:
Line a square baking pan with parchment paper. Set aside.
Combine all ingredients in a food processor or high-speed blender. Pulse until all is well combined(It is okay if there are still some larger bits of ingredients here or there), scraping down the sides as necessary.
Press into your parchment-lined pan until you have one nice, even layer. Place into the refrigerator while you melt chocolate.
In a sauce pan over low heat combine chocolate chips with 4 tablespoons of tahini. Heat while stirring constantly until all is just melted. Remove from heat immediately.
Remove the pan from the refrigerator.
Pour the melted chocolate over top. Smooth into an even, glossy layer. Sprinkle with a little salt.
Place into the refrigerator for at least 2 hours before slicing.
Enjoy! (See the Tips section in the post above for storage suggestions).
---
Nutrition:
Serving: 1 bar
Fat: 19 grams
Calories: 457
Carbs: 59 grams
Fiber: 12 grams
NOTE: Please see 'Tips' above in the blog post for suitable substitutions, storage advice and more!
Shop This Recipe
Pin it for Later
Dates.
Coconut flour.
Plant-based milk.
Spices.
Sea salt or pink salt.
Dark chocolate chips."
}
},{
"@type": "Question",
"name": "I'm on a nut-free diet. Can I replace the walnuts with something else?",
"acceptedAnswer": {
"@type": "Answer",
"text": "Yes. Simply use raw pumpkin seeds or sunflower seeds in the same amount!"
}
},{
"@type": "Question",
"name": "Can I replace the tahini?",
"acceptedAnswer": {
"@type": "Answer",
"text": "Yes. Almond butter, sunflower seed butter, cashew butter and pumpkin seed butter all work well in this recipe. No further adjustments necessary."
}
}]
}